Organic & natural cosmetics
Certified organic & natural cosmetics
Our body thanks us when we not only give our thoughts a break, but also do something good for our health in the long term. This is made possible by natural and organic cosmetics. But why is the use of certified organic and natural cosmetics so valuable to us? And what effects does cosmetics actually have on nature? We will show you what makes good natural cosmetics and how you can recognize them in everyday life without falling for advertising traps. Discover natural cosmetic products for yourself and benefit from particularly high-quality organic cosmetics - for your body, health and the environment.
Hotels with organic & natural cosmetics
What does natural cosmetics mean?
Natural cosmetics include those cosmetic products that are made from purely natural ingredients. Important oils, fats and waxes that are used are, for example, olive oil, soybean oil, beeswax, shea butter or cocoa butter. All of these ingredients are of plant origin. The ethanol required for deodorants or perfumes is obtained through fermentation, while vegetable sugar is used as the basis for sugar surfactants to cleanse the skin. Other important ingredients for natural cosmetics are essential oils, floral waters and natural aromas. Even the necessary binding and preserving substances are produced from natural raw materials in real natural cosmetics. The processing of natural ingredients such as high-quality oils is more complex in production, but helps to minimize the impact on people and the environment.
Organic cosmetics and natural cosmetics
Organic cosmetics are natural cosmetics made up of at least 95% certified organic ingredients. The highest and strictest level of international certification and quality seals prevails here. From an ecological point of view, the organic cosmetics brands go one step further in the production process by using only organically grown ingredients. If, for example, olive oil is in a care product, it must come from certified organic cultivation. This promotes the circular economy of organic farming. The honest use of only certified organic ingredients also enables the best possible transparency. In this way, customers can understand which raw materials are in the cosmetic product and how it was manufactured.
Certifications: What is real organic & natural cosmetics?
Unfortunately, the term "natural cosmetics" is still not uniformly defined and is not a protected term. Since the topic of sustainability is on everyone's lips, many cosmetics manufacturers use formulations such as "from natural ingredients" for effective marketing of their cosmetics products. However, this does not provide any information about the actual quality of the ingredients used.
You don't want to always have to check the small print when buying natural cosmetics to convince yourself of the quality of a product? User-friendly apps like CodeCheck have already been developed to support shoppers, allowing you to identify harmful ingredients and select better alternatives before making a purchase. Secure yourself with seals of certified organic and natural cosmetics, which confirm the first-class quality of organic or natural cosmetics and expose greenwashing. These seals are important and easy to recognize:
ORGANIC COSMETICS:
NATRUE organic cosmetics
Austria Bio Guarantee organic cosmetics
COSMOS Organic
NATURAL COSMETICS:
NATRUE natural cosmetics (with organic content)
BDIH
EcoCert
COSMOS
Vegan / Cruelty Free
Are organic & natural cosmetics better for the skin?
Many conventional products today contain oil that is harmful to the skin, palm oil, hormonally active substances or even allergenic fragrances. Real organic and natural cosmetics manufacturers do not use artificial colors and preservatives, mineral oils or silicones at all. This not only pleases our body, but also Mother Nature. Parabens, mineral oils and silicones are well-known ingredients in conventional cosmetics that have been part of the public debate for a number of years and have rightly come under increasing criticism. But what is it all about?
Silicones: Plastics obtained from petroleum are called silicones. Compared to essential oils, which are used in natural cosmetics, silicones are cheap, easy to work with and have a long shelf life. They seal the skin superficially and thus prevent the skin from breathing. The skin becomes soft for a short time, but as soon as the greasy film – together with all care substances – is washed off, the skin is often dried out. The natural regeneration of the skin is thus prevented.
Mineral oils: It is similar with mineral oils. They ensure that our skin is sealed and thus prevent it from being able to recover and regenerate naturally. The mineral oils distilled from crude oil are very inexpensive, easy to process further and have a very long shelf life. Aromatic hydrocarbons are also increasingly being detected today. The so-called MOHAs (Mineral Oil Aromatic Hydrocarbons) are considered potentially carcinogenic pollutants.
Parabens: Because of their hormone-like properties, the paraben category is used in conventional cosmetics as a preservative. They ensure that the products have a longer shelf life and kill bacteria and fungi. The chemical compounds have been linked to breast cancer and hormonal changes in the past, but the health effects are still poorly understood. You can recognize these dangerous ingredients by the word ending -paraben.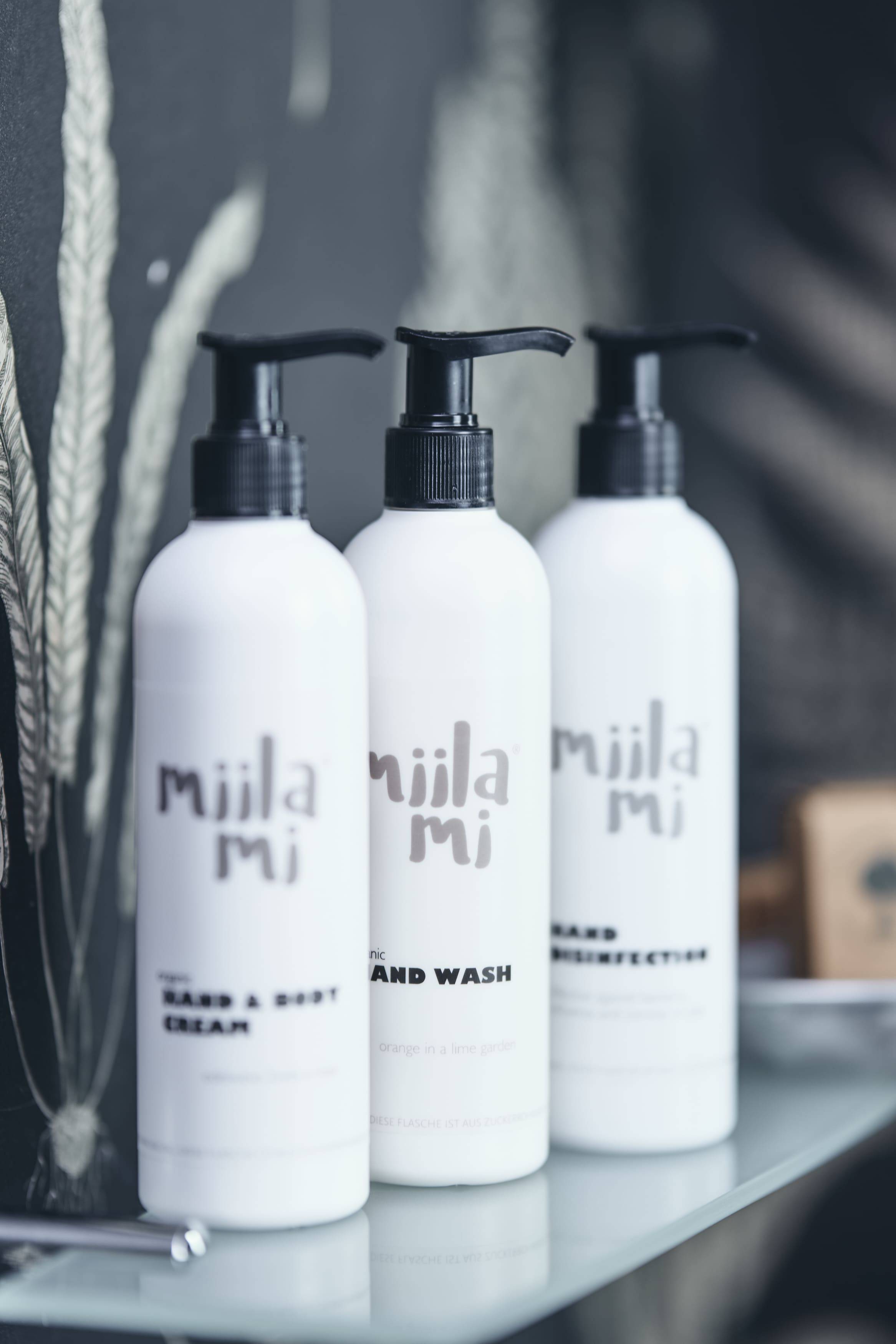 Why are organic & natural cosmetics better for the environment?
Crude oil is the basis for numerous ingredients in conventional cosmetic products, such as surfactants, fragrances or UV filters. Mineral oils are classified as potentially carcinogenic, but above all they have a negative impact on our planet. Harmful carbon dioxide is already produced during the production of silicone. When using products containing silicone, residues migrate into our waste water every day and end up in the natural cycle. The topic of microplastics also makes a massive contribution to human pollution. These ingredients disrupt the skin's natural self-regulation, sealing it off, preventing the skin from breathing. However, they are usually cheap, which is why the cosmetic products can also be sold at a reasonable price.
Such ingredients are not used in high-quality natural cosmetics and organic cosmetics. Rather, one uses the variety that nature offers us for processing. The natural, effective substances help you to get back into balance. This high quality of plant raw materials has better effects on your body than chemicals. That's why he and the environment say thank you when you buy organic cosmetics. The certifications usually go hand in hand with a higher product price. Nevertheless, an expensive product does not automatically have to have better ingredients. Seals and transparency are therefore the be-all and end-all.
Organic cosmetics on vacation in BIO HOTELS with miila mi
Especially on vacation you want to give your body and mind a break - here organic cosmetics support the recovery of the body while you switch off your head. Since only the best is good enough for our guests, we only use organic cosmetics in our BIO HOTELS. Our standards only provide for natural cosmetics for cleaning and care if the respective product is not available in organic quality. Whether in daily routine or wellness treatments, we BIO hoteliers want to avoid all ingredients that upset the balance of your skin or the environment. We rely on the effects of nature.
We are particularly proud of our own vegan organic cosmetics line miila mi, which we developed with our cooperation partner MARíAS® from Pieper Biokosmetik. This is produced from the best ingredients in Austria and convinces with its resource-saving, environmentally friendly packaging. Our high-quality hair & body wash, hand & body cream and co. are of course also available in the online shop. We have thought of everything with the highest quality standards. Read here what makes miila mi so special!
A BIO HOTELS story: Theiner's (orchard) garden
Every BIO HOTEL has its own special features, so some of the organic hoteliers have become creative and have pooled resources and partners for their own natural cosmetics line. They show that the highest quality in natural cosmetics can also be made possible in the hotel industry. The Theiners from the Biorefugium theiner's garten also want to offer this quality, because they know: Our environment offers us so much if we just open our eyes to it! The theiner's garten is a natural place of power with fruit trees that are more than decades old and have been cared for biodynamically.
At the beginning of the year they developed their own natural cosmetics line "tg", which is completely organic certified. They wanted to precisely control the organic quality of products such as massage oil, face creams, masks or anti-aging serums, as well as transport routes and packaging. That's when the idea came up with their fruit trees, which they observe every day in the garden. Couldn't you make natural cosmetics yourself?
Together with a friendly organic cosmetics manufacturer from South Tyrol, the Theiners developed a sustainable cosmetics line that they are currently using in the Biorefugium. An enormous number of hotel customers have trusted the quality promise of the Theiners for years. You can do this with a clear conscience with this new heart project. They produce cruelty-free, use glass and wood for packaging and process Demeter apples and peaches from their own orchard. For some products, the local manufacturer grows the herbs themselves. No exploitation of people and nature, only rich care for the body, that's possible with natural cosmetics.
BIO HOTELS with natural cosmetics