Highlights
Public Restaurant
Vegetarian menu
Vegan dishes
Allergy-free kitchen
Services around Organic cuisine
Menu selection
Vital kitchen
A la carte meals
Whole food
Buffet meals
Hotel bar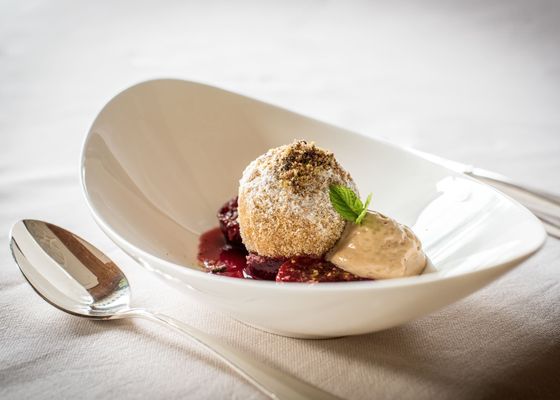 100% certified:

Aqua BIO Cuisine homemade and regional in the Aqua Bad Cortina. Thank you good Lord, thank you Mother Earth for all that you provide us with! The culinary uniqueness of Aqua Bad Cortina is that all homemade drinks and dishes are enhanced by our mineral water and so take on a very particular connotation. Each taste, each sip, becomes a small "Source of Strength", a small experience that vibrates in tune with the source.
Services around Sustainability
7,75 kg CO2e/night
98 tons CO2e/year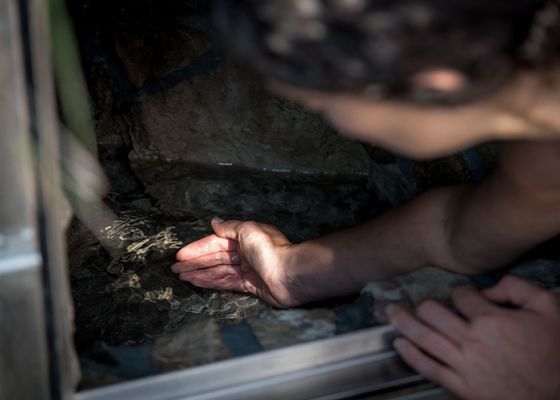 Our contribution to the future:

Organic? Of course. But why? Because it's the only way to show our creator respect that only humans deny. This way leads us back to healthy food and drinks. To healthy behavior. Without organic products we can't achieve holistic health which is based (mainly) on 3 pillars: spirituality, emotional health, and physical health.

We from the Aqua Bad Cortina have made our choices. Our products are exclusively of organic or biodynamic farming origin. Priorities are clear. And all future decisions will follow this pattern.

Water is the most precious resource we have. Directly from the well, without losses in quality due to treatments or transportation, it nourishes our bodies and souls.

Vives! Here's to health.
Sandra, Nicol and staff members
Highlights
Nature hotel
Vacation with your dog
Accessible hotel
Hotel for celebrations
Hotel with sauna
Services around Vacation
Elevator
Free WIFI
Non smoking hotel
Free parking
Summer sports activities such as hiking, cycling, golfing
Winter sports activities such as Skiing, tobogganing, snowshoeing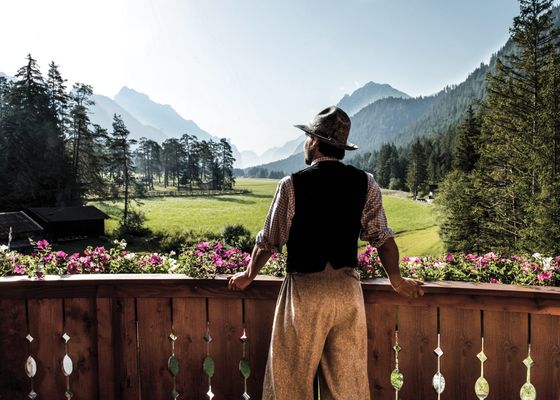 Sustainable hotel experiences:

Life is lived freely where it is best represented: in Mother Nature. We invite you to our special place where we will accompany you to "sacred", mythical and legendary hideaways that can be respected and preserved in the soul as authentic treasures. Aqua Bad Cortina means to reactivate the connection to oneself's deepest roots. The hikes that we do in company with our guests, season after season, have the keen sense to discover this natural heritage that belongs to all of us and that we all have to defend.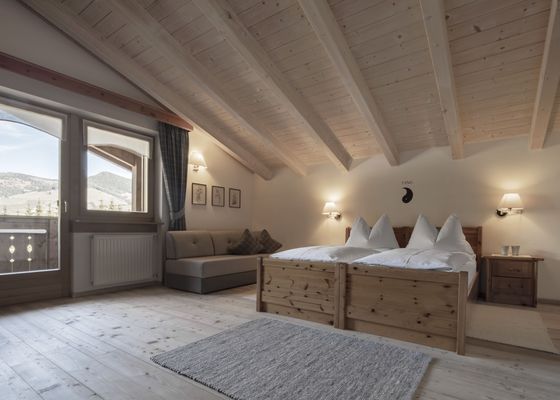 The hygiene concept in our hotel: 
Trained staff who is familiar with safety guidelines of local authorities
Staff wears masks and gloves where necessary
Disinfectants in rooms and public areas
Contactless (online) check-in possible
Distance rules are observed
Self-service buffet (gloves available for guests)
Visits to restaurants by prior arrangement only
Limited number of guests in the restaurant and in the wellness areas, etc.
Varying times for breakfast, lunch and dinner
Separate relaxation rooms
Special antiviral cleaning agents on an ecological basis
Comprehensive room cleaning by the staff
Guests can indicate that housekeeping is not desired
Room Service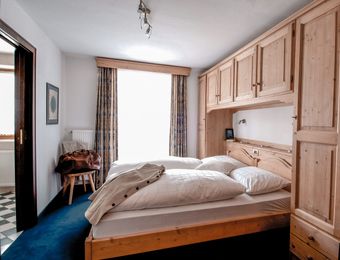 Double Room Classic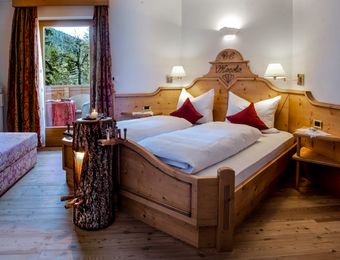 Double Room "Special – smell of local wood"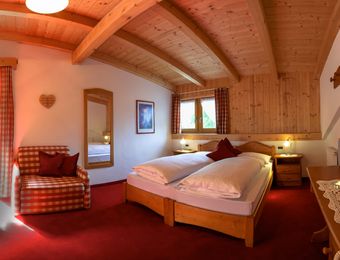 Double Room "Nemus – Penthouse"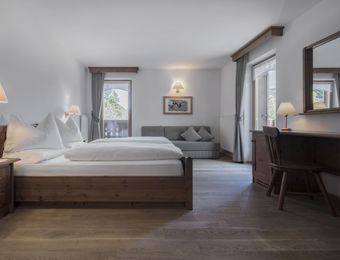 Double Room "De Luxe – by the garden"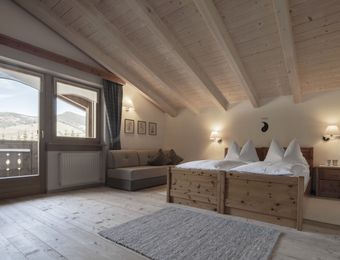 Double Room "Limited"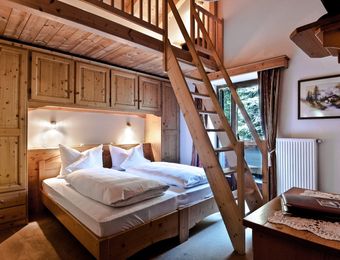 Mulit-Bed Room Classic – with 3 beds on mezzanine floor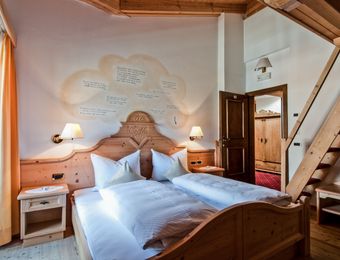 Multi-Bed Room Special – with 3 beds on mezzanine floor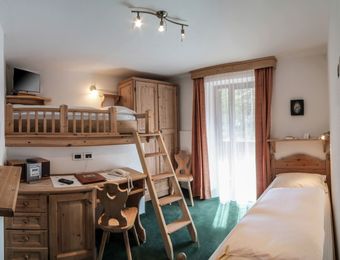 Multi-Bed Room "Nemus – Twin"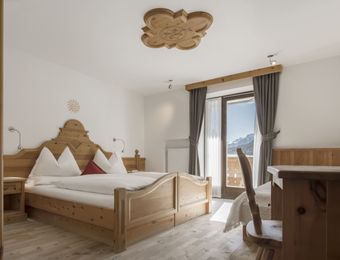 Mulit-Bed Room Aqua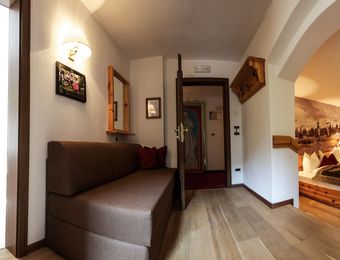 Suite "Nemus – Junior"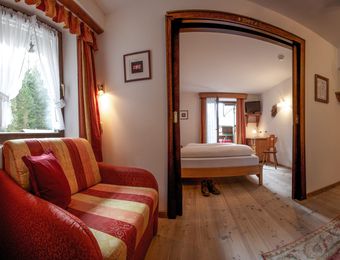 Suite "Granaroli"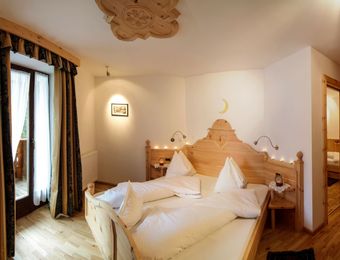 Junior Suite "Aqua"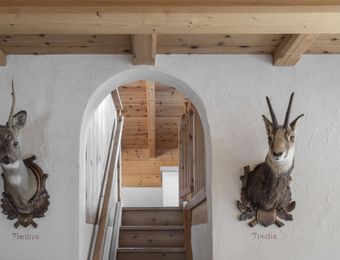 The "Cirmolo" Chalet Suite
Review date 01. January 2023
Ormai da anni non riusciamo a rinunciare all hotel aqua bad cortina e quando si trovano gentilezza , cortesia e disponibilità , sommati ad un ottima cucina non può che risultare un ottimo posto dove trascorrere le vacanze . Nicol e Sandra sono sempre pronti a soddisfare le nostre esigenze . Stanze pulitissime , personale gentile e cortese . Cibo di ottima qualità , si fa fatica a rinunciare a tutto quello che propongono nel menu ' . La posizione è incantevole vicino al ruscello e alle piste . Consigliatissimo … A prestoooooo Daniele , Mariangela , Giorgia e Arianna.
Review date 11. November 2022
Luogo incantevole. Ambienti caratteristici e personale cortese. Posizione defilata dal centro, ma comunque ottima. Servizio di navetta per le piste.
Review date 18. September 2022
Grande fascino
Review date 03. September 2022
Das Essen hat uns buchstäblich aus den Socken gehauen. Niveau Gourmet Restaurant! Die Speisen sind mit viel Liebe zum Detail präsentiert und dann erst noch alles in Bio Qualität! Das Frühstück - auch ein Traum! Bravo dem ganzen Küchenteam! Die Zimmer sind z.T. renov. bedürftig. Die Zimmertüren...sehr dünn.. man hört die Nachbarn sehr gut. Garten: gemütlich. Herzliche Atmosphäre im Hotel. Es hat uns sehr gut gefallen.
Review date 23. August 2022
Non ho soggiornato ma abbiamo pranzato, antipasti con presentazione molto bella, materie prime coerenti con il luogo, ornati con erbe di montagna. I primi (ravioli alle erbe) buonissimi.non siamo riusciti a mangiare altro .... Vino biologico. Tutto servito in modo cortese.
Review date 20. August 2022
La posizione è incantevole e la struttura è deliziosa. I proprietari e i loro collaboratori sono persone gentilissime, professionali e fanno il massimo per mettere a proprio agio i loro ospiti. Dispiace andar via e non si vede l'ora di tornarci. Lasciata da poche ore e già si sente la mancanza.
Review date 16. August 2022
Molto attenti, ottima posizione x escursioni e centro, cucina sana e ricercata
Review date 16. August 2022
Dopo una breve passeggiata alle spiaggette di San Virgilio, al rientro ci siamo fermati a pranzo con tutta la mia famiglia…..con noi una bimba di pochi mesi…chi ci ha accolto si è subito impegnata a soddisfare i nostri bisogni. Abbiamo mangiato divinamente, qualità dei prodotti alle stelle, qualità del servizio ottimo. Ambiente sereno, elegante ma familiare, del resto la conduzione dell'hotel/ristorante e' gestita da una splendida coppia con 5 figli tutti collaborativi! È veramente un' esperienza da rifare. Ci torneremo anche semplicemente per un aperitivo….che abbiamo avuto modo di "sbirciare "e di vedere che era veramente eccellente ! Continuate cosi!
Review date 12. August 2022
Ho pranzato in questo hotel, pur non alloggiando nello stesso e sono rimasto molto soddisfatto dall'ambiente e dalla qualità dei oiatti che abbiamo mangiato. Cura dei particolari, ottima qualità delle materie prime e relax sono le caratteristiche che mi sono piaciute molto. Consigliato
Review date 17. July 2022
Albergo caratteristico e raffinato, dove tutto è curato e niente è lasciato al caso. L'amore e la passione per la tradizione, si scopre in ogni particolare. Ideale per chi si vuole regalare qualche giorno di relax. Ogni settimana viene proposto un programma diverso, con escursioni e momenti caratteristici. Mille attenzioni anche per le famiglie con bambini. Servizio cortese e professionale. Un regalo da farsi!
Hosts
We have been going through life side by side for years. We learned to know and love the hotel business and being hosts.

What we have in common, is our love of nature, our appreciation of the unique beauty of our region and our traditions.

Now we jointly run the hotel in the heart of the Dolomites that has been handed down from generation to generation.
Sandra has a special attention to detail; Nicol loves the power of nature and the spectacle of the seasons.
Together, we create a place of strength that satisfies all longings. Far away from everyday life. Close to nature.

Sandra and Nicol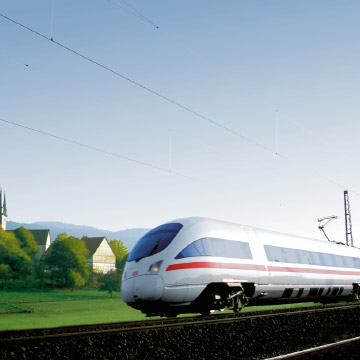 Arriving by train
© Deutsche Bahn AG / Gert Wagner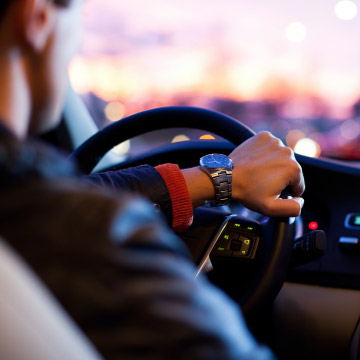 Get here by car