Services around Organic cuisine
Public Restaurant
Vegetarian menu
Vegan dishes
Allergy-free kitchen & intolerances
Award-winning cuisine. Guide Michelin award with the green Michelin star
Award-winning cuisine: Falstaff Restaurant and Inn Guide Germany
A la carte meals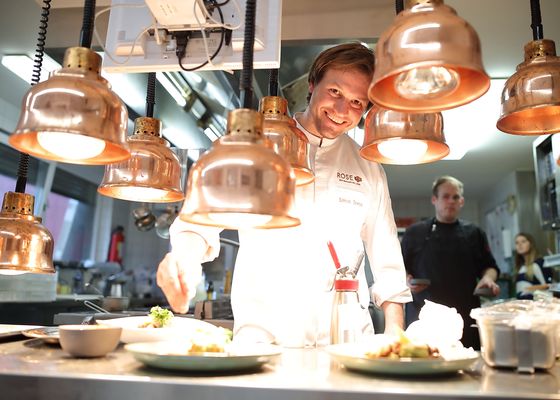 100% certified: 

Organic Restaurant Rose:
In addition to creative meat dishes made from the best regional organic quality, innovative vegetarian and vegan cuisine is our strength.

Organic Fine Dining Restaurant 1950:
The world's first CO2 menu! For each dish, the guest is informed of all the ingredients - from the main ingredient to the salt - as well as their origin, including information on CO2 emissions and how many kilometres they have travelled from the producer to the restaurant.
Services around Sustainability
Certified BIO HOTELS member since June 2004
Inspected by ABCERT
Climate balanced hotel
23,8 kg CO2e/night
79 tons CO2e/year
Resource-saving building biology
Public interest company
Our contribution to the future:

Our Rose Principle is our daily thread of action in all our business activities. Basically, we stand for 100% organic and sustainability.

Furthermore, we have four organic restaurants where sustainability is a top priority. One of them is our new organic fine dining restaurant 1950, where we offer the world's first CO2 menu.

In addition to our restaurants, we also produce sustainable organic convenience products for the retail trade.

Of course, we also focus on sustainability when it comes to cleaning and only use organic cleaning products that are gentle on the environment. We obtain the hotel's energy through eco-electricity.
HolidayA retreat in the mountains. An oasis in the middle of the city. A refuge by the sea. As different as these destinations are, they share one similarity: the warmth with which hotel staff interacts with you the guests. Anyone seeking for a warm and relaxed atmosphere is welcome at the BIO HOTELS.You can expect the following:A fine cuisine with no compromises on the quality of food and beverages – BIO HOTELS stand for 100 % organic products and 100 % responsibility. Lots of freetime activities. A healthy indoor climate which allows for well-being and relaxation. Encounters with inspiring individuals.
Hotel with sauna
Hotel for allergy sufferers
Free WIFI
Non smoking hotel
Free parking
Pick-up service from train stations included
Vacation with your dog
Summer sports activities such as hiking, cycling, golfing
Winter sports activities such as Skiing, tobogganing, snowshoeing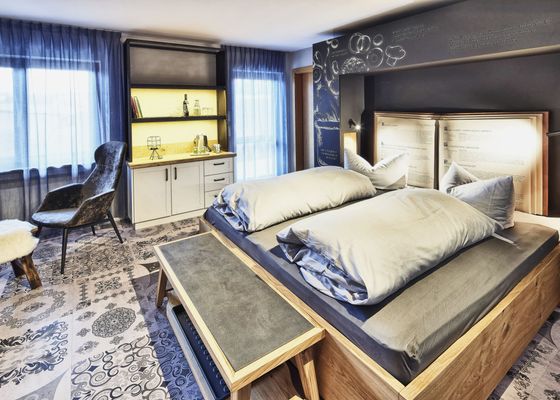 Sustainable hotel experiences:

Spend an unforgettable holiday at the Bio-Hotel ROSE. You can experience a lot with us in the Swabian Alb. One highlight is a visit to our Wimsen cave. It is the only water cave in Germany that can be entered by boat and is an unforgettable experience for young and old.
Meetings: Start your meeting with rested mind and clear outlook. Work concentratedly and enjoy vitamin boosts during the break. Experience a healthy mix of intensive teamwork and relaxation programs. Our BIO HOTELS focused on Green Meetings offer great and sustainable conditions for meetings and workshops of all sorts.You can expect the following:Inspiring rooms with great daylight. State-of-the-art equipments. Vitamin-packed breaks. Flexible eating hours. Possibilities to relax and move actively. Receive a Green Meeting certificate on request.
Catering & brain food
Break area
Sustainable & recyclable conference materials
Modern conference and network technology
Conference equipment
Meeting room with daylight
Conference packages
Daily flat rate
2-day package
Contact
+49 7383 94980
info@biohotel-rose.de
Brainfood: nuts, granola bars, smoothies.
Menu: Lunch & dinner available
Buffet: Organic breakfast
Non-alcoholic drinks
Alcoholic drinks
Restaurant: Wednesday-Friday 17:00–22:00, Saturday-Sunday 11:00-22:00 (catering for Green Meeting guests also possible outside opening hours)
Outdoor catering
Hotel bar
Framework programme:
Yoga
Hiking
Cycling
Bicycle rental
E-bike rental
Producer tour to demeter or Bioland farmers
Wine tasting
Cooking course
Surroundings:
Wimsen cave
Main & country stud Marbach
Swabian Alb Biosphere Reserve
Lichtenstein Castle
Zwiefalter Minster
Seminar
Workshop
Training
Gala event
Meeting hours
8:00–20:00
Deviations are possible by arrangement.
Location and parking
Next train station: Riedlingen (distance approx. 20 km)
Nearest bus stop / cab rank: Ehestetten (distance approx. 300 m)
In-house parking spaces: 22 (free of charge)
E-charging stations: 2
Shuttle service: against charge
Maximum meeting capacity
Max. Number of persons: 12
Total event area: 56 m²
Total number of meeting rooms: 1
Maximum overnight capacity
Max. Number of persons: 22
Total number of hotel rooms: 12 (2 single rooms / 10 double rooms)
Check-in 14:00 / Check-out 10:00 (hotel rooms)
Break area
Lounge - ROSE living room: 16 persons
Terrace - garden restaurant: 60 persons
Smoking area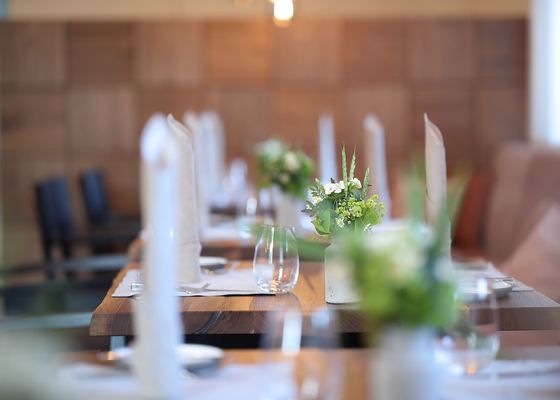 Make your events green:

The ROSE is your reliable partner for business events such as conferences, workshops, incentives, seminars, presentations, anniversaries or company celebrations in the Swabian Alb, close to Stuttgart, Ulm and the Lake Constance region.

All conference rooms are bright and friendly and are equipped according to the occasion. The "all-round carefree package" for your conference, training or workshop also includes the necessary technology such as screens, beamers, pinboards and flipcharts. The best organic cuisine and a varied supporting programme spread good humour and bring your team into balance.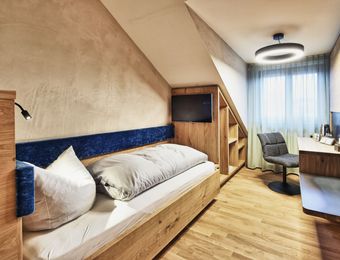 Single room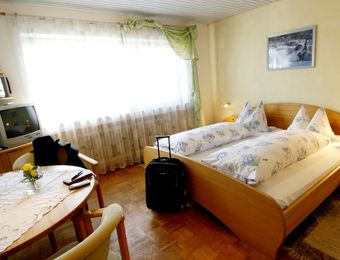 Standard room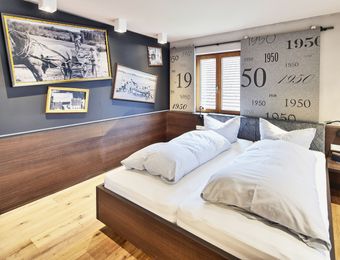 Junior suite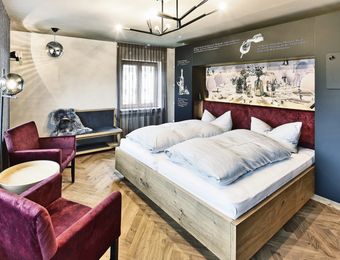 Themed room
Review date 22. November 2023
Schöner Abend
Review date 21. November 2023
Perfect service and very delicious menu. Thanks again for the nice stay
Review date 18. November 2023
Die Lounge mit Plattenspieler und Platten sind ein echtes Unikat! Sehr feines und gut abgestimmtes Essen.
Review date 14. November 2023
Das Essen hat seinen Preis, aber die Qualität stimmt!
Review date 12. November 2023
Hotelzimmer war okay, möglicherweise nicht das schönste, da wir mit einem Hund gereist sind. Der Service im Restaurant und auch an der Rezeption war freundlich. Das Essen im Restaurant war super, Fleisch steht hier, anders als üblich, nicht im Vordergrund. Wir haben sämtliche Hauptspeisen der überschaubaren Karte probiert, es hat allen geschmeckt, besonders die Kartoffel/Kürbis-Kombination war sehr lecker.
Review date 04. November 2023
Unglaublich leckere, fantasievolle Küche Sehr, sehr nettes Personal Konsequentes nachhaltiges Gesamtkonzept Produkte aus der direkten Nachbarschaft und aus der aktuellen Ernte (saisonal).
Review date 22. October 2023
Eine absolute Empfehlung! Vom Empfang in der Rose über das Servieren jedes Gerichts wird man vom Service freundlich begleitet und alle Speißen kurz erläutert. Die hohe Qualität der Zutaten und die handwerkliche Finesse der Köche machen jedes Gericht zu einem Highlight! Wir hatten eine sehr gute Zeit und freuen uns auf weitere Besuche!
Review date 11. October 2023
Hotel, Gästehaus und Restaurant sind echte Perlen auf der Schwäbischen Alb! Frühstück und Essen im Restaurant sind super - frisch, mit Liebe zubereitet/angerichtet, regional und von Spitzenqualität. Die Zimmer im Gästehaus sind groß, komfortabel, modern und unter ökologischen Gesichtspunkten gestaltet. Wir haben in den Betten super geschlafen. Das lag ebenso an Matratzen und Kopfkissen wie an der sommerlichen Herbstluft und den leckeren Getränken. Besonders hervorzuheben sind aus unserer Sicht die Menschen, die vor und hinter den Kulissen für uns da waren und das "Wohnzimmer", in dem man nach einem Restaurantbesuch noch leckere Getränke und schönem Ambiente genießen und dabei Platten auflegen kann.
Review date 05. October 2023
Großes Zimmer, sehr sauber
Review date 21. September 2023
Geschmackvolle, urige, ausgefallene Einrichtung mit Wohlfühlatmosphäre im Restaurant. Sehr freundlicher und flotter Service. Kreative Küche, leckere vegetarische/vegane Kreationen aus besten ökologischen Produkten. Fleischbeilage mgl. Mega bequeme Betten und besondere hochewertige Einrichtung im Themenzimmer !!!
Review date 21. September 2023
Schönes Bio-Hotel direkt im Ort. Hervorragendes vegetarisches Essen, wobei man Fleisch al Beilage hinzu bestellen kann. Das Frühstück war ebenfalls außergewöhnlich gut.
Review date 06. September 2023
Ich habe noch nie so ungewöhnlich und gut gegessen! Die Qualität schmeckt man und das Herzblut spürt man! Bin so begeistert, dort muss man gewesen sein. Werde wieder kommen, garantiert!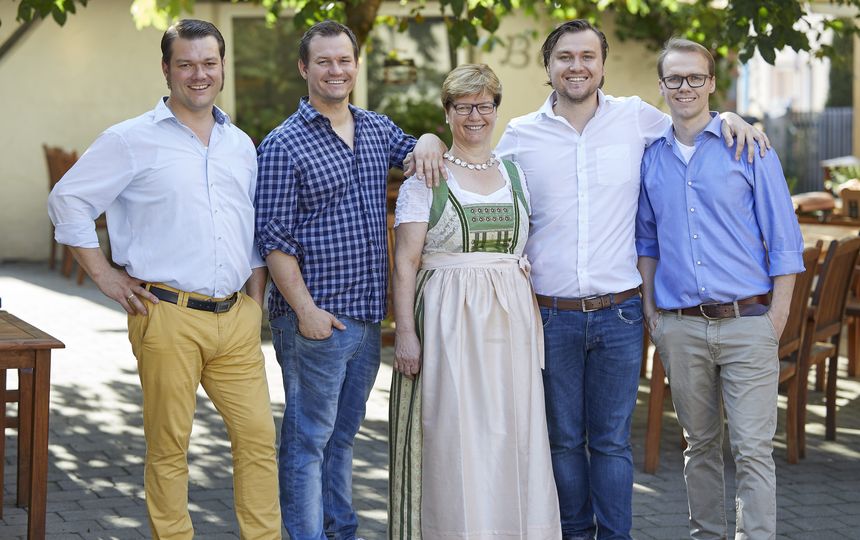 Hosts
Acting and living in harmony with our fellow human beings and nature is our top priority. We are not perfect, but we work consistently and passionated every day to operate in an even more sustainable and climate-friendly way. For this purpose, we have developed our own ROSE principle. Basically, we stand for 100% organic and 100% sustainability.
 
The slogan of the Tress family is: Together for human and nature.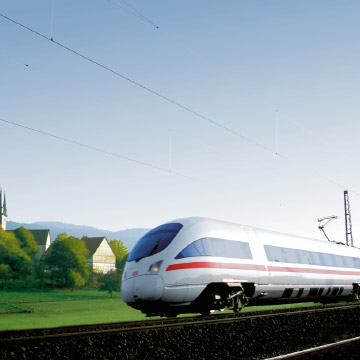 Arriving by train
© Deutsche Bahn AG / Gert Wagner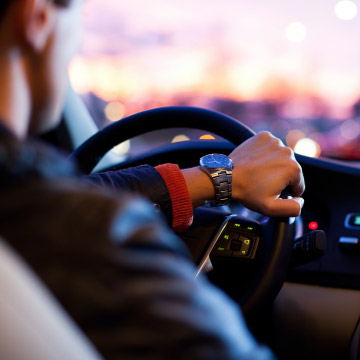 Get here by car