Highlights
Restaurant for hotel guests
Vegetarian menu
Vegan dishes
Allergy-free kitchen
Services around Organic cuisine
Vital kitchen
Whole food
Buffet meals
Menu selection
Hotel bar
Highlights
Hotel with charging station for e-cars
Services around Sustainability
Certified BIO HOTELS member since December 2005
Organically built building
Environmentally friendly and self-sufficient energy concept
Inspected by ABCERT
2,29 kg CO2e/night
85 tons CO2e/year
Highlights
Nature hotel
Electrosmog Reduced hotel
Hotel for allergy sufferers
Services around Vacation
Elevator
Free WIFI
Non smoking hotel
Free parking
Pick-up service from train stations included
Summer sports activities such as hiking, cycling, golfing
Winter sports activities such as Skiing, tobogganing, snowshoeing
Highlights
Hotel with swimming pool
Hotel with sauna
Services around Wellness
Massage offers
Cosmetic treatments
Steam bath
Indoor swimming pool
Outdoor pool
Swimming pond
Feel-good garden
The hygiene concept in our hotel: 
Trained staff who is familiar with safety guidelines of local authorities
Staff wears masks and gloves where necessary
Disinfectants in rooms and public areas
Contactless (online) check-in possible
Distance rules are observed
Self-service buffet (gloves available for guests)
Comprehensive room cleaning by the staff
Guests can indicate that housekeeping is not desired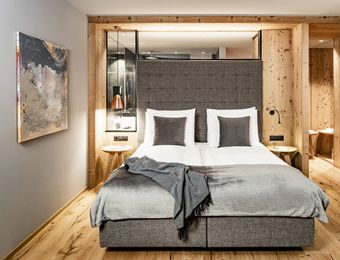 BIO Suite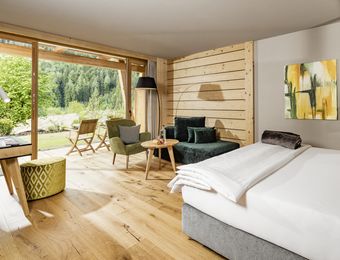 Garden suite
Double room with balcony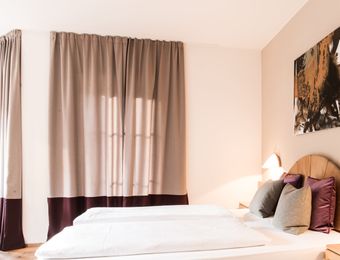 Double room with stairs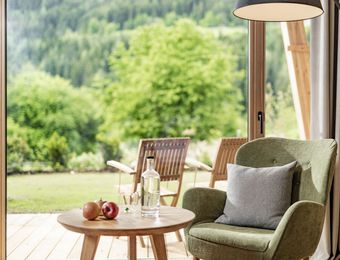 Single room
Overall rating
1135 rating
Review date 24. June 2022
Tolles Wellnesshotel mit ausgezeichnetem Essen. So gut haben wir selten gegessen. Das Personal war sehr freundlich und zuvorkommend. Ein spitzen Urlaub mit Erholungsfaktor.
Review date 23. June 2022
schöner Garten, eindrucksvoller Wellnessbereich, sehr zuvorkommendes Personal und außergewöhnliches, wirklich leckeres Essen.<br />Würde ich immer wieder gerne hinfahren.
Review date 22. June 2022
Wir hatten eine edele Gartensuite und haben uns sehr wohl gefühlt. Schwimmen im warmen Außenpool, sehr angenehme Wellnessbehandlungen und sehr leckeres Essen in Bio-Qualität. Wir kommen gerne wieder.
Review date 22. June 2022
Schönes Hotel mit tollem Wellnessbereich und Speisesaal. Es wird sehr auf Nachhaltigkeit geachtet. Es gibt neue und alte Zimmer. Die neuen sind super schön, die alten eher urig/gemütlich. Das Essen ist super, nur für Veganer dürfte es etwas mehr Auswahl geben :)
Review date 22. June 2022
Familiäres Ambiente. Sehr freundliches Personal in allen Bereichen. Super Frühstücksbuffet und Abendessen. Wellnessbereich und auch das beheizte Schwimmbad im Außenbereich ist ein Genuss.
Review date 22. June 2022
Als praktischer Zwischenstop gewählt wurden wir von leckerem Essen und einem schönen Wellnessbereich empfangen, sodass wir das Hotel zukünftig gewiss auch nochmal als Urlaubziel ansteuern werden. <br />Daumen hoch
Review date 21. June 2022
100%-iges Biohotel, welches seinem Namen Ehre macht. Hier wird nicht mit Bio Reklame gemacht, sondern danach gelebt. So wurde der Neubau wunderschön gestaltet und passt gut zum Stammhaus, welches bei mir immer das Gefühl eines "Schlösschens" wach ruft. Alles ist sehr sauber und gut erhalten bzw. neu gemacht.
Review date 20. June 2022
Sehr freundlich, tolles Essen mit Berücksichtigung von vegetarischer/veganer Ernährungsweise. Die Zimmer sind gemütlich und modern eingerichtet. Im Garten kann man sehr gut entspannen. Die Gegend ist auch nur zu empfehlen - insgesamt ein wunderschöner Kurzurlaub - vielen Dank an Familie Tauber und das gesamte Team :)
Review date 20. June 2022
Sehr schöne Neubauzimmer, top Frühstück, sehr schöner Speisesaal. Leider passt das Abendmenü nicht ganz zum Ambiente. Service und Küche sollte sich steigern. Daher nur gut
Review date 17. June 2022
Der Außenbereich ist wirklich super und auch der Spa/Wellness-Bereich ist top! Die Zimmergröße war ansprechend, allerdings werden auf den Fotos bei der Buchung die Bäder nicht dargestellt - diese sind alles andere als modern und leider sehr veraltet, was den Gesamteindruck trübt, schade!
Review date 14. June 2022
Tolles Hotel. Frühstück und Abendessen absolut top, sehr lecker. Wellnessanlage neu, modern und schön. Infinitypool super. Zimmer für eine Familie mit Kind etwas klein, aber darüber kann man hinwegsehen, da alles andere perfekt ist.
Review date 14. June 2022
Beautiful hotel, fantastic food (both breakfast and dinner), excellent wines. The room in the new building (wood) was beautiful, great shower, different pillows to choose from. The staff is really nice and helpful.<br />WiFi is only available in the lobby area, so if you need to work in between, keep this in mind.
Review date 10. June 2022
Wunderschönes Hotel mit sehr guter Küche
Review date 04. June 2022
Sole e pioggia in questa vacanza al Bio Tauber, ma chi se ne importa in questo hotel ti rilassi e ti fai coccolare indipendente dal tempo .<br />Raffinata location dettagli arredo curati , atmosfera rilassante sua all'interno che all'esterno , tutto curato nei dettagli , Ottimo cibo con colazione superlativa , famiglia accogliente e gentile.
Review date 27. May 2022
Ruhig und sonnig
Review date 22. May 2022
Viaggio per relax tra amiche: non potevamo fare scelta migliore, hotel accogliente, immerso in una location da soglio, per chi, come noi, desidera immergersi totalmente nella natura! Materie prime e preparazioni dei cibi, sublimi! Staff cortese e disponibile ad assecondare le richieste del cliente! Ottimo rapporto qualità/prezzo! Assolutamente consigliato!!
Review date 20. May 2022
Bellissima la struttura, molto gentili il personale.<br /><br />Giancarlo Boscaro Tenenti, Venezia
Review date 19. May 2022
Das Taubers Bio Vital Hotel ist ein gepflegter sehr schöner Familienbetrieb. Das Haupthaus ist ein etwas älteres architektonisches Hotel mit top funktionierendem besterhaltenem Gebäudekomplex in der Südtiroler Alpen Region.<br />Die neuerstellte Hotelerweiterung erfolgte in einer top modernen Holzbauweise mit einer ebenso fein abgestimmten Architektur.<br />Die perfekte Lage im herrlichen ruhigen Umfeld im Grünen zwischen den Zentren Brixen und Bruneck ist vorteilhaft, damit können in kürzester Distanz die Täler in der Umgebung ausgekundschaftet werden.<br />Ein einzigartiges Frühstücksbuffet und ein hervorragendes Abendessen mit feinst angerichteten Salaten wurden zur unserer vollsten Zufriedenheit von freundlichstem Personal geboten.<br />Ebenso herrlich war der Naturgarten mit den schattenspendenden Bäumen und den gepflegten Schwimmbädern und dem schönen Wellnessbereich zeichnen diesen perfekten Familiengastbetrieb aus.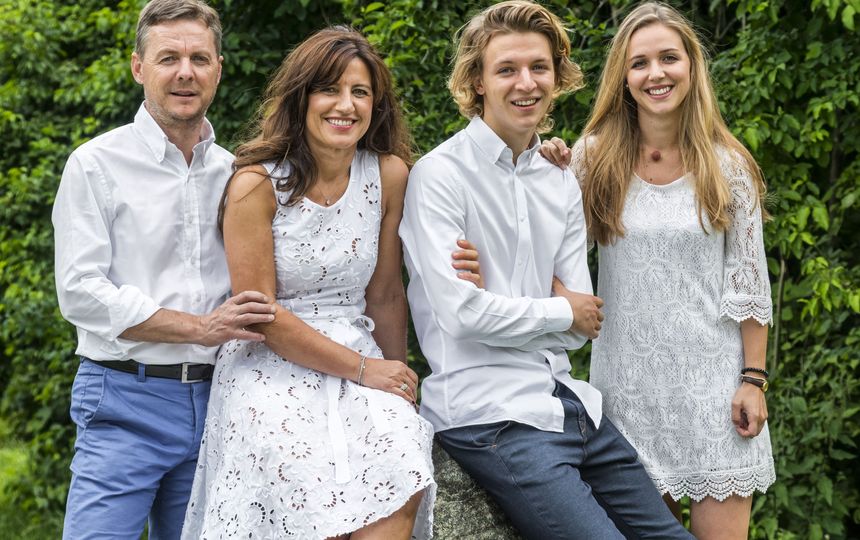 Hosts
The Tauber family is a founding member of BIO HOTELS and thus the first organic vitality hotel in the valley. Since then, the hosts consistently develop the hotel to stay true to their promise: To give vitality, balance and joie de vivre.
 
Margit embellishes the hotel with self-painted pictures, clay figures and vases; Gerd is a passionate nature photographer and likes to share his best snapshots with guests at the hotel.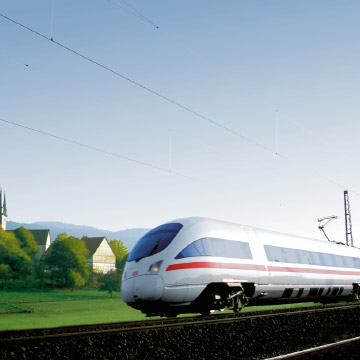 Arriving by train
© Deutsche Bahn AG / Gert Wagner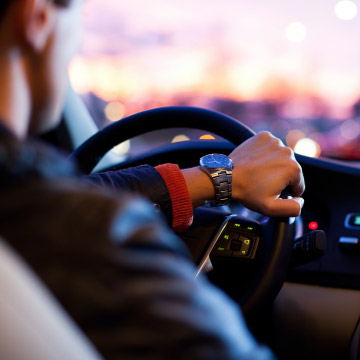 Get here by car