Highlights
Restaurant for hotel guests
Vegetarian menu
Vegan dishes
Allergy-free kitchen
Services around Organic cuisine
Vital kitchen
Whole food
Buffet meals
Menu selection
Hotel bar
Highlights
Hotel with charging station for e-cars
Services around Sustainability
Certified BIO HOTELS member since December 2005
Organically built building
Environmentally friendly and self-sufficient energy concept
Inspected by ABCERT
Highlights
Nature hotel
Electrosmog Reduced hotel
Hotel for allergy sufferers
Services around Vacation
Elevator
Free WIFI
Non smoking hotel
Free parking
Pick-up service from train stations included
Summer sports activities such as hiking, cycling, golfing
Winter sports activities such as Skiing, tobogganing, snowshoeing
Highlights
Hotel with swimming pool
Hotel with sauna
Services around Wellness
Massage offers
Cosmetic treatments
Steam bath
Indoor swimming pool
Outdoor pool
Swimming pond
Feel-good garden
The hygiene concept in our hotel: 
Trained staff who is familiar with safety guidelines of local authorities
Staff wears masks and gloves where necessary
Disinfectants in rooms and public areas
Contactless (online) check-in possible
Distance rules are observed
Self-service buffet (gloves available for guests)
Comprehensive room cleaning by the staff
Guests can indicate that housekeeping is not desired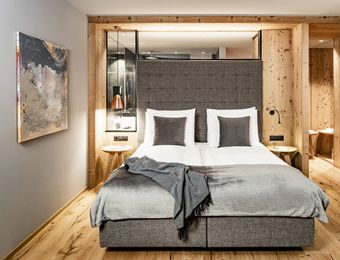 BIO Suite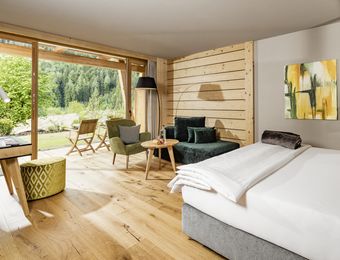 Garden suite
Double room with balcony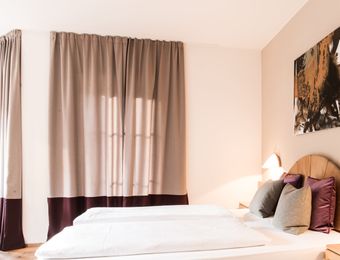 Double room with stairs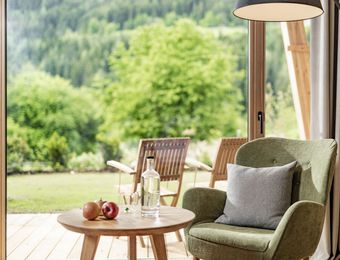 Single room
Overall rating
1097 rating
Review date 23. January 2022
Almeno una volta nella vita bisogna soggiornare in questo hotel! Vietato non farlo! Top of the top! Colazione sublime...cena eccellente...la famiglia Tauber squisita...il personale gentilissimo...zona welness fantastica...Sandra e Laura del centro estetico super brave. Tutti ingredienti per un indimenticabile soggiorno! Ci ritorneremo sicuramente!
Review date 22. January 2022
Complimenti sinceri per una struttura ricca di qualità:<br />Servizi (pulizia degli ambienti, ristorazione raffinata di qualità e gratificante, gentilezza di tutto il personale, escursioni consigliate e supportate gratuitamente dalla proprietà, area benessere veramente di qualità con l'aggiunta di sauna e piscina esterna riscaldata.)<br /> Location (struttura riservata, di facile raggiungimento, vicino pochi km agli impianti sci Plan de Corones e alle più conosciute località turistiche)<br />Prezzi molto onesti (se si considerano i punti sopra descritti è obiettivo riconoscere questo).<br />Consigliatissimo Angelo e Carla settimana di Gennaio 2022 Tanti saluti alla famiglia Taubers e in particolare a Simon
Review date 21. January 2022
Difficile trovare un difetto a questa struttura. Ci siamo capitati per caso ma ci ritorneremo di sicuro! Proprietari bravissime persone, il personale dipendente altrettanto, colazione e cena da cinque stelle plus, la spa un gioiellino, Sandra e Laura del centro estetico top top!
Review date 15. January 2022
Settimana incantevole, La Famiglia Tauber ci ha coccolati e accontentati su tutto. Location molto suggestiva, cucina di grande spessore con menù molto vario, SPA favolosa, personale gentile e disponibile. Buonissimo punto di partenza per raggiungere qualsiasi destinazione montana desiderata. Ci torneremo quando possibile.
Review date 10. January 2022
Wunderschöne geschmackvolle moderne und stilvolle Zimmer,<br />großartiges Frühstücksbuffet, hervorragendes Bioessen,<br />aufmerksamer und sehr zuvorkommender Service, toller Spabereich- alles in allem wirklich perfekt. Wunderbar war auch die Schneewanderung, die Herr Tauber mit uns und anderen Gästren gemacht hat.
Review date 09. January 2022
Struttura spettacolare! Siamo stati benissimo, la suite vista giardino è meravigliosa, spaziosa e con una grande vetrata che da sul giardino. La SPA stupenda, con una sauna panoramica e piscina esterna e zona relax. Colazione con prodotti BIO di ottima qualità, cena sempre ottima con due scelte di primo e secondo e buffet di verdure una più buona dell'altra! Consiglio a tutti di soggiornare in questa struttura se volete rilassarvi per qualche giorno. Anche la Famiglia Tauber gentilissima e pronta a soddisfare ogni nostra richiesta
Review date 09. January 2022
Non possiamo dire di essere stati male. Il personale e gentilissimo e i pasti sono squisiti compresa la colazione. La SPA è una delle più belle che abbiamo visitato. Dobbiamo fare alcuni appunti : ci aspettavamo che la piscina comunicasse con quella interna(ma questo è una nostra lacuna in quanto no abbiamo visto bene la brochure ) poi il parcheggio non è comodo e vicino e l'accesso è un po' pericoloso visto il ghiaccio in questo periodo. Troppo caldo in camera. Distinti saluti
Review date 08. January 2022
Presa l ultima camera disponibile, ma pagata come una normale camera quando la qualità era da 3 stelle...<br />Il cibo e la spa molto buoni.
Review date 08. January 2022
Hotel molto accogliente e curato, cibo buonissimo con ampia scelta di piatti salutari e varianti vegane. Personale gentile e disponibile. Il sig. Trauber è un'ottima guida, abbiamo fatto la ciaspolata, tutto gratuito compresa l'attrezzatura. Spa attrezzata e confortevole (unico consiglio è l'aggiunta di un idromassaggio). Hotel da consigliare
Review date 08. January 2022
La nostra visita al Tauber's biovital ha superato le aspettative.<br /><br />La zona SPA e molto bella, accogliente, pulita, ci si rilassa e ci si rigenera negli spazi adobiti al benessere. Ottoma la colazione con tanti prodotti, c'è da sbizzarrirsi e tutto è rigorosamente Bio.<br />Anche la cena con una doppia offerta e una proposta di vino ogni sera sia al caluce che alla bottiglia.<br /><br />Servizio ottimo.
Review date 02. January 2022
Familiengeführtes Hotel mit überdurchschnittlich freundlichen Personal. Ausgezeichnete Küche mit biologischen und regionalen Produkten. Sehr schöner Wellnessbereich - toller Außenpool!!
Review date 04. November 2021
Das Hotel liegt günstig an der Pustertaler Straße um schnell viele Sehenswürdigkeiten zu erreichen. <br />Ein sehr schönes Hotel mit großen Zimmern, schönem Wellnessbereich mit einer schöner Gartenlandschaft.<br />Eine vorzügliche Gastronomie rundet alles wunderbar ab. Weiter so.
Review date 03. November 2021
Schönes sauberes Hotel . Super leckeres Essen . Freundliches , nettes , hilfsbereites Personal . Sehr schöner Wellness und Saunabereich . Schön fand ich auch den großen Parkplatz.
Review date 03. November 2021
Tolles Haus mit hervorragender Küche, ich hab selten so gut gegessen wie dort. Sehr freundliches Personal, immer bemüht einem alle Wünsche zu erfüllen. Man kann dort wirklich einen schönen Urlaub in herrlicher Atmosphäre verbringen
Review date 03. November 2021
ENT-schleunigen; ENT-spannen, genießen und durchatmen - all das kann hier gelebt werden - Wir haben ja schließlich Urlaub. Nach einer Wanderung auf die Sonnenterasse oder/und in die Sauna- beides bringt den Ausflug zu einem erholsamen Abschluss. Und wer eine genussvolle, abwechslungsreiche und lokale, bio-gesunde Küche wertschätzt, kommt bei freundlichem und aufmerksamem Service voll und ganz auf seine Kosten- die im Übrigen völlig angemessen sind.
Review date 03. November 2021
Ein inhabergeführtes Haus, modern und trotzdem authentisch. Gutes Essen und schöne Zimmer und ein schönes Pool im Aussenbereich. Etwas störend aber unabdingbar der Lärm der vorbeiführenden Straßen, aber wir Urlauber müssen unsere Ziele ja auch irgendwie erreichen..Gut hat uns gefallen, dass man vom Hotel direkt mit dem ÖPNV z. B. nach Brixen fahren kann.
Review date 03. November 2021
Das Hotel ist super schön, sehr sauber und das gesamte Personal ist sehr aufmerksam und überaus freundlich. Das Essen ist der absolute Wahnsinn und der Spa-Bereich perfekt um einfach mal zu entspannen.<br />Wir kommen auf jeden Fall wieder und können das Hotel nur empfehlenswerten
Review date 03. November 2021
Schönes Biohotel in Südtirol. Ausgezeichnetes Essen, viel Holz in den Zimmern, sehr angenehme Atmosphäre. Sogar mit Außenpool und tollem Wellness-Bereich. Idealer Stützpunkt für Wanderungen.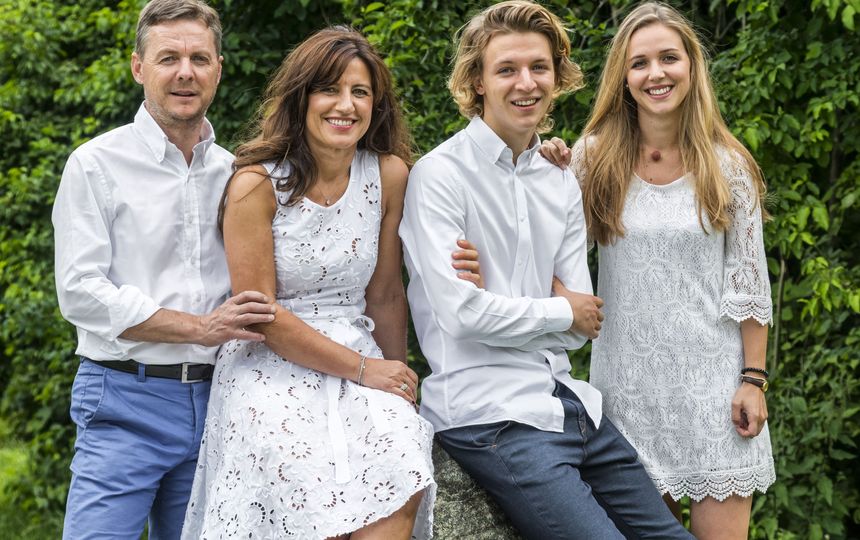 Hosts
The Tauber family is a founding member of BIO HOTELS and thus the first organic vitality hotel in the valley. Since then, the hosts consistently develop the hotel to stay true to their promise: To give vitality, balance and joie de vivre.
 
Margit embellishes the hotel with self-painted pictures, clay figures and vases; Gerd is a passionate nature photographer and likes to share his best snapshots with guests at the hotel.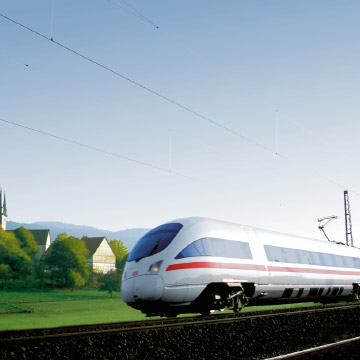 Arriving by train
© Deutsche Bahn AG / Gert Wagner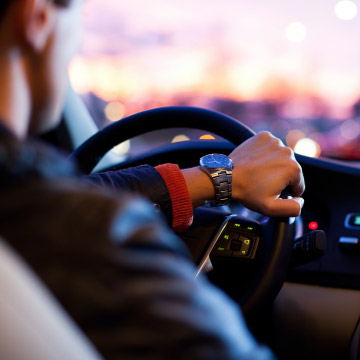 Get here by car