Highlights
Restaurant for hotel guests
Vegetarian menu
Vegan dishes
Allergy-free kitchen
Services around Organic cuisine
Vital kitchen
Whole food
Buffet meals
Menu selection
Hotel bar
Highlights
Hotel with charging station for e-cars
Climate-positive hotel
Services around Sustainability
Certified BIO HOTELS member since December 2005
Organically built building
Environmentally friendly and self-sufficient energy concept
Inspected by ABCERT
5,32 kg Co2-equivalents/night
62,2 tons Co2-equivalents/year
Highlights
Nature hotel
Electrosmog Reduced hotel
Hotel for allergy sufferers
Services around Vacation
Elevator
Free WIFI
Non smoking hotel
Free parking
Pick-up service from train stations included
Summer sports activities such as hiking, cycling, golfing
Winter sports activities such as Skiing, tobogganing, snowshoeing
Highlights
Hotel with swimming pool
Hotel with sauna
Services around Wellness
Massage offers
Cosmetic treatments
Steam bath
Indoor swimming pool
Outdoor pool
Swimming pond
Feel-good garden
The hygiene concept in our hotel: 
Trained staff who is familiar with safety guidelines of local authorities
Staff wears masks and gloves where necessary
Disinfectants in rooms and public areas
Contactless (online) check-in possible
Distance rules are observed
Self-service buffet (gloves available for guests)
Comprehensive room cleaning by the staff
Guests can indicate that housekeeping is not desired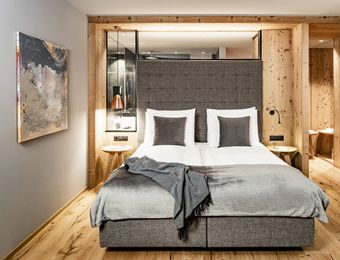 BIO Suite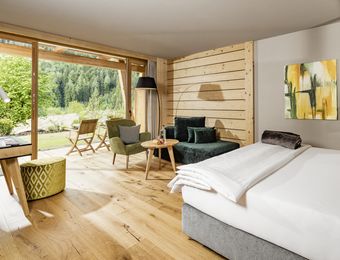 Garden suite
Double room with balcony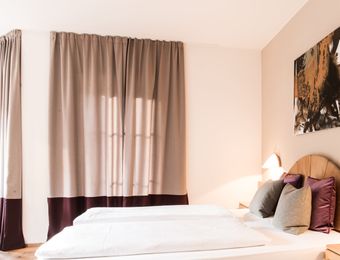 Double room with stairs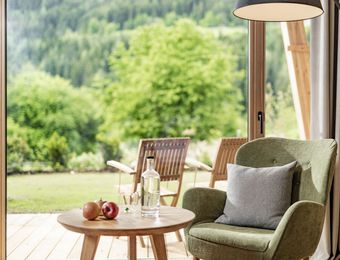 Single room
Overall rating
1091 rating
Review date 13. October 2021
Wir waren 10 Tage bei Taubers, aber sicher nicht das letzte Mal. Die Mitarbeitenden im Haus sind alle sehr sehr freundlich, das Essen abends war so gut, dass wir uns schon beim Frühstück (tolles Büffet !) darauf gefreut haben. Der Biogedanke ist sehr konsequent durchdacht und wird auch durch gehalten. Die neue Wellnessanlage mit dem Außenpool macht einfach Freude. Die Wandermöglichkeiten sind riesig. Fazit: Wir kommen sicherlich wieder, es lohnt sich!
Review date 10. October 2021
Das Hotel wird von eine Familie betreut und ist klein und fein, mit eigenem Karakter. Angenehmer Garten mit geheiztem Aussenschwimmbad und Garten mit aussen Sauna. Wandertipps und gefühte Wanderungen vom Hoteleigentümer. Wer es natürlich schätzt, wird es lieben. Qualitätsküche und Einrichtung. Für uns zwar lang und weit fahren von Belgien, aber ich glaube... wir kommen mal wieder (oder hoffe es). Echtes Urlaubsgefühl haben wir hier gefunden. Nichts was störte, nur angenehm.
Review date 09. October 2021
Siamo ospiti di questo bio hotel da più di 10 anni. Lo abbiamo frequentato in tutte le stagioni ed è una garanzia di servizio e qualità. La conduzione della Famiglia Tauber è impeccabile, sempre molto disponibile e con una ampia gamma di servizi.<br />Il loro leitmotiv è serenità, natura, nel rispetto dell'ambiente, da provare la loro struttura costruita in bioedilizia.<br />Non dimenticatevi il costume per la piscina aperta con acqua riscaldata.
Review date 09. October 2021
Das Hotel hält was der Name verspricht-ein bis ins Detail verwirklichen ökologisches Konzept, sehr ruhig, Gemüsegarten, viel Holz und Stein,großzügige Saunaanlage,Naturteich zum Kneippen.Bestes Bioessen,sehr viel Selbstgemachtes insbesondere zum reichhaltigen Frühstück auf höchstem Nahrungsmittelniveau.Das Personal sehr freundlich,alles Dauerangestellte aus der Region,das EhepaarTauber sehr kompetent in der Beratung von individuellen und geführten Touren. Zentral in einer gigantischen Naturlandschaft. Volle Punktzahl.
Review date 02. October 2021
..ein ganz tolles Hotel. Das Essen war hervorragend und das Servicepersonal war sehr nett und zuvorkommend....Preis-Leistung stimmt aboslut !
Review date 02. October 2021
Albergo molto curato nei particolari. Colazioni superbe. La cena, seppure con alimenti di prima scelta, lascia un po' desiderare nelle proposte vegetariane.<br />Tutto molto bello e pulito.<br />Mi lascia perplessa l'acqua da pagare ai pasti... 4 euro e 50 al litro... E gli orari della sauna... Chiusura alle 19:00
Review date 18. September 2021
Schöner Neubau mit großen Zimmern, einem tollen SPA-Bereich, aber KEIN WLAN auf dem Zimmer. Der Service im Restaurant war einfach nur schlecht. Wir können das Haus nicht empfehlen.
Review date 10. September 2021
Eine wunderschöne Woche im Pustertal, Hotel sehr gut,die Zimmer sind der Hammer, sehr groszügig, Personal sehr nett und hilfsbereit, das Essen auch top, gehen auf jede Person ein wegen Unverträglichkeiten.<br />Schade das wir nicht länger gebucht hatten, wir kommen wieder,es gibt noch vieles zu Endecken
Review date 01. September 2021
L'albergo si denota per un'ottimo rapporto qualità/prezzo e per la spiccata sensibilità verso la sostenibilità ambientale. Il servizio e la cura della pulizia, dell'offerta enogastronomica e della spa si sono dimostrate eccellenti. Molto interessante la carta dei vini e la filosofia "bio" sottostante ad ogni pietanza proposta. Da apprezzare altresì anche la cordialità dei titolari e del personale di sala. Un suggerimento potrebbe risultare l'ammodernamento delle camere nella parte "storica", in funzione del mantenimento della qualifica a quattro stelle, ma ciò non ne pone in discussione la confortevole posizione e la comodità. Nel complesso la permanenza è stata molto apprezzata.
Review date 28. August 2021
Sehr schön gelegenes Wanderhotel. Toller Entspannungs- u. Wellnessbereich. Köstliche Verpflegungmit großer Auswahl auch für Menschen mit Nahrungsmittelunverträglichkeiten.
Review date 25. August 2021
La struttura è veramente molto curata, pulita e organizzata bene. La piscina esterna è molto bella, così come la sauna esterna panoramica e tutta la zona wellness. Giardino stupendo e curato in maniera eccelsa.<br />Il parcheggio è molto comodo e il personale estremamente gentile, discreto, e attento.<br />La colazione è eccezionale, prodotti di qualità altissima, freschi, sempre riforniti. La formula della pensione 3/4 è ottima nel periodo estivo, e prevede un pranzo light a base di insalate. La cena consta di due portate a scelta, in aggiunta ad un buffet di verdure fresche e grigliate o simili, una degustazione di formaggi e dolce. Il cibo è in generale molto particolare: molta attenzione viene data all'utilizzo di prodotti vegetariani e spesso con proposte innovative basate su prodotti a km zero. Alle volte tra le proposte compaiono piatti di altre regioni: assolutamente ben fatti ma personalmente avrei preferito avere sempre modo di provare qualcosa di tipico.<br />L'unica pecca su cui ho visto soffermarsi parecchie persone è il costo dell'acqua servita a cena: acqua del rubinetto in brocca a 2 euro e in bottiglia mi pare 4.5. Francamente in un posto di questo livello mi sembra un po' un peccato, e magari potrebbe essere meglio garantire un litro d'acqua a coppia a pasto, che a mio avviso spingerebbe di più a spendere per un calice di vino.<br />È stato comunque un soggiorno veramente gradevole e consiglio assolutamente questa struttura. I prezzi non sono propriamente bassi ma la qualità è veramente buona.<br />Complimenti per il vostro lavoro!
Review date 21. August 2021
Eccellenti in tutto! La famiglia Tauber ha creato l'eccellenza nel settore accoglienza! Struttura magnifica con piscina, sauna, centro massaggi e camere deliziose e molto pulite. Disponibili delle e bike per noleggio. Cibo di ottima qualità e piatti davvero buonissimi preparati direttamente con verdure del loro orto. Tutto il personale è di una gentilezza mai vista. La posizione dell'hotel è strategica per raggiungere tantissime vette.
Review date 20. August 2021
sehr schöne, modern eingerichtete Zimmer, mit Balkon und ruhig. Netter Ausblick auf dem Garten und in das Pustertal. Ansprechendes, modernes Bad. Genügend Parkplätze stehen zur Verfügung. Gepflegte Atmosphäre im Speisesaal.
Review date 18. August 2021
Eine wunderschöne Umgebung zum Wohlfühlen, Entspannen und Abschalten. Supernettes Personal, das sich um alle Wünsche kümmert. Hier ist für jeden etwas dabei - für Feinschmecker, Sportskanonen und Auszeit-Sucher! Ein gelungener Urlaub mit Wiederholungsbedarf!
Review date 17. August 2021
Luogo magnifico immerso nella natura e nella tranquillità. Cibo ottimo e totalmente Biologico e a km 0. Consigliatissimo!!!!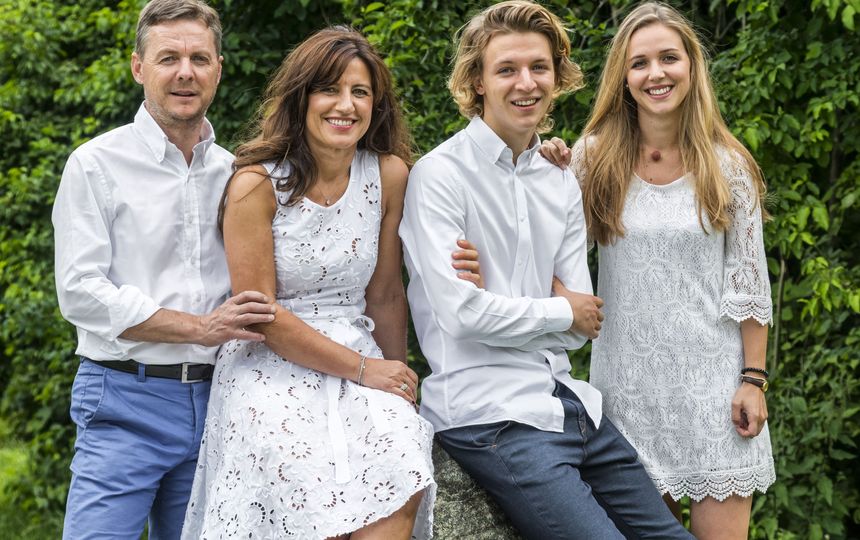 Hosts
The Tauber family is a founding member of BIO HOTELS and thus the first organic vitality hotel in the valley. Since then, the hosts consistently develop the hotel to stay true to their promise: To give vitality, balance and joie de vivre.
 
Margit embellishes the hotel with self-painted pictures, clay figures and vases; Gerd is a passionate nature photographer and likes to share his best snapshots with guests at the hotel.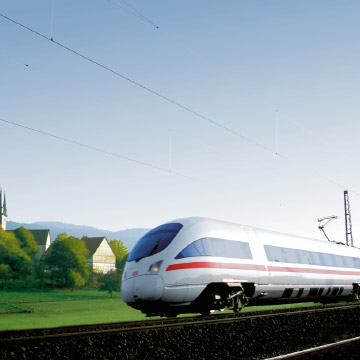 Arriving by train
© Deutsche Bahn AG / Gert Wagner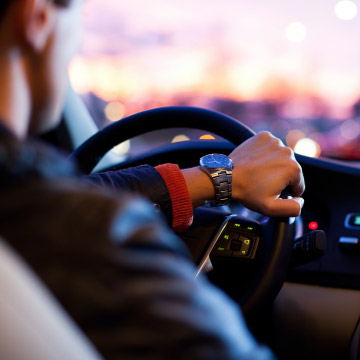 Get here by car