Medical Wellness Hotels
What is Medical Wellness?
The term "medical wellness" appears again and again. But what exactly do you mean by that? And what is even more important: How can you tell whether a hotel is also qualified to offer medical wellness? We spoke to Andreas Eggensberger (physiotherapist, Kneipp bath attendant and organic hotelier, among others) and gathered first-hand information for you.


Where does the term medical wellness come from?
Andreas Eggensberger was involved in the definition process for his company, the BIO HOTEL Eggensberger, and at the same time for our BIO HOTELS as an association all over Germany. In the end, a uniform declaration was issued, which all associations involved in the creation process still adhere to - the so-called "Letter of Intent":

Medical wellness describes a development in which special wellness offers are combined with meaningful medical services. It has developed from the broad wellness movement and extends its health-promoting effects to include methods of primary prevention and recognized natural healing methods. It is thus developing into a new pillar that connects the markets of medicine and the wellness industry.
What does medical wellness bring? What are the benefits?
Medical wellness is aimed at people who want to do more for themselves and their health, actively and on their own responsibility. It contains effective measures for independent health care and stabilization of health and aims at a sustainable improvement of the individual quality of life and the subjective health perception of the user. These measures are based on an individual application plan consisting of sensibly coordinated medical treatments and competent wellness, exercise and relaxation offers that take into account the individual possibilities, inclinations and needs of the guest, motivate them to adopt a health-conscious lifestyle and always take their current state of health into account.


What applications and treatments are there?
All medical wellness applications are Evidence Medicine Based, i.e. with a scientifically sound proof of effectiveness. The range of applications and treatments is diverse. Examples include a. Back analyzes, gait analyzes, performance diagnostics, heart variance measurements, back training, etc.
Who is allowed to carry out medical wellness?
As part of the Letter of Intent, very clear guidelines were formulated in this regard:
1. Medical management

A doctor is involved in the operational processes of the medical wellness facility.
He has trained in general medicine, internal medicine or orthopedics and an additional qualification in the wellness area. Unless additional specialist staff covers these areas, knowledge of physical therapy and recognized natural healing methods is also available.
The doctor responsible for the medical wellness area is significantly involved in the conceptual design of the facility (therapies, offers, products) and is responsible for the individual application plans.
He understands customer communication and service quality as important prerequisites for application success.
He has a suitable consulting room in the facility.
2. Medical availability
The medical wellness facility ensures that an initial medical examination is offered. It is the basis for creating the individual application plans.
The doctor is available to the guest during his entire stay as a contact person and offers - depending on the length of stay - accompanying interim discussions.
In a detailed final meeting, individual recommendations for the home are formulated and set down in writing.
During the absence of the doctor, medically trained staff are available as contact persons for the guests.
3. Qualification of the employees
All employed users have a state-recognized therapeutic training and coordinate their activities with the doctor at the facility.
At least one therapist (e.g. physiotherapy) is employed full-time in the facility.
All employees have a high level of professional qualifications, detailed knowledge of all operational processes, experience in customer orientation and service quality, as well as pronounced psychosocial competence.
The medical wellness facility ensures the regular further qualification of its employees in all areas of competence (technical, methodical, social, personal) and especially in the area of customer orientation and service quality.
4. Integrative concept
The medical wellness facility has a holistic and scientifically sound understanding of health (proof of the operating principles), with the guest being the focus.
It is based on positive health goals (salutogenic orientation) and integrates multidisciplinary wellness programs.
If local remedies are available, these will be included in the therapies / treatments if it makes sense from a medical and therapeutic point of view.
All medical-therapeutic applications are based on standardized examination forms and therapy plans as well as on performance descriptions of physiotherapy.
The facility ensures extensive communication among the service providers.





5. Offers aimed at sustainability
All medical wellness programs are geared towards a sustainable, independent change in lifestyle. They should help people to help themselves and show ways of integrating what they have learned into the guest's individual everyday life.
Careful documentation of the results and goals ensures long-term suggestions (e.g. nutrition plan, exercise plan) and independent success control.
If possible, the medical wellness facility's advisory team should be available to the guest beyond the duration of their stay.



6. High quality of furnishings and fittings
The accommodation, catering and application areas of the medical wellness facilities meet equipment standards that can be equated with the corresponding official classifications (DEHOGA / IHA).
The "hardware" allows a professional treatment and care of the guests and creates a framework in which the guest can relax, reflect and feel good without worries.
The treatment and examination rooms have modern equipment and convey medical and therapeutic competence without a clinic atmosphere.



7. Documented quality managemen
llness facility guarantees the reliable networking of all service providers and - if requested by the guest - ensures a secure data transfer to external partners.
It has a complaint management system and uses instruments such as customer surveys to control the professional (medical, therapeutic, gastronomic) and service quality.
The facility practices a quality management system and is able to demonstrate the high quality by means of a completed certification or its own documentation.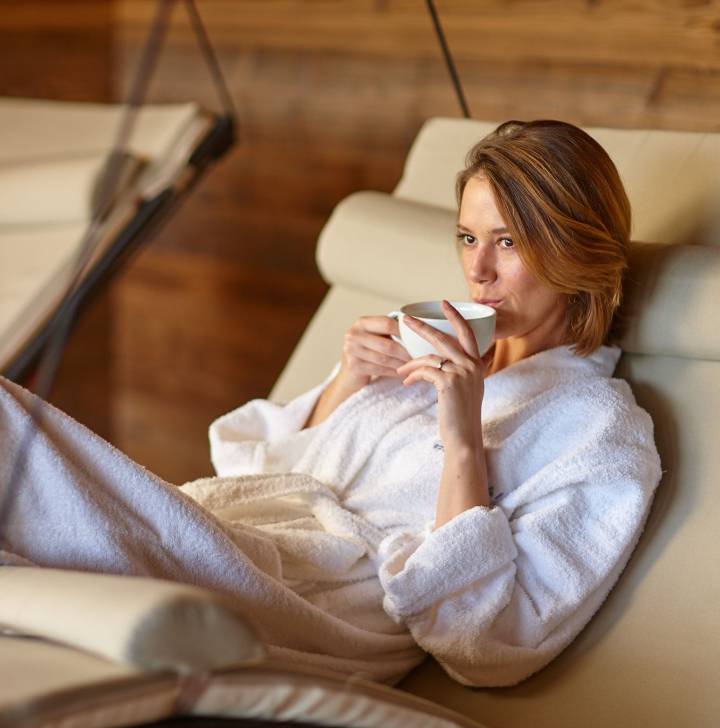 What distinguishes a medical wellness hotel?
Medical wellness facilities are specialized and independently audited hotels, health centers and clinics that meet high standards of stay and quality and whose ambience and equipment guarantee well-being and relaxation.

What should you watch out for when doing medical wellness?
As a guest, you should always make sure that a provider complies with the requirements of the above-mentioned content and guidelines and is ideally also certified for this.

How does a medical wellness treatment work?
A medical wellness treatment starts with a visit to the doctor. There important questions are asked and the further procedure is discussed in detail. The actual therapeutic treatment takes place after the conversation.
Medical Wellness Hotels:
Climate-positive health hotel with over 25 years of experience!
Heavenly relaxation in the panorama pool with healing thermal water.
Innovative hotel with majestic views at a lake and royal castles.