Highlights
Public Restaurant
Vegetarian menu
Services around Organic cuisine
Award-winning cuisine
Menu selection
A la carte meals
Hotel bar
Highlights
Hotel with charging station for e-cars
Climate-positive hotel
Services around Sustainability
Certified BIO HOTELS member since November 2006
Public interest company
Environmentally friendly and self-sufficient energy concept
Inspected by ABCERT
7,9 kg CO2e/Night
164 tons CO2e/year
Highlights
Nature hotel
Hotel for celebrations
Services around Vacation
Holidays on a Farm
Elevator
Free WIFI
Non smoking hotel
Free parking
Summer sports activities such as hiking, cycling, golfing
Winter sports activities such as Skiing, tobogganing, snowshoeing
Highlights
Hotel with day spa
Hotel with sauna
Hotel with gym
Hotel with yoga
Services around Wellness
Massage offers
Cosmetic treatments
Ayurvedic treatments
Steam bath
Whirlpool / jacuzzi
Relaxation area
Feel-good garden
Services around Green Meetings
Conference equipment
Meeting room with daylight
Modern conference technology
Sustainable & recyclable conference materials
Network technology
Break area
Catering / brain food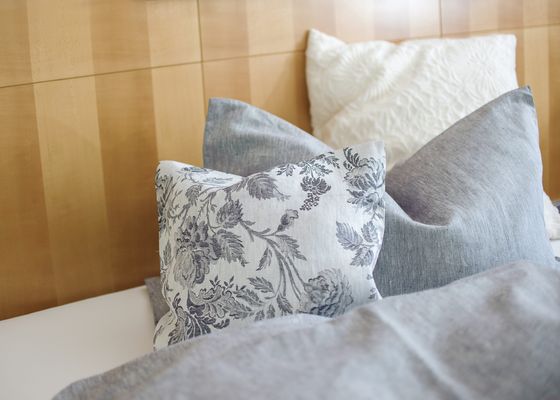 The hygiene concept in our hotel: 
Trained staff who is familiar with safety guidelines of local authorities
Staff wears masks and gloves where necessary
Disinfectants in rooms and public areas
Contactless (online) check-in possible
Distance rules are observed
Self-service buffet (gloves available for guests)
Visits to restaurants by prior arrangement only
Limited number of guests in the restaurant and in the wellness areas, etc.
Varying times for breakfast, lunch and dinner
Hygiene breaks during catering
Separate relaxation rooms
Special antiviral cleaning agents on an ecological basis
Comprehensive room cleaning by the staff
Guests can indicate that housekeeping is not desired
Cancellation terms: Room bookings can be canceled free of charge up to 6:00 p.m. on the day before arrival. Arrangements free of charge up to 3 days before arrival.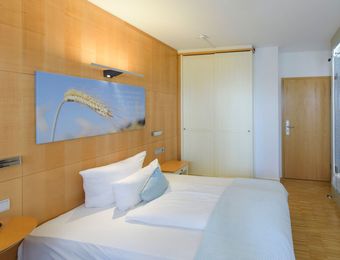 Kornfeld single room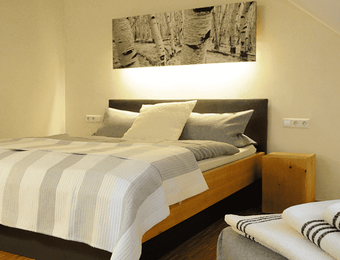 Country house village view small
Country house village view large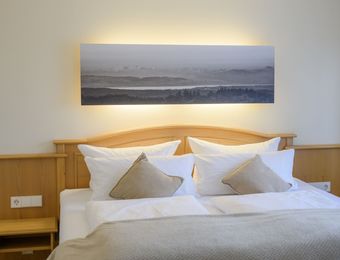 Country house lake view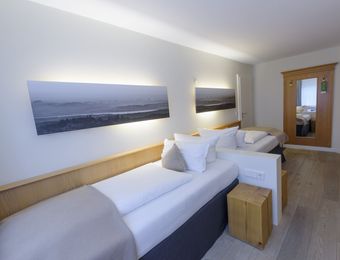 Country house twin room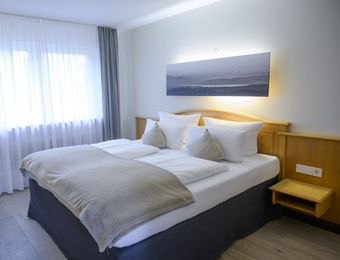 Country house double room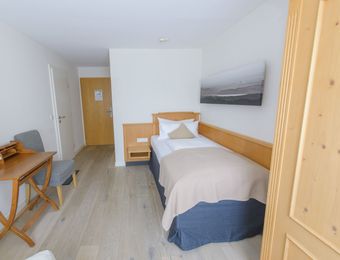 Country house single room
Country house triple room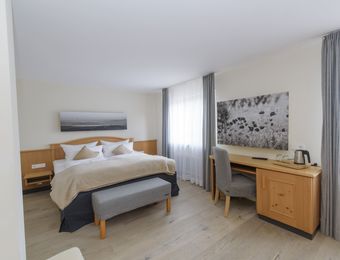 Country house room 20sqm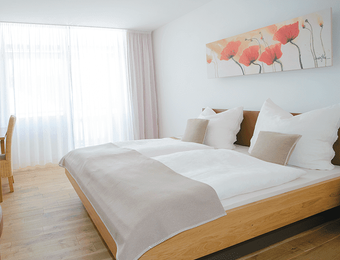 Flower meadow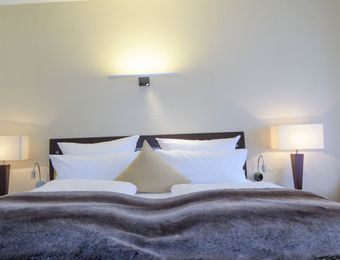 Double room romance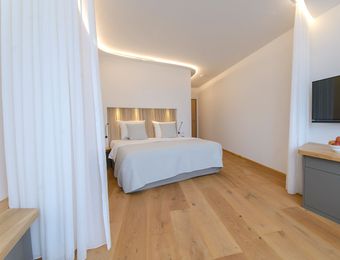 Double room morning sun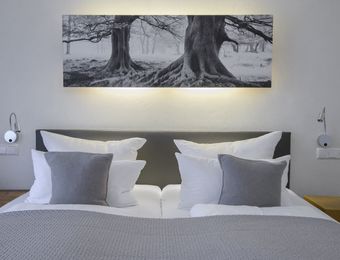 Double room summer wind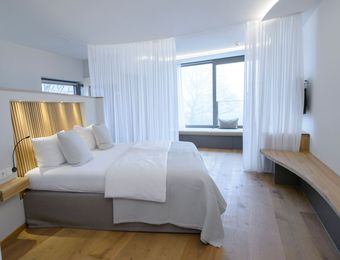 Suite SPA
Review date 11. November 2022
Alles perfekt. Leckeres Essen, tolle Zimmer, schöne Lage, alles sehr sauber. Jederzeit weiter zu empfehlen und den Besuch zu wiederholen.
Review date 09. November 2022
Im August 2022 war ich mit meinem Mann zu Gast im Biohotel Mohren für 11 Übernachtungen. Wir hatten ein kleines Doppelzimmer gebucht. Das Zimmer war einfach und zweckmäßig eingerichtet. Die Matratzen waren sehr bequem und die Lage des Zimmers war ruhig.<br />Das Zimmer sowie das gesamte Hotel haben ein angenehmes Raumklima, wie man es von einem Biohotel erwarten kann.<br /><br />Im Frühstücksraum können die Gäste von 7:00 -11:30 Uhr ein Langschläfer Bio-Frühstück geniessen.<br />Beim Frühstücksbuffet gibt es eine reichliche Auswahl: mehrere Sorten Brot und Brötchen, Kuchen, Käse, Wurst, Marmelade, Brotaufstriche, verschiedene Müslisorten, mehrere Obstsorten, Joghurt, Pfannengemüse und natürlich auch Getränke wie Tee, Kaffee und Fruchtsäfte.<br />Die Speisen sind selbstverständlich zu 100 Prozent Bio und das schmeckt man auch.<br /><br />Das Hotel verfügt außerdem noch über ein Bio-Restaurant. Auf der Speisekarte gibt es eine Auswahl zwischen veganen, vegetarischen und Fleischgerichten. Die Zutaten zu den Gerichten kommen hauptsächlich aus der Region aus kontrolliert biologischem Anbau.<br /><br />Die Mitarbeiter des Hotels waren allesamt sehr aufmerksam, freundlich und zuvorkommend. Auch Sonderwünsche wurden erfüllt.<br /><br />Das Hotel und das Restaurant sind ziemlich teuer, aber der Aufenthalt dort war jeden Cent wert. Das Hotel Mohren liegt ruhig und abgelegen im Ortsteil Limpach.<br /><br />Fazit: Das Biohotel Mohren ist eine Reise wert und wir werden mit Sicherheit wiederkommen.
Review date 07. November 2022
Essen war super lecker, sehr freundliche Bedienung, leider mussten wir aber über 90 Minuten auf das Essen warten, daher ein Stern Abzug
Review date 06. November 2022
Wundervolle Speisen in gemütlichem Ambiente mit herzlicher<br />Bedienung - da kann man sich nur wohlfühlen!
Review date 06. November 2022
Absolut empfehlenswert, angefangen vom Chef bis zur Küchenhilfe, das Perfekte Team,Preis Leistung Verhältnis ist Perfekt,<br />Jedem zu empfehlen der was vom gutem Essen von einheimischen Produkte hält ist hier an der richtigen Stelle, der Vorteil es gibt immer weniger Restaurants die alles frisch zu bereiten, und das schönste ist nachdem essen ,wird niemand aufgefordert zu gehen oder bedrängt wie es in anderen Lokale ist<br />Dort gibt es auch wunderschöne Plätze zum verweilen, wie das Kaminzimmer, das Personal ist sehr aufmerksam
Review date 24. October 2022
Wir haben lediglich im Restaurant gegessen...
Review date 24. October 2022
Das sehr gute Essen ist bei vielen bekannt. Sehr lecker!! Und immer ein volles Lokal.<br />Wir hatten reserviert (13.30 Uhr) und mussten leider 25 Minuten warten bis wir eine Bestellung aufgeben durften.<br />Personal fehlt ja zur Zeit leider überall. Ansonsten alles bestens.
Review date 20. October 2022
Anlässlich eines runden Geburtstags hatten wir uns mit der ganzen Familie für ein paar Tage eingebucht einschließlich eines Essens mit Freunden. Wir waren sehr zufrieden, auch der Wellness ist sehr schön und unbedingt empfehlenswert.
Review date 23. September 2022
Bei diesem Hotel stimmt einfach alles.<br />Ein tolles Konzept! Hier werden Bauern im Umkreis mit ihren Produkten eingebunden oder eben selbst auf dem eigenen Feld angebaut.<br />Das Essen im Restaurant ist mega!<br /><br />Der Wellness-Bereich lässt keine Wünsche offen. Entspannung pur.<br /><br />Ich hatte tolle 5 Tage in diesem Hotel ... vielen Dank dafür! Insgesamt sehr zu empfehlen. I'll be back ;-)
Review date 13. September 2022
Essen, Spa, Lage, freundliches Personal, ökologische Ausrichtung
Review date 25. August 2022
Wir waren im Restaurant, und wo fange ich mit Loben an?<br />Fangfrischer, knackiger, gut abgeschmecker Salat mit frisch gehobeltem Parmesan. Sehr gutes einheimisches Essen mit frischen Noten, gute Auswahl für Vegetarier. Alles Bioware.<br />Wir hatten einen Sonderwunsch, der richtig Mühe gemacht hat. "Kein Problem, gerne." Dann kommt jemand, der den Rasen mähen möchte. Ob uns das zu laut wäre? Eigentlich schon. "Dann warte ich." Also einfach toller Service!<br />Dazu schöne Location: Fachwerkhaus, schöner Außenbereich unter alter Kastanie mit Blick auf die Berge und einen Zipfel Bodensee.<br />Alles sehr empfehlenswert.
Review date 22. August 2022
Zum Einzelzimmer Kornfeld:<br />Das Bio Hotel Mohren war in meinem Bekanntenkreis schon öfter erwähnt. Zu Recherchezwecken für ein Kundenprojekt habe ich dort eingecheckt und mit einem Branchenkenner dort zu Abend gegessen.<br /><br />Der Service ist auffallend gut organisiert, flexibel und freundlich.<br />Das Essen deliziös, die Kreationen mit dem Korsett 100% Bio genial zusammengestellt!<br /><br />Der Wellnessbereich ist großräumig und gut strukturiert, die Laufwege klar und die Orientierung jederzeit möglich.<br /><br />Das Einzelzimmer Kornfeld jedoch, sorgte für Dellen im gewonnenen Eindruck.<br />Begonnen habe ich meinen Schlafeinstieg um 22 Uhr mit geöffnetem Fenster mit Fliegengitter davor, da im Zimmer selbst sonst keine Luft zirkuliert oder aufgefrischt wird. Dass dort keine Klimaanlage zu finden war, ist mir sympathisch.<br />Nach Beruhigung der Gästegespräche im Gastgarten innerhalb einer Stunde, konnte ich aus mehreren Richtungen Gäste in ihren Zimmern hören. Mein Zimmer war sehr hellhörig.<br />Nachdem einige Gäste anfingen, sich zu duschen, fing meine Duschtasse an, blubbernde Geräusche von sich zu geben und übel zu riechen. Um ca. 23:30 schlief ich dann ein, vielleicht auch unterstützt von den Abwassergerüchen.<br /><br />Gegen 1:30 wurde ich von einem juckenden Körper geweckt. Daraufhin erlegte ich rund 21 Stechmücken, welche sich im Zimmer positioniert hatten. Den Flecken nach zu urteilen, gab es hier schon öfter solche Kämpfe. Die bereitgelegte Mückenklatsche ließ darauf schließen, dass man das Problem kennt. Leider drang das nicht bis auf eine allgemeine Gäste-Vorinformation, denn dann wäre das eingepackte Anti-Brumm parat gewesen. Das Fenster schloss ich daraufhin und brachte die letzten Stunden bis 6:30 hinter mich.<br /><br />Das Frühstück im Wohnzimmer machte mich für den anstehenden Arbeitstag nicht energievoller, trotz sehr gutem Kaffee. Das Ambiente und die Auswahl an Optionen sind sehr schön und vielfältig.
Review date 08. August 2022
Sensationelles Essen! Super Wellnessbereich! Im kleinen Örtchen Limpach, wir haben einen Reisetag überbrückt und waren wieder mal von der ruhigen Lage und dem hübschen Kleinod überrascht.
Review date 25. July 2022
Alles. Die Mitarbeiter ausgesprochen freundlich, das Ambiente sehr sehr schön, einfach zum Wohlfühlen und Verweilen. Extrem schönes Einzelzimmer. Beim nächsten Mal am Bodensee möchte ich wieder genau dieses Zimmer in diesem Hotel!!!!!
Review date 21. July 2022
Sehr gutes Frühstück, tolle Gastronomie, super Lage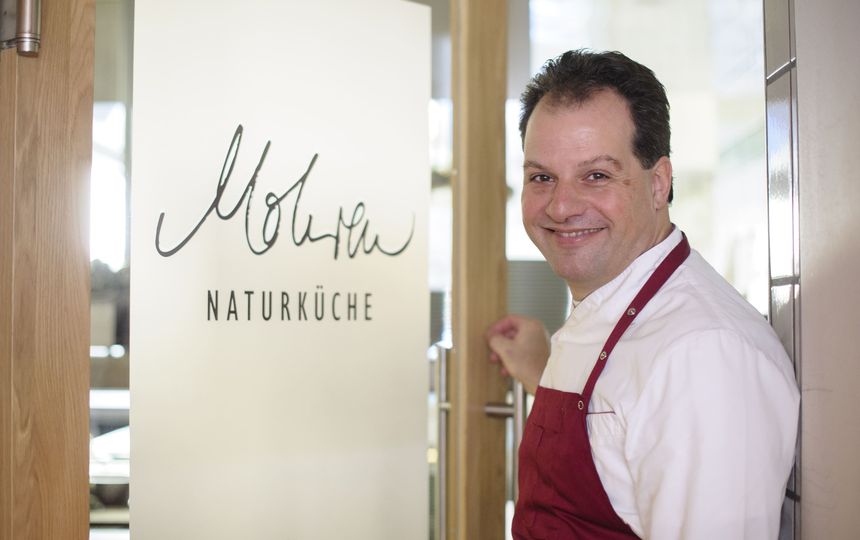 Hosts
The Waizenegger family has stood for sustainability and ecological management for centuries. Today, Jürgen Waizenegger - a passionate organic hotelier, farmer and organic chef - runs the hotel and spoils his guests with traditional dishes and a dreamlike ambience.
 
"The wonderfully great reception of our guests makes me proud. It's great to see and experience how many people think in my way and live organic, just like me.",
Your host, Jürgen Waizenegger.
 
We are a country hotel with heart and charm: In the Biohotel Mohren you will enjoy the peace and serenity of nature. In the cozy, quiet rooms you will find restful sleep. The view from the window shows you the greenery. Our house offers single and double rooms with a total of 80 beds and family rooms on request.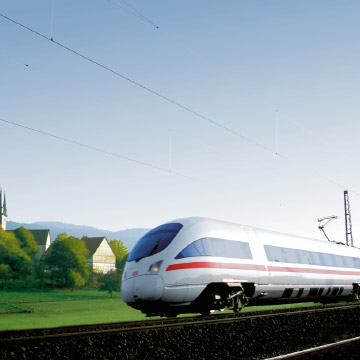 Arriving by train
© Deutsche Bahn AG / Gert Wagner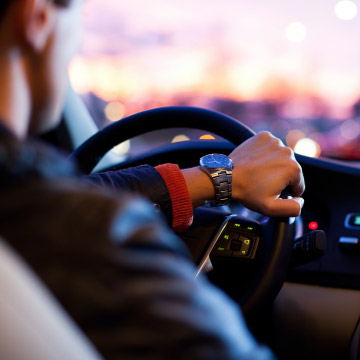 Get here by car