Highlights
Public Restaurant
Vegetarian menu
Services around Organic cuisine
Award-winning cuisine
Menu selection
A la carte meals
Hotel bar
Highlights
Hotel with charging station for e-cars
Climate-neutral hotel
Services around Sustainability
Certified BIO HOTELS member since November 2006
Public interest company
Environmentally friendly and self-sufficient energy concept
Inspected by ABCERT
7,2 kg Co2-equivalents/night
113,0 tons Co2-equivalents/year
Highlights
Nature hotel
Hotel for celebrations
Services around Vacation
Holidays on a Farm
Elevator
Free WIFI
Non smoking hotel
Free parking
Summer sports activities such as hiking, cycling, golfing
Winter sports activities such as Skiing, tobogganing, snowshoeing
Highlights
Hotel with day spa
Hotel with sauna
Hotel with gym
Hotel with yoga
Services around Wellness
Massage offers
Cosmetic treatments
Ayurvedic treatments
Steam bath
Whirlpool / jacuzzi
Relaxation area
Feel-good garden
Services around Green Meetings
Meeting room with daylight
Conference equipment
Modern conference technology
Sustainable & recyclable conference materials
Network technology
Break area
Catering / brain food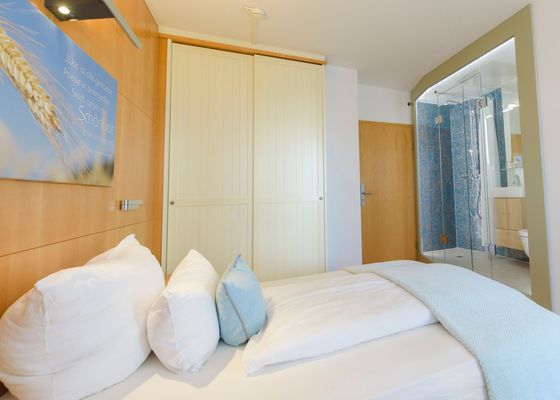 The hygiene concept in our hotel: 
Trained staff who is familiar with safety guidelines of local authorities
Staff wears masks and gloves where necessary
Disinfectants in rooms and public areas
Contactless (online) check-in possible
Distance rules are observed
Self-service buffet (gloves available for guests)
Visits to restaurants by prior arrangement only
Limited number of guests in the restaurant and in the wellness areas, etc.
Varying times for breakfast, lunch and dinner
Hygiene breaks during catering
Separate relaxation rooms
Special antiviral cleaning agents on an ecological basis
Comprehensive room cleaning by the staff
Guests can indicate that housekeeping is not desired
Cancellation terms: Room bookings can be canceled free of charge up to 6:00 p.m. on the day before arrival. Arrangements free of charge up to 3 days before arrival.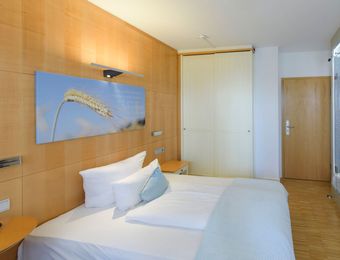 Kornfeld single room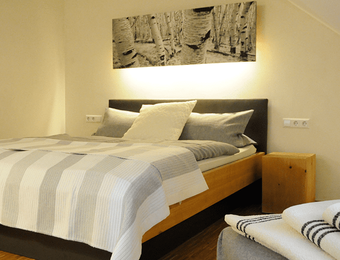 Country house village view small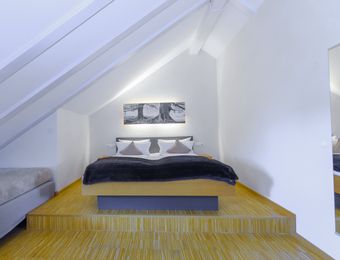 Country house village view large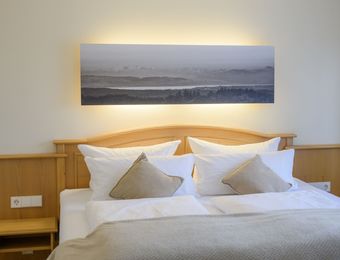 Country house lake view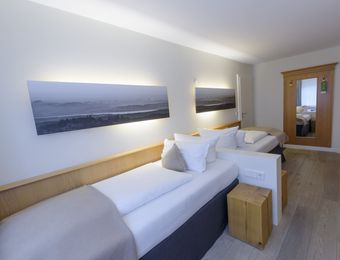 Country house twin room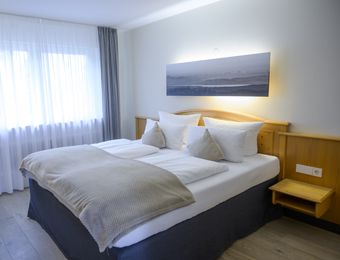 Country house double room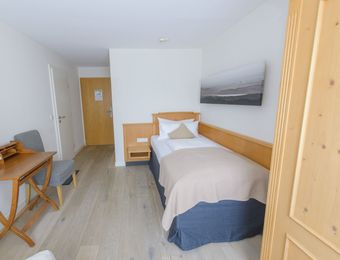 Country house single room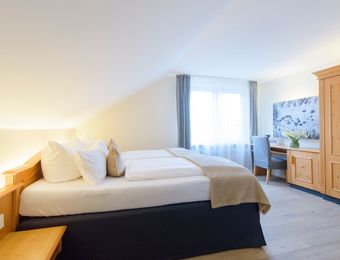 Country house triple room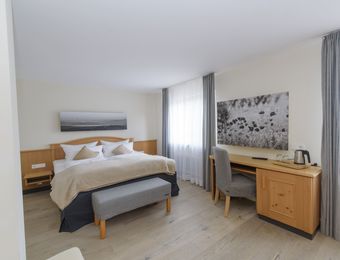 Country house room 20sqm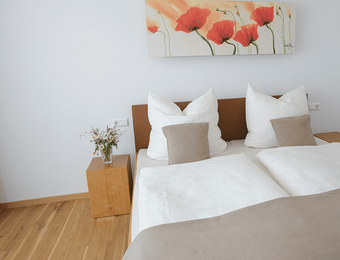 Flower meadow small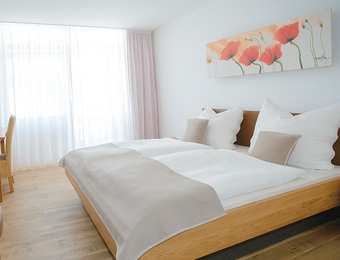 Flower meadow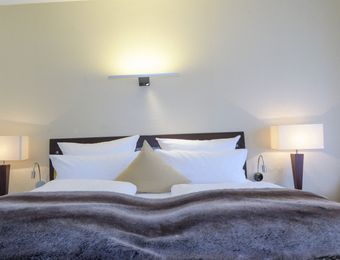 Double room romance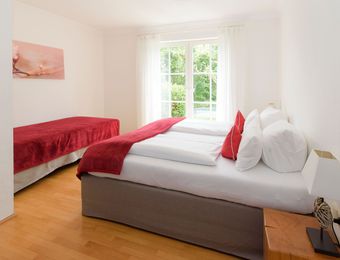 Garden apartment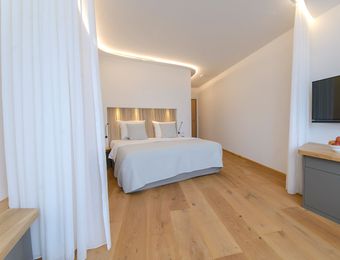 Double room morning sun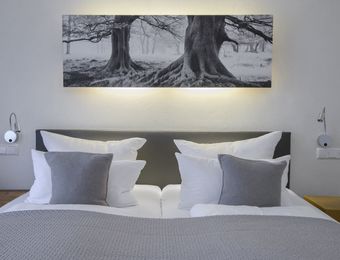 Double room summer wind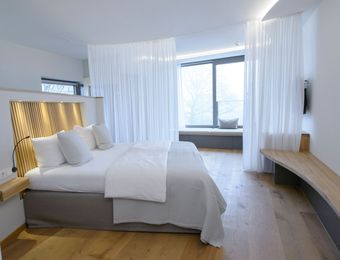 Suite SPA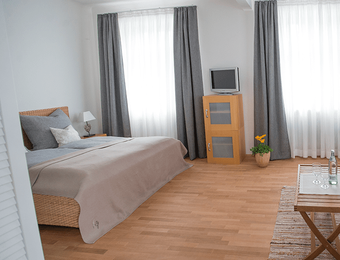 Apartment in the guest house double room
Review date 26. July 2021
Biohotel mit wenig Plastik und schönem Wellness-Bereich sowie hervorragendem Essen/ Frühstück. Der Chef kümmert sich persönlich um seine Gäste, man fühlt sich sehr wohl
Review date 24. July 2021
Eines der wirklichen Perlen in unserer Gegend. Den Lockdown hat der Betreiber genutzt und einen wunderbaren Garten vorm Haus geschaffen, im Sommer ein Traum. Die TOP Küche muss man nicht extra loben, denn das Ganze stimmt bis hin zum immer gleichem TOP Personal.
Review date 20. July 2021
Habe mit meiner Freundin einen "DaySPA" gebucht. Es war super schön & entspannend. Leider gab es keinen Bademantel/ Badelatschen .. hätte ich für den Preis erwartet.<br />Leider kein Pool zum schwimmen ..<br /><br />25€ fürs Frühstück war echt auch zu teuer.<br />Ansonsten super Service , leckeres Essen!<br />Auf jedenfall weiter zu empfehlen.
Review date 11. July 2021
Das Essen war sowas von lecker. Ich hatte Fischsuppe (ein Gedicht) und danach das Cordon Bleau. Mein Frau den Salat und den Saibling. Alles auf hohem Niveau zubereitet.dazu alles in Bio Qualität. Auch der Service war zuvorkommend und äußerst freundlich. Das Ambiente, der Garten und die Terrasse laden einfach zum Verweilen ein. Einfach top.
Review date 13. June 2021
Super Maultaschen
Review date 10. December 2020
Es ist immer wieder ein Genuss im Mohren vorbei zu schauen. Sei es um lecker zu Essen, den Wellness-Bereich zu nutzen oder ein paar Tage in herrlicher Natur auszuspannen.
Review date 29. October 2020
Alles hat perfekt gestimmt!<br />Vom Zimmer, Essen, Spa Bereich, Personal,...
Review date 24. October 2020
Sehr schönes Hotel, alles sehr freundlich U zuvorkommend, das Essen ist ausgezeichnet. Definitiv eine Weiterempfehlung.<br />Tolles Konzept
Review date 11. October 2020
Wir haben uns nach einem Mittagessen im Sommer in diesem Hotel spontan entschlossen, für den Herbst eine Woche Aufenthalt zu buchen. Um es vorweg zu nehmen: Wir haben es keine Minute bereut!<br /><br />In diesem Hotel wird Bio wirklich gelebt. Das schlägt sich vor allem beim Essen nieder, bei dem die meisten Zutaten entweder aus eigener Produktion oder aus der Region stammen. Selbst die Kosmetik- und Pflegeprodukte werden in der Nähe eingekauft. Das Hotel hat mit Recht einen grünen Michelin-Stern.<br /><br />Der Empfang war sehr freundlich. Wir mussten nicht warten und konnten sofort unser Zimmer beziehen. Das Zimmer "Morgensonne" war eine sehr gute Wahl. Sehr geräumig mit separaten Liegeflächen. Modern ausgestattet, sauber und mit schönem Bad.<br /><br />Die nächste positive Überraschung war das Abendessen. Es gab Rumpsteak vom Black Angus Rind aus eigener Zucht. Die Weiden befinden sich in der Nähe vom Hotel. Das Fleisch war ein Traum, dazu eine perfekte Sauce. Auch für Vegetarier gibt es ein großes Angebot. Wir haben dann gleich nochmal einen Tisch für einen der nächsten Tage reserviert.<br /><br />Das Frühstück ist sehr reichhaltig. Auch Sonderwünsche (z.B. Omelett mit Käse) wurden erfüllt. Es gibt eine große Auswahl an hausgemachten Marmeladen. Dazu Käse, Wurst und eine Vielzahl an Brot- und Brötchen-Sorten. Beim Kaffee sollte man vom Filterkaffee absehen. Den fanden wir nicht so gut. Aber man kann sich auch einen Espresso, Kaffee oder Cappuccino aus dem Vollautomaten bestellen.<br /><br />Das Personal war immer sehr aufmerksam und freundlich und jederzeit ansprechbar, wenn man eine Frage hatte. Ein besonderes Lob gilt den Reinigungskräften. Unser Zimmer war immer top gereinigt!<br /><br />Sauna ist kostenlos und wurde von uns auch gerne genutzt. Im Zimmer stehen Bademäntel und Handtücher bereit.<br /><br />Noch ein Wort zur aktuellen Pandemie-Situation: Das Hotel tut wirklich alles, um den Gästen trotz der Einschränkungen und rechtlichen Vorgaben einen angenehmen Aufenthalt zu bieten. Daher wird das Abendessen auf 2 Schichten verteilt. Man trägt sich einfach morgens beim Frühstück für die gewünschte Uhrzeit ein. Beim Frühstücksbuffet wird man bedient. Das kann zu Wartezeiten führen, die aber akzeptabel sind. Die vom Hotel gefundenen Lösungen erscheinen mir unter den gegebenen Umständen optimal und man fühlt sich als Gast gut aufgehoben.<br /><br />Fazit: Es hat uns sehr gut gefallen und vor allem auch gut geschmeckt! Im Frühjahr 2021 kommen wir wieder!
Review date 20. September 2020
The restaurant is recognised in the Michelin Guide. The experience of the fine dining was truly memorable. Had the perfect medium rare steak and cant forget the herb and sage crusted fish paired with the Pouilly Fume wine. The waitress did an excellent job!
Review date 16. September 2020
Sehr leckeres Essen auch gute Auswahl für Vegetarier Mit Vorspeise, Hauptgang und Nachspeise waren wir allerdings 3 Stunden da, das könnte für mich auch etwas schneller gehen. Der Salat was herausragend sonst auch sehr gute Qualität der verarbeiteten Produkte.
Review date 12. September 2020
Bester Salat Deutschlands!<br /><br />An Salaten messe ich oft die Qualität des Restaurants. Dieser geht nicht besser. Es müsste aber nicht so viel rumprobiert werden. Im Süden Deutschlands braucht es keinen Couscous.<br /><br />Ansonsten ist die Qualität super. Das Fleisch wird leider meist eine Stufe mehr als bestellt serviert. Hier bitte nacharbeiten.<br /><br />Die Karte ist verwirrend durch die verschiedenen Salatvarianten inkl. Aufpreis und Dopplung der Angebote. Serviert einfach euren Salat und fertig. Der ist gut und das reicht.<br /><br />Insgesamt aber dennoch volle fünf Punkte weil die Qualität und der Service einfach stimmt. Man kann dieses Lokal jedem empfehlen und ich komme gerne immer wieder hier her.
Review date 06. September 2020
Gutes Essen in bester Bio Qualität. Freundliche, schnelle Bedienung. Sehr schönes Ambiente. Preise obere Mittelklasse.<br />Da alles, auch die Getränke Bio.
Review date 02. September 2020
Sehr, sehr freundliches Team mit zuvorkommendem Chef, kombiniert mit hervorragendem Essen, sehr ansprechendem Wellnessbereich, gelungenem Mix aus Alt und Neu und das alles in traumhafter Umgebung oberhalb des Bodensees haben die 5 Tage Aufenthalt wertvoll gemacht. Mir persönlich gefällt die unaufgeregte und bodenständige Art des Teams, genau das brauche ich für die perfekte Entspannung. Dass man mir den Seminarraum für ein wichtiges Webinar zur Verfügung gestellt hat war sozusagen die Kirsche obendrauf. Wir kommen wieder, Folgetermin ist bereits gebucht.
Review date 01. September 2020
Ich war am Sonntag das erste Mal im Mohren essen und sicher nicht das letzte Mal.<br />Das Essen war einfach hervorragend - selten so gutes Fleisch gegessen aber auch der Salat und die sonstigen Beilagen. Da merkt man einfach die Bioqualität und die Liebe zum Lebensmittel. Dazu waren alle Speisen schön angerichtet und die Bedienung sehr freundlich.<br />Alles in allem ein sehr schöner Abend.
Review date 23. August 2020
Wunderbare, ruhige Lage, mit Blick auf den Bodensee. Hervorragendes Essen, angenehmer Service. Das Bio-Konzept überzeugt.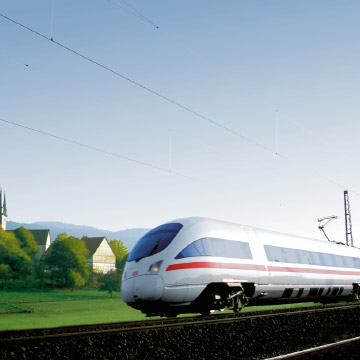 Arriving by train
© Deutsche Bahn AG / Gert Wagner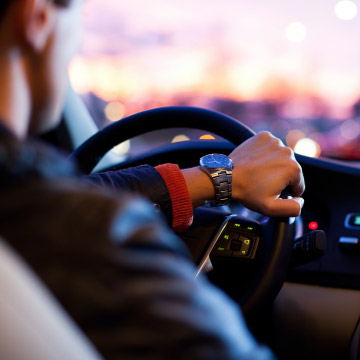 Get here by car