Highlights
Public Restaurant
Vegetarian menu
Services around Organic cuisine
Award-winning cuisine
Menu selection
A la carte meals
Hotel bar
Highlights
Hotel with charging station for e-cars
Climate-positive hotel
Services around Sustainability
Certified BIO HOTELS member since November 2006
Public interest company
Environmentally friendly and self-sufficient energy concept
Inspected by ABCERT
7,2 kg Co2-equivalents/night
164 tons Co2-equivalents/year
Highlights
Nature hotel
Hotel for celebrations
Services around Vacation
Holidays on a Farm
Elevator
Free WIFI
Non smoking hotel
Free parking
Summer sports activities such as hiking, cycling, golfing
Winter sports activities such as Skiing, tobogganing, snowshoeing
Highlights
Hotel with day spa
Hotel with sauna
Hotel with gym
Hotel with yoga
Services around Wellness
Massage offers
Cosmetic treatments
Ayurvedic treatments
Steam bath
Whirlpool / jacuzzi
Relaxation area
Feel-good garden
Services around Green Meetings
Conference equipment
Meeting room with daylight
Modern conference technology
Sustainable & recyclable conference materials
Network technology
Break area
Catering / brain food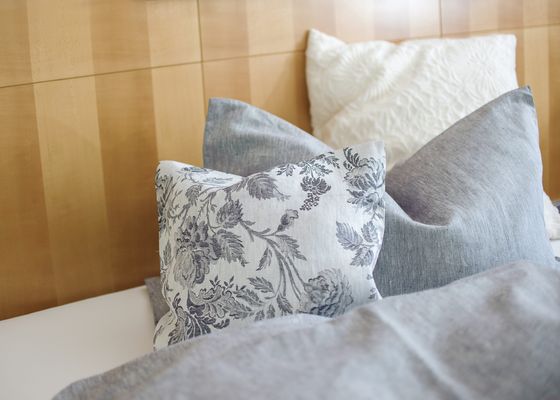 The hygiene concept in our hotel: 
Trained staff who is familiar with safety guidelines of local authorities
Staff wears masks and gloves where necessary
Disinfectants in rooms and public areas
Contactless (online) check-in possible
Distance rules are observed
Self-service buffet (gloves available for guests)
Visits to restaurants by prior arrangement only
Limited number of guests in the restaurant and in the wellness areas, etc.
Varying times for breakfast, lunch and dinner
Hygiene breaks during catering
Separate relaxation rooms
Special antiviral cleaning agents on an ecological basis
Comprehensive room cleaning by the staff
Guests can indicate that housekeeping is not desired
Cancellation terms: Room bookings can be canceled free of charge up to 6:00 p.m. on the day before arrival. Arrangements free of charge up to 3 days before arrival.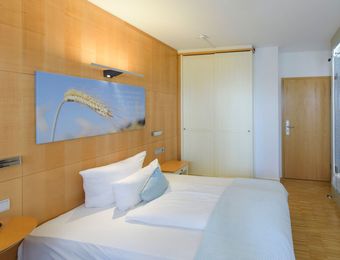 Kornfeld single room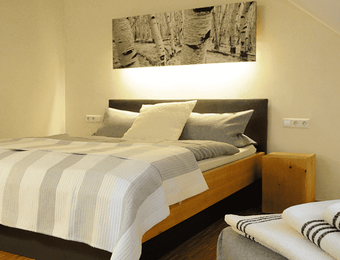 Country house village view small
Country house village view large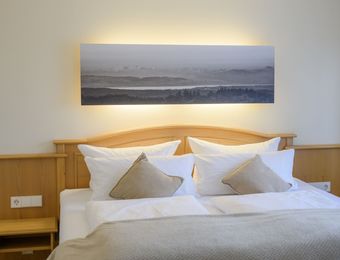 Country house lake view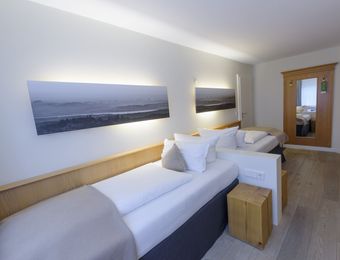 Country house twin room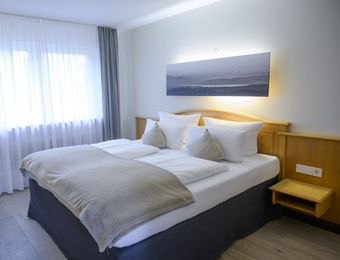 Country house double room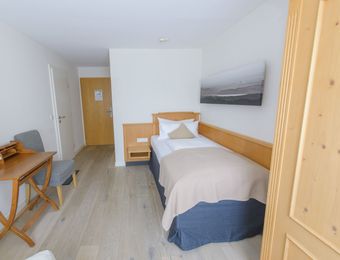 Country house single room
Country house triple room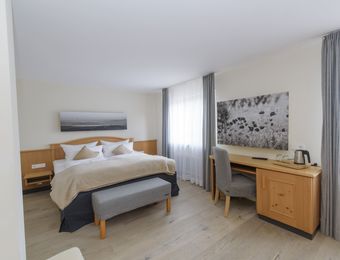 Country house room 20sqm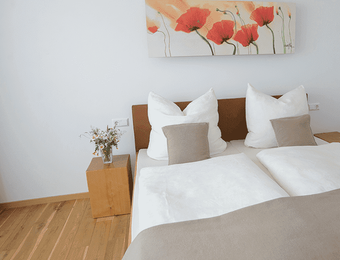 Flower meadow small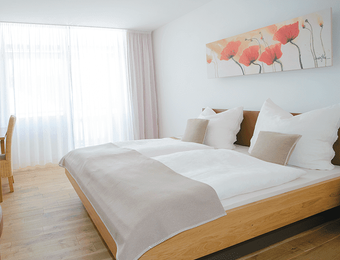 Flower meadow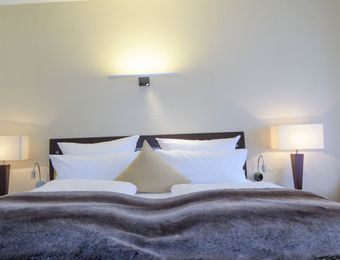 Double room romance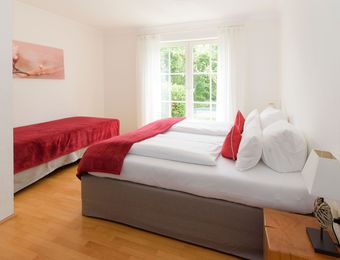 Garden apartment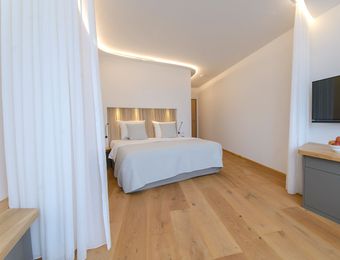 Double room morning sun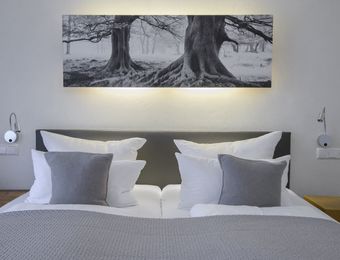 Double room summer wind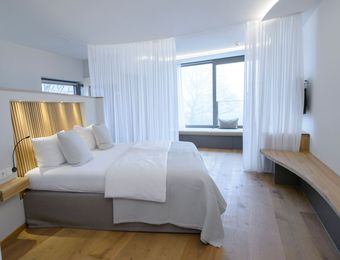 Suite SPA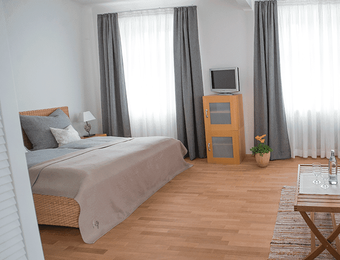 Apartment in the guest house double room
Review date 09. January 2022
Schon häufig hier gewesen, tolle Lage, sehr familiär, Wellness und Anwendungen sehr gut, Küche hat leider teilweise in der Qualität nachgelassen...Schade, das sollte sich wieder ändern, irgendwie bekommt "man" das Gefühl nicht los, dass Corona Spuren hinterlassen.... dennoch wieder gebucht für Sommer....
Review date 08. January 2022
Einer der guten Vorsätze, Land und Leute kennenlernen und dabei ganz viel für Körper und Geist tun.<br /><br />Beides konnte ich hier in vollen Zügen genießen.<br /><br />Neben einen kleinem feinen Zimmer, sehr leckeren Essen und einer wunderschönen Wellnesslandschaft habe ich das Wochenende für viele Massagen/Behandlungen genutzt.
Review date 12. December 2021
Wunderschönes Haus in traumhafter Lage. Durchdachtes, nachhaltiges Konzept. Super leckere Küche. Wir fühlen uns immer wie im Himmel und kehren energiegeladen und bereichert von dort zurück.
Review date 11. December 2021
Absolute Empfehlung. Wir sind maximal begeistert und können das Biorestaurant absolut empfehlen. Service und Essen vom allerfeinsten!
Review date 05. December 2021
Maximalpunktzahl führs Hotel: Wundervolle Materialien. Viel Holz. Moderne, hochwertige Details. Trotzdem alles individuell. Bezauberndes Bio-Frühstück mit regionalen Produkten, sehr viel aus eigener Produktion. Bio-Restaurant kombiniert Klassiker mit präziser Kochkunst. Extrem aufmerksames Personal, trotz Maske(n) sehr "nah" am Gast! Toll! Gemecker ohne Punktabzug: Granderwasser-Hokuspokus braucht kein Mensch.
Review date 01. December 2021
Wir kommen schon seit vielen Jahren als Stammgäste immer gerne wieder ins Biohotel Mohren: Wohlfühl-Atmosphäre unter Freunden!
Review date 28. November 2021
Wie immer sehr schön und lecker
Review date 23. November 2021
Ich habe mit meiner Partnerin ein Wellness Wochenende im Biohotel Mohren gebucht. All unsere Erwartungen wurden mehr als übertroffen. Ich kann es wärmstens empfehlen. Sehr freundliches Personal, wunderschönes Zimmer ( wir hatten die SPA-Suite ), vorzügliche Bio-Küche, toller Wellness Bereich und absolute Ruhe. Vielen Dank an das gesamte Team.
Review date 14. November 2021
Einfach nur wundervoll! Wir hatten das Glück ein Upgrade zu einer Spa Suite zu bekommen. Was soll ich sagen?!? Einfach eine unglaublich tolle Geste und ein noch tolleres Zimmer. Whirlpool, Sauna und eine große Liegefläche am Fenster. So schön habe ich noch nie einen Kurzurlaub verbracht!<br />Alle MitarbeiterInnen waren sehr sympathisch und zuvorkommend.<br /><br />Der Spa Bereich ist klein, aber sehr schön. Die angebotene Massage ist wunderbar und das Hotel auch sehr schön, mit viel Holz ausgestaltet.<br /><br />Das Restaurant habe ich extra bewertet.<br />Aber vorweg, es war ein wahrer Genuss!<br /><br />Einzig die Spirituosen Gin und Rum haben uns nicht geschmeckt. Aber das ist eine sehr subjektive Meinung und Jammern auf sehr hohem Niveau.<br /><br />Danke und wir kommen sehr gerne wieder!
Review date 05. November 2021
Wir kommen aus verständlichen Gründen, weil wir nebenan wohnen, nur ins Restaurant. Hier ist in den letzten Jahren eine Qualitätsgastronomie entstanden, die ihresgleichen sucht. Hier schmeckt man Bio (und nicht nur die abgedroschene Vokabel) in jedem Gericht, das wir bisher gegessen haben, Wir kommen immer gerne wieder, um auch den Rest der Speisekarte zu probieren....weiter so!!!!
Review date 01. November 2021
Restaurant TOP<br />Bedienung TOP<br />Essen TOP<br />Auf jedenfall einen weiteren Besuch wert!
Review date 31. October 2021
Wir waren am Sonntagabend zu einer kleinen Geburtstagsfeier dort zum Essen. Alle Teller waren sehr schön angerichtet. Ich habe das beste Rehragout meines Lebens gegessen. Hochwertige Zutaten, alles auf den Punk gegart. Das Rumpsteak mit 36€ vielleicht ein bisschen zu teuer. Wir 5 waren hochzufrieden mit den Salaten, Hauptgerichten und Desserts. Sehr aufmerksamer Service. Alles bestens. Sehr zu empfehlen aber unbedingt reservieren.
Review date 26. October 2021
Freundlicher Empfang in einem gewachsenen Hotel: älteres, gemütliches ehemaliges Haupthaus mit wunderschön gelungenen modernen, lichtdurchflutetem Anbau, der nun das Herzstück des Hotels ausmacht.
Review date 26. September 2021
Durch einen Softwarefehler war kein Zimmer gebucht. Und das in der Hauptsaison. Von Seiten des Hotels wurde alles versucht, uns den Aufenthalt trotzdem zu ermöglichen. Obwohl wir zweimal das Zimmer wechseln mussten, war es ein absolut schöner Urlaub. Der Service, das Personal und vor allem die Küche: 1a mit *. Wir kennen ja jetzt alle Zimmerkategorien :-) und kommen gerne wieder.
Review date 22. September 2021
Top Hotel, liebes Personal, alles super - ich komme definitiv wieder.<br />1 Stern Punktabzug für:<br />- Küche war abends sehr unflexibel bei Allergien wenn veganes Gericht gewünscht war. Veganes 3-Gänge-Menü wäre auch toll :-)<br />-Abreise mit dem Anruf-Sammeltaxi hat nicht geklappt trotz Empfehlung vom Hotel und rechtzeitiger Anmeldung. Fahrer hat mich vergessen abzuholen kam raus...
Review date 14. September 2021
Es ist ein Rundum Biohotel mit leckerem Essen, tollen Wohlfühlzimmern, einem herausragenden Spa-Bereich und einem sehr zuvorkommenden Service. Die Umgebung passt zu dem stimmigen Konzept. Es hält das was es verspricht - und noch mehr!
Review date 09. September 2021
Unser Aufenthalt im BioHotel Mohren war wirklich tool. Wir waren in den letzten 1,5 Wochen in 5 verschiedenen Hotels und nirgends hat es uns so gut gefallen wie hier!<br /><br />Service:<br />Der Service it herausragend - wirklich durch die Bank gut! Wobei wir besonders Ulrich hervoheben möchten. Er lebt Serviceorientierung, ist freundlich, hat das nötige Quäntchen Humor und gestaltet seine Art des Service zudem noch sehr persönlich. Das hat sich wirklich alles sehr familiär angefühlt :)!<br /><br />Atmosphäre:<br />Das Hotel kombiniert ein bisschen das Alte und das Neue. Insgesamt ist der Neuanbau und die neue Architektur sehr harmonisich mit dem älteren Teil des Gebäudes zusammen gebracht worden.<br />Das Ambiente würde ich beschreiben als: Ruhig, aber dennoch belebt. Modern, aber gemütlich modern (und nicht so steril/steif).<br />Auch von Umgang von Hotelbelegschaft und Hotelkunden ware die Atmosphäre sehr familiär.<br /><br />Zimmer:<br />Wir hatten wahrscheinlich die einfachste Ausführng von Zimmer. Für unsere Bedürfnisse war das aber völlig ausreichend. Allerdings ist der Platz dann auch tatsächlich im Raum minimal begrenzt. wenn z.B. ein paar Reiseutensilien (vllt ne größere Tasch oder so) und eine Person dabei stand, man man als zweite Person nicht mehr dran zu seiner Bettseite durch. Aber dafür hatte das Zimmer auch einen Schrank, was ich prinzipiell immer bei Hotels wertschätze. So muss man nicht so aus dem Koffer leben und kann diese Platzeffizienter verstauen. Und dann ging es auch prima mit den Gängen :). Außerdem hatten wir auch nicht vor, den Tag auf dem Zimmer zu verbringen, insofern hatten wir da keine großen Ansprüche. Das Bett war sehr bequem, Wäsche sehr angenehm. Wir haben hier gut geschlafen :).<br /><br />Essen:<br />Hier kann ich mich kurz halten: Sehr gut!<br />Alles Bio - Preise zwar auch entsprechend der Bioqualität ein bisschen höher. Aber für die Qualität, die man bekam war es ein sehr gutes Preis-Lesitungsverhältnis! In den späteren Hotels derselben Reise haben wir uns das leckere Essen vom Bio Hotel Mohren zurück gewünscht :-)!!<br /><br />Alles in allem: Ein super Aufenthalt war das. Wir kommen sehr gerne nochmal wieder und können das Hotel nur wärmstens weiter empfehlen.
Review date 07. September 2021
Was haben wir erwartet? Wir wollten zum Bodensee, dort waren wir noch nie. Wir suchten nach einem Hotel mit Biostandard, natürlich auch mit entsprechend guten Bewertungen, einem schönen Wellnessbereich, gutem kulinarischen Angebot und einer ruhigen Lage. Was haben wir bekommen? ALLES!!! Für uns ist das Biohotel Mohren nach diversen Erfahrungen in diesem Segment das Nonplusultra! Tolle, abwechslungsreiche Küche, täglich ein Menüangebot, wahlweise vegetarisch oder mit Fisch/Fleischgerichten. Sehr aufmerksames, freundliches Personal. Wir hatten ein schönes Zimmer mit Bodensee/Alpenblick. Beide Daumen hoch!
Review date 13. August 2021
Top Bio Location mit eigenen Produkten aus eigener Herstellung, liebe und hilfsbereite Mitarbeiter…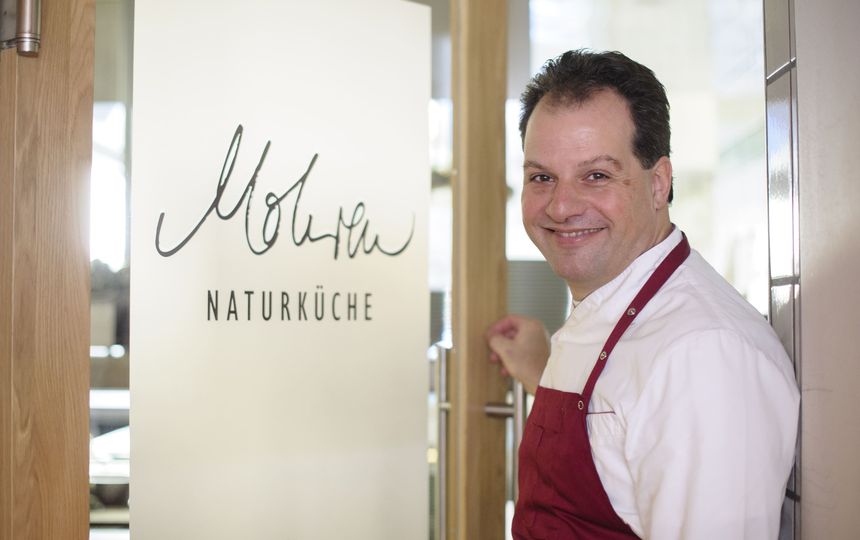 Hosts
The Waizenegger family has stood for sustainability and ecological management for centuries. Today, Jürgen Waizenegger - a passionate organic hotelier, farmer and organic chef - runs the hotel and spoils his guests with traditional dishes and a dreamlike ambience.
 
"The wonderfully great reception of our guests makes me proud. It's great to see and experience how many people think in my way and live organic, just like me.",
Your host, Jürgen Waizenegger.
 
We are a country hotel with heart and charm: In the Biohotel Mohren you will enjoy the peace and serenity of nature. In the cozy, quiet rooms you will find restful sleep. The view from the window shows you the greenery. Our house offers single and double rooms with a total of 80 beds and family rooms on request.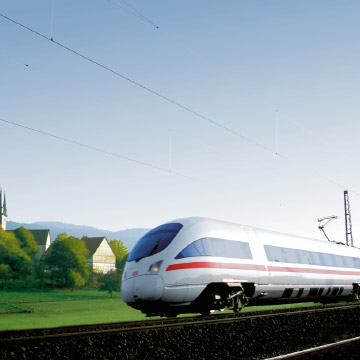 Arriving by train
© Deutsche Bahn AG / Gert Wagner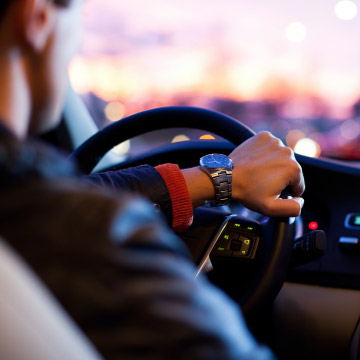 Get here by car