Services around Organic cuisine
Buffet meals
Menu selection
Hotel bar
Highlights
Climate-neutral hotel
Services around Sustainability
Certified BIO HOTELS member since January 2009
Public interest company
Inspected by ABCERT
8,92 kg Co2-equivalents/night
123,4 tons Co2-equivalents/year
Services around Green Meetings
Meeting room with daylight
Conference equipment
Modern conference technology
Sustainable & recyclable conference materials
Network technology
Break area
Catering / brain food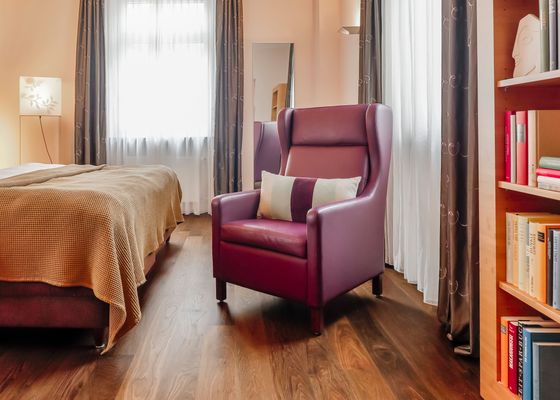 The hygiene concept in our hotel: 
Trained staff who is familiar with safety guidelines of local authorities
Staff wears masks and gloves where necessary
Disinfectants in rooms and public areas
Contactless (online) check-in possible
Distance rules are observed
Buffet with service
Limited number of guests in the restaurant and in the wellness areas, etc.
Comprehensive room cleaning by the staff
Guests can indicate that housekeeping is not desired
Room Service
The employees are tested with a quick test every day before they start work.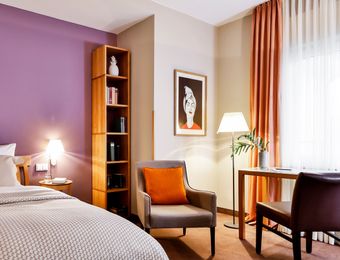 Classic single-room
The "Orange" single rooms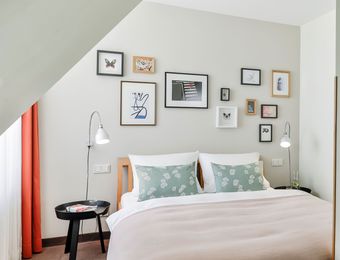 "Orange" double -room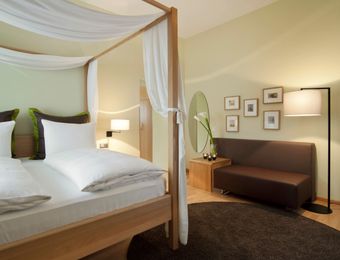 Orange Plus double-room
Review date 28. September 2021
Dieses zertifizierte Bio Hotel hat ein super Raumklima und ist vom Interieur sehr behaglich. Die Betten sind sehr gut.Allerdings hatte der Teppich in unserem Zimmer undefinierbare Flecken. Verbesserungswürdig ist auf jedenfall das Frühstück. Es sind ausschließlich biologische Lebensmittel vorhanden was uns sehr gefallen hat aber die Präsentation war sehr lieblos. So wurden sämtliche Brotaufstriche im original Glas serviert, wahrscheinlich für die Sichtbarkeit der Demeter Produkte, was an sich nicht verkehrt ist. Aber wenn diese original Verpackung dann fast leer und die Ränder schon angetrocknet sind, nicht sehr Appetitlich, die Brötchen waren sehr pappig. Der Gemüse Teller war ein normaler Speiseteller und so vollgeproppt, daß man als Gast Angst hatte etwas runterzunehmen, da sonst der ganze Rest auf dem Buffet Tisch gelandet wäre. Alles in allem war es OK, aber für den Preis hätte ich mehr erwartet
Review date 15. September 2021
Immer wieder Spitze! Das schöne, familiäre Hotel in bester Lage war, ist und bleibt einer meiner Lieblingsorte in Ffm!<br />Auch nach der Schließung wg corona sind jetzt weiterhin die altbekannten Mitarbeiter/innen da und begrüßen einen mit Herzlichkeit und einem wunderbaren, vielfältigen, frischen Frühstück! Alles natürlich Bio und lecker.<br />Mit Vorfreude - bis zum nächsten Seminar oder Privathaushalt - kann ich das Hotel 100% empfehlen.
Review date 31. August 2021
Bin am Anreisetag sehr freundlich empfangen worden. Zu einem Parkplatz hat man mich persönlich geleitet. Der Hotel hat ein einladendes und gemütliches Ambiente und den Charm einer Stadtvilla. Zimmer sind nicht sehr groß, aber absolut ausreichend. Die orangefarbenen Akzente haben mir sehr gefallen. Am Frühstücksbuffet gab es eine gute Auswahl an Käse, Wurst und verschiedene Sorten an Brötchen und Brot. Eine kleines Sortiment an Kuchen und Süßem. Das Personal kam gerne meinem Wunsch nach einen Rührei entgegen. Habe mich sehr wohl gefühlt und auch schon wieder gebucht.
Review date 27. June 2021
Sehr freundlich und super Küche
Review date 23. October 2020
Haben heute Abend ein Menü von Bio-Catering "Safran" in der "Villa Orange" genießen können: Ausgezeichnet, gelungener Abend! Empfehlenswert!
Review date 21. October 2020
Had pleasure to be there few times. Amazing place.<br />Rooms are cozy and everything was perfect.<br />It would be a shame to rate it for less than 5 stars.<br />Owners of the place Gunther and Ala are very helpful and have interesting stories to tell.
Review date 11. September 2020
Auch wenn man in Frankfurt wohnt, macht es Spaß, hier eine Nacht zu verbringen. Es ist halt ein bisschen laut.
Review date 20. August 2020
Hotel zentral gelegen , freundliches Personal, sauber, schönes Bad, extra Wünsche gerne erfüllt
Review date 27. July 2020
So ein schönes Hotel! Die Lobby und der Frühstücksraum sind sehr schön eingerichtet. Alles sehr gemütlich und einladend. Die Zimmer sind geräumig und sehr sauber, das Bett gemütlich. Nachts war es sehr ruhig. Im 4. Stock (ganz oben) war es nur etwas warm in der Nacht. Das Frühstück war sehr lecker und frisch. Alles super, trotz Corona :)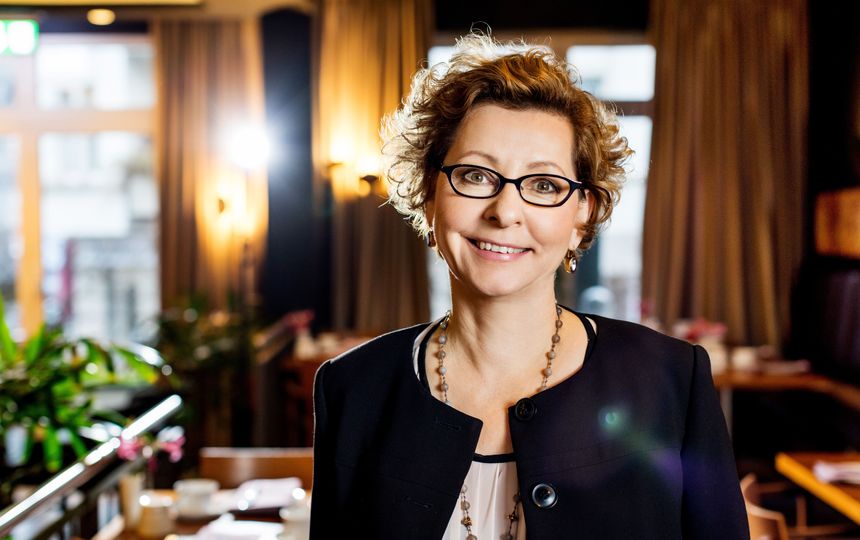 Hosts
Christiane Hütte opened the Hotel Villa Orange in Frankfurt's Nordend district in 2000 on the premise that "what is good for me personally, I would also like to pass on to my guests". Today, this guiding principle is more relevant than ever:
We want you to feel as safe as at home with us and enjoy the Villa Orange as a place of friendliness and appreciation. Without big Chi Chi, but reliable!
 
With rooms that are comfortable and furniture that holds its value. With our philosophy of sustainability, which we have consistently pursued for more than ten years. With a small, dedicated team that you can rely on, and an owner who takes care of you personally. So that you can stay, meet and celebrate in Villa Orange in a pleasant way, even in Corona times.
We look forward to seeing you!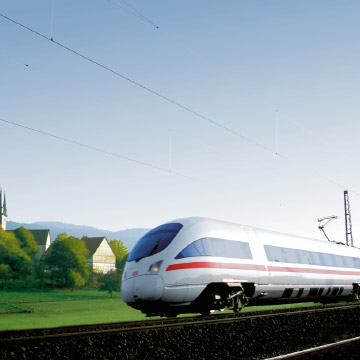 Arriving by train
© Deutsche Bahn AG / Gert Wagner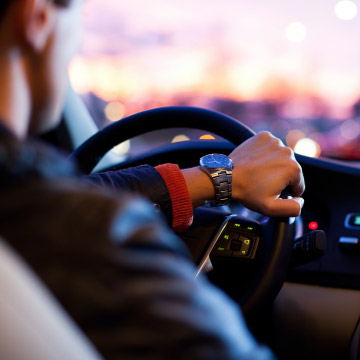 Get here by car