Highlights
Public Restaurant
100% vegetarian cuisine
Vegan dishes
Allergy-free kitchen
Services around Organic cuisine
Menu selection
A la carte meals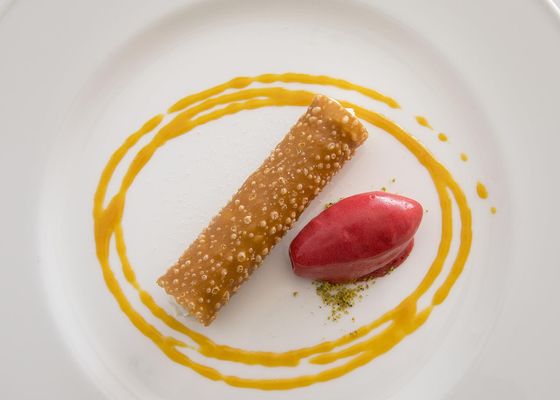 Our strength? Certainly the choice of our Managing Director Roberto Vannoni to open the doors of the Mater Terrae restaurant solely to organic and seasonal products. We will  delight your palate with natural seasonal products and unique recipes based on art, creativity and innovation! Not to mention the fact that our restaurant is green from the "foundations", designed and built with the aim of saving energy and avoiding harmful fumes from building materials.
Services around Sustainability
Certified BIO HOTELS member since May 2013
Inspected by ABCERT
Each place has a particular character. The seventeenth-century facade of the Bio Hotel Raphaël makes it a green oasis in the heart of the city.
Hotel Raphael has a green heart, from the ecological and solar architecture, to the choice of ingredients for our dishes, natural, organic and seasonal products.
Highlights
Vacation with your dog
Hotel for celebrations
Hotel with gym
Hotel with child care
Services around Vacation
Elevator
Free WIFI
Non smoking hotel
Pick-up service from train stations included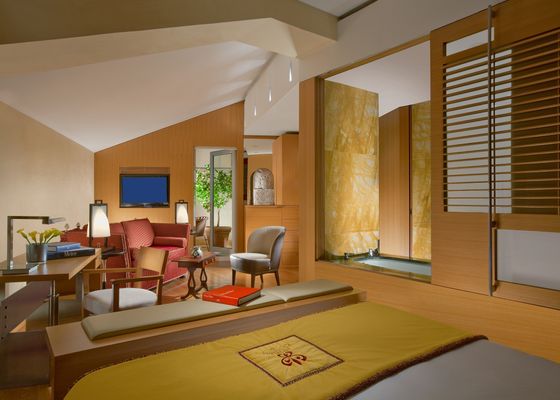 Feeling at home surrounded by works of art, in the heart of the most splendid Rome: a pleasure reserved only for the most refined travelers, those who choose the charm and discrete luxury of the Bio Hotel Raphaël 5 * L.

Immerse yourself in a world of charm, just a few steps away from the Pantheon, Spanish Steps and St. Peter's Church: an ideal base to experience the elegance of Rome.
Services around Romance
Special offers for couples in love
Romantic ambience in the room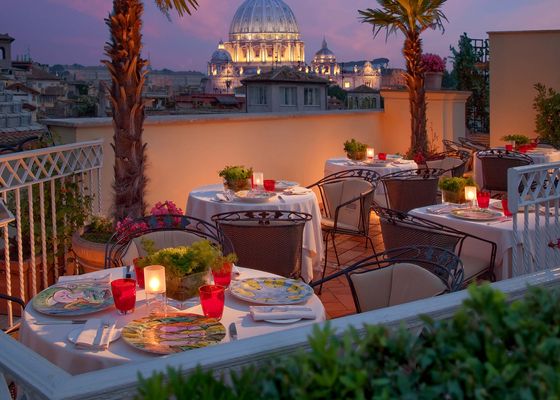 Whether in a classic double room or one of our exclusive suites: romantics get their money's worth with us. Spend intimate hours as a couple, dine in style on our terrace with heavenly view and create moments for eternity!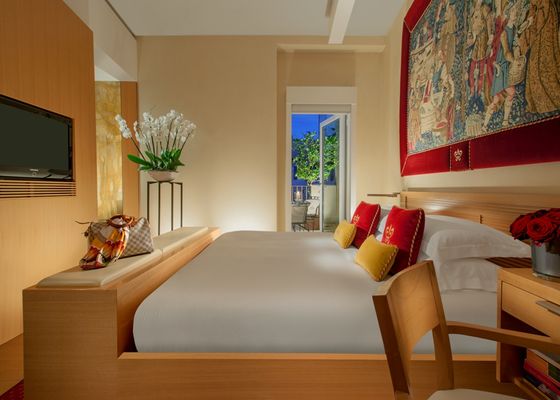 The hygiene concept in our hotel: 
Trained staff who is familiar with safety guidelines of local authorities
Staff wears masks and gloves where necessary
Disinfectants in rooms and public areas
Distance rules are observed
Limited number of guests in the restaurant and in the wellness areas, etc.
Guests can indicate that housekeeping is not desired
Flexible cancellation terms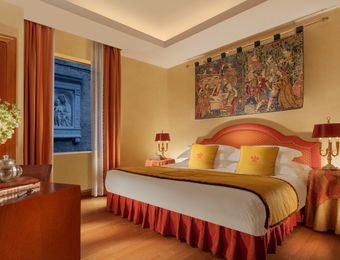 Classic Double Room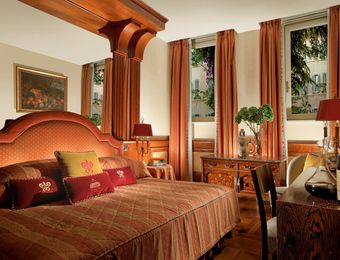 Classic Deluxe Room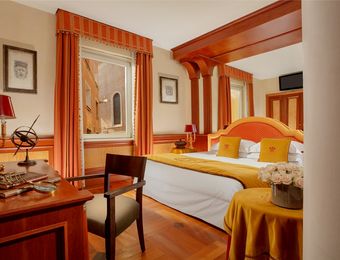 Deluxe room with Terrace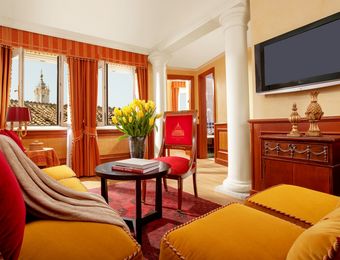 Navona Suite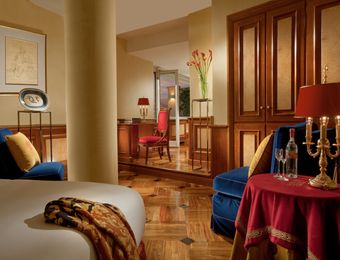 Bramante Suite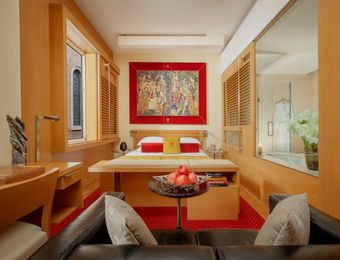 Richard Meier Executive Deluxe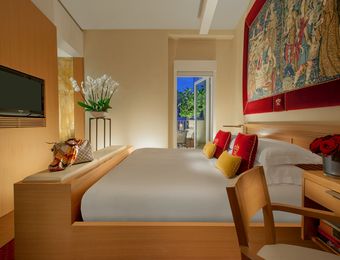 Richard Meier Executive Deluxe with Terrace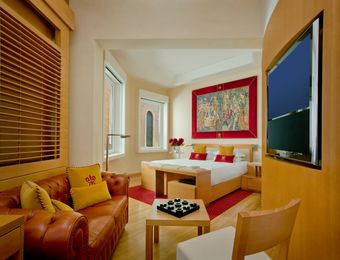 Richard Meier Executive Junior Suite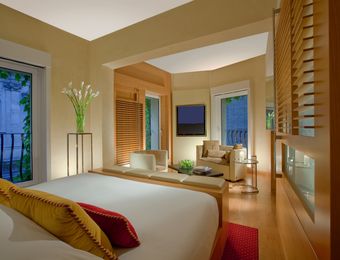 Richard Meier Executive Suite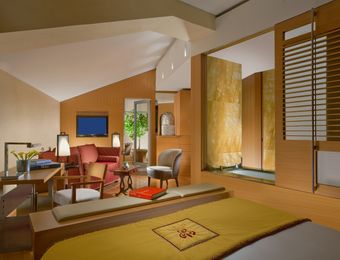 Richard Meier Executive Suite with Terrace
Overall rating
4524 rating
Review date 25. November 2022
Hôtel très beau et chaleureux le personnel est dévoué aux clients. Les chambres sont spacieuses et agréables. Grand confort. A recommander
Review date 23. November 2022
Great location. Beautiful hotel with a lot of confort for the client
Review date 18. November 2022
Très Bon en situe , très confortable. Magnifique restaurant délicieux aussi , en terrasse , ou déjeuner en profitant d'une vue magnifique !
Review date 15. November 2022
Breakfast wasn't included in my rate, but once I wanted a coffee and I went to the restaurant, since I walked in, the staff member instead of being nice and friendly, in a rude and unprofessional way told me that my room hadn't included the breakfast so I didn't like her attitude.
Review date 14. November 2022
I was really excited about this hotel and the location is perfect. Overall though, we were disappointed with this hotel compared to other hotels in Italy especially with the cost (the most expensive). Our room card didn't work so we had to ask the front desk for a physical key that we had to return to the front desk every time we left and had to ask for it when we returned. This made our stay feel less private and it seemed like it was possibly a permanent issue with that room and others. We stayed in one of the Meyer renovated suites, but the room still felt dated. Everything electronic in the room was very complicated because it's an old building and we weren't given instructions on how to use everything. There were no outlets/ usb by the bed for charging. The room and bed itself were not comfortable and we did not sleep well there. There was no coffee maker in the room (not unexpected for Europe) but there was an espresso pod machine in the lobby which was nice. However, they removed that in the AM hours! They wanted you to pay $32 per person for a Vegetarian breakfast and if you've been in Rome you know that is extremely overpriced for even a multi-course dinner with drinks! The staff were however very nice, we were welcomed with a half bottle of wine and the room was clean.
Review date 13. November 2022
La ubicacion
Review date 13. November 2022
The location is perfect. The breakfast is very good and the service in the restaurant is very good as well.the reception staff is perfect. Very helpful
Review date 11. November 2022
The reception staff was fabulous. Asia and Karima were friendly, helpful and professional. Spectacular location a stone's throw from the amazing Piazza Navona, and the room had views on the Chiostro del Bramante. The views from the rooftop restaurant are to die for.
Review date 11. November 2022
This is a great place and centrally located. Very close to Pantheon and Trevor fountain. Walk to the Vatican or Colosseum is about 20 minutes. Very lively and fun area!
Review date 06. November 2022
Good service but the hotel needs an update to retain its five star rating.<br /><br />(Übersetzt von Google)<br />Guter Service, aber das Hotel braucht ein Update, um seine 5-Sterne-Bewertung zu behalten.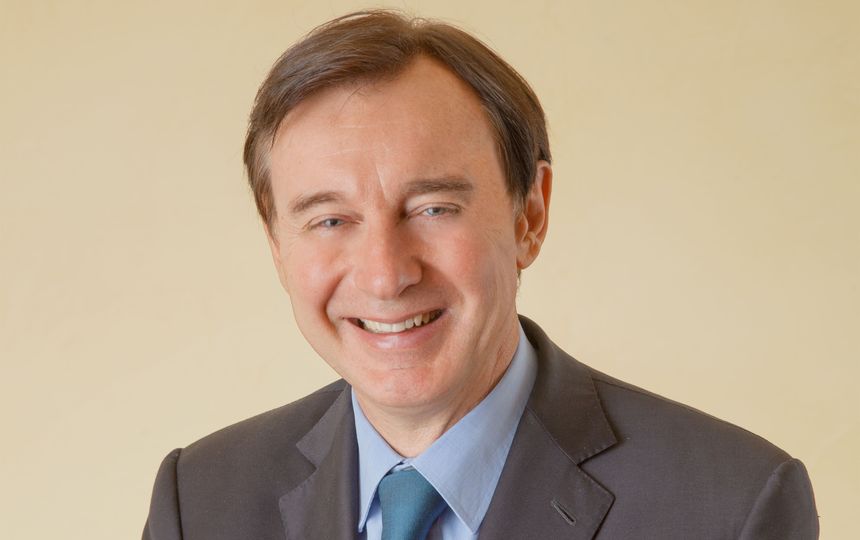 Hosts
Founded in 1963 by Spartaco Vannoni, the Bio Hotel Raphaël is considered an oasis in the center of Rome, but it is more than a magnificent plant architecture or an elegant dress. The Hotel Raphael has a green heart that shows in careful details and great attentions. The Maître de Maison Roberto Vannoni is always taking care of the comfort and health of our guests.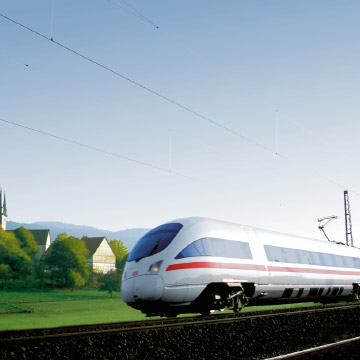 Arriving by train
© Deutsche Bahn AG / Gert Wagner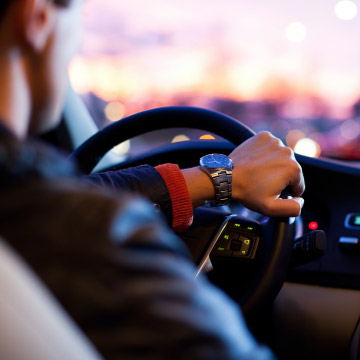 Get here by car