Highlights
Public Restaurant
100% vegetarian cuisine
Vegan dishes
Allergy-free kitchen
Services around Organic cuisine
Menu selection
A la carte meals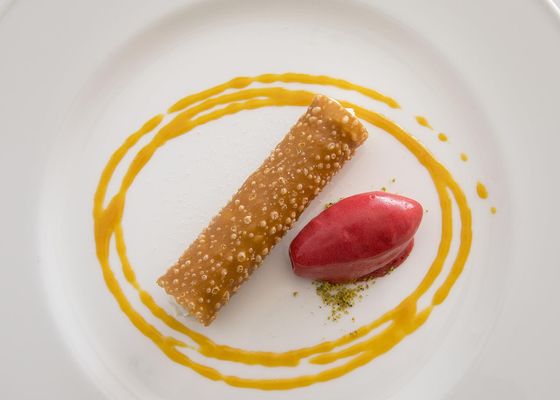 Our strength? Certainly the choice of our Managing Director Roberto Vannoni to open the doors of the Mater Terrae restaurant solely to organic and seasonal products. We will  delight your palate with natural seasonal products and unique recipes based on art, creativity and innovation! Not to mention the fact that our restaurant is green from the "foundations", designed and built with the aim of saving energy and avoiding harmful fumes from building materials.
Services around Sustainability
Certified BIO HOTELS member since May 2013
Inspected by ABCERT
Each place has a particular character. The seventeenth-century facade of the Bio Hotel Raphaël makes it a green oasis in the heart of the city.
Hotel Raphael has a green heart, from the ecological and solar architecture, to the choice of ingredients for our dishes, natural, organic and seasonal products.
Highlights
Vacation with your dog
Hotel for celebrations
Hotel with gym
Hotel with child care
Services around Vacation
Elevator
Free WIFI
Non smoking hotel
Pick-up service from train stations included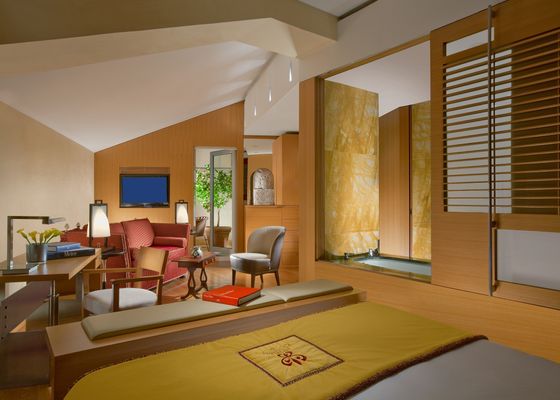 Feeling at home surrounded by works of art, in the heart of the most splendid Rome: a pleasure reserved only for the most refined travelers, those who choose the charm and discrete luxury of the Bio Hotel Raphaël 5 * L.

Immerse yourself in a world of charm, just a few steps away from the Pantheon, Spanish Steps and St. Peter's Church: an ideal base to experience the elegance of Rome.
Services around Romance
Special offers for couples in love
Romantic ambience in the room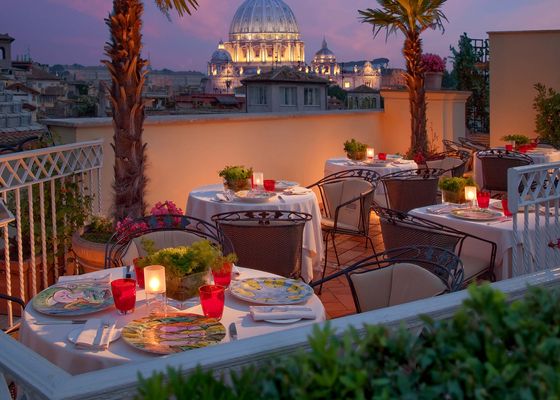 Whether in a classic double room or one of our exclusive suites: romantics get their money's worth with us. Spend intimate hours as a couple, dine in style on our terrace with heavenly view and create moments for eternity!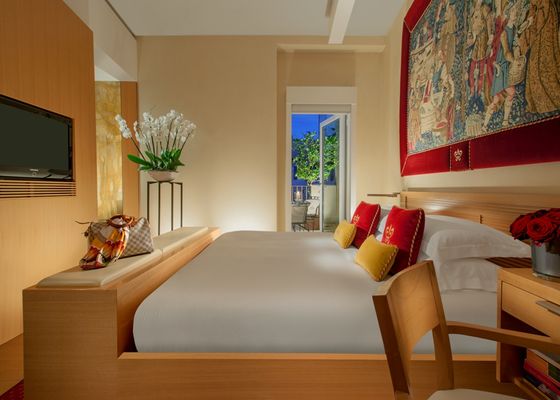 The hygiene concept in our hotel: 
Trained staff who is familiar with safety guidelines of local authorities
Staff wears masks and gloves where necessary
Disinfectants in rooms and public areas
Distance rules are observed
Limited number of guests in the restaurant and in the wellness areas, etc.
Guests can indicate that housekeeping is not desired
Flexible cancellation terms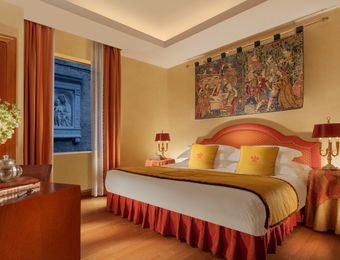 Classic Double Room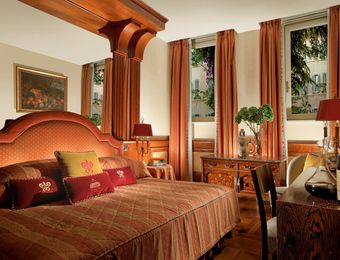 Classic Deluxe Room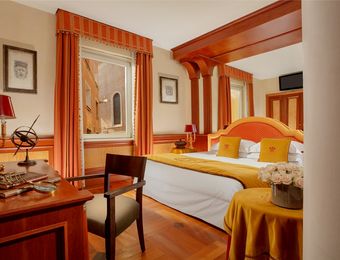 Deluxe room with Terrace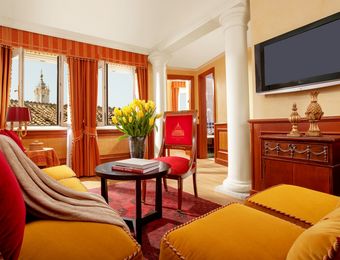 Navona Suite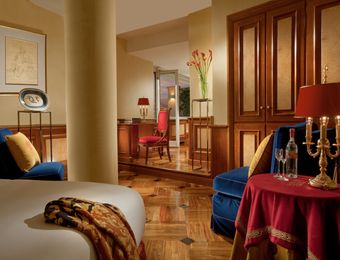 Bramante Suite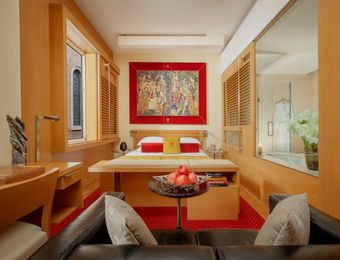 Richard Meier Executive Deluxe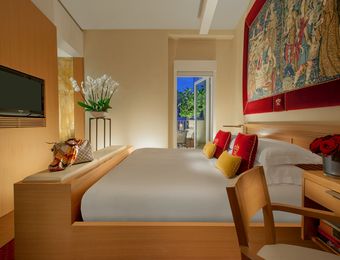 Richard Meier Executive Deluxe with Terrace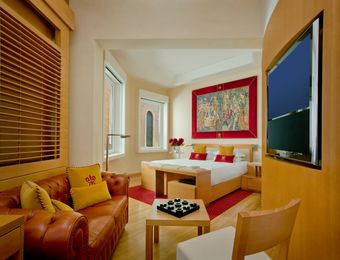 Richard Meier Executive Junior Suite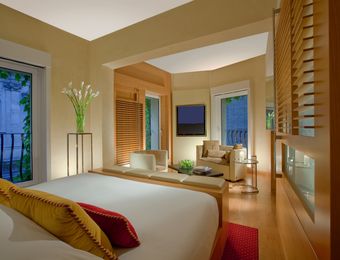 Richard Meier Executive Suite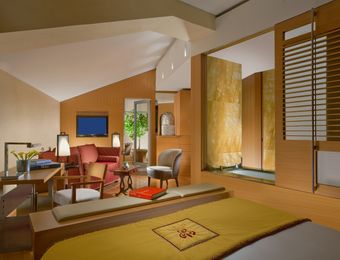 Richard Meier Executive Suite with Terrace
Overall rating
3975 rating
Review date 17. October 2021
Super service. Super stuff. All is 6 stars
Review date 17. October 2021
Super service. Super stuff. All is 6 stars
Review date 16. October 2021
When we are next back in Rome, we will be staying here again. A lovely hotel with super friendly staff and great facilities. It's also right in the heart of Rome. Each corner you turn in this city, there is something delightful to witness … this is no exception. Had a lovely 3 nights here. Miss it dearly , already.
Review date 14. October 2021
We only stay at the Hotel Raphael when visiting Rome. The location is unparalleled and the staff is warm and accommodating. It's nice that they know you're a "regular" when you visit, and as a first trip after the pandemic year of 2020, it was glorious.
Review date 13. October 2021
We stayed here for the first time and were a little surprised about the 5*L status of the establishment compared to the reality. In more detail: The location is perfect as it is in a relatively calm street (for Rome!!) while still be super central to all what you want to see in Rome. Everything is perfectly reachable by walking. The rooms are nice in the category Delux and higher. Don't book a standard room as they are super small … to difficult to live in even for one person. So if you stay here, spend a little more for a larger room category. The good thing: the rooms are relatively reasonably priced these days for Rome standards. The roof top bar is great for an apero before dinner with beautiful 360 degree views of Rome. That's the plus side. On the other part of the equation is the overwhelmed staff. From forgetting or misplacing our reservation for the first night to several reminders necessary for replacement of supplies in the room to sometimes an unusual attitude when under stress. Again not up for the 5* status of the hotel. Overall we enjoyed our stay here … but recommending for some caution in planning ahead and making the right room decision.
Review date 12. October 2021
Stunning rooftop restaurant w delicious vegan and veg worthy of a magazine cover!<br />The staff (& of course, the service) is world class.<br />The rooms are wonderful (some classic, some modern) are amazing.<br />Great location.<br />We'll definitely be back!
Review date 08. October 2021
I had an amazing time here during part of my honeymoon. The room was very comfortable and I slept great. Make sure to get drinks and/or dinner at their rooftop restaurant. The hotel is in a great location that is very walkable to great sites. The staff were very helpful and kind. Overall, great experience that was well worth it.
Review date 02. October 2021
Great Location and friendly staff. Nice roof top bar.
Review date 01. October 2021
The Bio Hotel Raphael is an exceptionally elegant and well-appointed hotel in the centre of Rome, just a stone's throw from Piazza Navona. Its ethos is bio-sustainability, which it achieves with careful attention to every aspect, from top-notch cleanliness to wonderful gastronomic creations. The staff are outstandingly friendly and helpful, the rooms are comfortable (you can choose from old-style elegance or the newer suites designed by Richard Meier), the freshly re-opened breakfast room is beautiful (and so is the food!) - and above all (literally) there is the small but delightful rooftop terrace, where you can relax with a lunchtime snack or an evening cocktail, or explore the inventive vegetarian creations from the Mater Terrae restaurant menu, whilst soaking up a jaw-dropping view over the city's domes and spires. I can't recommend it highly enough.
Review date 29. September 2021
The best part of this hotel is its location in the city--just a stone's throw from the stunning Piazza Navona. Although there was one outstanding front desk person (a female who seemed to be in charge), other aspects were disappointing, notably that breakfast was only offered in the room. I don't care for room service breakfast because my experience has been that eggs are often cold and salt has been forgotten. The reason for no breakfast buffet was given "Covid" but every other hotel on my 3-week trip offered breakfast. Also, I requested a quiet room when I arrived but I was given a room right above a restaurant that didn't wind down until about 3:00 a.m. I didn't sleep well due to the noise from the restaurant and the motorcycles on the road in front. The room was satisfactory except for the floor in the shower was extremely slippery causing me to grasp the faucet the entire time I was soaping (with one hand). I had hoped for a better experience at this hotel.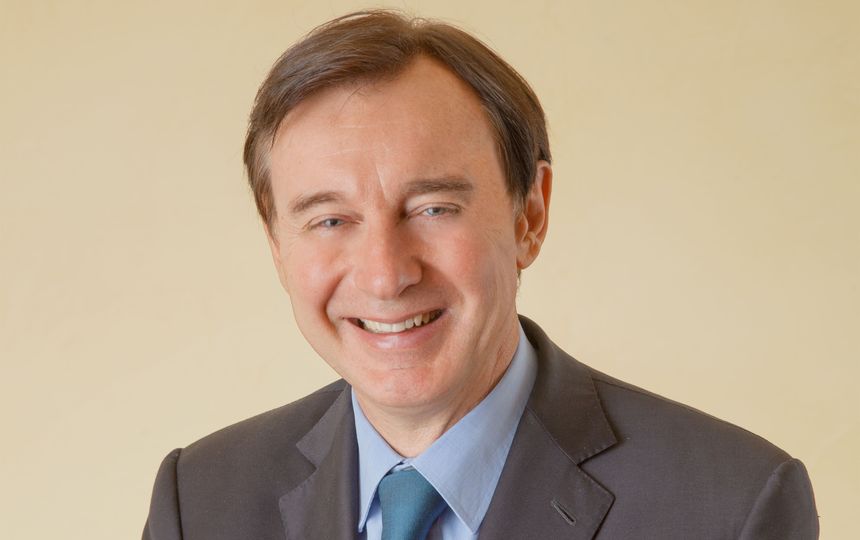 Hosts
Founded in 1963 by Spartaco Vannoni, the Bio Hotel Raphaël is considered an oasis in the center of Rome, but it is more than a magnificent plant architecture or an elegant dress. The Hotel Raphael has a green heart that shows in careful details and great attentions. The Maître de Maison Roberto Vannoni is always taking care of the comfort and health of our guests.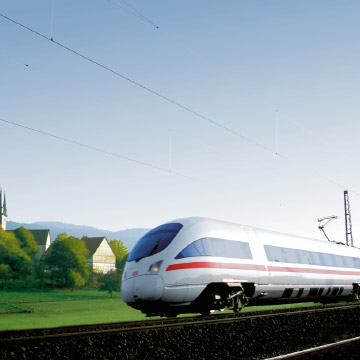 Arriving by train
© Deutsche Bahn AG / Gert Wagner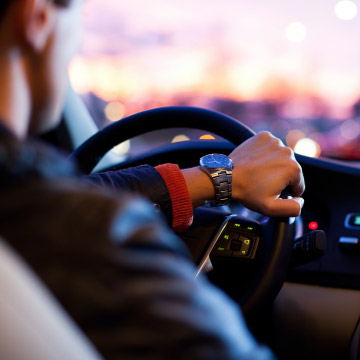 Get here by car