Highlights
Restaurant for hotel guests
Vegetarian menu
Vegan dishes
Allergy-free kitchen
Services around Organic cuisine
Vital kitchen
Ayurvedic cuisine
Hotel bar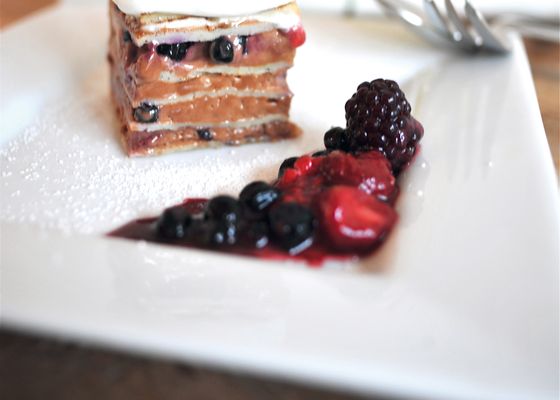 100% certified:

Ayurvedic inspiration is the passion of BIO HOTELIER Astrid. Regional organic ingredients combined with wonderful spices from around the world give you a special taste experience. In a cooking class you will be able to enjoy a culinary journey and easily integrate insights into your everyday life. Feel lightness and joy!
Highlights
Hotel with charging station for e-cars
Climate-positive hotel
Services around Sustainability
Certified BIO HOTELS member since January 2008
Organically built building
Public interest company
Environmentally friendly and self-sufficient energy concept
Inspected by ABCERT
6,2 kg CO2e/Night
4,2 tons CO2e/year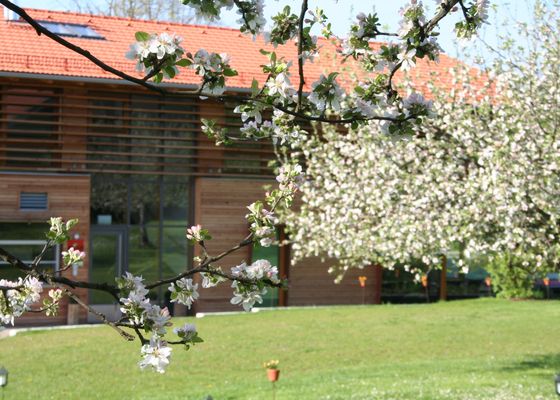 Our contribution to the future:

We are very happy with our sustainability concept and the goal is to develop and adapt more and more. Our entire property is supplied with 100% green electricity, largely generated in-house; the wood stoves are heated with our own wood; the photovoltaic system controls the heat pump and the wallbox. Next to the farm pond there is a constructed wetland. The products from the meadow orchard and the products from the farm are used directly in the kitchen.
Highlights
Nature hotel
Vacation with your dog
Vacation with animals
Services around Vacation
Free WIFI
Non smoking hotel
Free parking
Summer sports activities such as hiking, cycling, golfing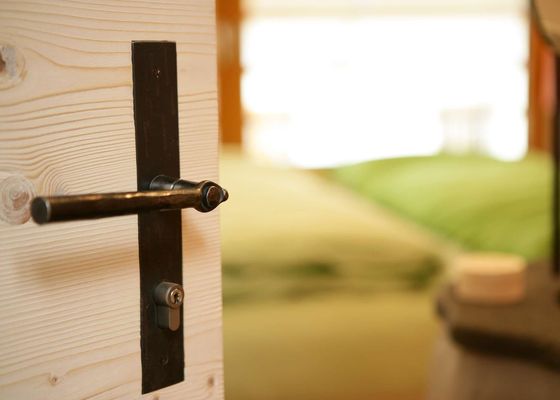 Sustainable hotel experiences:

Let your soul rest in the orchard, enjoy beautiful easy hikes in the quiet Isental valley or go cycling in the newly designated CyclingTravelRegion Inn-Salzach.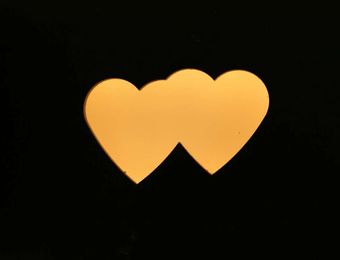 Heart Room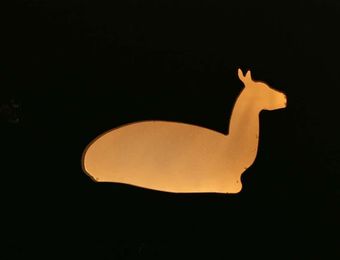 Double Room "Lama"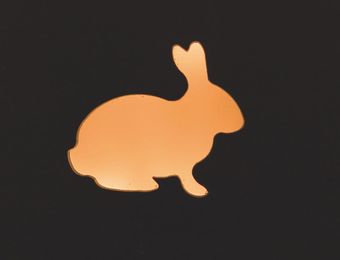 Double Room "Rabbit"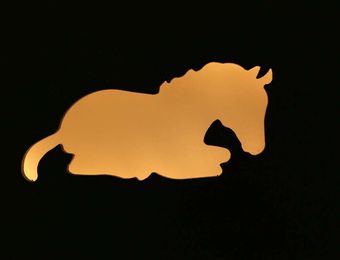 Family room "horse and sheep"
Vacation apartment "Schweinderl"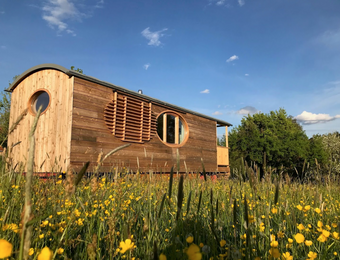 Mobile home "Wolpi" on the flower meadow
Review date 19. September 2022
Super schönes abgelegenes Hotel, zum Entspannen und abschalten perfekt. Sehr netter und zuvorkommender Service, wunderschöne Zimmer und mega gutes Frühstück:) Kommen gerne wieder:)
Review date 31. July 2022
Wer Ruhe und Natur sucht ist hier absolut richtig. Astrid und Hans haben ihren Hof mit sehr viel Liebe versehen. In den Zimmern fühlt man sich unglaublich wohl und man schläft wie ein Baby. Die pure Ruhe. Das Frühstück lässt keine Wünsche offen, es ist ein Traum. Wirklich alles was das Herz begehrt und noch mehr. Wenn Astrid kocht, dann ist es ein wahres Erlebnis-mit regionalen Produkten zaubert sie mit viel Liebe Gerichte, die ich so noch nicht gegessen habe. Hab mir viele Inspirationen dadurch geholt. Fazit: eins der besten Hotels mit Herz und Seele, in denen ich bisher war.
Review date 13. June 2022
Zum wiederholten Mal waren wir glücklich, zufrieden und vor allem Entspannt im AmVieh Theater. Wer runter fahren möchte und echte Nachhaltigkeit Eleven möchte darf sich auf Astrid und Hans freuen!
Review date 14. April 2022
Das Konzept ist super. Mit der Natur im Einklang. Hier wird "Bio" gelebt. Es gibt ein kleinen Campingplatz, das Hotel allso für jeden Geldbeutel was. Die Wirtsleute sehr sympathisch und immer um das Wohl der Gäste bemüht. Das Frühstück ist gut und man kann auch Wünsche äußern. Wer die Ruhe und Natur liebt ist hier richtig. Es gibt Lamas, Alpaka, super schöne Waliserschwarznasenschafe und andere Tiere. Der Obstgarten lädt zum verweilen ein und auch an Kinder ist hier gedacht. Es ist ein besonderer Ort.
Review date 10. August 2021
Boom! Eins der schönsten Hotels Bayerns mitten auf dem Land. Für 1 - 3 Tage perfekt. Paar Tiere, ein Wald, ein großer Garten, ein kleiner Swimmingpool und ein tolles Frühstück. Volle Empfehlung!
Review date 16. June 2021
....wie ein Microkosmos.. Love it...
Review date 19. December 2020
Freundliche, sehr nette und authentische Gastgeber!
Review date 22. October 2020
Entspannung Pur. Wer sich dazu entscheidet in diesem Hotel Urlaub zu machen, kann sich sicher sein, dass er tiefenentspannt zurück kommt. Eine sehr nette und herzliche Dame begrüßte uns. Die Zimmer sind sauber und sehr liebevoll eingerichtet. Nach einer Nacht in einem der angenehmen Betten erwartet einen ein Frühstück, das mit sehr viel Liebe angerichtet wird. Vom Frühstückstisch kann man nochmal die Umgebung genießen und hat bereits morgens einen schönen Blick auf die Kühe, Lamas und Alpakas. Auf jeden Fall einen Besuch wert. Vielen Dank nochmals an das Team des AmVieh-Theater, dass die Zeit zur absoluten Entspannung gemacht hat.
Review date 10. August 2020
Ein Traumurlaub! Das weltbeste Frühstück mit Liebe von Astrid gekocht, mit Herz von Karin serviert. Ein wunderbarer Ort um sich mit der Familie zu erholen. Hier stimmt wirklich alles, herzliche Gastgeber, wunderbares Essen, ein toller Garten, ein schöner Pool. Die Führung aufm Hof vom Hans war sehr interessant und unterhaltsam. Spielmöglichkeiten für die Kinder gibts viele schöne!! Es war so wunderbar!
Review date 22. June 2020
Wir haben zu viert einen einwöchigen Familienurlaub in der schönen Ferienwohnung "Schweinderl" verbracht. Das Amvieh-Theater ist ein außergewöhnlicher Ort mit besonderer Aura – man kann erholsam Abschalten und erlebt wunderbare Ruhe im alten Obstgarten auf den Liegen und Hängematten. Für Kinder ist trotzdem alles geboten: Tiere, Heuhüpfburg, Sandkasten, Schaukeln, Trampolin und sogar ein kleiner Pool! Das Team vom Biohotel ist sehr hilfsbereit und freundlich.
Review date 17. June 2020
Haus, Menschen, Essen, Natur - alles herrlich! Vielen Dank für alles!
Review date 18. October 2019
Unsere Hochzeitsfeier war wunderschön. Wir und unsere Gäste haben uns pudelwohl gefühlt. Die Gastgeber verstehen es hervorragend den Wünschen zu entsprechen und stehen mit Rat und Tat parat. Ich finde es klasse, dass dies alles mit Umweltbewusstsein und Nachhaltigkeit passiert. Man braucht kein Bling-Bling, Plastik oder Glitter, um eine tolle Party zu veranstalten. Unsere Feier war der Beweis. Ein wunderbares Ambiente, das trotz Regen zum Wohlfühlen war. Ein hervorragendes Buffet aus Produkten der Region und in Bio-Qualität, das bei allen Begeisterung hervor gerufen hat. Der Service und die ganze Organisation sehr professionell. Das Konzept im Am-Vieh-Theater ist einfach authentisch und genau das hat meine Wertschätzung. Wir durften außerdem das gemütliche Bio-Hotel genießen und konnten während des .Aufenthalts hervorragend entspannen. Entschleunigung pur in bester Lage.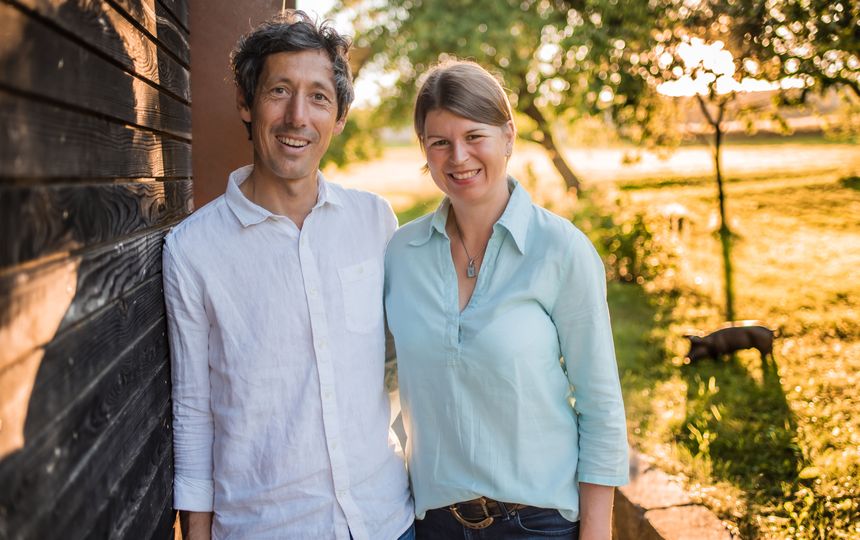 Hosts
Your hosts at the BIO HOTEL AmVieh-Theater are Astrid Wöhrl and Hans Reichl. Together with their dedicated team, they make your vacation a particularly sustainable experience. The AmVieh-Theater was born from a common idea: "Visiting a theater or music performance together has always been one of our passions. From our own musings coupled with those of friends, the vision of a cabaret stage was born. The semicircular open-air stages in ancient Greece were called amphitheaters, and so a play on words became the "AmVieh Theater" in Schafdorn."

Since its inception the AmVieh Theater has continuously evolved. Today it is a certified BIO HOTEL with fine event gastronomy.

"Good food is fun! A conscious diet and homemade food also have a very high priority in our private lives."

The two passionate organic hoteliers look forward to welcome you!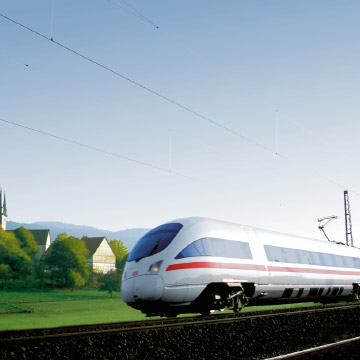 Arriving by train
© Deutsche Bahn AG / Gert Wagner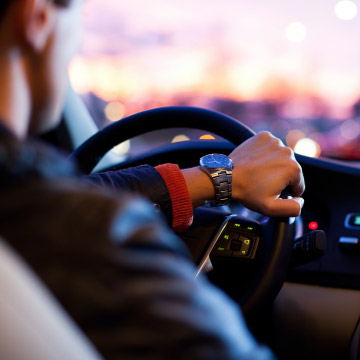 Get here by car