Highlights
Restaurant for hotel guests
Vegetarian menu
Allergy-free kitchen
Services around Organic cuisine
Vital kitchen
Whole food
Diet kitchen
Buffet meals
Highlights
Hotel with charging station for e-cars
Climate-positive hotel
Services around Sustainability
Certified BIO HOTELS member since November 2012
Public interest company
Inspected by GfRS
6,1 kg CO2e/night
50,5 tons CO2e/year
Highlights
Nature hotel
Vacation with your dog
Hotel with sauna
Hotel for allergy sufferers
Hotel with swimming pool
Services around Vacation
Free WIFI
Non smoking hotel
Free parking
Highlights
Hotel with child care
Vacation with animals
Services around Family
Family rooms / apartments
Children's playroom
Outdoor playground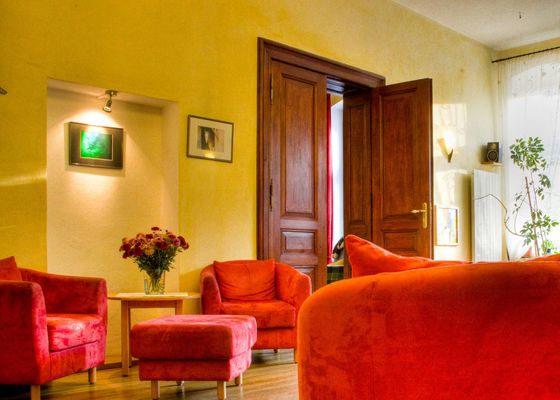 The hygiene concept in our hotel: 
Trained staff who is familiar with safety guidelines of local authorities
Staff wears masks and gloves where necessary
Disinfectants in rooms and public areas
Distance rules are observed
Buffet with service
Limited number of guests in the restaurant and in the wellness areas, etc.
Comprehensive room cleaning by the staff
Flexible cancellation terms
All apartments with living room and dining table, food delivery to the apartments
Tables and chairs in the garden, protected lounge and play areas outside
Quarantine for toys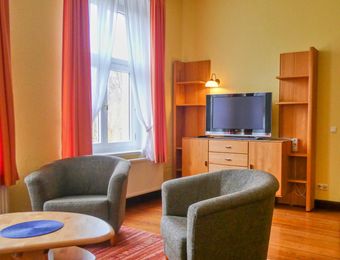 2-room apartment "family"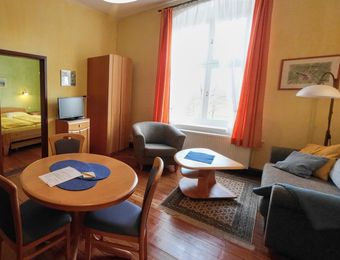 2-room apartment "Schnulli"
Review date 29. August 2022
Wir waren sehr zufrieden!
Review date 15. August 2022
Ein wirklich gelungener Familienurlaub auf einem ruhigen Fleckchen Erde. Die familiäre Atmosphäre im Hotel durch das Personal sowie die überschaubare Gästeanzahl war super. Das Angebot für Groß und Klein ist fantastisch. Alle konnten den Urlaub voll genießen. Wir können das Hotel nur weiterempfehlen!
Review date 04. August 2022
Eine Absolute Empfehlung für ALLE Familien mit Kindern zwischen 0-14. Tolle Anlage für Gross und hauptsächlich den Kleinen. Die Eltern können ENTSPANNEN, während die Kinder sich auf dem kompletten Gelände selbstständig beschäftigen und frei bewegen können. Tiere, Spielplatz, Schwimmteich, SUPER Service, tolles gesundes Essen. Versorgung 24/7. Das war für uns und unsere Kinder bisher der beste Urlaub. Sehr schön und immer wieder gerne. Einziges Minus, die vielen Mücken. Aber dafür kann keiner was... Trotzdem in Summe 5 Sterne!!!
Review date 01. August 2022
Lieblingsort, immer wieder gerne. Nur Mückenspray darf man nicht vergessen
Review date 11. July 2022
Auf der Wiese kann man prima Kaffee trinken und selbstgebackene Kuchen essen. Sehr lecker.<br /><br />Freundliche Bedienung. Faire Preise.
Review date 12. June 2022
Unsere Kinder hätten sich dort wohl gefühlt.<br />Der Kaffee war sehr gut und die Bedienung sehr freundlich
Review date 27. August 2021
Die Lage ist herrlich, aber aufgrund der Beschreibungen auf der Internetseite haben wir wohl einfach zu viel erwartet. Für uns als Familie hat es leider nicht gepasst, obwohl das Konzept (Bio) an sich ja wirklich toll ist.
Review date 24. August 2021
Schönes Familienhotel und alles Bio
Review date 24. August 2021
Tolles Konzept bis ins kleinste, liebevolle Detail stimmig. Richtig tolles Gelände und Aufenthalts- und Spielgelegenheiten für Kinder und Eltern. Appartments schön eingerichtet, in denen man sich wohl fühlt.
Review date 21. August 2021
Wir (Kind mit 12 Monaten) hatten hier einen schönen Urlaub. Bio 5 Sterne! Frühstück war Klasse und auch nach Corona würden wir auf dem Zimmer essen, ist mit Zwerg irgendwie entspannter. Angebote und Anlage 4 Sterne. Sauberkeit 4,5 Sterne. Leider nur ein Leihbuggy, das ist zu wenig. Wenig Auswahl an Kinder- und Kleinkindbüchern. Kaffee, Nudeln, Babyausstattung usw auf dem Zimmer .... super. Wir als Geringverdiener empfanden den Preis und auch die Preisefür Waschmaschine, Kaffee, Kakao, ... etwas teuer. Was nicht heißt überteuert, dafür haben wir zu wenig Ahnung davon welche Ausgaben gedeckt werden müssen. Wir würden gerne in ein oder zwei Jahren wieder kommen, wenn Junior etwas mehr machen kann. Ist für uns allerdings auch eine Kostenfrage.<br />Zusammengefasst ...<br />Bio super<br />Lage super<br />Für Kinder toll<br />Anlage/Zimmer kein 5sterne Hotel, aber nett gemacht und bemühte Gastgeber.
Review date 02. August 2021
Unser erster Kontakt war mit einen Schild, keine Bedienung da kein Personal.<br />Gewünscht hätte man sich im Urlaub , schön das Sie hier sind oder etwas in diese Richtung.<br />In allen Zimmern waren Spinnen welche dann aber erst einmal entfernt wurden.<br />Da aber keine Fliegengitter da sind kamen sie schnell wieder.<br />Das Frühstück war ausreichend und gut das Abendessen leider jeden Tag kalt.<br />Es gab keinen Frühstücksraum, also entweder auf dem Zimmer oder draußen essen . Im Hof gab es aber zu wenig Tische und zuviel Mücken. Das gleiche am Abend.<br />Auch das Wasser in unseren Zimmer war jeden Abend kalt , da macht duschen nicht so einen großen Spass.<br />Das Trampolin ist auch noch nicht repariert. Der Reißverschluß ist immer noch nicht ganz.<br />Wir haben immer Ausflüge gemacht ins Umland was sich lohnt.<br />Ich finde ein Hotel hätte ich mir etwas anders vorgestellt.<br />Unser Zimmer wurde nicht einmal während des Aufenthaltes gefegt oder gewischt und die Handtücher auch nicht gewechselt.<br />Dafür fand ich den Preis doch etwas hoch.
Review date 16. July 2021
Wir waren mit unseren Mädels (9 und 6 Jahre) für eine Woche im Gut Nisdorf. Abseits des Massentourismus haben wir für uns eine Oase der Ruhe gefunden. Die Kinder waren hauptsächlich an der frischen Luft und haben die vielen Spielmöglichkeiten des Gutes genutzt. Der Badeteich mit den Fröschen war eine schöne Abkühlung für die Kinder. <br />Wir hatten Halbpension gebucht und haben es nicht bereut. Entweder gab es gute alte Hausmannskost oder es wurde etwas Modernes probiert. Aus unserer Sicht könnte das Moderne noch etwas mehr in den Fokus genommen werden. Das Personal ist sehr nett und hilfsbereit. Im puncto Nachhaltigkeit war für uns konzeptionell alles stimmig. Am Rande noch ein ein kleiner Ausflugtipp mit dem Fahrrad. Im Nachbarort kann man in einen tollen Gartenlokal "Elise 23" lecker Kaffee und Kuchen essen.
Review date 17. October 2020
Ein schönes Familienhotel mit leckerem Essen und einer Menge Möglichkeiten an Aktivitäten (Reiten, Sauna, Trampolin springen uvm).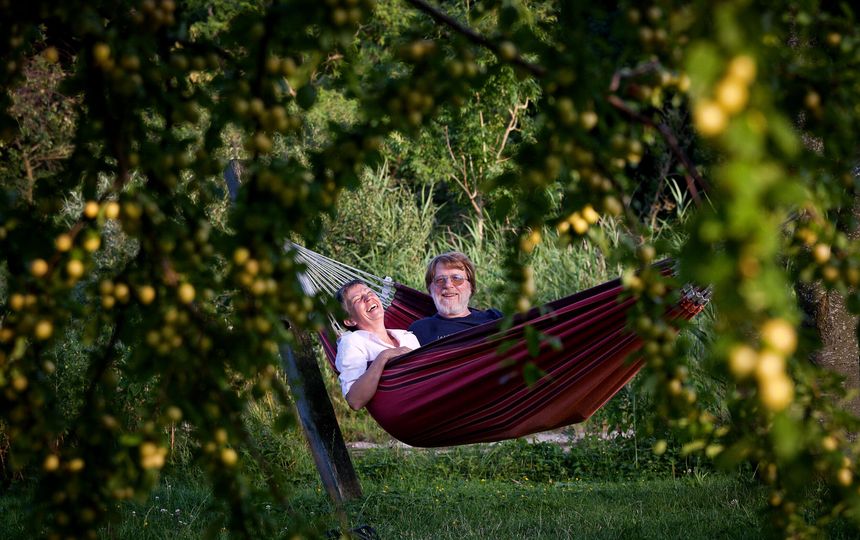 Hosts
Let you go! Feel yourself! Finally having time - or simply taking the time! For yourself. Or your favorite person(s). With us, you can expect an alternative concept for your sustainable family vacation.
 
We make sure that you will feel comfortable with us. Our motto: Arrive and let you go!
 
Your hosts, Jürg Gloor and Sabine Stange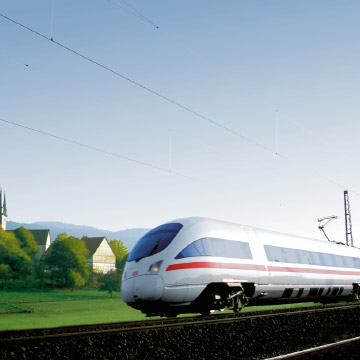 Arriving by train
© Deutsche Bahn AG / Gert Wagner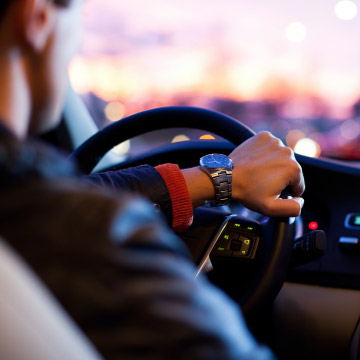 Get here by car