Services around Organic cuisine
Vegetarian menu
Allergy-free kitchen & intolerances
Diet kitchen
Vital kitchen
Whole food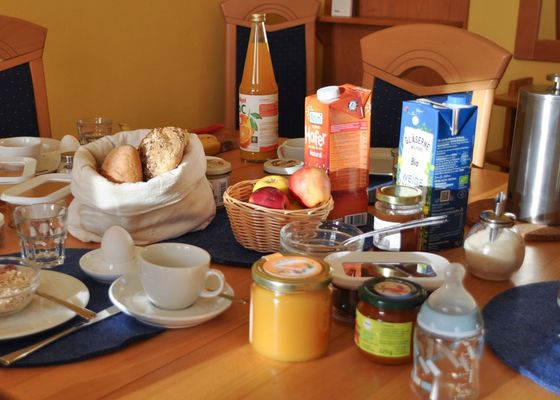 100% certified:

The day begins with a delicious and rich breakfast! Whether rolls or bread, sausage, cheese, sweet and savory spreads, fruit and vegetables - our 100% certified organic breakfast offer is available for self-service from 8 to 10 am. Arrange your breakfast according to your mood and enjoy it comfortably in your apartment. The "basic equipment" such as butter or margarine, (cereal) milk and a sweet spread can be found in the refrigerator in the apartment upon arrival (if you have booked with breakfast). You are also welcome to try our coffee, cappuccino and teas from 8 am to 6 pm!
Services around Sustainability
Hotel with charging station for e-cars
Certified BIO HOTELS member since November 2012
Inspected by GfRS
Climate balanced hotel
6,1 kg CO2e/night
50,5 tons CO2e/year
Public interest company
Our contribution to the future:

Sustainability and ecology are very important to us. Therefore, whenever possible, we use ecologically compatible building materials. With us you will find rooms with solid wood furniture, eco-paper as well as cleaning products on ecological basis.

Our high-quality and certified organic food comes largely from regional suppliers. In our zero-waste kitchen, we process these with craftsmanship into fine culinary delights.
HolidayA retreat in the mountains. An oasis in the middle of the city. A refuge by the sea. As different as these destinations are, they share one similarity: the warmth with which hotel staff interacts with you the guests. Anyone seeking for a warm and relaxed atmosphere is welcome at the BIO HOTELS.You can expect the following:A fine cuisine with no compromises on the quality of food and beverages – BIO HOTELS stand for 100 % organic products and 100 % responsibility. Lots of freetime activities. A healthy indoor climate which allows for well-being and relaxation. Encounters with inspiring individuals.
Free WIFI
Non smoking hotel
Free parking
Hotel with sauna
Hotel for allergy sufferers
Hotel with swimming pool
Vacation with your dog
Nature hotel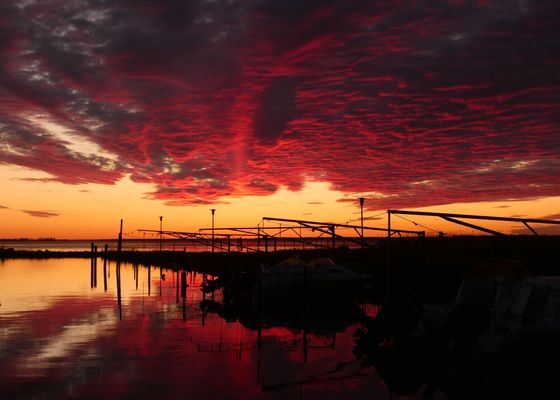 Sustainable hotel experiences:

Only one kilometer away from the BIO HOTEL Gut Nisdorf, the national park "Vorpommersche Boddenlandschaft" begins. A few more kilometers and you are on the Baltic Sea coast, enjoying the beaches of the peninsula Fischland Darß or the island of Rügen, strolling through the world heritage city of Stralsund, visiting the Ozeaneum and Oceanographic Museum or one of the many other beautiful and exciting places of excursions in the region.
FamiliesBuilding a hut with dad. Harvest fragrant herbs with mom for the evening tea. Or feel the warm breath of a calf on your face. Our BIO HOTELS family specialists know exactly the desires of their young and adult guests. Therefore, they offer the perfect possibilities for relaxing as well as exciting holiday experiences.You can expect the following:Spacious apartments and family suites. Free space for action and adventure. Food your kids will love. Well organized and educationally valuable holiday experiences for your youngsters. Quality time for you and your partner. Vegetable gardens which show natural food cycles (fresh from the tree to the table).
Hotel with animals
Family rooms / apartments
Children's playroom
Outdoor playground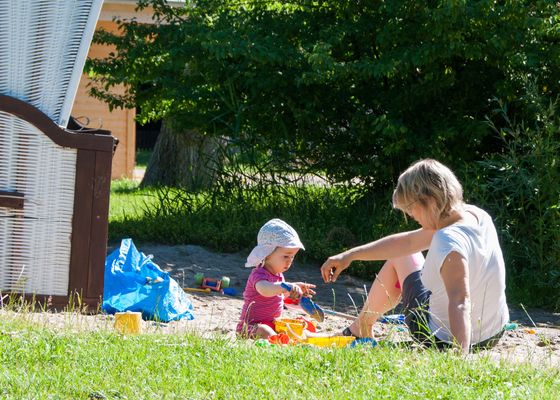 Fun for youngsters and adults:


Our services for families:
Drinking water bubbler, pantry kitchen with kettle, bottle warmer, etc.
Bed linen, towels, hair dryer, natural cosmetic products (shampoo, body lotion, soap)
changing table, potty, diaper pail, baby monitor
Baby crib (60 x 120 cm) and/or cot (70 x 140 cm)
Baby cosmetics in organic quality
Large garden with playground and lots of playground equipment
Large playroom, play areas on each floor, table football, table tennis, kettcars
Professional childcare, Mon - Fri, approx. 4 hours daily
and much more!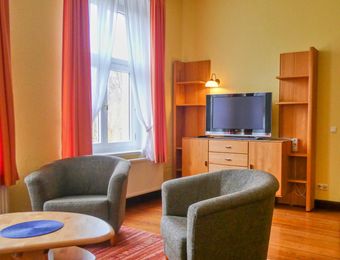 2-room apartment "family"
Meal plan
Übernachtung ohne Verpflegung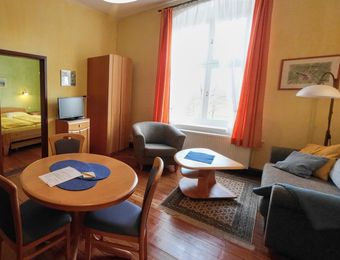 2-room apartment "Schnulli"
Meal plan
Übernachtung ohne Verpflegung
Review date 10. November 2023
Wir haben hier einen der schönsten Familienurlaube erlebt. Die Natur und Umgebung ist traumhaft, aber auch die Anlage des Hotels (es sind eigentlich Ferienwohnungen) war wirklich toll. Wunderschön angelegt und mit vielen Möglichkeiten zum spielen und entdecken. Uns hat die Möglichkeit auch gut gefallen, dass man vor Ort frühstücken kann. Normalerweise bereiten wir in Fewos immer unser eigenes Frühstück zu, aber es war ein richtig toller Luxus, sich mal verwöhnen zu lassen. Und es war auch alles da, was man wollte beziehungsweise es wurde nichts schief geguckt, wenn man zum Frühstück noch selber etwas mitbringt. Überhaupt war der Service hier so unkompliziert und wahnsinnig freundlich! Die Kinder sind mit anderen Kids schnell in Kontakt gekommen, so dass wir Eltern auch mal Zeit alleine für die Sauna hatten. Den Badeteich haben wir aufgrund der Temperaturen jetzt nicht genutzt, aber wenn wir im Sommer zurück kommen, wird mit den Fröschen gebadet. Die Ferienwohnungen war solide und mit allem eingerichtet, was man braucht. Die Farbe und Dekoration hat nicht ganz meinem Geschmack entsprochen und war meines Erachtens zum Teil optisch nicht so zeitgemäß – aber Geschmäcker sind verschieden. Es war alles da, was man braucht und wir haben uns sehr wohl gefühlt. Wir kommen auf jeden Fall wieder.
Review date 04. August 2023
Top familiengeführtes Hotel, wo man sich auf Anhieb zuhause fühlt. Super Betten, feines Essen in Bioqualität. Die Umgebung lädt zum verweilen ein mit Naturteich und Sandstrand, mehreren Gokarts, Wiesen zum Fussballspielen, Badmintonnetz, Beobachten von Tieren wie Fröschen, Ringelnattern, Vögeln. Wenn es am Meer stark windet, ist man da komplett windgeschützt von den grossen Bäumen….
Review date 17. July 2023
Wer die Natur und die Ruhe liebt findet im Gut Nisdorf einen wunderbaren Urlaubsort. Wir haben mit unseren Enkeln eine erholsame Urlaubswoche verbracht. Die Kinder waren begeistert vom Luxus-Frühstück, den Tieren im und am Teich, den Fahrten mit dem Kettcar zur Badestelle un und dem Saunabereich. Vielen Dank an Sabine und Jürg, die unsere Wünsche von den Augen abgelesen haben.
Review date 14. July 2023
Für Kinder einfach toll! Spielplatz, Badeteich und nahezu überall Platz (drinnen und draußen) zum Spielen und Toben. Und auch an die Erwachsenen wird gedacht mit Liegestühlen, Büchern und Sauna. Tolle Bio-Produkte zum Frühstück; alles ausnahmslos lecker. Jürg und Sabine sind sehr nette Gastgeber. Danke für die schönen Tage bei euch.
Review date 01. June 2023
Schönes Familienhotel, das meine Wünsche offen lässt, mitten im Grünen und mit ganz viel Ruhe. Entspannung für Groß und Klein
Review date 25. April 2023
Eine so gemütliche und familienfreundliche Unterkunft in einer so wundervollen, ländlichen Region. Direkt am Wasser, schön ruhig, liebevoll gestaltetes Anwesen, viele Spielmöglichkeiten für Kinder und die ganze Familie, gern genutzte Sauna, sehr schöne Zimmer, tolle Gastgeber, gutes und reichhaltiges Frühstück, viel Infomaterial über die Region, das Gutshaus und Ausflugstipps. Wir haben und pudelwohl gefühlt und kommen gerne wieder!
Review date 24. April 2023
Eine tolle Bio Unterkunft für Familien. Es gibt jede Menge Spielzeug im und um das Haus. Kettcars zum ausleihen, ein Klettergerüst und einen kleinen Badeteich im Garten. Ganz begeistert waren wir von dem nachhaltigen Konzept und dem großartigen Wellnessbereich. Wir kommen wieder!
Review date 24. April 2023
Das Hotel ist ein altes Gutshaus, welches mit hochwertigen Mobiliar ausgestattete Appartments anbietet. Die Besitzer sind sehr freundlich. Die Unterkunft ist sehr Familienfreundlich! Für unsere 2jährige Tochter wurde uns über Kinderstuhl und Bettchen auch ein Lätzchen und Töpfchen zur Verfügung gestellt. Das Spielzeug kann mit anderen Ulaubern geteilt werden. Der Bodden ist vom Haus aus sichtbar. Am Frühstück hat es uns an nichts gemangelt und es hat alles gut geschmeckt. Auch Sonderwünsche für vegetarische und vegane Ernährung waren völlig selbstverständlich. Vollständig begeistert waren wir von der Saunalandschaft mit Whirlpool im Keller des Hauses. Wir kommen gerne wieder.
Review date 14. April 2023
Meine Kinder (5 + 8 Jahre) und ich haben hier ein paar schöne Tage erlebt. Die Fahrzeuge sind für jedes Alter. Das Frühstück war super zubereitet. Eine ruhige Gegend zum entspannen.
Review date 06. February 2023
Mit einem Wort: Wundervoll !
Review date 26. December 2022
Wunderbar für Familienurlaub, absolute Empfehlung!
Review date 29. August 2022
Wir waren sehr zufrieden!
Review date 15. August 2022
Ein wirklich gelungener Familienurlaub auf einem ruhigen Fleckchen Erde. Die familiäre Atmosphäre im Hotel durch das Personal sowie die überschaubare Gästeanzahl war super. Das Angebot für Groß und Klein ist fantastisch. Alle konnten den Urlaub voll genießen. Wir können das Hotel nur weiterempfehlen!
Review date 04. August 2022
Eine Absolute Empfehlung für ALLE Familien mit Kindern zwischen 0-14. Tolle Anlage für Gross und hauptsächlich den Kleinen. Die Eltern können ENTSPANNEN, während die Kinder sich auf dem kompletten Gelände selbstständig beschäftigen und frei bewegen können. Tiere, Spielplatz, Schwimmteich, SUPER Service, tolles gesundes Essen. Versorgung 24/7. Das war für uns und unsere Kinder bisher der beste Urlaub. Sehr schön und immer wieder gerne. Einziges Minus, die vielen Mücken. Aber dafür kann keiner was... Trotzdem in Summe 5 Sterne!!!
Review date 01. August 2022
Lieblingsort, immer wieder gerne. Nur Mückenspray darf man nicht vergessen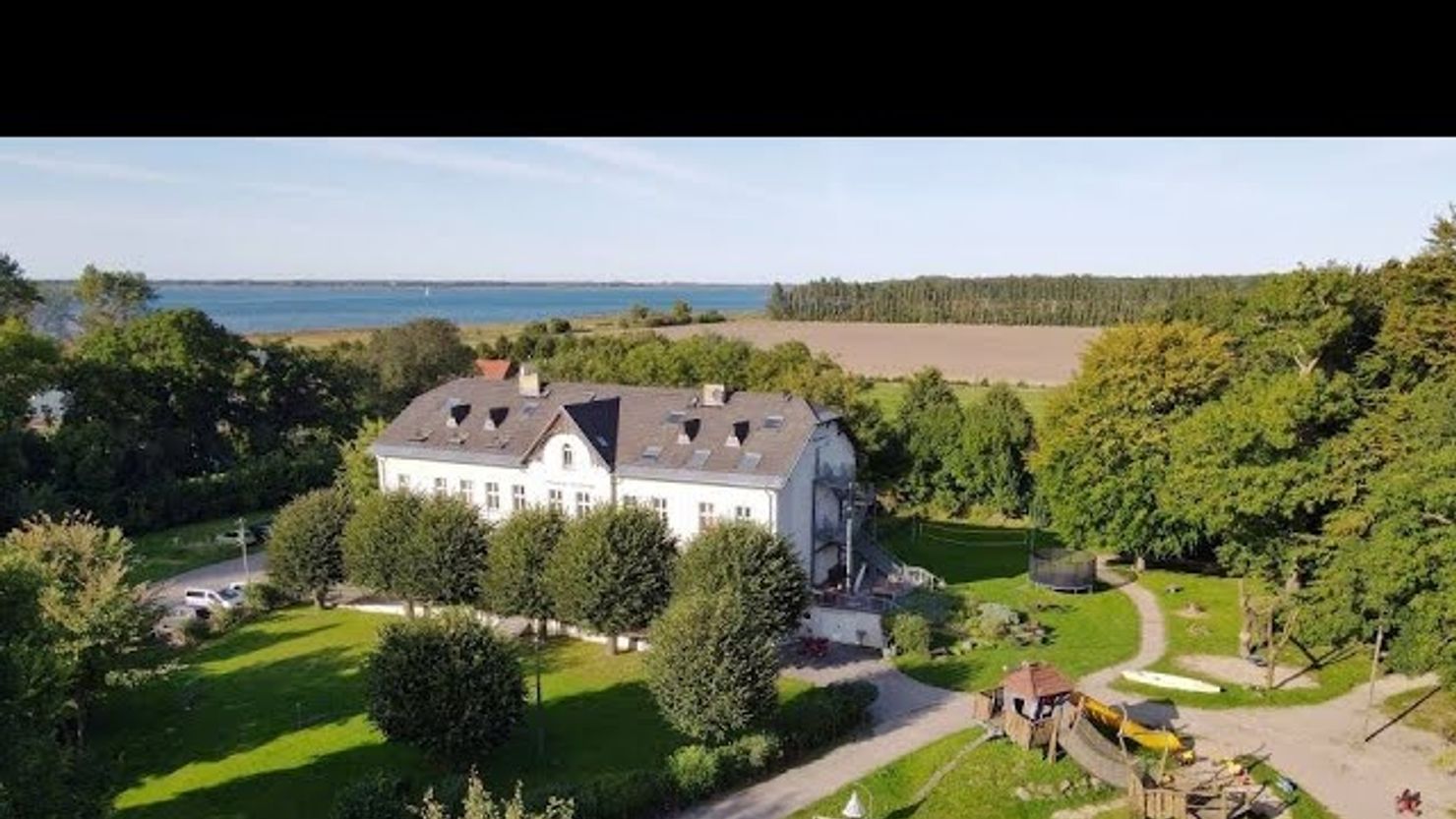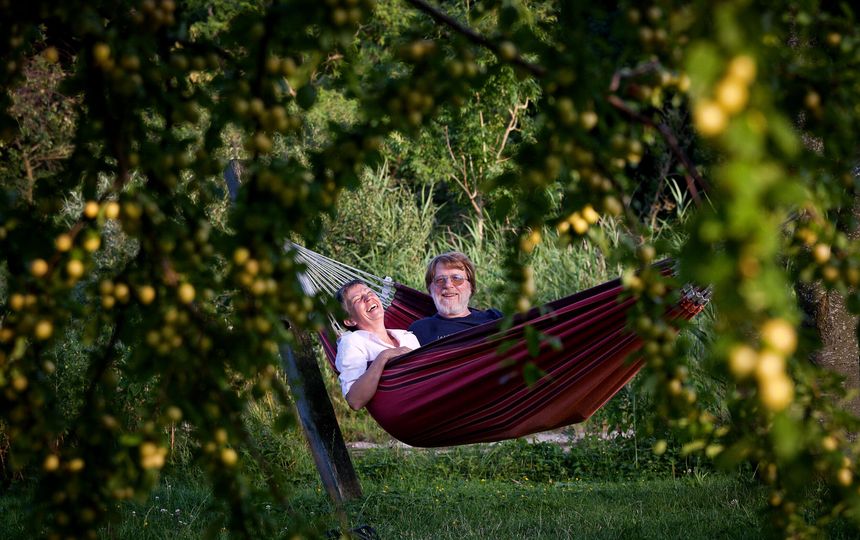 Hosts
Let you go! Feel yourself! Finally having time - or simply taking the time! For yourself. Or your favorite person(s). With us, you can expect an alternative concept for your sustainable family vacation.
 
We make sure that you will feel comfortable with us. Our motto: Arrive and let you go!
 
Your hosts, Jürg Gloor and Sabine Stange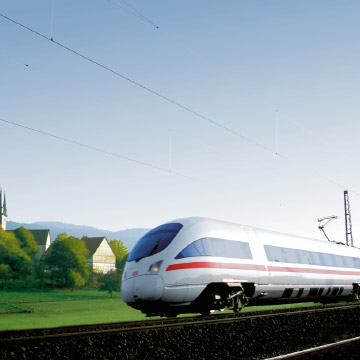 Arriving by train
© Deutsche Bahn AG / Gert Wagner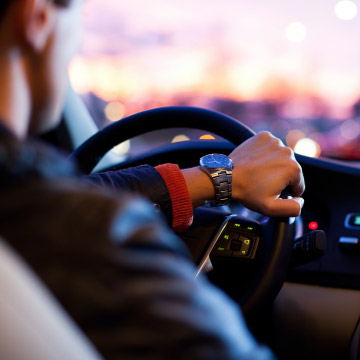 Get here by car