Highlights
Restaurant for hotel guests
Vegetarian menu
Vegan dishes
Allergy-free kitchen
Services around Organic cuisine
Vital kitchen
Whole food
Diet kitchen
Menu selection
Hotel bar
Highlights
Hotel with charging station for e-cars
Climate-neutral hotel
Services around Sustainability
Certified BIO HOTELS member since March 2010
Inspected by ABCERT
9,34 kg CO2e/night
49 tons CO2e/year
Highlights
Vacation with your dog
Hotel with limited wifi
Hotel for celebrations
Vacation with animals
Fasting leave
Services around Vacation
Holidays on a Farm
Elevator
Free parking
Free WIFI
Non smoking hotel
Pick-up service from train stations included
Summer sports activities such as hiking, cycling, golfing
Highlights
Vacation with animals
Services around Family
Family rooms / apartments
Children's playroom
Outdoor playground
The hygiene concept in our hotel: 
Trained staff who is familiar with safety guidelines of local authorities
Staff wears masks and gloves where necessary
Disinfectants in public areas
Distance rules are observed
Comprehensive room cleaning by the staff
Guests can indicate that housekeeping is not desired
Flexible cancellation terms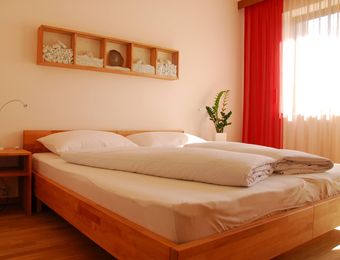 Bio-double room with balcony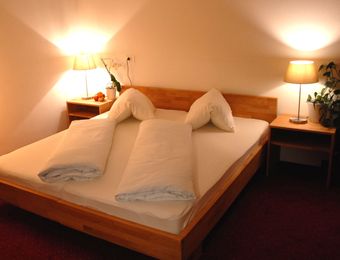 Double room with balcony
Organic double room without balcony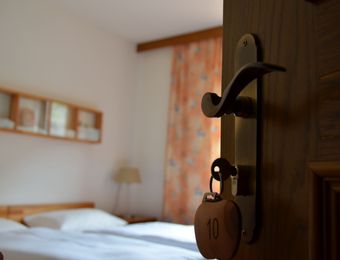 Double room without balcony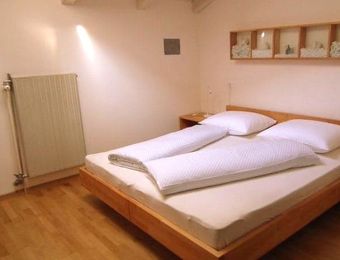 Organic attic double room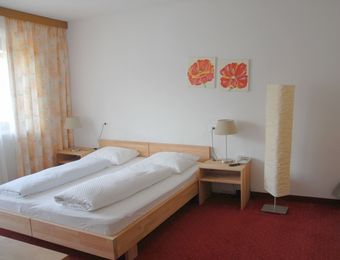 Shared rooms with balcony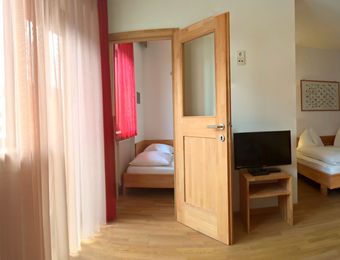 Organic shared rooms with balcony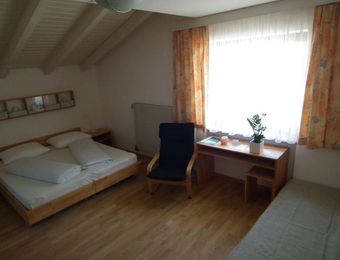 Organic shared rooms with balcony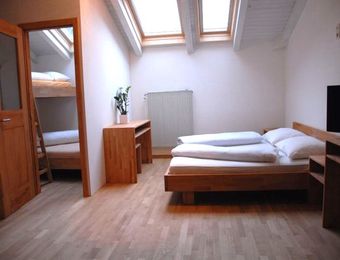 Organic shared room with roof window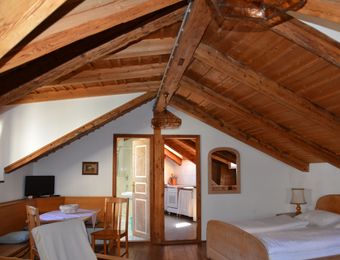 Farm holiday - Appartment A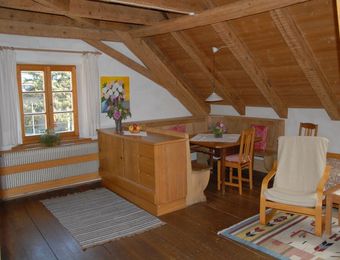 Farm holiday - Apartment B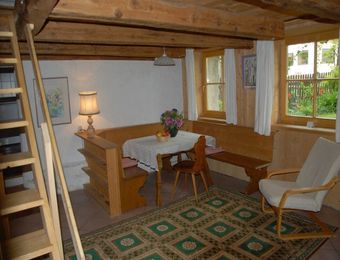 Farm holiday - Apartment C
Review date 01. October 2022
Super family business; clean rooms; great food (bio) and vegetarian if you like; salmon, cold Cuts from totally fresh Rowohlt or cooked ham, local bacon (speck), smoked, cured (local speciality), friendly considered service;<br />just perfect; awesome selection of BMW bikes, whatever flavor. The boys and father all ride, the ladies run the bio hotel. Thank you for having us. What a gem!
Review date 26. September 2022
Un posto genuino dove trascorrere delle rigeneranti vacanze<br />È la seconda volta che soggiorniamo in questo posto<br />Colazione e cena gustose e soprattutto una ricerca incredibile degli ingredienti<br />La coerenza nella gestione di questo hotel è la sua forza<br />Pulizia, cordialità, servizi eccellenti<br />Non vediamo l'ora di tornare<br />Che vacanza meravigliosa Grazie a tutto lo staff
Review date 13. September 2022
Posizione ottima per visitare la zona. La disponibilità e la gentilezza del personale nel soddisfare alcune richieste che gli abbiamo fatto. Camera adeguata. Colazione non abbondantissima ma buona. Ottime cene
Review date 11. September 2022
Ein kleines und nach meinen Eindruck etwas in die Jahre gekommenes Landhotel. Aber sonst ok und sauber. Bei uns im Bad lag eine Gummidichtungen der Duschwand am Boden und eine Schraube auf dem Spülkasten .. , sauber war es und für eine Nacht vollkommen ausreichend. Falls man im Hause essen möchte, kann man dies auch tun, für meinen Geschmack war die Portionen etwas klein aber geschmacklich war es ok. Das war nett und freundlich, für alles zusammen 4 Sterne
Review date 10. September 2022
Great place. Great food. Great ride.
Review date 15. August 2022
Bello e riposante
Review date 12. August 2022
We really loved it here. The hotel is very cosy and clean and they trie to do everything from a biological point of view. Although the hotel itself might not have all kind of facilities themselves, you can use teh facilities around the hotel for free. During the heat it was very nice for instance to go to the local swimming pool which was a short walk away. We went for the half-pension option and the food they serve is simple but delicious. In the morning you make your choice out of several options and you can also variate in size. The breakfast is also simple but gives you enough options. All in all, we would definitely recommend this place and it might be a hotel we will go back for sure!
Review date 18. July 2022
Wonderful hotel with very friendly staff.
Review date 03. July 2022
Area giardino ben curata e con una vista stupenda, parcheggio comodo e ottima ristorazione.
Review date 30. June 2022
Das Essen der Halbpension war sehr lecker, die Gastgeber sehr freundlich. Das Zimmer war wie erwartet, alles in gutem Zustand und vor allem auch eine bequeme Matratze.
Review date 10. June 2022
Die Zimmer sind ordentlich und schön eingerichtet. Aus meiner Sicht aber am schönsten ist der Hof mit dem Kirschbaum, den verschiedenen Sitz- und Liegemöglichkeiten mit dem Bergpanorama. Das Essen war auch wirklich gut und entsprechend einem 5-Gänge Menü ausreichend portioniert.<br />Das Ausleihen der Motorräder hat auch einwandfrei und schnell funktioniert.<br />Gerne wieder!
Review date 04. June 2022
Ottima accoglienza e ottima cucina. Adatto ai bambini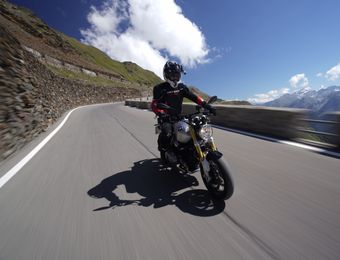 Two wheels freedom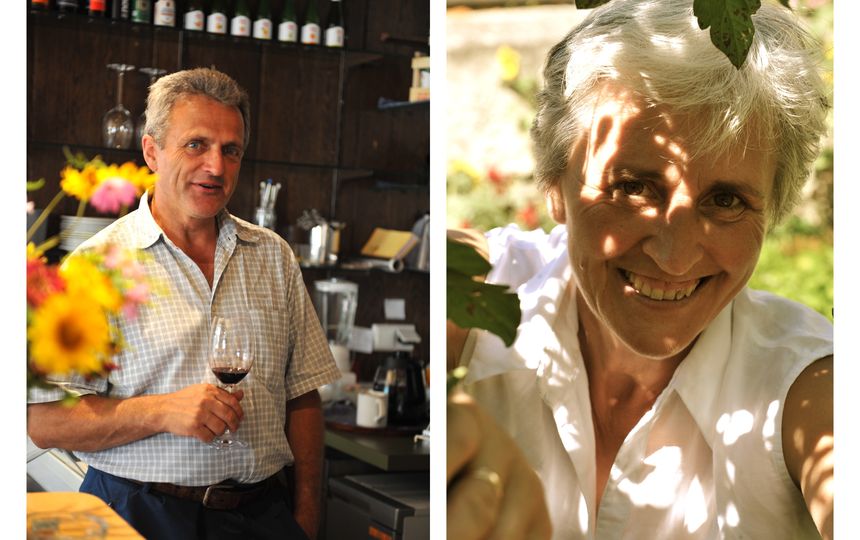 Hosts
The Vill family took over the BIO HOTEL in 2010 and remains fully committed to the organic idea - whether in terms of agriculture or tourism. An organic way of thinking and working is particularly important to them. Erich Vill is considered one of the first organic pioneers in Val Venosta.

"We are convinced of what we do," your hosts, Erich and Kajetan Vill.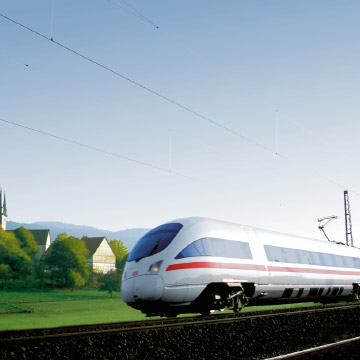 Arriving by train
© Deutsche Bahn AG / Gert Wagner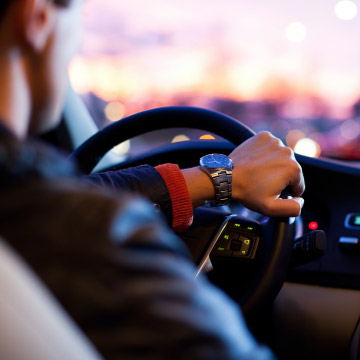 Get here by car