Highlights
Restaurant for hotel guests
Vegetarian menu
Vegan dishes
Allergy-free kitchen
Services around Organic cuisine
Diet kitchen
Buffet meals
A la carte meals
Services around Sustainability
Certified BIO HOTELS member since December 2011
Organically built building
Environmentally friendly and self-sufficient energy concept
Inspected by ABCERT
7,76 kg Co2-equivalents/night
44,3 tons Co2-equivalents/year
Highlights
Nature hotel
Vacation with your dog
Hotel with limited wifi
Electrosmog Reduced hotel
Hotel with swimming pool
Hotel with yoga
Services around Vacation
Holidays on a Farm
Free WIFI
Non smoking hotel
Free parking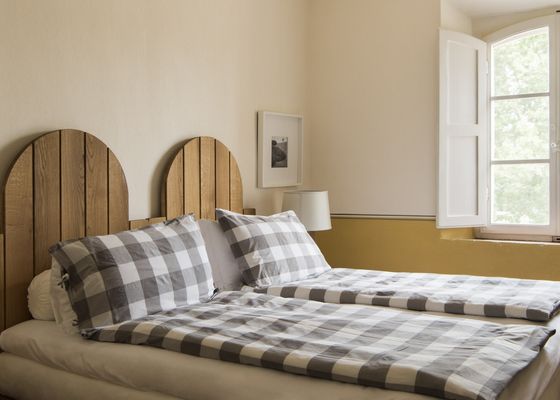 The hygiene concept in our hotel: 
Trained staff who is familiar with safety guidelines of local authorities
Staff wears masks and gloves where necessary
Disinfectants in rooms and public areas
Contactless (online) check-in possible
Distance rules are observed
Buffet with service
Limited number of guests in the restaurant and in the wellness areas, etc.
Special antiviral cleaning agents on an ecological basis
Comprehensive room cleaning by the staff
Guests can indicate that housekeeping is not desired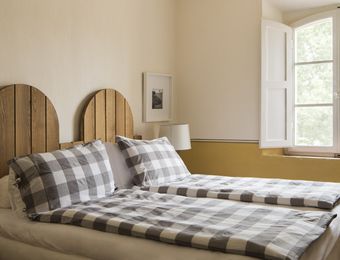 Double Room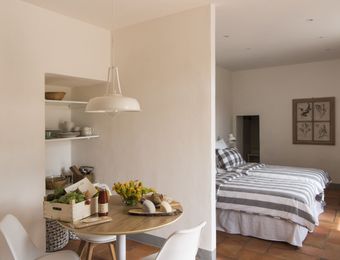 Apartment No. 7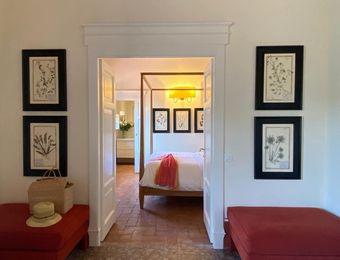 Suite No. 2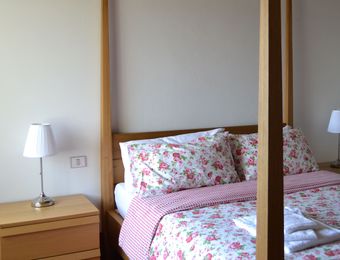 Apartment No. 1 / price per week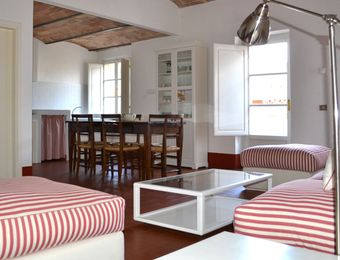 Apartment No. 2 / price per week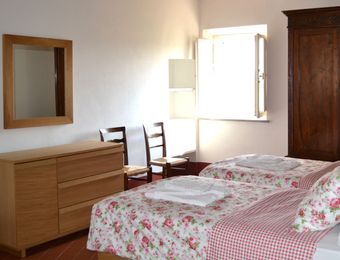 Apartment No. 3 / price per week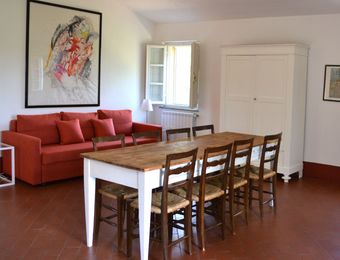 Apartment No. 4 / price per week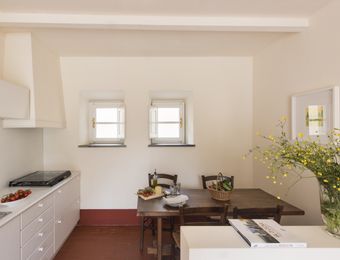 Apartment No. 5 / price per week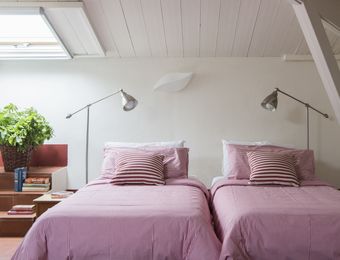 Apartment Torre / price per week
Review date 15. October 2021
Sehr schönes, sauberes und stilvoll eingerichtetes Apartment. Kein Luxus, aber vernünftig. Die gesamte Anlage ist ästhetisch gefällig und gepflegt. Der Service ist unaufdringlich, aber freundlich - im Restaurant richtiggehend herzlich. Drei Highlights: der Natur-Schwimmteich, die ausgezeichneten Bio-Lebensmittel vom Hof (phantastische Lebensmittelkiste bei der Anreise bekommen!) und das vegetarische Restaurant. Sehr zu empfehlen!
Review date 05. October 2021
Lovely location in the Tuscany hills. Breakfast and dinner in the vegetarian restaurant were very nice. Staff was professional and friendly. They also offered a free yoga class in the morning. The natural swimming pool is pretty cool.
Review date 04. October 2021
Die Gebäude der Anlage sind sehr schön restauriert und unsere Suite war sehr geschmackvoll eingerichtet. Die Zimmer waren sehr sauber, wir haben uns sofort wohlgefühlt. Das Agriturismo hat eine schöne, ruhige und weitläufige Lage mit Weitblick. Hier ist es nachts absolut still, so dass man wunderbar entspannen kann, die guten Matratzen der Betten tragen ebenfalls dazu bei. Das Personal war sehr freundlich und entgegenkommend. Das Essen im Restaurant und das Frühstück mit Bioprodukten war lecker. Wir können diese Anlage auf jeden Fall weiterempfehlen
Review date 25. September 2021
È la nostra prima volta che pranziamo qui e di sicuro ci torneremo per l'ambiente carinissimo e soprattutto per le pietanze e i dolci preparati e così bene presentati da Stefania
Review date 19. September 2021
Tralasciando il fatto che non faccio parte del mondo vegan/vegetariano quindi il mio giudizio può contare parzialmente devo dire che è un esperienza che non ripeterei... Quanto meno di sera, consiglio di andare a pranzo per godere a pieno dell' esperienza riguardante l'azienda agricola... Per il resto il menù non era nei miei toni ma degustibus..
Review date 10. September 2021
Siamo andati una mattina a fare visita al posto per acquistare prodotti a loro marchio. Tutto di indubbia qualità
Review date 09. September 2021
Posto tranquillo ed elegante. Pochi piatti ma di ottima qualità: noi ci torniamo tutti gli anni. Davvero consigliato!
Review date 08. September 2021
Für Vegetarier und Umweltbewusste Menschen, welche auf hochwertige Lebensmittel und kulinarische Speisen nicht verzichten möchten, ein absoluter Traum. Ein tolles und Abwchslungsreiches Frühstück und eine wirklich tolle Abendspreiskarte werden angeboten. Auch ich als Nichtvegetarier bin voll auf meine Kosten gekommen. Viele Lebensmittel werden im lokalen Shop auch zum Kauf angeboten zu fairen Preise (Demeter Qualität) Die Lage ist top, viele schöne Hotspots der Toskana sind von dort in einem Stundenradius zu erreichen,
Review date 07. September 2021
Luogo rilassante, adatto per chi vuol passare del tempo lontano dal caos cittadino.
Review date 07. September 2021
La location è molto bella sicuramente ma il resto non ci ha convinto. Se vi aspettate una "conduzione familiare" con orto e fattoria non è questo il caso ma direi più un'azienda con tanti dipendenti e un ristorante a parte (aperto anche agli esterni). Sicuramente un bel posto adatto a turisti esteri…La camera era essenziale, il bagno grande ma c'era uno strano e forte odore (non so se sono i prodotti che usano per pulire ma davvero nauseante). Il biolago bello si ma pieno di zanzare la sera, nessun regolamento ben esposto (bambini a qualsiasi ora che si tuffavano ecc), e i lettini erano tutti ammassati da una parte e in pratica ognuno si doveva prendere il proprio (la maggior parte erano rotti o mal funzionanti). Anche la tenda cacoon era tutta rotta e quasi abbandonata. La reception non è sempre disponile e segue certi orari (o almeno nei giorni in cui siamo stati noi era così.. sfortuna?). La colazione ha un gran buffet dolce e salato (servito da loro) ma con poca scelta vegana. Un giorno mi hanno dato anche uno yogurt vegetale scaduto, vabbè. La bevanda calda "prevista" è solo una perchè sul tavolo troverete un bel cartello che vi avvisa che le successive saranno a pagamento!! Passiamo infine alla cena, alla carta o con menu a 30€ (con piatti scelti da loro, diversi ovviamente da quelli alla carta): anche qui avevo avvertito se si poteva fare un menu vegetale e mi era stato risposto "certo, avviso la cucina" e ovviamente invece nessuno sapeva niente, anzi la cameriera mi ha detto che loro quasi sono "una gestione a sè", chissà non comunicano con gli altri…Ad ogni modo abbiamo poi scelto solo alcuni piatti alla carta, buoni ma niente di eccezionale (sconsiglio la crema dolce vegana, insapore e grumosa!). Insomma non ci torneremo, ci sono posti molto più "autentici" e belli. Ho Ho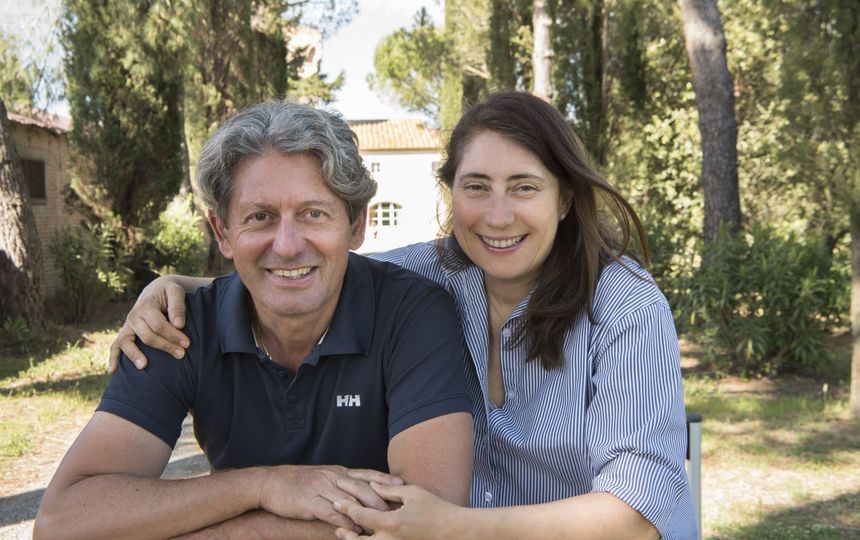 Hosts
In 1998 Carlo and Paola decided to leave Milan and move to Tuscany to the small town of Cerreto. They renovated all the buildings according to the principles of green building. At the same time, the idea to make this rich and vast land flourish again, matured in Carlo. Supported by an external collaborator, he immediately set to work on organic farming.
 
Today Il Cerreto is a charming and large biodynamic farm that - thanks to the use of renewable energy - can produce 60% of the energy it needs itself. Carlo and Paola continue to dream and work, respecting the voice and power of nature.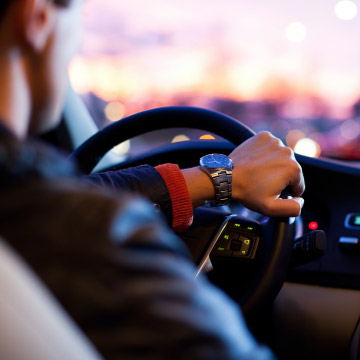 Get here by car