Highlights
Restaurant for hotel guests
100% vegetarian cuisine
Vegan dishes
Allergy-free kitchen
Services around Organic cuisine
Diet kitchen
Buffet meals
A la carte meals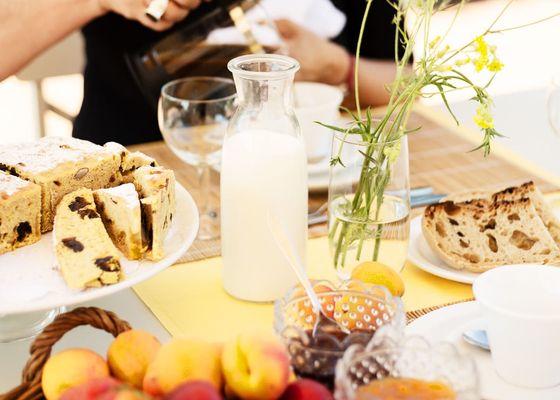 100% certified: 

The "100% BIO" restaurant offers exclusively vegetarian dishes with vegan variations and special consideration for allergies and intolerances.

The raw materials, mostly from our vegetable gardens and biodynamically cultivated fields, let you rediscover the authentic flavours of traditional Tuscan recipes in a modern form. The location of the restaurant allows you to enjoy your dinner while admiring the setting sun behind the hills.
Services around Sustainability
Certified BIO HOTELS member since December 2011
Organically built building
Environmentally friendly and self-sufficient energy concept
Inspected by ABCERT
3,87 kg CO2e/night
31 tons CO2e/year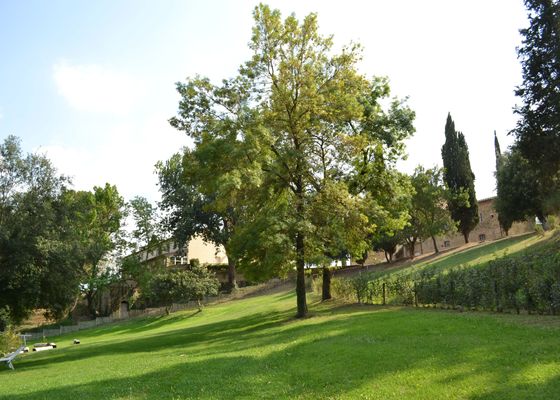 Our contribution to the future:

Founded in 1998 and aligned with the ideals of R. Steiner, Cerreto is now a biodynamic farm that is able to produce itself thanks to the use of renewable energy. The fields are organised to form a healthy and living agricultural organism.

300 hectares of cultivated land, two buildings divided into rooms and flats, a natural swimming pool, the organic shop and the restaurant offer every guest a holiday that awakens the senses and relaxes the soul. Il Cerreto is an ideal destination for those seeking a conscious and ecologically sustainable getaway.
Highlights
Nature hotel
Vacation with your dog
Hotel with limited wifi
Electrosmog Reduced hotel
Hotel with swimming pool
Hotel with yoga
Services around Vacation
Holidays on a Farm
Free WIFI
Non smoking hotel
Free parking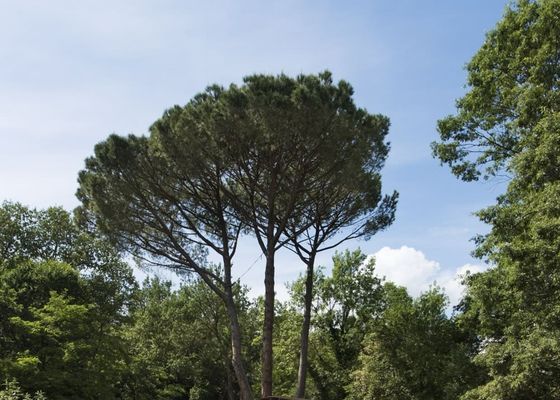 Sustainable hotel experiences:

An oasis of peace in the heart of Tuscany, in the Alta Val di Cecina, between the Etruscan city of Volterra and Larderello, the world centre of geothermal energy. Staying in a farmhouse with Biolago means being able to spend relaxing moments surrounded by nature.

By taking part in yoga classes, our guests can start the day with a balance of strength and equilibrium, and then enjoy breakfast in our "100% BIO" restaurant, which also offers vegetarian dishes for lunch and dinner, most of which come from our gardens and fields cultivated using the biodynamic method.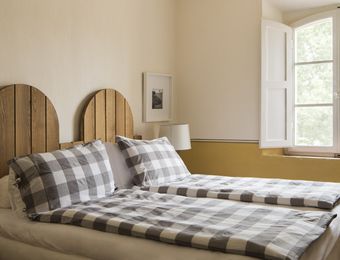 Double Room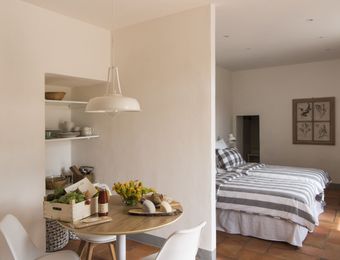 Apartment No. 7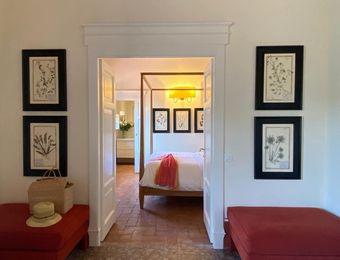 Suite No. 2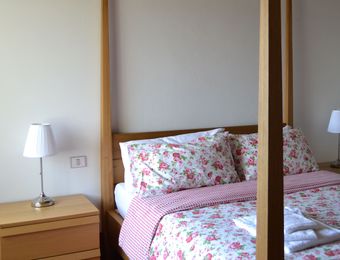 Apartment No. 1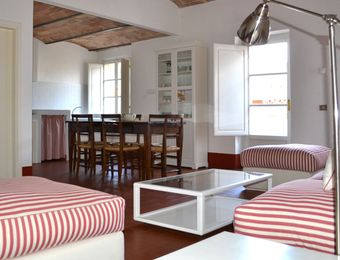 Apartment No. 2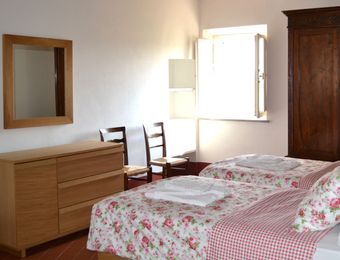 Apartment No. 3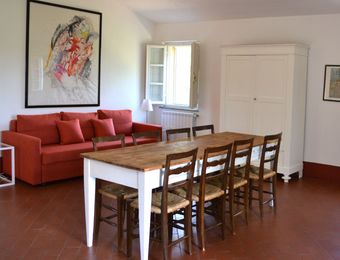 Apartment No. 4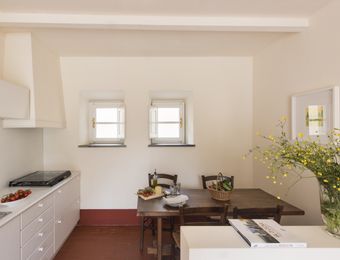 Apartment No. 5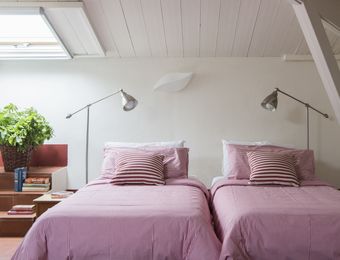 Apartment Torre
Review date 04. June 2023
filosofia alla base del progetto. cura per il dettaglio. passione per quello che tutto lo staff condivide. pace.
Review date 02. June 2023
tutto bellissimo
Review date 30. May 2023
Amazing place to stay! Very kind staff, great location and facilities! Price includes free yoga classes and tours around the property in which they explain their biodynamic farm. The breakfast and dinner were really good incl enough options for vegans. We loved the surroundings and the peaceful property (incl. natural swimming pool).
Review date 26. May 2023
Traumhaft schöne Lage, äußerst geschmackvoll und komfortabel eingerichtet,sehr freundlicher Empfang, gutes Essen, sehr ruhig
Review date 23. May 2023
Consigliato per una piacevole gita tra tranquillità, buon cibo e paesaggi stupendi. Complimenti al ristorante della struttura e al suo personale.
Review date 07. May 2023
Sehr besonderer Platz in einer wunderschönen Naturumgebung. Super freundliches Personal. Traumhafte BioKüche mit mega leckerem Essen!
Review date 30. April 2023
Viaggio di piacere per un relax e silenzio garantito. Ottima la suite e belle passeggiate lungo la valle a partire dalle stalle.
Review date 25. April 2023
We had lunch on a wonderful terrace in a very beautiful environment in the tranquility of the Tuscan landscape. The food was delicious, but not extra special and very small portions, the service was very friendly. We ate a menu for 23 eur. Unfortunately, I got a big surprise when paying, because coffee and water were billed at an extra high price (which is included in my price everywhere else). It was already considered very expensive. This kind of attention could really fit in a place like this. Unfortunately, we won't be going back, there are plenty of good places in the area. They also have a small shop that is also very overpriced. (Übersetzt von Google) Wir aßen auf einer wunderschönen Terrasse in einer sehr schönen Umgebung in der Ruhe der toskanischen Landschaft zu Mittag. Das Essen war lecker, aber nichts Besonderes und sehr kleine Portionen, der Service war sehr freundlich. Wir haben ein Menü für 23 Euro gegessen. Leider erlebte ich beim Bezahlen eine große Überraschung, denn Kaffee und Wasser wurden zu einem extra hohen Preis abgerechnet (der sonst überall in meinem Preis enthalten ist). Es galt bereits als sehr teuer. Diese Art von Aufmerksamkeit könnte wirklich an einen Ort wie diesen passen. Leider werden wir nicht wiederkommen, es gibt viele gute Orte in der Gegend. Sie haben auch einen kleinen Laden, der auch sehr überteuert ist.
Review date 16. April 2023
Wonderful stay with the family, we had the suite and it was amazing. Great staff, the food was really good and the surroundings were beautiful. We will be back!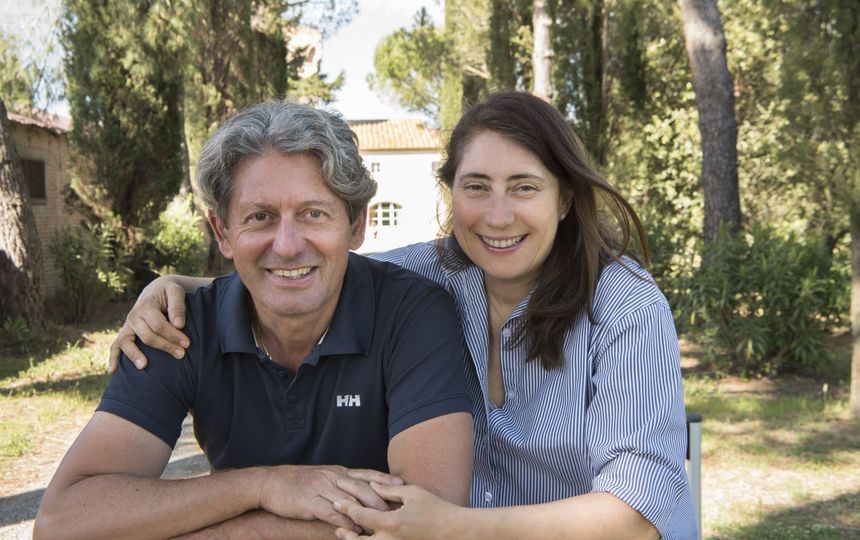 Hosts
In 1998 Carlo and Paola decided to leave Milan and move to Tuscany to the small town of Cerreto. They renovated all the buildings according to the principles of green building. At the same time, the idea to make this rich and vast land flourish again, matured in Carlo. Supported by an external collaborator, he immediately set to work on organic farming.
 
Today Il Cerreto is a charming and large biodynamic farm that - thanks to the use of renewable energy - can produce 60% of the energy it needs itself. Carlo and Paola continue to dream and work, respecting the voice and power of nature.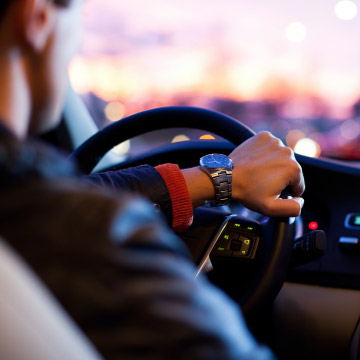 Get here by car