Highlights
Restaurant for hotel guests
Vegetarian menu
Vegan dishes
Allergy-free kitchen
Services around Organic cuisine
Vital kitchen
Diet kitchen
Buffet meals
Menu selection
A la carte meals
Hotel bar
Highlights
Hotel with charging station for e-cars
Services around Sustainability
Certified BIO HOTELS member since July 2004
Organically built building
Public interest company
Environmentally friendly and self-sufficient energy concept
Inspected by ABCERT
12.5 kg CO2e/night
140,6 tons CO2e/year
Services around Vacation
Elevator
Free WIFI
Non smoking hotel
Free parking
Pick-up service from train stations included
Summer sports activities such as hiking, cycling, golfing
Highlights
Hotel with day spa
Hotel with swimming pool
Hotel with sauna
Hotel with gym
Hotel with yoga
Services around Wellness
Massage offers
Cosmetic treatments
Energetic treatments
Ayurvedic treatments
In-house thermal bath
Indoor swimming pool
Outdoor pool
Relaxation area
Feel-good garden
Infrared cabin
Highlights
Medical Wellness
Hotel for allergy sufferers
Services around Health
Treatments such as lymph drainage, medical baths and check-ups
Therapist in house
Naturopaths in house
Alkaline fasting hotel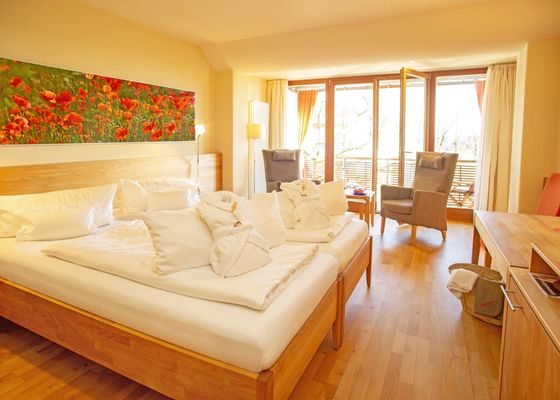 The hygiene concept in our hotel: 
Trained staff who is familiar with safety guidelines of local authorities
Staff wears masks and gloves where necessary
Disinfectants and public areas
Distance rules are observed
Self-service buffet (gloves available for guests)
Limited number of guests in the restaurant and in the wellness areas, etc.
Comprehensive room cleaning by the staff
Guests can indicate that housekeeping is not desired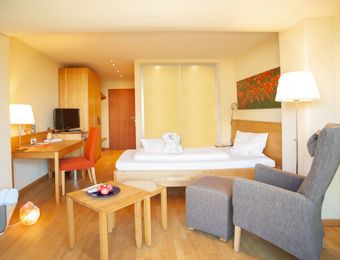 Single room vital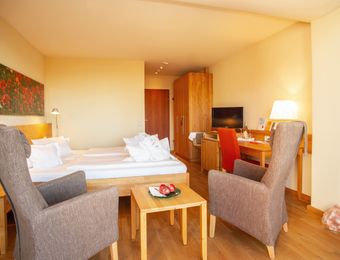 Classic double room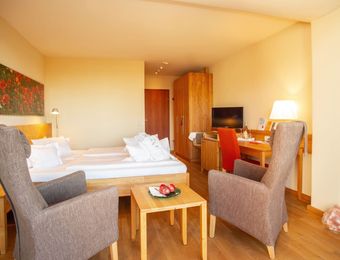 Double room vital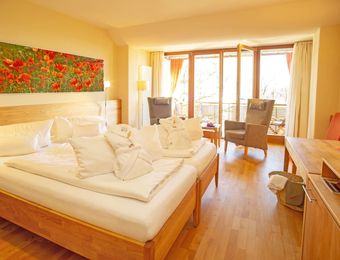 Double room relax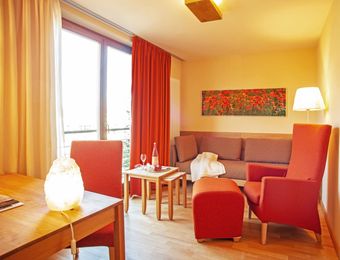 Junior Suite vital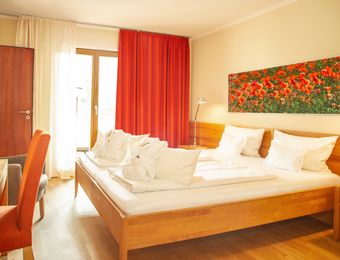 Juniorsuite relax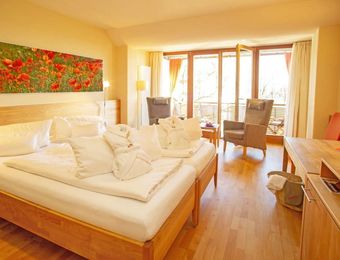 Suite Relax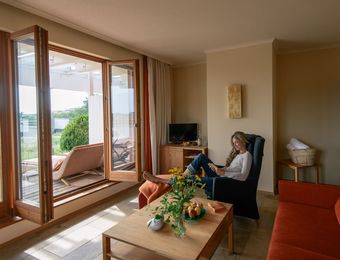 Roof-top garden suite
Review date 22. May 2022
Ein wunderschöner und gepflegter Ort zum entspannen!<br />Ankommen - abschalten und in einer tollen persönlichen/familiären Atmosphäre erholen!!
Review date 18. May 2022
Tolles Bio- Hotel mit einer sehr ideenreichen Küche. Wir waren sehr zufrieden mit der gesamten Leistung des Hauses. Die Freundlichkeit und Zuvorkommenheit der Rezeption,des Service,der Vitaloase und des Housekeeping waren wirklich wohltuend .
Review date 11. May 2022
Wir haben Zimmer in Richtung der Paracelsusstrasse erhalten, das Einzelzimmer hat ein geräumiges Badezimmer aber das Doppelzimmer hat eine komisches Badezimmer, auf der Toilette hat man keinen Platz und die Dusche ist auch viel zu klein, man haut sich beim Kopf waschen dauert ab einen Halter oder Türe oder Duschkopf den Arm an.<br />Das Frühstück war sehr lecker auch die Bedienungen sind sehr freundlich, Danke dafür.<br />Die Zimmer sind sehr sauber und auch die Reinigungskräfte sind sehr freundlich, haben uns wohlgefühlt.
Review date 30. April 2022
Alles, was man von einem Biohotel erwarten kann,findet man hier vor.Küche, Zimmer,Wellnessbereich und Gesundheitsabteilung lassen keine Wünsche offen.
Review date 15. April 2022
Frühstücksauswahl ausgezeichnet, mittags köstliche Salate und Suppen, auch das Abendmenü sehr abwechslungsreich und schön angerichtet, Fleisch, Fisch und Vegetarisch/Vegan, nichts liegt schwer im Magen. Service zuvorkommend. Überall im Hotel sind Schalen mit Äpfeln, die ausgezeichnet schmecken. Die Matratzen waren sehr bequem, ruhige Lage. Es gibt mehrere Entspannungsräume, u.a. einen Entspannungsraum mit Blick in den Wald und Duft nach Holz. Dort entspannt man sich wirklich sehr ! Meiner Tochter und mir fehlte dazu nur eine leise Geräuschkulisse wie Vogelzwitschern oder Waldgeräusche, dann würde man Hüsteln, Niesen, Zeitschriftenblättern... von anderen Gästen in diesem Raum eher überhören. Als sehr angenehm empfanden wir auch die Salzgrotte.
Review date 13. April 2022
Wir können das Hotel Falkenhof uneingeschränkt empfehlen. Moderne aber dennoch behagliche Einrichtung. Wir hatten den Zimmertyp Relax . Parkettboden, Balkon zur Gartenseite. Thermalbecken im Haus auf der Dachterrasse, indoor ein großer salzwasserpool , herrlich zum schwimmen. Überall genügend Räume zum relaxen in Ruhe. Das Essen - auch hier alles bio- hat uns sehr gut geschmeckt. Auswahl, Geschmack , Präsentation super gut . Auch vegetarisch und Vegan. Abgerundet durch einen freundlichen , herzlichen und kompetenten Service. Wir waren jetzt das 9. Mal im Falkenhof und kommen gerne wieder.
Review date 31. March 2022
Wir haben einen schönen Urlaub im Falkenhof verbracht. Die Zimmer, SPA und der Restaurantbereich sind modern gestaltet, der Service war freundlich und bemüht. Die Essensauswahl war vielfältig, zum Abendessen kann meist zwischen 3-4 Varianten (vegan, vegetarisch, Fisch, Fleisch) gewählt werden, das Grundmenü ist immer vegan, beim Mittagessen sind auch verschiedenste angemachte Salate neben einem Salatbuffet und Suppe verfügbar. Lediglich beim Frühstücksbuffet hätten wir uns etwas mehr deftige vegane Auswahl (zb einen hochwertigen Cashewkäse) gewünscht, wenngleich ich auch geschätzt habe das hier nicht mit Fertigprodukten gearbeitet wird. Das vegane Rührei und die verschiedenen Aufstriche und Müslivarianten waren sehr lecker. Wir haben uns wohlgefühlt und kommen gerne wieder.
Review date 15. March 2022
Alles bestens - wir kommen auf alle Fälle wieder!
Review date 03. March 2022
Auf den ersten Blick wirkt es etwas bieder, aber es zeigte beim näheren Hinschauen seine schönsten Seiten. Wir haben eine 3-wöchige Vorsorgekur dort durchgeführt und mussten keine der vom Arzt empfohlenen Gesundheitsmaßnahmen in einer anderen Einrichtung außerhalb des Hotels durchführen.
Review date 15. February 2022
Absolutes Wohlfühlhotel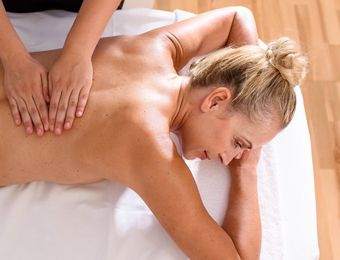 Falkenhof Vital Back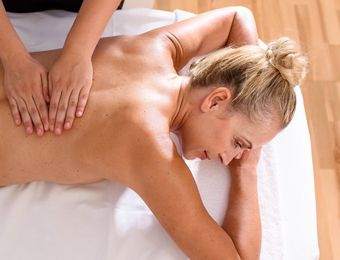 Falkenhof Vital Back
Falkenhof - Relaxation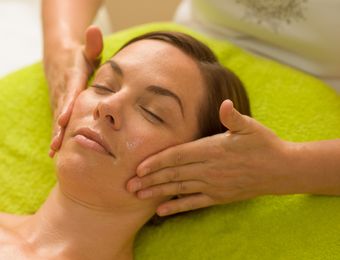 Falkenhof Naturally beautiful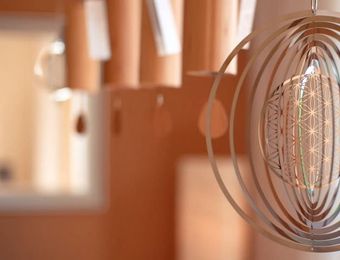 Falkenhof DREIKLANG DES GLÜCKS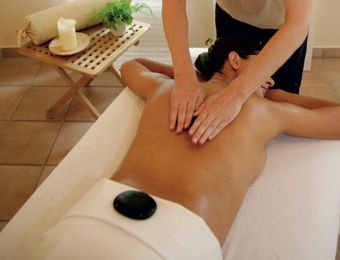 Falkenhof RÜCKEN IN BALANCE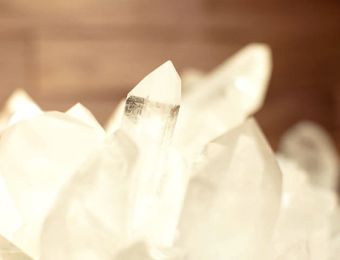 Falkenhof LEBENSENERGIE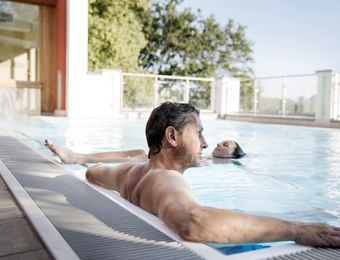 Falkenhof THERMALKUR VITAL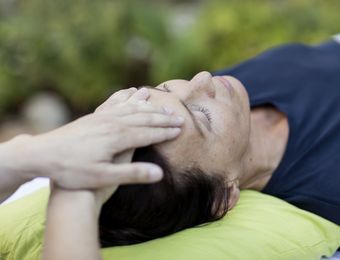 Falkenhof Finding Tranquility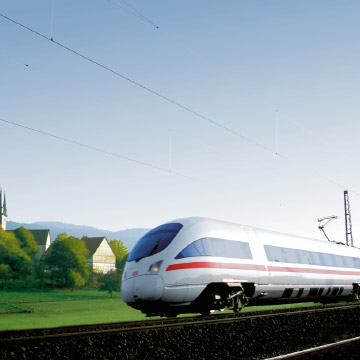 Arriving by train
© Deutsche Bahn AG / Gert Wagner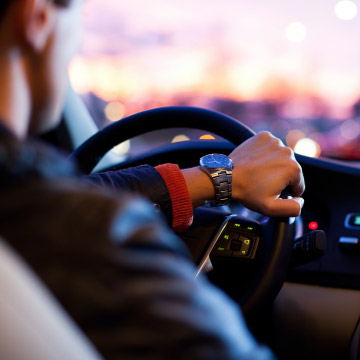 Get here by car