Highlights
Restaurant for hotel guests
Vegetarian menu
Vegan dishes
Allergy-free kitchen
Services around Organic cuisine
Hotel bar
Menu selection
Vital kitchen
Enjoy with security:
Our organic restaurant "Ahorn & Weißtanne" was equipped with high-quality woods in 2019 to match the style of our BIO HOTEL.
Here you can feel harmony and peace.
We only serve regional foods and wines in certified organic quality.
Even allergy sufferers can safely access and enjoy and benefit from the culinary diversity of the Allgäu!
Highlights
Hotel with charging station for e-cars
Climate-neutral hotel
Services around Sustainability
Certified BIO HOTELS member since May 2011
Inspected by ABCERT
14,02 kg Co2-equivalents/night
166,1 tons Co2-equivalents/year
Highlights
Nature hotel
Vacation with your dog
Hotel with limited wifi
Hotel for celebrations
Hotel for allergy sufferers
Electrosmog Reduced hotel
Services around Vacation
Elevator
Free WIFI
Non smoking hotel
Free parking
Summer sports activities such as hiking, cycling, golfing
Winter sports activities such as Skiing, tobogganing, snowshoeing
Highlights
Hotel with sauna
Hotel with yoga
Services around Wellness
Steam bath
Feel-good garden
Whirlpool / jacuzzi
Ayurvedic treatments
Relaxation area
Energetic treatments
Cosmetic treatments
Massage offers
Experience romantic moments:
The fine scent of stone pine, bathing in one of the free-standing tubs, roses and a fine drink, intimate togetherness - at Mattlihüs your romantic break will be an unforgettable experience.

With special arrangements such as the "Allgäu Mountain Romanticism", we create the ideal ambience for a sensual time for two. Get inspired by us!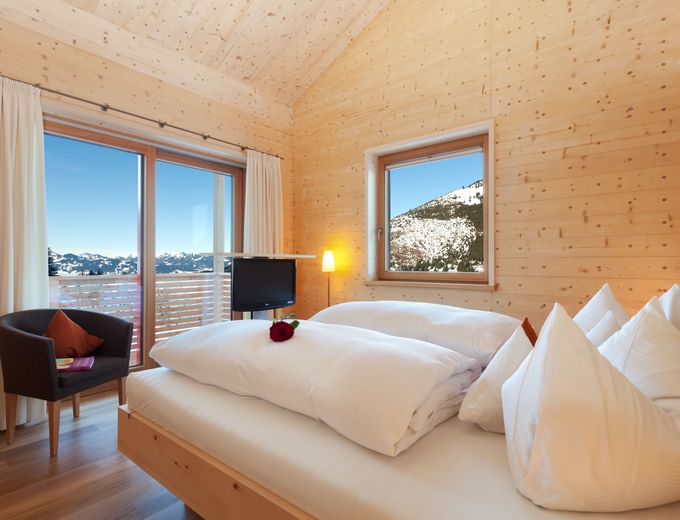 Double Room Holz100
Large Suite Holz100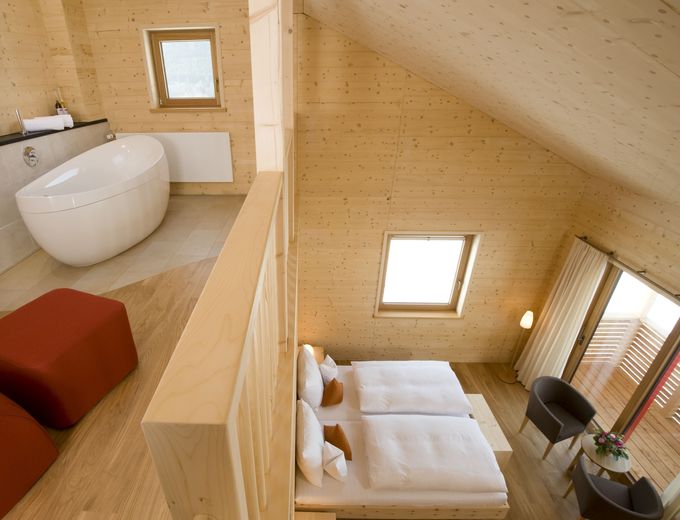 Gallery Suite Holz100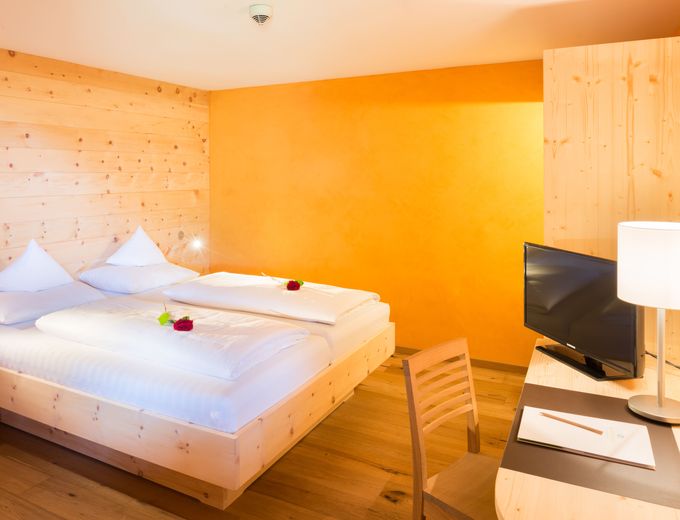 Family Apartment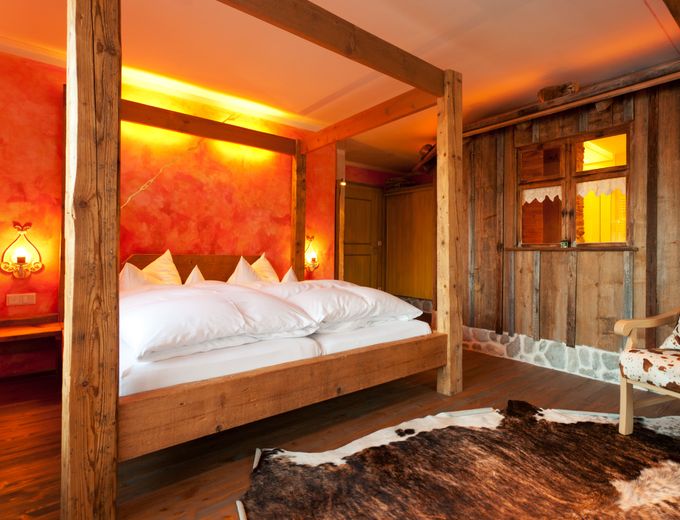 Panoramic Suite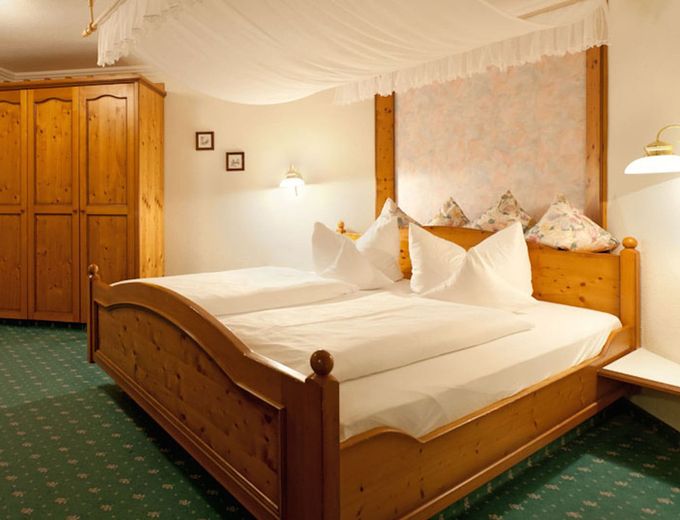 Cuddle Suite
Review date 07. November 2020
Tolles Hotel in einer sehr ruhigen Lage mitten in der Natur. Guter Schlaf dank strahlenfreien Zimmern. <br />Sehr gute Yogastunden und Ruheeaum mit Blick auf die Berge. <br />Veganes Essen, leider sehr Portionen ohne wenig Einfallsreichtum.
Review date 03. November 2020
Sehr schönes Hotel in perfekter Lage ohne direkte Nachbarn im höchstgelegenen Ort Oberjoch auf 1200 Meter Höhe. Ist ist eine sehr saubere Luft. Gut für Wanderungen oder zum Fahrrad fahren.
Review date 30. October 2020
Schönes Hotel, mitten auf der Piste und bester Lage. Super, leckeres Essen und nettes Personal. Preis-Leistung-Verhältnis stimmt vor allem mit Skipass. Wir werden bestimmt wieder kommen!
Review date 29. October 2020
Wir haben uns sehr wohlgefühlt, die Teebar genossen, das Aktiv-Programm genutzt und die tollen Möglichkeiten der Gästekarte ausgeschöpft. Zimmer, Essen und Freundlichkeit des Personal haben uns ebenfalls überzeugt! Vielen Dank!
Review date 28. October 2020
Heimeliges Biohotel mit sehr gutem Restaurant und sehr aufmerksamen und freundlichem Service!Bei der Ankunft könnte sich Die Rezeption noch etwas mehr ins Zeug legen,leider nur ausreichend.
Review date 28. October 2020
Das Hotel ist wunderschön gelegen und bietet eine gute Zeit zum Erhohlen an. Vor allem in den Holz100 Zimmern fühlt man sich sehr wohl. Die Zimmer sind schön eingerichtet und der Blick auf die Felder/Berge traumhaft.
Review date 28. October 2020
Wir waren nun schon das zweite Mal in 2020 im Mattlihüs zu Gast. Wir empfinden dort kaum Einschränkungen durch Corudurch das tolle Konzept. Alle Speisen/Getränke werden am Tisch serviert. Dies ist alles verbunden mit großer Herzlichkeit der Gastgeber und einem zu 100% umgesetzten Bio- und Nachhaltigkeitskonzept. Wir kommen wieder.
Review date 27. October 2020
Hotel in schöner Lage mit netten Gästen und sehr charmanten Mitarbeiter(innen). Gemütliche Zimmer (Holz100) mit schönem Blick und tollem Bad. Die Matratzen fanden wir zu hart und leider fehlte ein Verdunkelungsvorhang. Saunabereich ist sehr, sehr schön und es war dort auch nicht viel los. Das Frühstück ist lecker und wird am Tisch serviert. Das Abendessen war leider gar nicht unser Geschmack, obwohl wir Natur-Küche lieben. Die Fleischgerichte (sehr überschaubar) wurden ausnahmslos rosa bis halb roh serviert. Die Portionen treiben hungrigen Menschen, die den ganzen Tag gewandert sind, Tränen ins Gesicht. Alles sehr schön angerichtet und sicher mit Liebe gekocht , dennoch zu experimentell. Getränkepreise eher hoch.
Review date 26. October 2020
Einfach alles, ganz besonders das über die Maßen freundliche Personal
Review date 22. October 2020
Sehr netter und freundlicher Service sowie ein durchdachtes,tolles Konzept.Tolle Aussicht auf das Tal und die Berge im Ruheraum der Sauna und im Restaurant. Super Lage zum Wandern.Sehr gutes,leckeres Essen mit vielfältiger Auswahl.
Review date 22. October 2020
Im herrlich gelegenen Bio Hotel waren Frühstück und Abendmenü absolute kulinarische Highlights bei perfektem Service. Qualität, Geschmack und Optik der Speisen waren beispielhaft und rundum uneingeschränkt empfehlenswert. Beim nächsten Aufenthalt würden wir allerdings eines der modernen Zimmer "Zirbe + Lehm" anstelle eines älteren Zimmers im alpenländischen Stil buchen.
Review date 18. October 2020
Das zweite Mal im Mattlihüs und wieder sehr erholsam. Sehr guter Service, sehr gutes Essen und diesmal auch das hervorragende Wellness-Angebot genutzt. Kommen gerne wieder.
Review date 17. October 2020
Das Biohotel hat eine sehr gute Lage, oben am Berg und abseits vom Trubel. Das Essen im Hotel ist von hervorragender Qualität und wird in kleinen Portionen, schön angerichtet serviert.
Review date 11. October 2020
Ruhiges gut riechendes Bio Hotel welches seinem Anspruch gerecht wird. Sehr gutes Essen. Sehr schönes Zimmer mit toller ruhiger Atmosphäre. Sehr freundliches, hilfsbereites und aufmerksames Personal.
Review date 06. October 2020
Lage und Frühstück waren gut
Get here by car