Highlights
Public Restaurant
Vegetarian menu
Vegan dishes
Allergy-free kitchen
Services around Organic cuisine
Diet kitchen
Buffet meals
Menu selection
A la carte meals
Hotel bar
Highlights
Hotel with charging station for e-cars
Climate-neutral hotel
Services around Sustainability
Certified BIO HOTELS member since April 2011
Public interest company
Inspected by Austria Bio Garantie
10,22 kg Co2-equivalents/night
125,9 tons Co2-equivalents/year
Highlights
Nature hotel
Vacation with your dog
Accessible hotel
Hotel with limited wifi
Hotel for celebrations
Hotel with sauna
Hotel for allergy sufferers
Fasting leave
Hotel with yoga
Hotel with day spa
Services around Vacation
Holidays on a Farm
Elevator
Free WIFI
Non smoking hotel
Free parking
Pick-up service from train stations included
Summer sports activities such as hiking, cycling, golfing
Winter sports activities such as Skiing, tobogganing, snowshoeing
Highlights
Vacation with animals
Services around Family
Family rooms / apartments
Children's playroom
Outdoor playground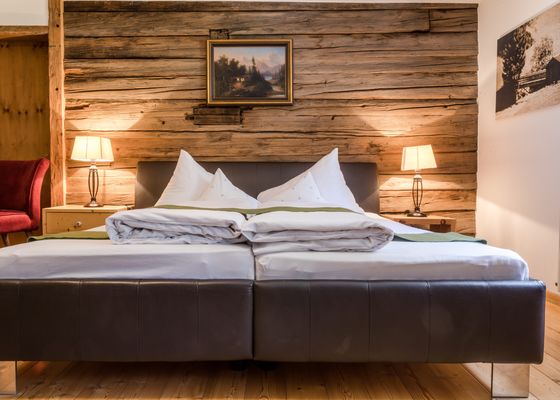 The hygiene concept in our hotel: 
Trained staff who is familiar with safety guidelines of local authorities
Staff wears masks and gloves where necessary
Distance rules are observed
Buffet with service
Visits to restaurants by prior arrangement only
Limited number of guests in the restaurant and in the wellness areas, etc.
Varying times for breakfast, lunch and dinner
Separate relaxation rooms
Special antiviral cleaning agents on an ecological basis
Comprehensive room cleaning by the staff
Guests can indicate that housekeeping is not desired
Flexible cancellation terms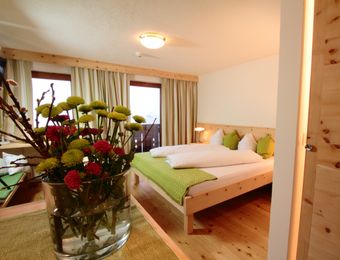 Doubleroom Wildspitzblick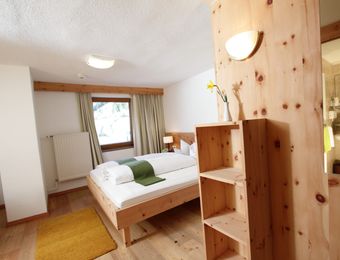 Zirben-Doubleroom Stillebach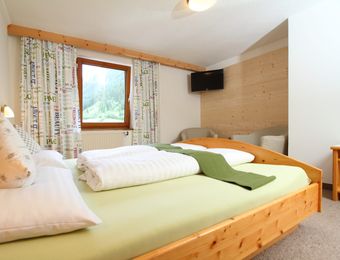 Föhren-Doubleroom Stillebach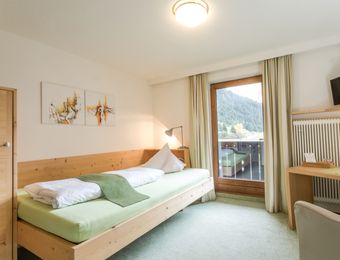 Single-room Wildspitzblick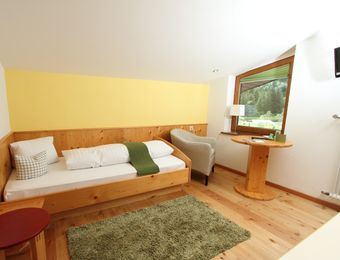 Single-room Stillebach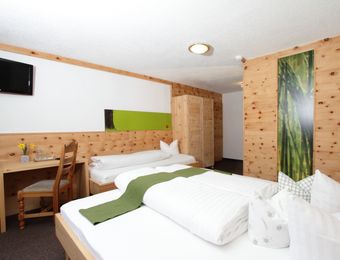 Zirben-three-bed-room Stillebach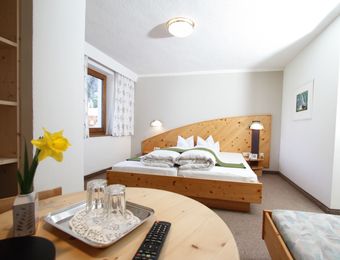 Föhren-three-bed-room Stillebach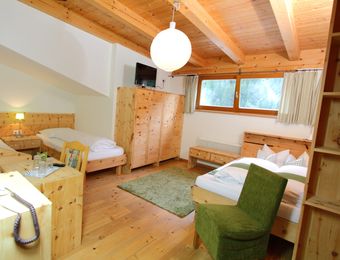 Four-bed-room Stillebach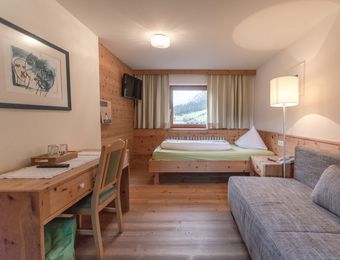 Familyroom Wildspitzblick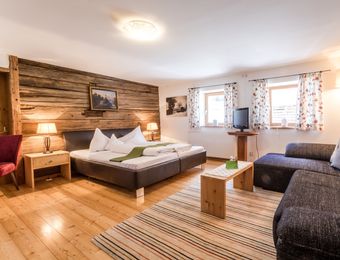 Appartement Josef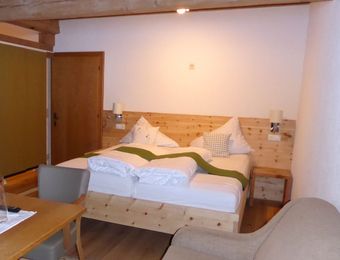 Appartement Siggi
Review date 20. September 2021
Wunderbares Hotel u Essen ...alle sehr nett u freundlich.
Review date 16. September 2021
Sehr gut durchgeblättert Fanilienbetrieb.Man fühlt sich daheim vom ersten vis zum letzten Tag .Essen Sterne Niveau. Jeder Zeit wieder.
Review date 14. September 2021
Sehr schöne Location für alle Gäste mit Kneip-Kur Benutzung.<br />Toll angelegte Aussenanlage. Wir machen zur Zeit in der Nähe Urlaub und kommen gerne mal wieder.
Review date 13. September 2021
Sehr zu empfehlen, Unterkunft, Sauna und besonders das Essen waren nicht mehr zu toppen. Auch für Kinder wird sehr viel getan. Wir kommen bestimmt wieder.
Review date 12. September 2021
Ein Ort an dem man willkommen ist und an den man jederzeit zurück kommt. Gastlichkeit und Tradition verbunden mit Offenheit für Neues ist das perfekte Konzept dieses einzigartigen Hotels.
Review date 10. September 2021
Ein sehr außergewöhnliches Wellnesshotel, mit tollem Außenbereich das keinen Wunsch offen läßt. Aussgezeichnete Küche und super freundliches Personal.
Review date 06. September 2021
Wir haben Anfang Juli eine ganz wunderbare Woche hier verbracht. Tolle Umgebung und ganz unverbauter Blick auf die Berge von der Terrasse. PitztalCard ist inklusive! <br />Das Zimmer war ordentlich und sauber und hat alles was es braucht incl. bequemer Betten. Sehr nettes Personal. Sehr kinderfreundlich. Der Badeteich war uns zum Schwimmen zwar zu kalt, dafür aber ganz prima zum Floß fahren. Das Essen war lecker, immer auch mit Veganer Alternative und der Freitag ist komplett fleischfrei. Kleine Sauna gibt es auch und sogar eine Kletterhalle.<br />Einziges Manko, wenn man was finden will: kleiner Parkplatz, aber mit 200m gehen gibt es genug Platz!
Review date 29. August 2021
Einfach ein tolles Hotel mit top Essen, Service, Gemütlich, sauber, was soll ich noch schreiben. Bei schönem Wetter vorm Hotel großartige Freizeitanlage. Wir kommen immer wieder gerne ins Stillebach zum Genießen
Review date 27. August 2021
Topp-Lage, sehr gutes Essen, sehr aufmerksames Personal,alles unkompliziert, viele Angebote für Unternehmungen während der Woche. Sind einfach begeistert.
Review date 24. August 2021
Eine wahre Perle im Pitztal. Hier findet man alles, was man für einen erholsamen Urlaub benötigt. Sehr zuvorkommendes Hotellier-Ehepaar, sehr aufmerksames und nettes Servicepersonal und eine fantastische Bio-Küche. Komme aus dem Schwärmen gar nicht mehr raus.
Review date 23. August 2021
Great location, very good food and friendly service. An ideal place to stay with kids, with a large play area, a pond and lots to see and do.
Review date 18. August 2021
Ein guter Service ubd gutes Essen haben zu einem sehr angenehmen Aufenthalt beigetragen. Das Hotel und der schöne Garten sind gepflegt. Ein Urlaub mit Erholungswert.
Review date 18. August 2021
Dieses Bio- und Wellnesshotel liegt in einem der schönsten naturbelassenen Täler der Alpen. Es hat einen wunderbaren Blick auf das Wildspitzmassif mit viel Ruhe und dem wunderbaren Badesee, in dem wir mit zwei Neoprenanzügen nach unseren Bergwanderungen geschwommen sind. Sehr angenehm fanden wir die sympatische Atmosphäre im Haus mit sportlichen und naturverbundenen Gästen in dem hellen und sehr geschmackvoll eingerichteten ökologischen Haus. Es gibt dort excellentes Essen, beim Abendessen wahl-weise ein vegetarisches, veganes und fleichhaltiges Hauptgericht, sehr hübsch dekoriert, dem wir jeweils fünf Sterne gaben. Unsere Jause nahmen wir nachmittags auf der grosszügigen Terrasse ein, meistens gab es eine leckere gemüsehaltige Suppe und einen köstlichen Vollkornkuchen. Unser Zimmer war geräumig mit Blick auf die Wiesen und Berge, sehr sauber und mit einem praktischen Badezimmer. Im Haus gibt es eine Sauna mit Infrarotkabine und grossem Ruheraum mit Panoramafenster ins Grüne. Neben der grossen überdachten Terrasse mit heller Outdoor-Küche befindet sich eine ganz neue, wunderschöne zweite Sauna mit grossem Fenster in den Garten. Neben der Schwitzstube ist der schöne Ruheraum mit Kaminofen und ebenfalls grossem Panoramafenster ins Grüne. Grossartig ist der Kletterstadle, eine Boulderhalle und der Klettergarten mit 14 Routen, zwei Minuten hinter dem Hotel gelegen. Wir stellten unsere Räder im Fahhradraum ab, den wir sehr praktisch, wie auch den Kletterstadle, mit einem Code öffnen konnten. Das Team des Hotels ist kontaktstark, liebenswürdig, unkompliziert, zuvorkommend und kompetent. Wir konnten Gäste zum Abendessen einladen und mit ihnen auf der überdachten Terrasse zu Abend essen. Sehr interessant war der historische Dorfrundgang an einem Abend, an dem wir viel über die Geschichte und Entwicklung des Pitztals erfuhren und schnell mit den anderen Gästen in Kontakt kamen. Ein wunderbares Highligth war das Live-Jazz-Konzert am See an unserem letzten Abend, bei dem wir sogar tanzen konnten. Die Chefin hatte nachmittags mit den Kindern Schiffchen und Flösse gebastelt, die mit Lichtern geschmückt auf dem Wasser schwommen. Im ganzen Haus herrscht eine sehr kinderfreundliche Atmosphäre, im Garten gibt es einen Matschspielplatz, zwei Schaukeln, eine Bocciabahn, ein Klangspiel und eine Tischtennisplatte. Wir wollen nächstes Jahr mit unseren Kindern und Enkelkindern wieder kommen. Eine Minute vom Hotel entfernt ist die Bushaltestelle mit dem Wanderbus, der häufig fährt und einen zu allen Wander- und Skigebieten des Pitztals führt. Ebenfalls eine Minute vom Hotel entfernt verläuft parallel zum Pitzbach der idyllische Wander- und Radweg. Für uns war fast alles perfekt, das Wetter war durchwachsen bis sonnig, also o.k.Ja, bestens geeignet.
Review date 17. August 2021
Na een flinke wandeling hebben we heerlijk geluncht . De salade tofu overtrof mijn verwachtingen. De goulash soep was uitverkocht dus maar de dagsoep was een goed alternatief, die ook heerlijk. Ook de apfelstrudel was uitverkocht. Dat was wel jammer. Hier willen we wel terug terug komen.
Review date 15. August 2021
Preis-Leistung nicht stimmig. Kleine Portionen, große Preise.<br /><br />Vegetarisches sicherlich perfekt, aber selbst unsere Kinder die dabei waren sind nicht satt geworden.<br />Wir wollten etwas nachbestellen, jedoch hätte dies mindestens eine Stunde gedauert und die Hotelgäste werden bevorzugt. <br /><br /> Bei der Bezahlung war getrennt Bezahlung nur an der Kasse möglich und der Ober war etwas überfordert mit mehreren Rechnungen.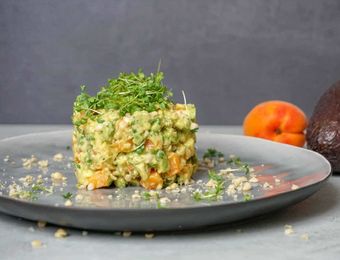 base fasting – the wacker-method®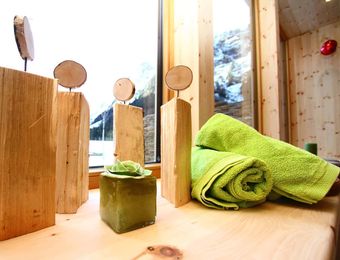 Silence that enchants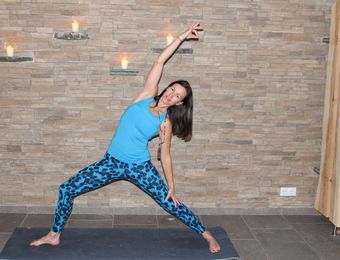 Advent in Stillebach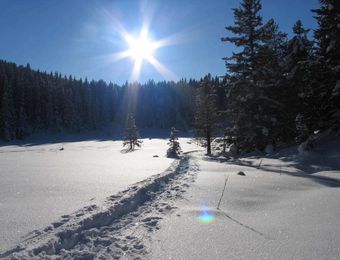 Winter Wander Weeks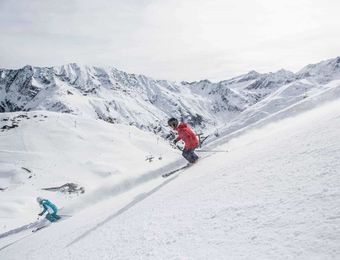 Winter Magic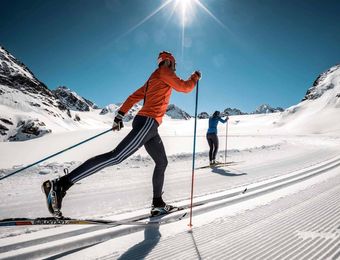 Just cross-country skiing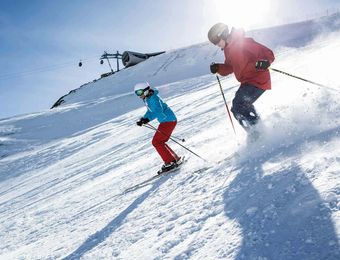 Sunshine Ski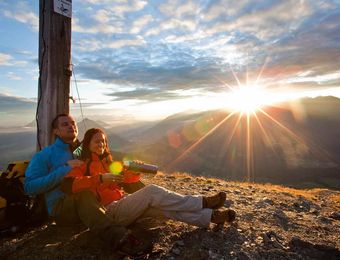 Hiking in Autumn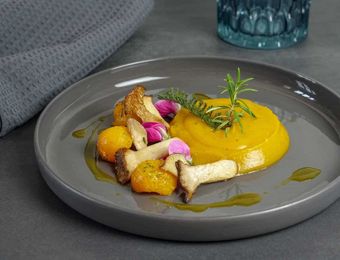 base fasting - the wacker-method® in authumn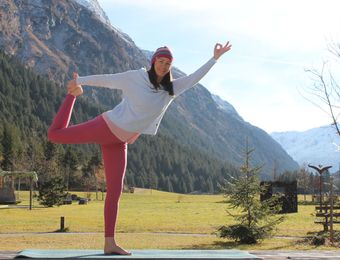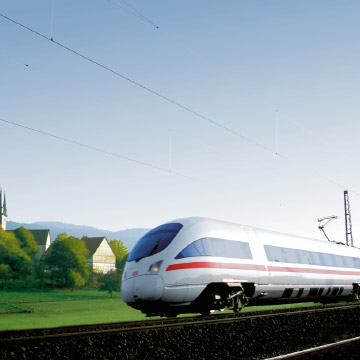 Arriving by train
© Deutsche Bahn AG / Gert Wagner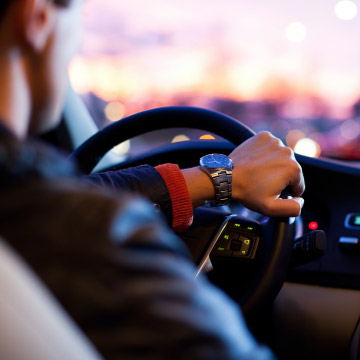 Get here by car