Highlights
Public Restaurant
Vegetarian menu
Vegan dishes
Allergy-free kitchen
Services around Organic cuisine
Diet kitchen
Buffet meals
Menu selection
A la carte meals
Hotel bar
Highlights
Hotel with charging station for e-cars
Climate-neutral hotel
Services around Sustainability
Certified BIO HOTELS member since April 2011
Public interest company
Inspected by Austria Bio Garantie
9,07 kg CO2e/night
146,5 tons CO2e/year
Highlights
Nature hotel
Vacation with your dog
Accessible hotel
Hotel with limited wifi
Hotel for celebrations
Hotel with sauna
Hotel for allergy sufferers
Fasting leave
Hotel with yoga
Hotel with day spa
Services around Vacation
Holidays on a Farm
Elevator
Free WIFI
Non smoking hotel
Free parking
Pick-up service from train stations included
Summer sports activities such as hiking, cycling, golfing
Winter sports activities such as Skiing, tobogganing, snowshoeing
Highlights
Vacation with animals
Services around Family
Family rooms / apartments
Children's playroom
Outdoor playground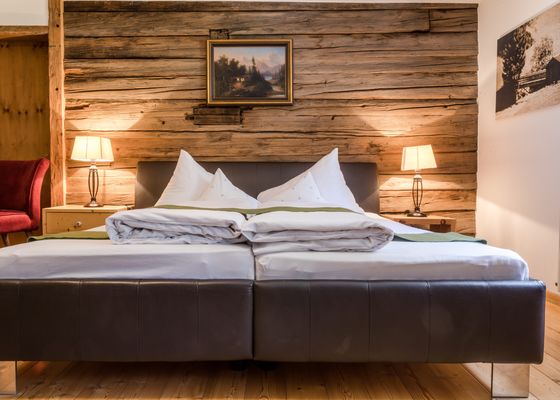 The hygiene concept in our hotel: 
Trained staff who is familiar with safety guidelines of local authorities
Staff wears masks and gloves where necessary
Distance rules are observed
Buffet with service
Visits to restaurants by prior arrangement only
Limited number of guests in the restaurant and in the wellness areas, etc.
Varying times for breakfast, lunch and dinner
Separate relaxation rooms
Special antiviral cleaning agents on an ecological basis
Comprehensive room cleaning by the staff
Guests can indicate that housekeeping is not desired
Flexible cancellation terms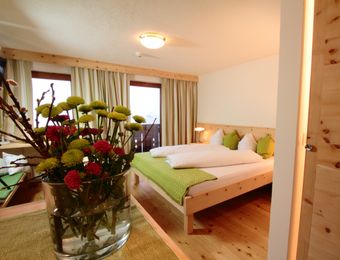 Doubleroom Wildspitzblick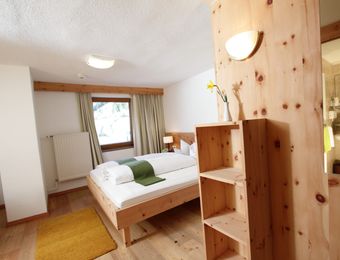 Zirben-Doubleroom Stillebach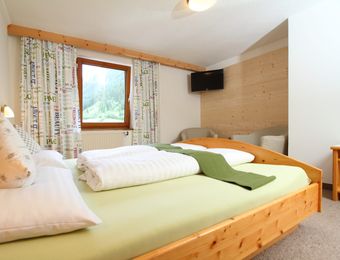 Föhren-Doubleroom Stillebach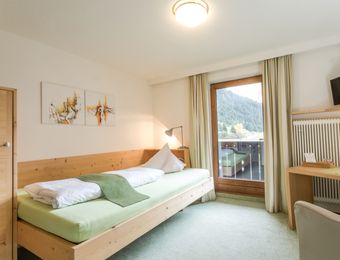 Single-room Wildspitzblick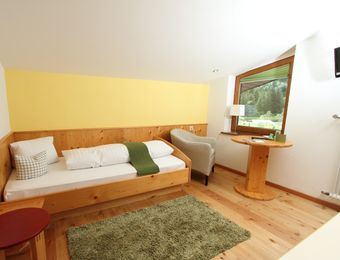 Single-room Stillebach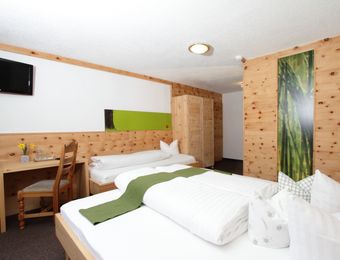 Zirben-three-bed-room Stillebach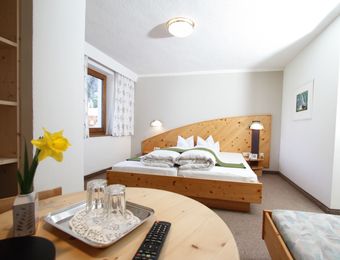 Föhren-three-bed-room Stillebach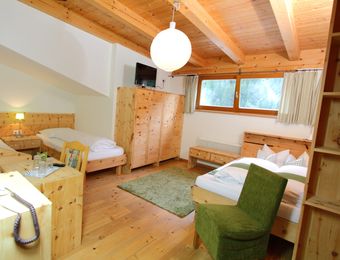 Four-bed-room Stillebach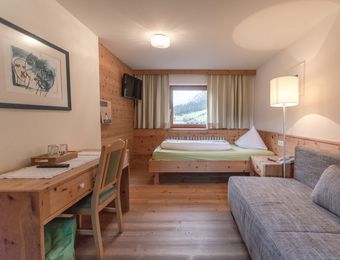 Familyroom Wildspitzblick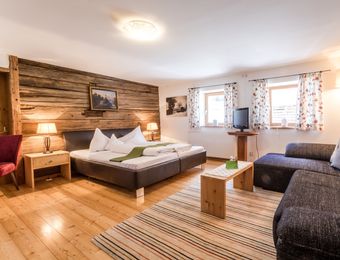 Appartement Josef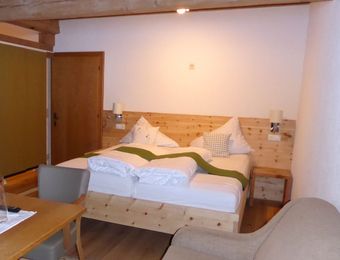 Appartement Siggi
Review date 25. October 2022
Wir wollten schon lange dieses Biohotel ausprobieren und waren sehr angetan von der Lage, dem Angebot und der guten Erreichbarkeit mit dem ÖPNV. Wir wurden freundlich empfangen, das Zimmer bot einen herrlichen Ausblick nach Süden und das Essen hat meistens exzellent geschmeckt. Unschlagbar spitze die täglichen, saisonalen, originellen und einfallsreichen Salatvariationen am Buffett. Wir werden uns dort wieder einmal verwöhnen lassen.
Review date 20. October 2022
Unsere Tochter hatte im Biohotel Stillebach ihre Hochzeitsfeier. Es war eine traumhafte Lokation und wir hatten ein wundervolles, unvergessliches Wochenende. Das Essen war sehr lecker, das Team und der Service sehr aufmerksam, freundlich und zuvorkommend und wir fühlten uns sehr wohl. Die Chefin hat uns sehr willkommen geheißen und unsere Hochzeitsgäste waren von der Freundlichkeit, dem Ambiente sehr begeistert und sie und wir werden das Biohotel sicher wieder besuchenund einen Aufenthalt buchen. Nochmals herzlichen Dank an das ganze Team. Herzensgrüsse
Review date 19. October 2022
de sfeer, het eten, de activiteiten
Review date 15. October 2022
Idyllischer Ort zum Entspannen, sehr nettes und zuvorkommendes Personal, leckere Speisen
Review date 03. October 2022
Ein schöner Ort um die Seele baumeln zu lassen. Tolle Menschen, welche einen verwöhnen und eine Bio Küche zum Genießen. Wir sind gespannt auf die Mühle, welche sich gerade im Bau befindet und werden sicher wiederkommen. Die Zimmer sind vielleicht nicht alle auf dem neuesten Stand, aber sehr ordentlich und die Preise sind auch für kleinere Einkommen erschwinglich.
Review date 03. October 2022
Frühstück hat für uns alles geboten, Zimmer klein , aber alles Nötige vorhanden
Review date 27. September 2022
Für mich eines der besten Biohotels mit ganz eigenem familiären Charakter, sehr gutem Essen und einer perfekten Lage. Wir fühlen uns im Stillebach einfach rundum wohl. Highlight war dieses Mal neben der grandiosen Landschaft in den Bergen der neue Yogastadl und das tolle Yogaretreat. Mit Daniela hat das Stillebach eine äußerst qualifizierte und sehr liebenswürdige Yogalehrerin gewonnen. Sie versteht es auf die Teilnehmer einzugehen und passt den Unterricht jedem an. Eine wunderbare Ergänzung zum sonstigen Programm im Hotel. Auch der abendliche Dorfrundgang mit Trudi führte einen in vergangene Zeiten und war sehr unterhaltsam. Die selbstgesammelten Heidelbeeren und Pfifferlinge gaben dem Essen noch eine zusätzliche Note. Alles in allem einfach ein gelungenes Konzept! Wir kommen gern wieder.
Review date 26. September 2022
Kleines familiäres Hotel, liebevoll gepflegt und mit Aufmerksamkeit auf die Details. Das Essen ist grossartig (Bio, immer vegane Alternative, auch beim Frühstück). Daniela bringt die Yoga-Philosophie perfekt rüber und holt alle dort ab, wo sie sind. Die Wellness-Bereiche sind gemütlich und schön, einzig bei hoher Besucherzahl etwas eng. Das Personal ist freundlich und hilfsbereit und es lohnt sich, die Umgebung zu erkunden, am Besten beim Wandern.
Review date 26. September 2022
Stillebach ist wie nach Hause kommen. Hier ist man willkommen und kann den Alltag hinter sich lassen. Inmitten des wunderschönen Pitztals gelegen mit einen kühlen Badesee für Unerschrockene und Saunaliebhaber. Herzliche Gastgeber mit viel Liebe zur Natur.
Review date 11. September 2022
Die Zimmer sind heimelig, wenn auch nicht üppig groß. Dank vieler Möglichkeiten zur Gestaltung der Tage ist die Zimmergröße ausreichend. Das Hotel wird familiär geführt und auch das Personal ist sehr hilfsbereit und freundlich. Das Essen ist sehr lecker und das Salatbuffet reichhaltig und abwechslungsreich. <br />Der Außenbereich beweist eine Liebe zur Gartengestaltung im Detail. <br />Zum Aufenthalt gehören Lift- und Busfahrkarten, d.h. das Auto kann während des gesamten Urlaubs stehenbleiben. <br />Absolut entgegen bisheriger Gepflogenheit verbrachten wir unsere Urlaube seit mehreren Jahren im gleichen Hotel - im Hotel Stillebach.
Review date 09. September 2022
Das Hotel ist super ruhig und in der Nähe vieler Wanderrouten gelegen. Wir konnten also direkt von dort aus mit unseren Wanderungen starten. Toll sind die Wellnessbereiche und das Kletterstadl (Boulderhalle) für schlechtes Wetter oder einfach zum Entspannen. Das Essen war super lecker. Es gab täglich wechselnde vegetarische, vegane oder fleischhaltige Gerichte, sodass für jeden etwas dabei ist. Die Besitzer sind sehr freundlich und es werden täglich Aktivitäten angeboten wie z.B. Yoga, eine gemeinsame Wanderung, Geschichten erzählen oder ähnliches. Im Hotel gibt es einen Leseraum, viele Bücher und auch Spiele, sodass es nicht langweilig wird. Um das Haus herum gibt es verschiedene Plätze zum Entspannen und die Berge genießen. Wir kommen gerne wieder!
Review date 09. September 2022
Das Biohotel Stillebach ist ein sehr liebenswürdig geführtes Hotel in einer traumhaften Umgebung, in dem alles für mich und meinen Mann stimmte : Ruhig gelegen, komfortable modern Zimmer, eine excellente Küche, ein wunderschöner Badesee und sehr nette andere Gäste, mit denen wir schnell ins Gespräch kamen. Wir waren zum zweiten Mal hier und werden im nächsten Sommer wiederkommen. Es gibt eine Sauna im Haus und eine Sauna im Gartenanbau mit direktem Zugang zum Badesee und zur Kneipp-Anlage. Die Kommunikation und Organisation ist sehr angenehm und unkompliziert. Beim hervorragenden Frühstück mit frisch zubereitetem Obstsalat bekommen die Gäste die Morgenpost mit Infos zum Wetter, Wandertips und meistens einem lustigen Gedicht. An der Rezeption sieht man auf kleinen Tafeln das vom Hotel angebotene Programm, das von Yoga, geführten Wanderungen, Alpaka- Trecking, Ponyreiten für Kinder bis zu Massage geht. Des weiteren kann man/frau im zum Hotel gehörenden Kletterstadle klettern.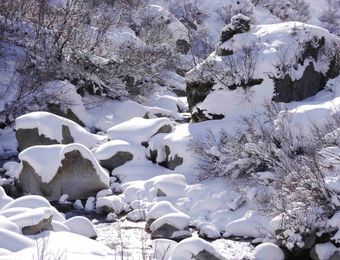 Silence that enchants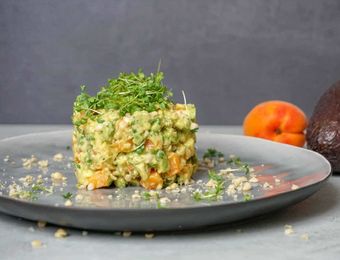 base fasting – the wacker-method®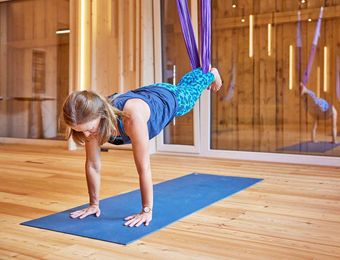 Feel yourself - Yoga week​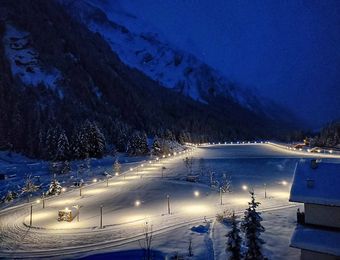 Just cross-country skiing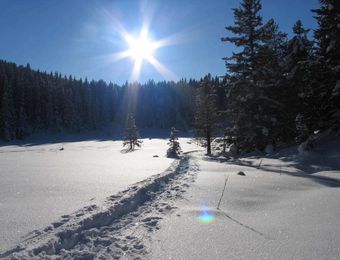 Winter Wander Weeks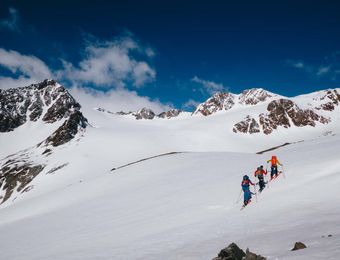 Yoga & Hiking in June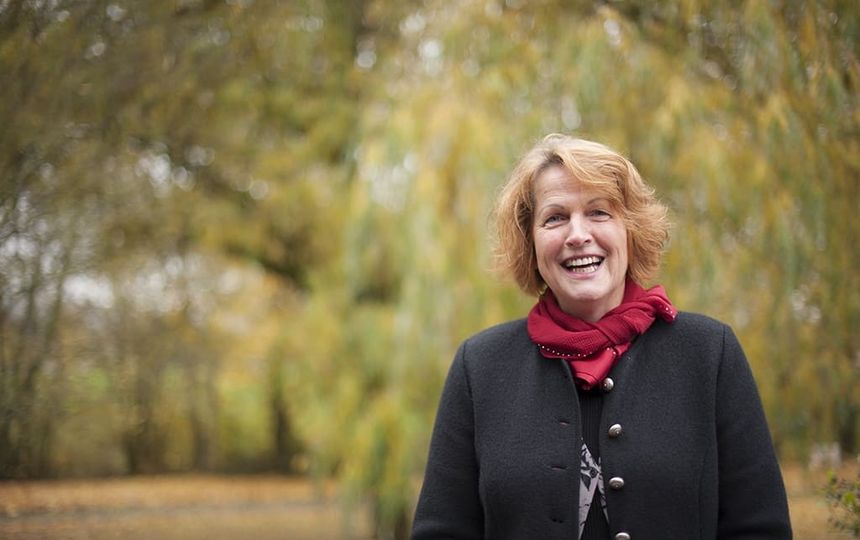 Hosts
"Wildspitzblick" was the first appropriate name of our BIO HOTEL near the Pitztal Glacier, which was built many decades ago on this beautifully quiet spot. A house with history, which is visible and tangible in many rooms.
 
A house that has developed from a simple inn to a BIO HOTEL. A house that is in the tradition and ownership of the Walser/Melmer family. In future, the hotel will be managed by Alexandra and Helmut, who have great ideas for the well-being of the guests.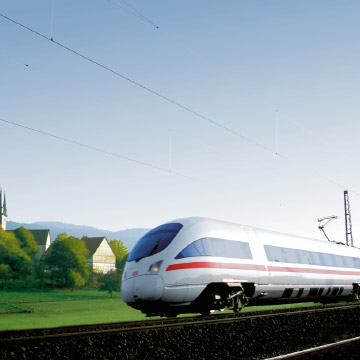 Arriving by train
© Deutsche Bahn AG / Gert Wagner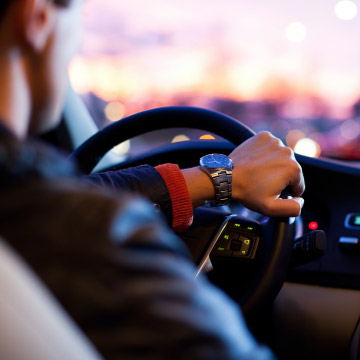 Get here by car