Highlights
Restaurant for hotel guests
Vegetarian menu
Services around Organic cuisine
Highlights
Climate-positive hotel
Services around Sustainability
Certified BIO HOTELS member since July 2008
Environmentally friendly and self-sufficient energy concept
Inspected by ABCERT
7,53 kg CO2e/night
77 tons CO2e/year
Highlights
Nature hotel
Hotel with limited wifi
Hotel with sauna
Medical Wellness
Hotel with swimming pool
Services around Vacation
Holidays on a Farm
Elevator
Non smoking hotel
Free parking
Pick-up service from train stations included
Summer sports activities such as hiking, cycling, golfing
Winter sports activities such as Skiing, tobogganing, snowshoeing
Highlights
Medical Wellness
Services around Health
Treatments such as lymph drainage, medical baths and check-ups
Therapist in house
Naturopaths in house
Spa hotel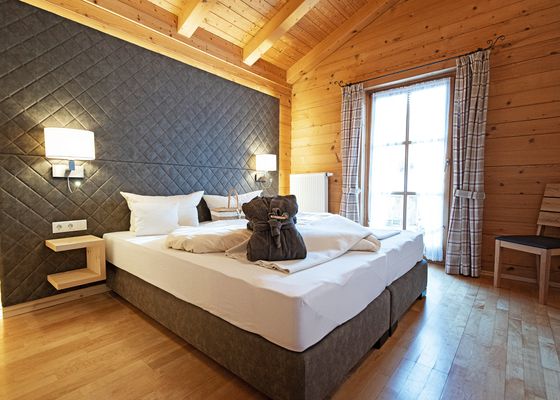 The hygiene concept in our hotel: 
Trained staff who is familiar with safety guidelines of local authorities
Staff wears masks and gloves where necessary
Disinfectants in rooms and public areas
Contactless (online) check-in possible
Distance rules are observed
Self-service buffet (gloves available for guests)
Visits to restaurants by prior arrangement only
Limited number of guests in the restaurant and in the wellness areas, etc.
Varying times for breakfast, lunch and dinner
Hygiene breaks during catering
Separate relaxation rooms
Special antiviral cleaning agents on an ecological basis
Comprehensive room cleaning by the staff
Guests can indicate that housekeeping is not desired
Room Service
Improved rebooking options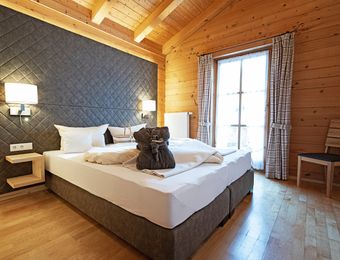 Organic Chalet Suite "Edelkastanie"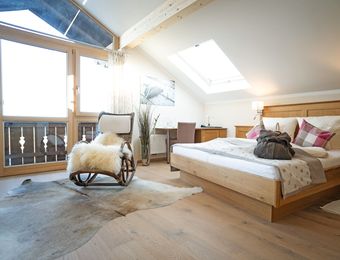 Panorama-Suite Wildrose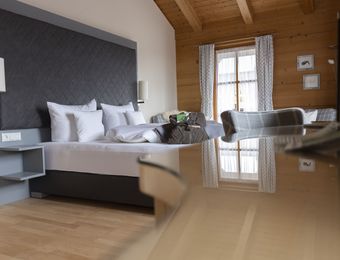 Organic Chalet - Double Room "Edelkastanie"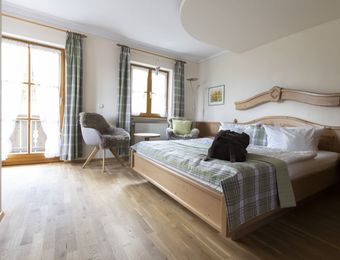 Organic Romantic Double Room "Lavender" South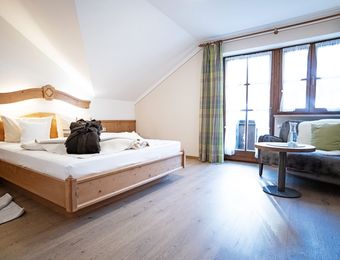 Comfort double room Elderberry South with balcony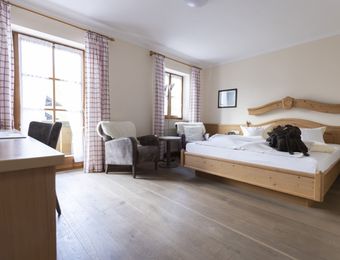 Comfort Double Room "Holunder" with Balcony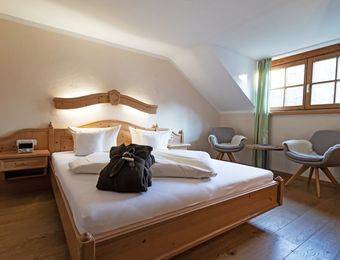 Luxury double room "Holunder" without a balcony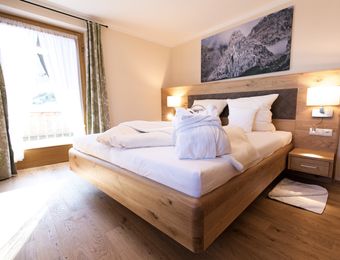 Double room "Minze" (two beds)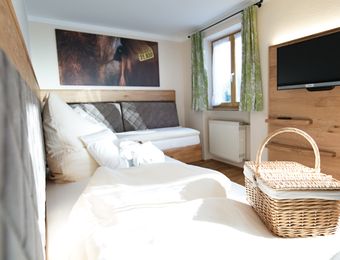 Twin room mint with south-facing terrace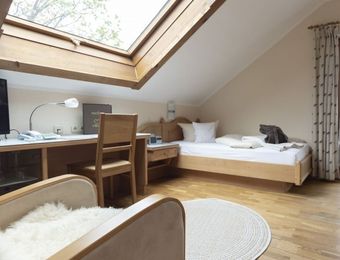 Comfort single room Elderberry with balcony / I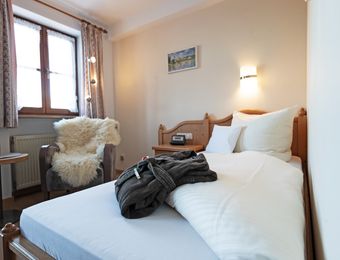 Comfort Single Room "Holunder" with Balcony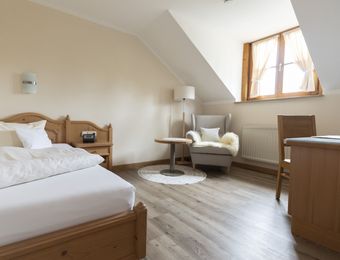 Comfort Single Room "Holunder" without Balcony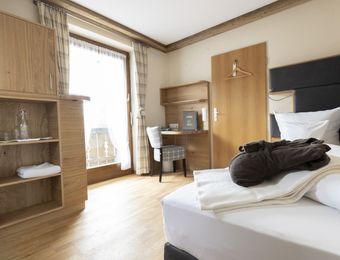 Single room mint with balcony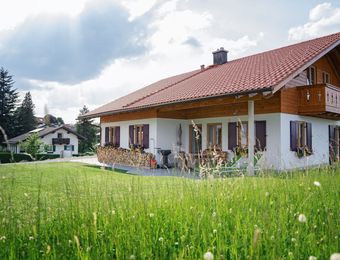 Organic holiday house
Review date 24. May 2022
Die liebenswürdige und kompetente Inhaberin begleitet ihre Gäste durch spezielle Anwendungen der Heilmoorbäder und ausgewählte Bio-Speiseangebote. Das Haus hat eine sympathische Athmosphäre in seiner Ausstattung und der überschaubaren Anzahl der Zimmer.
Review date 14. May 2022
Ein sehr kleines aber feines Bio und Kurhotel mit einer sehr freundlichen, hilfsbereiten und engagiertern Gastgeber Familie Fend. Individuelle Wünsche wurden möglich gemacht und wir wurden in unserer Urlaubswoche jederzeit sehr freundlich und zuvorkommend behandelt und mit hervorragenden Mahlzeiten in Bio-Qualität versorgt. Diese kurze Woche hat uns deshalb unglaublich gut gefallen und sehr gut getan.
Review date 13. May 2022
Immer wieder gerne zum entspannen und genießen.<br />Ein sehr freundliches Familien-Hotel.Sehr schöne Zimmer.<br />Das Moorbad war eine sehr gute Erfahrung.<br />Ich kann es nur weiterempfehlen.Es liegt sehr ruhig,kein Straßenlärm.
Review date 03. May 2022
sauber, freundliche Atmosphäre, ruhig, sehr gutes Essen nach Hildegard von Bingen, gute Hildegard von Bingen-Fachkenntnis von Frau Fend
Review date 25. April 2022
Das Kurhotel punktet mit einem großen Angebot aan Kurleistungen und Wellness. Die Moorbäder sind erstklassig. Moor und mehr besticht durch Freundlichkeit und Sauberkeit sowie herrliche Ruhe
Review date 22. March 2022
Habe mich sowas von wohl gefühlt, dass ich für nächstes Jahr gleich 2 Wochen gebucht habe und es auch meiner Freundin bestens empfohlen habe.
Review date 19. March 2022
Unglaublich stimmiges Gesamtkonzept, wir sind begeistert und kommen wieder.
Review date 14. March 2022
Alles super
Review date 10. March 2022
Ein kleines Bio Hotel in sehr guter Lage mit eigener Moorbehandlung; Therapieabteilung und Kosmetik.<br />Die Verpflegung folgt der Philosophie von Hildegard von Bingen. Neben dem Frühstück gibt es eine Mittagssuppe und von Montag bis Freitag ein Abendessen.
Review date 22. January 2022
Sehr zu empfehlend! Unglaublich tolle Behandlungen, leckeres Essen und sehr gute Betreuung! Ich komme wieder
Review date 11. January 2022
Wenn man ein inhabergeführtes Hotel sucht auf dem nicht nur "bio" drauf, sonder auch drinnen steckt, ist man hier genau richtig1 Zunächst am Ankunftstag das Gespräch mit dem Heilpraktiker, dann der Austausch mit der Inhaberin. Sehr gut! <br />Meine Frau und ich haben uns sehr wohl gefühlt, das Frühstücksbuffet war sehr gut und umfangreich. Es gab zu allen Fragen immer kompetente Tipps und Ratschläge. Es hat uns an nichts gefehlt. Auch die Anwendungen wurden durch fachkompetentes Personal durchgeführt.
Review date 24. November 2021
Sehr sauber, ruhige Lage, spazieren vom Haus weg, reichliches liebevolles Frühstück lässt keine Wünsche offen.<br />Kuranwendungen sehr gut organisiert.
Review date 24. November 2021
Das Biohotel Moor und Mehr ist ein kleines, liebevolles und familiengeführtes Hotel in einer ruhigen und exponierten Lage mit einem sehr schönen Blick.<br />Die Mitarbeiter sind sehr zuvorkommend und es gibt eine große Auswahl an gesundheitsfördernden und unterstützenden Behandlungen.<br />Die Anwendungen sind angenehm, wohltuend und effektiv, die Leute können Ihr Handwerk.
Review date 04. November 2021
Ein wunderschönes, liebevolles, familiäres Hotel mit bester Küche und zum Entspannen vom Alltag ein Traum. Auch alle Anwendungen waren für mich zur vollsten Zufriedenheit.
Review date 23. October 2021
ein schönes Bio-Hotel mit Wohlfühlcharakter und familiärer Atmosphäre zum Ausruhen, Entspannen, Genießen und Erholen ganz nach unserem Geschmack, eine gesundheitliche Ausrichtung schwerpunktmäßig Moorbehandlungen und Hildegard von Bingen Anwendungen
Review date 12. October 2021
Ein Biohotel mit allem was das Herz begehrt: rundum herzliches und freundliches Personal, ausgezeichnetes Frühstücksbuffet, köstliches Abendessen vom Wirtsehepaar zubereitet und zu guter Letzt eine rundum vorzügliche Massage- und Moor Behandlung, die keine Wünsche offen lässt! <br />Außerdem liegt das Moor und mehr Bio Hotel auf einer schönen Anhöhe mit wunderbarem Blick auf das Alpenvorland.<br />Ein wunderbarer Ort, um sich was Gutes zu tun und die Seele baumeln zu lassen!
Review date 05. October 2021
Ich war mit meiner Tochter auf Immunstärkungsmission. Nach anstrengenden Wochen mit Prüfung und Arbeit waren wir dort genau richtig. Die entspannte Atmosphäre dort, die liebevolle gemütliche Ausstattung, die wohltuenden Anwendungen, das ganze Hotel mit Zimmern, Bibliothek, Aussenbereich, toller Küche gefielen uns wieder so gut - wir waren schon öfter dort und das natürlich nicht grundlos. Supernettes herzliches Personal von der Raumpflege, der Gastronomie bishin zu den Masseuren und "Moor" Verantwortlichen. Kompetente Beratung. Wir haben uns sehr gut aufgehoben gefühlt, nette Unterhaltungen geführt, gute Tipps erhalten einfach richtig gut erholt und daher beste Bewertung von unserer Seite. Wir werden sicher wiederkommen.
Review date 28. September 2021
Hier ist man in familiärer Atmosphäre wunderbar aufgehoben. Entspannung, Entschleunigung, gutes Essen und ganzheitliche Beratung und Betreuung rund um moor & mehr!
Review date 30. August 2021
Sauberes, sehr gut geführtes Hotel. Bio ist gross geschrieben, alles entspricht BIO. Essen ist variabel und sehr gut. Empfehlen gerne dieses Hotel.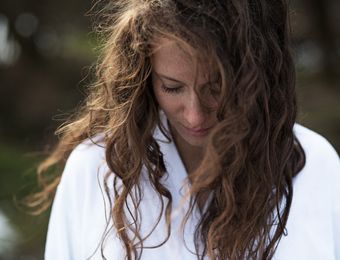 holistically detoxification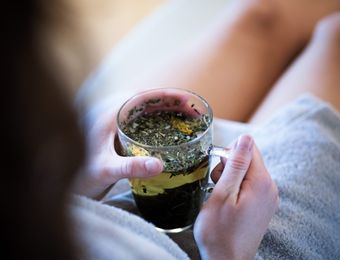 purging for newcomer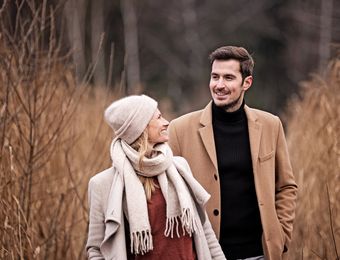 holistically building days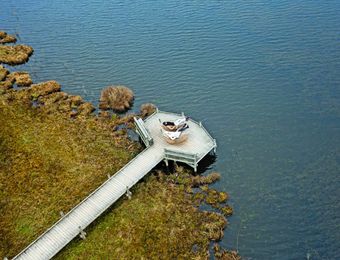 assembly days for newcomer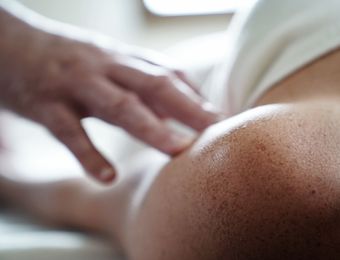 moor vitality regimen made to measure
moor vitality regimen made to measure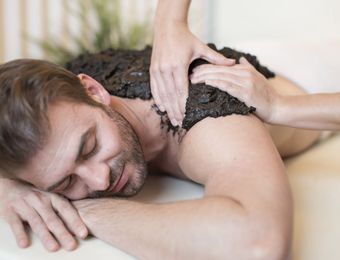 moor vitality regimen made to measure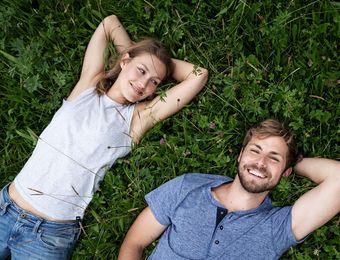 alpine energy days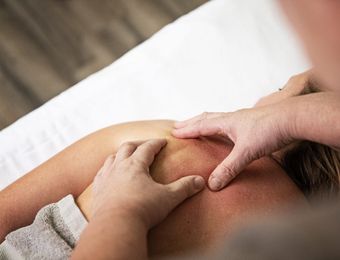 moor vitality regimen made to measure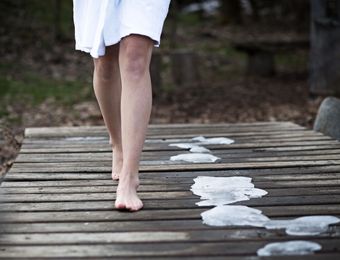 moor vitality regimen made to measure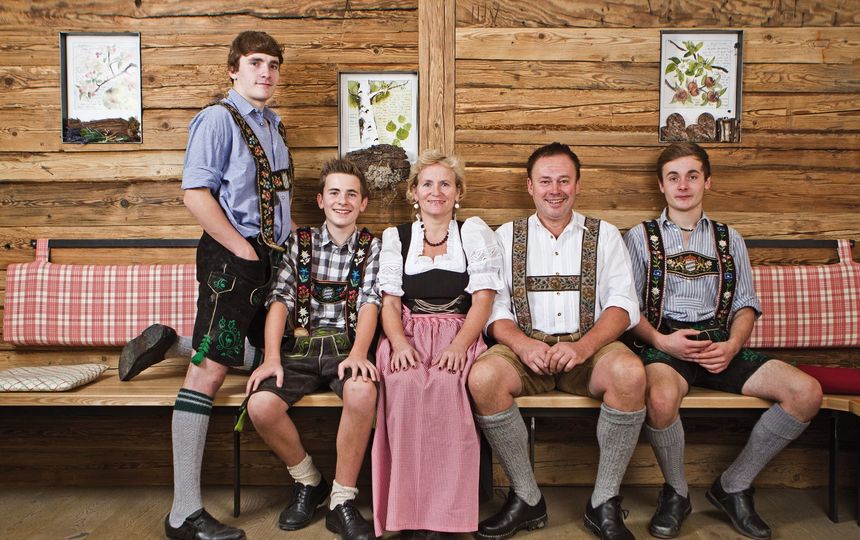 Hosts
We are your hosts: Martin and Andrea Fend with our children Martin, Maximilian and Felix. We combine organic vacation with health for body and soul. Caring and mindful. With over 25 years of experience and a large portion of heart and soul. Because the future lies in health. And there is one thing you can trust with us: We only do if we really know how to do. Because sometimes less is more.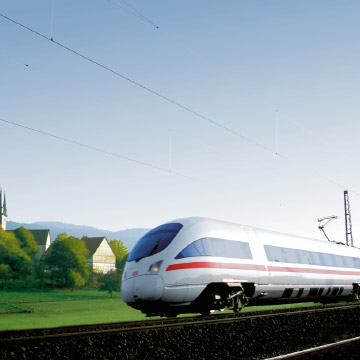 Arriving by train
© Deutsche Bahn AG / Gert Wagner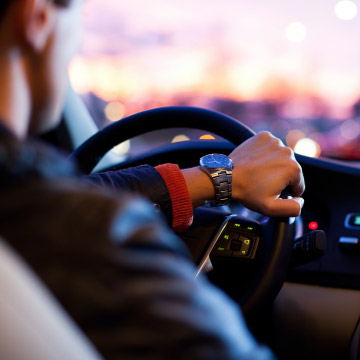 Get here by car