Highlights
Restaurant for hotel guests
Vegetarian menu
Services around Organic cuisine
Highlights
Climate-positive hotel
Services around Sustainability
Certified BIO HOTELS member since July 2008
Environmentally friendly and self-sufficient energy concept
Inspected by ABCERT
6,92 kg Co2-equivalents/night
75,6 tons Co2-equivalents/year
Highlights
Nature hotel
Hotel with limited wifi
Hotel with sauna
Hotel with swimming pool
Services around Vacation
Holidays on a Farm
Elevator
Non smoking hotel
Free parking
Pick-up service from train stations included
Summer sports activities such as hiking, cycling, golfing
Winter sports activities such as Skiing, tobogganing, snowshoeing
Highlights
Electrosmog Reduced hotel
Medical Wellness
Services around Health
Treatments such as lymph drainage, medical baths and check-ups
Therapist in house
Naturopaths in house
Spa hotel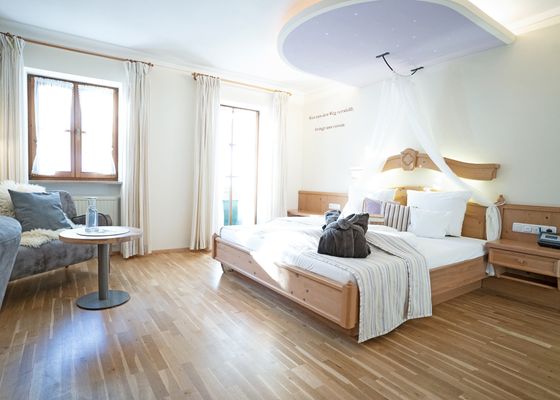 The hygiene concept in our hotel: 
Trained staff who is familiar with safety guidelines of local authorities
Staff wears masks and gloves where necessary
Disinfectants in rooms and public areas
Contactless (online) check-in possible
Distance rules are observed
Self-service buffet (gloves available for guests)
Visits to restaurants by prior arrangement only
Limited number of guests in the restaurant and in the wellness areas, etc.
Varying times for breakfast, lunch and dinner
Hygiene breaks during catering
Separate relaxation rooms
Special antiviral cleaning agents on an ecological basis
Comprehensive room cleaning by the staff
Guests can indicate that housekeeping is not desired
Room Service
Improved rebooking options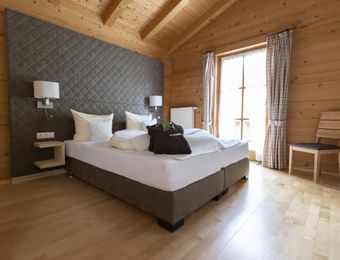 Organic Chalet Suite "Edelkastanie"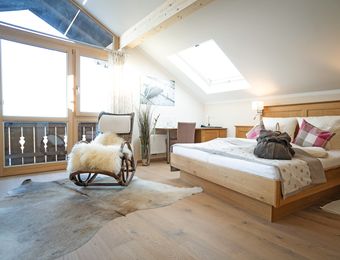 Panorama-Suite Wildrose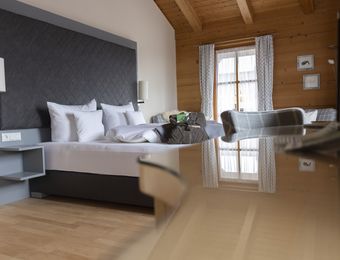 Organic Chalet - Double Room "Edelkastanie"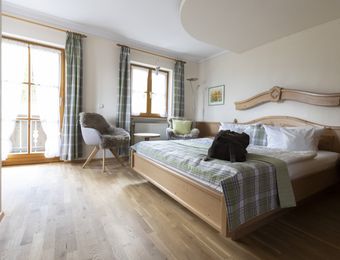 Organic Romantic Double Room "Lavender" South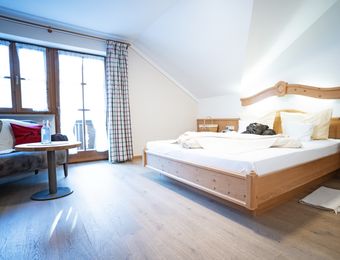 Comfort double room Elderberry South with balcony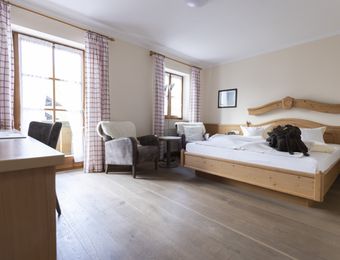 Comfort Double Room "Holunder" with Balcony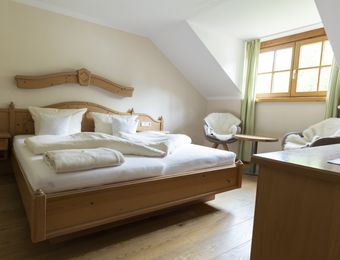 Luxury double room "Holunder" without a balcony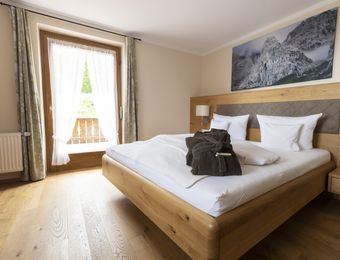 Double room "Minze" (two beds)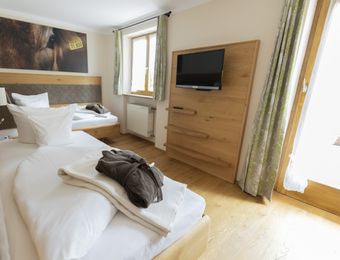 Twin room mint with south-facing terrace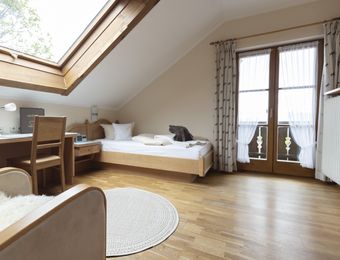 Comfort single room Elderberry with balcony / I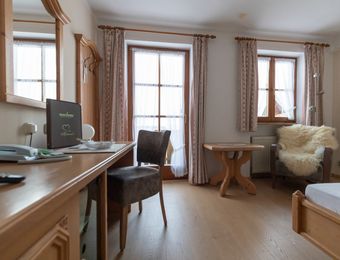 Comfort Single Room "Holunder" with Balcony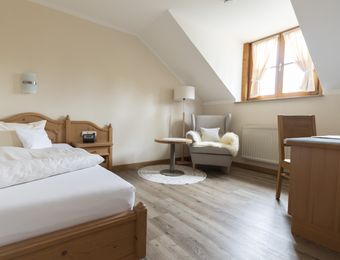 Comfort Single Room "Holunder" without Balcony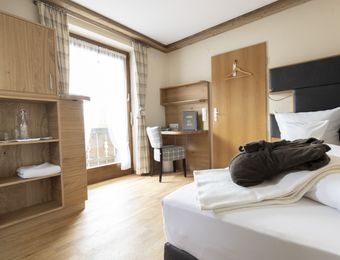 Single room mint with balcony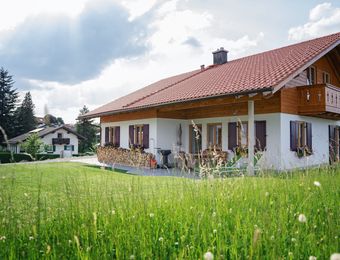 Organic holiday house
Review date 18. July 2021
Wir hatten dieses Hotel für eine Kur gebucht.<br /><br />Die Anreise war ganz angenehm und wir fanden auch gut einen Parkplatz direkt am Hotel. Es sind aus meiner Sicht genug Parkplätze vorhanden.<br /><br />Der CheckIn verlief schnell und wir wurden aufs Zimmer gebracht. Im Nachhinein mussten wir feststellen, dass uns doch paar mehr Informationen bei Anreise geholfen hätten.<br /><br />Das Zimmer war praktisch eingerichtet mit Ausrichtung Nord-West. Schade fand ich, dass wir jeden Badbesuch des Nachbarzimmers mithören konnten, selbst wenn die Zahnbürste ins Glas gestellt wurde. Unsere Nachbarn waren zum Glück sehr ruhig. :)<br /><br />Wir haben kurz nach der Anreise den Wellness-Bereich aufgesucht, welcher uns nicht ansprach. Der Fokus des Hotels liegt wirklich auf Kur/Entgiftung/Moorbäder.<br /><br />Unsere Kur begann mit einem Gespräch und Gesundheits-Check beim Heilpraktiker. Ich war von der Tätigkeit des Heilpraktikers nicht überzeugt.<br /><br />Sehr überzeugt war ich von den Gesprächen mit der Inhaberin, welche sich auf Ernährung usw. bestens ausgekannt hat. <br /><br />Ebenso haben mich die Moorbäder überzeugt und ich konnte sie genießen.<br /><br />Auch kam ich den Genuss von Massagen, welche ich sehr gut fand.<br /><br />Das Frühstück war ok, ich hätte nicht mehr benötigt.<br />Das Abendessen, für welches wir uns ab und zu entschieden, war sehr schmackhaft.<br /><br />Generell stand beim Aufenthalt immer der Mensch mit seinen (gesundheitlichen) Bedürfnissen im Fokus, hierauf ist auch das ganze Hotel ausgerichtet.<br /><br />Es ist eine andere Art von Urlaub, jeder muss für sich entscheiden, ob er ein top Hotelresort möchte - oder ein Hotel welches mehr den Menschen betrachtet.
Review date 14. July 2021
Ruhig oberhalb Bad Kohlgrub gelegenes Biohotel mit gemütlichen Zimmern, sehr gutem Bioessen und erstklassigen Mooranwendungen.
Review date 01. July 2021
Es ist ein sehr gutes Hotel. Dort gibt's sehr viele Gesundheits fördernde Angebote, sehr gutes Badeabteilung mit guten Kräften.
Review date 24. June 2021
Gepflegtes und ruhiges Hotel mit Blick auf Bad Kohlgrub. Alle Kuranwendungen können im Hotel gebucht werden, gute Organisation im Ablauf der Kuranwendungen.
Review date 24. June 2021
Das liegt in einer sehr ruhigen Lage, das Personal ist mehr als freundlich, das Bioessen sehr gut, Das Drumherum paßt einfach. Die gesundheitllichen Anwendungen und Infos dazu sind sehr empfehlenswert.
Review date 23. June 2021
Komme schon einige Jahre dorthin. Bin jedesmal total zufrieden. Das Hotel hat eine grandiose Lage, die Angestellten super freundlich. Frühstück, Mittagssuppe und Abendessen sehr lecker. Mein nächster Urlaub ist schon gebucht.
Review date 18. June 2021
Wunderschön ruhig gelegen. Toller Blick auf Bad Kohlgrub Schöne Zimmer (im Haupthaus mit Blick auf die Berge - Südbalkon)
Review date 16. June 2021
Ausgesprochen fürsorgliche, freundliche Atmosphäre zum rundum Wohlfühlen. Die Anamnese durch den Heilpraktiker zu Beginn war sehr ausgiebig, die persönlichen Anwendungen individuell abgestimmt, mit sehr hilfreicher Beratung vom HP und von Frau F. nehme ich gute Tipps (zB. bezüglich Ernährung) für den Alltag mit. Liebevolle Beträung bei den Bädern, wunderbare Anwendungen! Vielen Dank!
Review date 09. June 2021
Ausgezeichnetes, sehr persönlich geführtes Bio - Kurhotel, mit eigener Moorbadeabteilung und professioneller Betreuung von Anfang an. Der Grund unserer Reise war der Wunsch, eine Kombination von möglichen Kuranwendungen, gesunder Ernährung sowie guten Wandermöglichkeiten nutzen zu können. Unsere Erwartungen sind zu unserer vollsten Zufriedenheit erfüllt worden. Das Konzept des Hotels wird u.a. getragen durch die Lehren der Hildegard von Bingen und begleitet seine Gäste spürbar und angenehm. Der Mensch steht hier in seiner Gesamtheit im Mittelpunkt und nicht nur jeweilige Problemzonen. Dies haben wir als besonders wertvoll empfunden.Wir wurden über den gesamten Zeitraum begleitet durch die Inhaber selbst, sowie durch fachlich geschultes und zugleich sehr freundliches Personal. Für jede Frage war man offen und es gab immer eine gute Lösung. Mit der derzeitigen Problematik Corona wurde professionell umgegangen, es gab ein sehr gutes Hygienekonzept. Es gibt die verschiedensten Vorschläge an Gesundheitsprogrammen, welche falls gewünscht von einem ortsansässigen Heilpraktiker betreut werden. Man kann einzelne Anwendungen buchen oder auch nur einen Aufenthalt ohne Anwendungen, je nach Bedürfnis. Wir erhielten im Anschluss unseres Aufenthaltes nochmals sehr wertvolle Tips und Informationen , die wir zur Gesundheitsvorsorge in unseren Alltag einfließen lassen können.Unser Fazit: wir kommen sehr gern wieder!!!
Review date 29. October 2020
Wir waren im Oktober im Hotel moor und mehr und haben uns sehr gut erholt. Die familiäre Atmosphäre, die Therapien, das Moorbad und die Küche sind ausgezeichnet. Die Hygienemaßnahmen werden zu 10% professionell umgesetzt. Wir freuen uns bereits jetzt in 2021 wieder dort zu sein.
Review date 20. October 2020
Wir 2 Personen waren in der Zeit v. 04.10. bis 11.10.2020 im zum Hotel gehörigen Ferienhaus.Das Ferienhaus hat alles was man zum Wohlfühlen braucht !! Top Ambiente, wunderbare Lage mit tollen Blick auf Berge und Tal. Trotz der Nähe zur Straße ist es ruhig.Auch der Fußweg zum Hotel zw. Frühstück, Abendessen und Anwendungen, war für uns nicht störend !
Review date 03. October 2020
Wir waren im September 3 Wochen im moor & meer zur Kur. Das Hotel bietet alles was man sich wünscht. Ein sehr gut geführtes Haus mit kompetenten Mitarbeiterinnen und Mitarbeiter. Besonders hervorzuheben ist die Badeabteilung. Wir kommen auf jeden Fall wieder.Ein negativer Punkt ist die Gastronomie in Bad Kohlgrub.
Review date 30. September 2020
Sehr ruhig gelegenes Kurhotel, sehr sauber und sehr freundliches Personal. Im Hotel ist alles vorhanden, um eine Kur zu genießen.
Review date 23. September 2020
Les bains de boue, ça fait un bien fou! Chez Moor et Mehr, la qualité de ce produit naturel est assuré. Et le massage qui suit, .... hhhmmm! De plus, on mange très bien, le buffet du petit déjeuner est juste irresistible. Mais ce que je veux surtout souligner c'est l'accueil, la disponibilité et l'attention que la famille Fend et tout personnel portent à chaque hôte pour assurer son bien-être. Ils réussissent de créer un climat vraiment réposant et familiale. Tout cela fait un rapport qualité-prix qu'on ne peut que souligner.
Review date 17. September 2020
Sehr gut geführter Familienbetrieb. Freundliches Personal einschließlich Familie Fend. Sehr gute und vorzügliche Auswahl des Frühstück, des Mittagangebot sowie des Abendessen
Review date 07. September 2020
moor und mehr ist ein wunderbare Ort zum Wohlfühlen und um der Gesundheit etwas Gutes zu tun. Das Hotel ist sauber und gepflegt. Das Personal ist aufmerksam und arbeitet professionell. Sowohl das Frühstücksangebot und die Mittagssuppe als auch das Abendessen sind lecker, vielseitig und auf gesunde Ernährung ausgerichtet. Bad Kohlgrub und Umgebung laden zum Wandern ein. Außerdem sind sehenswerte Ziele in der Umgebung gut mit öffentlichen Verkehrsmitteln (kostenfrei) zu erreichen. Einziger Kritikpunkt: zu weiche Matratzen.
Review date 31. August 2020
Das Hotel liegt in einer ruhige Ecke im oberen Kurgebiet. Es ist ein schönes Hotel wo man sich wie zu Hause fühlen tut. Das Hotel ist gut ausgestatet mit allem was man braucht um eine Kur durchzuführen.Fam. Fend hat uns gut aufgenommen und war stets freundlich und hilfsbereit.
Review date 27. August 2020
Mein Glücksort in Bad Kohlgrub! Wer einmal erlebt hat, mit wieviel Fürsorge, Herzblut, Liebe zum Beruf, Fachwissen und Gastfreundschaft das Team um Andrea Fend und Familie die Anwendungen durchführen, legt sich nach dem herrlich matschig- warm- erholsamen Moorbad auf die Liege im Garten mit Blick auf Sankt Martin, spürt die warme Sonne, riecht die würzigen Gräser, schlummert einen erholsamen Schlaf, denkt sich: 'Das Leben ist schön! ' .... und kommt sicher wieder! Bis zum nächsten Jahr und DANKE für die schöne Zeit!
Review date 27. August 2020
Wir wohnten eine Woche lang im Ferienhaus des Hotels. Das war für uns als Familie perfekt: wir waren unter uns. hatten genug Platz und eine tolle Terrasse mit Fernblick!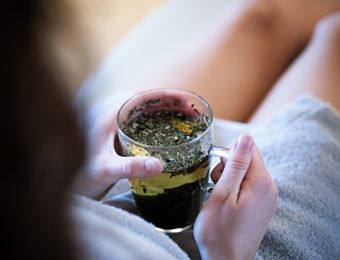 purging for newcomer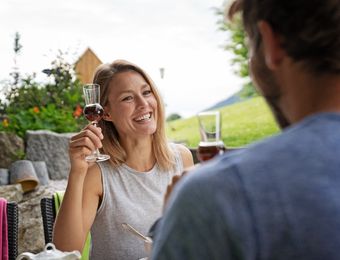 holistically detoxification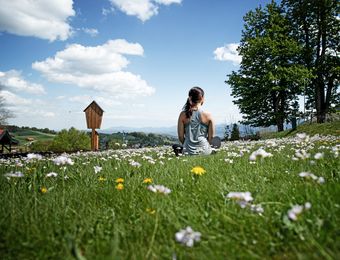 holistically building days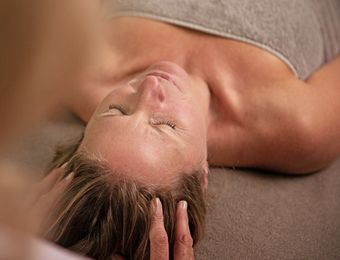 assembly days for newcomer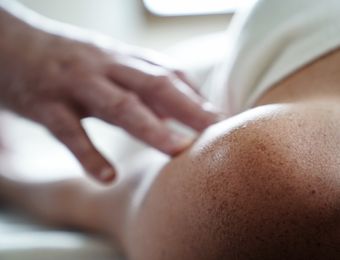 moor vitality regimen made to measure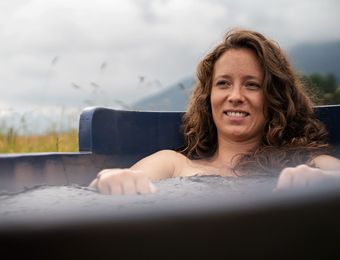 moor vitality regimen made to measure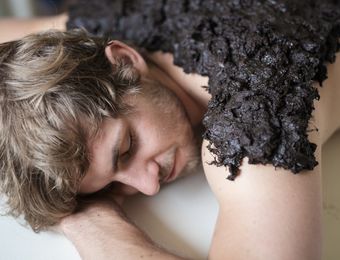 moor vitality regimen made to measure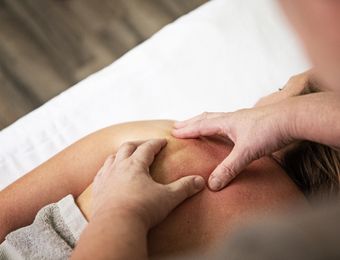 moor vitality regimen made to measure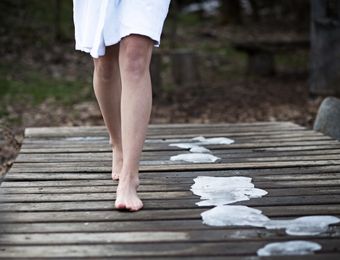 moor vitality regimen made to measure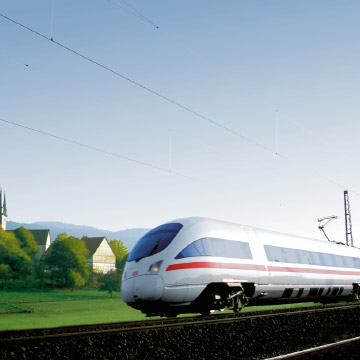 Arriving by train
© Deutsche Bahn AG / Gert Wagner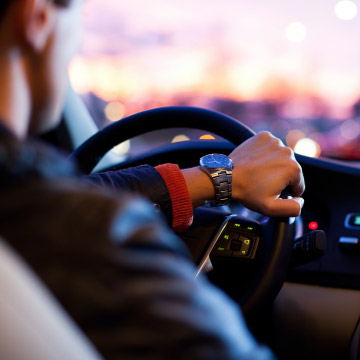 Get here by car