Highlights
Restaurant for hotel guests
Vegetarian menu
Vegan dishes
Allergy-free kitchen
Services around Organic cuisine
Vital kitchen
Menu selection
Hotel bar
Highlights
Hotel with charging station for e-cars
Climate-positive hotel
Services around Sustainability
Certified BIO HOTELS member since November 2018
Inspected by ABCERT
4,43 kg Co2-equivalents/night
50,9 tons Co2-equivalents/year
Services around Vacation
Elevator
Free WIFI
Non smoking hotel
Free parking
Pick-up service from train stations included
Summer sports activities such as hiking, cycling, golfing
Highlights
Hotel with swimming pool
Hotel with sauna
Hotel with gym
Hotel with yoga
Services around Wellness
Massage offers
Steam bath
Whirlpool / jacuzzi
Indoor swimming pool
Relaxation area
Feel-good garden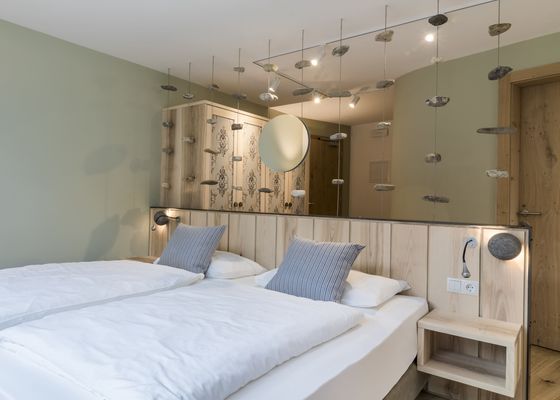 The hygiene concept in our hotel: 
Trained staff who is familiar with safety guidelines of local authorities
Staff wears masks and gloves where necessary
Disinfectants in public areas
Contactless (online) check-in possible
Distance rules are observed
Visits to restaurants by prior arrangement only
Limited number of guests in the restaurant and in the wellness areas, etc.
Varying times for breakfast, lunch and dinner
Hygiene breaks during catering
Separate relaxation rooms
Special antiviral cleaning agents on an ecological basis
Comprehensive room cleaning by the staff
Guests can indicate that housekeeping is not desired
Flexible cancellation terms
Employees are tested regularly.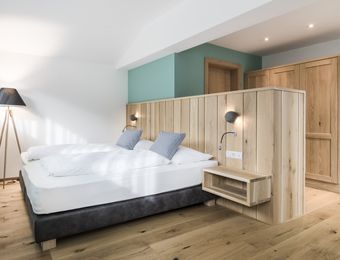 New Planet Room Mercury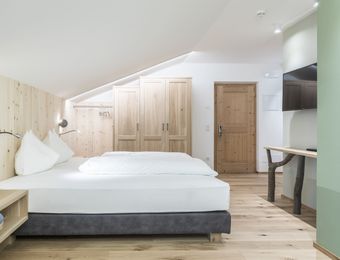 New planetary suite Jupiter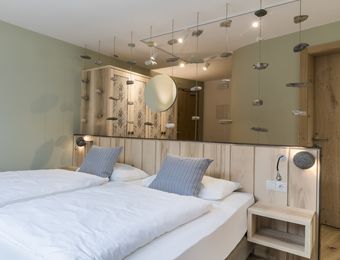 New planetary suite Venus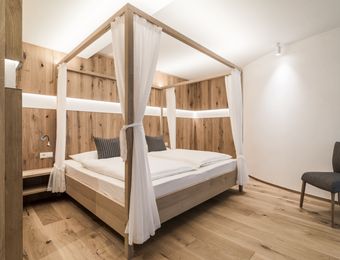 Planetary Suite Saturn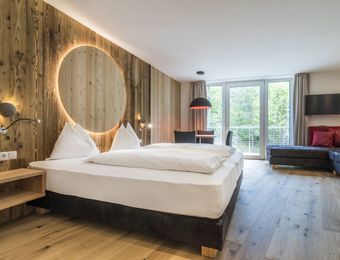 New planetary suite Mars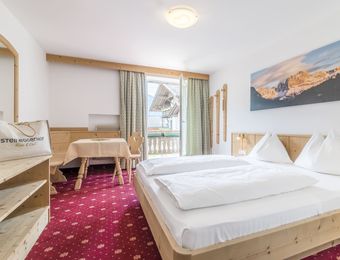 Double room Standard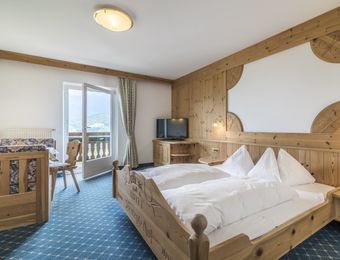 Double room Comfort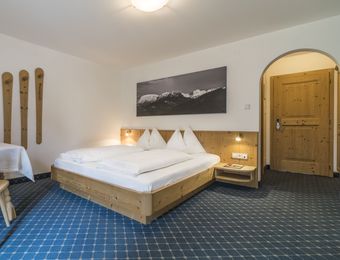 Double room Superior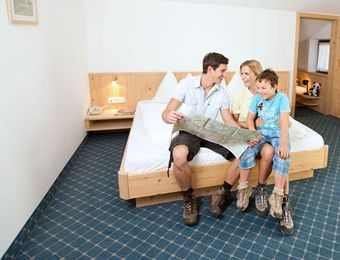 Double room Superior Family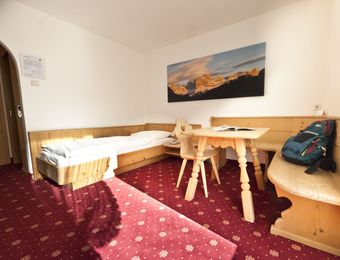 Single room
Review date 18. November 2021
Was für ein wunderschönes Plätzchen! Von der Dachterrasse aus hat man einen 360° Blick! Mann kann dort oben stundenlang verweilen, bis man wieder hinunter geht um sich an dem herrlichen Essen zu erfreuen. Flankiert von liebenswertem Service und Tipps für Unternehmungen. Wir haben uns sehr wohl gefühlt
Review date 01. November 2021
Wir hatten das Pech, dass der Koch gerade frei hatte. Dafür gab es eine Auto-Ladestation, die uns nach der langen und steilen Anfahrt willkommen war. Der Wirt zauberte dann doch noch ein einfaches aber wohlschmeckendes veganes Gericht auf den Tisch. Schöne Anlage in schöner Gegend, freundliches Personal. Die auf der Website angegebenen Essenszeiten sind, s. Anfang, etwas mit Vorsicht zu geniessen. Lieber im Voraus anfragen. Anfrage per Mail wurde prompt beantwortet.
Review date 01. November 2021
un posto incantevole. Prelibatezze ricercate con prodotti bio del proprio giardino. molto gentili
Review date 01. November 2021
Sehr schönes und gepflegtes Hotel! Traumhafte Aussicht und Lage! Spitzen Essen, da ist für jeden was dabei , super Qualität der LebensmittelSehr nette Eigentümer und Mitarbeiter. Hier fühlt man sich einfach wohl! Macht weiter so ! Mfg Patrick
Review date 01. November 2021
Perfektes Bike Hotel
Review date 01. October 2021
Wir haben uns sehr wohl gefühlt im Steineggerhof. Die Lage ist sowohl für Wanderungen oder Radfahren als auch für zum Beispiel einen Stadtbummel in Bozen oder Meran sehr gut geeignet. Das familiengeführte Hotel ist sehr gemütlich und liebevoll eingerichtet, die InhaberInnen und MitarbeiterInnen sind alle äußerst freundlich und zuvorkommend und das vegane Frühstücksangebot sowie Abendessen waren sehr abwechslungsreich und super lecker! Wir kommen auf jeden Fall wieder! :)
Review date 25. September 2021
Wunderschönes Wetter, es wurde auf der Terrasse serviert. Das Personal sehr freundlich und das vegane Essen perfekt. Vielen herzlichen Dank und wir werden bestimmt wieder kommen.
Review date 16. September 2021
Waren super zufrieden und das Hotel hat eigentlich 4**** verdient.<br />Besonders müssen wir das Essen loben. Ausgefallene vegane Gerichte, die auch Glutenfrei zu bekommen sind. Auch das Frühstück ist für Veganer (veganer Honig, Kuchen, Käse, …) super.
Review date 29. August 2021
Sehr freundlicher Service um die Mittagszeit mit aussergewöhnlichem Kuchenangebot.<br />Danke auch für die Infos zur Hotelphilosophie und die Möglichkeit unseren "Stromer" 1, 5 Std in der "Ladewüste" Steinegg, aufladen zu dürfen.
Review date 28. August 2021
La struttura è inserita in un contesto incantevole lontano dal turismo di massa.<br />Sonia ( così come tutto il personale) è davvero super disponibile e ti fa sentire subito a tuo agio.<br />La camera molto spaziosa e pulita offre una vista magnifica.<br />La zona relax è molto curata in ogni particolare.<br />Il cibo è in linea con lo stile bio della struttura: all'inizio può sorgere qualche dubbio ma poi si impara ad apprezzarlo.<br />In si tesi il nostro giudizio è più che positivo e consigliamo la struttura davvero a tutti!
Review date 26. August 2021
Sehr gut und sauber. Große Freundlichkeit
Review date 02. August 2021
Wir suchten ein Hotel mit veganer Halbpension und unsere Erwartungen wurden sowas von übertroffen! Alles war hervorragend, allen voran das jeden Tag super abwechslungsreiche und extrem leckere vegane Essen. Der nette und familiäre Service, das Angebot an E-Bikes und Yoga sowie die Ausstattung mit Pool, Whirlpool, Sauna und Dachterrasse waren ebenfalls top. Das renovierte Zimmer mit Balkon hat uns auch sehr gut gefallen. Die Lage oberhalb von Bozen ist ruhig und für Ausflüge zum Biken oder Wandern in die Dolomiten/Schlern optimal geeignet. Man ist auch schnell in Bozen und Meran, beides tolle Städte zum Bummeln/Einkaufen. Wir empfehlen fleißig weiter im Kollegen/Bekannten- und Freundeskreis und kommen gerne wieder!
Review date 02. August 2021
Ein wahres -Paradies:) 5-Gänge Menü vom allerfeinsten! Noch nie solch tolle ausgefallene Gerichte gegessen! Dazu noch super schön gelegen mit einer tollen Dachterrasse. Egal ob wandern, Rennrad oder MTB- es kommt jeder auf seine Kosten!<br />Dazu super alle freundlich und es wird wirklich auf jeglichen Wunsch eingegangen!<br />Wir hatten die erholsamsten Tage im ganzen Jahr und freuen uns schon auf nächstes Jahr!<br />Viele Grüße
Review date 01. August 2021
Das Hotel ist eines der Besten wo ich jemals war.<br />Die Lage ist gut um direkt mit MTB-Touren oder Wanderungen zu starten, welche auch vom Hotel angeboten werden.<br />Das 5-Gang Abendessen gleicht optisch und auch geschmacklich dem eines Sterne-Restaurants und dabei was ich sehr gut finde vorwiegend vegetarisch / vegan (letzteres problemlos möglich und muss auf nichts verzichten) Auch das Frühstück mit den selbst gemachten Aufstrichen, der Entsafter, die Müsli-Sorten (auch selbstgemachtes Bircher-Müsli) mit Toppings, der Haselnussaufstrich, Kuchen, Pankakes, einfach super Auswahl.<br />Die neue Dachterasse ist genial auch zum Yoga, der Spa-Bereich z.T. ganz neu und die MTB-Keller mit Werkstatt war für mich wichtig.<br />Ich kann das Hotel ausnahmslos empfehlen, auch weil es zu 100% bio ist und versucht einiges nachhaltiger zu machen als andere.<br />Einzig ein paar Zimmer sind nicht mehr ganz neu (z.B. Einzelzimmer mit schmalem Bett) und das WLAN teilweise schelcht abgedeckt in den Zimmern.
Review date 04. July 2021
Vielen Dank für die super freundliche Bedienung.<br />Der Nektarinen Salat war einmal, auch ohne Nüsse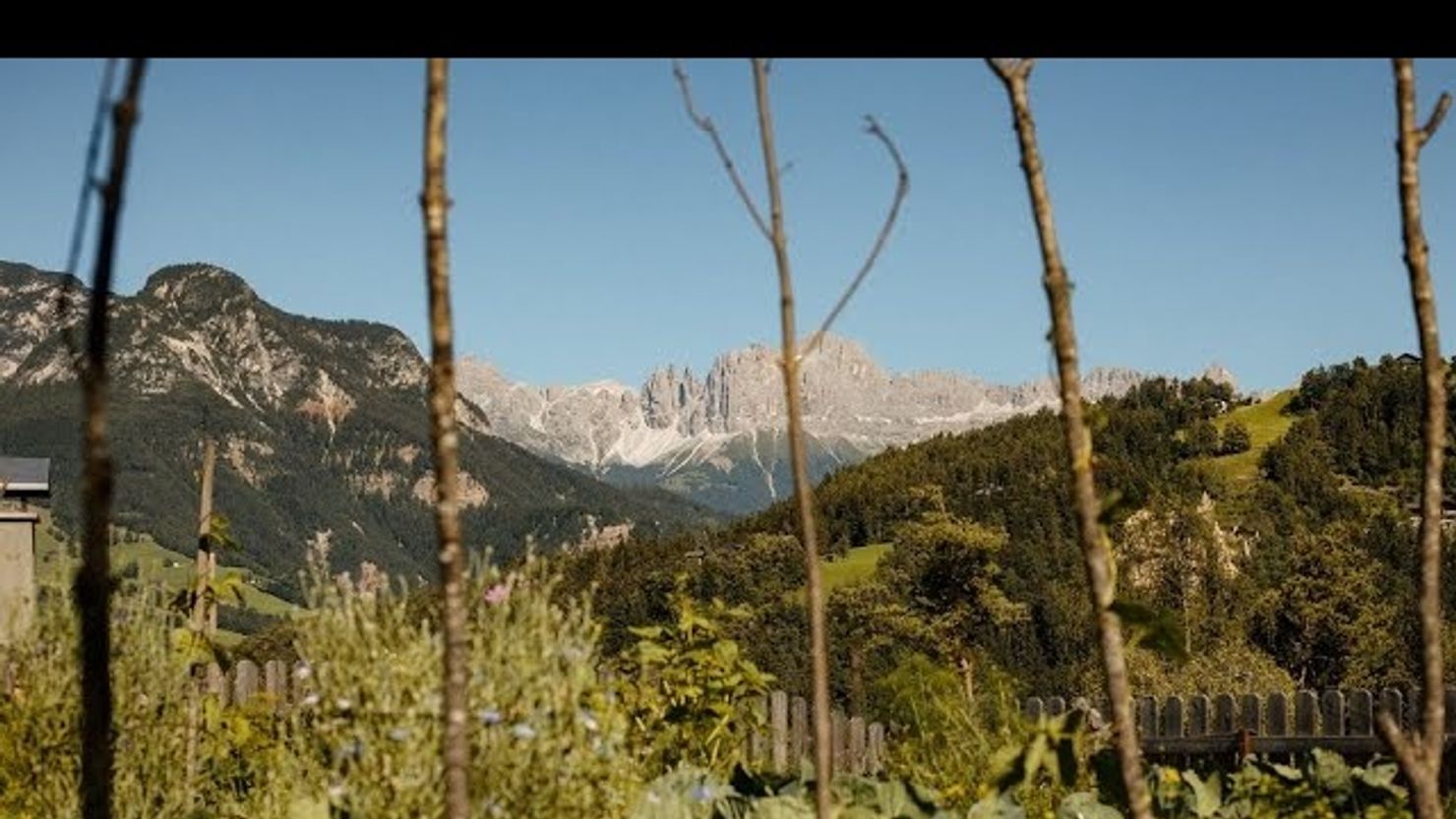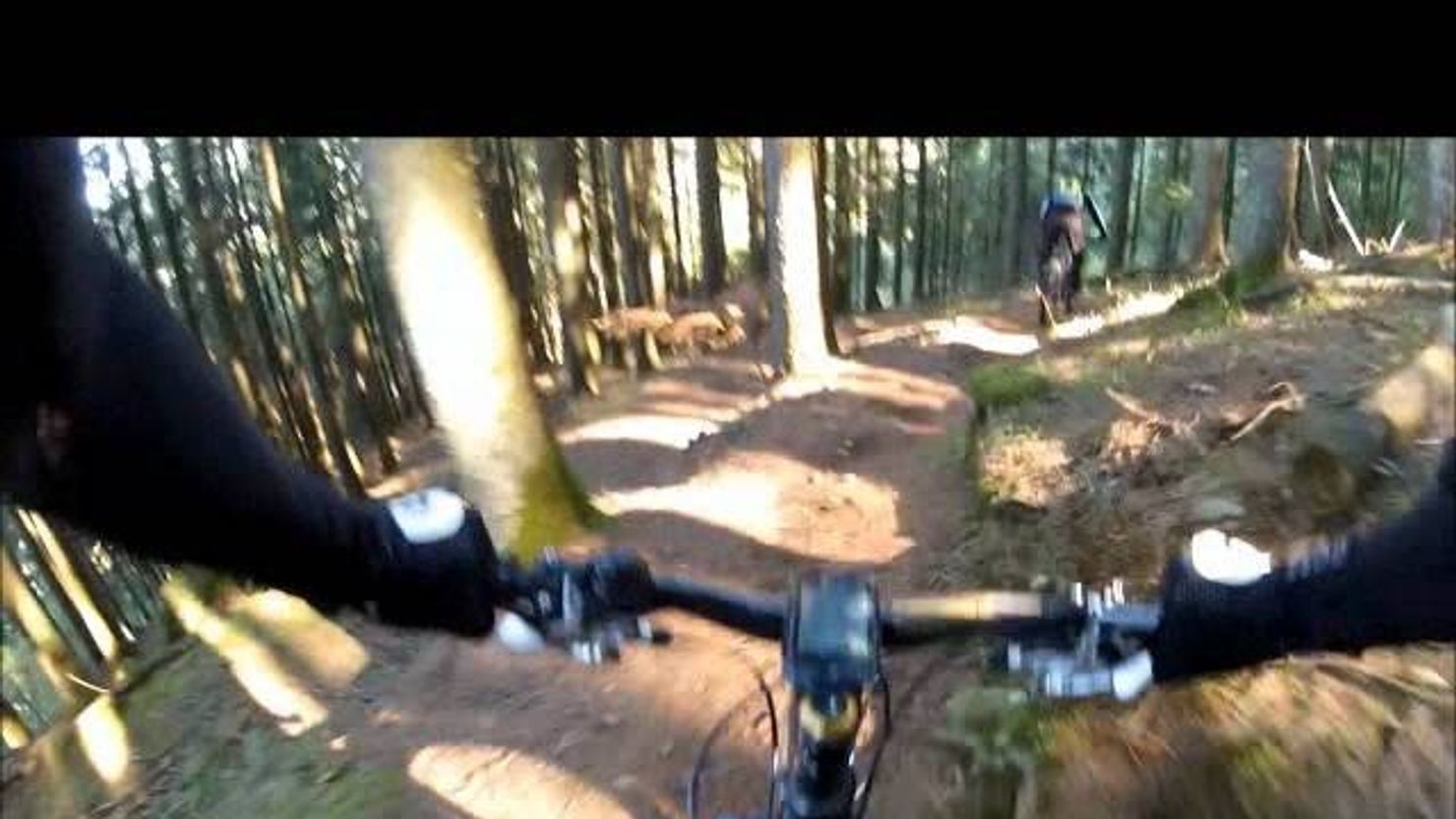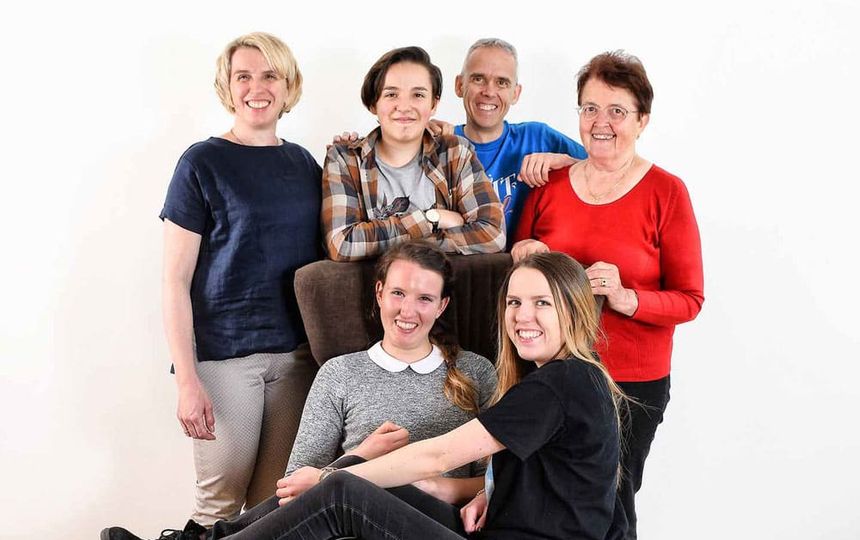 Hosts
In the second generation we run the small family hotel with a lot of passion. Kurt is hotel manager, chef, hobby gardener, mountain bike pioneer, president of Bikehotels Südtirol and specialist for outdoor activities. Sonja is hotel manager, receptionist, service manager, hiking companion, listener and avid reader.
 
Natalie is the eldest daughter, horse lover, farmer, cook, animal whisperer, wife and mom. Lisa is the middle daughter, junior boss, Sonja's right hand, social media caretaker and maid-of-all-work.
 
Tommy is the youngest son, experimental developer of new vegan dishes and food technician in training. Grandma Marianna is senior chef, good soul of the house, keeper of herbs and flowers and perfect tea mixer.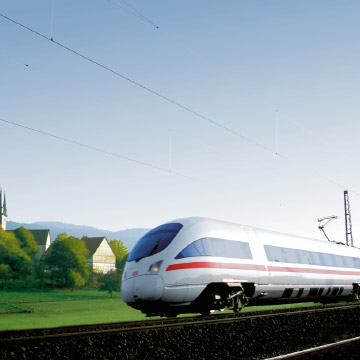 Arriving by train
© Deutsche Bahn AG / Gert Wagner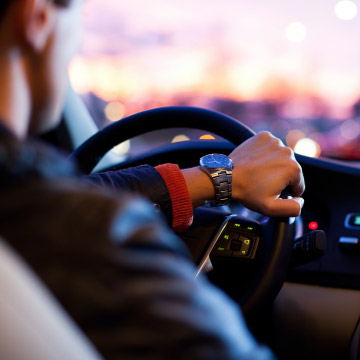 Get here by car