Highlights
Restaurant for hotel guests
Vegetarian menu
Vegan dishes
Services around Organic cuisine
Services around Sustainability
Certified BIO HOTELS member since January 2014
Environmentally friendly and self-sufficient energy concept
Inspected by ABCERT
Highlights
Nature hotel
Vacation with your dog
Hotel with limited wifi
Hotel with swimming pool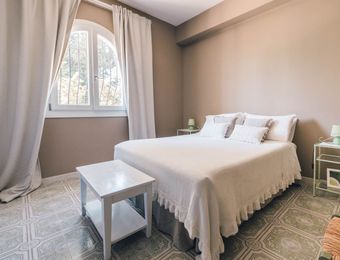 Double Room "I Virdiceddi"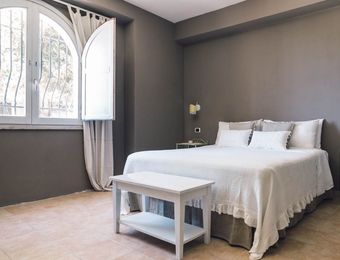 Double room "I Pipi"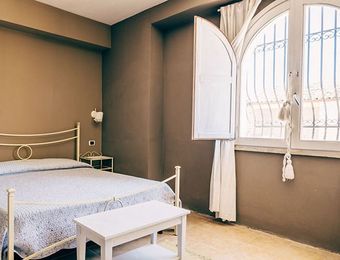 Double room "I Milinciani"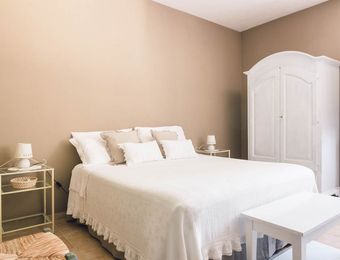 Double room "I Cocuzzi"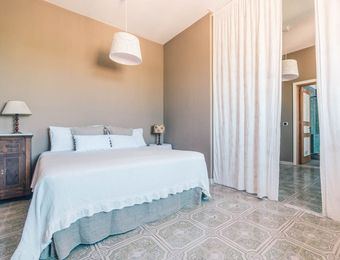 Double room "I Limiuna"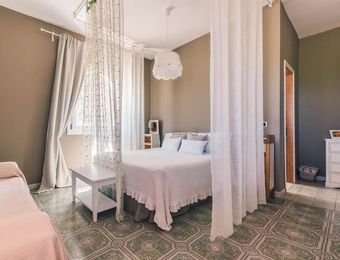 Junior Suite "I Partualla"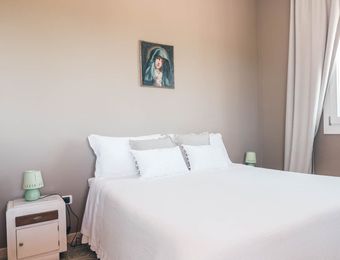 Junior suite "I Limetti"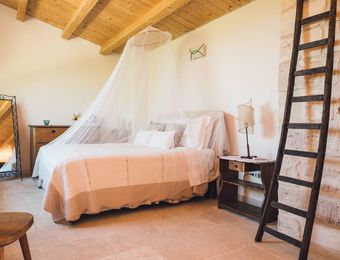 Junior-Suite "I Cacoccioli"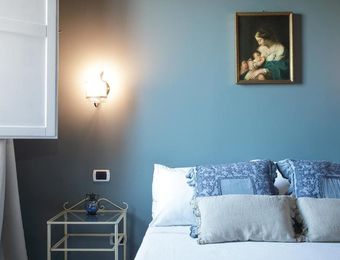 Suite "U Ficu"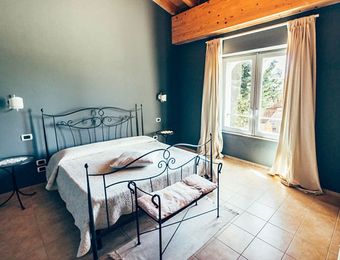 "A Cirasa" Suite
Review date 29. May 2023
Alles war traumhaft! Ich wundere mich sehr über die ein/zwei schlechten Bewertungen - aber manchen kann man es wohl einfach nicht recht machen ;) Wir fühlten uns sehr zu Hause! Die Küche war Top - super vegan friendly! Alle waren super nett, wir fühlten uns sehr wohl! Unser Mitarbeiter der Woche: Indi <3 Der uns jeden Tag zum Frühstück schon mit einem strahlenden lächeln begrüßt hat - super Servicekraft und einfach ein Sonnenschein! Beim Frühstück haben wir stets Avocado erhalten, da wir als Veganer die ganze Eier- und Käsekarte sowie Joghurts nicht angekreuzt hatten - also ein kleiner Pro-Tipp von uns ;) Wir haben die ganze Woche im Hotel Abendgegessen, dass war sowieso vegan - es war jeden Tag ausgezeichnet! So gut wie alles aus Eigenanbau! Solide und nahrhafte Küche, tolle Weine und gutes Bier! Wir hatten den Pool so gut immer für uns alleine und uns fast jeden Tag einen Negroni oder GinTonic gegönnt - die Drinks kommen mit kleinen Snacks, sind super gut gemixt und bester Qualität! Die Hunde sind total liebe alte Herren und mögen eigentlich jeden :) Wir kommen sehr gerne wieder und empfehlen jedem, der einfach mal entspannen will, in dieses kleine Paradis zu fahren! Tipp: Mietauto vorab buchen nicht vergessen - (wir hatten Sixt und waren voll zufrieden - war im Endeffekt günstiger als so dubiose billigrentals die dann vor Ort noch Aufschläge für Versichtungen kassieren) Im Ort nebenan kann ich sehr die kleine Bäckerei empfehlen! Unser Zimmer hatte eine Terrasse - super fürs tägliche Yoga in der Früh :) Es gab Tee und nen Wasserkocher - den ich täglich genutzt habe. Ein kleiner Kühlschrank ist auch vorhanden.
Review date 29. May 2023
posto semplicemente incantevole
Review date 28. May 2023
het onthaal, de service en de openheid van personeel en eigenaars
Review date 28. May 2023
Tout était parfait : le lieu, l'accueil, les produits servis, la literie. Je recommande sans hésitation ce havre de paix
Review date 22. May 2023
Breakfast was delicious as was the excellent evening tapas. Friendly and welcoming staff. Relaxing and laid back with very high standards.
Review date 19. May 2023
- very helpful owners - delicious food - wonderful pool - good location Outsider of Syrakus
Review date 16. May 2023
Das Ambiente und Architektur
Review date 15. May 2023
petit déjeuner, accueil, jardin
Review date 14. May 2023
Ich habe gerade eine Woche mit meinem Partner im wunderschönen Hotel La Casa di Melo auf Sizilien verbracht. Wir kamen auf das Hotel, da es Mitglied im Verbund der Bio Hotels ist, ein Konzept, das uns sehr gut gefällt. Das Hotel ist ganz in der Nähe der Ortschaft Cassibile gelegen und in etwas weniger als einer Stunde vom Flughafen Catania aus mit dem Auto zu erreichen. Vor Ort gibt es kostenlose Parkplätze vor dem Haus. Ein Auto braucht man meines Erachtens auf jeden Fall, weil man sonst nicht gut rumkommt. Wir wurden herzlich begrüßt und fühlten uns direkt wohl. Das Personal spricht neben Italienisch auch gut Englisch. Unser Zimmer "Primofiore" bestand aus einem Raum mit eigenem Bad und Terrasse. Die Ausstattung war einfach gehalten, aber schön und vollkommen ausreichend. Besonders gefallen hat uns die Terrasse mit wundervollem Ausblick auf die grüne Umgebung. Bei gutem Wetter konnte man sogar den Ätna in der Ferne sehen! Einziges Manko am Zimmer war für uns, dass es recht hellhörig war. Zusätzlich zu dem eigenen Zimmer gibt es noch drinnen und draußen diverse Gemeinschaftsräume, wo man seine Zeit angenehm verbringen kann. Ein besonderes Highlight ist der Außenpool. Das Wasser ist zwar nicht beheizt, aber das macht bei dem warmen Wetter gar nichts aus. In dem Preis für unser Zimmer war das Frühstück inbegriffen. Jeden Tag haben wir eine Art Speisekarte bekommen, die wir für den nächsten Morgen ausgefüllt haben. Wichtig zu beachten ist hierbei, dass es nur vegetarische und vegane Speisen gibt. Von Brot über Käse bis hin zu Joghurt und selbstgebackenem Kuchen, man kann sich aussuchen, was das Herz begehrt. Wie wir im Gespräch mit dem Personal erfahren haben, wurde dieses System der Vorauswahl eingeführt, da in den Vorjahren häufig viele Reste beim Buffet übrig geblieben waren. Um also weiterhin eine große und frische Vielfalt anbieten zu können, aber unnötigen Abfall zu vermeiden, hat man sich entschieden das Frühstück zu verändern. Eine sehr gute und ökologisch sinnvolle Idee, wie ich finde! Für 35€ pro Person pro Abend kann man sich außerdem ein Abendessen dazu buchen, Getränke nicht inklusive. Jeden Tag wird hierfür eine Speisekarte aufgestellt und bis mittags kann man sich für dann für das Abendessen anmelden. Auch hier sind alle Speisen vegetarisch oder vegan. Das Abendessen besteht aus vier Gängen. Meistens gab es eine Vorsuppe oder Bruschetta, gefolgt von Nudeln, Risotto oder ähnlichem. Dann kamen ein immer variierender Gang gefolgt von einem Dessert wie Eis oder Kuchen. Hierbei werden saisonale und regionale Produkte verwendet, häufig von der eigenen Farm. Sehr schön war, dass sogar die Inhaberin des Hotels beim Abendessen vorbeischaute und mit uns über das Konzept hinter dem Essen und dem Hotel sprach. So haben wir einen noch besseren und tieferen Eindruck in die Philosophie des Hotels und der Farm gewinnen können, was uns sehr gut gefallen hat. Besonders schön fand ich auch, dass Ninonino, der Hund der Inhaber und gute Seele des Hotels, immer und überall unterwegs war und sich Streicheleinheiten abholte. Ich kann das Hotel La Casa di Melo nur weiterempfehlen und bedanke mich für einen wundervollen Urlaub! Es ist ein tolles Hotel mit unglaublich freundlichem und zuvorkommendem Personal. Weiter so!
Review date 12. May 2023
beautiful place with a stunning garden and amazing friendly staff. one of the best breakfasts
Review date 11. May 2023
Chiara, Lorenzo and their staff were very friendly and efficient. A special mention for Nadia the chef whose breakfast feast was fantastic. We have never tasted orange juice or granita as good as that made from lthe oranges from their own orchard. We thoroughly enjoyed our tapas supper which was incredibly tasty and the organic wine. It was a bonus not having to dine out in the evening. The bedding is top quality and we appreciated the very comfortable pillows - not often found when staying away. The grounds and pool are lovely and if we come to Siracusa again we would definitely stay at La Casa di Mela again.
Review date 29. April 2023
beautiful location. great staff. lovely rooms. great breakfast
Review date 22. April 2023
Das Frühstück war sehr gut!
Review date 10. April 2023
prachtige lokatie, mooie stijl en toch authentiek
Review date 26. October 2022
Nous avons tout adoré dans ce lieu hors du temps. De l'accueil chaleureux, souriant, à la chambre confortable et calme. A la nourriture généreuse et gourmande de Maria à prix plus que résonnable. L'équipe a eu à cœur de faire de notre séjour un moment personnalisé et de ce fait l'a rendu inoubliable. Un énorme merci à l'équipe de la casa di melo ❤️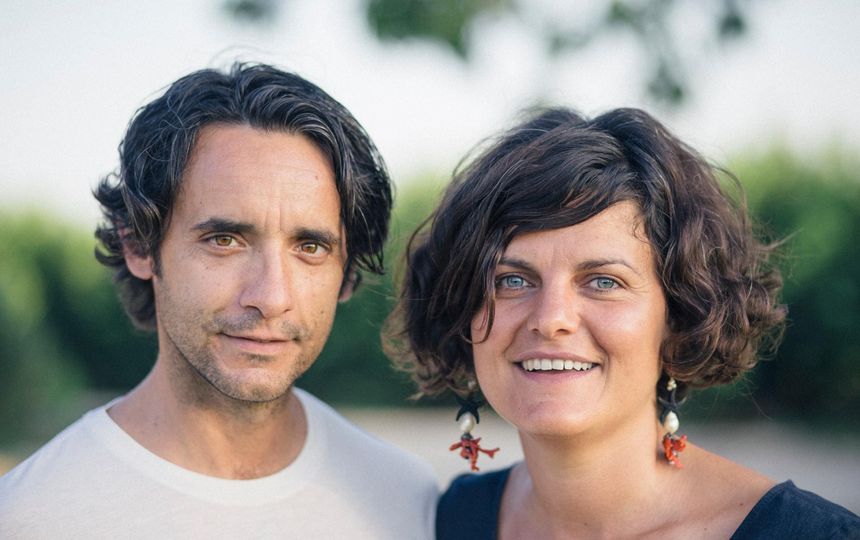 Hosts
We operate in harmony with nature! Because we all bear the responsibility to make the world livable for future generations. It is important to us to show guests where our food comes from. Therefore, we offer high-quality food from our own certified organic farm. This also ensures the shortest possible delivery routes and a low carbon footprint.
 
Your hosts Chiara and Lawrence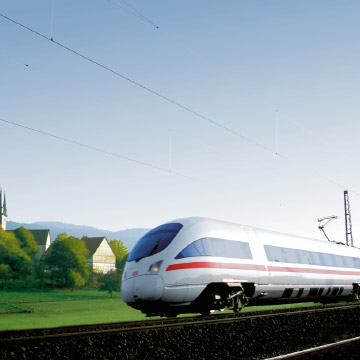 Arriving by train
© Deutsche Bahn AG / Gert Wagner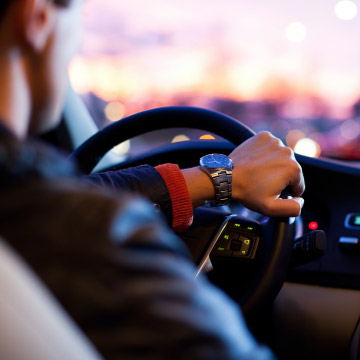 Get here by car