Highlights
Restaurant for hotel guests
Vegetarian menu
Vegan dishes
Allergy-free kitchen
Services around Organic cuisine
Award-winning cuisine
Diet kitchen
Menu selection
A la carte meals
Hotel bar
Highlights
Hotel with charging station for e-cars
Climate-neutral hotel
Services around Sustainability
Certified BIO HOTELS member since June 2002
Organically built building
Environmentally friendly and self-sufficient energy concept
Inspected by ABCERT
5,69 kg Co2-equivalents/night
84,4 tons Co2-equivalents/year
Highlights
Nature hotel
Vacation with your dog
Accessible hotel
Hotel with limited wifi
Electrosmog Reduced hotel
Hotel for allergy sufferers
Services around Vacation
Holidays on a Farm
Elevator
Free WIFI
Free parking
Pick-up service from train stations included
Summer sports activities such as hiking, cycling, golfing
Winter sports activities such as Skiing, tobogganing, snowshoeing
Highlights
Hotel with sauna
Hotel with yoga
Services around Wellness
Steam bath
Relaxation area
Feel-good garden
Infrared cabin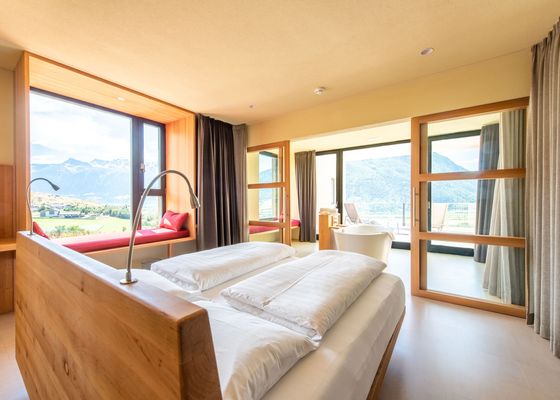 The hygiene concept in our hotel: 
Trained staff who is familiar with safety guidelines of local authorities
Staff wears masks and gloves where necessary
"Disinfectants in the entrance areas, public toilets and lounges
"
Distance rules are observed
Comprehensive room cleaning by the staff
Guests can indicate that housekeeping is not desired
Flexible cancellation terms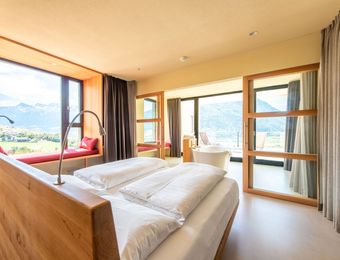 Star suite 300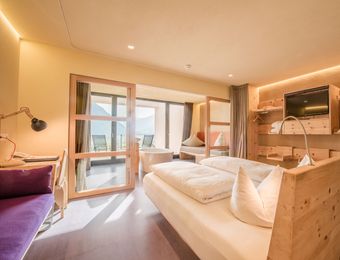 Star suite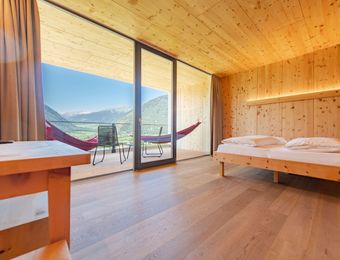 Double room balance stone pine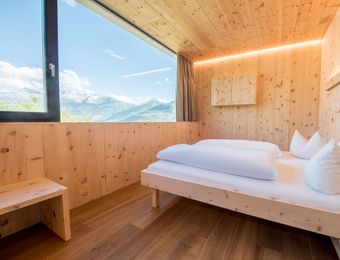 Double room sun salutation stone pine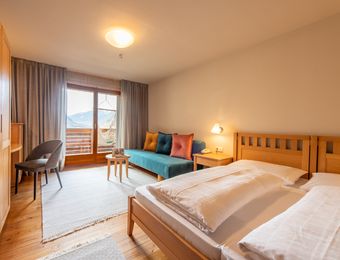 Double room panorama south side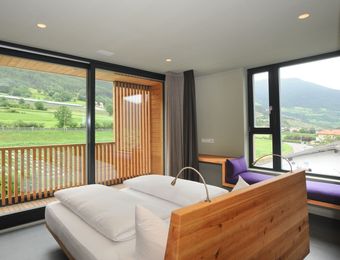 Double room morning sun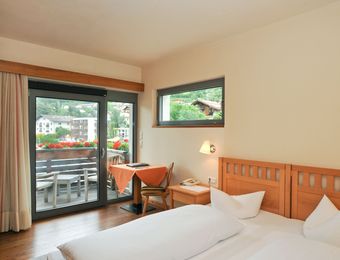 Double room mountain side
Review date 12. November 2021
Das am Ortsrand von Mals/Vinschgau gelegene Hotel verfügt über einen herrlichen Ausblick auf den Berg Ortler. Sofort bei Ankunft fühlt man sich in dem gastlichen Haus sehr wohl. Wir haben den aufmerksamen Service sehr genießen können.
Review date 09. November 2021
Wir waren für 5 Tage im Bio Hotel Panorama in Mals. Der Aufenthalt hat uns sehr gut gefallen. Das Zirbenzimmer war sehr gemütlich und sehr sauber. Das Essen (wir hatten Halbpension) war hervorragend. Die Angestellten waren sehr freundlich. Wir können das Hotel uneingeschränkt weiterempfehlen und kommen gerne wieder. Liebe Grüße an das ganze Team vom Biohotel.
Review date 04. November 2021
E' sempre una bella esperienza un soggiorno al Biohotel Panorama. Quando abbiamo bisogno di ricaricarci è il nostro punto di riferimento. L'hotel è molto bello e confortevole, cucina gustosa e colazione indimenticabile il tutto contornato da un paesaggio meraviglioso e da un'accoglienza cordiale e premurosa. Grazie!
Review date 02. November 2021
Alles Bio ;)
Review date 01. November 2021
Ankommen und zu Hause sein. Wir freuen uns auf unsere Tage hier.
Review date 01. November 2021
Hier stimmt einfach alles ... sehr gutes Konzept, konsequent und mit viel Herzenswärme von ALLEN umgesetzt.<br />Jederzeit und sehr gerne wieder. Hier ist man von der ersten Minute an im Urlaub!
Review date 31. October 2021
Freundlich, angenehm, grosses Frühstück
Review date 27. October 2021
Wir hatten eine sehr schöne, gelungene Woche. Das Essen Top Bioqualität war rundum schmackhaft, kreative zubereitet und serviert.<br />Das ganze Team war stets aufmerksam, freundlich und hilfsbereit. Das Zimmer und das Hotel waren gepflegt und schön. Man hat sich wohl gefühlt. Die Lage des Hotels ist als Ausgangspunkt (VinschgauCard) ideal. Das Auto hatte Pause.<br />Besonderer Dank an Herrn Steiner der uns seine Zeit geschenkt hat und mit uns und vier weiteren Gästen eine Tour zum Glurnser Köpfl gemacht hat. Nebenbei haben wir viel über Mals, die Natur, das Hotel und Bio erfahren.<br />Zdenek und Wilhelmine (fit 70+)<br />Mitte Oktober 21
Review date 18. October 2021
Sehr gute zentrale Lage. Freundlicher Empfang, man fühlt sich wirklich willkommen. Man merkt, dass man sich da in einem Familienbetrieb befindet und spürt das gute Verhältnis innerhalb des ganzen Teams.
Review date 16. October 2021
Seit 1 Woche sind wir nun schon Gäste in diesem Hotel. Und wir fühlen uns ausgesprochen wohl. Unser Zimmer hat einen schönen Blick und auf dem Balkon kann man die Sonne genießen. Essen wunderbar. Für jeden etwas dabei. Die vegetarischen Gerichte abwechslungsreich. Das mit dem Gutschein kann ich nicht bestätigen. Wir hatten unser Schild an der Tür einmal vergessen und somit fand keine Zimmerreinigung statt. Unkompliziert gab man uns den Gutschein für die Bar. Ergänzend möchte ich noch sagen, unser Hund fühlt sich auch wohl. Und was die Außentür angeht, es funktioniert. Und ich persönlich finde es sehr kleinkariert, wenn man wegen kleinerer "Pannen" immer gleich einen Obolus erwartet. Bitte immer denken, nobody is perfect. Wir empfehlen das Hotel unbedingt weiter.
Review date 15. October 2021
Das Panorama ist für uns jedes Mal mit einem hohem Erholungswert verbunden! Seit 2003 fahren wir regelmäßig dorthin und werden dies auch weiterhin tun. Warum?<br />- Freundlichkeit des gesamten Teams,<br />- Wohlfühlfaktor Zimmer mit natürlicher Atmosphäre (und Hängematte)<br />- Genussmomente beim Essen (und Trinken)<br />- Bio und Nachhaltigkeit sind wesentliche Eckpfeiler der Hotelphilosophie<br />- Tolle Gegend, die vielfältige Outdoor-Aktivitäten zulässt (Tipp: die Wanderung mit dem Chef des Hauses während der Hauptsaison). <br />Fazit: Absolut empfehlenswert!
Review date 13. October 2021
Wer gut essen will, geht ins Panorama. Gut meint: Mit Bedacht ausgewählt, so gut als möglich regional, viel aus dem eigenen Garten, ein echtes Vorbild – und es schmeckt noch ausgezeichnet. Das Vinschgau ist ohnehin schön, die Zimmer herrlich. Wer den Bio-Gedanken unterstützen will ist bestens aufgehoben. Die Steiners als Familie sind alle mit dabei und haben ein gutes Team. Das war wieder ein schöner Urlaub.
Review date 05. October 2021
Zentral und trotzdem ruhig gelegen, 5 Minuten zum hübschen Ort Mals,ideal für Ausflüge und Wanderungen im oberen Vinschgau, herzlicher Empfang, ein Wohlfühlort
Review date 03. October 2021
Die fantastische Aussicht! Super freundliches Personal, ein tolles Zimmer. Das Frühstücksbüffet und das sehr gute Abendessen ließen keine Wünsche offen.
Review date 01. October 2021
Gutes Bio-Konzept, abwechslungsreiches Essen und sehr schöne Weinkarte. Ein Team, dass Spaß an der Arbeit hat, sagt schon viel über die lockere und sehr freundliche Atmosphäre und die Freundlichkeit, die immer ausgestrahlt wird, aus. Klasse auch, dass die besonderen Kaffeespezialitäten gern auch mehrfach gereicht werden und keinen Aufpreis erzeugen. Toller Blick in die Täler und auf die Berge von den Balkonen. Noch einen Stern mehr gäbe es, wenn ein Sonnenschutz für die Balkone mit Hängematten und alternative Kopfkissen verfügbar wären. Insgesamt ist es den Preis für Unterkunft und HP wert.
Review date 01. October 2021
Sehr familiäre Atmosphäre, schöne Zimmer, sehr gutes Essen. Gerne wieder!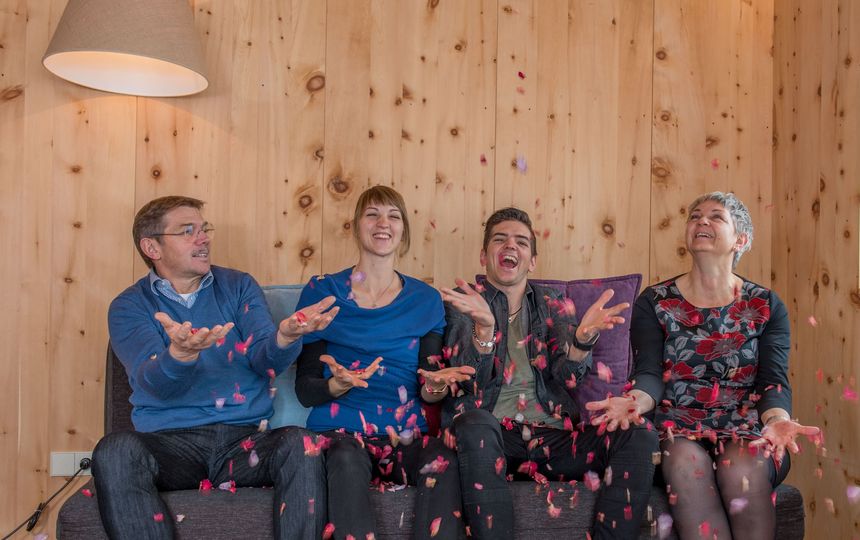 Hosts
Our homeland: A paradise. Today, tomorrow and in the future.
 
We want to preserve this paradise and share it with you - that's why we live this special philosophy wholeheartedly: True sustainability, lived holistically and without compromise, is both our credo and our promise. We want to enrich the modern today with tradition, shape the future and never lose sight of our origins. Thus, we offer 100% natural food, many of it from our own cultivation, guarantee the use of natural cleaning agents as well as the avoidance of superfluous waste. We get our electricity from renewable sources.
 
Your hosts, the Steiner family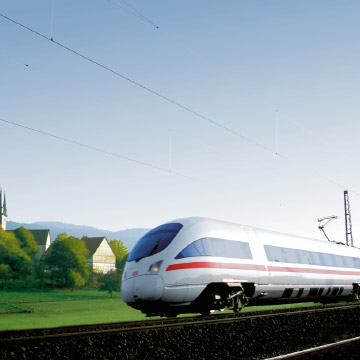 Arriving by train
© Deutsche Bahn AG / Gert Wagner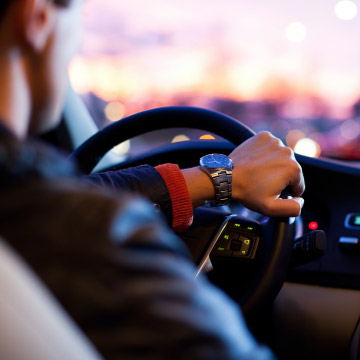 Get here by car