Highlights
Public Restaurant
Vegetarian menu
Vegan dishes
Allergy-free kitchen
Services around Organic cuisine
Menu selection
Vital kitchen
A la carte meals
Whole food
Buffet meals
Hotel bar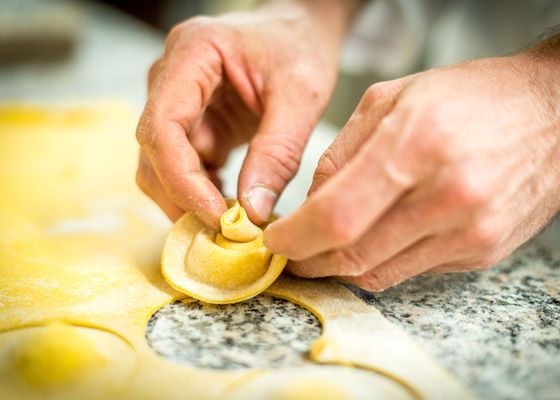 100% certified:

Aqua BIO Cuisine homemade and regional in the Aqua Bad Cortina. Thank you good Lord, thank you Mother Earth for all that you provide us with! The culinary uniqueness of Aqua Bad Cortina is that all homemade drinks and dishes are enhanced by our mineral water and so take on a very particular connotation. Each taste, each sip, becomes a small "Source of Strength", a small experience that vibrates in tune with the source.
Services around Sustainability
7,75 kg CO2e/night
98 tons CO2e/year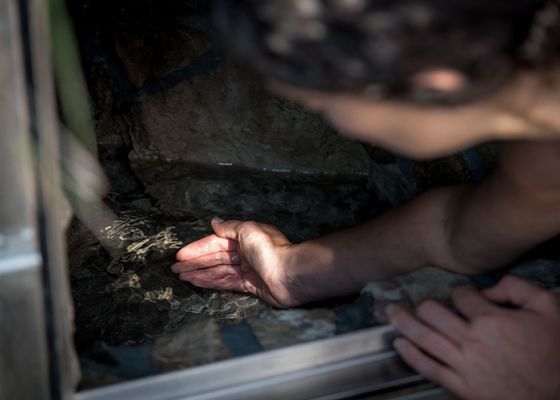 Our contribution to the future:

Organic? Of course. But why? Because it's the only way to show our creator respect that only humans deny. This way leads us back to healthy food and drinks. To healthy behavior. Without organic products we can't achieve holistic health which is based (mainly) on 3 pillars: spirituality, emotional health, and physical health.

We from the Aqua Bad Cortina have made our choices. Our products are exclusively of organic or biodynamic farming origin. Priorities are clear. And all future decisions will follow this pattern.

Water is the most precious resource we have. Directly from the well, without losses in quality due to treatments or transportation, it nourishes our bodies and souls.

Vives! Here's to health.
Sandra, Nicol and staff members
Highlights
Nature hotel
Vacation with your dog
Accessible hotel
Hotel for celebrations
Hotel with sauna
Services around Vacation
Elevator
Free WIFI
Non smoking hotel
Free parking
Summer sports activities such as hiking, cycling, golfing
Winter sports activities such as Skiing, tobogganing, snowshoeing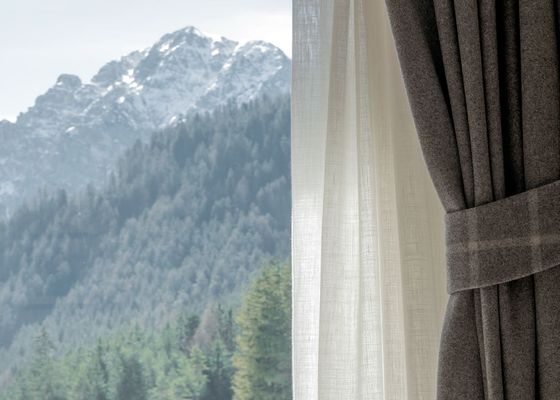 Sustainable hotel experiences:

Life is lived freely where it is best represented: in Mother Nature. We invite you to our special place where we will accompany you to "sacred", mythical and legendary hideaways that can be respected and preserved in the soul as authentic treasures. Aqua Bad Cortina means to reactivate the connection to oneself's deepest roots. The hikes that we do in company with our guests, season after season, have the keen sense to discover this natural heritage that belongs to all of us and that we all have to defend.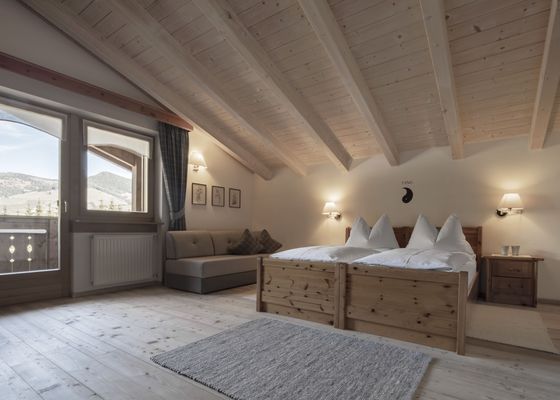 The hygiene concept in our hotel: 
Trained staff who is familiar with safety guidelines of local authorities
Staff wears masks and gloves where necessary
Disinfectants in rooms and public areas
Contactless (online) check-in possible
Distance rules are observed
Self-service buffet (gloves available for guests)
Visits to restaurants by prior arrangement only
Limited number of guests in the restaurant and in the wellness areas, etc.
Varying times for breakfast, lunch and dinner
Separate relaxation rooms
Special antiviral cleaning agents on an ecological basis
Comprehensive room cleaning by the staff
Guests can indicate that housekeeping is not desired
Room Service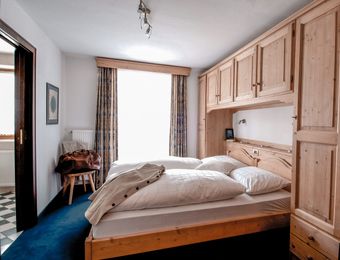 Double Room Classic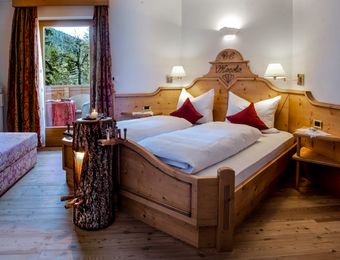 Double Room "Special – smell of local wood"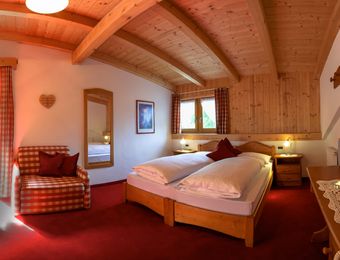 Double Room "Nemus – Penthouse"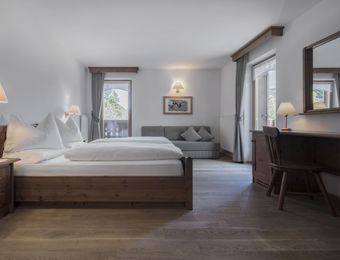 Double Room "De Luxe – by the garden"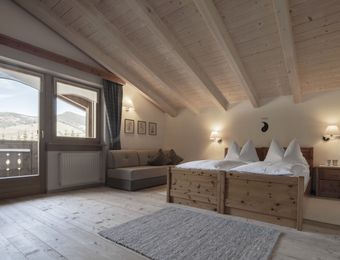 Double Room "Limited"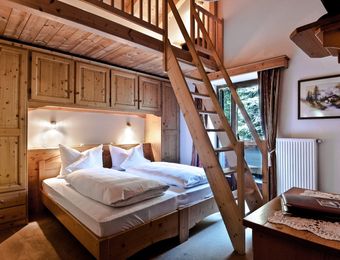 Mulit-Bed Room Classic – with 3 beds on mezzanine floor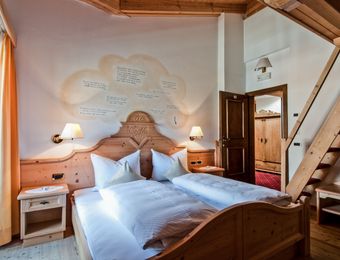 Multi-Bed Room Special – with 3 beds on mezzanine floor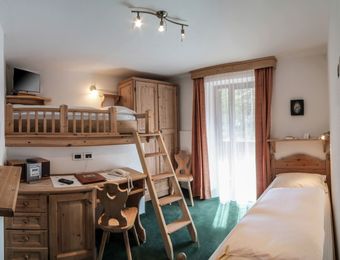 Multi-Bed Room "Nemus – Twin"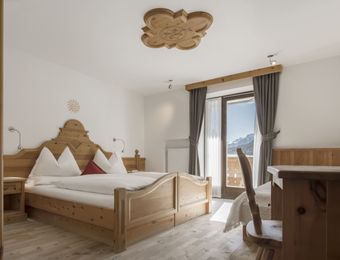 Mulit-Bed Room Aqua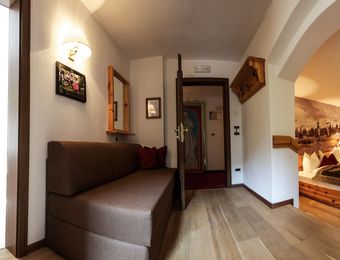 Suite "Nemus – Junior"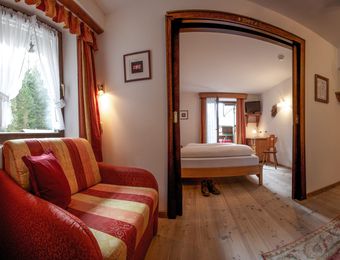 Suite "Granaroli"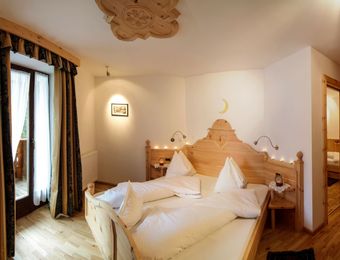 Junior Suite "Aqua"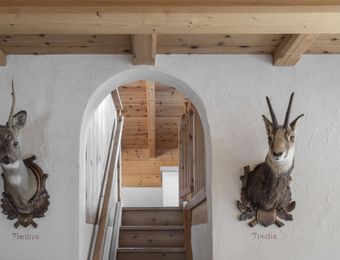 The "Cirmolo" Chalet Suite
Review date 26. June 2022
Posto meraviglioso ed incantevole. Per ritrovare la quite ed un atmosfera intima. Per chi ha necessità di RIGENERARSI, è consigliatissimo. Cibo, ricercato e cucinato divinamente.
Review date 21. June 2022
Servizio molto cordiale e puntuale.
Review date 21. June 2022
Posto incantevole e magico, dove rilassarsi, fare escursioni, socializzare, ascoltare il rumore dell'acqua e i suoni del bosco, riempirsi gli occhi di verde e il cuore di benessere e infine mangiare divinamente!!
Review date 14. June 2022
Das Hotel ist wunderschön! Wir waren das erste Mal in den Dolomiten und hatten mit Aqua Bad Cortina einen wirklich Glücksgriff. Perfekte Lage in einem sehr schönen, kleinen Ort. Hinter dem Hotel geht es direkt in den Wald zum Wandern. Und nur ein paar Autominuten entfernt wartet die Fanes zum ausgiebigen Wandern. Das Hotel selber wird liebevoll von der Familie geführt. Das Essen war überragend: Das Frühstück mit tollen Säften - Brennsessel, Johannisbeere und Holunder- zahlreichen Brot und Brötchen-Sorten vom Dorfbäcker und leckerer Käse und Wurstauswahl aus der Region. Das Abendessen war das absolute Highlight. Die Küche hat sich hier jeden Tag selber übertrumpft. Halbpension ist ein Muss. :) Und wir haben das Thermalwasser und Bad in der Silberquarzit-Wanne sehr genossen. Erstaunlich wie toll sich die Haut danach anfühlt! Daher ganz klare Empfehlung für alle Dolomiten-Reisenden!
Review date 14. June 2022
Wir können das wunderschöne Hotel von ganzen Herzen weiterempfehlen. Alles war rundum herausragend - das leckere und reichhaltige Frühstück und Abendessen, sehr freundliches Personal, große schöne Zimmer und als Highlight: natürlich das Bad in der Wanne aus Silberquarzit. Mit Hund war der Urlaub sehr schön. Die Wanderwege sind gleich ums Eck und der kleine Ort St. Vigil auch sehr schön. Klare Empfehlung!
Review date 22. May 2022
Ottimo posto su sentiero naturalistico, posizione fantastica.
Review date 25. February 2022
Heerlijk deze week met onze dochters van 13 en 15 jaar in het restaurant gegeten. Het eten was overheerlijk, de bediening meer dan vriendelijk en de sfeer relaxt. Zeker een aanrader. Lekkerste eten wat we in St Vigil hebben gehad!
Review date 18. February 2022
Collocazione struttura servizi e squadra splendidi….ma il valore aggiunto è il rispetto verso Madre Natura e il sentimento di accoglienza che trasmettono Sandra e Nicol Un grande valore di Comunità <br />Grazie grazie grazie a presto <br />emilio cinzia
Review date 29. January 2022
Tutto ineccepibile.
Review date 17. January 2022
dopo l'esperienza estiva siamo tornati in questo Hotel per l'inverno e possiamo solo ribadire la qualità di questa struttura; abbiamo apprezzato il servizio navetta per le piste e il deposito sci esclusivo al Miara, inoltre potete acquistare lo skipass direttamente in Hotel e ottima la convenzione per il noleggio degli sci per chi ne ha bisogno (sci e scarponi ottimi per tutti i livelli, a prezzi più bassi rispetto ad altri noleggiatori). <br />Il resto è sempre di livello, cucina (senza dimenticare la carta dei vini ...), pulizia delle camere sempre accurata ma soprattutto la gentilezza del personale, ti senti proprio a casa in un ambiente familiare. Un saluto a Nicol e Sandra!
Review date 06. January 2022
The two weeks of vacation spent at Aqua Bad Cortina were among the most relaxing and enjoyable thanks to both the owners and the extremely friendly staff. I was able to notice the attention to detail both in terms of the concept of the entire hotel, from the interior design, to the tourist policy and to the menu design. Consistency from one end to the other. The fact that the whole Alberti family is present in the hotel every day creates a feeling of familiarity and at some point you feel that you are becoming part of the family, not just a temporary guest. I'm glad I spent the end and the beginning of the year here and I can't wait to come back. ABC is both a local culinary experience of the highest quality and a cultural one.
Review date 04. January 2022
Io e mio marito siamo frequentatori assidui di questa struttura meravigliosa ed ogni anno al rientro pensiamo alle prenotazioni future.<br />Hotel accogliente, camere confortevoli, arredate con gusto, dotate di tutti i confort e pulitissime.<br />Il cibo è buonissimo di ottima qualità e molto vario.<br />I padroni di casa e tutto il personale sono gentilissimi, cordiali, professionali e molto disponibili a soddisfare qualsiasi esigenza e richieste degli ospiti.<br />Che dire, provatelo e non lo lascerete più.
Review date 02. January 2022
Siamo finalmente riuscite a tornare dopo qualche anno in questo albergo unico, per trascorrervi il Natale. Anche questo soggiorno è stato perfetto e magico. L'ubicazione dell'albero è particolarmente felice: pur essendo vicinissimo al centro, è alle pendici di un monte da cui partono sentieri e alla partenza della pista da sci di fondo. Inoltre è praticamente ai piedi di una fonte di acqua, di cui si può beneficiare anche facendo bagni in vasche di ardesia coperte di legno di cirmolo, (esperienza rigenerante che consiglio di fare). Il cibo è buonissimo, le materie prime genuine e di ottima qualità, prevalentemente a chilometro zero, in pieno accordo con la filosofia di grande rispetto della Natura dei padroni di casa. Tutto il personale è gentilissimo e disponibile. La pulizia è impeccabile e le camere sono confortevoli. L'atmosfera è calda e familiare. Tutto molto soft e rilassante. Consigliatissimo!
Review date 18. December 2021
Ho soggiornato insieme a mia moglie in ABC per tre notti e, con il turbinio di emozioni vissute ancora fresche, sono ancora là. Ho riscontrato già dalle mie richieste di informazioni una gentilezza come mai prima, la stessa confermatasi una volta a San Vigilio. La struttura è molto bella, camera spaziosa, il personale di sala davvero molto attento e con un bel sorriso sempre ad incorniciare la loro bella disponibilità. Colazione super, così come la cena, piatti biologici sempre ottimamente preparati. Abbiamo utilizzato la Spa, piccola ma con l'essenziale per rilassarsi dopo una giornata in giro, abbiamo fatto il bagno nella vasca di quarzite, per cui ancora ringraziamo Nicol per averci ben preparati a questa esperienza. Posizione molto comoda per diverse escursioni nelle zone vicine, svegliarsi nel silenzio e sentire lo scorrere del vicino torrente tra le montagne innevate non ha prezzo, io consiglio il soggiorno nella struttura e personalmente tornerò nella stagione estiva.
Review date 17. December 2021
Hotel in una location incantevole vicinissimo ai principali sentieri innevati di San Vigilio.<br />Personale molto cordiale e disponibile per ogni richiesta.<br />Cibo veramente eccezionale, ottimo punto di forza di questo hotel.<br />Stanze ottimizzate nella maniera migliore con vista spettacolare.
Hosts
We have been going through life side by side for years. We learned to know and love the hotel business and being hosts.

What we have in common, is our love of nature, our appreciation of the unique beauty of our region and our traditions.

Now we jointly run the hotel in the heart of the Dolomites that has been handed down from generation to generation.
Sandra has a special attention to detail; Nicol loves the power of nature and the spectacle of the seasons.
Together, we create a place of strength that satisfies all longings. Far away from everyday life. Close to nature.

Sandra and Nicol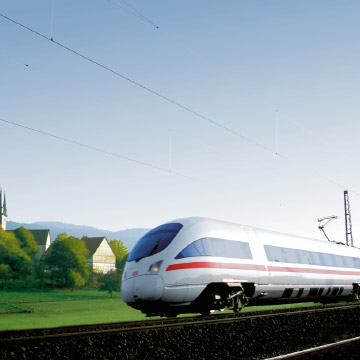 Arriving by train
© Deutsche Bahn AG / Gert Wagner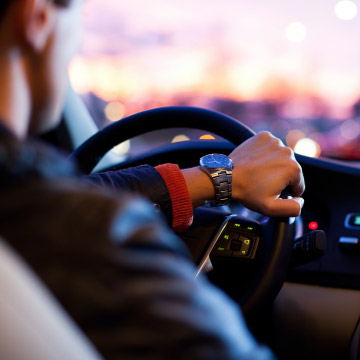 Get here by car