Highlights
Public Restaurant
Vegetarian menu
Vegan dishes
Allergy-free kitchen
Services around Organic cuisine
Vital kitchen
Whole food
Ayurvedic cuisine
Buffet meals
Menu selection
A la carte meals
Hotel bar
Highlights
Hotel with charging station for e-cars
Climate-neutral hotel
Services around Sustainability
Certified BIO HOTELS member since November 2001
Inspected by Austria Bio Garantie
4,01 kg Co2-equivalents/night
59,3 tons Co2-equivalents/year
Highlights
Nature hotel
Vacation with your dog
Hotel with limited wifi
Hotel for celebrations
Hotel for allergy sufferers
Electrosmog Reduced hotel
Fasting leave
Services around Vacation
Free WIFI
Non smoking hotel
Free parking
Pick-up service from train stations included
Summer sports activities such as hiking, cycling, golfing
Winter sports activities such as Skiing, tobogganing, snowshoeing
Fun for young and old:


The Grafenast offers a grandiose natural backdrop as well as a beautiful, familiar and unconventional atmosphere.
A great exercise area with a bouldering wall, play area and youth area is available.
In July and August there is a supervised children's program with lots of activities in nature.
In winter, the included children's ski course for four- to twelve-year-old kids will delight you.
From Sunday to Friday there is a 2-hour ski course at the family-friendly Kellerjoch ski area - only 150 m from the Grafenast!
Grafenast opens children's eyes to the wonders of nature.
They make new friends, go on a journey of discovery together and playfully experience the uniqueness of nature.
Highlights
Hotel with day spa
Hotel with swimming pool
Hotel with sauna
Hotel with gym
Hotel with yoga
Services around Romance
Special offers for couples in love
Romantic ambience in the room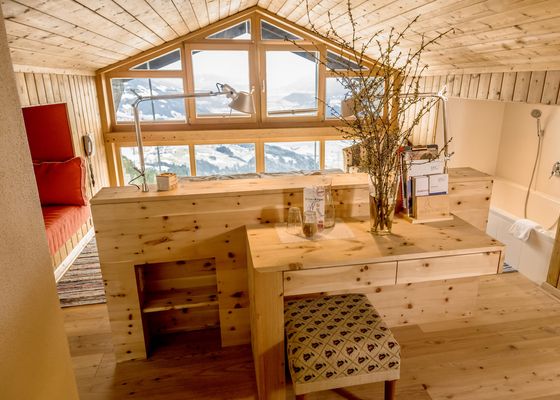 The hygiene concept in our hotel: 
Trained staff who is familiar with safety guidelines of local authorities
Staff wears masks and gloves where necessary
Disinfectants in rooms and public areas
Contactless (online) check-in possible
Distance rules are observed
Self-service buffet (gloves available for guests)
Visits to restaurants by prior arrangement only
Limited number of guests in the restaurant and in the wellness areas, etc.
Varying times for breakfast, lunch and dinner
Separate relaxation rooms
Special antiviral cleaning agents on an ecological basis
Comprehensive room cleaning by the staff
Guests can indicate that housekeeping is not desired
Comprehensive cleaning by specialized companies
Flexible cancellation terms
Safe-Service certified company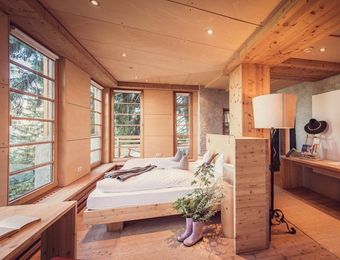 Atelier room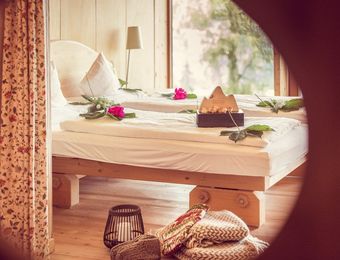 Doublebed room panoramaview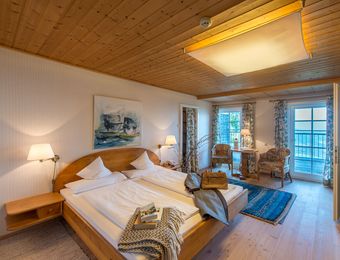 Doublebed room vally view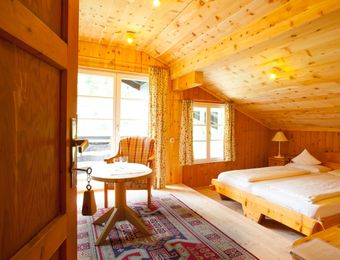 Family room garnde view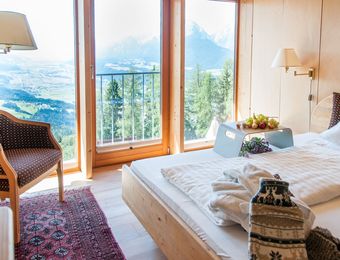 Single room panoramaview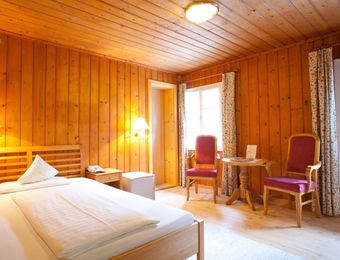 Single room garnde view
Review date 17. October 2021
Mein Mann und ich hatten die große Freude unsere Hochzeit dort feiern zu dürfen.<br />Der Platz für die Trauung und die Aussicht ist einmalig.<br />Das Essen war sehr lecker und die Zimmer sind sehr schön.<br />Wir waren mit dem Service überaus zufrieden und empfehlen diese Hochzeits-Lokation uneingeschränkt weiter.<br />Der Tag war für uns etwas ganz besonderes und wir hätten es uns nicht besser vorstellen können.
Review date 14. October 2021
Essen sehr gut und schönes Ambiente. Die Aussicht ist genial.
Review date 13. October 2021
Das Bio-Hotel Grafenast ist der perfekte Ort, um den Alltagsstress zu vergessen. Das Hotel liegt sehr ruhig inmitten der Natur. Der Ausblick auf das Inntal und die umliegenden Berge ist fantastisch.<br />Die Räumlichkeiten sind sehr urig und gemütlich, mit viel Liebe zum Detail. In unserem Zimmer mit Panoramablick haben wir nichts vermisst. Es bietet keinen durchgestylten 5 Sterne Luxus- Chic. Das muss es aber auch nicht. Das Design und die Ausstattung passen zum Hotelkonzept. Wir haben uns darin sehr wohl gefühlt. Die Außenanlagen sind weitläufig und sehr naturbelassen. Überall gibt es genügend, teilweise versteckte, Rückzugsort die zum verweilen und entspannen einladen. Man hat stets ausreichend Abstand zu anderen Gästen und somit seine Ruhe.<br />Der Wellnessbereich bietet mit verschieden Saunen und Bereichen zum Relaxen ein ausreichendes Angebot. Im Rahmen der Pandemie mussten wir unseren Slot im Vorfeld buchen. Dadurch war es nicht überfüllt und ausreichend Abstand zu den anderen Gästen war gegeben. Die Massage (nicht im Preis enthalten) war sehr professionell und wohltuend. Die Masseuse verstand ihr Handwerk.<br />Frühstück und Abendessen waren stets ein Genuss. Frisch, regional, gesund und lecker!<br />Aufgrund der ausgezeichneten Lage des Hotels lassen sich von hier auch wunderbar Wanderungen oder Radtouren unternehmen.<br />Das familiengeführte Hotel ist definitiv einen Besuch wert. Es bietet ein stimmiges Konzept und ist 100% authentisch. Wem die Natur, die Nachhaltigkeit, die Ruhe und die gesunde Lebensweise ein echtes Bedürfnis sind, der findet im Bio-Hotel Grafenast eine echte Oase. Man kommt an und fängt sofort an zu entschleunigen. Diesen Eindruck teilen wir mit zahlreichen anderen Gästen.
Review date 13. October 2021
Außergewöhnlich schöne Lage, die Aussicht auf das Inntal ist kaum zu toppen! Sehr liebevolles Bio-Hotel mit gemütlichen Ecken und Zimmern. Hatte ein sehr schönes Zimmer, in dem die Aussicht auch vom Bett zu genießen war - einfach fantastisch! Auch der Wellness-Bereich ist schmuck und sollte ausgenutzt werden. Das Personal ist freundlich und auch das Essen ist frisch und lecker.
Review date 11. October 2021
Wir haben wunderbare 4 Tage im Grafenast verbracht und würden am liebsten sofort zurück - toller, sehr persönlicher Service, jeden Tag eine besondere Abwechslung (Yoga, geführte Wanderung, Kamingeschichten), schöne Zimmer mit fantastischem Ausblick über das gesmate Inntal, gutes Essen
Review date 10. October 2021
In diesem stimmigen Hotel- Mikrokosmos mit seiner wohltuenden Atmosphäre, der wirklich wunderbaren Sauberkeit, derRuhe, der guten Küche und der insgesamt sehr wertigen Ausstattung kann ich mich immer wieder innerhalb kürzester Zeit wunderbar erholen. Wirklich empfehlenswert ist auch die im Haus angebotene Ayurveda-.Massage.<br />Für mich ist das Hotel Grafenast der perfekte Ort für meine Regeneration!
Review date 07. October 2021
Eine Oase in unserer hektischen Zeit!
Review date 02. October 2021
Relaxen pur
Review date 20. September 2021
Wunderschön gelegen in einem großen Garten, mit einem wunderschönen Blick ins Obere Inntal ist das familiengeführte Hotel Grafenast einzigartig. Man fühlt sich ein wenig wie in einem Museum mit tollem Wellnessbereich und einer leckeren, hauptsächlich vegetarischen Küche. Ohne Radio und TV, weit oben auf dem Pillberg erholt man sich von der Zivilisation. Alles in allem ein sehr schönes Erlebnis.
Review date 19. September 2021
Really enjoyed the stay here. The hotel is family owned and they are courteously taking care of your well-being. Cozy rooms stunning view, delicious high-quality food.
Review date 19. September 2021
Wir hatten eine wunderschöne Zeit hier im Hotel. In allem steckt unglaublich viel Mühe und liebe. Man fühlt sich gleich wie zuhause. Ich kann dieses Hotel sehr empfehlen. Die Gastgeber geben sind unglaublich authentisch und sehr fürsorglich.
Review date 18. September 2021
Wir waren hier mit einer Gruppe von 18 Personen das erste Mal zu Gast und kommen ganz bestimmt wieder! Dank der großartigen Unterstützung des ganzen Grafenast-Teams war es einfach, mich auf meine Tätigkeit als Gruppenleiterin zu konzentrieren. <br />Der Ausbilick ist unglaublich fantastisch, das Essen großartig und die Betreuung sehr persönlich. <br />Bis zum nächsten Mal!
Review date 17. September 2021
tolle Lage auf 1330 m Höhe gelegen mit traumhaften Blick über das Inntal bis Innsbruck. Traditionsreiche Geschichte über mehrere Generationen. Bietet Entspannung für Körper und Geist.
Review date 12. September 2021
Wir hatten eine sehr schöne Zeit bei Euch in den Sommerferien, vielen Dank für das leckere Essen, die schöne Aussicht und den tollen Service für die ganze Familie (wir sind zu als Familie mit einem 8jährigen unterwegs gewesen).
Review date 12. September 2021
Traumhaftes Hotel mit sehenswürdigem Balkon mit Fernsicht bis Innsbruck.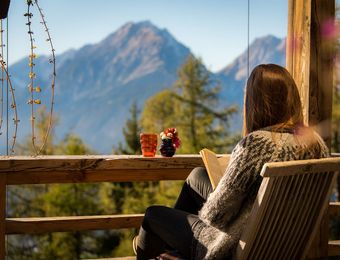 Taster days at the Biohotel Grafenast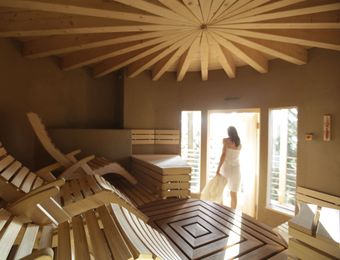 Midweek - Special 4 nights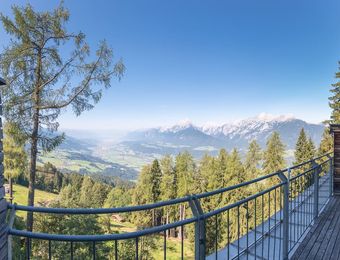 Midweek - Special 4 nights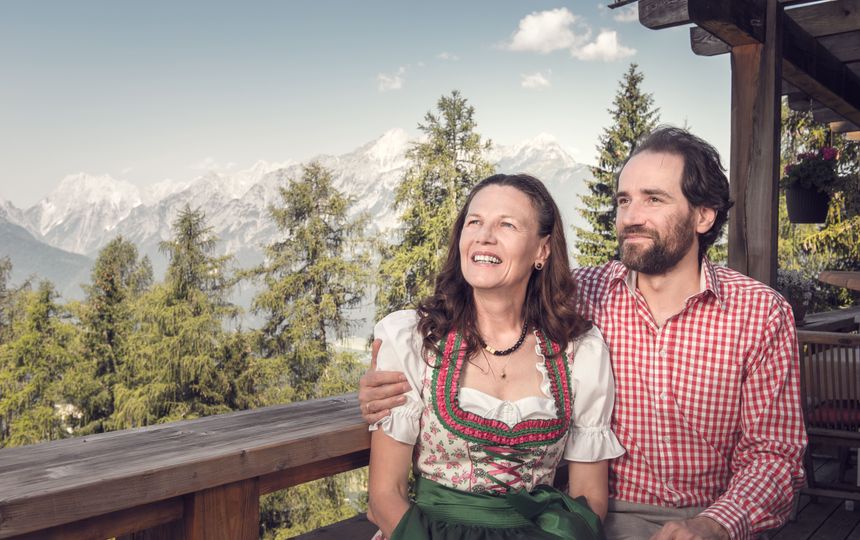 Hosts
The fourth generation with Waltraud and Peter Unterlechner now manages the fate of the total work of art Grafenast. Its combination of valuable substance and contemporary comfort convinces.
 
Pioneering spirit because the Grafenast is a grown family business. The founder, Toni Unterlechner, created as an alpinist and pioneer already in 1907 the foundation. The orientation as an organic hotel, introduced in the mid-80s by Marianne and Hansjörg Unterlechner (as the third generation), also proved this unbroken pioneering spirit.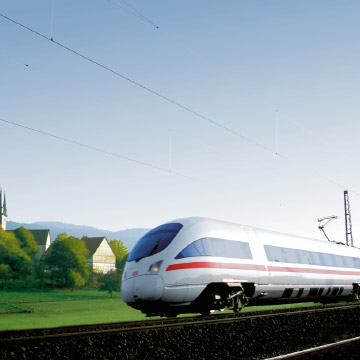 Arriving by train
© Deutsche Bahn AG / Gert Wagner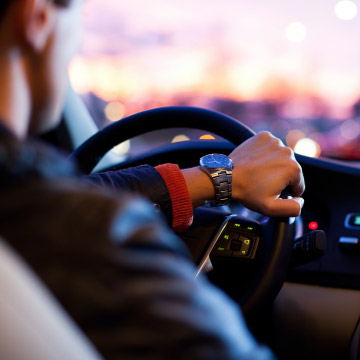 Get here by car