Highlights
Public Restaurant
Vegetarian menu
Vegan dishes
Allergy-free kitchen
Services around Organic cuisine
Vital kitchen
Whole food
Ayurvedic cuisine
Buffet meals
Menu selection
A la carte meals
Hotel bar
Highlights
Hotel with charging station for e-cars
Climate-neutral hotel
Services around Sustainability
Certified BIO HOTELS member since November 2001
Inspected by Austria Bio Garantie
4,01 kg Co2-equivalents/night
59,3 tons Co2-equivalents/year
Highlights
Nature hotel
Vacation with your dog
Hotel with limited wifi
Hotel for celebrations
Hotel for allergy sufferers
Electrosmog Reduced hotel
Fasting leave
Services around Vacation
Free WIFI
Non smoking hotel
Free parking
Pick-up service from train stations included
Summer sports activities such as hiking, cycling, golfing
Winter sports activities such as Skiing, tobogganing, snowshoeing
Fun for young and old:


The Grafenast offers a grandiose natural backdrop as well as a beautiful, familiar and unconventional atmosphere.
A great exercise area with a bouldering wall, play area and youth area is available.
In July and August there is a supervised children's program with lots of activities in nature.
In winter, the included children's ski course for four- to twelve-year-old kids will delight you.
From Sunday to Friday there is a 2-hour ski course at the family-friendly Kellerjoch ski area - only 150 m from the Grafenast!
Grafenast opens children's eyes to the wonders of nature.
They make new friends, go on a journey of discovery together and playfully experience the uniqueness of nature.
Highlights
Hotel with day spa
Hotel with swimming pool
Hotel with sauna
Hotel with gym
Hotel with yoga
Services around Romance
Special offers for couples in love
Romantic ambience in the room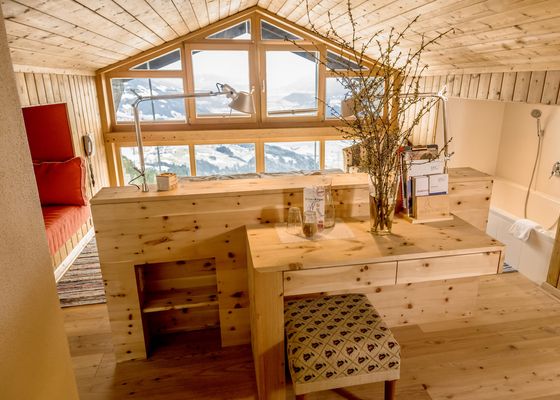 The hygiene concept in our hotel: 
Trained staff who is familiar with safety guidelines of local authorities
Staff wears masks and gloves where necessary
Disinfectants in rooms and public areas
Contactless (online) check-in possible
Distance rules are observed
Self-service buffet (gloves available for guests)
Visits to restaurants by prior arrangement only
Limited number of guests in the restaurant and in the wellness areas, etc.
Varying times for breakfast, lunch and dinner
Separate relaxation rooms
Special antiviral cleaning agents on an ecological basis
Comprehensive room cleaning by the staff
Guests can indicate that housekeeping is not desired
Comprehensive cleaning by specialized companies
Flexible cancellation terms
Safe-Service certified company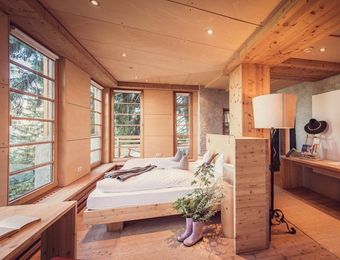 Atelier room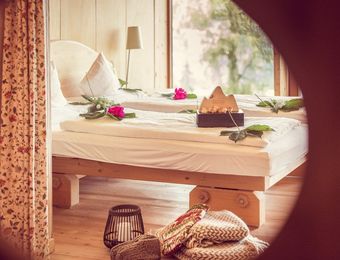 Doublebed room panoramaview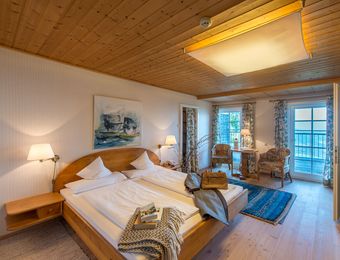 Doublebed room vally view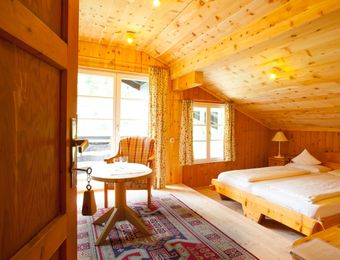 Family room garnde view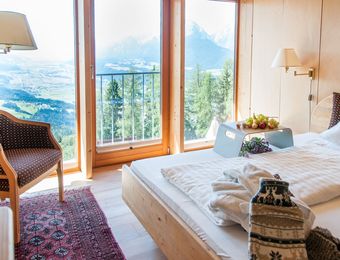 Single room panoramaview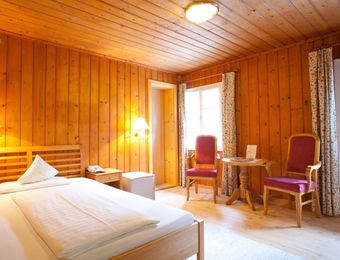 Single room garnde view
Review date 18. September 2021
Wir waren hier mit einer Gruppe von 18 Personen das erste Mal zu Gast und kommen ganz bestimmt wieder! Dank der großartigen Unterstützung des ganzen Grafenast-Teams war es einfach, mich auf meine Tätigkeit als Gruppenleiterin zu konzentrieren. <br />Der Ausbilick ist unglaublich fantastisch, das Essen großartig und die Betreuung sehr persönlich. <br />Bis zum nächsten Mal!
Review date 12. September 2021
Wir hatten eine sehr schöne Zeit bei Euch in den Sommerferien, vielen Dank für das leckere Essen, die schöne Aussicht und den tollen Service für die ganze Familie (wir sind zu als Familie mit einem 8jährigen unterwegs gewesen).
Review date 12. September 2021
Traumhaftes Hotel mit sehenswürdigem Balkon mit Fernsicht bis Innsbruck.
Review date 07. September 2021
Die Lage, das Essen, die Umgebung, das Zimmer, die Sauberkeit,....Jedenfalls mit einwandfrei zu bewerten. Ich empfehle das Hotel alleine Reisenden wie auch Paaren oder Gruppen.
Review date 05. September 2021
Wir konnten uns wunderbar erholen!Sehr freundliches, zuvorkommendes Personal. Erwachsene als auch Kinder sind willkommen.
Review date 30. August 2021
Grafenast ist ein liebevoll geführtes Haus, Tradition und moderne Elemente halten sich die Wage. Es gibt viele individuelle Rückzugsplätze an denen man Stille aber auch nette Gespräche finden kann.
Review date 29. August 2021
Das Gute zuerst: Die Lage und die Aussicht übers Inntal sind fast unschlagbar. Das Haus ist urig und sehr schön mit einem wunderschönen Garten und Außenschwimmbad. Der Saunabereich ist toll. Der Chef ist anfangs etwas zurückhaltend, im zweiten Anlauf aber sehr nett und hilfreich und zuvorkommend.<br /><br />Und nun die Begründungen für den Punkteabzug:<br />Der Service ist ziemlich holprig mit größtenteils ungelernten Kräften. Beim Gepäck wird kein Hilfe angeboten und nach unseren Handtüchern mussten wir dreimal nachfragen. Kerzen oder Tischlampen erhält man draußen nur nach Nachfragen. Geputzt wird wegen Corona nur alle zwei Tage, was in Ordnung wäre, wenn denn auch ordentlich geputzt würde. Dreckiges Geschirr wurde nicht aus dem Zimmer geräumt, kein Toilettenpapier nachgelegt, an der Wand sind eigenartige Putzstreifen, die Wandleuchte und ein Strahler im Bad waren defekt.<br />Die Chefin ist unberechenbar und meistens fehl am Platze, Gastfreundschaft scheint ihr recht fremd zu sein. Sie gibt je nach Laune patzige Antworten und reglementiert den Chef vor den Gästen. Die überall herumtobenden Kinder reglementiert sie jedoch nicht mehr, da sie keine Lust hat, sich mit den Eltern anzulegen.<br />Bei unserem Aufenthalt zeigte sich das Haus inklusive Garten und Schwimmbad eher als Kinderparadies. Die Kinder kletterten sogar über die Abtrennung in den Saunabereich und rannten da durch. Besonders der wahrscheinlich an fehlender Aufmerksamkeit leidende ca. 6-jährige Schlaumeier B., der gerade Pfeifen gelernt hatte und es jedem immer zeigen musste, war die Krönung und er zog leider die anderen Kinder mit sich. Die Mutter hingegen lebt unter einen großen und festsitzenden Kinderglocke, unter der sie außer B. nichts wahrnahm.<br />Wer hier Ruhe sucht, kann es schwer haben.<br /><br />Das Essen ist ok, aber nicht besonders. Das Frühstück war immer gleich und die Aufschnittplatte meistens leer, wenn man etwas später kam. Nachgelegt wurde nur auf Nachfrage und dann auch nur knapp, Instantkaffe aus dem Automaten. Man verzichtet auf Tomaten außerhalb der Erntezeit, aber man verwendet Kiwis und Ananas, komisch. Auf der Tageskarte steht jeden Tag, dass man den Mittagssnack abends auch als Zwischengang bekommen kann. Davon wusste niemand etwas und es hat auch nie geklappt.<br /><br />Und das Ganze für einen ziemlich hohen Preis, wenn man das mit anderen vergleichbaren Häusern und der erbrachten Leistung vergleicht.
Review date 29. August 2021
Rundum traumhaft schön! Seele baumeln lassen, wandern, Rad fahren, gut essen, gemütlich frühstücken, gute Laune um einen herum - alles perfekt!
Review date 24. August 2021
The room with valey view and terace was just perfect. Meals were excellent, big choice and plenty of food. We enjoyed the outdoor swimming pool. And the surrounding paths and nature are really great. Another big plus is no mosquitos!
Review date 21. August 2021
Wir haben 5 wunderbare Tage gehabt und haben einfach alles genossen:<br />Die traumhaft schöne Lage mit Blick ins Tal und Weitsicht bis Innsbruck, den kuscheligen Saunabereich, das Leckere Essen, den schönen Garten, die nette, familiäre Atmosphäre und vor allem die tolle Umgebung.
Review date 12. August 2021
Schöne Lage und tolle Aussicht über das Inntal. Das Abendessen war sehr "gewöhnungsbedürftig", ebenso der Preis dafür. Der Weiße Spritzer war nicht als solcher identifizierbar. Verrechnet wurde dann auch noch "energetisiertes Wasser" das wir nicht bestellt hatten. Im Zimmer hingen Spinnweben von der Decke, das Zimmer wurde während unseres Aufenthaltes nicht aufgeräumt, die Betten nicht gemacht......
Review date 09. August 2021
Es ist einfach wunderschön! Wir möchten wiederkommen!!! Die Zeit hier werde ich niemals vergessen. Danke für alles!
Review date 01. August 2021
Tolles Hotel in erstklassiger Lage mit sehr guter (veganer) Küche. Sehr schöne Zimmer, familiäre Atmosphäre und sehr guter Service.
Review date 29. July 2021
Tolles Biohotel, in dem Bio gelebt wird. Etwas in die Jahre gekommen, aber absolut liebenswürdig gestaltet. Essen sehr gut und ausreichend. Personal sehr freundlich und hilfsbereit. Für Kinder ein Paradies. Ruhesuchende ältere Gäste haben evtl. ein Geräuschproblem. Die Aussicht auf das Inntal ist Atemberaubend. Fazit 4 von 5 Sternen.
Review date 20. July 2021
Wohlfühlatmosphäre vom ersten bis zum letzten Moment. War im Grafenast um an einem Yoga Wochenende teilzunehme und hätte mir keinen besseren Ort dafür vorstellen können.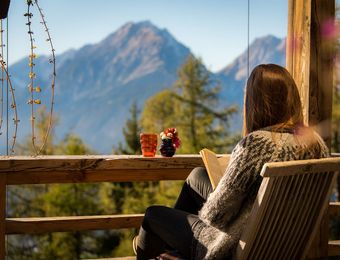 Taster days at the Biohotel Grafenast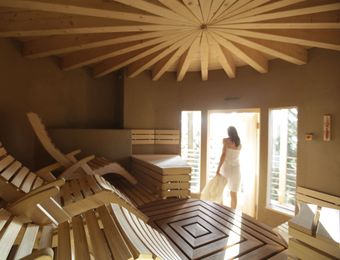 Midweek - Special 4 nights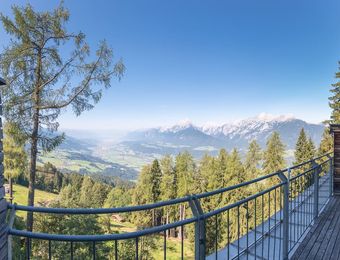 Midweek - Special 4 nights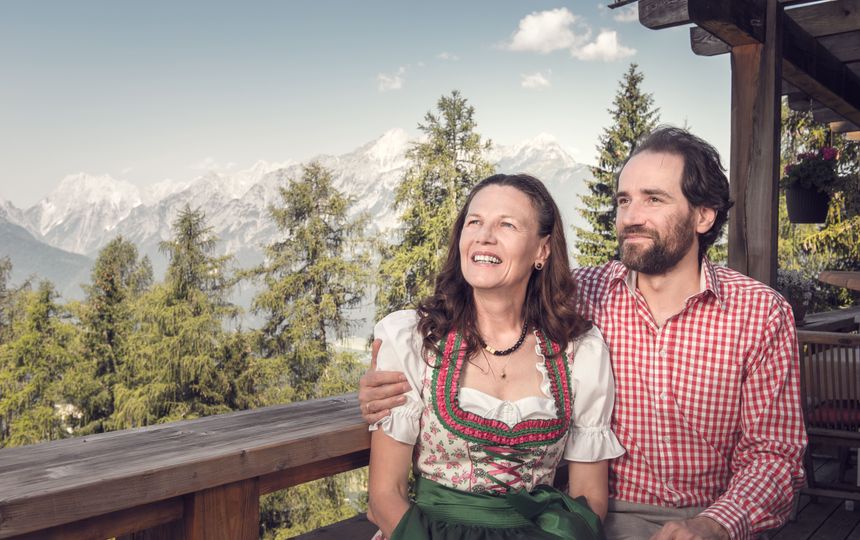 Hosts
The fourth generation with Waltraud and Peter Unterlechner now manages the fate of the total work of art Grafenast. Its combination of valuable substance and contemporary comfort convinces.
 
Pioneering spirit because the Grafenast is a grown family business. The founder, Toni Unterlechner, created as an alpinist and pioneer already in 1907 the foundation. The orientation as an organic hotel, introduced in the mid-80s by Marianne and Hansjörg Unterlechner (as the third generation), also proved this unbroken pioneering spirit.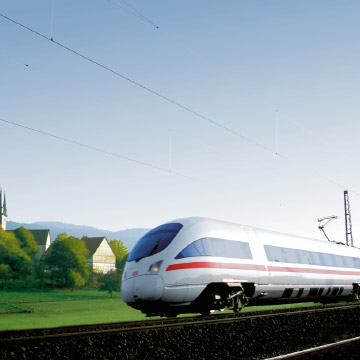 Arriving by train
© Deutsche Bahn AG / Gert Wagner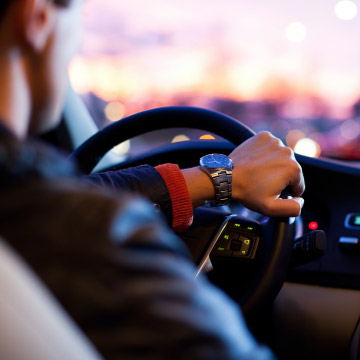 Get here by car