Highlights
Public Restaurant
Vegetarian menu
Vegan dishes
Allergy-free kitchen
Services around Organic cuisine
Award-winning cuisine
A la carte meals
Services around Sustainability
Certified BIO HOTELS member since June 2004
Organically built building
Public interest company
Inspected by ABCERT
23,8 kg CO2e/night
79 tons CO2e/year
Highlights
Nature hotel
Vacation with your dog
Hotel with sauna
Hotel for allergy sufferers
Services around Vacation
Free WIFI
Non smoking hotel
Free parking
Pick-up service from train stations included
Summer sports activities such as hiking, cycling, golfing
Winter sports activities such as Skiing, tobogganing, snowshoeing
Services around Green Meetings
Meeting room with daylight
Conference equipment
Modern conference technology
Sustainable & recyclable conference materials
Network technology
Break area
Catering / brain food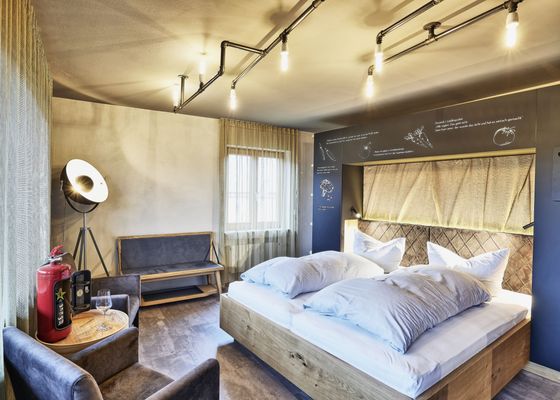 The hygiene concept in our hotel: 
Trained staff who is familiar with safety guidelines of local authorities
Staff wears masks and gloves where necessary
Disinfectants in rooms and public areas
Distance rules are observed
Self-service buffet (gloves available for guests)
Visits to restaurants by prior arrangement only
Limited number of guests in the restaurant and in the wellness areas, etc.
Comprehensive room cleaning by the staff
Room Service
Flexible cancellation terms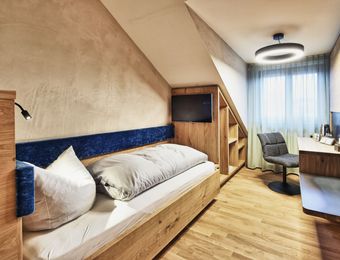 Single room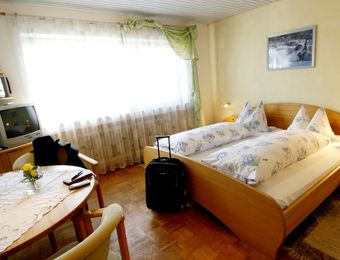 Standard room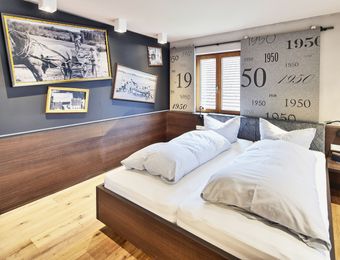 Junior suite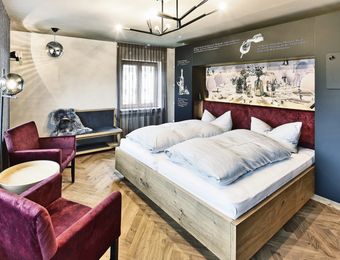 Themed room
Review date 14. May 2022
Sehr gut. Hat alles gepasst
Review date 11. May 2022
Es war eine sehr schöne Unterkunft mit einem individuell liebevoll eingerichteten Zimmer. Es war ein ruhiges Zimmer, das sehr sauber war. Das Frühstück war Extraklasse!!!! Das Personal sehr freundlich und zuvorkommend.
Review date 08. May 2022
Wir sind oft daran vorbei gefahren. Aber dank kitchen impossible wollte ich unbedingt mal hin. Essen und Konzept ist super. Atmosphäre stilvoll und familiär. Für das Konzept überraschend nicht teuer. Und sehr hundefreundlich. Wir kommen sicher wieder!
Review date 08. May 2022
Das Biofrühstück ist vielfältig und sehr lecker. Das Zimmer (Nr. 2) ist phantasievoll eingerichtet und sehr, sehr ruhig.
Review date 26. April 2022
Ein Restaurant wo der Gast im Mittelpunkt steht.
Review date 25. April 2022
Abendessen 4 Personen am 22.04.22, alle Gänge und Speisen waren sehr lecker, der Service unfassbar freundlich und aufmerksam, besser geht es nicht. Höheres Preisniveau aber dafür aussergewöhnlich, wir kommen gerne wieder
Review date 09. April 2022
Essen und Service top. Jederzeit<br />wieder
Review date 14. March 2022
Das Wichtigste zuerst: das Essen und auch die Getränke wie z.B. die selbstgemachten Limonaden sind super lecker und die Teller grandios angerichtet!<br /><br />Alle Gerichte sind vegetarisch und Fleisch ist als Beilage optional dazu zu bestellen. Absolut zeitgemäß und sinnhaft!<br /><br />Bei einer konsequenten, ausschließlichen Verarbeitung von Bioland und Demeter Produkten ist das Preis-Leistungsverhältnis absolut angemessen.<br /><br />Das Servicepersonal ist v.a. im Umgang mit Kindern klasse, freundlich und unkompliziert.<br /><br />Einziger Wermutstropfen ist leider der Espresso zum Abschluss, der als Standard-Vollautomatenprodukt im Vergleich zum vorangegangenen Niveau abfällt. Streicht ihn lieber von der Karte und serviert einen "normalen" Kaffee auf dem sonst von euch gewohnten Topp-Niveau. ;-)
Review date 13. March 2022
Unfassbar leckeres Essen !
Review date 28. February 2022
Die Lage des Hotels war sehr gut und sehr ruhig. Das Abendessen im gegenüberliegendem Restaurant war gut, der Service sehr gut. Bis auf die Frühstückssituation sehr angenehm.
Review date 24. February 2022
Das Essen insbesondere die Dreierlei kleinen Suppen waren sehr lecker. Die Idee vegetarische Menüs mit optionalen Fleischgericht zu kombinieren empfanden wir als sehr interessante, betriebswirtschaftlich stimmige Idee, so hat Jeder was davon.<br /><br />Zum Service können wir nur festhalten das wir hier besseres gewohnt sind und auch maßgeblich dazu beigetragen hat, dass unsere Meinung getrübt wurde.<br /><br />Problemfelder:<br />- Anfangs als kaum Gäste anwesend waren, war die Service Qualität gut. Mit zunehmender Anzahl machte sich Vergessenheit und Überforderung bemerkbar<br />- Unser kleiner Tisch stand längere Zeit komplett mit dreckigem Geschirr voll<br />- Der Blick für leere Gläser gabs hier auch, es dauert eine halbe Ewigkeit bis da mal was kommt<br />- Körnerbrot konnte nicht gegessen werden und man wollte sich um Ersatz bemühen. Nachdem unsere Vorspeise kam wurde erst nach Reklamation alternatives Brot gebracht<br />- einheitliches Kellner Outfit oder Kleiderordnung gabs hier nicht? Zum Glück kamen wir in Casual sonst wären wir noch overdressed gewesen.<br />- Fast Jeder Kommentar wurde durch unseren Kellner mit haha und auf die Art "Witz komm Teufel komm raus kommentiert"....Fand ich einfach nur nervig<br />- nachdem ein langsam getrunkenes und volles Hefeweizen getrunken wurde und das Dessert immer noch in weiter Ferne war sind wir aufgebrochen.<br /><br />Bei der Bezahlung erfuhren wir das sie kein Schnellrestaurant sind und 3h einkalkuliert werden müssen, aufgrund ihrer komplexen Anrichtung / Zubereitung. Schade wäre für uns im Vorfeld eine interessante Information gewesen. Die Argumentation fand ich nicht stichhaltig, hatte schon schönere Teller z. B. in Hamburg erhalten.<br /><br />Kurz gesagt:<br />kulinarisch in dieser Gegend gut bis sehr gut, mit Schwächen in der Servicequalität
Review date 23. February 2022
Ein unbeschreiblich gutes und durchdachtes Essen sowie ein glaubwürdiges und authentisches Nachhaltigkeitskonzept, haben uns im Restaurant Rose beeindruckt.<br />Das Überraschungsmenü war ein fabelhaftes Geschenk und wurde wunderbar umgesetzt. Die Weinempfehlung zum Essen war außerdem sehr gut.<br />Wir kommen gerne wieder!
Review date 20. February 2022
Ein tolles Restaurant und das Essen war sehr gut kann ich nur weiterempfehlen! 5 von 5 Sterne ️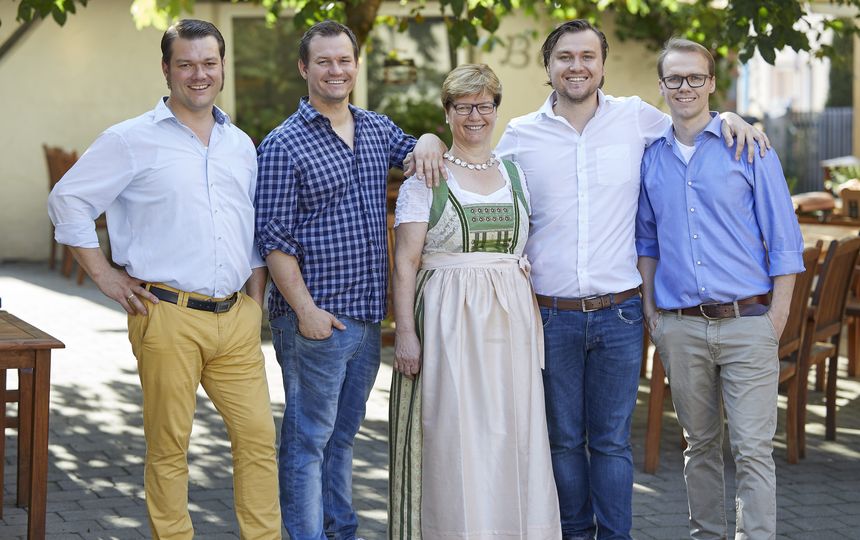 Hosts
Acting and living in harmony with our fellow human beings and nature is our top priority. We are not perfect, but we work consistently and passionated every day to operate in an even more sustainable and climate-friendly way. For this purpose, we have developed our own ROSE principle. Basically, we stand for 100% organic and 100% sustainability.
 
The slogan of the Tress family is: Together for human and nature.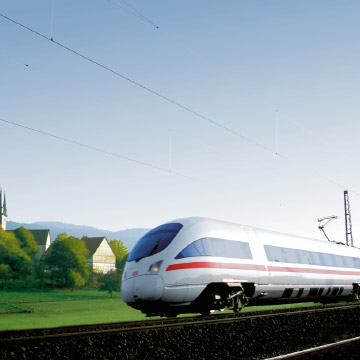 Arriving by train
© Deutsche Bahn AG / Gert Wagner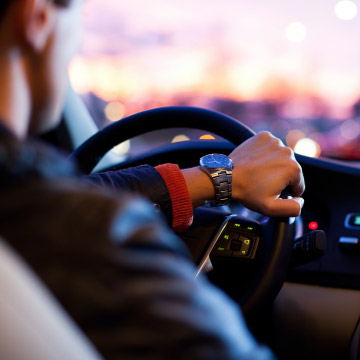 Get here by car