Highlights
Restaurant for hotel guests
Vegetarian menu
Vegan dishes
Allergy-free kitchen
Services around Organic cuisine
Vital kitchen
Whole food
Menu selection
Hotel bar
Services around Sustainability
Certified BIO HOTELS member since December 2014
Environmentally friendly and self-sufficient energy concept
Inspected by ABCERT
Highlights
Nature hotel
Vacation with your dog
Hotel with limited wifi
Vacation with animals
Hotel with swimming pool
Services around Vacation
Holidays on a Farm
Free WIFI
Non smoking hotel
Free parking
Pick-up service from train stations included
Summer sports activities such as hiking, cycling, golfing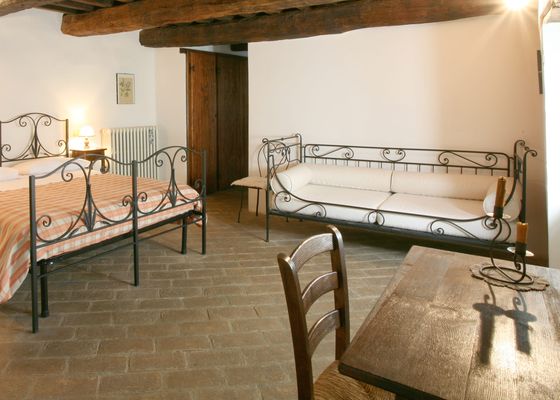 The hygiene concept in our hotel: 
Trained staff who is familiar with safety guidelines of local authorities
Staff wears masks and gloves where necessary
Disinfectants in rooms and public areas
Distance rules are observed
Buffet with service
Visits to restaurants by prior arrangement only
Limited number of guests in the restaurant and in the wellness areas, etc.
Special antiviral cleaning agents on an ecological basis
Comprehensive room cleaning by the staff
Guests can indicate that housekeeping is not desired
Flexible cancellation terms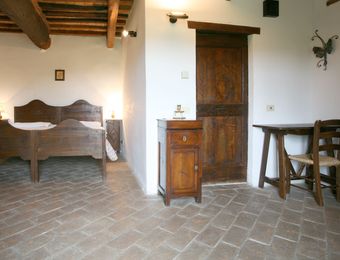 Double Room "Ulme"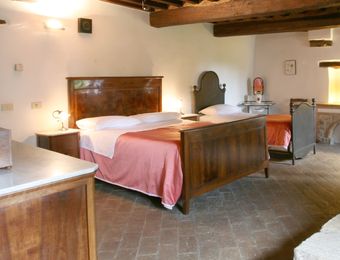 Multi-Bed Room "Feldahorn"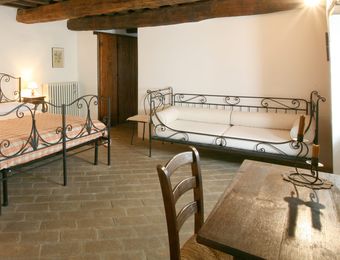 Multi-Bed Room "Flaumeiche"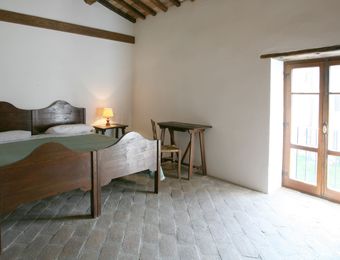 Double Room "Manna-Esche"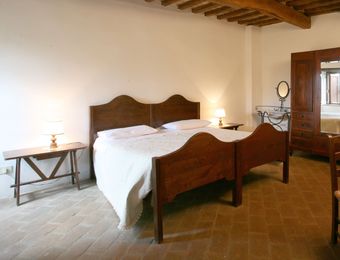 Double Room "Hopfenbuche"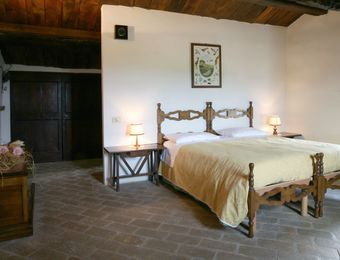 Mulit-Bed Room "The Italian Maple"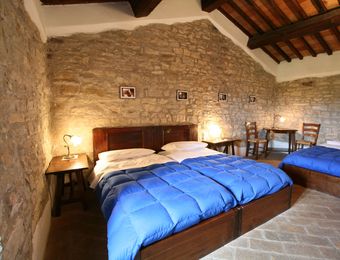 Multi-Bed Room "Wild Service Tree"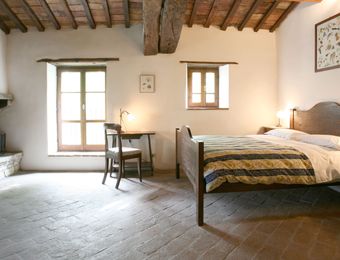 Double Room "Turkey Oak"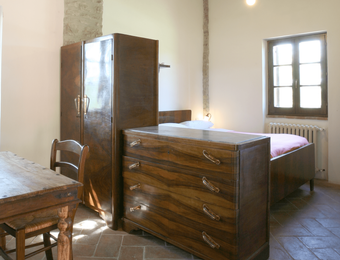 Double Room "Weide"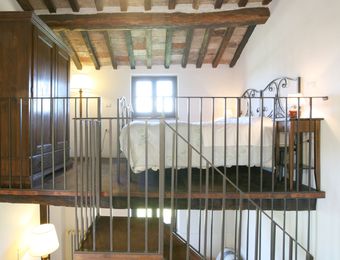 Multi-Bed Room "Pappel"
Review date 11. December 2022
Agriturismo immerso nella campagna umbra. Bella atmosfera. Ottima accoglienza dei titolari. Lo consiglio vivamente.
Review date 30. October 2022
Posto incantevole, cucina e ricette prelibate, assolutamente da vivere. Consigliato
Review date 04. September 2022
Immersi totalmente nella pace e nella natura. Sentire il rumore delle foglie di quercia, i canti dei grilli la sera, e avere sopra la testa il cielo stellato. I miei anni più felici, le mie vacanze più belle, trascorse da bambina, in questo modo. Libera e felice
Review date 26. August 2022
Agriturismo a conduzione familiare adatto alle famiglie. Si possono vedere gli animali della fattoria (maiali, pecore, capre, oche, anatre, ciuchino che scorrazza libero) e c'è anche un maneggio con cavalli adatti a principianti e passeggiate in campagna. Non ci sono pony però, i bambini possono montare dai 6 anni in su. La cucina è ottima, con pasta fatta in casa e prodotti a km 0.
Review date 19. August 2022
Siamo alla nostra seconda volta a la Cerqua e siamo stati ancora meglio della prima! Colazioni buonissime con le loro marmellate e torte; piscina praticamente completamente a nostra disposizione fino a dopo pranzo; paesini come Gubbio, Pietralunga, Montone, Città di Castello da visitare la sera; e la notte addormentarsi al suono delle cicale!
Review date 15. August 2022
In realtà abbiamo soggiornato presso la balucca che fa parte dell'agriturismo. 4 giorni totalmente immersi nella natura con la possibilità di fare diverse attività come indicato nel sito oltre a poter far visita agli animali della fattoria didattica. La gestione è totalmente familiare e non a caso, ci si sente coccolati e accuditi come se si fosse a casa, ottima cucina e ottima colazione. Un luogo frequentato da turisti di tutta Italia dalla Sicilia al Friuli nonché da turisti esteri. Un luogo dove si vive con i ritmi di un tempo e dove si può socializzare con gli altri turisti grazie ai luoghi di utilizzo comune e alle attività collettive. Promossi a pieni voti !
Review date 12. August 2022
l posto è veramente magico non ho parole da descrivere un posto così bello… io voterei di più perché non si dovrebbe perdere un posto super magico
Review date 07. August 2022
Posto molto suggestivo e personale davvero gentile. Possibilità di tirare con l'arco, fare equitazione o rilassarsi in piscina. Purtroppo questo caldo cattivo impedisce di godersi davvero le cose. Le passeggiate sono difficoltose a causa del caldo, praticamente più o meno dalle 10.00 alle 19.00 si può stare solo in piscina. Anche le camere sono calde, nonostante delle moderni pale che spostano l'aria ma che purtroppo non bastano, purtroppo ci vogliono i condizionatori. Alternativa è dormire con le finestre aperte ma così entra la luce. Mi è piaciuto il giardino del mago (dedicato ai grandi Banco del Mutuo Soccorso) ma è ormai in rovina, idem il laghetto, potrebbero essere valorizzato in qualche modo, anche perché Da quelle parti il caldo è meno intenso. Da un punto di vista gastronomico il cibo è eccellente, tutto buonissimo, idem per la colazione e le bevande. Prezzi giusti. Ci tornerei ma meglio evitare i mesi ormai infernali di luglio e agosto. Paesaggi bellissimi.
Review date 11. July 2022
Posto incantevole immerso nel verde, cena meravigliosa con un rapporto qualità/prezzo strepitoso! E proprietari gentili e simpatici…Assolutamente da provare!
Review date 27. June 2022
We stayed for one night during our pelgrims journey. We had a great stay! All the food was homemade and organic, and even vegetarian on request. It tasted fantastic. The family Martinelli was very kind. Grazie mille!
Review date 20. June 2022
Sehr liebevoll renovierte Anlage inmitten herrlicher Natur. Tolle Gastgeber und absolut geniale Küche. Einfach perfekt, sowohl die Räumlichkeiten als auch der Gartenbereich mit eigenem Bio Anbau sowie der Pool. Paradies auf Erden. Jederzeit gerne wieder :))
Review date 12. June 2022
Luogo paradisiaco ottimamente curato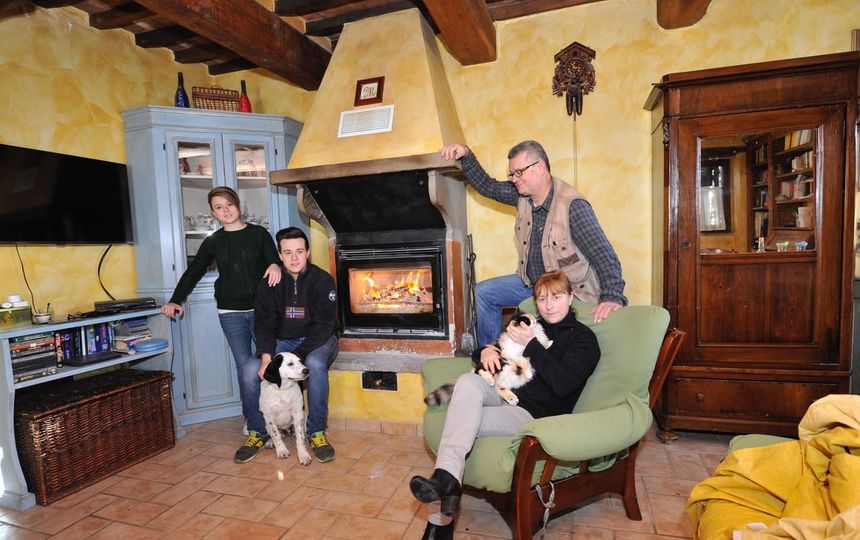 Hosts
At the BIO HOTEL La Cerqua you are welcomed by organic hotelier Gino with his wife and children. Gino started in the hospitality business 30 years ago and is already integrating the new generation into the family business.
 
The family attaches great importance to healthy naturalness and organic farming. Gino likes to accompany guests to the neighboring forests to introduce them to his homeland and its culture.
 
Get to know these extraordinary hosts and enjoy sustainable vacations of a very special kind!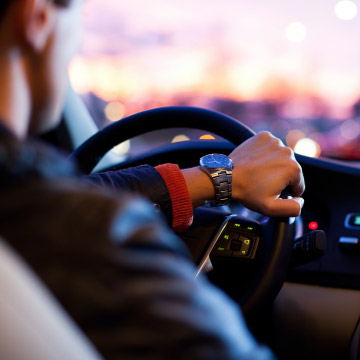 Get here by car