Highlights
Public Restaurant
Vegetarian menu
Vegan dishes
Services around Organic cuisine
Vital kitchen
Whole food
Menu selection
A la carte meals
Hotel bar
Highlights
Hotel with charging station for e-cars
Climate-positive hotel
Services around Sustainability
Certified BIO HOTELS member since September 2020
Public interest company
Environmentally friendly and self-sufficient energy concept
60 tons Co2-equivalents/year
Highlights
Vacation with your dog
Hotel for celebrations
Services around Vacation
Elevator
Free WIFI
Non smoking hotel
Free parking
Pick-up service from train stations included
Summer sports activities such as hiking, cycling, golfing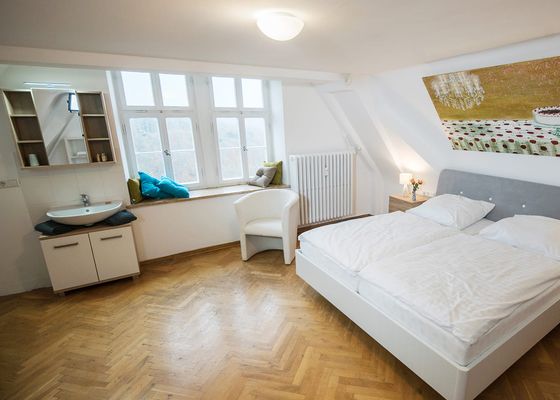 Sustainable hotel experiences:

Hikers and cyclists get their worth in Hohenlohe. Many of our guests come to us on the Kocher-Jagst cycle path, the Kocher-Jagst trail or the Way of St. James. But in the Hohenlohe region you can also discover a number of cultural treasures, such as castles and monasteries. The Biohotel Schloss Kirchberg can become your starting point for a medieval city tour to Schwäbisch Hall, Dinkelsbühl or Rothenburg ob der Tauber. Especially in Schwäbisch Hall, top-class museums, such as the Kunsthalle Würth or the Freilandmuseum Wackershofen, are waiting for a visit.

We also have a lot to offer you indoors. For example, discover our new Ayurveda spa center. Here, the Indian culture and healing art is authentically lived and offered. Whether Panchakarma cure, Ayurveda massages or Yoga - our Indian Ayurveda doctors and therapists will inspire you with the entire spectrum of Indian healing art. We also offer active weekends, for example with yoga and Nordic walking. Another focus are seminars in the field of resilience strengthening and stress reduction. You will also find cooking courses and enjoyment tours regularly on offer.
Services around Romance
Special offers for couples in love
Services around Green Meetings
Meeting room with daylight
Conference equipment
Modern conference technology
Sustainable & recyclable conference materials
Network technology
Break area
Catering / brain food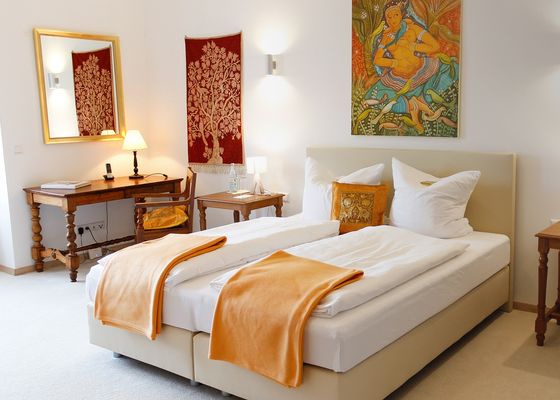 The hygiene concept in our hotel: 
Trained staff who is familiar with safety guidelines of local authorities
Staff wears masks and gloves where necessary
Disinfectants in rooms and public areas
Distance rules are observed
Limited number of guests in the restaurant and in the wellness areas, etc.
Varying times for breakfast, lunch and dinner
Special antiviral cleaning agents on an ecological basis
Comprehensive room cleaning by the staff
Guests can indicate that housekeeping is not desired
Room Service
Flexible cancellation terms
Self-tests available, on request test station by trained staff (for a fee)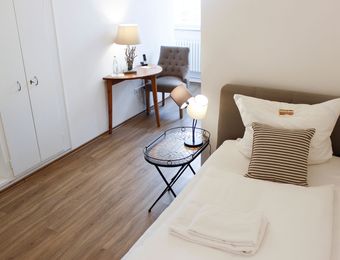 Single room comfort with bathroom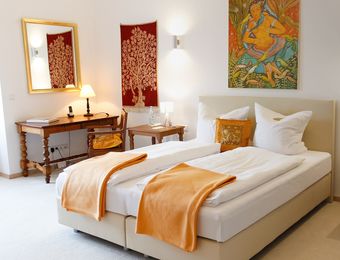 Double room comfort with bathroom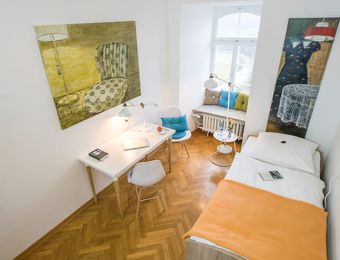 Standard single room with bathroom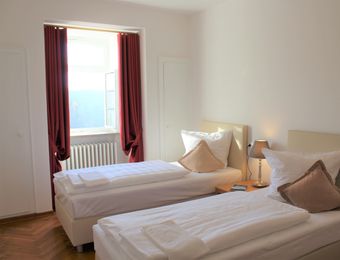 Double room twin with bathroom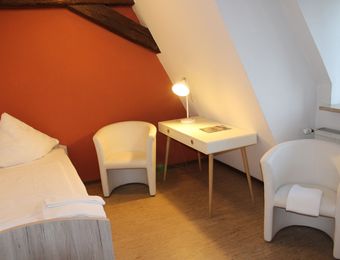 Double / multi-bed room with shared bathroom
Review date 12. January 2022
Sehr schöne Anlage
Review date 09. January 2022
Wir waren im Schloss Konzert, tolles Ambiente und Akustik.
Review date 08. January 2022
Ich war auf einem Yoga Retreat in dem Schlosshotel Kirchberg. Das Zimmer war sauber, das Personal sehr freundlich und das Essen sehr lecker. Toll war auch die vegane Essensauswahl und wie auf Lebensmittelunverträglichkeiten Rücksicht genommen wurde.
Review date 03. January 2022
Die Lage ist traumhaft, das Schlösschen bezaubernd und das Essen war ganz wunderbar.
Review date 03. January 2022
Nachhaltigkeit und Gastlichkeit werden dort groß geschrieben. Das Personal tut alles, damit die Gäste sich wohl fühlen. Das Essen ist lecker, die Lage des Hotels einmal, inmitten einer einladenden Landschaft. Mit im Angebot: Yoga und Ayurveda!
Review date 11. December 2021
Einfach sehr schön - Einfach Heimat! Immer ein Besuch wert.
Review date 05. December 2021
Schon bei der Planung des Wochenendes wurden wir vom Hotelmanagement super unterstützt.<br />Das Wochenende im Schlosshotel selber war dann der Hit. Besser hätte es nicht sein können. <br />Zimmer perfekt, Verpflegung optimal. Die Küche ging auf all unsere Wünsche ein. Super!<br />Das Personal freundlich, hilfsbereit und zuvorkommend. (Ganz herzlichen Dank!!!!!!!!!!!)<br />Es stimmte alles. <br />Wir werden gerne wieder kommen.
Review date 04. December 2021
Centro culturale bellissimo
Review date 27. November 2021
Alles wirklich bestens!! (Sieht oben) Besonders toll: ich hatte nicht angegeben, dass ich Veganer bin. Ich war auf einer privaten Fortbildung, wo es keine wirkliche Verpflegung gab. Ich frage, ob ich mir evtl einen Apfel mitnehmen dürfte. Dabei merkte die Dame, dass ich vegan lebe und stellte direkt mein Frühstück für den kommenden Tag um und bei Abendessen wurde vom Hotel aus gefragt, wer Veganer ist und mir wurden direkt Alternativen Angeboten. Ich gebe das normalerweise nicht an, weil in meinen Augen ein Hotel nicht so viele Extras permanent da haben muss (und wäre mit einem Brötchen, Obst und Gemüse morgens total glücklich). Deshalb hat es mich um so mehr gefreut, dass das Hotel mir so schöne Alternativen geben hat. Vielen Dank!!
Review date 06. November 2021
schöne lage.. auf dem berg.
Review date 01. November 2021
Wunderschöner Blick vom Zimmer, gut geschlafen.
Review date 01. November 2021
Trotz des sehr günstigen Preises ist das Zimmer sehr gut.
Review date 01. November 2021
Das Schloss und die Altstadt sind wirklich sehenswert. Der ausgewiesene Rundwanderweg um das Schloss wirkt ungepflegt. ( zu bedenken ist natürlich das es Herbst ist) deshalb trotzdem 4 Sterne. Im Schlosskaffee war nur eine Servicekraft vorhanden die alles alleine machen musste. Die Preise sind voll in Ordnung. Leider haben wir 1x nicht den bestellten Kuchen bekommen sondern einen anderen und als wir bezahlen wollten mussten wir fast 20 Minuten warten. Für das Kaffee würde ich nur 2 Sterne vergeben und keine Besuchsempfehlung aussprechen.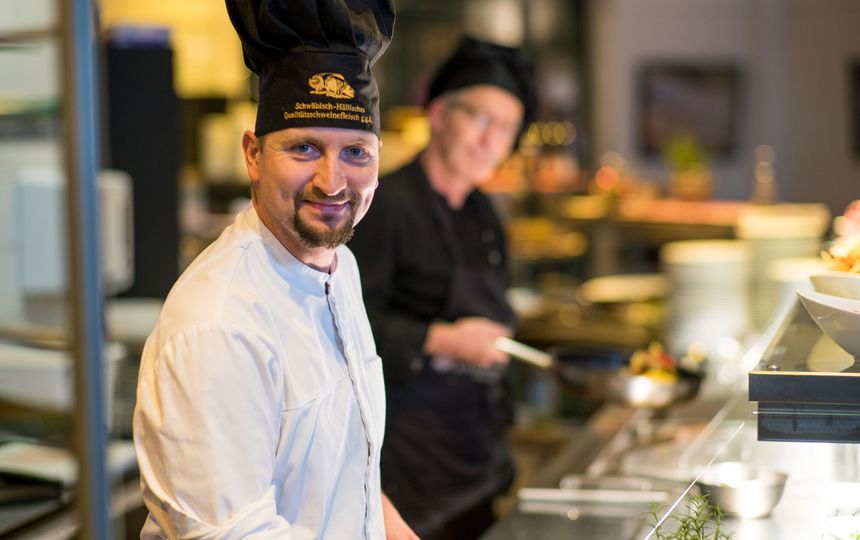 Hosts
"We want to be a place of power for people who support our striving for sustainability and mindfulness" explains Maximilian Korschinsky, host and head chef. We have our roots in the Schwäbisch Haller Foundation "House of Farmers", which is committed to freedom, cultural self-determination and social justice for the peasant and rural population in the Hohenlohe region, in Europe and beyond. We are committed to these values in our actions for our guests.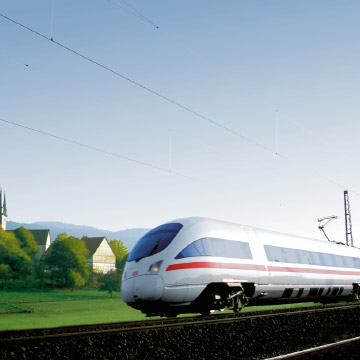 Arriving by train
© Deutsche Bahn AG / Gert Wagner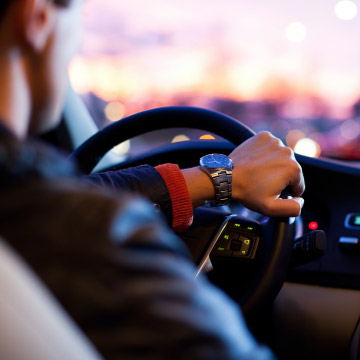 Get here by car