Services around Organic cuisine
Restaurant for hotel guests
Vegetarian menu
Vegan dishes
Allergy-free kitchen & intolerances
Diet kitchen
Menu selection
Buffet meals
A la carte meals
Vital kitchen
Hotel bar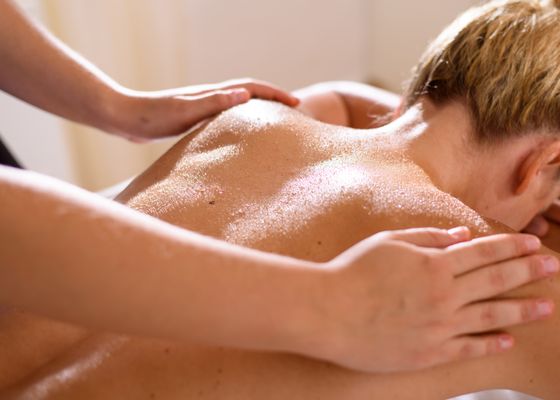 100% certified: 

You can enjoy our organic late riser breakfast buffet from 7:00 am to 11:00. Numerous delicacies await you there. The lunch buffet with soup and salads is available from 12:30 to 14:00. In the evening we will spoil you with a 4-course menu. We await you in our restaurant between 5:30 pm and 8:30 pm. For the main courses you can choose between meat, fish, a vegetarian and a vegan dish every day. Please let us know if you have any intolerances or wishes when you make your booking.
Services around Sustainability
Hotel with charging station for e-cars
Certified BIO HOTELS member since July 2004
Inspected by ABCERT
Climate balanced hotel
12.5 kg CO2e/night
140,6 tons CO2e/year
Resource-saving building biology
Environmentally energy concept
Public interest company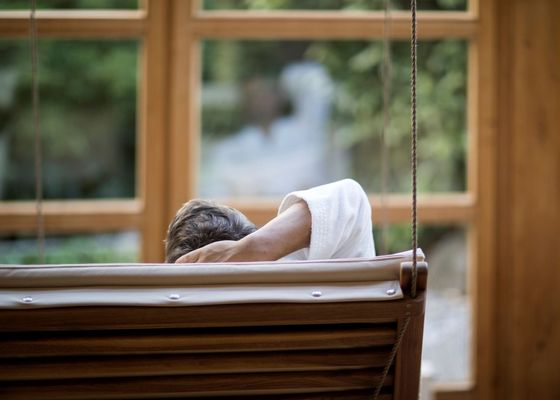 Our contribution to the future:

For two decades now, we have been committed to a conscious lifestyle. This commitment connects all companies of the St. Leonhards businesses (St. Leonhards Hotels, St. Georg Natural Dairy, St. Leonhards Agriculture, St. Leonhards Academy, St. Leonhards Cosmetics and the St. Leonhards Foundation). Respectful treatment of nature and beneficial simplicity of the products have been prerequisites for our family business with its holistic, sustainable, regional, social and ethical orientation from the very beginning. But one thing is important to us above all: your health as our most valuable asset.
HolidayA retreat in the mountains. An oasis in the middle of the city. A refuge by the sea. As different as these destinations are, they share one similarity: the warmth with which hotel staff interacts with you the guests. Anyone seeking for a warm and relaxed atmosphere is welcome at the BIO HOTELS.You can expect the following:A fine cuisine with no compromises on the quality of food and beverages – BIO HOTELS stand for 100 % organic products and 100 % responsibility. Lots of freetime activities. A healthy indoor climate which allows for well-being and relaxation. Encounters with inspiring individuals.
Elevator
Free WIFI
Non smoking hotel
Free parking
Pick-up service from train stations included
Summer sports activities such as hiking, cycling, golfing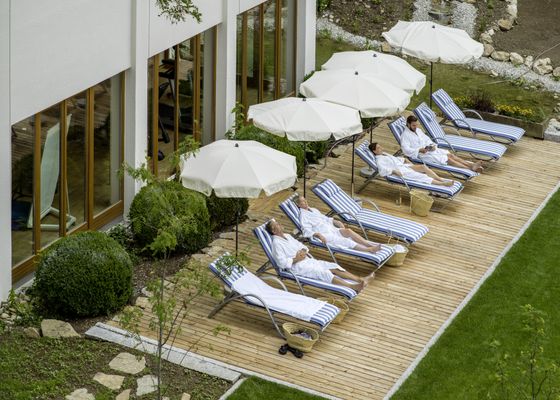 Sustainable hotel experiences:

The variety of possibilities is almost limitless in Bad Füssing and the surrounding area. In addition to the daily fitness or relaxation sessions at the Falkenhof, a wide variety of activities and cultural programmes are also offered in the region. Relaxing and exciting excursions by bike, hiking along the idyllic river landscape, enjoying tee-offs at the golf course, getting out into nature and simply walking right away from the hotel. Furthermore, with your spa card, which you receive upon arrival, you can also take part in numerous interesting events in the village.
Wellness:A delicious extensive breakfast.  A walk over meadows and along green lanes. Sweat bathing in the sauna and a jump in the pond. Our BIO HOTELS wellness specialists invite you to take a breath and relax. 100 % certified and natural cosmetic products is a must-have. Furthermore, resource-saving operation is a quintessential providing you with relaxation on a whole new level of environmental certainty.You can expect the following:Hours of bathing joy in luxurious swimming pools and ponds. A great variety of saunas and steam baths. A nice offering of certified natural cosmetics. Fitness, Yoga, and meditation rooms. Massages, energetic treatments, revitalizations, and many other beauty applications. A well trained and qualified staff.
Hotel with swimming pool
Indoor swimming pool
Outdoor pool
In-house thermal bath
Hotel with sauna
Infrared cabin
Hotel with day spa
Hotel with gym
Hotel with yoga
Massage offers
Cosmetic treatments
Energetic treatments
Ayurvedic treatments
Relaxation area
Feel-good garden
HealthA wholesome breakfast. An appointment with health-care specialists. Mud baths or crystal saunas. A healthy and delicious dinner.Our BIO HOTELS health specialists trust in the power of nature and support you in achieving a sustainable and healthy life balance. All with the help of well trained and qualified therapists and acknowledged specialist staff members.You can expect the following:Individual consulting through verified health-care staff. A great variety of applications and therapeutic offerings from different natural medicine fields (massages, lymphagic drainage, kneipp fonts, kinesiology, etc.). Health checks. Nutritional advice. Delicious diet cuisine.
Alkaline fasting hotel
Medical Wellness
Hotel for allergy sufferers
Therapist in house
Naturopaths in house
Medical treatments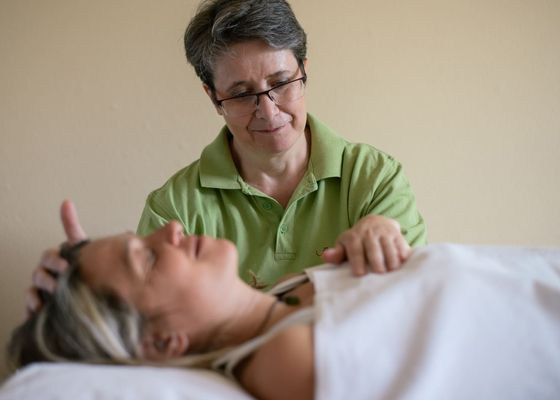 Sustainable to more health:

Simply do something good for yourself! Our trained therapists are highly skilled and offer you a wide range of treatments. We will also be happy to arrange a doctor's appointment for you with our spa doctor next door, or you can take your own prescription, no older than 10 days, with you. In a unique combination, you can regulate your acid-base balance with the "Jentschura-Basenkur". Losing weight is supported. The success of the cure is enhanced by bathing in the thermal water, drinking the waters of St.Leonhards (4 water bars are available to you free of charge) and eating alkaline-forming food.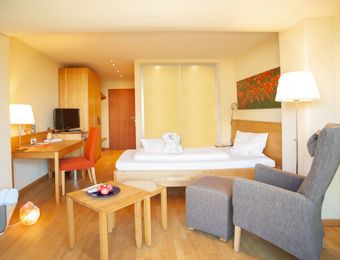 Single room vital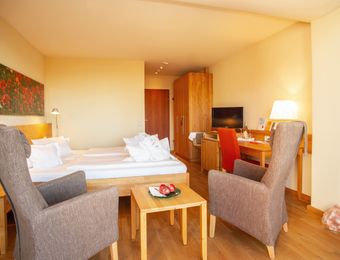 Classic double room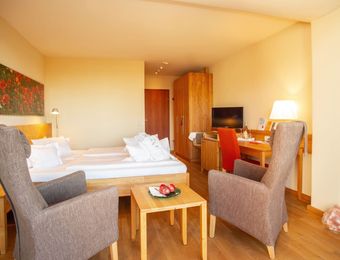 Double room vital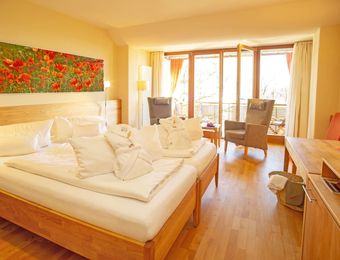 Double room relax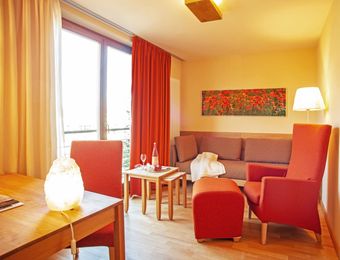 Junior Suite vital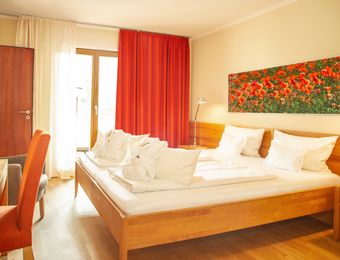 Juniorsuite relax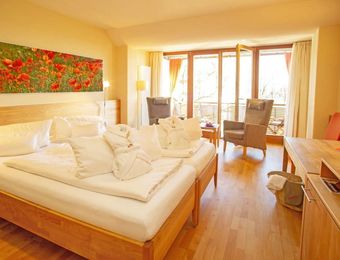 Suite Relax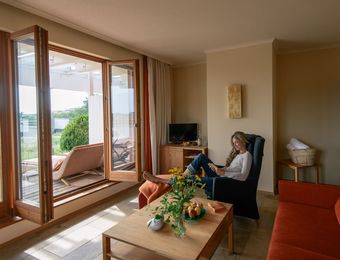 Roof-top garden suite
Review date 23. November 2023
Frühstück war wunderbar
Review date 13. November 2023
Das Frühstücksbuffet ist zu empfehlen...
Review date 05. November 2023
Super entspannend!
Review date 03. November 2023
Wunderbare Erholungsoase. Alles was man braucht um den Tag zu genießen. Tolles Konzept. Viel Auswahlmöglichkeiten beim Menü, schmackhaftes Essen.
Review date 27. October 2023
jetzt nicht noch einmal bitte!! (einmal auf Papier, einmal im Netz: genug!!
Review date 08. October 2023
Vom Empfang bis zur Abreise aussergewöhnlich, super Küche und sehr freundlicjes Personal.
Review date 04. October 2023
Erholung pur Gesichts - Nackenmassage ein Traum Freundlichkeit wird hier GROß geschrieben
Review date 04. October 2023
Ich bin begeistert, wie toll der Service schon im ersten Gespräch mit der Reservierung war. Konstruktiv und im höchsten Maße hilfsbereit. Der Gast steht schon bei der Planung voll im Mittelpunkt. Wir freuen uns schon sehr das Haus, indem wir bereits waren, erneut zu besuchen.
Review date 28. September 2023
Das Gesamtpaket
Review date 20. September 2023
Wir sind im September 23 für eine Woche im Falkenhof und sind sehr begeistert von diesem tollen Hotel und seinem Team ! Das Essen ist qualitativ super , kreativ und abwechslungsreich! Kompliment an das Küchenteam ! Das Frühstück lässt keine Wünsche offen ! Bei schönem Wetter kann man auf der Terrasse Speisen ! Das Preis LEISTUNGSVERHÄLTNIS ist sehr gut ! Zimmer sind top in Holz allergikerfrei eingerichtet ! W LAN im Haus ! Wunderschönes Aussengelände lädt zum relaxen im Garten ein ! Oben auf dem Dach gibt es einen Außen und Innenpool mit Thermalwasser ! Überall superschöne Ruheräume , Saunen , Infrarot Kabine , Kristallraum , großer fitnessraum ( 120 Kilo bankdrücken sind möglich !) , große Tiefgarage kostenfrei , draußen Parkplätze, überall im Hotel kann man alle Sorten der St .Leonhard Quelle kostenfrei genießen ! Frau Wenzel ( Hoteldirektorin) und ihr Team sind immer für den Gast da ! Super freundlich und hilfsbereit ! Wer hier noch rumjammert , klagt auf hohem Niveau ! Wir kommen gerne wieder !!!! In diesem Hotel stimmt die Schwingung und die Resonanz . ♥️ Das Hotel liegt zentral in Bad Füssing und ist sehr ruhig ! Lärmende Hotelgäste muss man hier nicht haben ! Hier liegt der Schwerpunkt auf Gesundheit , Wellness und Regeneration .
Review date 17. September 2023
Sehr gutes Wellness-Hotel. Sehr freundliches Personal. Essen hervorragend. Man fühlte sich vom ersten Tag dort sehr gut aufgehoben. Geh jetzt davon aus, dort wieder Urlaub zu machen.
Review date 12. September 2023
Der Falkenhof bietet alles was man sich wünschen kann - freundlicher und zuvorkommender Service - ausgezeichnete Therapeuten mit hoher Fachkompetenz - hervorragende, abwechslungsreiche Küche und Frühstücksbuffet - alles ist sehr sauber und gepflegt Wir fühlten uns von Anfang an willkommen Sehr gute und hochwertige Entspannungsmöglichkeiten inclusive tollem Fittnessbereich und Hallenbad. Toll fanden wir die kostenlose zur Verfügungstellung der Heilwässer in mehreren Varianten. Zum sehr schönen Kurpark und Innenstadt sind es nur ein paar Schritte. Wir möchten dem gesamten Team des Falkenhof noch einmal für diesen tollen Urlaub danken. Wer hier was zu meckern hat ist selbst schuld!
Review date 10. September 2023
Ein gutes Wellness Hotel mit eigener Therme und sehr umfangreichem Angebot von Massagen usw., Freundliches Personal und gesundes leckeres Essen, morgens wie Abends.
Review date 10. September 2023
Sehr nettes Personal, sehr guter Wellness und Massagen. Auch gesundes und leckeres Essen. Morgens sowie abends.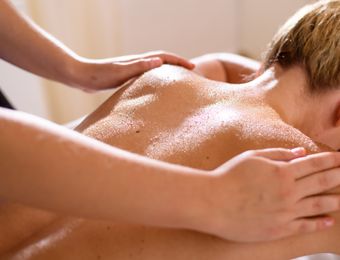 Midweek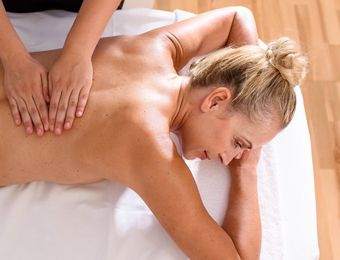 FALKENHOF - Back vitality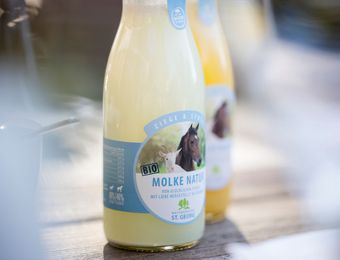 Organic fresh whey cure
Falkenhof - Relaxation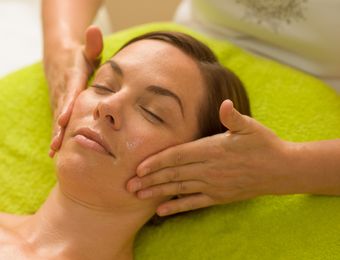 Falkenhof - Naturally beautiful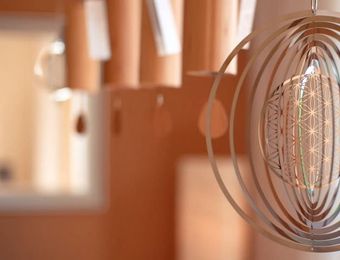 Triad of Happiness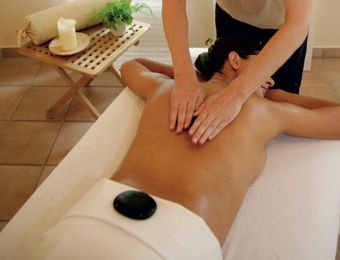 FALKENHOF - Balance your back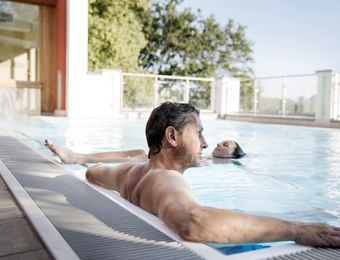 FALKENHOF - Thermal cure vital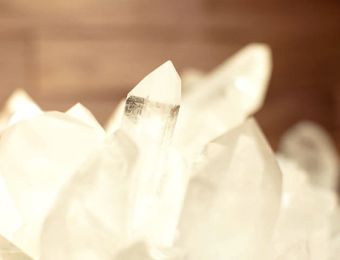 Falkenhof LEBENSENERGIE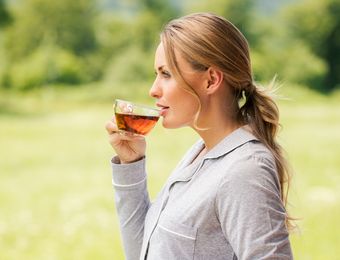 Jentschura's Alkalizing Cure II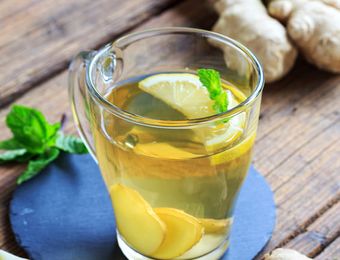 Jentschura's Alkalizing Cure III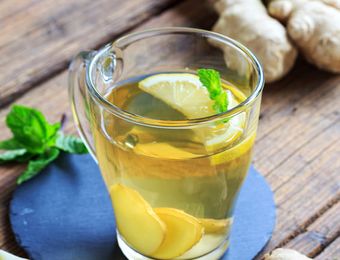 Jentschura's alkaline cure for 3 nights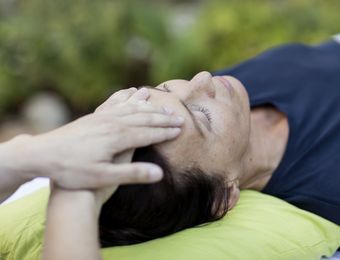 FALKENHOF - Find Tranquility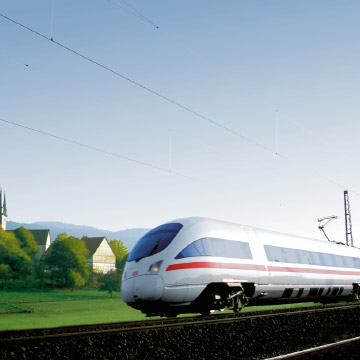 Arriving by train
© Deutsche Bahn AG / Gert Wagner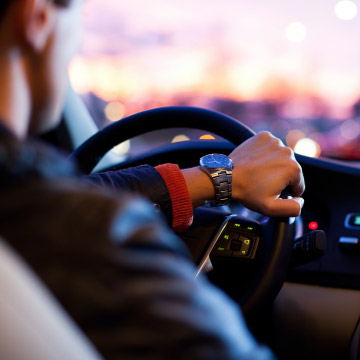 Get here by car