Highlights
Public Restaurant
Vegetarian menu
Vegan dishes
Allergy-free kitchen
Services around Organic cuisine
Award-winning cuisine
Vital kitchen
Whole food
Diet kitchen
Ayurvedic cuisine
Buffet meals
Menu selection
A la carte meals
Hotel bar
Highlights
Hotel with charging station for e-cars
Climate-neutral hotel
Services around Sustainability
Certified BIO HOTELS member since June 2007
Organically built building
Environmentally friendly and self-sufficient energy concept
Inspected by Austria Bio Garantie
2,6 kg Co2-equivalents/night
258 tons Co2-equivalents/year
Highlights
Nature hotel
Vacation with your dog
Hotel with limited wifi
Hotel for allergy sufferers
Electrosmog Reduced hotel
Services around Vacation
Elevator
Free WIFI
Non smoking hotel
Free parking
Summer sports activities such as hiking, cycling, golfing
Winter sports activities such as Skiing, tobogganing, snowshoeing
Highlights
Hotel with swimming pool
Hotel with sauna
Hotel with yoga
Services around Wellness
Massage offers
Cosmetic treatments
Energetic treatments
Ayurvedic treatments
Steam bath
Outdoor pool
Relaxation area
Infrared cabin
Feel-good garden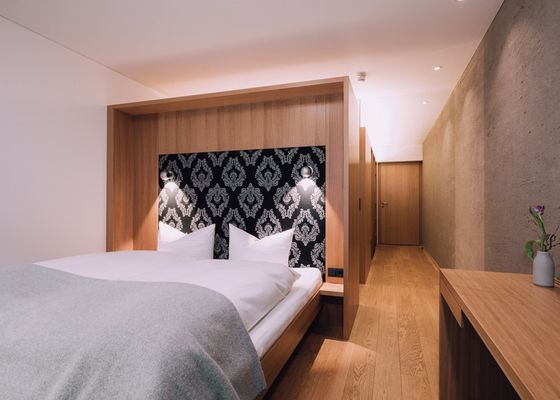 The hygiene concept in our hotel: 

Trained staff who is familiar with safety guidelines of local authorities
Staff wears masks and gloves where necessary
Disinfectants in rooms and public areas
Distance rules are observed
Self-service buffet (gloves available for guests)
Buffet with service
Limited number of guests in the restaurant and in the wellness areas, etc.
Varying times for breakfast, lunch and dinner
Special antiviral cleaning agents on an ecological basis
Comprehensive room cleaning by the staff
Guests can indicate that housekeeping is not desired
Flexible cancellation terms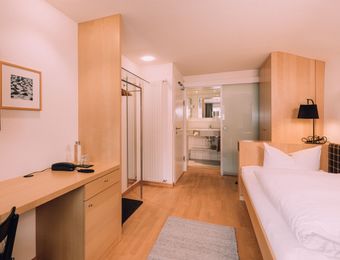 Single Room Himmelschlüssel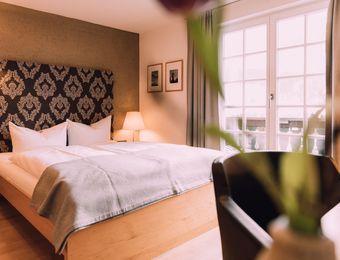 Double Room Himmelschlüssel Comfort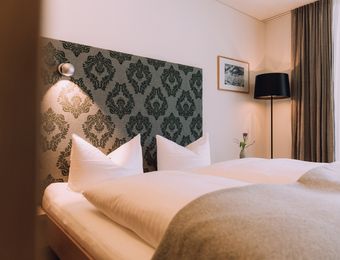 Double Room Arnika Comfort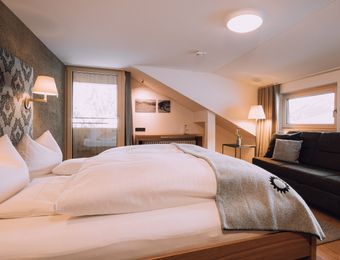 Double Room Ringelblume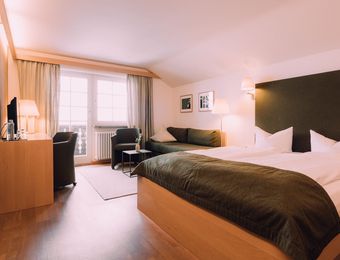 Double Room Margarite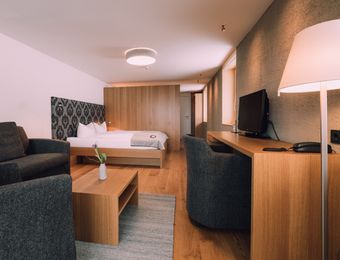 Junior Suite Ringelblume Comfort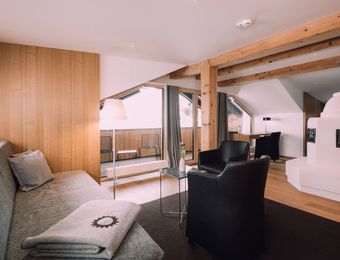 Junior Suite Orchidee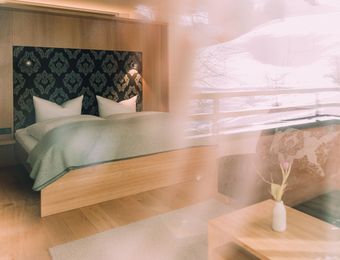 Junior Suite Ifen Comfort
Junior Suite Königskerze Comfort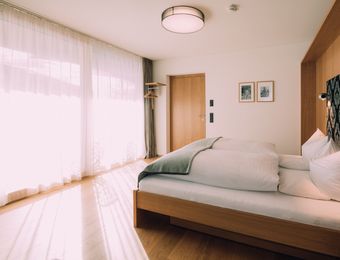 Ifen Superior Suite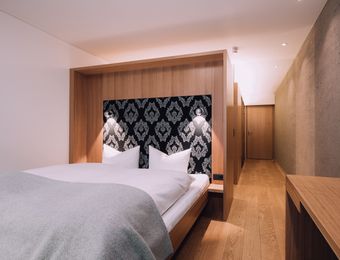 Heuberg Suite Comfort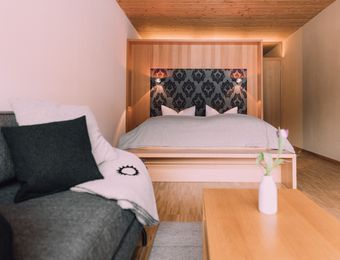 Suite Königskerze Family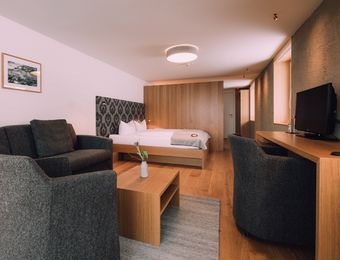 Suite Ringelblume Superior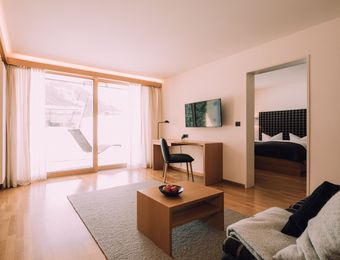 Suite Widderstein Comfort 61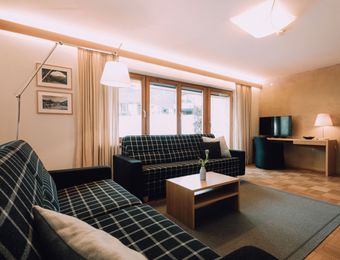 Suite Widderstein Comfort 120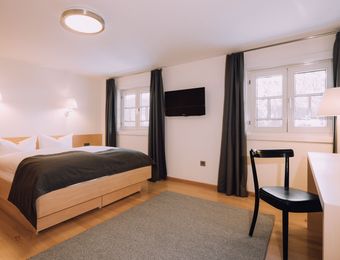 Family Suite Silbermäntele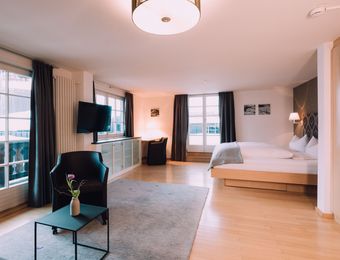 Family Suite Schlössle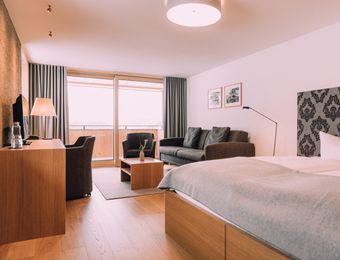 Family Suite Silbermäntele Comfort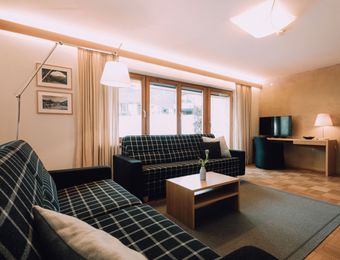 Family Apartment Enzian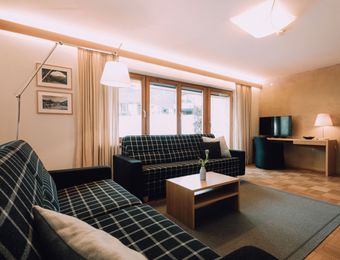 Hammerspitze Comfort
Overall rating
1023 rating
Review date 21. January 2022
Das Hotel ist sehr gut gelegen. Ein Schlepplift und ein Sessellift ist fußläufig zu erreichen. Das Hotel ist großzügig, gepflegt und sehr sauber und bietet viel Wellness mit Außenpool (29 Grad) und viel Wellnessanwendungen und hat eine hervorragende Küche.
Review date 12. January 2022
Was für ein Glück für uns fricher Schnee nachts schneefall und tagsüber gutes Wetter und natülich eine super versorgung im Chesa <br />und wellness mit Massage also alles was das Herz begehrt und mit sehr freundlichem Personal und.... einfach himmlisch
Review date 11. January 2022
Nicht zum ersten Mal konnten wir die Vorzüge und den Service des Naturhotels genießen. Dieses Mal kamen wir in den Genuß der neu umgebauten Zimmer im Haupthaus. Sehr angenehmes Wohnklima, schöne Aussicht, modernes Bad, alles top!<br />Auch die Küche ließ keine Wünsche offen, genauso wie das großzügige SPA und die hochwertigen Ayurveda-Behandlungen.<br />Die Menschen dort begeistern uns immer wieder, man spürt Authentizität und den wertschätzenden Umgang miteinander und den Gästen.<br />Darüber hinaus liegt die Piste vor der Nase, und es gab reichlich Schnee!<br />Wir kommen gerne noch einmal!
Review date 11. January 2022
Es gibt nichts auszusetzen. Das Biohotel ist familiengeführt, das merkt man positiv bis ins kleinste Detail.<br />Äusserst freundlicher und zuvorkommender Service in allen Bereichen. Das Essen ist sehr gut und abwechslungsreich, alles in Bioqualität und wunderschön angerichtet, auch ayurvedische Speisen sind im Angebot, selbst beim Frühstück bleibt kein Wunsch offen. Der Spa-Bereich ist prima, sehr sauber und ruhig. Auf Nachhaltigkeit wird grossen Wert gelegt. Die 4 Sterne-Auszeichnung ist absolut gerechtfertigt.
Review date 11. January 2022
Die Zimmer sind sehr schön eingerichtet, die Lage des Hotels traumhaft. Es sind jeden Tag vier Menüs zur Auswahl, so dass sich für jeden etwas findet. Das Frühstücksbuffet ist riesig - insgesamt ist das Essen damit sehr gut. Alle Mitarbeiter sind ausgesprochen freundlich.<br />Der SPA Bereich ist sehr schön. Es gibt ein gutes Wellness-Angebot und zahlreiche Yoga-Kurse. Einzig der Fitneßbereich ist sehr sparsam.<br />Das Hotel selbst liegt erhöht vom Dorfzentrum mit fast unmittelbarem Pistenzugang.
Review date 05. January 2022
Tolles Hotel mit super Lage. Eine Freundlichkeit und ganz viel Herz ist in diesem Haus in allen Bereichen zu finden. Geräumige und liebevoll eingerichtete Zimmer. Das Essen ist hervorragend und durch das große Angebot von Trennkost über Ayurveda / Vegan findet sicher jeder sein ideales Menü.<br />Toll. Werden sicher wieder kommen.
Review date 03. January 2022
Angenehmer Silvestertrip
Review date 28. December 2021
Personal Super freundlich und ausgezeichnetes Essen. schöner Spa, nachhaltige Bauweise mit Qualität , sehr empfehlenswert, waren wirklich sehr erholsame Genusstage. Vielen Dank und gerne ein anderes Mal wieder.
Review date 11. November 2021
Sehr tolles Hotel: unglaublich leckeres Essen, sehr freundliches Personal, die Zimmer sind schlicht, der Wellnessbereich ist klein aber fein, die Angebote sind vielfältig und die Massageangebote empfehlenswert; man entdeckt immer wieder Kleinigkeiten, die das hotel besonders machen - alles in allem ein rundum gelungener Aufenthalt!
Review date 11. November 2021
Ich würde dieses Hotel wieder wählen. <br />Die Räumlichkeiten sind einladend, ansprechend und sehr gepflegt. Sie werden in der alten Stube oder im modernen Glasabau unglaublich gutes Essen genießen. Ein Frühstücksbuffet in Bio Qualität lässt keine Wünsche offen.<br />Das Spa bietet Saunen, Dampfbad, Schwimmbad und falls gewünscht Massagen und Anwendungen unterschiedlichster Richtungen. Sehr zu empfehlen!
Review date 08. November 2021
Kulinarik im Kleinwalsertal ...der Local empfiehlt ;)<br />GenussWirt in BioQualität … der Name ist hier wirklich Programm!<br />... wer Gaumenfreude bei charmantem Service und toller Atmosphäre genießen will,<br />der ist hier goldrichtig … und mir "fast" einen täglichen Besuch wert :)
Review date 08. November 2021
GenussWirt in BioQualität … der Name ist hier wirklich Programm!<br />... wer Gauenfreude bei charmantem Service und toller Atmosphäre genießen will,<br />der ist hier goldrichtig … und mir "fast" einen täglichen Besuch wert :)
Review date 07. November 2021
Alles außergewöhnlich gut, Zimmer, Essen, Wellness, Atmosphäre, Freundlichkeit Umgebung, unterwegs mit der Gästekarte
Review date 07. November 2021
Die Gesamtatmosphäre ist entspannt, ruhig und bodenständig. Die werteorientierte Einstellung der Besitzer spiegelt sich in den Gebäuden, in der Ausstattung, den Mitarbeitern und in der Qualität des Essens wieder. Die Mitarbeiterinnen und Mitarbeiter sind auf eine natürliche Art freundlich und zuvorkommend. Ein paar Tage in diesem Hotel sind reine Seelennahrung!
Review date 03. November 2021
Das Naturhotel ist sehr gut geeignet für einen wunderbaren, genussreichen Relax-Urlaub, mit Impulsen für einen nachhaltige, gesunde Lebensführung. Die Verpflegung ist qualitativ hochwertig, lecker und vielfältig. Trotz der relativ hohen Zimmeranzahl versucht man, eine persönliche Beziehung zu den Gästen aufzubauen und auf individuelle Wünsche einzugehen. Rundum empfehlenswert!
Review date 01. November 2021
Super freundliches Personal, top Essen, stimmige und sehr sympathische Konzeption als "Naturhotel" mit Bio-Essen. Vergleichsweise teuer, aber man hat das Gefühl, dass man eine entsprechende Gegenleistung bekommt (dass Bio-Lebensmittel und vermutlich fair bezahlte Mitarbeiter mehr kosten ist leider unvermeidlich).<br />Wir waren mehrfach dort und haben es jedes Mal sehr genossen.
Review date 01. November 2021
Ich kann nicht berichten, du musst es selbst erleben. Es trifft alles zu, was auf der Homepage zu lesen ist!!!
Review date 21. October 2021
Sehr schöne und moderne Architektur. Excelentes Personal und hervorragende Küche. Einfach sehr gutes Haus. Wir kommen wieder.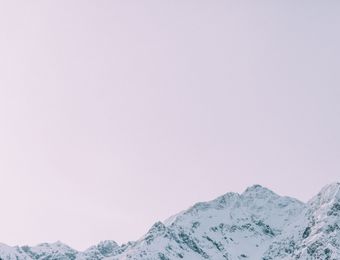 Winter Detox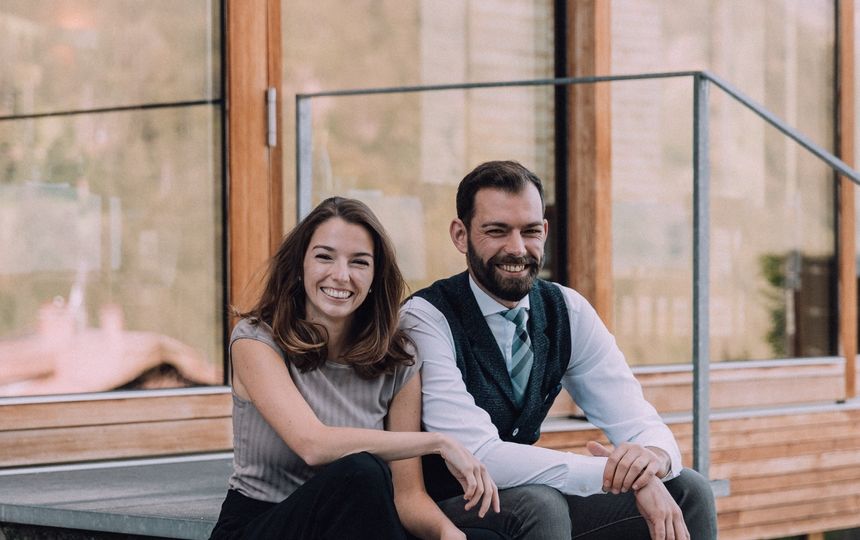 Hosts
The 510-year-old parent house developed over several generations into the current Naturhotel Chesa Valisa. In the meantime, the siblings Magdalena and David Kessler manage the BIO HOTEL in the 14th generation - with a clear vision, innovative ideas and a lot of passion. 
Our philosophy: Economy and ecology are not necessarily opposites. In our understanding, ecology has nothing to do with asceticism and sacrificing comfort, but much more with conscious living and healthy enjoyment. 
Our idea nature hotel rests on 5 pillars:
The intact nature around the house
Healthy living
Conscious nutrition
Programs for vitality, fitness and health
Art, culture and social projects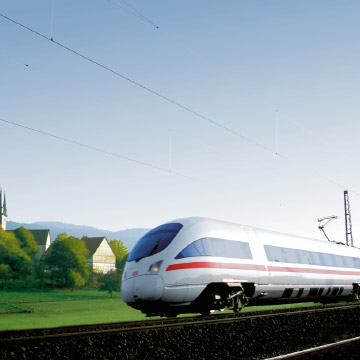 Arriving by train
© Deutsche Bahn AG / Gert Wagner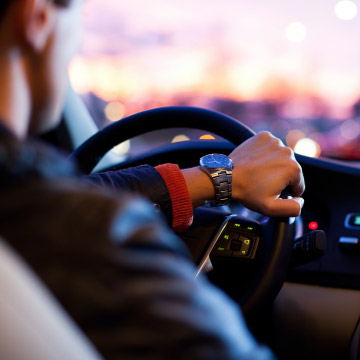 Get here by car