Highlights
Public Restaurant
Vegetarian menu
Highlights
Hotel with charging station for e-cars
Climate-neutral hotel
Services around Sustainability
Certified BIO HOTELS member since February 2007
Inspected by Austria Bio Garantie
2,66 kg CO2e/night
51 tons CO2e/year
Highlights
Nature hotel
Hotel with sauna
Highlights
Vacation with animals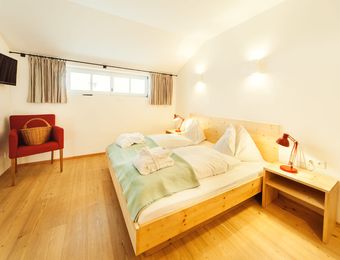 Family room with balcony and forest view No. 9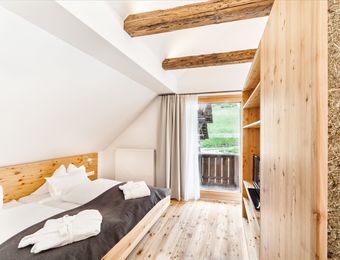 Double room with balcony and forest view No. 16 in the log cabin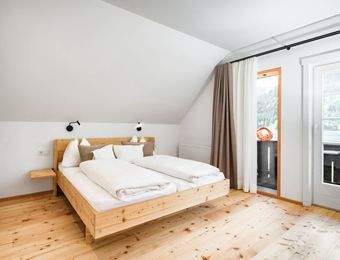 Family room with balcony and lake view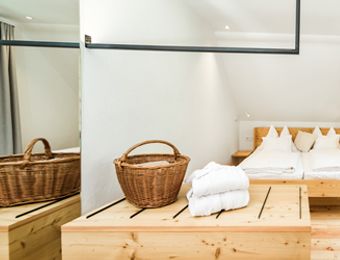 Double room with balcony and forest view No. 10 in the main building
Doppelzimmer im Blockhaus mit Balkon und Seeblick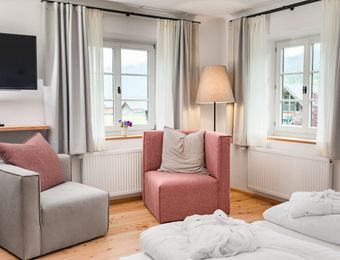 Suite in the main building with balcony and lake view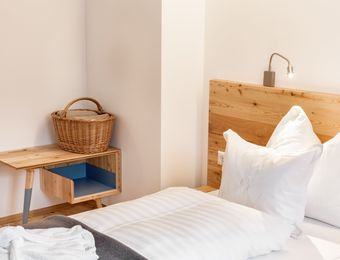 Double room in the log cabin with balcony and lateral lake view No. 11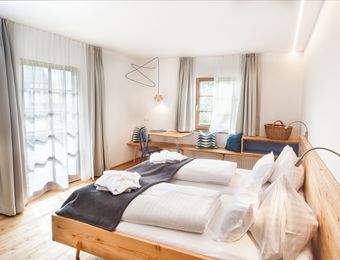 Double room in the log cabin with balcony and lake view No. 12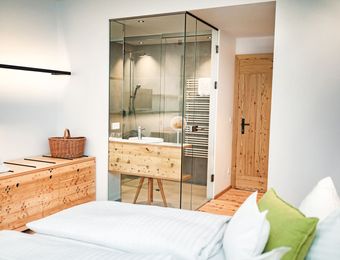 Double room with balcony and lateral lake view in the main building
Review date 09. June 2022
Wir haben zwei Tage im kleinen, familiär geführten Biohotel verbracht. Die Zimmer sind sehr sauber, tolle Lage am See mit Sauna & Dampfbad direkt am Privatstrand. Die Küche ist sensationell. Es werden lokalen Biolebensmittel verwendet. Ein Tag pro Woche ist am Abend nur ein vegetarisches Menü verfügbar. Sonst kann man zwischen mindestens zwei mehrgängigen Varianten wählen. Uns hat es ausgezeichnet geschmeckt. Das Frühstücksbuffet lässt keinen Wunsch offen. Das Service ist ausgesprochen freundlich und zuvorkommend.
Review date 04. June 2022
Rundum perfekt, angefangen von Essen über Personal bis hin zur Location. So wünscht man sich Urlaub.
Review date 11. September 2021
Unglaublich tolles Hotel mit sehr netten Gastgebern und unglaublich netten und hilfsbereiten Mitarbeiter*innen. Der Stil des Hotels ist ein geschmackvoller Spannungsbogen von ursprünglich und modern. Das Highlight war für uns aber definitiv das Essen. Qualitativ oberste Liga - alles regional und bio und immer eine vegetarische Option.<br />Tolles Haus mit super Nachhaltigkeitskonzept. Von Bio-Lebensmitteln bis hin zu Naturkosmetik. Hier kann man sich ansehen, wie Nachhaltigkeit funktioniert.
Review date 09. September 2021
Hervorragende Küche, wunderschöne Lage am See mit toller Sauna und Liegewiese. Sehr gut für einen romantischen Urlaub zu zweit, bei dem man einfach Mal die Seele baumeln lassen will. Sehr einfache Anreise auch mit dem Zug über Bahnhof Greifenburg und kostenloses Shuttle.
Review date 15. August 2021
Egal ob Besitzer oder Personal, alle sind sehr freundlich und zuvorkommend. Das Küchenteam ist fantastisch und das Essen spitze! Täglich gibt es kulinarische Highlights in Bioqualität zu genießen. Die Menüs sind große Kochkunst.<br />Die Zimmer und das gesamte Hotel sind außergewöhnlich geschmackvoll eingerichtet.<br />Für Kinder hat man ein großes Herz!<br />Danke die traumhafte Woche, die wir nun schon im dritten Jahr am Gralhof verbringen durften! Wir kommen sicher wieder!
Review date 07. June 2021
Es war alles perfekt. Ein kulinarischer Genuss der täglich von neuem übertroffen wurde. Professionelles und überaus herzliches Team. Das Interieur ist eine geniale Komposition aus modern und traditionell. Ein Hotel das seines Gleichen sucht.
Review date 30. October 2020
Eines der schönsten und freundlichsten Hotels in dem wir je waren. Es ist einfach alles perfekt, vom Frühstück angefangen über das Abendessen. Ankommen und wohlfühlen. So ruhig und idyllisch gelegen, das Seehaus mit der Sauna, das gemütliche Zimmer, einfach das ganze Hotel mit allen Mitarbeitern und Chefleuten. Wir können uns nur bedanken und freuen und schon jetzt auf ein Wiedersehen im nächsten Jahr. Die Bergbahn ist zu unserem späten Urlaubstermin nicht mehr in Betrieb gewesen, aber der Chef des Hauses hat kurzerhand ein Shuttle-Service angeboten und hat jeden der wollte auf die Alm gebracht. UNGLAUBLICH wie hilfsbereit.
Review date 07. September 2020
Ausgezeichnete Küche
Review date 25. August 2020
16 Zimmer, wunderschön modern, mit viel schönem Holz, praktisch und doch unter Bewahrung der alten Bausubstanz renoviert. Ausgezeichnete Betten und Kissen, großer Balkon. Im ganzen Haus wurde ein tolles Lichtkonzept umgesetzt, welches viel zur gemütlichen und zugleich edlen Stimmung beiträgt. Herrlicher Garten mit Seeblick, wo bei Schönwetter Frühstück, Kaffee und Kuchen und Abendessen serviert wurden. Ausgezeichnete Tischkultur, durchwegs fantastisches und fantasievolles Essen (4-5 Gänge am Abend, ein Mal fantastisches Barbecue im Garten)Alles (und zwar wirklich alles, bis hin zu den Spirituosen) Bio, immer mit vegetarischer Alternative. Tolle Fleisch- und Fischqualität, ein vegetarischer Tag, manchmal etwas kleine Portionen, aber man wird in Summe fast immer satt. Unglaubliches Frühstück (wegen COVID a la carte) mit absolut allem, was man sich wünschen kann: Bester Kaffee, frischestes Gebäck, arabisches Frühstück, Pancakes, Eggs Benedict nur als kleiner Auszug. Besonders herzliche Bedienung (großes Lob an Alexandra, die uns jeden Morgen versüßt hat) im ganzen Haus, sehr nette Besitzerfamilie mit persönlichem Zugang zu den Gästen. Sehr gute Getränkeauswahl. Und zum Abschluss das Highlight: Wunderschön angelegter und großer Privatstrand mit Badehaus (Sauna, Dampfbad...) mit Top-Ausstattung. Die verkehrsberuhigte Straße zwischen Haupthaus und Strand hat uns nicht gestört. Für das Gebotene ist der vergleichsweise etwas höhere Preis absolut angemessen. Im August einige Familien mit Kindern, das Hotel ist aber dennoch nie laut. Herrliche Ruhe vor allem abends und nachts. Wir freuen uns schon jetzt auf den nächsten Aufenthalt.
Review date 23. August 2020
Seit über 20 Jahren sind wir schon Gäste im Gralhof. Corinna & Michael führen das Haus sehr familiär, liebevoll und voll Überzeugung als Biohotel. <br />Jedes Jahr gibt es wieder etwas Neues & Feines für die Gäste. <br />In diesem Jahr war es die durchdachte Frühstückskarte.<br />Ein Genuss schon am Morgen!!!<br />Küche & Service wirklich außergewöhnlich gut.<br />In der Früh freute man sich schon auf das Abendessen. <br />Steigerung ist kaum möglich.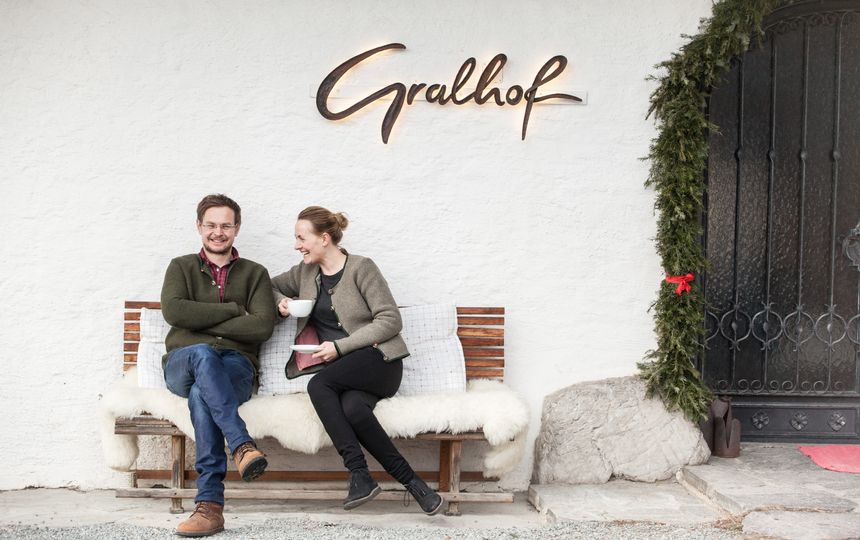 Hosts
"It has always been the entire family that has planned every path and made all future decisions. And that's what the Knaller-Gral family has been doing for 500 years, after all."
 
Today Corinna and Michael welcome you to the Gralhof and ensure that your time out at the BIO HOTEL Gralhof becomes an unforgettable sustainable experience!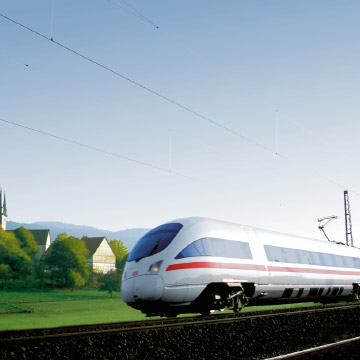 Arriving by train
© Deutsche Bahn AG / Gert Wagner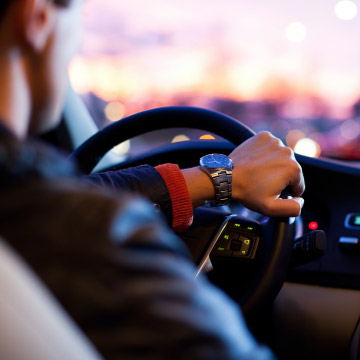 Get here by car