Services around Organic cuisine
Highlights
Hotel with charging station for e-cars
Climate-neutral hotel
Services around Sustainability
Certified BIO HOTELS member since June 2015
Organically built building
Environmentally friendly and self-sufficient energy concept
Inspected by ABCERT
11,81 kg Co2-equivalents/night
16,8 tons Co2-equivalents/year
Highlights
Nature hotel
Vacation with your dog
Hotel with limited wifi
Hotel for celebrations
Hotel with sauna
Electrosmog Reduced hotel
Fasting leave
Hotel with yoga
Vacation with animals
Services around Vacation
Holidays on a Farm
Elevator
Free WIFI
Non smoking hotel
Free parking
Summer sports activities such as hiking, cycling, golfing
Winter sports activities such as Skiing, tobogganing, snowshoeing
Services around Green Meetings
Meeting room with daylight
Conference equipment
Modern conference technology
Sustainable & recyclable conference materials
Network technology
Break area
Catering / brain food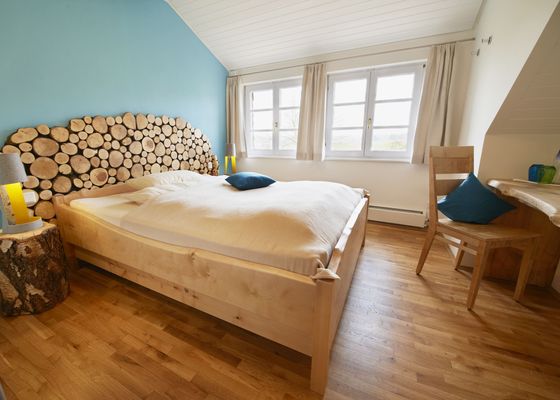 The hygiene concept in our hotel: 
Trained staff who is familiar with safety guidelines of local authorities
Staff wears masks and gloves where necessary
Disinfectants in rooms and public areas
Contactless (online) check-in possible
Distance rules are observed
Self-service buffet (gloves available for guests)
Limited number of guests in the restaurant and in the wellness areas, etc.
Special antiviral cleaning agents on an ecological basis
Guests can indicate that housekeeping is not desired
Flexible cancellation terms
Ventilation devices in meeting rooms
Fever thermometer and rapid tests available
We maintain privacy and do not enter the rooms during the stay. It will be cleaned at the express request.
Ventilation and consumption outdoors possible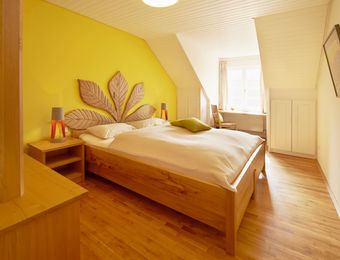 Double room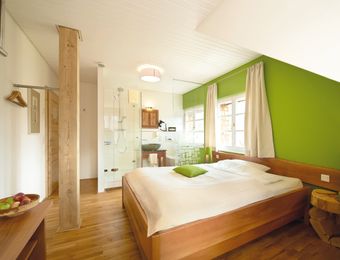 Double room with integrated bathroom
Review date 16. November 2021
Unkonventionell und unprätentiös im Gegensatz zur regulären Hotellandschaft. Naturverbunden und sehr gastlich, man kann sich auch selbst mit Getränken und Essen versorgen. Das Frühstück ist gut und mit guter Auswahl zur Selbstbedienung.<br />Die Sauna zur Selbstbedienung ist auch ein schönes Angebot und trägt zur Entspannung bei. Wir haben das Wochenende gut zur Erholung nutzen können.
Review date 01. November 2021
Sehr schönes Ambiente. Preis Leistung?
Review date 06. August 2021
War im Hofladen alles Demeter...große Auswahl.. alles super frisch und kecker
Review date 02. August 2021
Meine Frau und ich haben das Wochenende im LindenGut Hotel verbracht und sind begeistert. Sehr herzliche Atmosphäre, gesundes, leckeres Essen und ein tolles Konzept!<br /><br />Eine absolute Empfehlung, vor allem wenn man etwas Ruhe möchte ;-)
Review date 31. July 2021
This is definitely not your typical business hotel: about 15 minutes outside of the town of Fulda, Lindengut is a relaxed all-organic farm and hotel. Do not expect the service or the amenities of the Ritz Carlton, but instead look forward to a cordial welcome and every effort to make your stay pleasant and welcome. All facilities are well renovated and impeccably clean, even though sometimes on the more basic side. The hotel only has about ten rooms, so staff will go out of their way to cater to your needs. For a business meeting, this is an unusual location. We picked it because it is secluded and could be rented in its entirety (all ten rooms). For business gatherings, there are two meetings rooms that can be equipped with basic AV equipment, which made for a productive meeting. The scenery (beautiful property, lots of nature around, farm animals, great organic food) allows participants to de-connect with day-to-day duties and to focus on the here and now.
Review date 30. July 2021
Wir haben hier getagt und ich muss sagen: EINFACH MEGA. Absolut wunderschön. Man kommt einfach runter. Die Ziegen die am Eingang stehen und blöken, die Hunde die dort laufen und die netten Menschen die hier arbeiten. Eine Oase in einer Welt die anscheinend immer schneller wird.<br />Das Essen ist absoluter Oberhammer. So viele Geschmäcker bringen nur wirklich gute Köche mit guten Zutaten zustande. All das ist hier vorhanden.<br />Ein wundervoller Ort zum entfliehen und wieder mal über die wirklich wichtigen Dinge zu reflektieren: Der Mensch und die Natur.<br />Danke für 3 Tage in denen wir Ihre Gäste sein durften.
Review date 23. July 2021
Heute das erste Mal eine der Gemüsekisten geholt, einfach nur Klasse! Tolle große Auswahl mit frischen bunten gesunden leckeren Sachen! Das erste Gemüse heut Abend schon probiert, die weiteren werden die nächsten Tage verarbeitet. Was genau verrat ich nicht, denn die Überraschung was genau drin ist weckt das innere Kind in einem
Review date 03. January 2021
Netter Hofladen
Review date 13. October 2020
Eine großartige Atmosphäre, die den Alltag vergessen lässt und dabei hilft wieder mit sich selbst in Kontakt zu kommen.
Review date 24. July 2020
Was für ein Kleinod am Rande Fuldas und der Rhön! Jedes der zehn Zimmer ist in einer Holzart eingerichtet und gestaltet. Man wohnt mittendrin auf einem Demeter-Bauernhof. Beste Ausstattung, konsequent bio - das hat uns sehr gefallen! Und das Frühstück ist auch ausgezeichnet. Stimmt, was in einer anderen Bewertung stand: Der Hund bellt ausdauernd. Warum, erschließt sich einem nicht. Und zum WLAN: Es wurde klar kommuniziert, dass dieses um 22.30 Uhr abgestellt wird. Fanden wir gut!
Review date 04. July 2020
Wer Bio sucht wird hier fündig, Verkauf sehr freundlich und, gut in Corona-Zeiten, im Freien auf der Hoffläche. Auf jeden Fall eine gute Alternative zum Supermarkt, wenigstens im Bio-Segment. Das Ganze dann auch noch mit Demeter Siegel.
Review date 29. June 2020
Schöne saubere Zimmer, tolles Frühstück mit lokalen saisonalen Produkten aus der eigenen Demeter Landwirtschaft. Liegt mitten in der Natur, umgeben von Hühnern, Ziegen und Kühen. Man kann im Hofladen viele leckere Dinge kaufen. Alle sind sehr nett, man bemerkt die besondere Atmosphäre und die Naturverbundenheit. Wir kommen auf jeden Fall wieder.
Review date 18. February 2020
Natur und Umwelt ist die Basis des gesunden Konzeptes. Gemütliche Unterkunft auch für kleinere Gruppen. Sehr empfehlenswert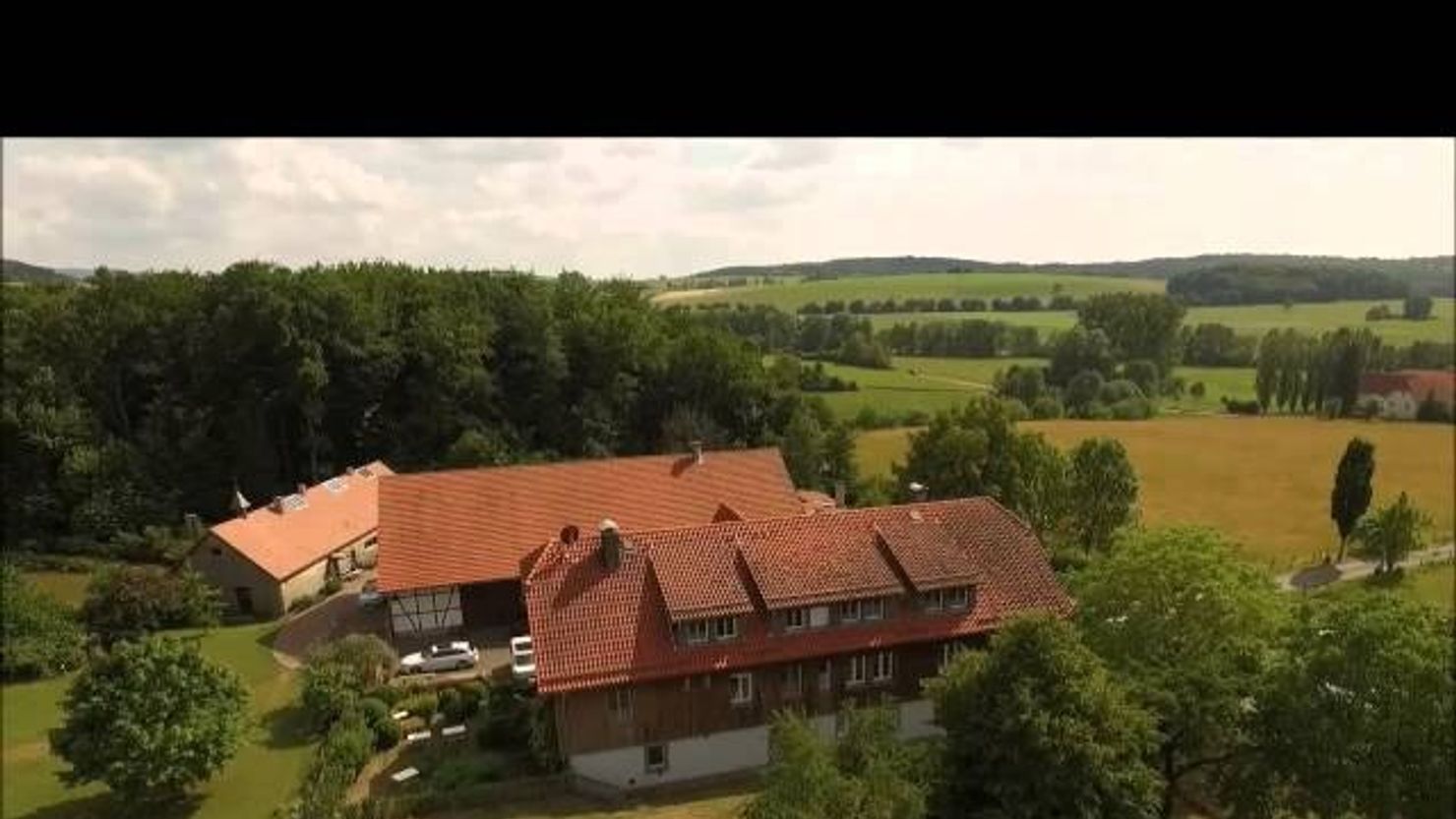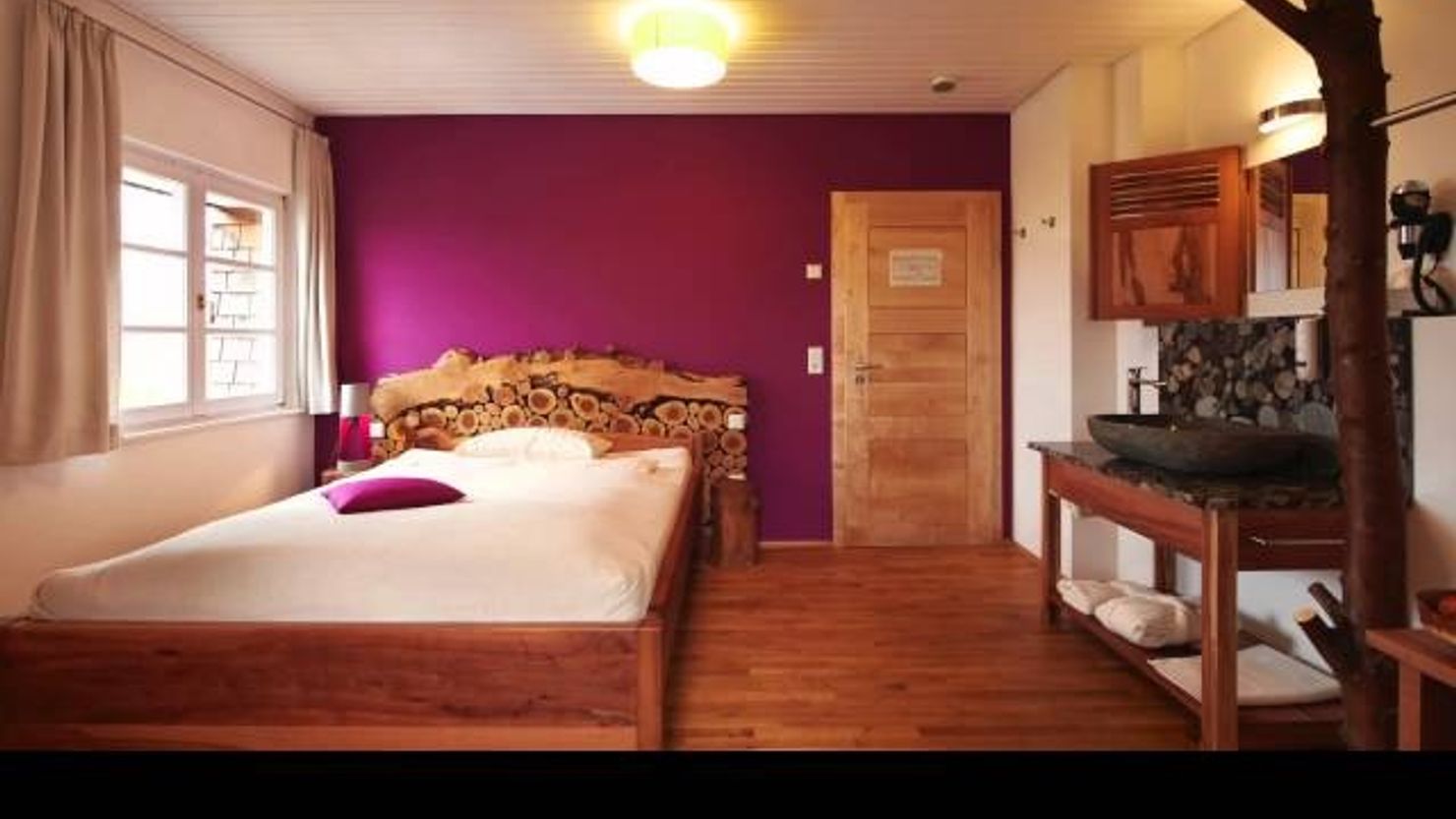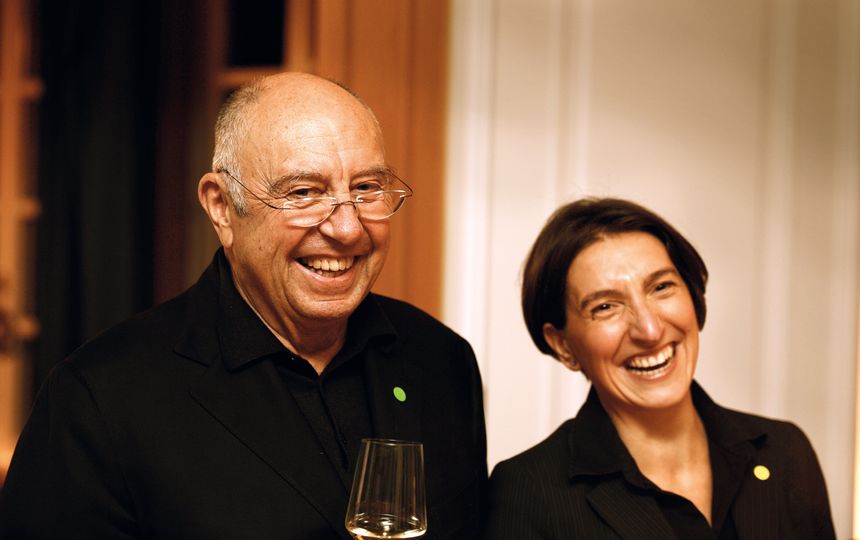 Hosts
At the BIO HOTEL LindenGut Anja Lindner and Wolfgang Gutberlet are your hosts with passion and welcome you warmly! Since the beginning of the 80s Wolfang has dedicated himself to the topic of organic food and healthy nutrition. In addition to the LindenGut with its Demeter-certified farm and the Morgensternhaus in Fulda, Anja runs numerous other sustainable projects and ventures with great dedication.
 
"Organic is not just a certificate, but the living connection to the origin of everything.", Anja Lindner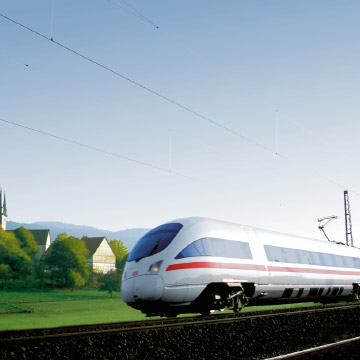 Arriving by train
© Deutsche Bahn AG / Gert Wagner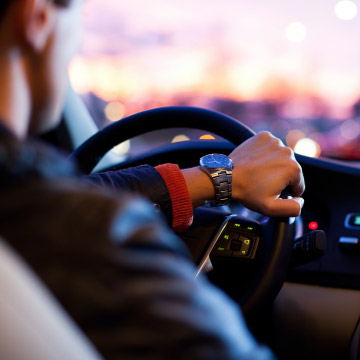 Get here by car