Highlights
Public Restaurant
Vegetarian menu
Vegan dishes
Allergy-free kitchen
Services around Organic cuisine
Diet kitchen
Buffet meals
Menu selection
A la carte meals
Hotel bar
Highlights
Hotel with charging station for e-cars
Climate-neutral hotel
Services around Sustainability
Certified BIO HOTELS member since April 2011
Public interest company
Inspected by Austria Bio Garantie
9,07 kg CO2e/night
146,5 tons CO2e/year
Highlights
Nature hotel
Vacation with your dog
Accessible hotel
Hotel with limited wifi
Hotel for celebrations
Hotel with sauna
Hotel for allergy sufferers
Fasting leave
Hotel with yoga
Hotel with day spa
Services around Vacation
Holidays on a Farm
Elevator
Free WIFI
Non smoking hotel
Free parking
Pick-up service from train stations included
Summer sports activities such as hiking, cycling, golfing
Winter sports activities such as Skiing, tobogganing, snowshoeing
Highlights
Vacation with animals
Services around Family
Family rooms / apartments
Children's playroom
Outdoor playground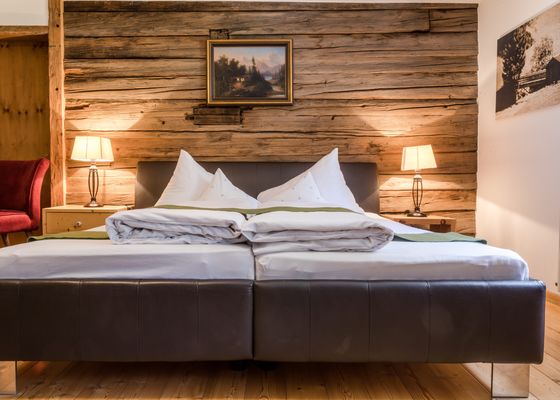 The hygiene concept in our hotel: 
Trained staff who is familiar with safety guidelines of local authorities
Staff wears masks and gloves where necessary
Distance rules are observed
Buffet with service
Visits to restaurants by prior arrangement only
Limited number of guests in the restaurant and in the wellness areas, etc.
Varying times for breakfast, lunch and dinner
Separate relaxation rooms
Special antiviral cleaning agents on an ecological basis
Comprehensive room cleaning by the staff
Guests can indicate that housekeeping is not desired
Flexible cancellation terms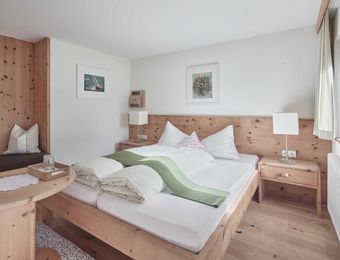 Doubleroom Wildspitzblick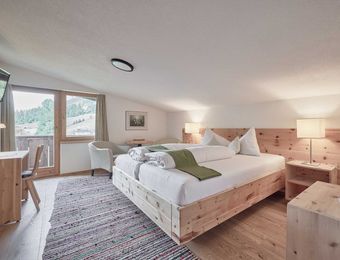 Zirben-Doubleroom Stillebach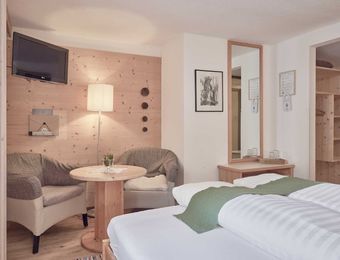 Föhren-Doubleroom Stillebach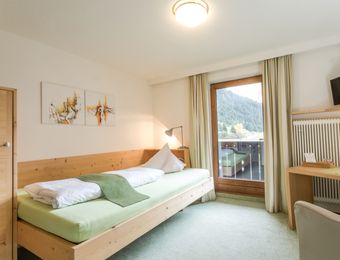 Single-room Wildspitzblick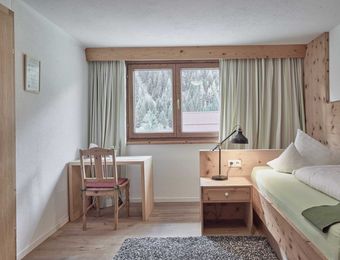 Single-room Stillebach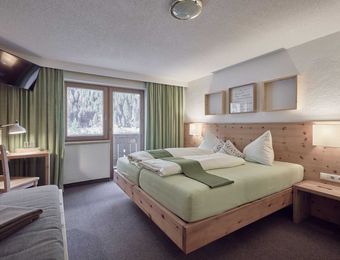 Zirben-three-bed-room Stillebach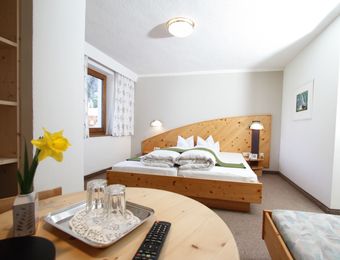 Föhren-three-bed-room Stillebach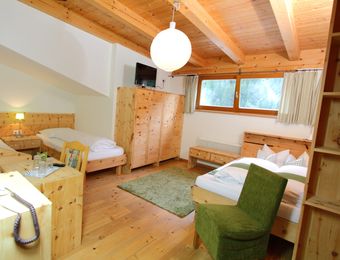 Four-bed-room Stillebach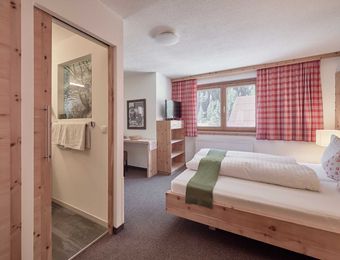 Familyroom Wildspitzblick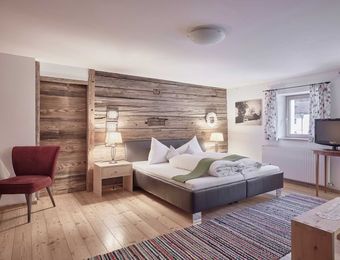 Appartement Josef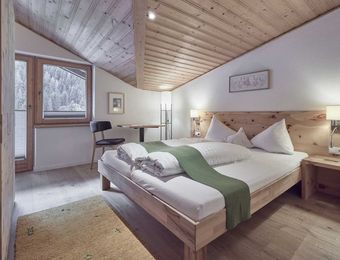 Appartement Siggi
Review date 31. January 2023
Ein Hotel, wo man sich vom ersten Moment wohl und gut aufgehoben fühlt. Besonders gefällt uns neben dem Hotel die Ruhe im Tal. Ideal um die Batterien wieder aufzuladen.
Review date 25. January 2023
Wunderschönes Hotel und super freundliches Personal. Jeden Tag köstliche 4 Gänge welche sehr schmackhaft sind und wunderschön angerichtet werden.. Super Rahmenangebot wie 2 Saunen, Massage und eine Top präparierte Langlaufstrecke direkt vor der Haustüre. Ich komme gerne wieder
Review date 24. January 2023
Essen, Sauna/Spa, Zugang zu Loipen
Review date 20. January 2023
Der Name ist Programm in diesem Hotel. Erholung pur, aber auch genügend Sportmöglichkeiten und von der Besitzerin bis zur Raumpfleger:in alle von unübertroffener Freundlichkeit. Und immer ein sehr gutes Essen auf sehr hohem Niveau. Und dies alles zu vernüftigen Preisen.
Review date 11. January 2023
Ein sehr familiärer Ort, an dem man sich von der ersten Minute an willkommen fühlt. Liebevolle und zuvorkommende Inhaber und Mitarbeiter, die für jeden Wunsch ein offenes Ohr haben, extrem hochwertiges, überwiegend saisonales Essen -vegan war möglich, ist jedoch (am Frühstücksbuffett) noch ausbaufähig-, zwei tolle Saunen (die leider ein paarmal vor der angegebenen Zeit schon ausgeschaltet wurden), schlichte, mit wohltuendem Zirbenholz und äußerst bequemen Bio-Matratzen ausgestattete Zimmer, in denen wir wunderbar geschlafen haben, gemütliche Lesestube mit großer Büchersammlung und ein warmer Kachelofen, die zum Lesen einladen. Die Lage perfekt - ruhig, da etwas von den Haupt-Touristenorten entfernt und inmitten der Natur liegend, gleichzeitig aber mit praktischer Busanbindung, sodass ebenjene schnell erreicht werden können. Wunderschönes Holz-Stadl, in welchem Yogakurse (z.T. kostenlos) angeboten werden! Auch sonst ein paar sehr liebevoll gestaltete kleine Programmangebote (Schneeschuhwanderung, Eisstockschießen etc). Insgesamt ein wirklich schöner Ort, an dem das Konzept der Nachhaltigkeit durchdacht gelebt wird! Wir kommen sehr, sehr gerne wieder!
Review date 10. January 2023
Wunderbare Auszeit mit Traumkulisse, bestem Essen, super tolles Team, erholsamer Schlaf im Zirbenduft Zimmer und das Ganze noch bio und nachhaltig - einfach ein Traum und jederzeit wieder!! Danke liebes Stillebach-Team!!
Review date 03. January 2023
Bewertung Wir haben die Feiertage im Biohotel verbracht und sind total begeistert. Von Tag eins an haben wir uns sofort willkommen und wohl gefühlt. Gemütliches Ambiente, hilfsbereite Mitarbeiter, tolle Lage zum Skifahren , grandioses lokales Essen, viele Rückzugsmöglichkeiten, familiäre Stimmung...sind nur einige positive Aspekte, die den Aufenthalt für uns perfekt gemacht haben. Wir können das Hotel von der lieben Trudi mit sehr guten Gewisssn weiter empfehlen und freuen uns sehr über ein Wiedersehen in Stillebach. Danke für Alles Jenny und Familie
Review date 02. January 2023
Great Spa and food. Wonderful staff and easy accessible walks.
Review date 25. October 2022
Wir wollten schon lange dieses Biohotel ausprobieren und waren sehr angetan von der Lage, dem Angebot und der guten Erreichbarkeit mit dem ÖPNV. Wir wurden freundlich empfangen, das Zimmer bot einen herrlichen Ausblick nach Süden und das Essen hat meistens exzellent geschmeckt. Unschlagbar spitze die täglichen, saisonalen, originellen und einfallsreichen Salatvariationen am Buffett. Wir werden uns dort wieder einmal verwöhnen lassen.
Review date 20. October 2022
Unsere Tochter hatte im Biohotel Stillebach ihre Hochzeitsfeier. Es war eine traumhafte Lokation und wir hatten ein wundervolles, unvergessliches Wochenende. Das Essen war sehr lecker, das Team und der Service sehr aufmerksam, freundlich und zuvorkommend und wir fühlten uns sehr wohl. Die Chefin hat uns sehr willkommen geheißen und unsere Hochzeitsgäste waren von der Freundlichkeit, dem Ambiente sehr begeistert und sie und wir werden das Biohotel sicher wieder besuchenund einen Aufenthalt buchen. Nochmals herzlichen Dank an das ganze Team. Herzensgrüsse
Review date 19. October 2022
de sfeer, het eten, de activiteiten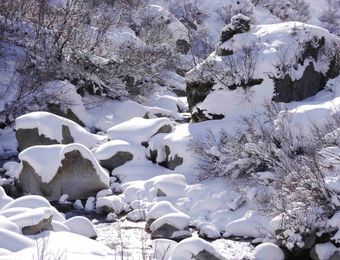 Silence that enchants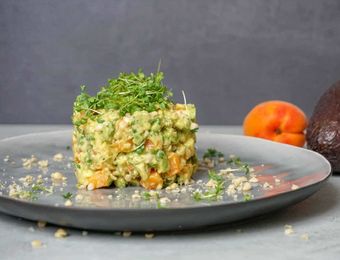 base fasting – the wacker-method®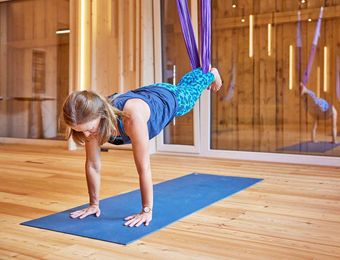 Feel yourself - Yoga week​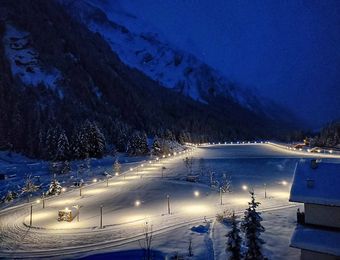 Just cross-country skiing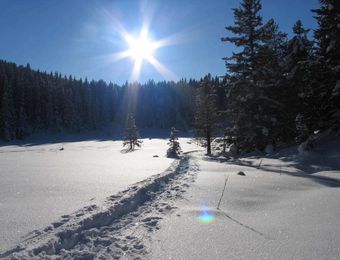 Winter Wander Weeks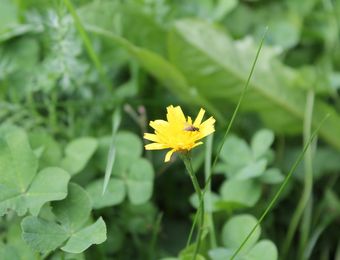 Early summer in the Biohotel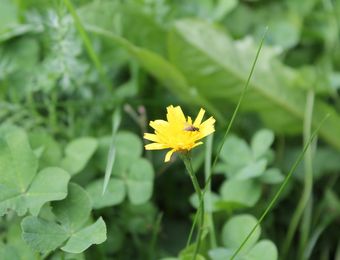 Early Summer in the Biohotel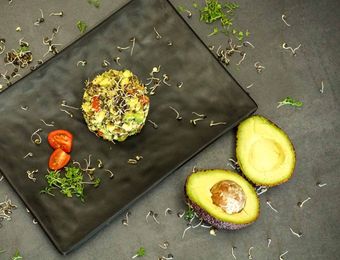 Alkaline Diet – the wacker-methode® in Early Summer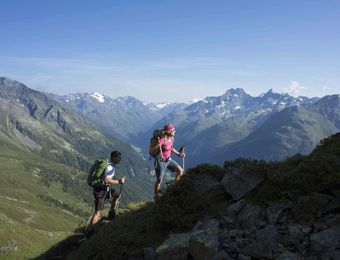 Hiking Summer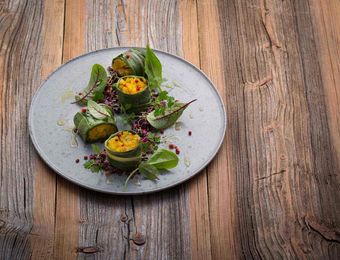 Alkaline Diet – the wacker-methode® in the Summer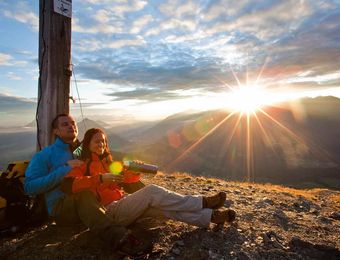 Hiking in Autumn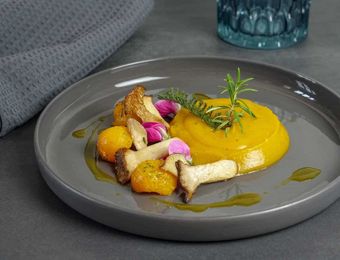 base fasting - the wacker-method® in authumn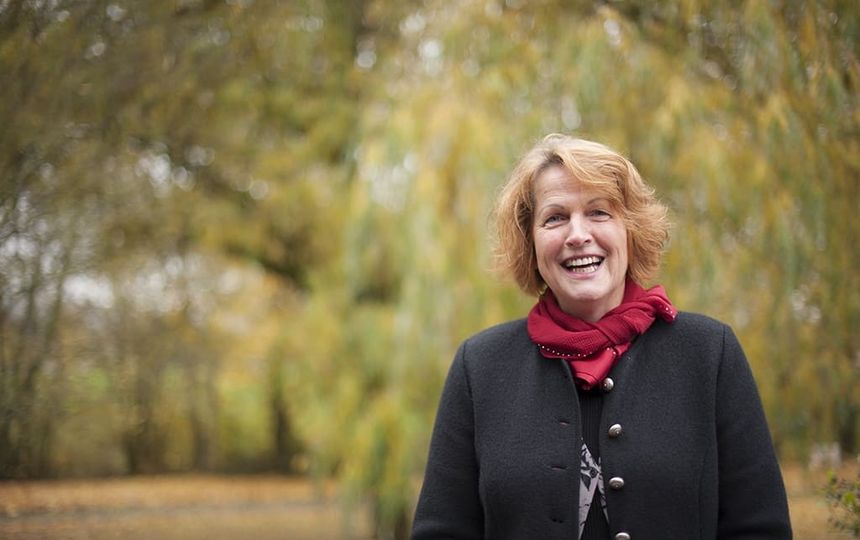 Hosts
"Wildspitzblick" was the first appropriate name of our BIO HOTEL near the Pitztal Glacier, which was built many decades ago on this beautifully quiet spot. A house with history, which is visible and tangible in many rooms.
 
A house that has developed from a simple inn to a BIO HOTEL. A house that is in the tradition and ownership of the Walser/Melmer family. In future, the hotel will be managed by Alexandra and Helmut, who have great ideas for the well-being of the guests.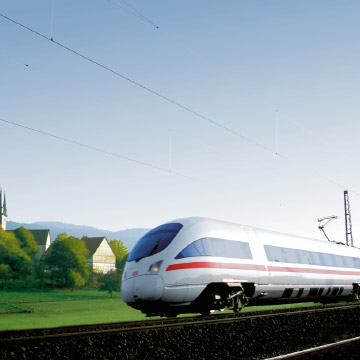 Arriving by train
© Deutsche Bahn AG / Gert Wagner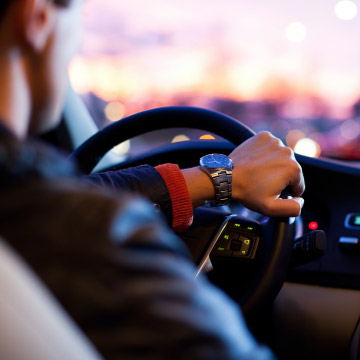 Get here by car