Highlights
Public Restaurant
Vegetarian menu
Vegan dishes
Services around Organic cuisine
Menu selection
A la carte meals
Highlights
Hotel with charging station for e-cars
Climate-positive hotel
Services around Sustainability
Certified BIO HOTELS member since November 2018
Public interest company
Environmentally friendly and self-sufficient energy concept
Inspected by ABCERT
9,2 kg CO2e/Night
23 tons CO2e/year
Highlights
Nature hotel
Vacation with your dog
Accessible hotel
Hotel for celebrations
Services around Vacation
Elevator
Free WIFI
Free parking
Pick-up service from train stations included
Summer sports activities such as hiking, cycling, golfing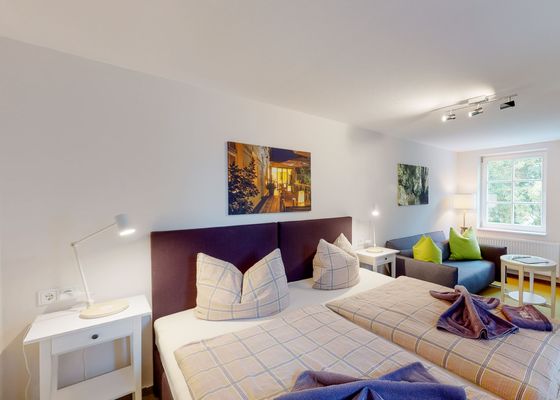 The hygiene concept in our hotel: 
Trained staff who is familiar with safety guidelines of local authorities
Staff wears masks and gloves where necessary
Disinfectants in rooms and public areas
Contactless (online) check-in possible
Distance rules are observed
Visits to restaurants by prior arrangement only
Limited number of guests in the restaurant and in the wellness areas, etc.
Varying times for breakfast, lunch and dinner
Hygiene breaks during catering
Special antiviral cleaning agents on an ecological basis
Comprehensive room cleaning by the staff
Guests can indicate that housekeeping is not desired
Room Service
Flexible cancellation terms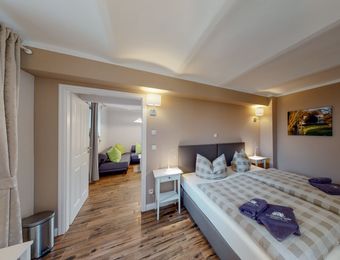 Junior suite in the horse stable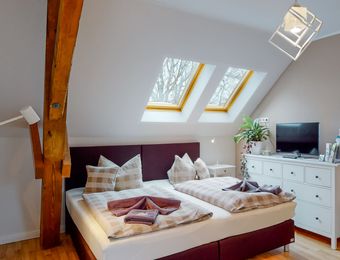 Twin room in the horse stable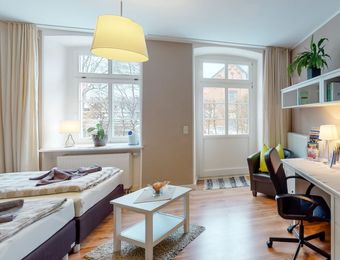 Appartamento comfort nella casa del mulino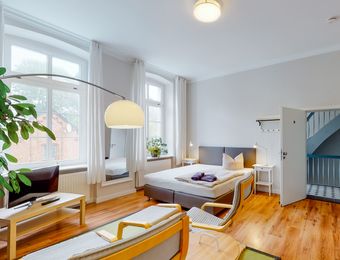 Double room in the mill house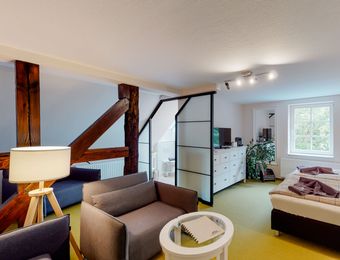 Double room in the attic on the left
Double room in the attic on the right
Review date 13. May 2022
Die Schönhagner Mühle liegt ruhig gelegen. Die Zimmer sind sehr schön und ruhig (mit Ausnahme des Geplätschers des Baches (ist sehr meditativ) - bei geschlossenen Fenstern hört man aber nichts). Man wird sehr freundlich aufgenommen...
Review date 12. May 2022
Ein tolles Hotel in einer traumhaften Umgebung.<br />Ich und meine Familie war schon mehrmals dort und werde es weiterhin auch immer wieder buchen.<br />Sehr zu empfehlen. Wer die Prignitz noch nicht kennt, sollte sich Diese unbedingt, am besten mit dem Fahrrad oder auch mit Motorrad anschauen und dann genau in der Schönhagener Mühle einchecken. Der ideale Ausgangspunkt für Ihren Urlaub. <br />Also los geht´s.
Review date 07. May 2022
Sehr ruhig gelegenes Biohotel mit wunderschönem Ambiente für einen Kurzurlaub mit dem Fahrrad sehr zu empfehlen! Nettes Zimmer im " Pferdestall" , idyllisch am Flüsschen mit eigener Sitzecke! Ein sehr engagierter Koch, der leider bisher vergeblich versucht, sein unmittelbares Nachbarschaftsumfeld von der besseren Alternative, 100% biologisch zu essen und ökologisch zu leben, zu interessieren und sogar Gutscheine für ein Essen verteilt- --- die nicht eingelöst werden. Tolles Essen, leider nur Cafe- Betrieb am Wochenende.
Review date 04. April 2022
Tolles kleines Hotel inmitten der Natur! Gemütliches Zimmer mit vielen kleinen Aufmerksamkeiten, wie zb frisches Wasser oder die Möglichkeit sich Tee oder Kaffee direkt auf dem Zimmer zuzubereiten. Alles sehr modern und sauber. Das ökologische Konzept hat uns besonders angesprochen. Vielen Dank!
Review date 03. April 2022
Wir waren zum Essen im Restaurant und waren positiv überrascht.<br />Einrichtung schön dekoriert und es sieht nach etwas höheren Stil aus. Personal super freundlich. Mit der Chefin des Hotels/Restaurant ein kleines Gespräch gehabt, man fühlte sich vertraut und verstanden und auch diese super freundlich. Das Essen ist eine Bio Küche, regionale und auch vegetarisch Gerichte werden hier angeboten. Die Preise sind für Bio Küche aber Moderat und das ist für Bio nicht üblich daher eine großes Plus! Kann den Fisch wärmstens empfehlen und auch den Käsekuchen als Nachtisch. Vor Ort sind auch gegenüber ein Parkplatz mit ausgewiesen e Parkplätze. Im ganzen super köstliches Bio Restaurant etwas abseits der Stadt Pritzwalk gelegen aber einen Besuch Wert.
Review date 20. March 2022
Trotz später Ankunft konnten wir noch im Restaurant essen und wurden nett empfangen. Zum Frühstück mit wunderschönem Blick auf den Garten wurden uns alle Wünsche erfüllt, Hafermilch im Kaffee und vegane Auswahl kein Problem. Die Ferienwohnung war sehr sauber und super ausgestattet. Wir kommen gern wieder!
Review date 17. March 2022
Zu all den guten Eindrücken war das Frühstück und die Küche überragend. Sehr freundliches Personal, das sich vorbildlich um seine Gäste kümmert. Unser Aufenthalt hatte einen sehr hohen Wohlfühl- und Erholungsfaktor.
Review date 17. March 2022
schönes Zimmer, ruhige Lage, sehr sauber, gutes Essen, freundliche Menschen
Review date 16. March 2022
sehr gutes Frühstück und sehr freundliches Personal
Review date 05. February 2022
Ich habe schon lange nicht mehr so wohl in einem Hotel gefühlt. Es hat wirklich alles gepasst.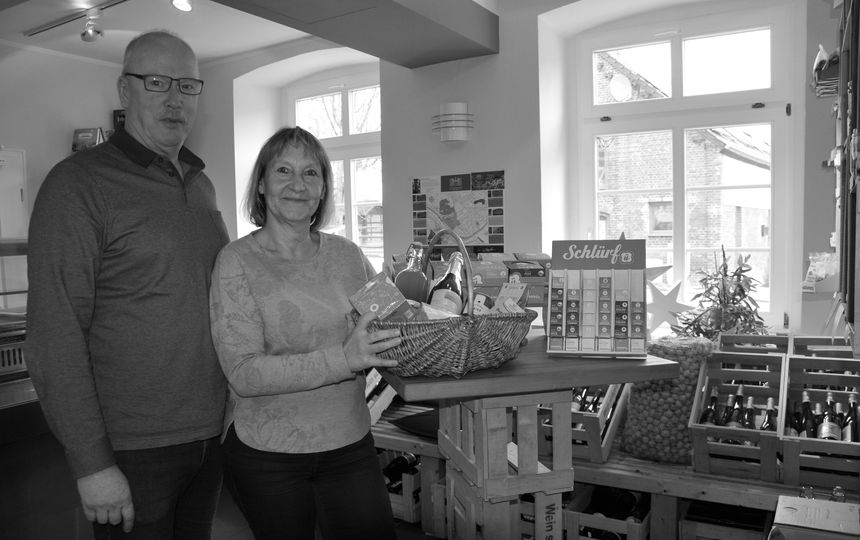 Hosts
Mühlenhaus owner, Thomas Krummsdorf, has always sought culinary experiences on his travels through Germany and Europe and brought them home to the Prignitz for his guests. "Good food makes you happy" - this conviction has accompanied the passionate gourmet his whole life. Thomas is convinced that the quality and origin of the food is what makes it enjoyable. He himself and his urbane cook prepare meals and dishes from fine and fresh delicacies. They have fresh and delicious food delivered directly from family farms or traditional food crafts to the organic restaurant at Schönhagener Mühle.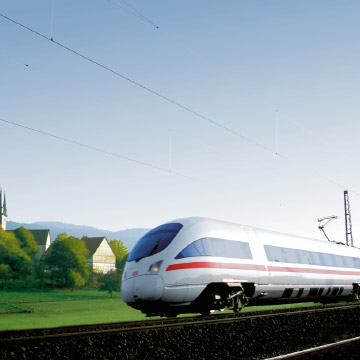 Arriving by train
© Deutsche Bahn AG / Gert Wagner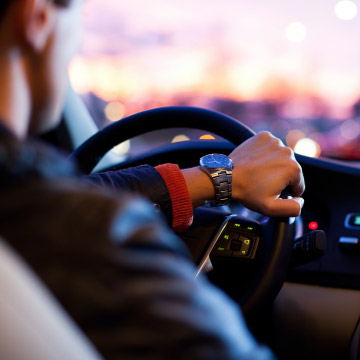 Get here by car