Highlights
Public Restaurant
Vegetarian menu
Vegan dishes
Services around Organic cuisine
Menu selection
A la carte meals
Highlights
Hotel with charging station for e-cars
Climate-positive hotel
Services around Sustainability
Certified BIO HOTELS member since November 2018
Public interest company
Environmentally friendly and self-sufficient energy concept
Inspected by ABCERT
9,2 kg CO2e/Night
23 tons CO2e/year
Highlights
Nature hotel
Vacation with your dog
Accessible hotel
Hotel for celebrations
Services around Vacation
Elevator
Free WIFI
Free parking
Pick-up service from train stations included
Summer sports activities such as hiking, cycling, golfing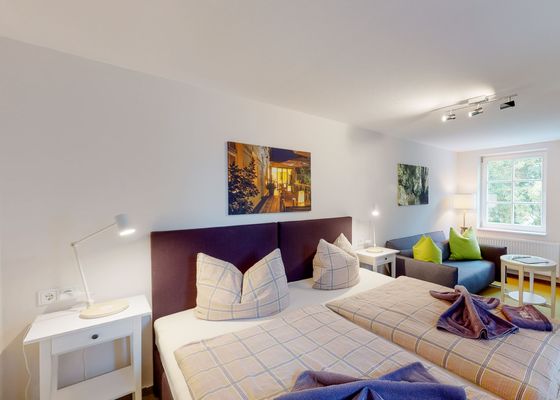 The hygiene concept in our hotel: 
Trained staff who is familiar with safety guidelines of local authorities
Staff wears masks and gloves where necessary
Disinfectants in rooms and public areas
Contactless (online) check-in possible
Distance rules are observed
Visits to restaurants by prior arrangement only
Limited number of guests in the restaurant and in the wellness areas, etc.
Varying times for breakfast, lunch and dinner
Hygiene breaks during catering
Special antiviral cleaning agents on an ecological basis
Comprehensive room cleaning by the staff
Guests can indicate that housekeeping is not desired
Room Service
Flexible cancellation terms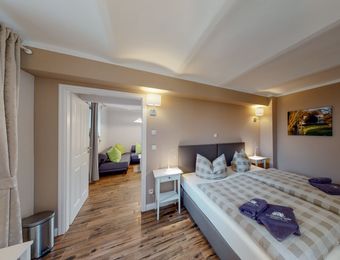 Junior suite in the horse stable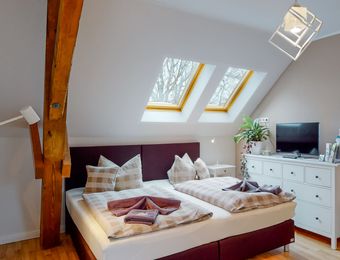 Twin room in the horse stable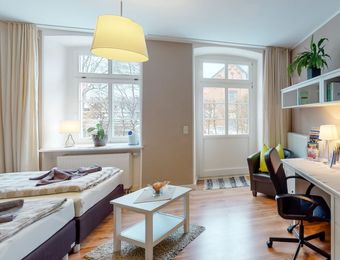 Appartamento comfort nella casa del mulino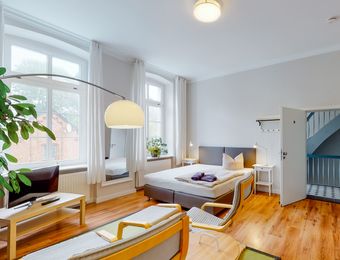 Double room in the mill house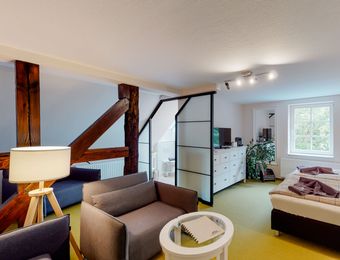 Double room in the attic on the left
Double room in the attic on the right
Review date 27. September 2022
Ein gutes, sevicefreundliches von nettem Personal geführtes Hotel. Ein netter, alter Ort ist dieser Stadteil von Pritzwalk. Prima Zimmer, alles sehr sauber und sehr gutes Essen. Modern und ökologisch in jeder Weise.
Review date 18. September 2022
Die perfekte Wahl, um dem Alltag zu entfliehen und es sich rundum gut gehen zu lassen. Wir haben unseren Aufenthalt in vollen Zügen genossen - die Ruhe, die Natur, den plätschernden Bachlauf, das gemütliche Zimmer, das leckere, mit Liebe zubereitete Essen und den aufmerksamen Service.
Review date 05. September 2022
Welch ein Perle der Hotellerie und Gastronomie!<br />Sehr spontan wählten wir diese kurze Auszeit und wurden in jeder Hinsicht mehr als positiv überrascht..<br />Das Preisleistungsverhältnis ist top!<br />Die Höflichkeit und Kompetenz der Serviceleitung und das Niveau der Küche ist perfekt.. Vergessen sie Kommentare wie:" Nichts für den schmalen Geldbeutel."<br />Hier wird mit besten Zutaten gekocht und die Flaschen-Bio-Weine sind schon fast günstig.<br />Die Inhaber sind selbst mit Herz und Seele dabei und bereiten das phantastische Frühstück zusammen zu!<br />Der Garten hat schon eher Parkcharakter!<br />Das Bio Konzept wird bis hin zur Nachhaltigkeit des zur Miete angeboten E-Autos komplett durchgezogen..<br />Herz was willst du mehr.. In der nahen und ferneren Umgebung liegen kleine schöne Städtchen sowie das Havel Vorland , die Mecklenburger Seenplatte und Wandern kann man direkt vor der Tür..<br />Wir sagen Dankeschön
Review date 03. September 2022
schön gelegen großes, sauberes Zimmer super Frühstück freundliches, zuvorkommendes Personal
Review date 29. August 2022
Wir sind als Radtouristen von zu Hause gestartet, daher war Schönhagener Mühle unsere 1. Station nach 43 km... heisst also, es liegt in der Nähe ... und wir haben nicht gewusst, dass so ein kleines besonderes Hotel (Bio-Hotel) hier seit 2 Jahren mit so toller Gastronomie existiert. Wir waren sehr beeindruckt, die Gastfreundlichkeit, die Ausstattung, Gemütlichkeit ... neu - ja ... aber man sieht und spürt die Liebe zum Detail immer das Gesamtkonzept - BIO und die regionalen Produkte im Focus ... Der Wintergarten hat einen herrlichen Blick in den gepflegten Garten, wo sogar Rehe in aller Ruhe zum Frühstück erscheinen. Wir können dieses kleine, feine Hotel, wirklich sehr, den Gästen empfehlen, welche die Prignitz kennenlernen möchten.
Review date 29. August 2022
Ein sehr schönes Hotel in absolut ruhiger Lage. Man fühlt sich sehr gut aufgenommen, alle sind sehr herzlich und freundlich, das Frühstück ist sehr gut, auch die Küche am Abend hat 5 Sterne verdient. Immer wieder sehr gerne. Zimmer sind sehr geschmackvoll eingerichtet.
Review date 28. August 2022
Wonderful location and setting if you like nature, peace and quiet. We loved our spacious, spotlessly clean room with a very nice and comfy ambiente, the beautiful gardens and cycling in the area. Dinner in the restaurant was delicious and portions generous. Lovely staff.
Review date 21. August 2022
Ein herrlicher Ort zum geniessen und Ruhe finden. Herzlichkeit, Freundlichkeit und sehr geschmackvolle Unterkunft.
Review date 10. August 2022
Ein sehr idyllisch gelegenes Restaurant, der Außenbereich ist wunderbar ruhig. Das Personal ist sehr nett und freundlich. Die Speisekarte ist übersichtlich und das Essen ist lecker. Alles von sehr guter Qualität und Frische. Von mir eine klare Empfehlung, nix für den schmalen Geldbeutel , Qualität kostet nun mal.......
Review date 08. August 2022
Die Schönhagener Mühle liegt idyllisch an einem kleinen Bachlauf ruhig und inmitten der Natur. Das Plätschern des Wassers, das Zwitschern der Vögel, die Hühner und Schafe in der Umgebung laden zum Entspannen ein. Wer mag kann die zutraulichen Tiere, wie die Hofkatze streicheln und allen Stress und Lärm hinter sich lassen. Das Personal ist sehr freundlich und hilfsbereit. Das Ambiente des Hotels, das Restaurant mit freier Terasse zum Bach und dem herrlichen Garten unterstreichen den ökologischen Charakter des Bio-Hotels. Sowohl die naturbelassene Einrichtung als auch das vorzügliche Bio-Essen machen das Hotel zu einem echten Geheimtip.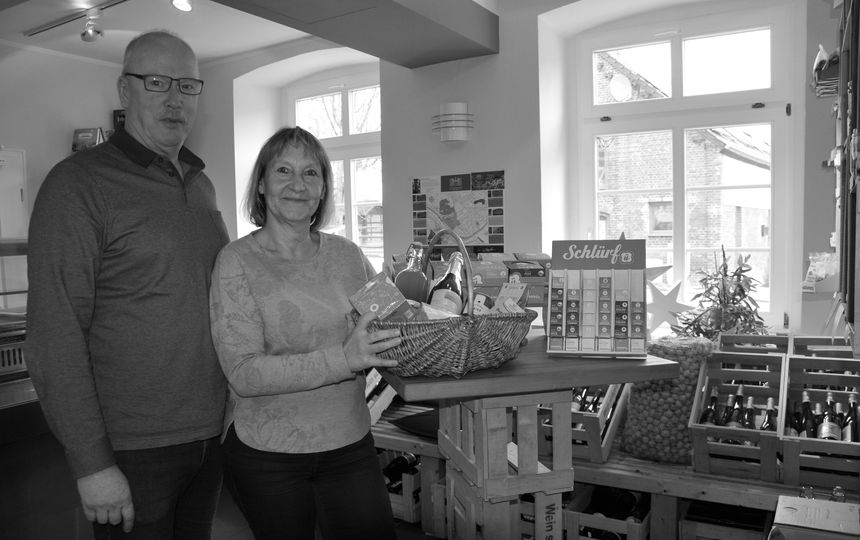 Hosts
Mühlenhaus owner, Thomas Krummsdorf, has always sought culinary experiences on his travels through Germany and Europe and brought them home to the Prignitz for his guests. "Good food makes you happy" - this conviction has accompanied the passionate gourmet his whole life. Thomas is convinced that the quality and origin of the food is what makes it enjoyable. He himself and his urbane cook prepare meals and dishes from fine and fresh delicacies. They have fresh and delicious food delivered directly from family farms or traditional food crafts to the organic restaurant at Schönhagener Mühle.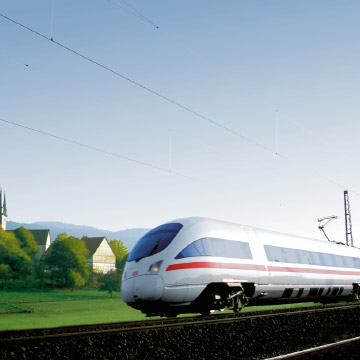 Arriving by train
© Deutsche Bahn AG / Gert Wagner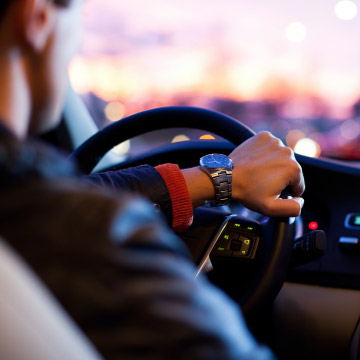 Get here by car