Highlights
Restaurant for hotel guests
Vegetarian menu
Allergy-free kitchen
Highlights
Hotel with charging station for e-cars
Services around Sustainability
Certified BIO HOTELS member since November 2017
Inspected by ABCERT
Highlights
Nature hotel
Vacation with your dog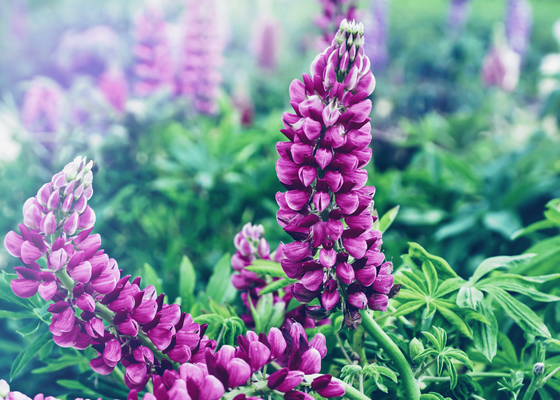 Fun for young and old:

In the suites and rooms of the house, families are very welcome guests, whose special needs are treated with courteous, self-evident.

A wide range of family-friendly leisure activities in the area, a playroom attached to the gourmet restaurant and much more: The Pazeider has everything to offer the small and large guests of the house an exciting and harmonious stay.
Highlights
Hotel with day spa
Hotel with swimming pool
Hotel with sauna
Hotel with gym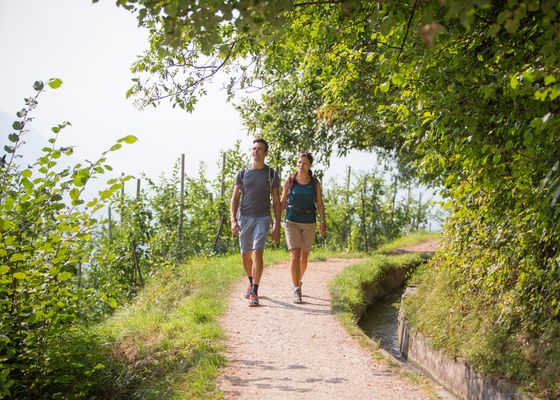 Experience romantic moments:
Whether in the four walls of your own room, in the historic wine cellar or in the in-house gourmet restaurant: there are plenty of selected places for a romantic get-together in the BIO HOTEL Pazeider.

The hotel team will be happy to help you plan special moments with fine champagne or a romantic dinner. The rooms and suites with a free-standing bathtub or their own whirlpool offer a special highlight that is guaranteed to create unforgettable experiences.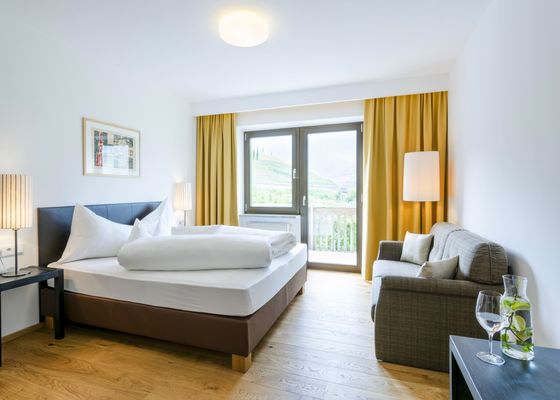 The hygiene concept in our hotel: 
Trained staff who is familiar with safety guidelines of local authorities
Staff wears masks and gloves where necessary
Distance rules are observed
Self-service buffet (gloves available for guests)
Limited number of guests in the restaurant and in the wellness areas, etc.
Comprehensive room cleaning by the staff
Guests can indicate that housekeeping is not desired
Flexible cancellation terms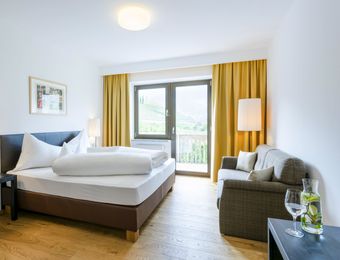 Double view Tirolo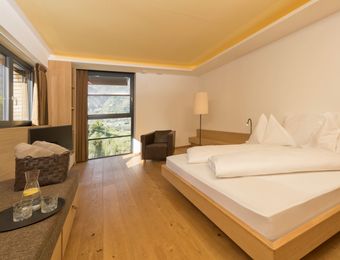 Double mountain view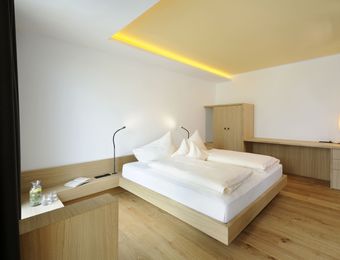 Family room mountain view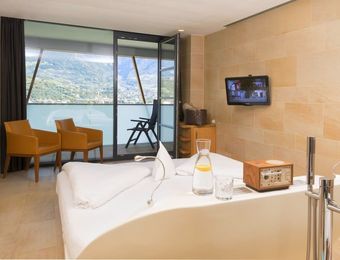 Double view Merano romantic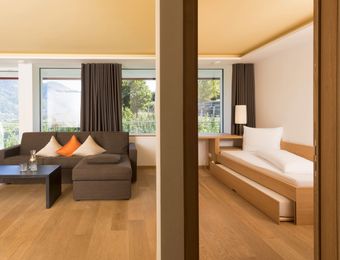 Suite south balcony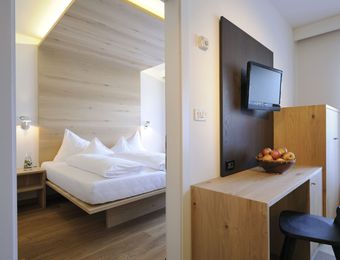 Suite Meran View 2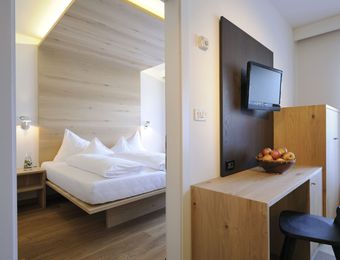 Suite Meran view kitchen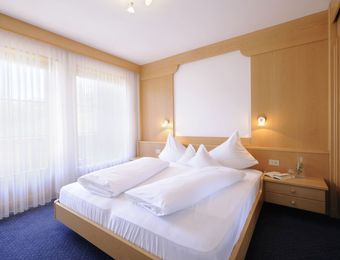 Big Suite Classic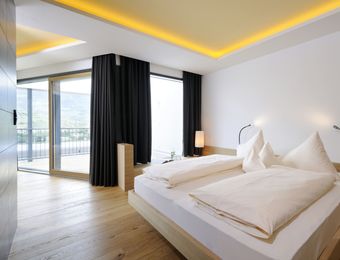 Panorama Suite Merano view
Suite Inflagranti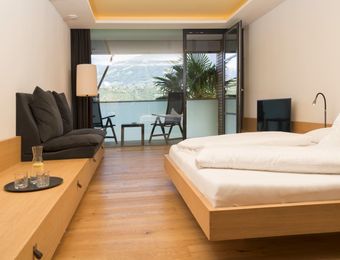 Double view to Merano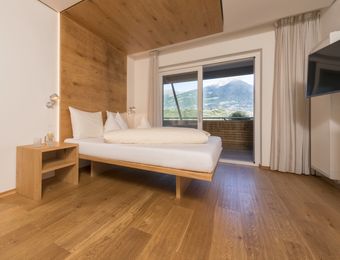 Double view to Merano (for families)
Review date 02. October 2021
Sehr gutes und modernes Bio-Hotel.<br /><br />Nettes Personal und sehr gutes Essen. Alles frisch und natürlich Bio.<br />Das Abendessen wird beim Frühstück ausgewählt und man kann die Reihenfolge sowie Portionsgröße mit dem Personal abstimmen.<br />Beim Frühstück gibt es viel Auswahl und man kann sich sogar selber Filterkaffee zubereiten.<br />Sehr gutes Weinseminar, dass ich nur weiterempfehlen kann.<br />Es werden verschiedene Kurse wie Yoga, Meditation oder 5 Tibeter angeboten.<br />Schwimmbad, Pool, SPA Bereich und Sauna habe ich nicht genutzt und kann daher nichts dazu sagen.<br />Weiterhin gibt es auch medizinische Versorgung im Haus für den Fall der Fälle.<br />Das Hotel liegt inmitten von Apfelplantagen und somit mitten in der Natur. Wir hatten unseren Kleinpudel dabei und konnten so Morgens und Abends noch eine kleine Strecke Gassi auf den Wegen zwischen den Apfelplantagen gehen.<br />Die Ausrichtung des Hotels finde ich persönlich nicht so gut, auf der einen Seite im Tal die Schnellstraße und auf der anderen Seite die Regionalbahn.<br />Aber die Zimmer sind sehr modern und auch mit schalldichten Fenstern versehen, sodass man davon nichts hört.<br />Nur, wenn man auf dem Balkon sitzt und die Aussicht auf Meran genießt, hat man das monotone Rauschen der Schnellstraße.<br /><br />Alles in allem überwiegen aber die positiven Aspekte und das Hotel ist nur zu empfehlen.
Review date 17. September 2021
Alta professionalità, vista mozzafiato. Consigliato per un periodo di relax e di wellness
Review date 15. September 2021
Sehr schöne Zimmer mit Blick auf Meran, zu jeder Tageszeit ein Genuss..Qualitativ hochwertiges und feines Essen, sehr schöner WellnessbereichSuper Ausgangspunkt für Wanderungen
Review date 14. September 2021
Alles war auf hoechsten Niveau ! Der Aufenthalt, die Lage des Hotels in Ruhe zwischen den Obstgaerten mit Meranblick, das Zimmer, das Service, das Bedienungpersonal und vor allem hervorragende Kueche mit immer ueberraschenden Gerichten. Ich empfehle das Hotel !
Review date 14. September 2021
Alles war auf hoechsten Niveau ! Der Aufenthalt, die Lage des Hotels in Ruhe zwischen den Obstgaerten mit Meranblick, das Zimmer, das Service, das Bedienungpersonal und vor allem hervorragende Kueche mit immer ueberraschenden Gerichten. Ich empfehle das Hotel !
Review date 07. September 2021
Sehr schöne Lage etwas außerhalb von Meran sehr nettes Personal tolles Essen abwechslungsreich super Geschmack Wellnessbereich ist großzügig und sauber. Man kann dieses Hotel weiterempfehlen es ist sehr gut. Idealer Ausgangspunkt für verschiedene Wanderungen. Strand ist in zehn Minuten mit dem Auto zu erreichen.
Review date 02. September 2021
Ein Hotel, das ganz liebe Mitarbeiter hat, aber für den Preis eigentlich noch eine Schippe drauf legen müsste. Das Hotel ist sauber und das Essen sehr gut. Ich habe mir letztendlich mehr erhofft und war dann etwas enttäuscht durch die Abläufe im Restaurant. Es schien mir auch so, dass sie nicht darauf vorbereitet waren, dass wir mit einem Kind anreisen. Einen Kinderstuhl mussten wir separat anfordern. Es fehlte irgendwie die entsprechende Vorbereitung. Zum Wandern ist dieses Hotel super geeignet. Man hat sehr viele Möglichkeiten in dieser Gegend.
Review date 31. August 2021
Schöne Zimmer, bestes Essen, sehr freundliches Personal. Wir haben uns rundherum wohlgefühlt und schöne Tage verlebt. Idealer Ausgangspunkt für Wanderungen und Ausflüge. Schöne Wellnessanlage.
Review date 31. August 2021
Dieses Hotel kann man nur jedem empfehlen. Top.Super nettes Personal und erstklassiges Essen, sowohl morgens als auch Abends.Alles in Bio-Qualität.Und der Wellness und Spa-Bereich ist echt super klasse!!
Review date 31. August 2021
Wunderschön. Sehr bemüht um die Gäste. Super Lage in den Plantagen. Perfekter Punkt für Ausflugsziele.Sehr saubere Zimmer. Super Erholung durch Wellness.
Review date 29. August 2021
Sehr schönes Hotel, freundlichstes und aufmerksames Personal, sehr schöne Zimmer, super Essen. Danke für den schönen Aufenthalt!!!
Review date 21. August 2021
Wunderbar gelegenes Haus mit perfektem Panoramablick auf den Meraner Kessel.Hervorragendes, schnelles und umsichtiges Management an der Rezeption.Äußerst zuvorkommendes und freundliches Personal, das dem Gast jeden Wunsch von den Lippen abliest
Review date 18. August 2021
Tolle Lage, angenehme Atmosphäre, super Service, feinstes Essen, Erholung pur in dieser angespannten Zeit. Jederzeit wieder....
Review date 16. August 2021
Wir waren Ende Juli 2021 für 4 Tage im Pazeiderhof in Marling und hatten das Hotel noch relativ kurzfristig gebucht - es waren viele andere Hotels bereits ausgebucht. Der Name "Bio- und Wellnesshotel" sprach uns besonders an. Vorab möchte ich jedoch gleich anmerken, das mit dem Wellnesshotel hätte ich mir anders erwartet. Das Hallenbad, die Liegewiese und das Freibad sind leider schon etwas sehr in die Jahre gekommen und passen irgendwie auch nicht so recht zum Rest dazu. Der Sauna-, Massage- und Beautybereich waren hingegen sehr schön! Generell ist zu sagen, dass bei dem Haus wohl immer wieder neu an- und dazu gebaut wurde und das sieht man auch sehr gut. Teilweise wurde das unserer Ansicht nach nicht immer gut gelöst!<br /><br />+ Wir hatten im "älteren" Trakt ein wirklich sehr schönes und großes Zimmer mit großem Whirlpool im Zimmer und einer richten "Liebeswiese" ;-) Das Zimmer ist wirklich der Hammer und auch die Reinigung der Zimmer war immer perfekt! Kompliment! Von der nahe gelegenen Bahnlinie hört man übrigens so gut wie nichts!<br /><br />+ Das Frühstück war perfekt. Wirklich zahlreiche Bio-Produkte auf dem Buffet, super Kaffee und feine Eierspeisen zur Auswahl. Auch der "Speisesaal" liegt sehr schön mit traumhafter Aussicht in Richtung Meran. Das Wahlmenü am Abend war teilweise etwas "schmal" bemessen (von der Menge her). Die Auswahl aber gut und teilweise interessant komponiert.<br /><br />+ Insgesamt sehr freundliches Servicepersonal. Besonders die Damen im SPA Bereich waren sehr zuvorkommend und professionell.<br /><br />- Am Abend sollte man bis 20.30 Uhr zur HP kommen, danach wollte das Personal dann auch schon gleich einmal "Schluss" machen. Das war das größte Manko! Sobald das Dessert "abgewickelt" war, wurde schon aufgeräumt, und ein gemütlicher Drink an der Bar oder im schönen Garten gab es im Anschluss leider nicht mehr :-(
Review date 03. August 2021
Angekommen nach anstrengenden 6 Tagen Alpenüberquerung waren wir froh in einem so schönen Hotel anzukommen. Der Wellnessbereich ist wunderschön und sehr modern.<br />Das Personal im Wellnessbereich, das Housekeeping und vor allem das Personal im Restaurant ist sehr freundlich. Leider waren wir mit der aufgesetzten Freundlichkeit an der Rezeption an beiden Tagen nicht sehr zufrieden und fühlten uns etwas im Stich gelassen.<br />Unsere Fragen konnten wir uns dann durch das Internet selbst beantworten und werden aus diesem Grund das nächste Mal ein anderes Hotel suchen.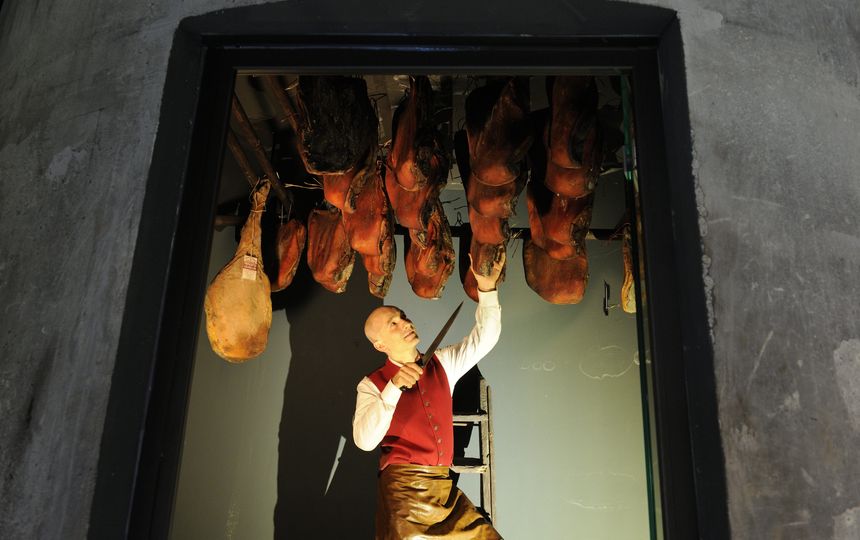 Hosts
Recreation combined with positive and healthy lifestyle through enjoyment in an energetic environment - this is what drives us, family Kofler, in the BIO HOTEL Pazeider for over 200 years.
 
A place where worrylessness reigns, where new thoughts come to life. Thoughts that recognize essentials and bring you back to serenity. Feel nature! How it touches us and moves us. Changes us and strengthens us.
 
We try to actively live and implement these rules. We are constantly looking for new ways to go through life with more pleasure, light-heartedness and relaxation, to pass these on to our guests and implement them in the hotel. 
 
We are looking forward to meeting you! 
Your Stephan Kofler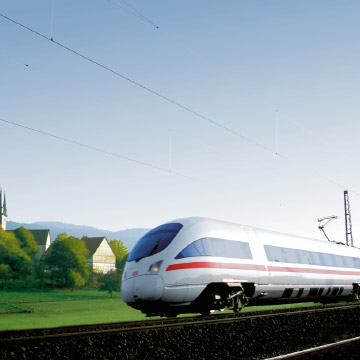 Arriving by train
© Deutsche Bahn AG / Gert Wagner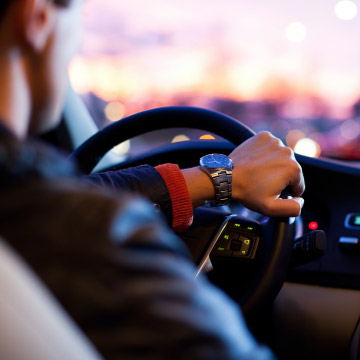 Get here by car