Highlights
Restaurant for hotel guests
Vegetarian menu
Allergy-free kitchen
Highlights
Hotel with charging station for e-cars
Services around Sustainability
Certified BIO HOTELS member since November 2017
Inspected by ABCERT
Highlights
Nature hotel
Vacation with your dog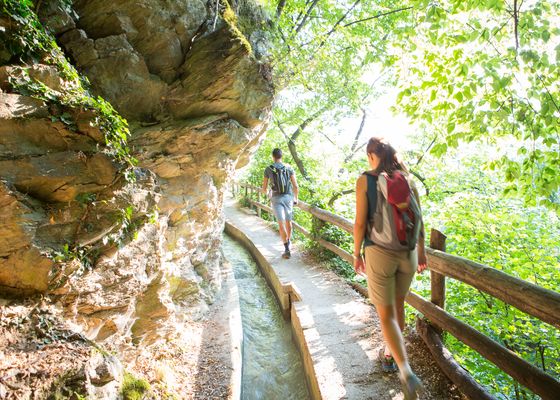 Fun for young and old:

In the suites and rooms of the house, families are very welcome guests, whose special needs are treated with courteous, self-evident.

A wide range of family-friendly leisure activities in the area, a playroom attached to the gourmet restaurant and much more: The Pazeider has everything to offer the small and large guests of the house an exciting and harmonious stay.
Highlights
Hotel with day spa
Hotel with swimming pool
Hotel with sauna
Hotel with gym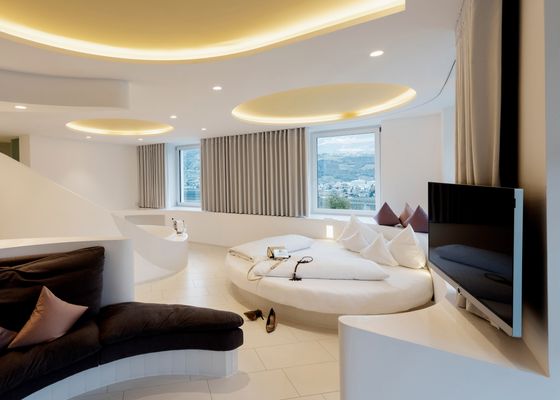 Experience romantic moments:
Whether in the four walls of your own room, in the historic wine cellar or in the in-house gourmet restaurant: there are plenty of selected places for a romantic get-together in the BIO HOTEL Pazeider.

The hotel team will be happy to help you plan special moments with fine champagne or a romantic dinner. The rooms and suites with a free-standing bathtub or their own whirlpool offer a special highlight that is guaranteed to create unforgettable experiences.
The hygiene concept in our hotel: 
Trained staff who is familiar with safety guidelines of local authorities
Staff wears masks and gloves where necessary
Distance rules are observed
Self-service buffet (gloves available for guests)
Limited number of guests in the restaurant and in the wellness areas, etc.
Comprehensive room cleaning by the staff
Guests can indicate that housekeeping is not desired
Flexible cancellation terms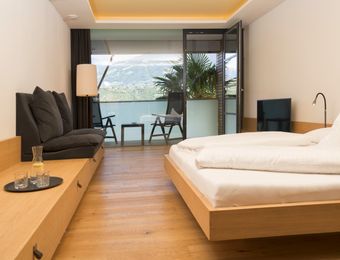 Double view to Merano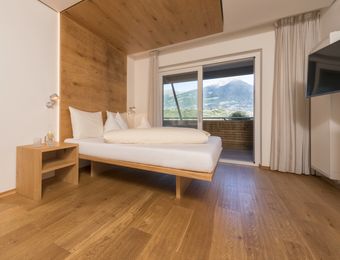 Double view to Merano (for families)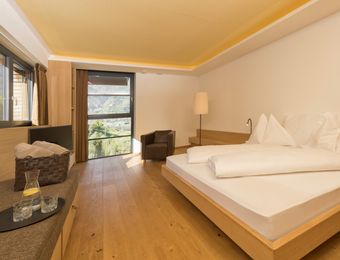 Double mountain view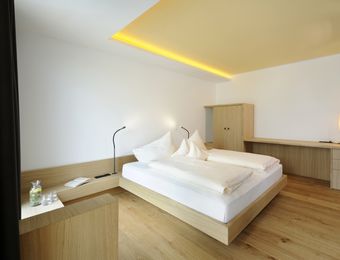 Family room mountain view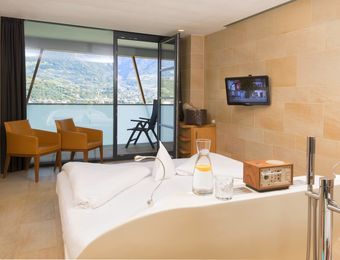 Double view Merano romantic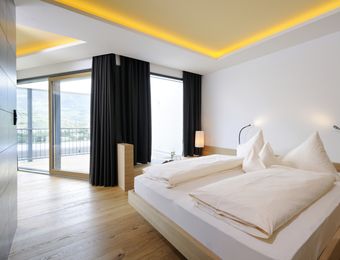 Panorama Suite Merano view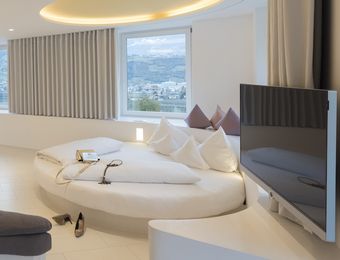 Suite Inflagranti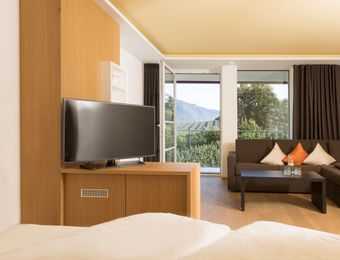 Suite south balcony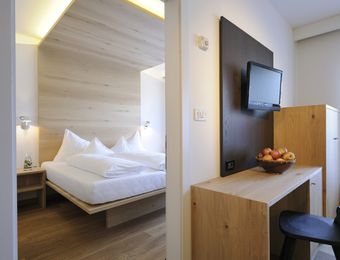 Suite Meran View 2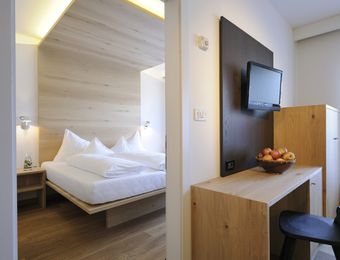 Suite Meran view kitchen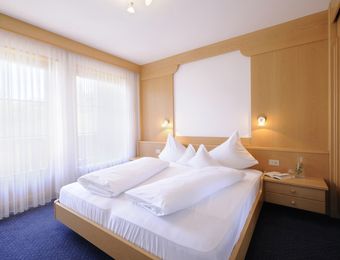 Big Suite Classic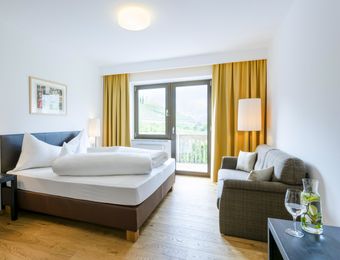 Double view Tirolo
Review date 02. August 2021
Cooler Schuppen
Review date 27. July 2021
Zweiter Besuch, exzellentes Essen, herzliche Gastgeber mit tollem Service, wunderschöner Blick nach Meran, viele Sportmöglichkeiten
Review date 23. July 2021
Das Hotel hat sich während unseres Aufenthaltes durch sehr freundliches Personal ausgezeichnet. Es ist schoen, wenn das Team sich merkt, was man gerne ißt und nachfragt, ob man das am nächsten Tag wieder essen möchte. Es gibt einiges, das uns jedoch nicht so sehr gefallen hat, bzw was uns nicht entspricht. Das Haus liegt in Obstplantagen aber auch zwischen Autobahn und Bahngleisen. Ich muss sagen, dass ich bei geschlossenen Fenstern davon nichts gehoert habe. Die Dämmung ist vorbildlich. Wir hatten eine Suite mit zus. Schlafzimmer gebucht. Der Gast im Zusatzzimmer muss allerdings durch das Hauptschlafzimmer, wenn er raus oder nachts auf die Toilette muss. Wir wurden freundlicherweise dann in zwei DZ umgebucht. Das Badezimmer ist dreigeteilt: Dusche mit kleiner Trennwand, daneben Waschbecken und daneben die Toilette, abgetrennt mit einer Glastüre. Das Bad an sich hat keine Türe zum Schließen. Während unseres Aufenthalts gab es 2 warme Tage, danach hat es geregnet und die Nächte waren kühl. Leider war der Handtuchheizer nicht in Betrieb: Begründung "das ist ein Heizkreislauf und es ist Sommer". Wenn der Sommer kalt ist hat der Gast also keinen Möglichkeit ein warmes Bad oder Handtuch zu bekommen. Zum Sitzen im Zimmer gibt es einen Holzstuhl und einen Designplastiksessel. Der Sandkasten fuer Kinder war durchsetzt von Unkraut, wie auch die Plattenwege. Es gab während unseres Aufenthaltes viele Sonnenliegen im Garten aber nur 2 Schirme und 3 Beistelltische. Bei warmem Wetter (27 Grad ohne Sonne) durften wir nicht draußen auf der schönen Terrasse zu Abendessen. "das machen wir nicht" Wir hatten die Wahl zwischen einem auf 19/20 Grad heruntergekühltes Restaurant ( Aussage des Maitre) oder eine Art Terrasse mit festen Wänden und Dach, wo die Hundebesitzer essen durften. Wir haben nichts gegen Hunde - im Gegenteil - aber gegen stinkende Kauknochen, die wir tolerieren mussten. Es gab zum Frühstück laktosefreien Cappuccino, über den ich mich sehr gefreut habe. Über die 14 EUR Laktosezuschlag auf der Rechnung habe ich mich nicht gefreut, weil das nicht vorab kommuniziert wurde. Nicht, dass das zu teuer wäre, aber Milch ist Milch und ich glaube nicht, dass man einen 2 EUR Zuschlag pro Tag auch für normale Milch zahlen muss. Fuer das Müsli war die Milch allerdings inkl. Der Fitnessraum ist im Keller ohne Blick nach draußen Die Luft war unglaublich stickig. WLAN gab es im ganzen Haus, nur dort nicht. Dafuer und das möchte ich besonders positiv betonen, war Desinfektionsmittel da, um die Geräte zu desinfizieren. Italien bietet unglaublich viele tolle Wurst und Käsesorten. Vermutlich alle nicht Bio, die Auswahl auf dem Büffet war eher klein und Standard. Toll ist die selbstgemachte Pizza aus dem Holzbefeuerten Steinofen. Hier werden täglich auch Semmeln und Brot frisch gebacken. Das ist etwas ganz besonderes. Das Spa ist prima und unsere Therapeutin war klasse. Ich habe meine persönlichen Erfahrungen hier geschildert. Andere empfinden die Dinge eventuell ganz anders.
Review date 20. July 2021
Sehr schönes Hotel mit schönem modernem angenehm kühlem und belüfteten Zimmer. Ausgezeichnetes Frühstück mit Speisenangebot von sehr hoher Qualität
Review date 12. July 2021
Das hotel liegt in einer sehr schönen Lage mit Blick auf meran. Man fühlt sich sehr wohl hier.personal sehr freundlich. Zimmer immer sehr sehr sauber. Essen super.
Review date 07. July 2021
Abseits vom Trubel der Stadt modernes Haus mit all dem was man so braucht. Schöne Lage über Meran. Hervorragend ist der Service und die Freundlichkeit des Personals. Die Küche steht dem nichts nach. So muss Urlaub sein..
Review date 01. July 2021
Sehr freundliches und aufmerksames Personal, exzellente Küche. Wir haben uns super wohl gefühlt. Das Gesamtpaket war top
Review date 29. June 2021
Wir waren 10 Tage im Hotel. Das Essen war sehr lecker ( das Abendmenü war kreativ und abwechslungsreich). Für Kaffeeliebhaber ein Paradies. Die Zimmer sind geräumig und gut ausgestattet. Begeistert waren wir von dem tollen Personal und dem super Service. Gerne wieder.
Review date 28. June 2021
Hat alles super gepasst
Review date 28. June 2021
Schönes Hotel, moderne Zimmer mit toller Aussicht. Super Frühstück mit allem was das Herz begehrt. Das Brot wird täglich frisch gebacken. Sehr gute Küche, sowohl geschmacklich als auch qualitativ. Mitarbeiter und Mitarbeiterinnen sehr aufmerksam und zuvorkommend. Toller Service. Vielen Dank dafür.
Review date 22. June 2021
Herrliche Lage mit tollem Ausblick auf die Stadt Meran die gut zu erreichen ist.Freundliches hilfbereites Personal ob Rezeption,Restaurant oder Suitereinigung.Das Essen einfach lecker,dem Koch einen Stern was er uns alles auf den Teller gezaubert hat.G.erne werden wir wiederkommen.
Review date 09. June 2021
Schönes Hotel, tolle stylische Zimmer mit Blick auf Meran und Dorf Tirol.<br />Essen sehr gut. Das Personal vermittelt eine angenehme Atmosphäre.
Review date 08. June 2021
Das Hotel sieht modern und ansprechend aus. Die Zimmer inkl. des Bads sind sehr geschmackvoll eingerichtet. Der Wellnessbereich ist sehr schön; große Panoramafenster in den Saunen erlauben einen Blick in die Obstplantagen - herrlich!
Review date 04. June 2021
Ausgezeichneter Service des Personals, sauberes Zimmer, schöner Wellnessbereich mit tollem Ausblick und hervorragendes Essen! Vor allem das 5-Gängemenü am Abend ist fantastisch und etwas für Feinschmecker. Wer mit einem Bärenhunger vom Wandern oder Radfahren kommt, kann auch nett fragen, obs es noch zusätzlich eine kleine Pizza aus dem hoteleigenen Pizzaofen gibt ;-)
Review date 16. November 2020
Neben dem angenehmen Flair und der wirklich ganzheitlichen Ausrichtung als nachhaltiges Bio-Hotel bleibt vor allem das nette und aufmerksame Personal unter der Leitung von Herrn Kofler in Erinnerung. Und ja, das hervorragende Essen auch.
Review date 14. November 2020
Ein schönes und liebevoll gepflegtes Bio-Hotel in Familienbesitz. Etwas verwinkelt, weil immer wieder angebaut und erneuert wurde. Modern und chic.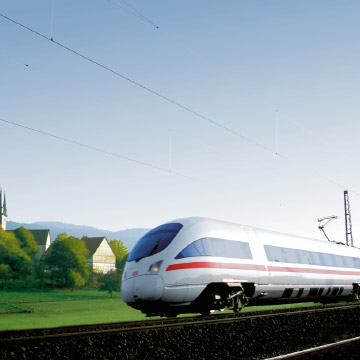 Arriving by train
© Deutsche Bahn AG / Gert Wagner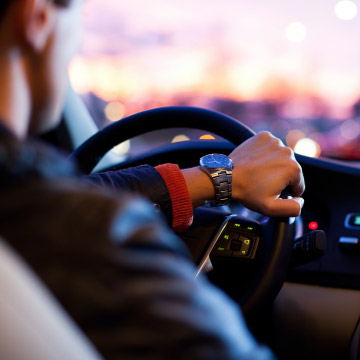 Get here by car