Highlights
Public Restaurant
Vegetarian menu
Vegan dishes
Allergy-free kitchen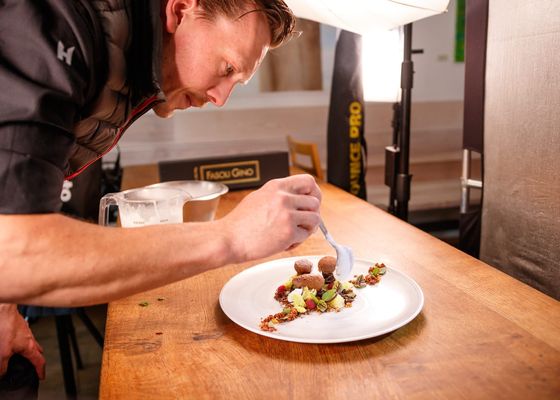 100% certified: 

"Our specialty in the organic restaurant is our kitchen philosophy: organic, regional, prepared with heart and seasoned with a pinch of Italy." - and why necessarily organic? - "Because it's the only guarantee of quality," says organic hotelier Domenico Petrone.
"Organic is a way of life." 

And as a guest, you can taste that too: be it in hearty traditional Bavarian dishes or refined variations with Italian charm. 

At the BIO HOTEL IL Plonner you can expect an experimental and unique organic cuisine at the highest level!
Highlights
Climate-neutral hotel
Services around Sustainability
Certified BIO HOTELS member since April 2011
Inspected by ABCERT
32 kg Co2-equivalents/night
81,7 tons Co2-equivalents/year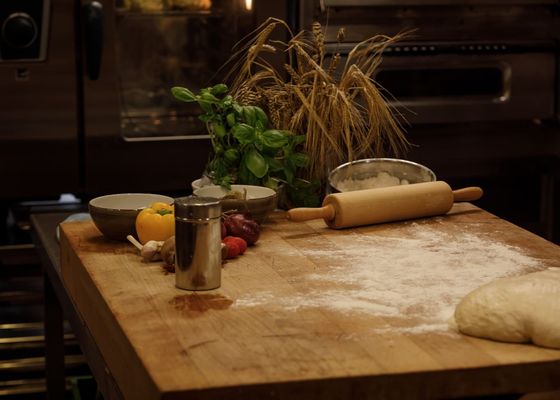 Our contribution to the future: 

Certified organic quality. Point. At IL Plonner you can be sure to enjoy the finest culinary delights at the highest level. Due to the strict and comprehensive BIO HOTELS guidelines, sustainability awaits you here in a wide variety of areas. 

You will feel this in the certified organic restaurant, in the meeting rooms and in the rooms. Here you will experience sustainability at every step. For a good feeling - also in the hotel!
Highlights
Vacation with your dog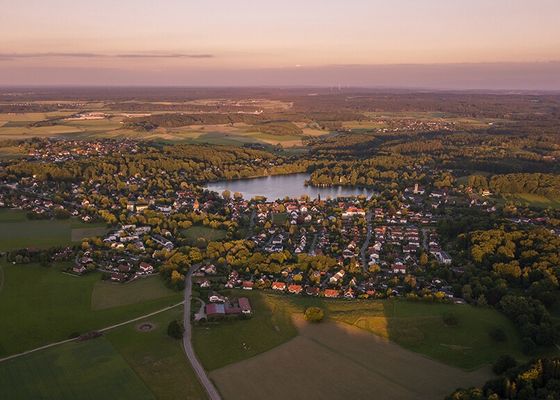 Sustainable hotel experiences: 

The Dorfgasthof IL Plonner is located in the heart of the Fünf-Seen-Land, near Munich, in the middle of a naturally healthy environment in the village of Oberpfaffenhofen (municipality of Weßling). 

The guest feels it immediately when he steps onto the balcony: in front of him are the rolling hills of the Bavarian foothills of the Alps, with the mountains looming on the horizon. "Five minutes down the road from the hotel, you get directly to Weßlinger See," organic hotelier Domenico Petrone calls out to a guest. "It looks like a big heart, by the way; you'll notice it when you walk around it once!"
Services around Green Meetings
Conference equipment
Meeting room with daylight
Network technology
Sustainable & recyclable conference materials
Break area
Catering / brain food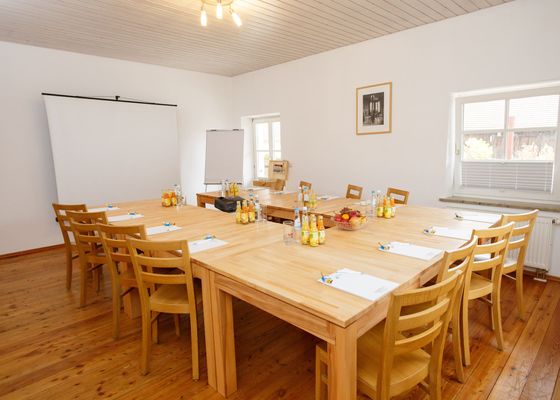 Make your events green: 

The beautiful Fünf-Seen-Land, nestled between the Alps and the metropolis of Munich, is a true source of inspiration for many people." "Many a witty idea has already come up in our conference room," says organic hotelier Domenico Petrone. 

With modern conference equipment, you can hold meetings at the BIO HOTEL IL Plonner in a small but exclusive setting.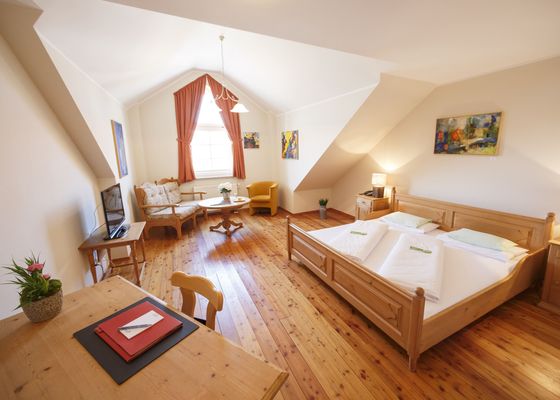 The hygiene concept in our hotel: 
Trained staff who is familiar with safety guidelines of local authorities
Staff wears masks and gloves where necessary
Disinfectants in rooms and public areas
Distance rules are observed
Visits to restaurants by prior arrangement only
Limited number of guests in the restaurant and in the wellness areas, etc.
Varying times for breakfast, lunch and dinner
Hygiene breaks during catering
Special antiviral cleaning agents on an ecological basis
Comprehensive room cleaning by the staff
Guests can indicate that housekeeping is not desired
Room Service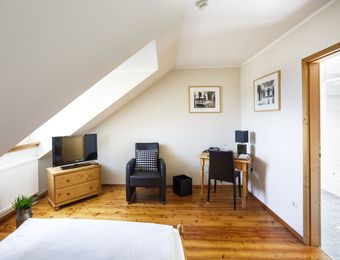 Single room 4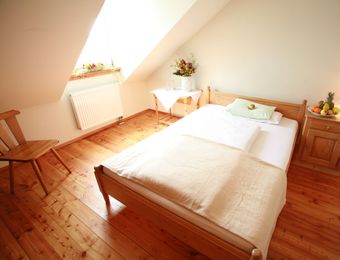 Single room 9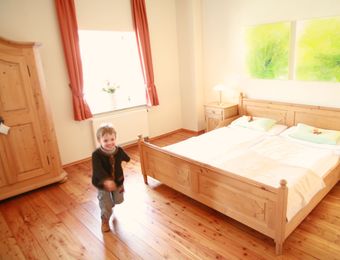 Double room 2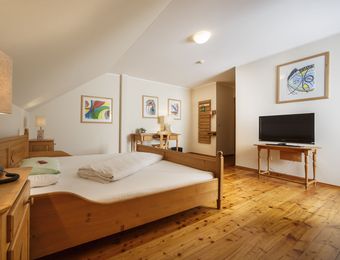 Double room 5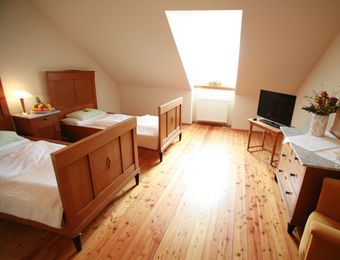 Double room 6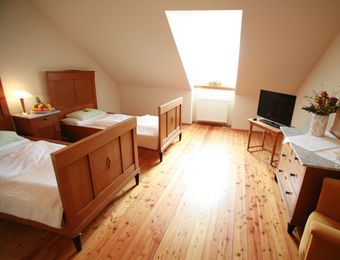 Double room 8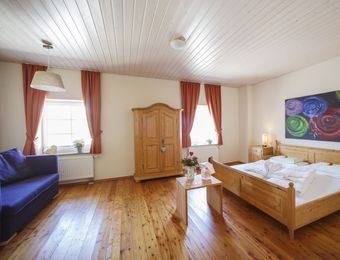 Family room 1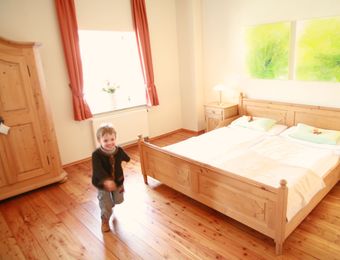 Family room 3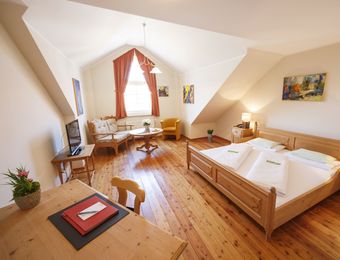 Family room 7
Review date 13. October 2021
Das Essen "Münchner Schnitzel" bzw. "Wiener Schnitzel" mit Bratkartoffeln, Preiselbeermarmelade und großem Salat war sehr lecker. Die Einrichtung ist sehr schön und der Service sehr aufmerksam und gut. Die Preise sind wegen BIO-Qualität natürlich etwas höher. Leider wurde aber nicht auf Corona 3G geachtet. Was in Innenräumen und jetzt im Herbst schon sein sollte!
Review date 30. September 2021
Freundliches Personal. Komme gerne wieder.
Review date 28. September 2021
Sehr gute Küche.
Review date 27. September 2021
Ottima esperienza per un gruppo di motociclisti, location perfetta e rilassante in stile bio/organic.<br />Domenico, il proprietario, molto disponibile gentile e simpatico.<br />I cuscini con i semi di farro sono una chicca.
Review date 26. September 2021
Einfach ein Traum. Erstklassig und von uns 7 Sterne
Review date 21. September 2021
Bio auf dem Land
Review date 02. September 2021
Essen im Restaurant war sehr lecker und liebevoll angerichtet. Preis war für die Qualität und sie Größe der Portion angemessen!<br /><br />Unterkunft war sauber und völlig ausreichend. Einziges Manko, das dritte Bett (Sofa) war sehr hart. Evtl einen Topper oder ähnliches noch besorgen.
Review date 30. August 2021
Super leckeres Essen. Mir hat das Konzept total gefallen. Kellner(innen) waren alle freundlich. Mein absolutes Highlight war der Zwetschgen Knödel, der beste den ich je gegessen hab. Wir kommen definitiv wieder :)
Review date 30. August 2021
Ich bin mit meiner Freundin zum Abendessen dort gewesen. Das Ambiente und das ganze Drumherum gefällt uns gut. Das Essen und Trinken ist gut bis sehr gut. Die Bedienung ist schnell, aufmerksam und hilfsbereit. Ihre Augen lachen hinter Ihrer Maske. Das Preis/Leistungsverhältnis passt gut. Gerne wieder!
Review date 29. August 2021
Super Essen Wein und gutes Bier der Wirt kennt sich gut mit Wein aus und ist sehr freundlich
Review date 24. August 2021
Kann man sehr empfehlen gute Lage schöne Aussicht Kuchen selbst gemacht
Review date 22. August 2021
Es war ein Traumabend bei unserer Familienfeier mit einem Mehrgänge-Abendmenü vom Feinsten. Die Küche hat im wahrsten Sinne des Wortes gezaubert, der Empfang mit Schinken frisch von der Maschine geschnitten und einem super gekühlten Rosé Prosecco sorgten für Vorfreude auf das kommende Essen. Die ganze Familie war super zufriede und begeistert, der Service hat uns alle Wünsche von den Augen abgelesen und der charmante Chef hat sogar die Nudeln aus dem Parmesanlaib selbst serviert. Ein Großteil der Gesellschaft hat auch noch in den Zimmern mit Charme übernachtet und dass wir auch noch beim Frühstück verwöhnt wurden, hat diese Geburtstagsfeier wirklich zum Erlebnis gemacht. Vielen Dank an das tolle Team und unsere Gäste.
Review date 11. August 2021
Ein supergutes Essen, man schmeckt förmlich das Herzblut, mit dem die Speisen zubereitet und serviert werden. Schöner Biergarten, supernetter Service. Sehr zu empfehlen
Review date 11. August 2021
Sehr gutes Essen, Bio, man merkt, der Inhaber macht sich Gedanken, Bedienung sehr freundlich. Man sitzt schön ruhig. Wenn man mit dem Radl da ist geht's nach dem Essen gottseidank erstmal bergab. Sehr zu empfehlen!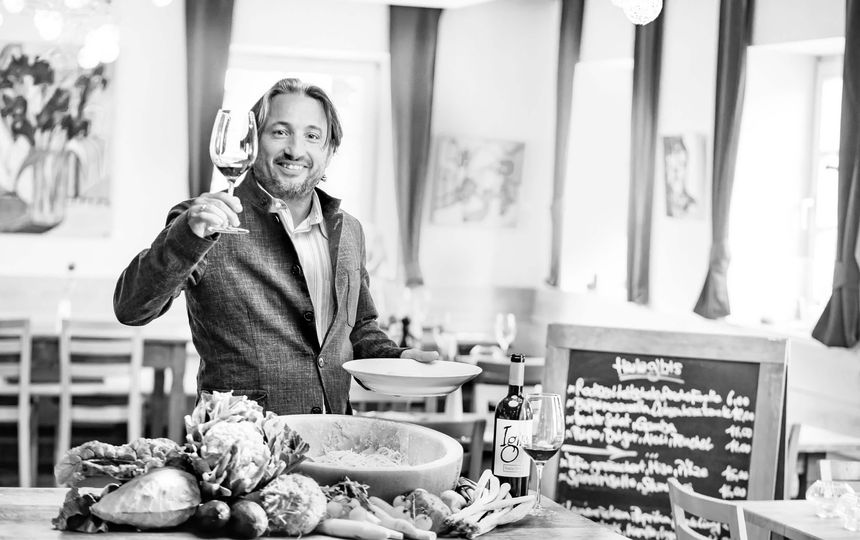 Hosts
Bavarian tradition with Italian charm - this also applies to the organic hoteliers at the BIO HOTEL IL Plonner: With lots of heart, "organic mom" Carola Petrone and innkeeper with passion Domenico Petrone run this very special house and welcome you - whether on vacation, for dinner or for a cultivated celebration!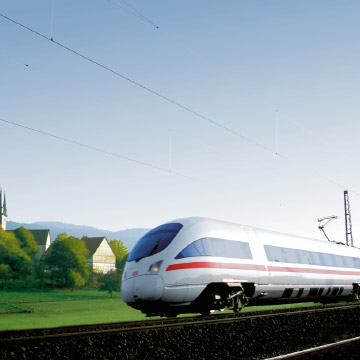 Arriving by train
© Deutsche Bahn AG / Gert Wagner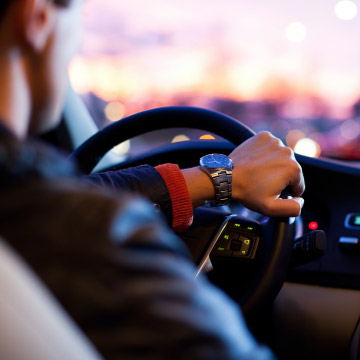 Get here by car