Green Meetings
What is a green meeting?
What is meant is the sustainable planning, organization and implementation of events such as conferences, congresses or seminars. Based on the three pillars of sustainability, these green events pay particular attention to ecological, economic and social aspects. The focus is on efficient energy use, regional value chains, environmentally friendly resource management, avoidance of waste and social responsibility. One of the goals of Green Meetings is to reduce CO2 emissions and thus ensure a lower ecological footprint. In short: Green Meetings are meetings that work in a way that conserves resources and protects the climate.
Sustainability is a top priority in our BIO HOTELS. So what could be more natural than to hold your next green event in one of our special locations? Convince yourself of the quality of our Green Meeting Hotels.
Green meetings with competent conference service 
As the saying goes: good planning is half the battle. When it comes to green meetings, you also need a strong partner who can help you successfully set up a sustainable event. It's good that the competent teams in our Green Meeting Hotels are happy to be at your side from the first phone call to the debriefing. Our trained staff specializes in conferences, seminars and workshops and is very familiar with precise schedules. Ongoing training also strengthens the environmental awareness of our conference professionals. We attach particular importance to the personal care of our Green Meeting guests. So you can trust that a contact person will always be at your side during the implementation of your event. Our reception staff will also be happy to take care of your spontaneous concerns and wishes. Your inquiries will usually be answered within 24 hours.
Green meetings in bright and modern conference rooms 
In our modern times, we are usually flooded with emails, Whatsapp messages and calls. That is why an optimal room climate is an indispensable necessity in order to be able to hold meetings in a truly sustainable manner. Daylight-bright, friendly, calm and at a pleasant temperature - yes, that's how it should be, the ideal seminar room. Ideally with direct access to nature, where the conference contents can be internalized particularly well and the fresh air ensures a high level of concentration. During the breaks, special locations such as orchards, inner courtyards and foyers invite you to linger and reflect. Here, oxygen deficiency and low performance have no chance and creativity is significantly stimulated. From listed farms in the middle of nature to charming city hotels, you will definitely find the right event locations for your individual green meetings. So why hold "green" meetings elsewhere?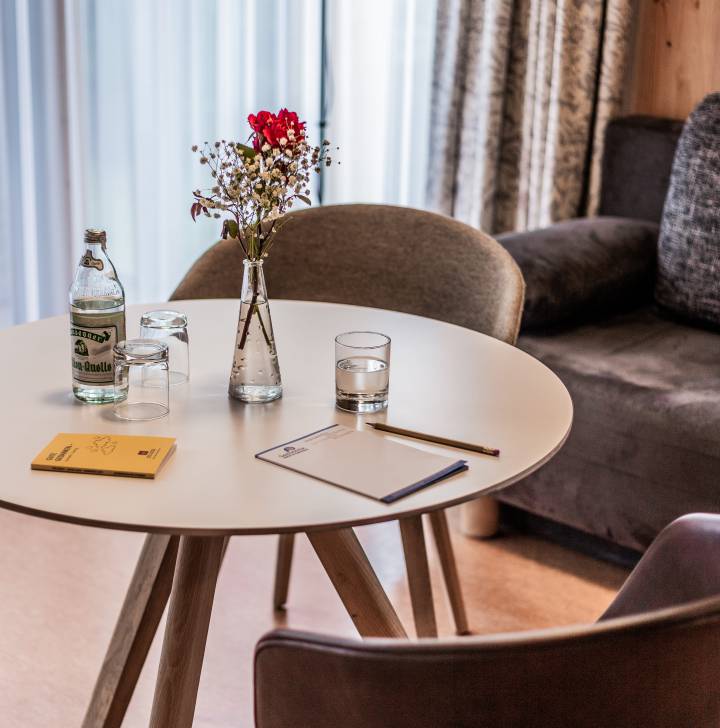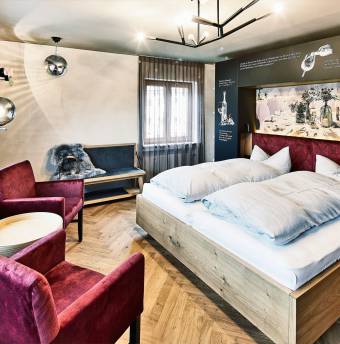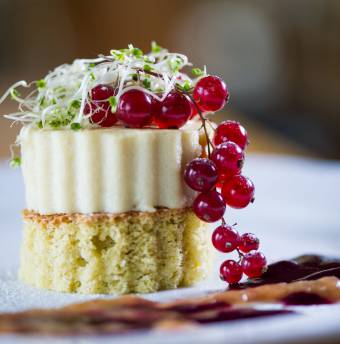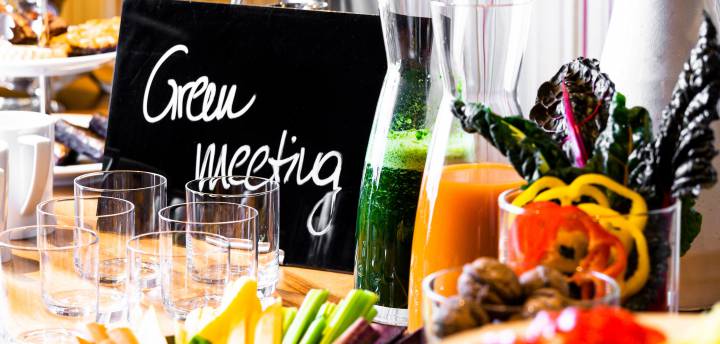 Green meetings for a reduced carbon footprint
300 to 500 kg. That is the weight of carbon dioxide per person that is caused daily on a ship cruise. And what does it look like when you spend the night in a hotel? Well, it all depends. In conventional establishments, the number of emissions (depending on the category) is often over 30 kg per guest. For comparison: Our BIO HOTELS currently emit approx. 11.46 kg CO2 per person and night on average. some of our houses are even less than 10 kg! How is that possible? Quite simply: Because we have numerous minimum standards and we constantly strive to effectively improve our sustainable management. Regional and seasonal products are preferred on the table. Long transport routes should be avoided to a large extent. Because food that comes to Europe by ship or even by plane often causes ten to a hundred times more carbon dioxide emissions ...

100% green electricity for your green meetings
Did you know that many of our Green Meeting Hotels have their own photovoltaic systems or solar systems? A few years ago, our BIO HOTELS generated as much electricity as 200 single-family houses would need annually. In keeping with our concept of holistic sustainability, you will only find 100% green electricity with us. We also prefer to use LED lights, as they are not only less harmful than halogen lights, but also far more environmentally friendly. When it comes to heating systems, too, we fully rely on the power of nature. Only regenerative, fast-growing energy sources such as wood are used. Many of our houses have ingenious wood heating systems, in which wood waste from the region is preferably used for heating. And the nice thing about it: In contrast to oil or gas, biomass is CO2 neutral.

Green meetings with certified recycled paper
Many people may be aware that mobility and the importation of food from distant countries require resources and ultimately cause considerable CO2 emissions. When it comes to the production of paper, one should keep in mind that wood, water and energy are required for extraction and manufacture. In contrast to fresh fiber paper, however, far fewer of these components are required for recycled paper. Ultimately, the environment is protected in a more sustainable manner and even C02 emissions are reduced. In our Green Meeting Hotels you will therefore only find certified recycled paper or paper from sustainable forestry. When shopping, we value the FSC (Forest Stewardship Council), European Flower and Blue Angel seals. You can expect particularly sustainable conference materials from us. Our goal is to make sustainability tangible for you in all areas.


Green meetings: gentle on the environment
Our high level of environmental awareness is evident in many areas. In addition to conserving resources through the use of sustainable conference materials, our Green Meeting Hotels, for example, also attach great importance to the storage of water. Our member companies collect valuable rainwater in underground tanks, which is used, for example, to flush toilets. In total, our BIO HOTELS already have over 1 million liters of storage capacity. In addition, sophisticated systems ensure that waste heat is fed back into the hot water system and can thus be used again. The use of recycled paper, a generally economical use of paper, the avoidance of unnecessary packaging such as small containers and energy savings in all areas are further measures to enable you to have a particularly sustainable day.
Green meetings with professional conference equipment 
Above all, successful green meetings need appealing, high-quality conference technology. That is why the light-flooded conference rooms in our Green Meeting Hotels are equipped with modern, high-quality equipment. It goes without saying that this is continuously checked to ensure that it is working properly and supplemented accordingly if necessary. Many of our green conference hotels get their equipment such as furniture, pin boards or presentation accessories from the renowned manufacturer Neuland in Fulda, Hesse. You can look forward to sustainable conference equipment such as high-quality seminar chairs with special ergonomic properties. Because a back-friendly, healthy working posture is another important component for successful green meetings. As in all areas, outstanding quality is an important selection criterion for the equipment. With us you can trust that the individual needs of trainers and guests are catered for.
Certified organic quality in our Green Meeting Hotels
Fruit and yoghurt, nuts and muesli bars, colorful smoothies - everything freshly and variedly prepared. It is precisely these foods that our mental engine needs to work. Fortunately, many of our Green Meeting Hotels have their own fruit and vegetable gardens, which provide our guests with crisp vegetables, herbs and salads.
With us, brain food therefore often moves straight from the field to the plate. The motto here is "more than regional". And the best thing about it: The direct processing of our own products means that the dishes retain a particularly high nutritional value. This way you start your green meeting more sustainably and well strengthened. In addition, we deliberately avoid unnecessary items such as small containers. For the sake of the environment. In our seminar rooms you will find reusable glass bottles and - for the small appetite in between - healthy snacks. Some of our member companies also offer you exclusive catering.
Now some of you might say: "Organic and regional - everyone can say that about themselves!" Absolutely right. In the end, sustainability always means trust and transparency. That is why we have committed ourselves to extensive control measures since the BIO HOTELS association was founded in 2001. In cooperation with independent inspection bodies (AbCert, Austria Bio Garantie and bio.inspecta), two tests are carried out in all of our hotels every year; at least one of them is unannounced. In this way, our sustainable management becomes transparent and comprehensible. Violations of our strict guidelines are reported to the association immediately and sanctioned accordingly (in extreme cases, there is a risk of exclusion from the association). As a guest, you can always trust us to enjoy tested organic quality. No ifs and buts.
Healthy sleep for sustainable ideas
"As you make your bed, so you lie", is a German proverb. Literally, it means: Only those who get a good mattress will wake up refreshed the next morning No compromises: orthopedic sleep systems - often even metal-free -, organic bed linen made from 100% organic cotton and natural mattresses made from renewable materials, so you can be sure to start your green meeting in top shape in the morning.
Many of our rooms are deliberately kept "simple" in order to counteract the hectic pace and overstimulation of our times. Quiet, no distractions from TV or minibar, WLAN shutdown at night - a good night's sleep in our Green Meeting Hotels can be so nice. If you can also choose the right pillow, nothing stands in the way of a relaxed sleep. And how about cleaning our bedding? Clearly: the best organic detergent, no artificial fragrances. Point. Convince yourself of the comprehensive sustainability of our BIO HOTELS and experience green meetings in very special locations! We look forward to your request.