Highlights
Restaurant for hotel guests
Vegetarian menu
Vegan dishes
Services around Organic cuisine
Whole food
Buffet meals
Menu selection
Highlights
Hotel with charging station for e-cars
Services around Sustainability
Certified BIO HOTELS member since May 2005
Organically built building
Inspected by ABCERT
7,58 kg Co2e/night
20 tons CO2e/year
Highlights
Nature hotel
Hotel with limited wifi
Hotel with swimming pool
Hotel for allergy sufferers
Services around Vacation
Holidays on a Farm
Free WIFI
Non smoking hotel
Free parking
Organic Pensions
Summer sports activities such as hiking, cycling, golfing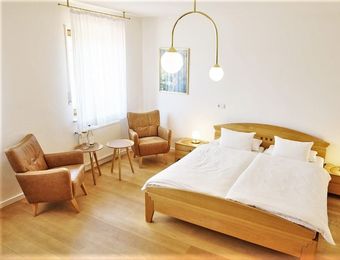 Double Room Comfort
Double Room for Single Use
Review date 04. September 2023
Super schöne Unterkunft, sehr freundliche Gastgeber, hervorragende Verpflegung und traumhafte Gegend. Ich bin kein Weintrinker, v.a. keine lieblichen Weine, aber die Riesling Spätlese hat mich komplett überzeugt! Wir kommen wieder! Und zwischendurch wird online bestellt. ;)
Review date 01. August 2023
Good People, good wine, Nice hotel. The place to be when you want to relax, and beautiful walking tours nearby.
Review date 21. June 2023
Super nett, schöne saubere Zimmer
Review date 30. March 2023
Überraschung für meinen Mann zum 60 Geburtstag. Hier hat alles gepasst . Die liebevolle Aufnahme das Zimmer das Essen einfach alles . Seniorchefin hat wundervoll gekocht und die Juniorchefin hat uns gut bewirtet . Das Frühstück einfach Bombe jeden Tag was anderes . Die Gegend total ruhig zum erholen . Die Säfte der Wein schmecken prima . Wir waren hier gerne
Review date 11. March 2023
Wir erleben sehr erholsame Tage im BioWeingut. Das Komforzimmer ist sehr schön eingerichtet. (Vollholz/Biomöbel) Das Essen schmeckt wunderbar, der Wein sowieso. Das Frühstücksbüffet sehr reichhaltig mit großer Auswahl, ebenfalls alles Bio!
Review date 01. March 2023
Nicht nur der Wein schmeckt hervorragend sondern auch der alkoholfreie Sekt "Perlentänzer". Einfach nur lecker
Review date 14. October 2022
Schöne Zimmer, freundlicher Service, tolle Gegend
Review date 11. September 2022
Sehr gute Weine, die aus Weinbergen kommen an denen ich täglich mit dem Hund vorbeikomme. Nette und kompetente Beratung im Weingut. Wein-Fan was willst du mehr?
Review date 07. September 2022
Nette und kompetente Beratung, sehr guter Wein
Review date 06. August 2022
Tolle Weine (Riesling, Spätburgunder, Winzersekt - und alles vegan), super Preis-Leistungsverhältnis, die nachhaltige Bewirtschaftung beeindruckt! Das wunderschöne Weingut und die herzliche Familie Gänz sind immer einen Besuch wert.
Review date 01. July 2022
Sehr idyllisches Anwesen, unglaublich gutes Frühstück und Abendessen (auch vegetarisch), toller Wein. Wir kommen gerne wieder!
Review date 23. June 2022
Wenn ein Ort zum Lebensgefühl wird… Wir bedanken uns ganz herzlich bei Familie Gänz für einige Tage Auszeit, eingebettet in eine herrlich idyllische Oase! Die Zimmer sind sehr ansprechend gestaltet, die Naturmaterialien in jeder Form waren gerade über die sehr heißen Tage wunderbar angenehm. Kulinarisch waren sowohl Frühstück, als auch Abendessen ein absoluter Genuss! Die kleine Aufmerksamkeit zum runden Geburtstag mit eingeschlossen! Der stets gut gefüllte Weinkühlschrank zu Selbstbedienung wurde zur "Vertiefung" des erlernten Wissens bei der Degustation sehr gerne genutzt! Der größte Luxus war für uns der Naturbadeteich, den wir rund um die Uhr im Beisein von Fröschen, Schwalben und Abends auch Fledermäusen genießen durften… ein wahres Paradies! Zu sehen, wie viel Arbeit und Herzblut in einer Flache Wein steckt, wenn der ökologische und nachhaltige Gedanke wirklich gelebt wird, hat uns sehr beeindruckt und begeistert! Wir werden uns jedenfalls sehr gerne bei jeder einzelnen Gänz-Flasche daheim an die Tage in Ihrem Haus erinnern… und kommen sehr gerne wieder!
Review date 25. May 2022
Immerwieder kommen wir hier her. Ein wundervoller Ort zum runterkommen. Gutes Essen, beste Weine, schöne Zimmer und herzliche Gastlichkeit.
Review date 06. May 2022
Sehr schönes Biohotel mit leckerem Essen, köstlichen Weinen. Wir kommen sehr gerne wieder.
Review date 27. January 2022
Wie beim letzten Aufenthalt. Einfach nette Familie, gute Weine, regionale Gerichte mit liebe gekocht, schmusiger Hund, ... Einfach Top und Bioland. Danke!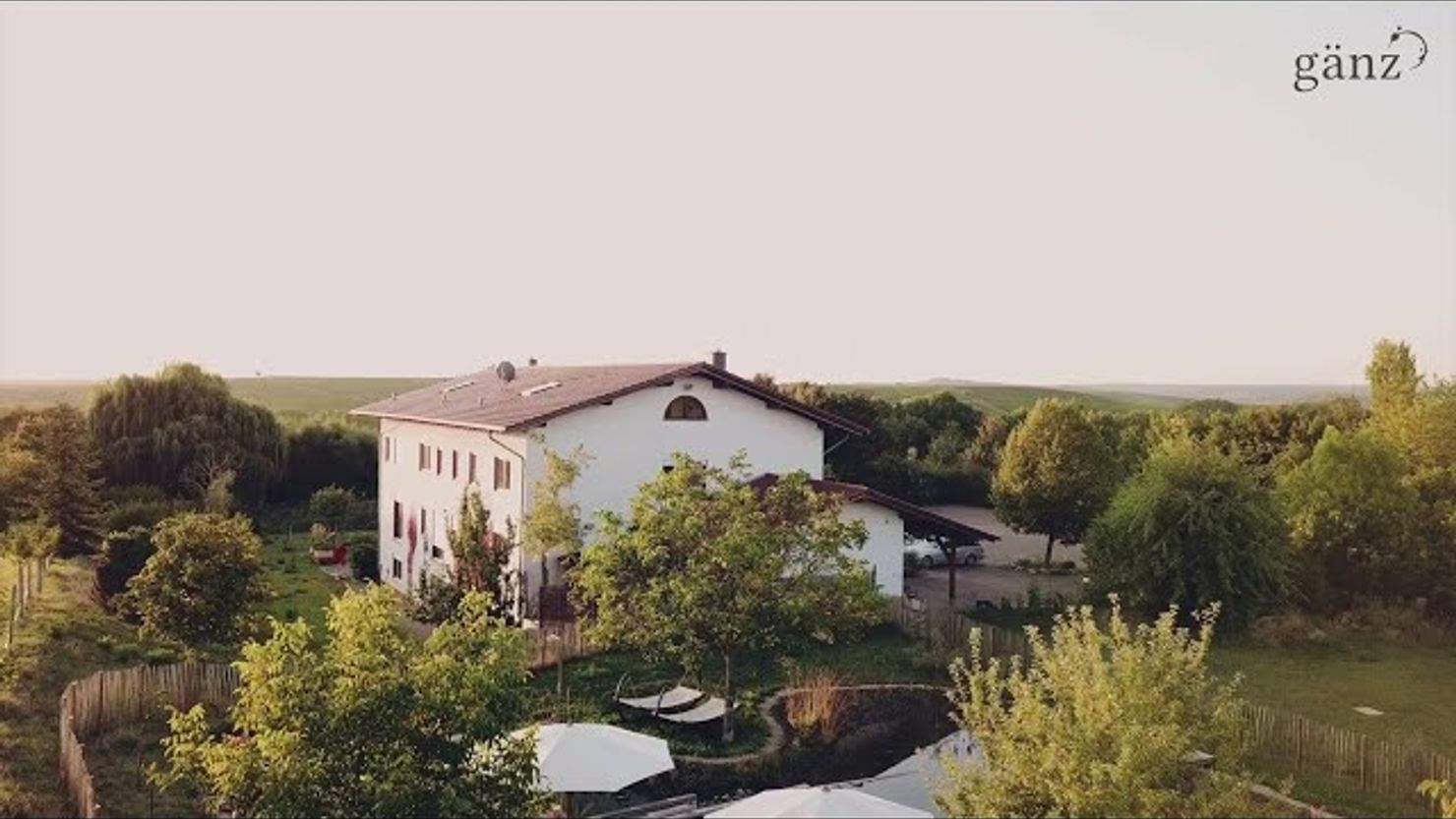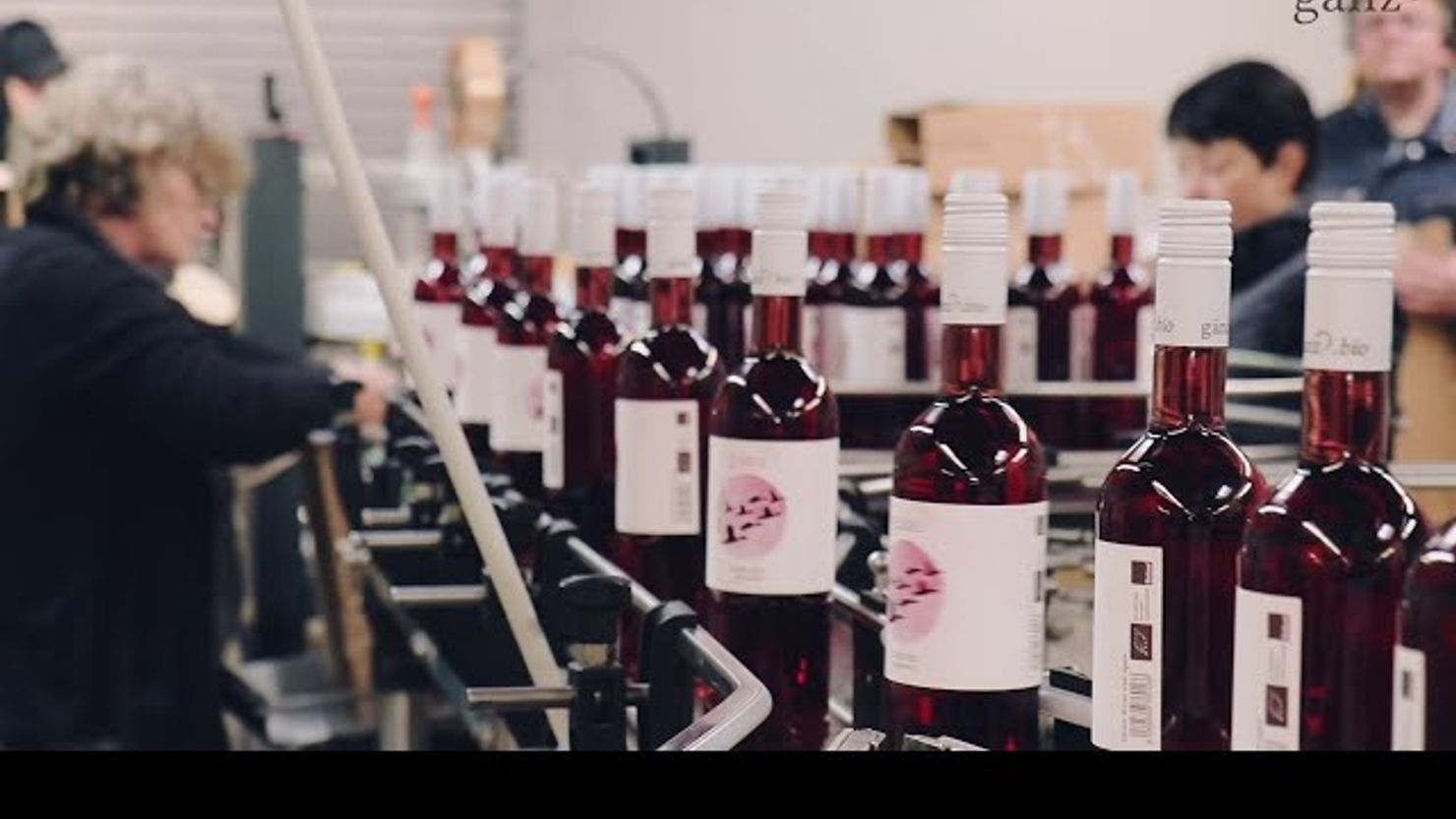 Hosts
"Nature is not only the basis of life for all of us. It is beauty, sensuality and enjoyment. As farmers who observe nature closely, we want to contribute to a future fit for grandchildren. We try to shape our living space in such a way that further generations will be able to live a beautiful life. And all this enjoyably and with all senses."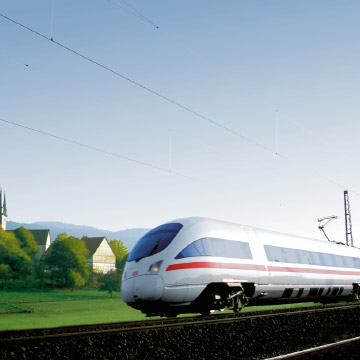 Arriving by train
© Deutsche Bahn AG / Gert Wagner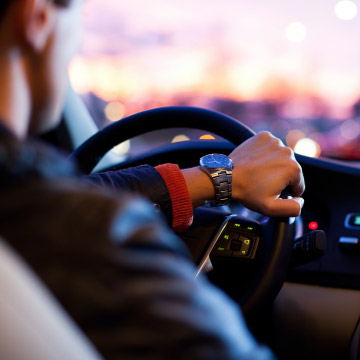 Get here by car