Highlights
Public Restaurant
Vegetarian menu
Vegan dishes
Allergy-free kitchen
Services around Organic cuisine
Award-winning cuisine
Whole food
A la carte meals
Hotel bar
Highlights
Hotel with charging station for e-cars
Climate-neutral hotel
Services around Sustainability
Certified BIO HOTELS member since December 2005
Organically built building
Inspected by ABCERT
32,0 kg CO2e/night
298,5 tons CO2e/year
Highlights
Vacation with your dog
Services around Vacation
Elevator
Free WIFI
Non smoking hotel
Free parking
Organic Pensions
Services around Green Meetings
Meeting room with daylight
Conference equipment
Modern conference technology
Sustainable & recyclable conference materials
Network technology
Break area
Catering / brain food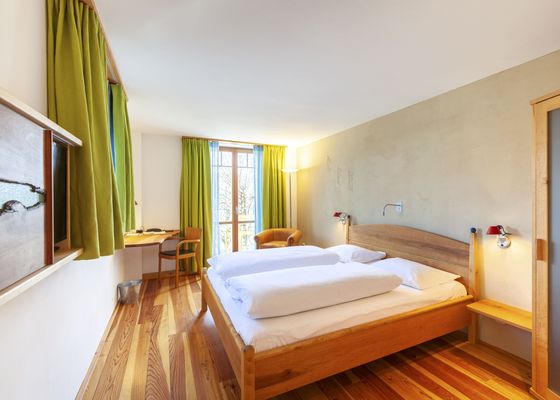 The hygiene concept in our hotel: 
Trained staff who is familiar with safety guidelines of local authorities
Staff wears masks and gloves where necessary
Disinfectants in public areas
Contactless (online) check-in possible
Distance rules are observed
Visits to restaurants by prior arrangement only
Limited number of guests in the restaurant and in the wellness areas, etc.
Special antiviral cleaning agents on an ecological basis
Comprehensive room cleaning by the staff
Guests can indicate that housekeeping is not desired
Room Service
Flexible cancellation terms
Breakfast buffet adapted to conform to corona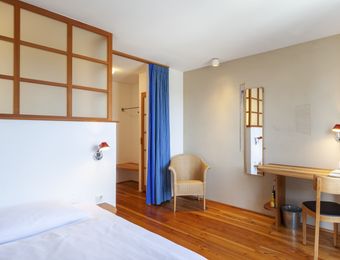 single room JAKOB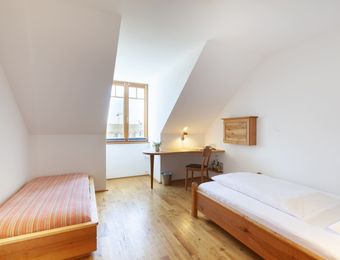 single room THERESA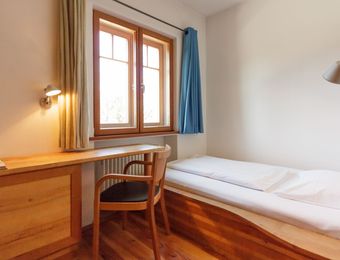 single room XAVER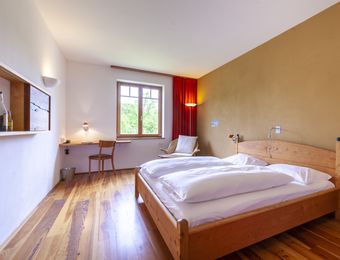 double room JAKOB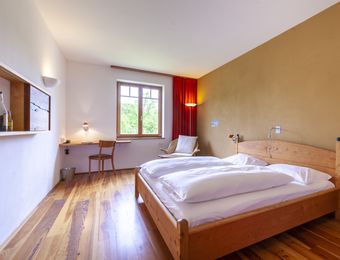 double room JAKOB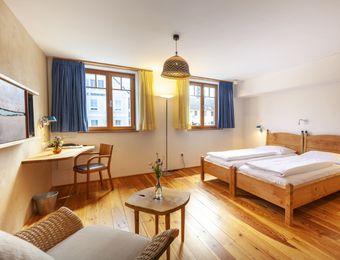 double room THERESA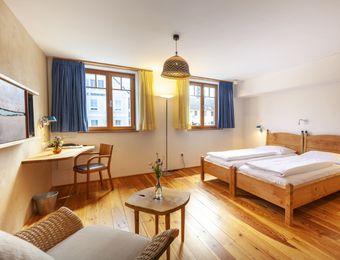 double room THERESA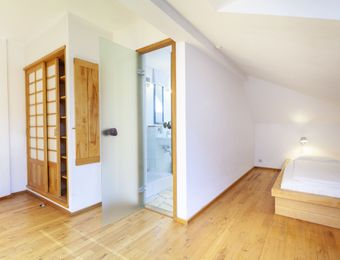 double room XAVER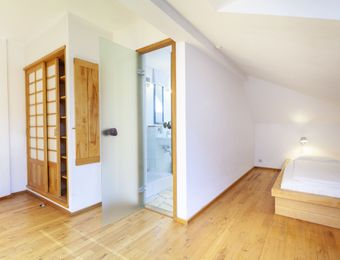 double room XAVER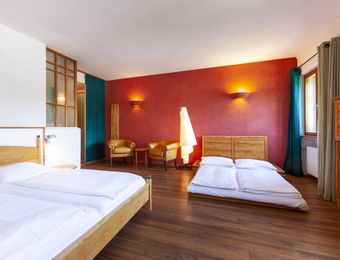 UNIKATE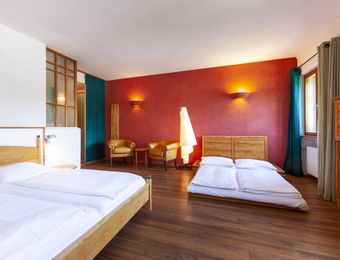 UNIKATE
Review date 16. May 2022
Würden wir wieder buchen! Sehr angenehmes Hotel!
Review date 16. May 2022
Jacob is a terrific host/owner of this traditional bavarian hotel. Staff couldn't be friendlier and the food is the best!!!
Review date 14. May 2022
Haben hier gespeist. Hohe Preise, aber gerechtfertigt, erstklassiges Essen! Hier trifft man auch schonmal Promis wie Elton...
Review date 13. May 2022
Ausserordentlich gut<br />Die Wirte haben alles verstanden. So macht man es. Spitze. Die Familie Portenlänger ist großartig. Weiter so. Bestes Bier. Top Essen. Davon könnten viele lernen.
Review date 09. May 2022
Bestes Bio-Restaurant in München und vorallem geschichtlich das erste mit Bio-Hotel in der Region
Review date 07. May 2022
Sehr gutes Essen und freundliche sowie aufmerksame Bedienung im Service (Rezension bezieht sich auf das Bio-Restaurant). Wir kommen gerne wieder!
Review date 06. May 2022
Très bon restaurant traditionnel bavarois
Review date 02. May 2022
The restaurant is very good and definitely deserves 5 stars. The staff is very friendly and the breakfast is perfect. The rooms are a bit minimalistic to my taste, but fit the character of the building.
Review date 30. April 2022
Der "Alte Wirt" in Grünwald. Schon viel - und meist nur Gutes - ist bereits über dieses zwischen Isartal und Perlacher Forst zentral gelegene Traditionsgasthaus im oberbayrischen Grünwald südlich Münchens geschrieben worden, weshalb sich das Meiste auf den Dreisatz "familiär - gastlich - köstlich" reduzieren ließe...wäre da nicht die Vielfalt der Kleinigkeiten, die das "i-Tüpfelchen" im Alten Wirt ausmachen:<br /><br />Eine raffinierte und vielseitige Bio-Küche, von bayrischen Schmankerln über regionale und saisonale Besonderheiten hin zur exquisiten Nouvelle Cuisine - der alte Wirt bietet für jeden Gaumen das Richtige, zu jeder Zeit und zu jedem Anlass. Sowohl auf der weitläufigen Sonnenterrasse mit Blick in den Westen und Süden, geschützt unter vielen Kastanien. Dann das selbst gebackene Brot aus der Bäckerei unterm selben Dach. Das Augustiner-Bier vom Holzfass, die Auswahl edler Weine, die legendäre Mousse-au-Chocolate des Chefkochs, die schon zum Kulturerbe Grünwalds zählt. Dazu die sehr gemütlich eingerichteten Zimmer für Touristen oder Tagungsgäste.<br /><br />Die gute Lage und die duftenden Kräutergärten...aber das Wichtigste ist das, was überall zählt: Die Freundlichkeit und Aufmerksamkeit des wirklich tollen, sympathischen und hilfsbereiten, internationalen Teams des Hotels und Gasthauses "Alter Wirt" - sie sind die heimlichen Stars, wahre Gastgeber mit einem Herz für Kinder, Hunde, Start wie Senioren, Familien wie Singles - jeder ist willkommen. Das spürt man als Gast.<br /><br />Der alte Wirt, den die Familie Portenlänger über Generationen aufbaute, gehört zu Grünwald wie die Burg, der Forst und die Isar!
Review date 30. April 2022
Excelente atendimento!
Review date 27. April 2022
Wir fahren traditionell zur Eröffnung unserer Fahrrad Saison zum Alten Wirt in Grünwald. Und wie immer war es hervorragend, auch dieses Mal wieder. Ich möchte der Küche ein großes Lob aussprechen für die Zubereitung der Speisen. Wir hatten ein wunderbares perfektes Risotto mit Spargel und ein Rahmgulasch mit selbst gemachten Spätzle. Noch dazu den schönsten Tisch auf der Terasse. Besonders hervorheben möchten wir die Servicekraft Irene. Sie hat uns charmant und so freundlich und nett durch den Mittag begleitet. Jedes Unternehmen kann froh sein solche Mitarbeiter:innen zu haben. Ein großes Lob und vielen Dank - wir haben uns sehr wohl bei Euch gefühlt! :-)
Review date 24. April 2022
Tolles Konzept, das meine Werte gut wiedergibt - ein Biorestaurant!<br />Ich hatte einen Zwiebelrostbraten mit Bärlauchkäsespatzen. Überhaupt war die Karte recht kreativ und abwechslungsreich.<br />Das Essen war schnell da vom vorbildlich freundlichen und zuvorkommenden Personal.<br />Auch der Raum war sehr schön gestaltet.<br /><br />Allerdings scheint es hier warum auch immer eine gängige Unkultur zu sein, mit Hunden zum Essen zu gehen. Zu der Zeit wo ich da war waren 2 Hunde da und als dann ein Dritter dazu kam ging das Gekläffe los. Sehr unangenehm! Sollte meiner Meinung nach nicht toleriert werden.<br /><br />Gerne hätte ich noch einen Nachtisch genossen, ich wollte dann aber doch lieber gleich gehen.<br /><br />Deswegen leider keine 5 Sterne.
Review date 24. April 2022
Sehr geschmackvoll eingerichtetes Restaurant mit klaren Strukturen und hochwertigen Schreinerarbeiten. Moderne gutbürgerliche Küche mit regionalen und saisonalen Zutaten in Bio-Qualität perfekt zubereitet und von einem aufmerksamen und herzlichen Service serviert. Zudem gibt es es für E-Fahrer zwei Ladestationen auf dem Parkplatz. Augustiner Helles vom Holzfass ist das Tüpfelchen auf dem i.
Review date 23. April 2022
Eigentlich ein sehr sehr tolles Lokal! Sehr freundliches und hilfsbereites Personal und super gemütliches Ambiente. Mir fehlte nur das vegane Speisenangebot. Verbesserungswürdig. ;-)
Review date 18. April 2022
Das Konzept des Bio-Restaurants hat mich wirkich überzeugt und begeistert, ist absolut auf der Höhe der Zeit und gilt es zu unterstützen.
Review date 18. April 2022
Unser Eindruck: Das Konzept "Bio-Hotel" wird konsequent umgesetzt und führt zu keinen spürbaren Nachteilen im Vergleich zu konventionellen Hotels, allerdings mit einer Ausnahme: Der Übernachtungspreis dürfte gegenüber dem Wettbewerb höher liegen als orts-bzw. vergleichsüblich. Man fühlt sich von Beginn an wohl, hier spielt die Freundlichkeit und Serviceorientierung der Mitarbeiterinnen und Mitarbeiter eine wesentliche Rolle. Sehr lobenswert sind die Qualität der Speisen und Getränke und auch der optische Eindruck im Detail bei dem Servierten. Insgesamt ein empfehlenswertes Hotel. Für ein "Ausgezeichnet" war uns der Zimmerpreis etwas zu hoch.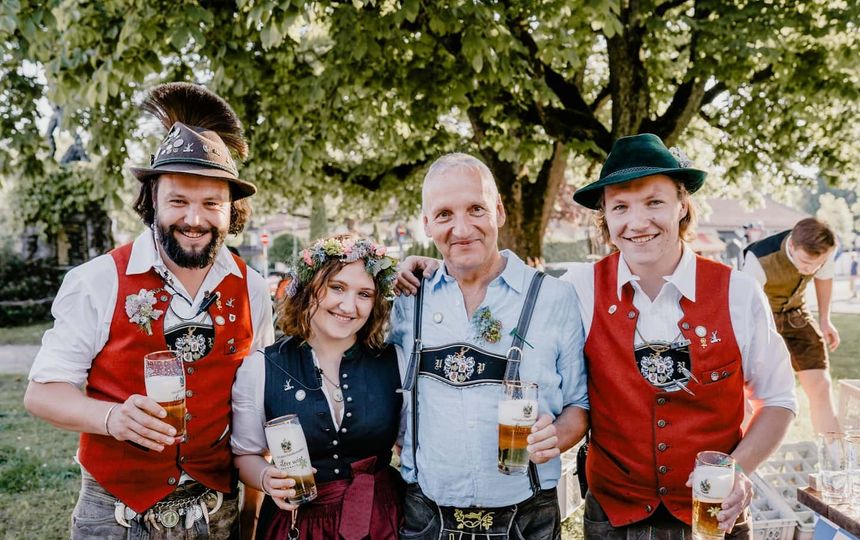 Hosts
"We do organic out of conviction, with heart and mind. Nevertheless, we don't talk about organic all the time, we simply live it."
 
For more than 100 years, since 1919 to be exact, the Portenlänger family has already been welcoming their guests at the Alter Wirt. In the future, Jakob Portenlänger will lead the fortunes of the Alter Wirt.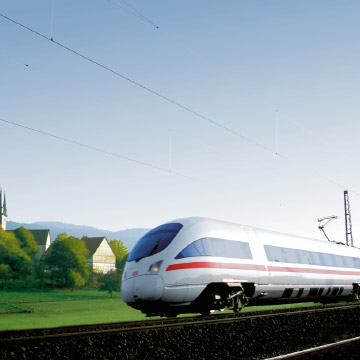 Arriving by train
© Deutsche Bahn AG / Gert Wagner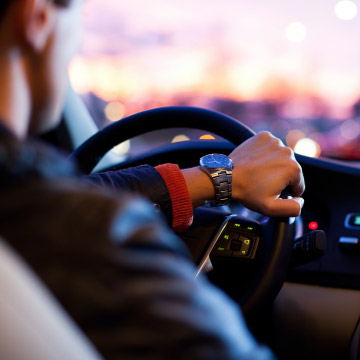 Get here by car