Highlights
Public Restaurant
Vegetarian menu
Vegan dishes
Allergy-free kitchen
Services around Organic cuisine
Award-winning cuisine
Vital kitchen
Whole food
Menu selection
A la carte meals
Highlights
Hotel with charging station for e-cars
Climate-neutral hotel
Services around Sustainability
Certified BIO HOTELS member since October 2012
Organically built building
Inspected by ABCERT
14,99 kg Co2e/night
106 tons CO2e/year
Highlights
Vacation with your dog
Hotel for celebrations
Hotel for allergy sufferers
Hotel with yoga
Services around Vacation
Free WIFI
Non smoking hotel
Free parking
Organic Pensions
Summer sports activities such as hiking, cycling, golfing
Winter sports activities such as Skiing, tobogganing, snowshoeing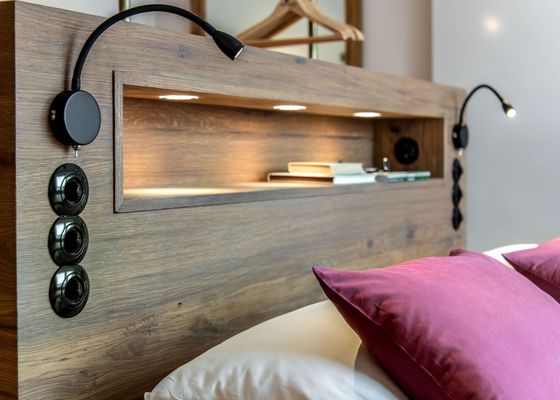 The hygiene concept in our hotel: 
Trained staff who is familiar with safety guidelines of local authorities
Staff wears masks and gloves where necessary
Disinfectants in rooms and public areas
Distance rules are observed
Buffet with service
Visits to restaurants by prior arrangement only
Limited number of guests in the restaurant and in the wellness areas, etc.
Special antiviral cleaning agents on an ecological basis
Comprehensive room cleaning by the staff
Guests can indicate that housekeeping is not desired
Flexible cancellation terms (free of charge up to 7 days before arrival)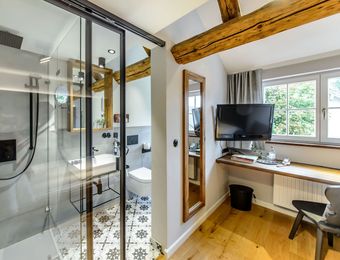 Single room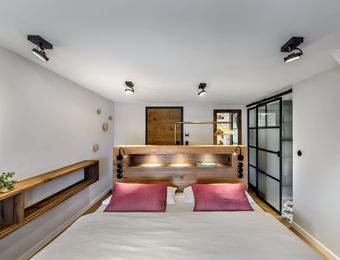 Double room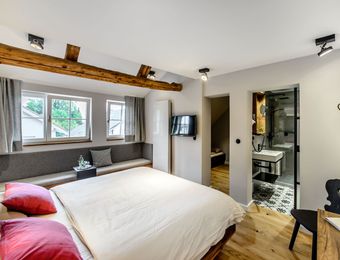 3-bed room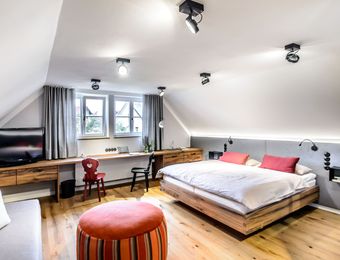 4-bed room
Review date 15. May 2022
Selbst im Lockdown war das Essen zum mitnehmen ( Drive In ) spitze . Als dann wieder auf war haben wir hier sehr oft zu Mittag gegessen. Hervorragende Qualität und sehr guter Service
Review date 13. May 2022
Zimmer, Frühstück, Restaurant, Gastfreundlichkeit, Zimmerausstattung, Geräumigkeit, Sauberkeit, ... war alles zur vollsten Zufriedenheit. Komme gerne wieder.
Review date 10. May 2022
Essen ist wirklich sehr lecker und wunderbare Qualität, auch das Gasthaus ist sehr schön. Es ist leider etwas teuer, also nichts für jeden Tag.
Review date 03. May 2022
Wir waren dort zum Essen, welches sehr gut war.Sehr schönes Ambiente.
Review date 30. April 2022
Aufgrund von Empfehlungen sind wir auf dieses Restaurant im beschaulichen Vogt aufmerksam geworden. Besonders hervorzuheben ist, dass hier alles nach Bio/Demeter Art angeboten wird ... und das schmeckt man mit jedem Bissen. Mein Fleisch war auf den Punkt gebraten und hatte einen fantastischen Geschmack sowie eine hervorragende Qualität. Ja gut man zahlt ein paar Euro mehr, dafür bekommt man aber auch wirklich ein einmaliges Essen serviert. Auch vom Service wurden wir sehr professionell und freundlich bedient und es gibt auch hier nichts zu beanstanden.<br /><br />Zusammenfassend lässt sich sagen, dass ein Besuch im Restaurant Adler sich in jedem Fall lohnt. Wer gut und bewusst essen gehen will ist hier gold richtig.<br /><br />Wir kommen gerne wieder !!
Review date 23. April 2022
Sehr leckeres Essen und Ambiente. Die Bedienung ist freundlichen und auf Zack. Die Preise sind allerdings sehr hoch. Deswegen einen Stern Abzug.
Review date 04. April 2022
sehr Hunde freundlich. Tolles Frühstück
Review date 03. April 2022
Ein super schnuckliges Hotel!<br />Die Zimmer sind sehr sauber und modern-traditionell eingerichtet. Es fehlt einem wirklich an nichts! Die Mitarbeiter*Innen sind super nett und kümmern sich um alles; man merkt einfach, dass sie mit Herz bei der Sache sind!<br />Das Frühstücksbüffet ist sehr reichhaltig und sehr schön aufgebaut - es fehlt an nichts!<br />Ich kann auch empfehlen das Abendessen im Restaurant wahrzunehmen! Die Auswahl ist recht groß, es werden auch einige vegetarische, vegane und auch glutenfreie Gerichte angeboten. Alles natürlich in höchster Bio-Qualität! Das essen hat definitiv einen Stern verdient! Der Service ist einfach der Hammer; sollte dein Weinglas beim Essen mal annähernd leer sein, wird dies sofort aus dem Augenwinkel wahrgenommen und dein Glas wird nach den besten Gepflogenheiten aufgefüllt.<br />Dieses Hotel kann ich besten Gewissens jedem empfehlen!
Review date 27. March 2022
Leckeres Essen
Review date 25. March 2022
Sehr schönes Fachwerkhaus, Dekoration, Einrichtungen und Sauberkeit der Zimmer waren richtig toll und natürlich sowie die Qualität der Produkte und der Küche.<br />Freundliche Ambiente und ein Team sehr aufmerksam und sehr nett.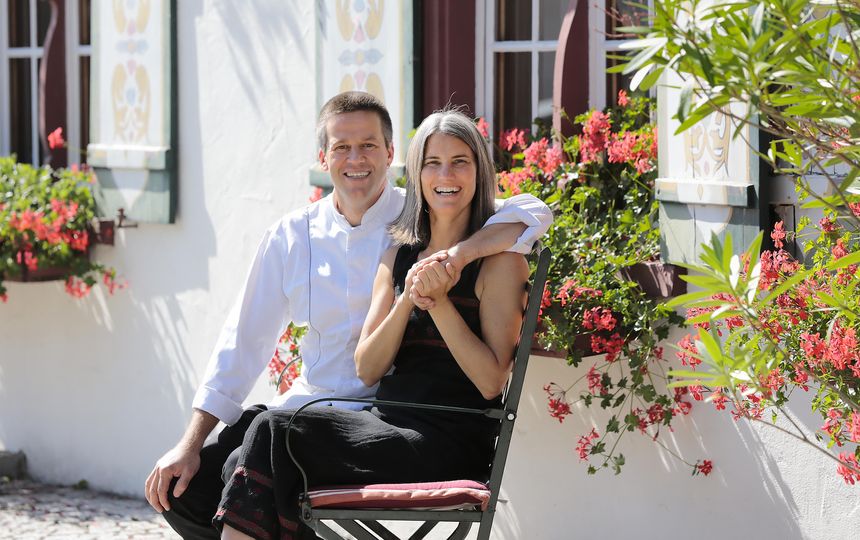 Hosts
Already built in 1777, the current host couple, Andreas and Nicole Humburg, have been providing new hospitality at the Adler since 1998.
 
"For us, a BIO HOTEL offers rest and relaxation in harmony with nature. This means that as organic hoteliers, we strive in every way to operate in an environmentally friendly manner. We only offer food that comes from organic farming as well as our region."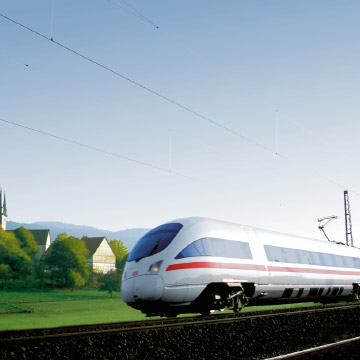 Arriving by train
© Deutsche Bahn AG / Gert Wagner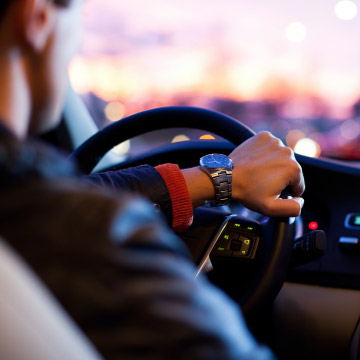 Get here by car