Highlights
Public Restaurant
Vegetarian menu
Vegan dishes
Allergy-free kitchen
Services around Organic cuisine
Vital kitchen
Whole food
Buffet meals
Menu selection
A la carte meals
Services around Sustainability
Certified BIO HOTELS member since October 2008
Organically built building
Environmentally friendly and self-sufficient energy concept
Inspected by ABCERT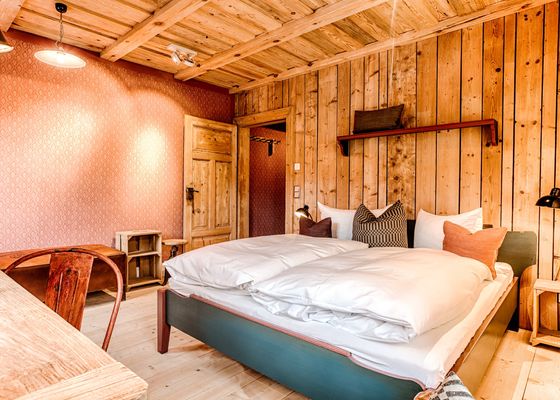 Our contribution to the future:

The motto "100 % organic" is lived out in Schmilka: starting with fresh organic vitality cuisine made from organically grown, seasonal and preferably regional ingredients, to the use of green electricity from renewable energy sources such as solar energy or waste heat recovery, to electric cars and an own herb and vegetable garden.

Most of the houses have been ecologically renovated, and the guest rooms are furnished according to the highest building biology standards: with soaped wooden floors, natural colours and textiles, natural latex mattresses and an electrosmog-free room climate.
Highlights
Nature hotel
Vacation with your dog
Hotel with limited wifi
Services around Vacation
Free WIFI
Non smoking hotel
Free parking
Summer sports activities such as hiking, cycling, golfing
Winter sports activities such as Skiing, tobogganing, snowshoeing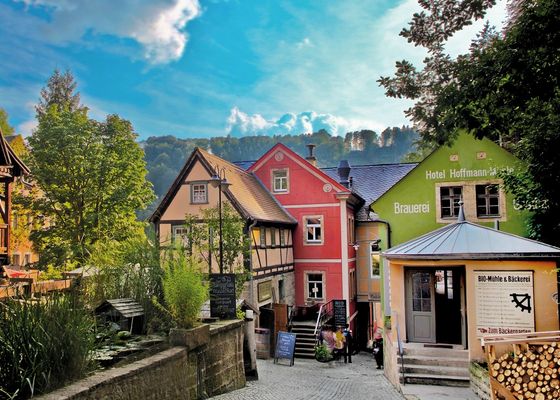 Sustainable hotel experiences:

The special thing about Schmilka is its year-round daily ritual and experience offer. From morning to evening, a variety of activities encourage you to consciously relax, experience and unwind.

The surrounding Elbe Sandstone Mountains with their fantastic views in the midst of unique nature invite you to take long hikes, canoe or bicycle tours at any time of the year.

A variety of castles and palaces in the region as well as exhibitions and music festivals or cities such as Dresden, Meissen and Prague provide additional variety.
Highlights
Hotel with day spa
Hotel with sauna
Hotel with yoga
Services around Wellness
Massage offers
Cosmetic treatments
Energetic treatments
Relaxation area
Feel-good garden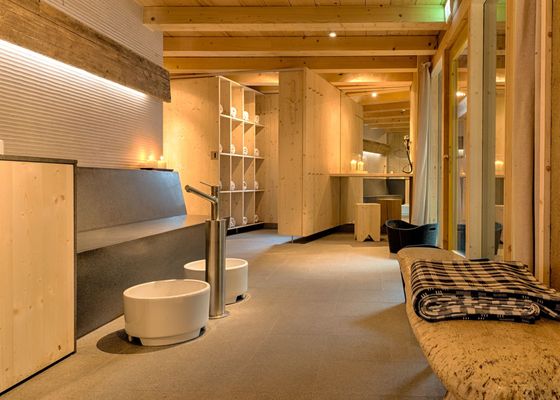 Sustainable wellness experiences:

Pure relaxation is offered by the completely renovated bathhouse with panorama saunas, cosy relaxation areas and a magnificent view of the Mühlenhof.

Daily rituals such as dew-treading, yoga or sound meditation as well as a variety of wellness offers from the naturopathic practice complement the beneficial effects on body, mind and soul.

A unique feature in the region is the bathing tub in the historic Mühlenhof as part of the Schmilka Winter Village, which is based on medieval bathing culture. Bathing in the heated wooden tubs is a unique experience for young and old!
Highlights
Electrosmog Reduced hotel
Hotel for allergy sufferers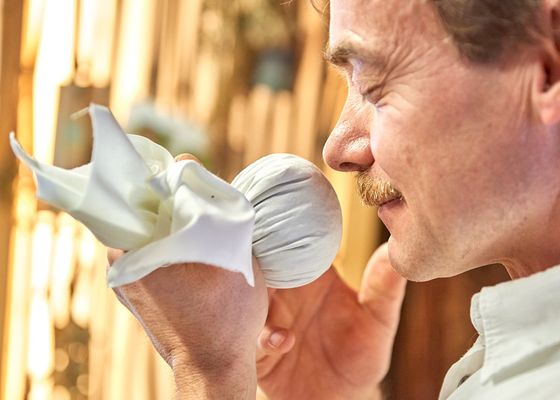 Sustainable to more health:

Heilpraktiker Norbert Schützner treats in the natural healing method, the principle of which is to vitalise the body, to stimulate self-healing and to prevent serious illnesses.

From various therapeutic applications such as kinesiology, chiropractic and Dorn therapy to classical and therapeutic massages and wellness treatments such as hot stone massages and pampering baths: Everyone is welcome at the naturopathic practice.

Daily rituals such as yoga, chi gong or sound meditations additionally stimulate the self-healing powers and physical and mental regeneration.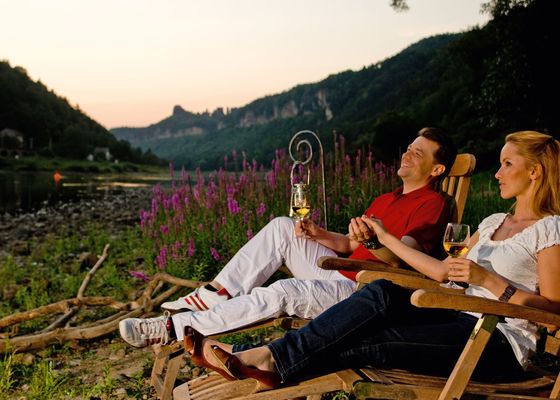 Experience romantic moments:
From the candlelight dinner in the evening to a contemplative, fragrant romantic bath in the Biohotel Helvetia to a campfire on the Elbe meadows: Schmilka offers plenty of options for unforgettable moments for two.
Climb mountains together, walk along wild rivers and warm up again in the sauna in the evening.
In exclusive rooms and apartments like the light-flooded "Bel Etage" with its own sauna or the country-themed design villa Waldfrieden, you can enjoy togetherness.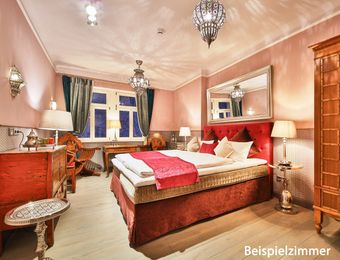 Villa Waldfrieden double room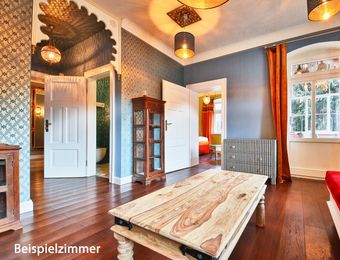 Villa Waldfrieden premium doubleroom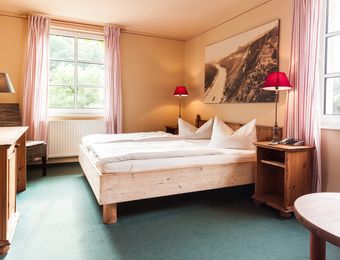 Helvetia double room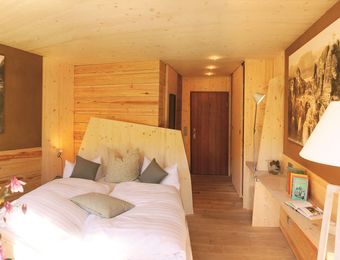 Helvetia Eco comfort room with balcony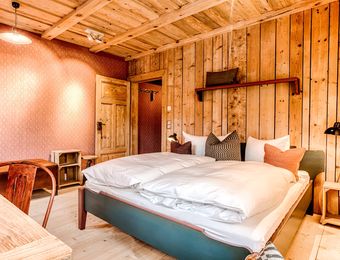 Hotel Muhle double room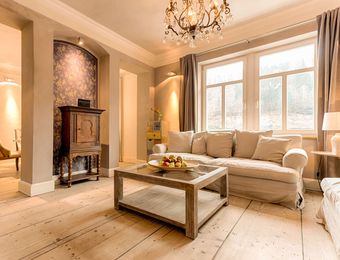 BelEtage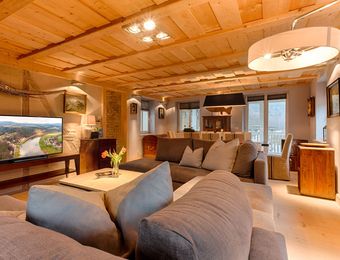 Captains loft
Review date 03. September 2023
Absolut empfehlenswert
Review date 26. August 2023
Ein wundervoll gelegenes Hotel direkt an der Elbe, vor dem Nationalpark und nur wenige Kilometer vor der Tschechischen Grenze. Im Hotel gibt es einige Wellnessangebote (Massage und Sauna), sehr sehr sehr leckeres Essen mit gesunden Zutaten u. a. aus dem eigenen Kräutergarten. Nach nur wenigen Metern ist man vom Hotel Helvetia in Schmilka, einem niedlichen gepflegten Dörfchen mit eigener Bäckerei und Brauerei. Unweit davon kann man direkt in den Nationalpark laufen. Die Zimmer im Helvetia sind ausreichend klassisch ausgestattet. Wir fanden, dass es in den Fluren und Zimmern etwas muffig und stickig war bzw. sehr trockene Luft herrschte, womöglich am alten Teppichboden liegend.
Review date 22. August 2023
Wir haben die Schuleinführung unserer Tochter im Bio-Hotel Helvetia gefeiert. Von der Planung bis zur Feier hat das aufmerksame und sehr nette Personal, die tolle Location mit direktem Zugang zur Elbe und den Bergen im Hintergrund sowie das vielfältige und leckere Essen zu einem Erlebnis beigetragen, an das wir noch sehr lange denken werden. Wir hatten eine komplette Terrasse für uns. Bei schlechtem Wetter hätten wir spontan in einen alternativen Innenraum mit eben soviel Charm wechseln können. Eine Kellnerin war immer für uns da. Wir konnten unbeschwert einen der schönsten Tage verleben. Der Preis war ebenfalls für den gebotenen Service und die Location mit großem Spielplatz für die kleinen gerechtfertigt. Unsere Gäste waren alle begeistert. Vielen vielen Dank an die kompetente Eventplanung und das tolle Personal!
Review date 16. August 2023
Super Frühstück. Danke
Review date 13. August 2023
Wir waren hier zum Essen, sehr ansprechende Karte, auch für Kinder, und wir haben ein schönes veganes Menü kreiert, was köstlich war. Service top. Sehr gutes alkoholfreies Weizen (Lammsbräu). Die Preise sind für diese Qualität angemessen. Die Portionen waren ausreichend. Die Terrasse ist herrlich und der Spielplatz nebenan in Sichtweite. Wir kommen gern wieder!
Review date 13. August 2023
Ausgangspunkt meiner Fahrradtour durch die sächsische Schweiz war das Biohotel Helvetia in Schmilka. Der Checkin war unproblematisch und freundlich. Das Zimmer im 2.OG mit Blick auf die Elbe sauber. Was die Ausstattung betrifft, so habe ich eine Minibar/Kühlschrank vermisst. Wifi gab es zu meiner Überraschung auch nicht (jedenfalls mein iPad fand nix). Eine Klimaanlage gab es auch nicht, offensichtlich nicht notwendig für ein paar Wochen Hitze im Sommer. Ich war vor Ort bei 28 Grad Höchsttemperatur. Egal, Fenster weit offen bei einer Brise abkühlender Nachtluft. Das Problem für den der es Nachts ruhig haben möchte, die Eisenbahn auf der gegenüber liegenden Elbseite. Das Frühstück war hervorragend und natürlich eines Biohotels gerecht biolastig ausgelegt. Der Parkplatz war im Zimmerpreis enthalten und wer mit dem E-Auto/Hybrid anreisen sollte, stehen ausreichend Ladestationen zur Verfügung. Trotz der kleinen Abstriche möchte ich dieses Haus weiter empfehlen, nicht zuletzt wegen seiner guten Lage.
Review date 26. July 2023
Kleines Zimmer, Bad hatte eher 80iger Jahre Charme und könnte sauberer sein und das für rund 150€ pro Nacht. Dafür leider nur 1 Stern. Wahrscheinlich war hier der Großteil des Betrages für das Frühstück, denn das war absolute Spitze. Auch die Halbpension war wirklich ansprechend und die Vorspeisen Buffets waren Spitze. Ebenso der Service und die Freundlichkeit der Mitarbeiter. Dafür 5 Sterne.
Review date 26. June 2023
Wir hatten für ein Wochenende Halbpension gebucht. Frühstücksbüffet war reichhaltig und qualitativ in Ordnung. Für das Abendessen gab es ein Vorspeisenbuffett, ein Normalgericht und ein veganes Gericht. Das Normalgericht war von der Größe sehr bescheiden. Der Hinweis darauf wurde vom Personal übergangen, abends aber kommentiert mit der Bemerkung "wir hätten nachbestellen können".Die begaben Gerichte hatten noch gutes yPotential nach oben. Wifi gab es nicht mit dem Hinweis auf die Gefahren des Elektrosmogs. Zimmer war bescheiden eingerichtet. Zimmerservice gab es nicht.
Review date 26. June 2023
Piękna lokalizacja i przepyszne śniadanie. Podróżujemy z dziewczyną po całej Europie na rowerach i w tym hotelu jedliśmy najlepsze śniadanie ze wszystkich hoteli jakie odwiedziliśmy. Do tego przepięknie zlokalizowana sauna - niestety dwie ulice dalej :(
Review date 12. June 2023
Als erstes den Punkt Abzug gibst für die Zimmer ist ok aber etwas in die Jahre gekommen sollte man vielleicht mal alles erneuern. Aber sonst ist es wunderbar gewesen. Ich empfand das Konzept was in Schmilka ist mit einer Zentralen Rezeption wunderschön. Die Aussicht vom Zimmer auf dem Fluss und die Bahnschienen wieder dort hinter ist herrlich.
Review date 06. June 2023
Hübsche, neue Zimmer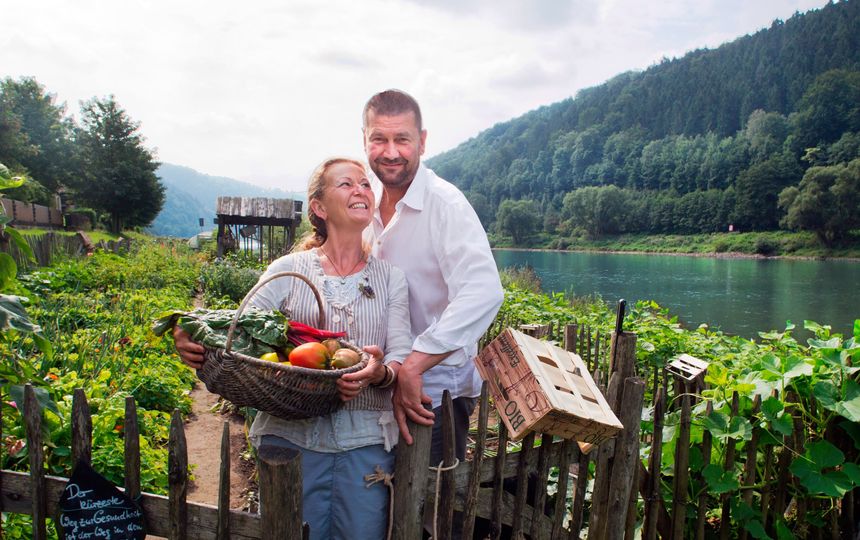 Hosts
We welcome you warmly!
 
"We pursue the organic idea sustainably and with a lot of cordiality, because we love what we do. Our guests are always the focus. Organic does not only having to do with abandonment and compromise. Organic means enjoying sustainably, in harmony with the environment, our fellow human beings and our own bodies."
 
In order to offer their guests safe enjoyment, the Hitzer family in Schmilka is constantly implementing their vision of an organic retreat down to the smallest detail.
 
"Organic" is not seen as a trend for the sustainable development of the small former boatmen's village, but as a prerequisite for a healthy lifestyle and the preservation of natural resources for the future.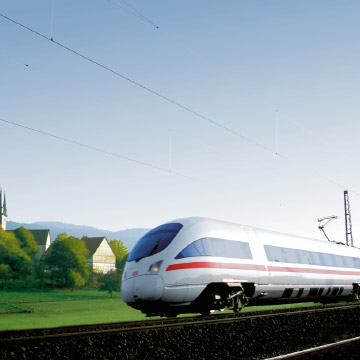 Arriving by train
© Deutsche Bahn AG / Gert Wagner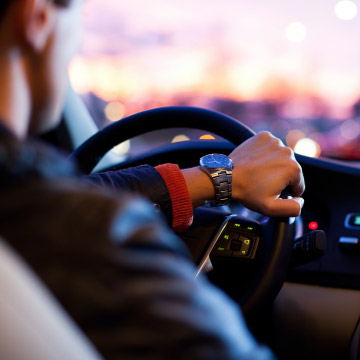 Get here by car