Highlights
Public Restaurant
Vegetarian menu
Vegan dishes
Allergy-free kitchen
Services around Organic cuisine
Vital kitchen
Whole food
Buffet meals
Hotel bar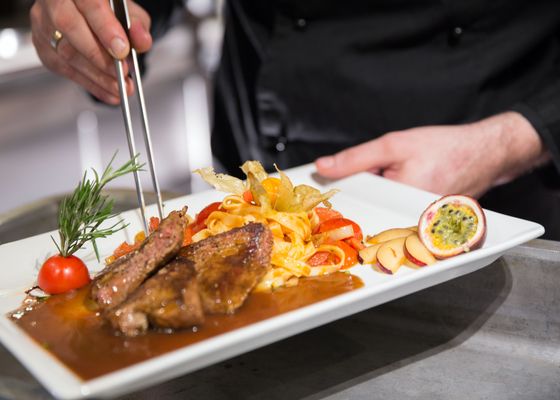 100% certified:

From the vital breakfast buffet to the evening live cooking buffet, only freshly prepared, organically grown are served, whenever possible from the region. Our partner company, a local Bioland gardener, ensures that herbs, salads and vegetables are available during harvest time through daily consultation with the team of chefs. Creativity and initiative as well as regular workshops with top organic chef Bernd Trum have an impact on the variety of buffet offers. From eggs to self-smoked fish from organic farms and regional dry age Galloway beef, there is a choice of high-quality meat and fish dishes, as well as vegetarian delicacies and vegan creations.
Services around Sustainability
Organically built building
12,13 kg CO2e/night
468,7 tons CO2e/year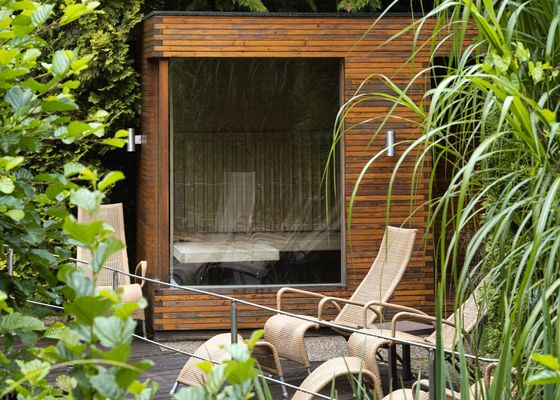 Our contribution to the future:

We are committed to sustainability in thinking and acting. In our mission and vision, resource conservation is a value that we implement in our daily activities. All areas that are visible, such as the building biological design of the rooms, through the extensive restaurant-offers and the original wellness- and conference offer, reflect the sustainability concept. It continues behind the scenes. From cleaning agents and detergents to green electricity, a holistic organic concept is present.
Highlights
Nature hotel
Vacation with your dog
Hotel for celebrations
Services around Vacation
Elevator
Free WIFI
Non smoking hotel
Free parking
Summer sports activities such as hiking, cycling, golfing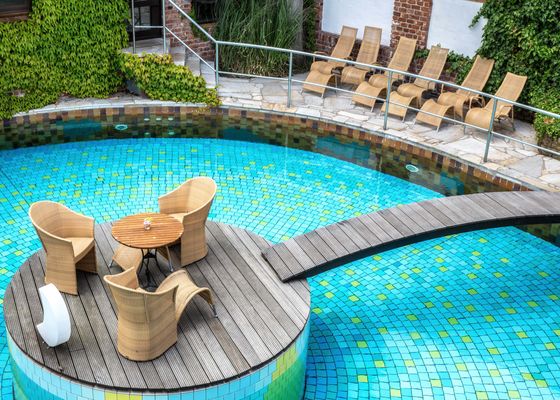 Sustainable hotel experiences:

Whether short or long, whether alone or with others: a vacation from everyday life begins with the sight of Land Gut Höhne. It feels like a small world of its own, far removed from the usual normality. The variety of room choices is as great as taste and needs allow. Stay by the outdoor pool, enjoy healthy culinary delights from morning to evening, find peace with the variety of mindfulness courses or enjoy our various sports offers. There is always something to find for the young and the young at heart in every season.
Highlights
Hotel with day spa
Hotel with swimming pool
Hotel with sauna
Hotel with gym
Hotel with yoga
Services around Wellness
Relaxation area
Outdoor pool
Energetic treatments
In-house thermal bath
Feel-good garden
Steam bath
Indoor swimming pool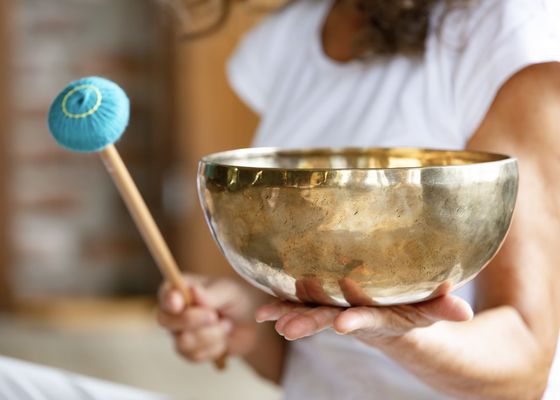 Sustainable wellness experiences:

Original wellness in the Neandertal Therme on Land Gut Höhne – the natural form of wellbeing. Enjoy activating courses, sport activities and mindfulness courses. Sustainable massage alternatives are, for example, yurashi and sound massages to get rid of permanent tension. In small groups, forest bathing, foot feeling, sound massages, meditation, dream trips to Qi Gong and mindfulness yoga are on offer, too. Surely everyone takes the good effect of our wellness offer back to their home!
Services around Green Meetings
Meeting room with daylight
Conference equipment
Modern conference technology
Sustainable & recyclable conference materials
Network technology
Break area
Catering / brain food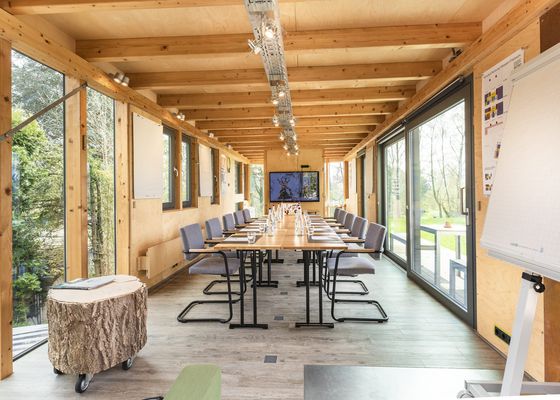 Make your events green:

At Land Gut Höhne you can take the term Green Meeting literally. All conference rooms are, if not located directly in the natural park, at least equipped with a terrace. Green is not only the view through the windows, also the outdoor area offers green open spaces for workshops or group works. It is not surprising that the range of measures to promote learning in the outdoor area is also creative. The latest technology powered by green electricity, such as Clevertouch, an 86-inch display with an integrated camera for digital meetings, also replaces paper, pens or index cards. If desired, these utensils are of course available – all of them in recycled quality.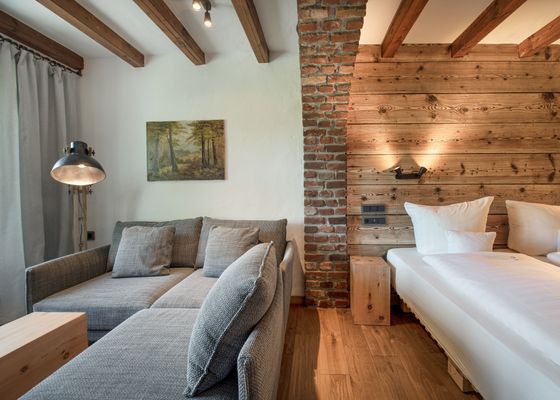 The hygiene concept in our hotel: 
Trained staff who is familiar with safety guidelines of local authorities
Staff wears masks and gloves where necessary
Disinfectants in rooms and public areas
Distance rules are observed
Self-service buffet (gloves available for guests)
Buffet with service
Visits to restaurants by prior arrangement only
Limited number of guests in the restaurant and in the wellness areas, etc.
Varying times for breakfast, lunch and dinner
Hygiene breaks during catering
Separate relaxation rooms
Special antiviral cleaning agents on an ecological basis
Comprehensive room cleaning by the staff
Guests can indicate that housekeeping is not desired
Flexible cancellation terms
Hygiene concept based on the current status of the applicable local CoronaSchVo.
The hygiene concept can be made fully accessible to guests.
Hygiene officers in the company: Miriam Trinkaus, Marc-Tilo Reucher.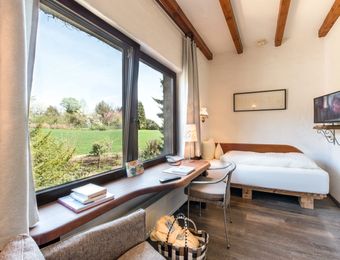 Single room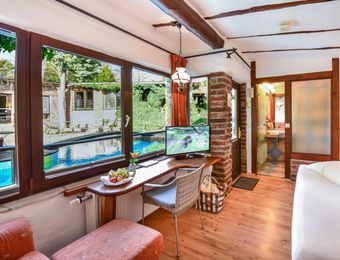 Pool-Feeling single room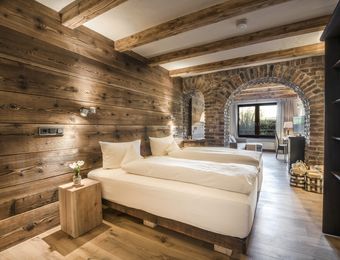 Gutshof double room
"Land Gut"-room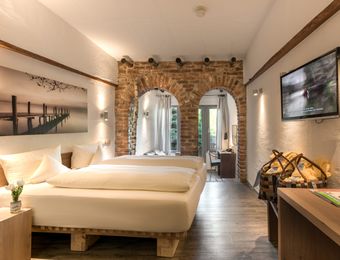 "Pool-Fühl"-room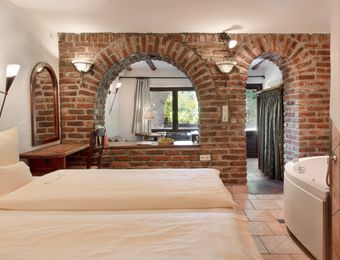 Comfort double room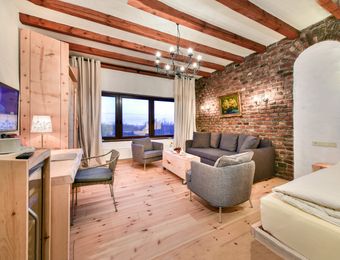 Wellness Appartement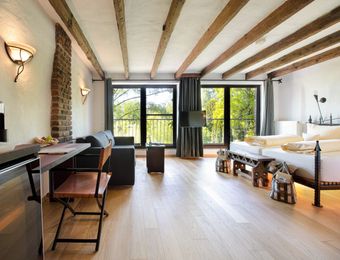 Yellow Wellness Suite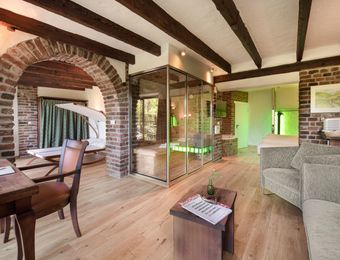 Green Wellness Suite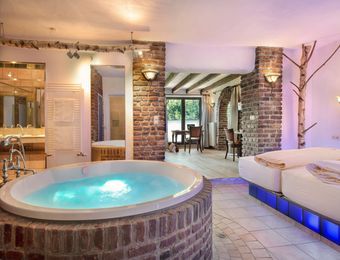 Blue Wellness Suite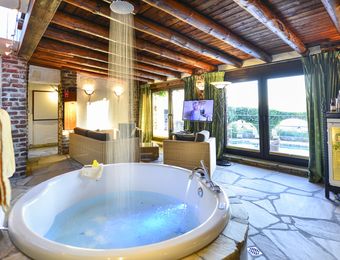 Pool Wellness Suite
Overall rating
3662 rating
Review date 02. October 2022
Sehr schönes Anwesen und schöne Zimmer.<br />Auch die Sauberkeit war sehr gut. Es wäre schön, wenn die Bäder renoviert werden würden, damit man den Standard halten kann. Diese passen leider gar nicht mehr zu der restlichen Atmosphäre. Ebenso der "Efeu-Anstrich" an der Rückseite des einen Gebäudeteils, passt so gar nicht zu dem Ambiente.<br />Das Abendessen und das Frühstück waren hervorragend.
Review date 01. October 2022
Landgut Höhne geniesst völlig zu Recht einen ausgezeichneten Ruf, als Ort für Erholung mit einem netten Spa Bereich (2 kleine Aussensaunen für je 2-3 Personen, 1 Dampfsauna und 1 finnische Sauna), schöner Poolanlage und Ruheräumen, und urgemütlicher Atmosphäre im gesamten, weitläufigen Hotelgelände.<br />Alles ist natürlich, echt, Bio, schön - und das Essen auch natürlich, echt lecker.<br />Die Tagungsräume sehen hervorragend aus, auch wenn wir nicht drin waren, da wir hier als Paar einfach eine gute Auszeit genossen haben.<br />Schade finde ich die Umstände wie beispielsweise eine Flasche Wasser auf dem Zimmer für 4,50 Euro, hier zusatzkosten, da sehr hochpreisige zusatzangebote. Bei den Preisen finde ich das einfach schade, dass hier der sonst hervorragende Service nicht abgerundet wird.
Review date 30. September 2022
This place is Magic. 2 swimming pool, surrounded by forest, and the building looks like a hobbit house
Review date 29. September 2022
Liebes Gut Höhne Team, danke für die tolle Planung unseres Workshops. Dem gesamten Team hat es an nichts gefehlt. Wunderschöne Zimmer, super Verpflegung und sehr zuvorkommendes Personal. Wir kommen gerne wieder
Review date 28. September 2022
Unglaubliche Location. Alles passt perfekt vom Essen bis zum außergewöhnlichem SPA-Bereich. Es geht hier ums Detail!
Review date 26. September 2022
I like hotel, but price paid was crazy high and what you get for it is not an exceptional
Review date 26. September 2022
Ein schöner entspannter WochenendKurzurlaub. Leckeres Essen, Schwimmbad und Wellness - für jeden aus der Familie was dabei!
Review date 26. September 2022
Zu kurz!! Mit einer Übernachtung konnte man das Ambiente, den Pool draußen und innen den Wellnessbereich leider nur ansatzweise genießen, war aber voll schön. Den Nachmittagssnack hatte ich mir nicht so reichhaltig vorgestellt. War sehr positiv überrascht :-) auch das Frühstück war sehr lecker und frisch.
Review date 25. September 2022
Super schönes Hotel mit sehr angenehmer und ruhiger Atmosphäre. Toller Service und tolles Essen - immer wieder gerne.
Review date 25. September 2022
Das Hotel war wirklich angenehm, das Personal sehr freundlich, das Essen war wunderbar und ich hatte eine sehr gute Zeit.
Review date 25. September 2022
Zeer mooie hotel
Review date 25. September 2022
Alles sehr schön, guter Srevice , sauber und zuvorkommend.<br />Nur vom Spa Bereich mit den Saunen hätte ich mir noch mehr erwartet -leider war alles sehr klein und nur in 2-er Kabinen im Garten ergänzt.<br />Aber wie gesagt, es war ein rundum schöner Aufenthalt und sehr gutes Essen! Somit nur eine kleine Anregung für den Saunabereich meinerseits...
Review date 25. September 2022
Awesome place. Sauna could be open longer than 7 pm though
Review date 25. September 2022
Ein wirklich wunderschönes Hotel,<br />sehr freundliches Personal, schöne Zimmer, alles bestens! Herzlichen Dank und weiter so!!
Hosts
Land Gut Höhne is a living whole. Now, in third generation, the hotel family together with the next generation, a great team of employees and a lot of real manual work and passion is developing the company structurally and in terms of content through many a change phase into a successful future. The conviction that hospitality is part of a good life, that people respectfully exchange ideas in an inspiring place and want to eat and enjoy well together at a long table, gives work real meaning.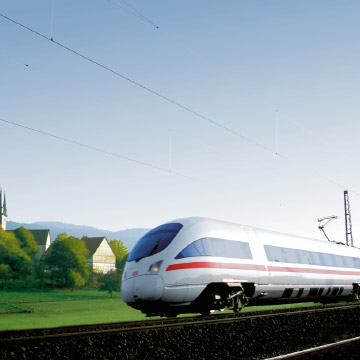 Arriving by train
© Deutsche Bahn AG / Gert Wagner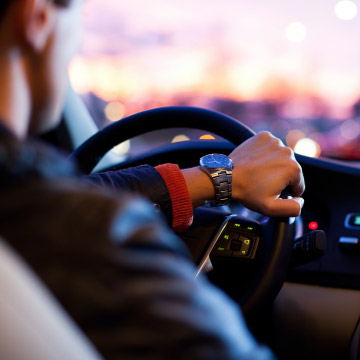 Get here by car