Highlights
Restaurant for hotel guests
Vegetarian menu
Allergy-free kitchen
Highlights
Hotel with charging station for e-cars
Services around Sustainability
Certified BIO HOTELS member since November 2017
Inspected by ABCERT
Highlights
Nature hotel
Vacation with your dog
Fun for young and old:

In the suites and rooms of the house, families are very welcome guests, whose special needs are treated with courteous, self-evident.

A wide range of family-friendly leisure activities in the area, a playroom attached to the gourmet restaurant and much more: The Pazeider has everything to offer the small and large guests of the house an exciting and harmonious stay.
Highlights
Hotel with day spa
Hotel with swimming pool
Hotel with sauna
Hotel with gym
Experience romantic moments:
Whether in the four walls of your own room, in the historic wine cellar or in the in-house gourmet restaurant: there are plenty of selected places for a romantic get-together in the BIO HOTEL Pazeider.

The hotel team will be happy to help you plan special moments with fine champagne or a romantic dinner. The rooms and suites with a free-standing bathtub or their own whirlpool offer a special highlight that is guaranteed to create unforgettable experiences.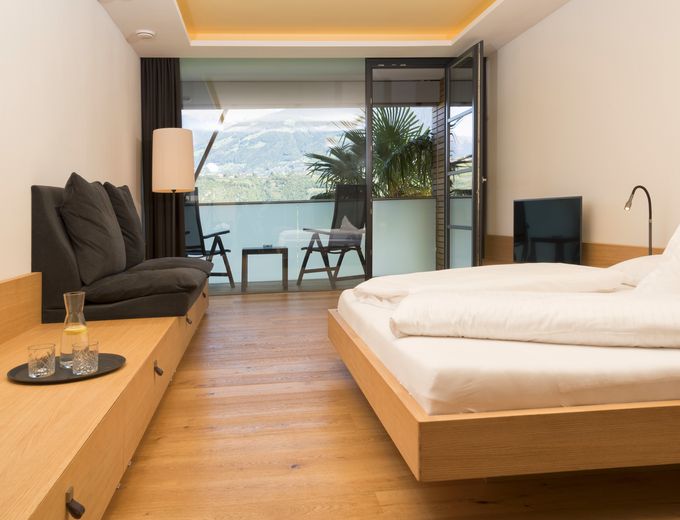 Double view to Merano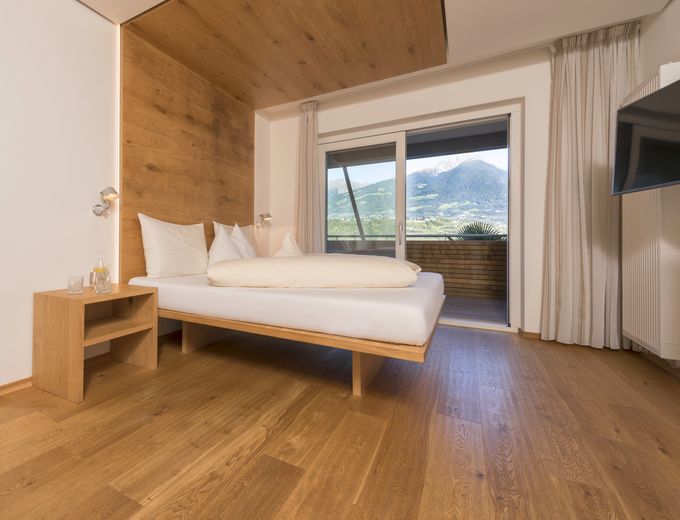 Double view to Merano (for families)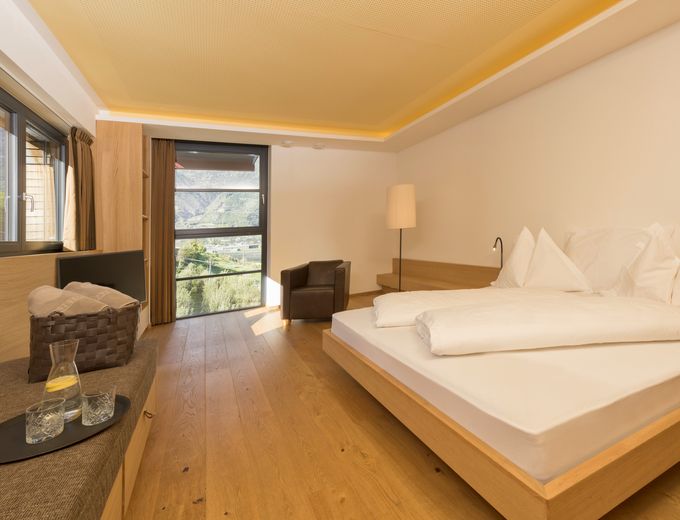 Double mountain view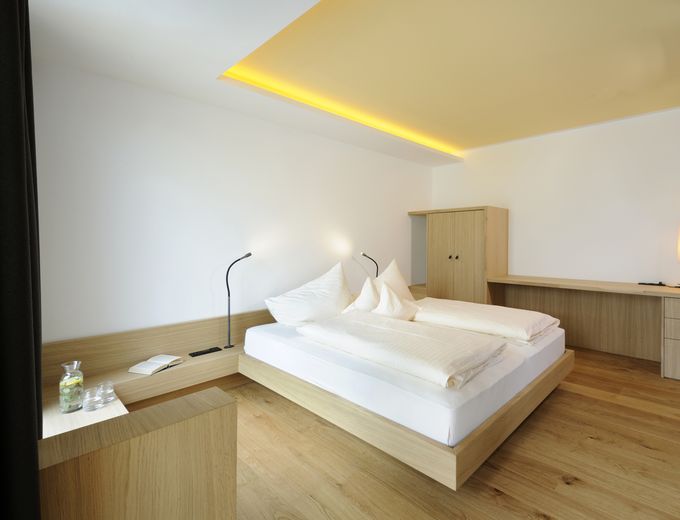 Family room mountain view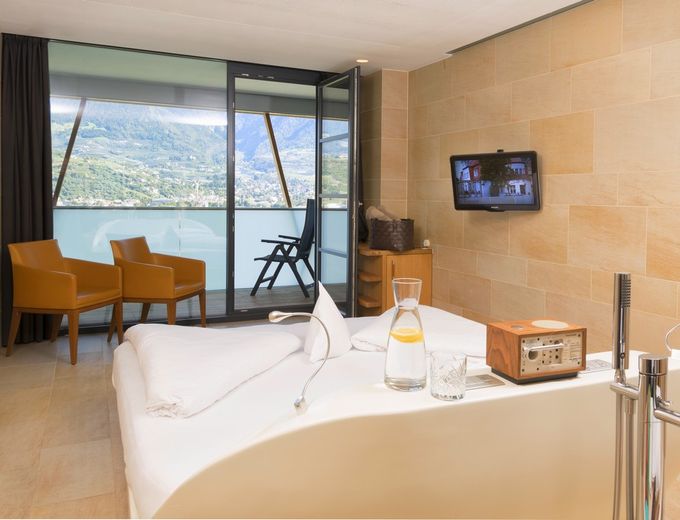 Double view Merano romantic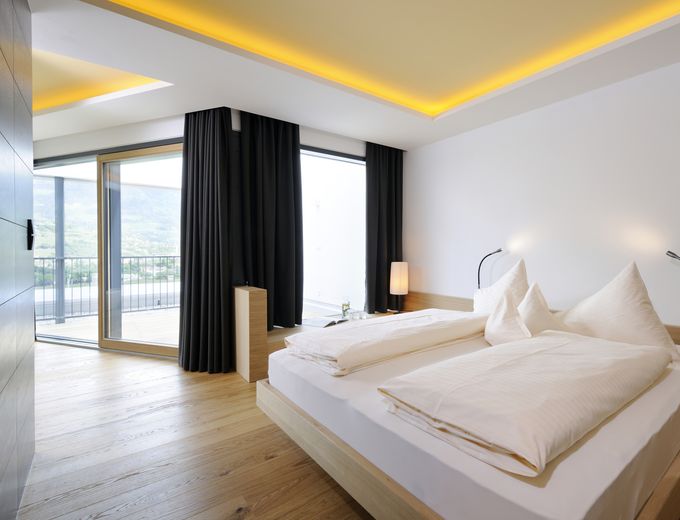 Panorama Suite Merano view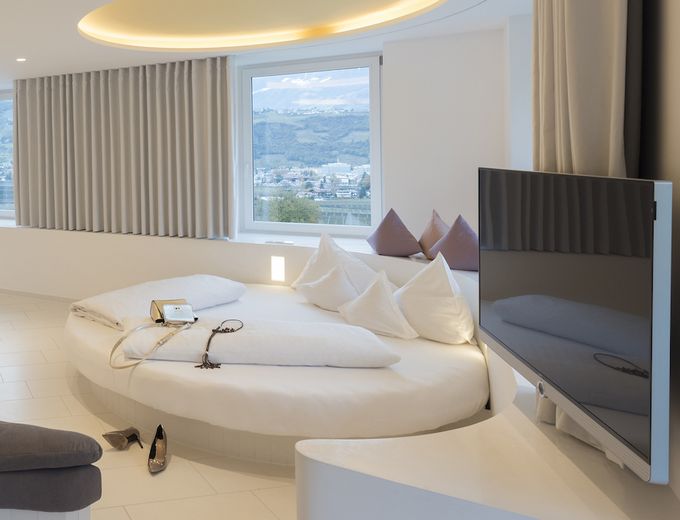 Suite Inflagranti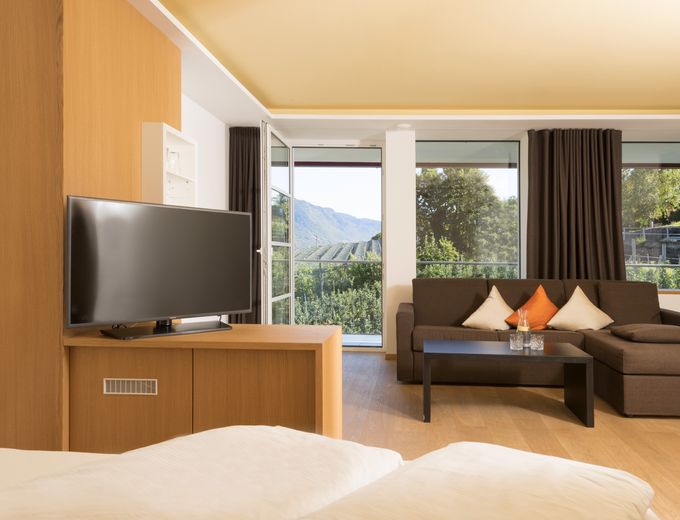 Suite south balcony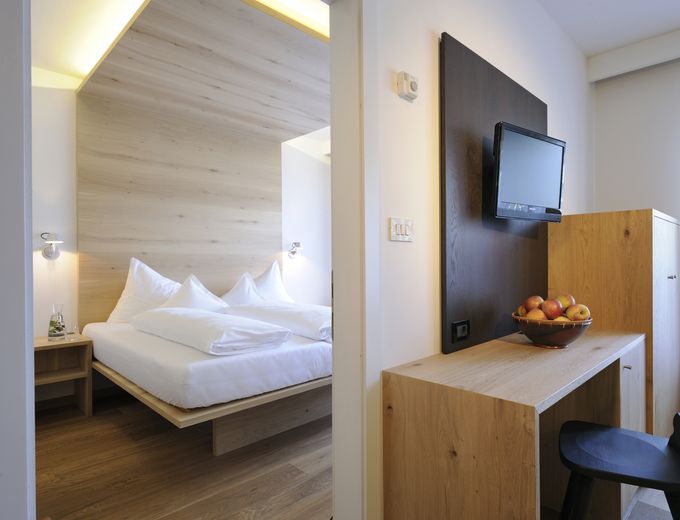 Suite Meran View 2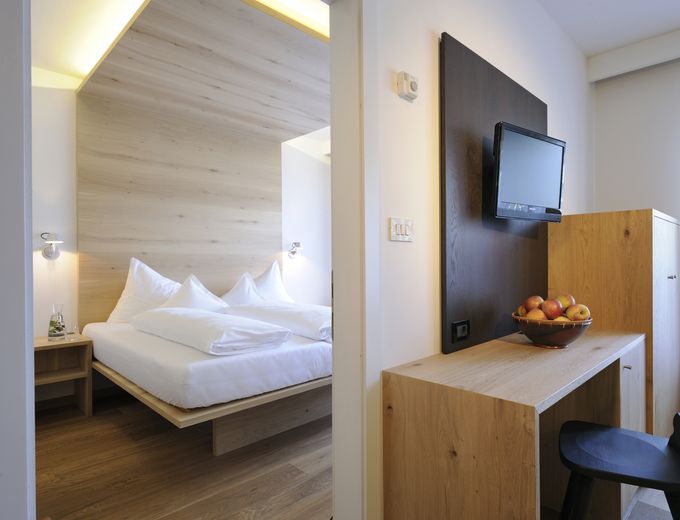 Suite Meran view kitchen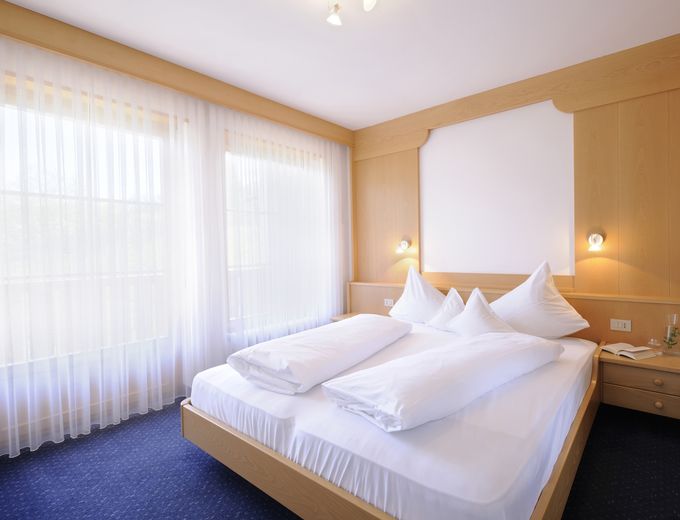 Big Suite Classic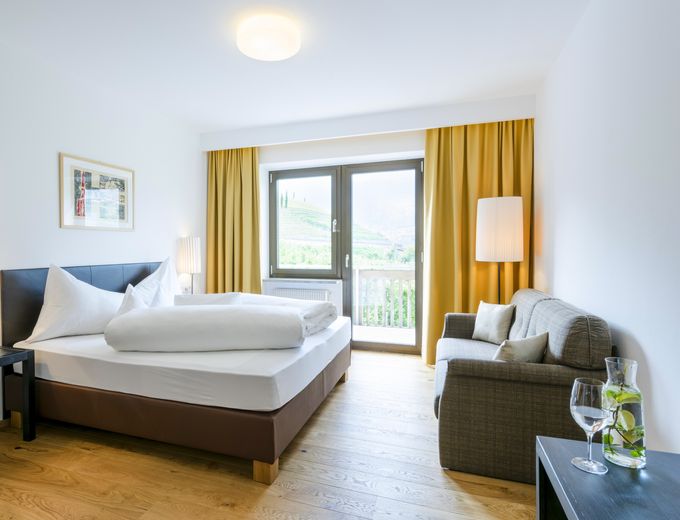 Double view Tirolo
Review date 16. November 2020
Neben dem angenehmen Flair und der wirklich ganzheitlichen Ausrichtung als nachhaltiges Bio-Hotel bleibt vor allem das nette und aufmerksame Personal unter der Leitung von Herrn Kofler in Erinnerung. Und ja, das hervorragende Essen auch.
Review date 14. November 2020
Ein schönes und liebevoll gepflegtes Bio-Hotel in Familienbesitz. Etwas verwinkelt, weil immer wieder angebaut und erneuert wurde. Modern und chic.
Review date 08. November 2020
Sehr schönes Hotel, was mit einem Blick auf Meran, leckerem Bioessen und einem super Service punktet. Die große Freundlichkeit hat uns geholfen,über kleine Unannehmlichkeiten hinweg zu sehen. Corona- Vorschriften wurden perfekt umgesetzt,leider mussten wir trotzdem eher abreisen auf Grund der Einstufung als Risikogebiet. Das Hotel erstattete kulant einen Teil des Reisepreises.
Review date 26. October 2020
Sehr schönes Wellness-Hotel mit ausgezeichneter Küche. Guter Service. Tolle Lage und viele Möglichkeiten sich aktiv zu betätigen,
Review date 25. October 2020
Wir waren nun nach vier Jahren zzum zweiten Mal hier und haben wieder festgestellt: Ein echtes Wohlfühlhotel mit einem wunderbaren Spa-Bereich und hervorragender Küche in durchgehender BIO-Qualität. Sehr schöner Blick auf Meran und Umgebung.
Review date 23. October 2020
Das Hotel liegt in einer herrlichen Lage mit fantastischem Ausblick auf Meran, Dorf Tirol, Algund und die wunderschöne Bergwelt um Meran. Die vorzüglichen Biogerichte in 5 Gängen, mit viel Abwechslung und wunderbaren Kreationen waren eine Gaumenfreude. Einfach Spitze! Alles im Hotel entsprach völlig unseren Erwartungen.
Review date 19. October 2020
Anfang Oktober hatten wir ein "Doppelzimmer Bergblick" im Bio- und Wellnesshotel Pazeider gebucht. Das Hotel war zu dieser Zeit sehr gut belegt, was wir auch direkt bei der Ankunft feststellen mussten. Die Autos parkten teilweise inmitten der Apfelplantage, da alle Parkplätze restlos belegt waren. An der Rezeption wurden wir sehr freundlich empfangen. Aufgrund der Parkplatzsituation wurde uns für die erste Nacht ein kostenfreier Garagen-Parkplatz zugewiesen (normal kostet dieser 10€ pro Nacht). Da wir den Online Check-In vorab ausgefüllt hatten, verlief der eigentliche Check-In recht schnell und wir konnten direkt in unser gebuchtes Zimmer. Leider mussten wir sofort feststellen, dass der Großteil der Fenster statt dem versprochenen Bergblick eher einen Parkplatz-Blick bot. Wir fühlten uns aufgrund der direkten Einblicke ins Zimmer vom Parkplatz aus und der damit verbundenen fehlenden Privatsphäre sehr unwohl. Auf Anfrage bei der freundlichen Rezeptionistin, ob ein Zimmertausch möglich wäre, wurde uns gegen Aufpreis ein "Doppelzimmer Meranblick" angeboten. Das Zimmer hatte einen wunderschönen Blick über die Apfelplantage hinweg in Richtung Meran. Es war sehr sauber, modern eingerichtet und geräumig. Obwohl direkt hinter dem Hotel eine Bahnlinie verläuft und relativ nah vor dem Hotel die Staatsstraße 38 vorbeiführt, war es in dem Zimmer angenehm ruhig.<br /><br />Unsere Entscheidung fiel bewusst auf dieses Hotel aufgrund der Bezeichnung "Wellnesshotel" und des auf der Homepage beworbenen Außenpools: "Unser Freibad ist 10 x 6 m groß und wird beheizt." Zusammen mit anderen Hotelgästen mussten wir jedoch die freudlose Erfahrung machen, dass man zu dieser Jahreszeit sehr hartgesotten sein muss, wenn man in den Außenpool nutzen möchte. Uns wurde mitgeteilt, der Pool verfüge zwar über eine Heizung, es handle sich jedoch um eine Solarheizung. Aufgrund der herbstlichen Witterung zeigte die Heizung gar keine Wirkung mehr, so dass der Pool im Prinzip nicht nutzbar war. Das Hallenbad als Alternative zum Freibad war von der Wassertemperatur angenehm. Leider lud dies nicht zum Relaxen ein. Zum einen war die Luft im Bad sehr erdrückend und zum anderen zogen dort jeden Abend mehrere Schwimmer im Kraulstil ihre Bahnen. Auch in den Genuss eine entspannenden Massage sind wir nicht gekommen. Bereits beim Check-In wurden wir informiert, dass während unseres Aufenthalts alle Zeit-Slots ausgebucht seien. Es empfiehlt sich also bereits bei der Hotelbuchung auch eine Massage mitzubuchen.<br /><br />Pazeider steht für Bio und Nachhaltigkeit. Wer darauf Wert legt, ist in diesem Hotel absolut richtig. Das Essen war geschmacklich gut, optisch toll angerichtet und qualitativ hochwertig. Die biozertifizierte Qualität wirkt sich durchaus auf die Getränkepreise aus, die eher gehoben waren (Spritz/Hugo 5,70€, Bier (0,5l) 5,90€). Die Nachhaltigkeit schlägt sich in der Portionsgröße des 4-Gänge-Menüs nieder. Die Portionen sind recht klein und es wird an den Beilagen gespart. Auch wenn auf der Menükarte darauf hingewiesen wird, dass man ggf. um Nachschlag bitten sollte, ist dies doch eher eine unangenehme Hürde, die man nur ungern überwindet. Die Nachhaltigkeit zeigt auch beim Frühstück Auswirkungen. Obwohl die Frühstückszeit bis 10:30 Uhr geht, wird das Buffet ab 9:30 Uhr kaum mehr nachgefüllt. Das Buffet ist sehr umfangreich, es bietet Müsli, Croissants, Käse, Wurst und Südtiroler Speck, den man sich nur rechtzeitig nehmen muss. Beim Servicepersonal kann man sich auch Eier-Speisen ordern. Der Service im Restaurant ist sehr gut bis mäßig. Wir wurden immer sehr freundlich und zuvorkommend bedient, wenn man jedoch Pech hat, wartet man auch mal eine Stunde auf den Kaffee beim Frühstück.<br /><br />Wer auf Bio und Nachhaltigkeit großen Wert legt, ist im Pazeider an der richtigen Adresse. Für wen - wie bei uns - Wellness und Entspannung im Fokus liegen, dem können wir aufgrund unserer Erfahrung das Hotel nicht empfehlen.<br /><br />Unser Fazit: Preis-Leistungs-Verhältnis hat für uns nicht gepasst.
Review date 19. October 2020
Sehr schönes Hotel und gut gelegen. Anlage liegt in Apfelbaumplantagen mit schöner Aussicht auf Meran und die umliegenden Berge.
Review date 17. October 2020
Sehr angenehme Atmosphäre. Wir haben ganz spontan gebucht und hatten ein sehr schönes Zimmer mit Blick auf Meran, Dorf Tirol und die Meraner Berge. Der Empfang war sehr herzlich, der Service und das Essen (Frühstück und Abendessen) ist einfach top. Wir kommen auf jeden Fall wieder.
Get here by car