Highlights
Restaurant for hotel guests
Vegetarian menu
Vegan dishes
Allergy-free kitchen
Services around Organic cuisine
Vital kitchen
Menu selection
Services around Sustainability
Certified BIO HOTELS member since June 2010
Inspected by ABCERT
21,14 kg CO2e/night
62 tons CO2e/year
Highlights
Nature hotel
Vacation with your dog
Hotel with sauna
Fasting leave
Hotel with gym
Services around Vacation
Free WIFI
Non smoking hotel
Free parking
Summer sports activities such as hiking, cycling, golfing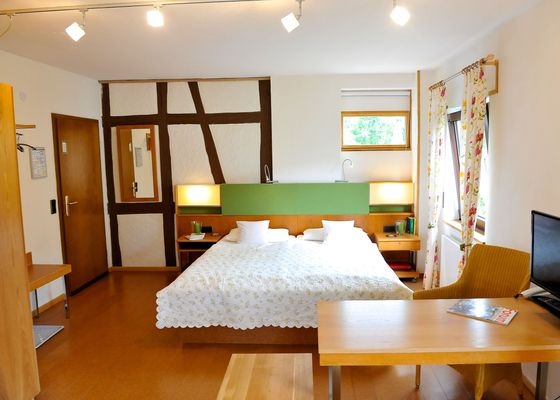 The hygiene concept in our hotel: 
Trained staff who is familiar with safety guidelines of local authorities
Staff wears masks and gloves where necessary
Disinfectants in public areas
Distance rules are observed
Buffet with service
Limited number of guests in the restaurant and in the wellness areas, etc.
Special antiviral cleaning agents on an ecological basis
Comprehensive room cleaning by the staff
Guests can indicate that housekeeping is not desired
Flexible cancellation terms
Cold steam device for room-disinfection
One-way streets as far as possible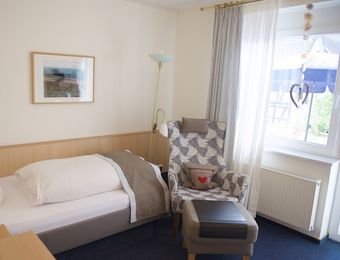 Single Room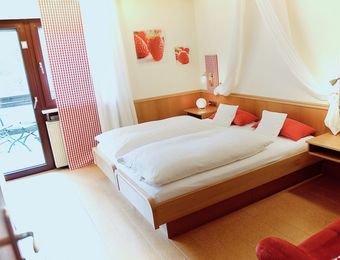 Double room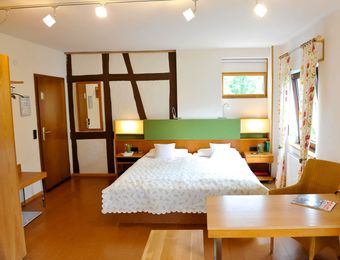 Eco double room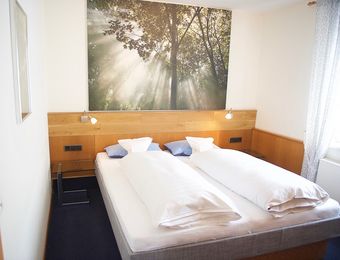 Junior Suite
Review date 25. August 2022
Ein sehr gutes Bio Hotel mit liebevoll zubereiteten leckeren Essen. Freundliches und aufmerksames Personal.
Review date 04. August 2022
Nettes kleines mit viel Liebe geführtes Hotel in reizvoller Umgebung. Die fünf Strene sind wohl verdient, denn man wird freundlich un zuvorkommend bedient. Das Essen ist einfach eine "Wucht". Ich empfehle jeden, der dieses Hotel besucht, Halbpension zu nehmen, denn das Abendessen ist von einer der Inhaberinnen selbst gekocht und schmeckt hervorragend.
Review date 26. March 2022
Bad Endbach, nicht so bekannt...Bio Hotel Forellenhof eine Woche Basen Fastenkur. Ich kann nur sagen, es war eine wunderbare Erfahrung. Zuerst diese familiäre und persönliche Atmosphäre ist einmalig, sehr vorkommend und immer freundlich. Die zwei Schwester ergänzen sich perfekt bei der Führung dieses Bio Hotel. Die Basen Fastenkur war einmalig, das besonders leckeres Essen ist so ausgewählt und gekocht nach Sabine Wacker Rezepte aber der persönliche Touch bei der Präsentation auf den Teller gehört 5*...Alles schmeckt sehr fin und mehr als ausreichend, dabei nimmt man auch ab! Die Gestaltung des sonstigen Programms ist auch perfekt! Schönen Wanderungen, Atemübungen, Saunagänge, Fußbäder, Ernährungsvorträge, Kochtipps für Basen Rezepte...viele tollen Anregungen und immer freundliches und hilfsbereites Personal. Wir waren eine sehr nette Frauen Gruppe und haben alle die Zeit gemeinsam genossen. Vielen, vielen Dank, es war sehr schön
Review date 22. February 2022
Il y a quelques années nous avons fait ici une cure minceur. Les chambres étaient<br />belles, au calme et bien équipées. Belle région aux alentours.<br />Mais alors la nourriture, une honte ! Au petit déj. presque rien à manger, du pain noir<br />étouffe-chrétien bourratif, qui doit aider au contraire à grossir.<br />Les plats à midi, une honte : Aucune variété : un jour mozarella avec tomate, le lendemain<br />juste un peu différent et également tomate et mozarella ! Des entrées en guise de repas peu variées et de ce niveau chaque jour ! D'ailleurs les dirigeantes de l'hôtel étaient toutes très rondes et donc peu capables d'établir des menus pour mincir ! Personnel peu serviable qu'on avait l'impression de déranger à la moindre question (questions rares).<br />Au départ, le comble : le cadeau d'adieu qui devait être de l'huile à la rose fut simplement<br />remplacé (soit-disant non dispo) par un sachet de pot-pourri tombé en miettes !<br />Je précise que nous n'avons pas perdu un seul gramme durant le séjour !<br />Un vrai séjour attrape-nigauds chez des gens antipathiques et incompétents !<br />Peut-être la Direction a-t-elle changé, car le séjour remonte à quelques années.
Review date 22. February 2022
Il y a quelques années, nous avons fait là-bas une soit-disante cure minceur.<br />Les chambres de l'hôtel étaient bien équipées, belles et au calme.<br />Mais alors la nourriture offerte pour la cure minceur, une honte !<br />Du pain noir étouffe-chrétien immangeable, des plats quasi-identiques chaque jour : un jour tomate avec mozarella, le lendemain juste une petite variante, avec également tomate et mozarella.<br />Un petit déjeuner minimaliste et sans goût. Sans être de gros mangeurs, nous allions chaque jour en pâtisserie pour étoffer le menu minimaliste même pour une cure. En plus l'hôtelière était fière de ce qu'elle offrait à manger !<br />Aucune patience pour donner des idées de sortie, on dérangeait !<br />Le cadeau d'adieu qui devait être un flacon d'huile à la rose soit-disant manquait, on l'a remplacé par un sachet de pot-pourri tombé en miettes !<br />PLUS JAMAIS. C'était vraiment du foutage de g....e !<br />D'ailleurs, les dirigeantes de l'hôtel était très enrobées et n'y connaissent rien en cure minceur, pour sûr !
Review date 19. January 2022
Alles super dort.
Review date 12. November 2021
Eine Woche Basenfasten. Total nettes Personal. Die Betreiberinnen erfüllen jeden Wunsch und das Essen einfach nur super lecker
Review date 25. May 2020
Für das gute Hygienekonzept, für den entspannten Aufenthalt und das sehr ansprechende und leckere Essen möchten wir uns bei den Inhaberinnen herzlich bedanken.
Review date 18. December 2019
Klein und fein
Review date 26. September 2019
Super Frühstück!
Review date 18. September 2019
Liebevoll eingerichtetes Hotel mit hervorragendem Service! Hier wird Bio in jeder Hinsicht gelebt! Angefangen bei der Ausstattung der Zimmer (habe noch nie in einem Hotell eine ähnlich hochwertige Matratze gefunden) über das hervorragende Frühstück bis hin zum Abendessen mit ausnahmslos regionalen und qualitativ hochwertigen Zutaten, die nicht besser hätten zubereitet werden können (auch hierfür 5 Sterne)! Liebes Forellenhofteam, danke für die schöne Zeit bei euch, wir kommen auf jeden Fall wieder!
Review date 18. September 2019
Kleines, gemütliches Hotel mit sehr guter Küche. Nette Betreiber.
Review date 17. September 2019
verstecktes Hotel mit individuellen Zimmer. Parkplätze sind vor der Tür. Nette Dame am Empfang auch ausserhalb der Öffnungszeit nach Rücksprache
Review date 09. September 2019
Uitstekend, schoon, netjes, zeer vriendelijk personeel, uitstekend ontbijt
Review date 27. August 2019
Essen war sehr gut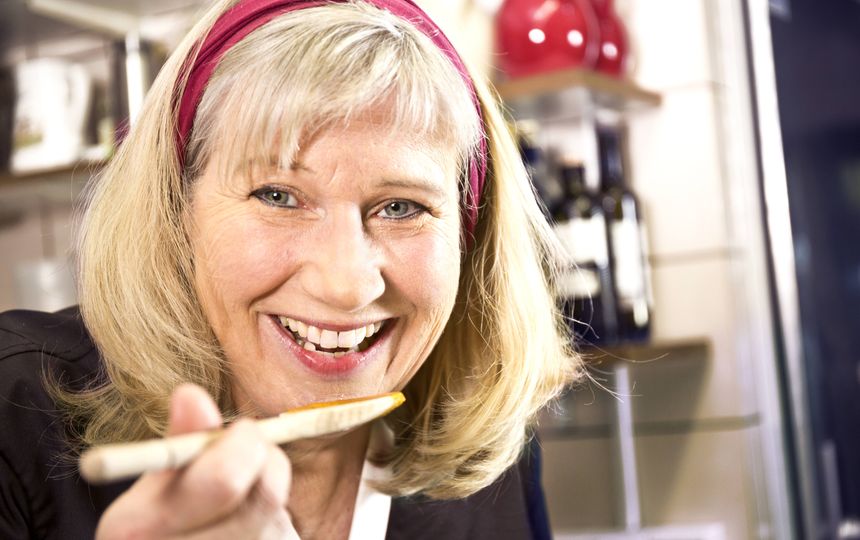 Hosts
Your two hosts Jutta Rink and Ute Heck will ensure a relaxing stay. Authentic cordiality, caring service and refined prepared dishes are just a few things you can expect as a guest with them.
 
With their sustainable philosophy, together with the BIO HOTEL Forellenhof, they are shaping the development for sustainable recreation and hospitality in the region.
 
"Even as a child, I loved working in the kitchen with my grandmother. The joy of fine food and lived hospitality has remained with me to this day."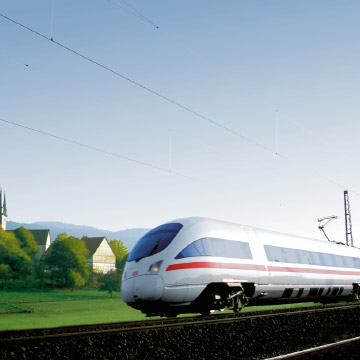 Arriving by train
© Deutsche Bahn AG / Gert Wagner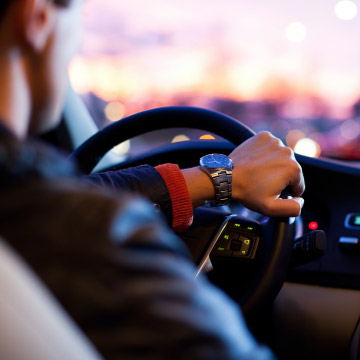 Get here by car