Highlights
Restaurant for hotel guests
Vegetarian menu
Vegan dishes
Allergy-free kitchen
Services around Organic cuisine
Vital kitchen
Whole food
Buffet meals
Menu selection
Hotel bar
Highlights
Hotel with charging station for e-cars
Services around Sustainability
Certified BIO HOTELS member since December 2011
Organically built building
Environmentally friendly and self-sufficient energy concept
Inspected by ABCERT
5,07 kg CO2e/night
50,5 tons CO2e/year
Highlights
Nature hotel
Accessible hotel
Hotel with limited wifi
Vacation with animals
Hotel with sauna
Hotel with swimming pool
Electrosmog Reduced hotel
Hotel for allergy sufferers
Services around Vacation
Holidays on a Farm
Free WIFI
Non smoking hotel
Free parking
Summer sports activities such as hiking, cycling, golfing
Winter sports activities such as Skiing, tobogganing, snowshoeing
Services around Romance
Romantic ambience in the room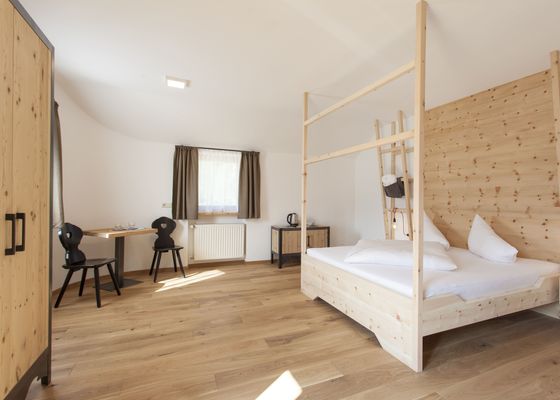 The hygiene concept in our hotel: 
Trained staff who is familiar with safety guidelines of local authorities
Staff wears masks and gloves where necessary
Disinfectants in rooms and public areas
Distance rules are observed
Self-service buffet (gloves available for guests)
Limited number of guests in the restaurant and in the wellness areas, etc.
Comprehensive room cleaning by the staff
Guests can indicate that housekeeping is not desired
Flexible cancellation terms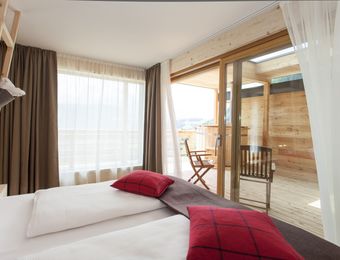 Chalet Castanea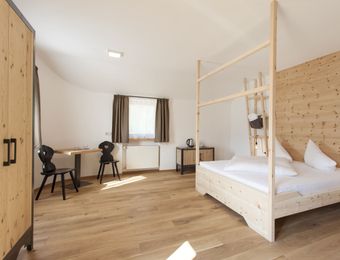 Double room Laureus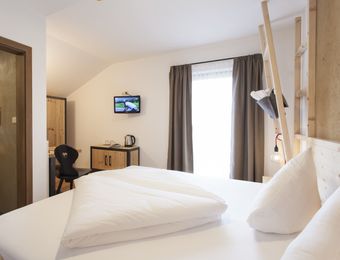 Double room Rubis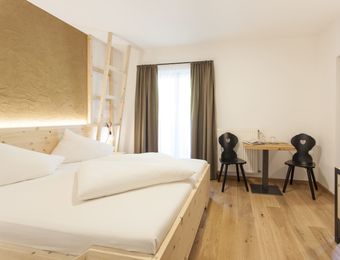 Double Room Venustus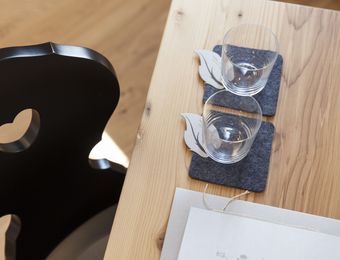 Double Room Montis
Review date 30. April 2022
Wunderschönes Hotel mit tollem Blick. Wir lieben das Konzept des Hotels mit frischen Zutaten aus dem eignen Garten, sowie die Bio Qualität der Lebensmittel. <br />Das Personal ist super freundlich und bodenständig. <br />Leider verstehen scheinbar viele Gäste das Konzept dieses Hotels nicht und verwechseln es mit einer normalem Luxushotel.
Review date 25. April 2022
Tolle Lage, großartiges Chalet mit Badezuber, liebes Personal, super Frühstück
Review date 18. April 2022
Wir haben für 4 Nächte das Chalet inkl 3/4 Pension gebucht. Das Chalet ist geräumig, modern eingerichtet und sauber. Die grossen Panoramafenster mit Blick auf die Dolomiten sind grossartig. Das Highlight ist der Hot Tub auf der Terrasse. <br /><br />Das Essen war jeden Tag abwechslungsreich, mit besonderen Kombinationen und sehr lecker. Auch das Auge hat stets mitgegessen. Wer in den Pennhof kommt, sollte auf jeden Fall das Abendessen buchen. <br /><br />Generell ist der Pennhof eine kleine Oase mit tollem Ausblick, die Aussenanlage und auch der Wellnessbereich laden zum verweilen ein. <br /><br />Punkte Abzug gibt es für uns für die fehlende familiäre Gastfreundlichkeit. Damit wird auf der Homepage geworben und war unter anderem ein ausschlaggebender Punkt, weshalb wir uns für den Pennhof entschieden haben. Leider haben wir während unserer 5 Tage nur kurz Elmar gesehen, ansonsten hat sich leider niemand blicken lassen. Generell hatten wir den Eindruck, dass Familie Braun den Gästen eher aus dem Weg geht. Sehr schade, denn das sollte den Urlaub auf dem Bauernhof doch mit ausmachen, vor allem wenn damit geworben wird.<br /><br />Das Personal bei Frühstück und Abendessen war sehr bemüht und herzlich, nur leider auch unterbesetzt, so dass es teilweise etwas chaotisch war und die Auslage nur bedingt bzw auf Nachfrage nachgefüllt wurde. Schade, dass hier die Familie nicht auch im Service unterstützt, wenn Not am Mann ist. <br /><br />Auch bei unserer Zimmerreinigung gab es scheinbar etwas Verwirrung, da unser Hot Tub bereits am Vortag unserer Abreise ausgelassen wurde. Auf Nachfrage wurde der Tub wieder aufgefüllt, allerdings kam um 8 Uhr Morgens am Tag der Abreise wieder die Reinigungskraft, als wir noch mit offenen Vorhängen im Bett lagen und hat den Tub wieder ausgelassen. Fanden wir doch etwas merkwürdig, da Check-Out erst um 10 Uhr ist und unser Zimmer erst um 12:30 gereinigt wurde, was wir sehen konnten, da wir noch im Garten saßen. Hier sollte man nochmal nachschärfen, da man doch nicht wenig für die Übernachtung im Chalet bezahlt. <br /><br />Alles in allem waren es aber schöne 5 Tage und der Pennhof ist ein super Ausgangspunkt für schöne Wanderungen.
Review date 02. March 2022
Magnifique endroit, un des meilleurs petit déjeuner que j'ai mangé
Review date 04. January 2022
The best hotel experience I ever had! Exceptional breakfast, super friendly staff, amazing view. Plus points for the sauna and the outside dipping pool which was a fantastic experience on the chilly winter days. We had such a blast to spend the NYE here. Thank you guys!! :)
Review date 04. January 2022
The best hotel experience I ever had! Exceptional breakfast, super friendly staff, amazing view. Plus points for the sauna and the outside dipping pool which was a fantastic experience on the chilly winter days. We had such a blast to spend the NYE here.
Review date 03. January 2022
Zimmer ausreichend groß mit schönem Blick auf die Berge
Review date 27. December 2021
Struttura accogliente, curata e pulita tutto nel rispetto della natura. <br />Prodotti bio sia alimentari che per la cura del corpo.<br />Silenzio, relax per noi adulti mentre il bambino giocava fuori oppure nella sala tv
Review date 01. November 2021
Ich war nun das zweite Mal beim Pennhof und ich kann nur sagen, dieser Ort ist magisch! Diese wunderbare Idylle ist so friedvoll. Es ist alles so liebevoll gestaltet, alle Details sind durchdacht und liebevoll umgesetzt und dann ist da noch diese phantastische Aussicht auf die Dolomiten. Es ist ein wunderbares Plätzchen Erde, umsorgt von tollen Menschen, die sich um das Wohlbefinden der Gäste sorgt und alles tut, um einen großartigen Aufenthalt zu gewährleisten.<br /><br />Für mich war alles rundum perfekt. Das Chalet hat meine Erwartungen übertroffen. Das Essen, wie auch letztes Mal, grandios!<br /><br />Man muss den Pennhof einfach selbst erleben. Einfach alles großartig!
Review date 01. November 2021
Nachdem drei von mir besuchte Biohotels nicht gehalten hatten, was sie versprachen, fragte ich mich, ob der Pennhof eine Ausnahme sei oder nicht.<br />Im September war ich ein paar Tage dort und kann sagen: Es ist besser als es sich beschreiben oder fotografieren lässt. Für mich hat alles gestimmt und der Aufenthalt mir unbeschreiblich gutgetan.<br />Mein Zimmer war schöner als ich es beschrieben fand; der grandiose Ausblick muss erlebt werden, er ist nicht wirklich zu beschreiben.<br />Das Hotel liegt tatsächlich ruhig und weil es nur wenige Zimmer gibt und Wert gelegt wird auf Rücksichtnahme, ist es auch innen immer ruhig.<br />Das Team ist äußerst angenehm, herzlich und professionell. Sie erfüllen alle erfüllbaren Wünsche.<br />Das Essen ist fantastisch. Nicht nur irgendein EG Bio, sondern von guten Marken und natürlich viel vom eigenen Hof oder befreundeten Bio-Produzentinnen. Das Angebot für Veganer:innen ist genauso groß wie für die Fleischessenden. Gekocht wird mit Liebe, besten Zutaten und Raffinesse. Auch habe ich dort erstmals ein Team getroffen, dass mit Wissen und Bereitschaft auf alle Nahrungsmittelunverträglichkeiten eingeht! In Hotelprospekten geschrieben wird es oft, doch selten eingehalten.<br />So komplett zufrieden war ich bisher nur in noch einem anderen Hotel.<br />Ich kann bestimmt noch mehr über den Pennhof schwärmen, doch hier das Fazit:<br />Ich freue mich schon auf meinen nächsten Aufenthalt.
Review date 01. November 2021
Wir waren nun bereits das fünfte Mal im Pennhof und das ist Beweis genug, dass wir uns dort in jeglicher Hinsicht rundum wohlfühlen. Und: Wir wollen auf jeden Fall wiederkommen. Danke an Elmar Braun und sein Team für eine wunderschöne Urlaubswoche.
Review date 29. October 2021
Lovely staff, delicious food, clean rooms, comfortable bed, cute goats, fabulous mountain views.. I will be back.
Review date 03. October 2021
Die Traumhafte Aussicht auf die Schlern Bergkette vom Garten und vom Restaurant aus ist so atemberaubend schön, dass ich anstatt einen Ausflug zu machen , einfach im Pennhof blieb und in stiller Beobachtung und Meditation das Sein völlig genossen habe. Das Personal fand ich aussergewöhnlich freundlich und lebendig. Die Sauna ist klein jedoch edel und nach dem Saunagang schwimmt man in kaltem Quellwasser beim Blick auf die Berge. Das Essen ist vorzüglich und ich finde es toll dass es zwei Schweine gibt , die die Reste futtern, so dass nichts verschwendet wird. Ich komme auf jeden Fall wieder, danke an das Pennhof Team.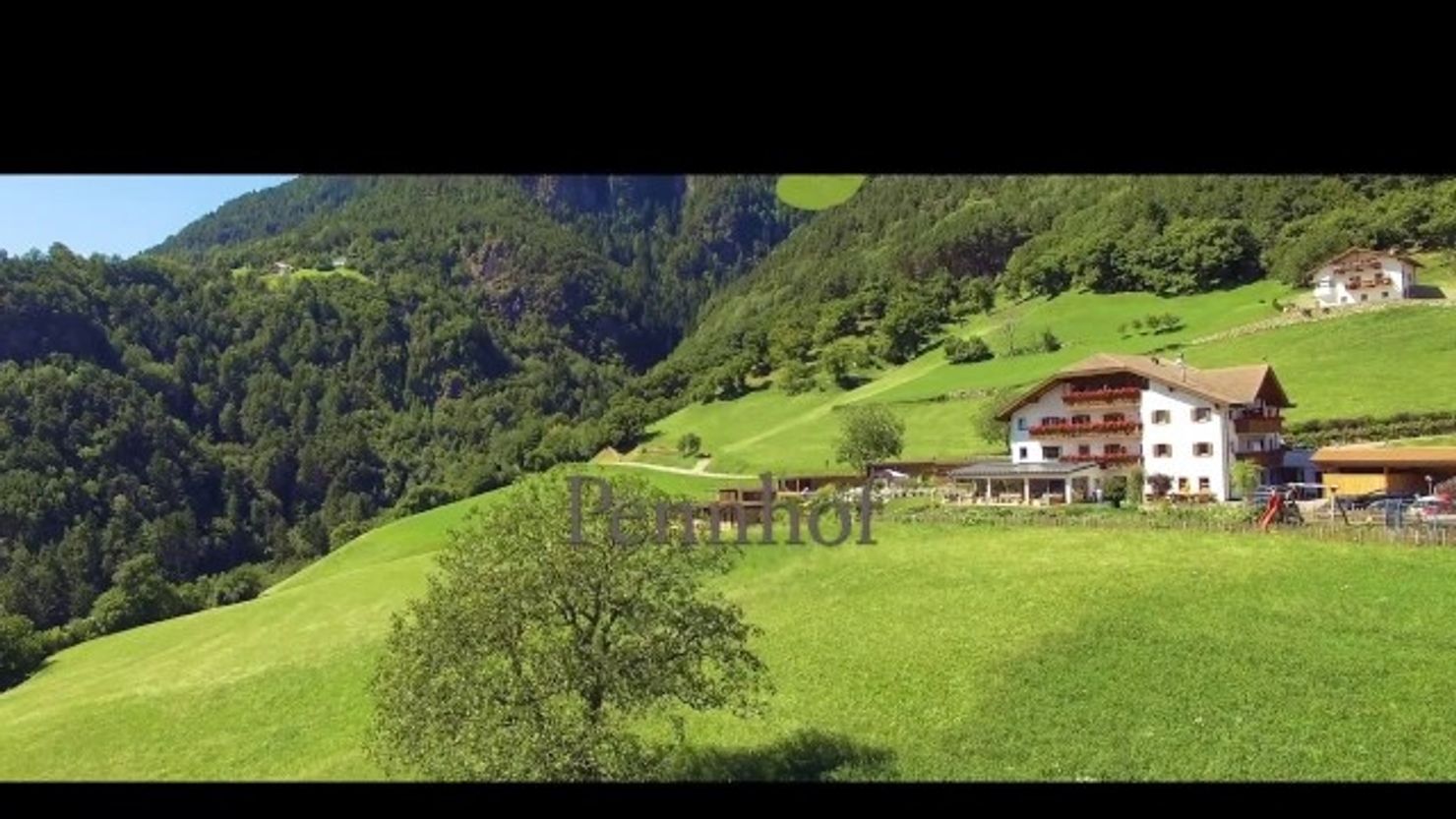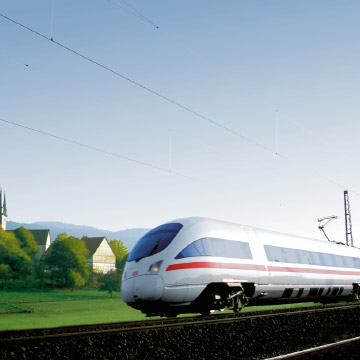 Arriving by train
© Deutsche Bahn AG / Gert Wagner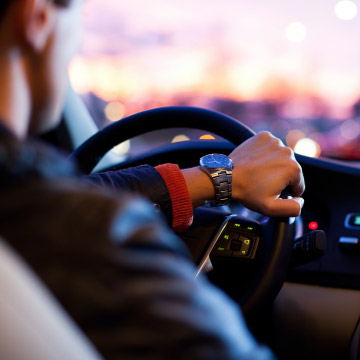 Get here by car