Services around Organic cuisine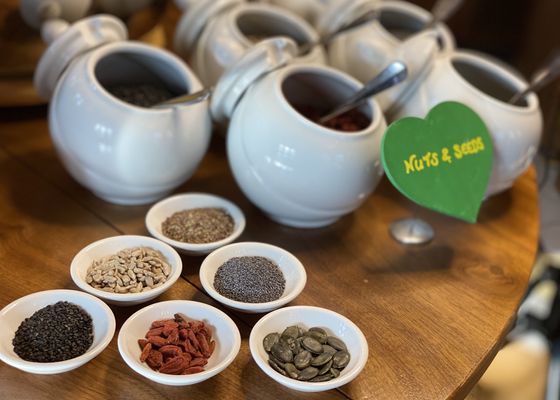 100% certified:

Whether in the hotel bar, minibar or at the breakfast buffet, all food served is organic and mostly regional. We are well known for our rich breakfast buffet, where vegetarians, vegans and guests with intolerances are also fully satisfied.
Services around Sustainability
Certified BIO HOTELS member since February 2018
Public interest company
Inspected by bio inspecta
6 kg Co2-equivalents/night
126 tons Co2-equivalents/year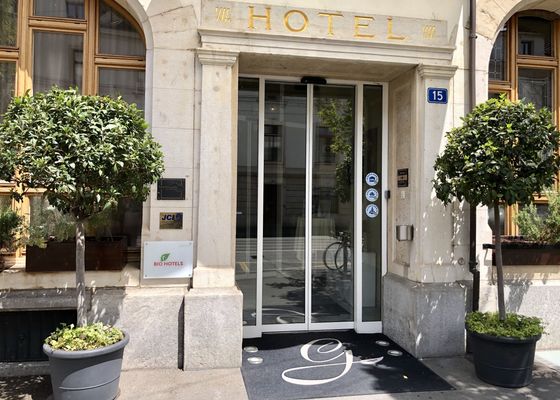 Our contribution to the future:

Sustainability is a concern for us in all areas. It is our goal to be a Zero-Waste Hotel. We do a lot to achieve this:Our stale bread goes to the elephants at the Basel Zoo – they love it! Our used coffee grounds go to the Urban Agriculture Basel association, where they are used to cultivate quality mushrooms.Our used guest soaps are recycled by the Sapocycle foundation and redistributed in vulnerable areas.To clean your rooms we use exclusively environmentally-friendly, non-toxic cleaning products from Steinfels-Swiss.Our organic waste is turned into humus at a nearby biogas plant.
Highlights
Vacation with your dog
Services around Vacation
Elevator
Free WIFI
Non smoking hotel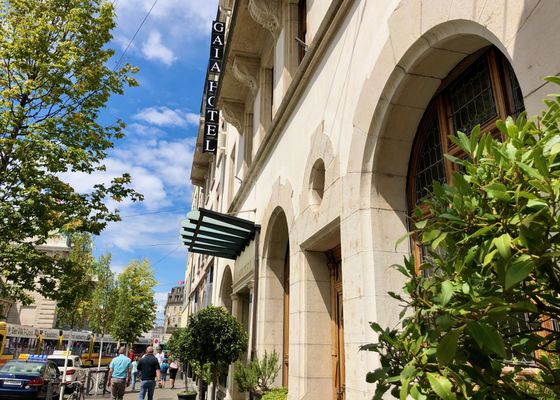 Sustainable hotel experiences:

Basel is a pocket-sized metropolis. The distances are short and the cultural offerings are huge. Over 40 museums, including the world-famous Kunstmuseum, offer something for every taste. Or how about a walk along the Rhine, where countless restaurants and cafés invite you to linger a while? Either way, the GAIA Hotel is the ideal starting point: centrally located, yet quiet, and the spa area promises the best relaxation after an extended stroll through the city.
Highlights
Hotel with sauna
Services around Wellness
Massage offers
Relaxation area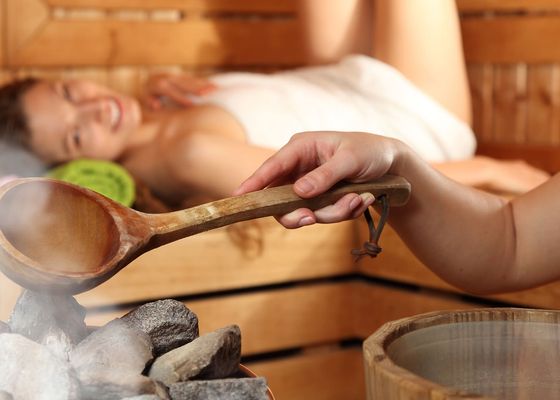 Sustainable wellness experiences:

Our spa area is equipped with a Finnish sauna, a Kneipp bassin and rain showers. A samovar is available in the relaxation room, with which we prepare fresh organic teas. Or would you like a massage? In our treatment room we are happy to offer you a massage according to your wishes.
Services around Romance
Special offers for couples in love
Romantic ambience in the room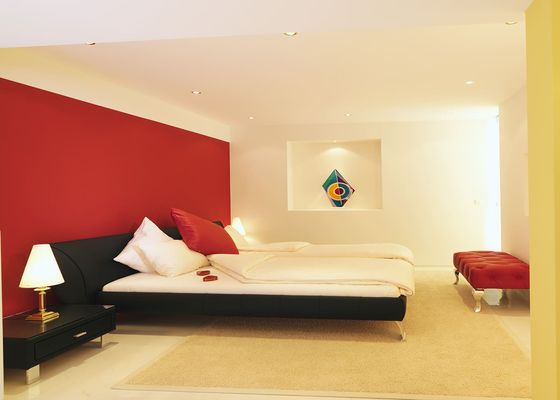 Enjoy romantic ambience:

What is more romantic than spending the night in a 4* hotel room decorated with petals of roses? And that in a city that doesn't have to fear the comparison with Paris. Many museums, beautiful promenades, top-class gastronomy and savoir vivre – that is Basel. For your romantic time-out, we will decorate your room and put a bottle of apple sparkling wine in the fridge. Indulge yourself in our spa area or enjoy romantic strolls through the city.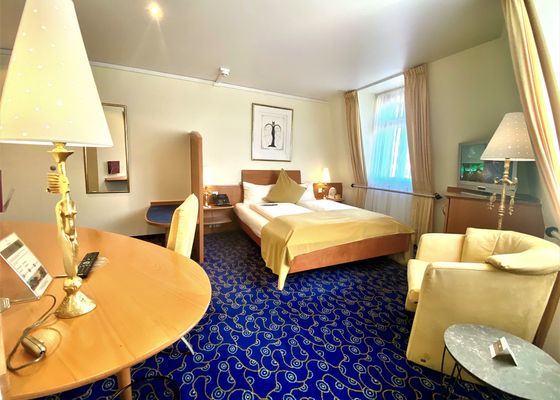 The hygiene concept in our hotel: 
Trained staff who is familiar with safety guidelines of local authorities
Staff wears masks and gloves where necessary
Disinfectants in rooms and public areas
Contactless (online) check-in possible
Distance rules are observed
Self-service buffet (gloves available for guests)
"Buffet with service (Drinks and egg dishes are served at breakfast)
"
Visits to restaurants by prior arrangement only
Limited number of guests in the restaurant and in the wellness areas, etc.
"Varying times for breakfast, lunch and dinner (with high workload if necessary)
"
Comprehensive room cleaning by the staff
Guests can indicate that housekeeping is not desired
Room Service
Flexible cancellation terms: Our flexible rate can be canceled free of charge up to 2 p.m. the day before arrival.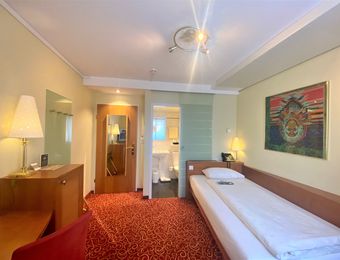 Single room "Eco"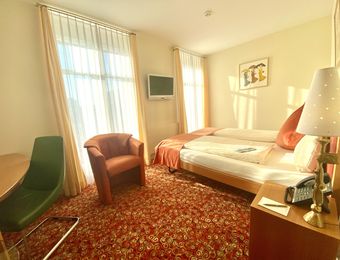 Double room "Smart"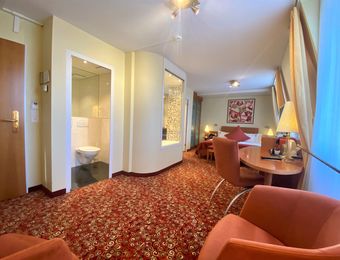 Double Room "Gorgeous"
Overall rating
2565 rating
Review date 01. December 2021
Hotel muito bem localizado, ao lado da estacao SBBe com cupom gratis p o transporte publico<br />Hotel no estilo classico, com muito bom cade da manha e atendimento c muita simpatia, inclusive pela recepcao<br />Achei a cama e travesseiro desconfirtaveis
Review date 01. December 2021
Hotel muito bem localizado, ao lado da estacao SBBe com cupom gratis p o transporte publico<br />Hotel no estilo classico, com muito bom cade da manha e atendimento c muita simpatia, inclusive pela recepcao<br />Achei a cama e travesseiro desconfirtaveis
Review date 01. December 2021
Vom Empfang bis zum Auschecken war alles bestens. Sehr freundliches und hilfsbereites Personal. Einzig mangelte es im Badezimmer an der Möglichkeit, die Duschtücher für zwei Personen aufzuhängen. Dies hat uns aber den Aufenthalt nicht verdorben. Auf ein Andermal!
Review date 30. November 2021
War einfach toll. Die harmonischen Farben im Zimmer und vorallem das tolle Frühstück mit meinen Lieblingsprodukten in Demeter-Qualität. So toll, dass es diese Alternative gibt gegenüber dem Konventionellen.
Review date 29. November 2021
Bien que les chambres en soi ne soient pas exceptionnelles, juste correctes, l'établissement compensent largement avec la qualité exceptionnelles du service !<br />Ils font absolument tout ce qui est possible de faire pour mettre leurs clients à l'aise .<br />Tout les membres du personnel sont adorables et attentionnés.<br />Tout les détails sont pensés pour que l'expérience d'hébergement dans cet hotel soit bonne et le client satisfait.<br />Je recommande sans hésiter
Review date 29. November 2021
Le personnem est a la hauteur des autres commentaires effectivement. La qualité de service a dépassé nos espérances
Review date 29. November 2021
Very nice, large and old style breakfast room, very nice bio-based selection.
Review date 28. November 2021
Sehr freundliches Personal am Empfang und auch beim Frühstück, schönes Zimmer mit vielen kleinen Aufmerksamkeiten, grosse Auswahl am Frühstücksbüffet, tolle zentrale Lage - <br />Ein Ort zum Wohlfühlen und Erholen
Review date 28. November 2021
Accueil très agréable, petit déjeuner super, équipements top ... Et la cerise sur le gâteau le Spa ! Que dire si ce n'est de réserver !
Review date 24. November 2021
Hotel accogliente, ottimo e gentilissimo supporto alla reception. Camera piccola, ma accogliente e pulita, così come il bagno. Situato in centro città e permette di raggiungere numerosi posti anche a piedi. Colazione molto buona. Da tenere presente per prossimi soggiorni a Basilea.
Review date 22. November 2021
cortesia ed efficienza dello staff
Review date 21. November 2021
Confortable, propre, bien situé. Personnel aimable Très bon petit déjeuner
Review date 20. November 2021
Zimmer ok,Sehr ruhig, sehr freundliche Atmosphäre. Frühstück sehr gut, der Raum ist sehr schön.
Review date 19. November 2021
We really enjoyed this hotel. Incredibly close to the train station and an easy walk. The desk and breakfast staff were friendly and helpful. The coffee is marvelous as are the pastries at breakfast. The room and bathroom was very clean and plenty of room to move around and re-arrange packing our luggage. Highly recommend.
Review date 19. November 2021
Had an excellent stay at the GAIA hotel. Great location close to main rail and bus stations. All the staff were very friendly and accommodating, the room was very comfortable and well supplied as well... and the breakfast delicious! Would definitely stay again and recommend to others
Review date 15. November 2021
Un hôtel très agréable, bien situé, avec des chambres confortables. Un super accueil, avec un personnel attentionné. Et un petit déjeuner très gourmand !<br />Une adresse à retenir pour un nouveau séjour à Bâle
Review date 15. November 2021
I loved this hotel, everything was wonderful, I enjoyed the staff and their warm and friendly manner, they were so helpful in explaining all the options for restaurants in the area and how to get there and they offered so many other suggestions and helpful hints about Basel. I loved my room, they automatically upgraded me as I checked in and I loved the room, the amenities and the decor. Honestly it was the best experience that I ever enjoyed. I travel a lot and will look for these Bio Hotels or Gaia in other locations.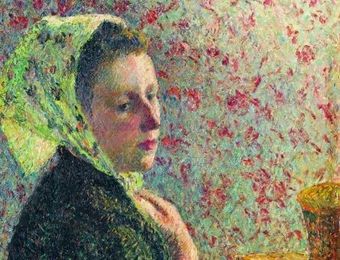 Meet Camille Pissarro in Basel!
from
CHF 114,-
per person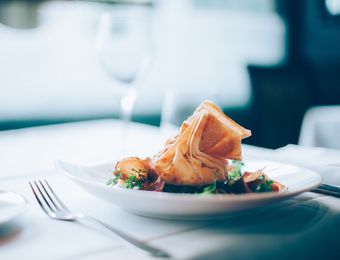 Discover the Culinary City of Basel!
from
CHF 145,-
per person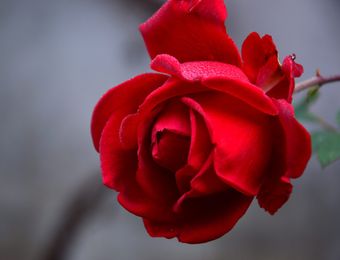 Rendezvous in Basel!
from
CHF 107,-
per person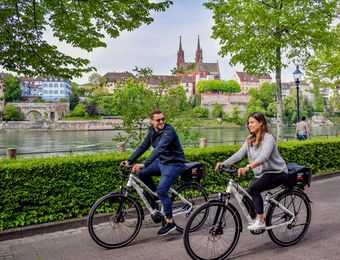 Discover the Basel Region by e-Bike!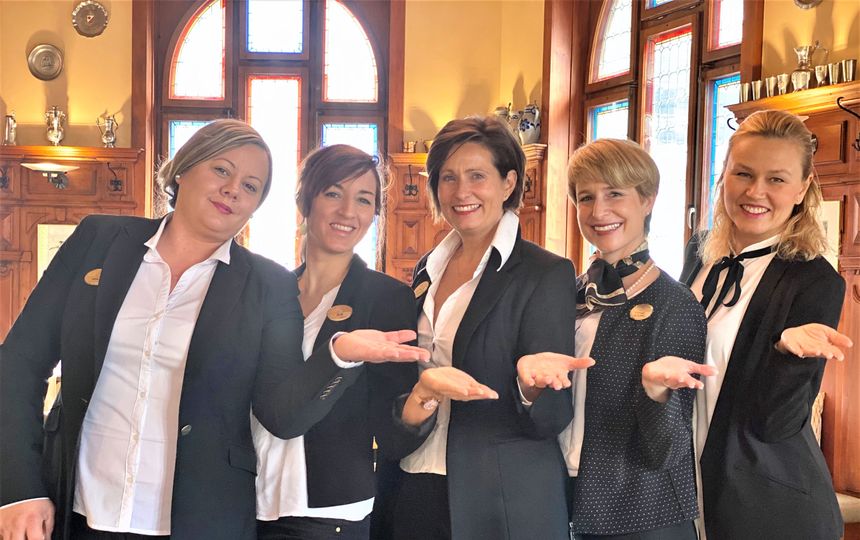 Hosts
Since 1929 our family Geyer runs the former Hotel St. Gotthard Basel, which is called GAIA HOTEL since October 1, 2015. The hotel is managed in 4th generation by the two sisters Natalie Durrer-Geyer and Selinda Geyer. The birth of Selinda's daughter in 2015 inspired the sisters to realign the hotel and make sustainability the focus of the family business. "GAIA" means "Mother Earth" and thus embodies the entire ecosystem of our planet. This name is a commitment for us to make our direct contribution to the well-being, happiness and hopeful future of generations to come.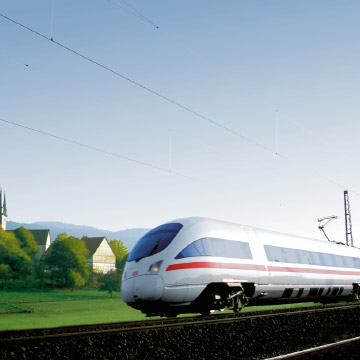 Arriving by train
© Deutsche Bahn AG / Gert Wagner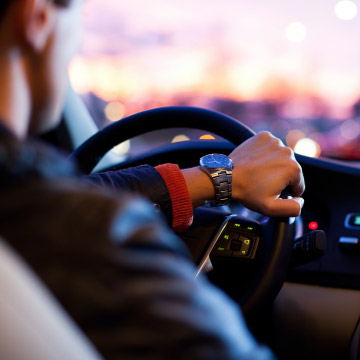 Get here by car