Services around Organic cuisine
Highlights
Climate-positive hotel
Services around Sustainability
Certified BIO HOTELS member since June 2017
Inspected by Austria Bio Garantie
2,6 kg CO2e/night
20,5 tons CO2e/year
Highlights
Vacation with your dog
Hotel with limited wifi
Fasting leave
Hotel with sauna
Hotel with yoga
Hotel for allergy sufferers
Electrosmog Reduced hotel
Services around Vacation
Free WIFI
Non smoking hotel
Free parking
Organic Pensions
Summer sports activities such as hiking, cycling, golfing
Winter sports activities such as Skiing, tobogganing, snowshoeing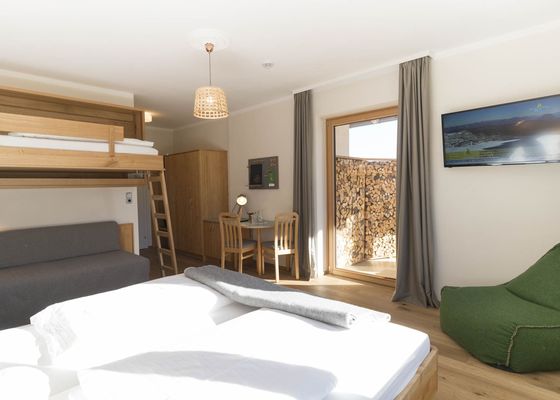 The hygiene concept in our hotel: 
Trained staff who is familiar with safety guidelines of local authorities
Staff wears masks and gloves where necessary
Disinfectants in public areas
Contactless (online) check-in possible
Distance rules are observed
Self-service buffet (gloves available for guests)
Limited number of guests in the restaurant and in the wellness areas, etc.
Special antiviral cleaning agents on an ecological basis
Comprehensive room cleaning by the staff
Guests can indicate that housekeeping is not desired
Room Service
Flexible cancellation terms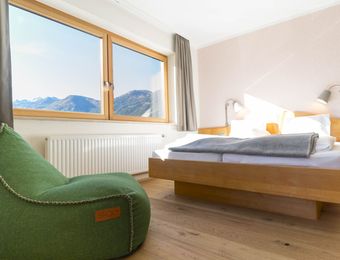 Double or triple room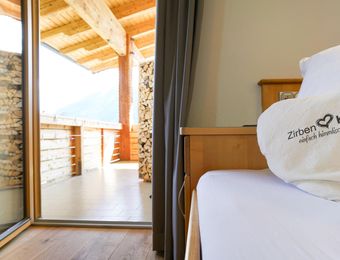 Single room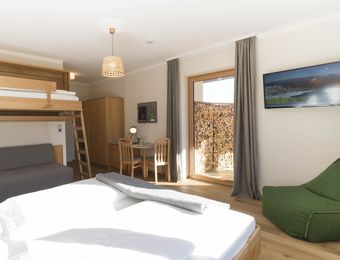 family room
1-room apartment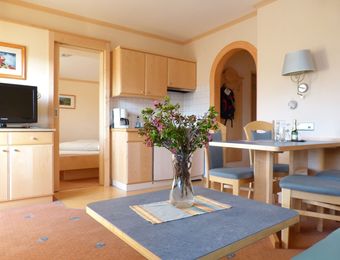 2-room apartment
Review date 28. June 2022
Das Frühstück war ausgezeichnet.
Review date 22. June 2022
Wie immer ein wunderbarer Aufenthalt, schöne Zimmer, reichhaltiges Frühstück, familiäre Atmosphäre, tolle Yoga-Einheiten, einfach pure Erholung.
Review date 22. June 2022
Wunderschöne Aussicht, schöne Zimmer, sehr freundliches Personal mit familiärer Atmosphäre. Toller Yogaraum und super Dachterrasse.
Review date 22. June 2022
Sehr leckeres gesundes Essen, auch vegan, eine tolle Auswahl. Schöne geräumige Zimmer, mit Balkon, tolles modernes Bad, eine Sauna, eine Dachterrasse, wunderschöner großer Yoga Raum, einfach Top! Wunderschön! Und so eine schöne Umgebung und Aussicht!
Review date 02. June 2022
Dobra lokalizacja (10min pieszo do wyciągu, możliwość powrotu do hotelu na nartach). Czysty, dobrze wyposażony hotel. W pokojach dostępne lodówki (mini-barek). Świetne śniadania. Sauna. Wygodny parking.
Review date 01. June 2022
Wenn man ein familiäres Wohlfühlambiente in einem Hotel sucht, das mit viel Liebe vom ganzen Team geführt wird, ist man hier genau richtig. Das Biohotel Bergkristall Team ist äußerst freundlich, hilfsbereit und verwöhnt seine Gäste wo es nur geht. Ein immer freundliches Team versprüht viel Herzlichkeit und Freundlichkeit.
Review date 31. May 2022
Nettes, kleines Hotel mit zuvorkommenden Gastgebern. Ich kann es nur weiterempfehlen ! Besonders für sportliche Aktivitäten sehr geeignet !
Review date 30. May 2022
Außergewöhnlich nettes Personal, das sehr bemüht um seine Gäste ist und versucht, jeden Wunsch direkt von den Lippen abzulesen. Das Frühstück war sehr gut und es blieben keine Wünsche offen. Wir sind zu viert mit 2 Hunden angereist und durften daher einen separaten Frühstücksraum in Begleitung unserer Hunde nutzen. Vom Frühstücksraum gelangt man direkt in den Garten und von dort aus gibt es unendliche Möglichkeiten für Spaziergänge bzw. Wanderungen gemeinsam mit den Vierbeinern. Wunderschöne Aussicht und traumhafte Lage, angenehme Atmosphäre im Hotel, außerdem ist das Hotel sehr heimelig und definitiv nicht überrannt. Man fühlt sich sofort wohl.
Review date 21. April 2022
Příjemné prostředí, s možností dobrého parkování, využití sauny zdarma a naprosto úzasným výhledem! Fantastická snídaně!
Review date 30. March 2022
Sehr schöner Yogaraum, wunderbares veganes Essen speziell für unseren Yogaworkshop und ein sehr freundliches Personal.. Bei traumhaftem Wetter waren auch die Skitouren in der beeindruckenden Umgebung wunderschön.
Review date 29. March 2022
älteres Hotel trifft neue Generation, toll inspirierend und liebevoll erhalten, verändert und ergänzt. Veränderungen treffen das Bestehende, das ist großartig gelungen. Freundlich zugewandt hilfsbereit und immer unkompliziert. Yoga am Abend, Saunieren und ein super gutes Frühstück haben das alles abgerundet.
Review date 20. March 2022
Zum wiederholten Mal haben wir mit 6 Frauen unseren Skiurlaub über Karneval im Bergkristall verbracht. Es war wieder ein tolles Erlebnis! Wir fühlen uns immer sehr wohl in dem familiengeführten Hotel. Dieses Mal waren wir coronabedingt auch etwas komplizierter, wir haben kurzfristig das Reisedatum um einen Tag verschoben, ein Teil der Gruppe ist außerdem einen Tag eher angereist. Aber das Team vom Bergkristall hat alles möglich gemacht! Danke dafür!<br />Wie immer war das Frühstück der Hit, alles Bio und superlecker! Und dieses Jahr haben wir endlich auch die tolle Sauna genutzt! Das hat uns sehr gut gefallen! Alles in Allem ist das Bergkristall ein schönes, kleines Hotel. Alle sind supernett, es ist sauber, die Zimmer sind sehr gut! Wir können es nur empfehlen. Wir kommen im nächsten Jahr auf jeden Fall wieder!
Review date 19. March 2022
greately located cosy place with excellent breakfast, obliging staff and clean rooms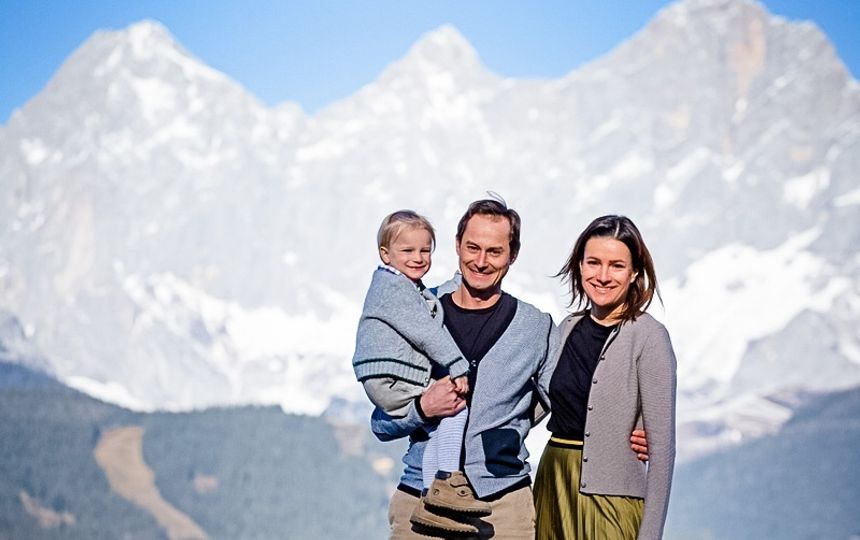 Hosts
The Seebacher family gives the BIO HOTEL Bergkristall its friendly, family atmosphere. They bring in their personal experiences and make the hotel to an authentic and very special place.
 
"My passion for yoga and simple, down-to-earth enjoyment is genuine, and as a yoga teacher and herbalist, I want to pass that on to our guests," says hostess Karin. Architect and host Franz works on the constant development of the BIO HOTEL and, as a beekeeper, ensures the right sweetness at the breakfast buffet.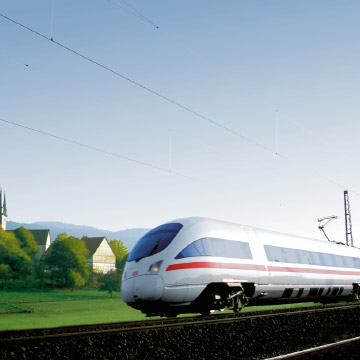 Arriving by train
© Deutsche Bahn AG / Gert Wagner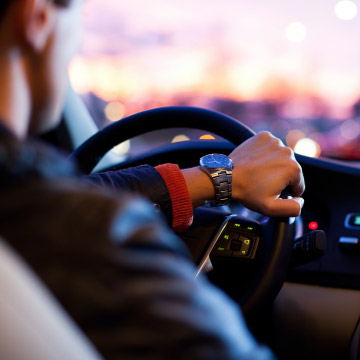 Get here by car