Highlights
Public Restaurant
Vegetarian menu
Vegan dishes
Allergy-free kitchen
Services around Organic cuisine
Highlights
Hotel with charging station for e-cars
Services around Sustainability
Certified BIO HOTELS member since April 2020
Inspected by ABCERT
Highlights
Nature hotel
Vacation with your dog
Accessible hotel
Hotel for celebrations
Services around Vacation
Elevator
Free WIFI
Non smoking hotel
Free parking
Pick-up service from train stations included
Summer sports activities such as hiking, cycling, golfing
Services around Green Meetings
Meeting room with daylight
Conference equipment
Modern conference technology
Sustainable & recyclable conference materials
Network technology
Break area
Catering / brain food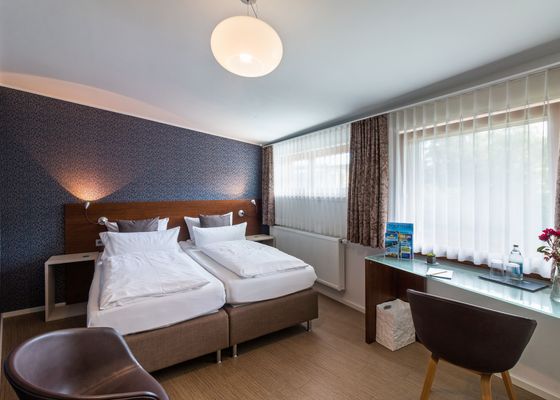 The hygiene concept in our hotel: 
Trained staff who is familiar with safety guidelines of local authorities
Staff wears masks and gloves where necessary
Disinfectants in rooms and public areas
Distance rules are observed
Limited number of guests in the restaurant and in the wellness areas, etc.
Varying times for breakfast, lunch and dinner
Hygiene breaks during catering
Comprehensive room cleaning by the staff
Guests can indicate that housekeeping is not desired
Flexible cancellation terms
La colazione è a la carte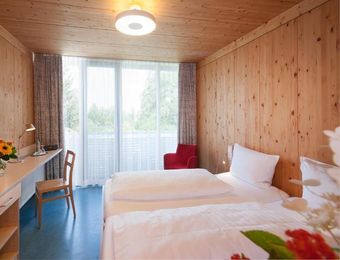 Gallery - double room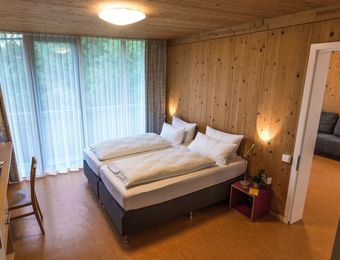 Gallery - Family Room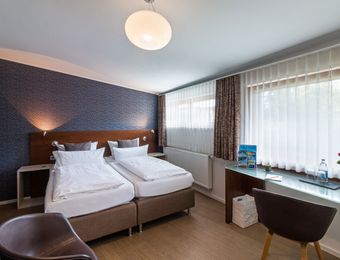 Atelier - Double room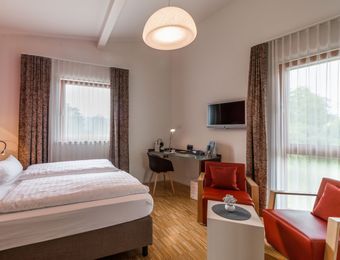 Atelier - Double Room - Komfort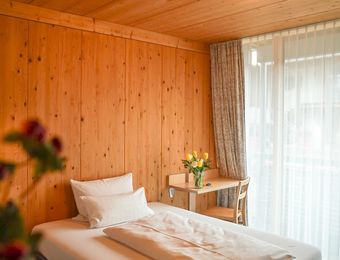 Gallery - Single Room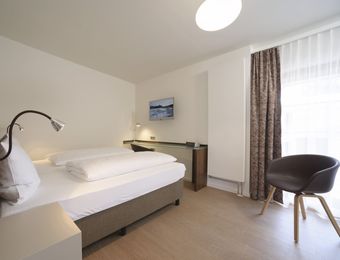 Atelier - Single Room - Balcony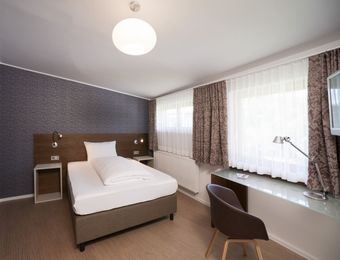 Atelier - Single Room
Overall rating
1351 rating
Review date 26. November 2021
Aussergewöhnlich schönes liebevolles Hotel man fühlt sich nicht nur wohl sondern auch willkommen. Sauber können ja viele und sollte selbstverständlich sein. Wohlfühlathmosphäre schaffen leider nur wenige. Hier wird Alles erfüllt. TOP !!!
Review date 26. November 2021
Selten habe ich so gerne eine Bewertung abgegeben. Obwohl es sich diesmal um eine Dienstreise handelte, konnte ich den Aufenthalt geniessen, was in erster Linie den äußerst umsichtigen und freundlichen Mitarbeitern zu verdanken ist. Ich freue mich schon darauf für einen Urlaub zurückzukehren.
Review date 23. November 2021
Liebes Team,<br />als Referentin und Gast habe ich mich sehr wohl gefühlt. Sowohl Service, Küche, Rezeption und Begleitung von ihnen war perfekt. Ein zweites Zuhause!<br />Vielen Dank
Review date 23. November 2021
Sehr schönes Zimmer und super freundliches Personal, wir haben uns bei Ihnen sehr wohl gefühlt, vielen Dank, gerne wieder einmal
Review date 21. November 2021
Mir hat es sehr gut gefallen. Musste leider früher als geplant Abreisen.
Review date 21. November 2021
Ein sehr schönes, sauberes Hotel mit super freundlichem Personal sowie gutem Essen! Kann ich sehr empfehlen.
Review date 17. November 2021
Das Frühstück war gut; das Abendessen sehr gut. Beim Abendessen ist es sehr gut, dass auf regionale Produkte geachtet wird, auch bei den Getränken.
Review date 08. November 2021
Wir hatten anlässlich eines Geburtstages für eine Nacht gebucht - kommen aber gerne bald wieder - wir hatten ein tolles modernes Zimmer mit einem wunderschönen Badezimmer, einen unglaublich freundlichen Service sowohl beim Check-In, beim Frühstück und bei allen sonstigen Fragen & Wünschen! Die seenahe Lage lädt zum Verweilen ein, der Biergarten ist hübsch angelegt, die Tische schön dekoriert, die Getränkeauswahl toll - und das Frühstück sehr sehr lecker! Wir kommen gerne wieder!
Review date 08. November 2021
Frühstück etwas langweilig aber gut. Lage sehr gut
Review date 08. November 2021
Sehr gute Bedienung und eifrig bemühtes Personal. Hygienische Voraussetzungen sehr gut Frühstück und Abendessen im Restaurant war gut, aber auch nicht billig. Gute Matratze und grosse Duschmöglichkeit. WLAN vorhanden.
Review date 07. November 2021
Wow, schade dass ich nicht mehr als fünf Sterne geben kann. Klasse Konzept: Bio, regional, inklusives Arbeiten, perfekt umgesetzt.<br />Die tolle, warme und freundliche Atmosphäre sticht heraus und sorgt für angenehmes Wohlfühlen
Review date 07. November 2021
Wir haben die Zeit im Seehörnle sehr genossen.Die Mitarbeiter/innen sind sehr freundlich und hilfsbereit. Die Lage am Bodenseeradweg ist wunderbar.<br />Das Frühstück aus leckeren regionalen Zutaten ist hat uns sehr gut geschmeckt - Honig von einem örtlichen Imker und nicht aus dem Kunststoffdöschen hätte es perfekt gemacht.<br />Wir sind gespannt auf die neu renovierten Zimmer und kommen gerne wieder.
Review date 07. November 2021
Gut. Das Frühstück ist reichhaltig, das Essen im Restaurant sehr lecker. Die Zimmer sind hell. Das Hotel liegt direkt am Bodensee-Radweg. also man gleich loslaufen.
Review date 07. November 2021
Ihre Philospie haben wir nur sehr positiv erlebt. Sehr besucherorientierte Aufmerksamkeit und Freundlichkeit. Sehr angenehme, vor allem auch sehr ruhige Lage. Ihr Hotel ist sehr empfehlenswert und werden wir gerne wieder aufsuchen.
Hosts
Ludger Ferber-Thiel and Thomas Kopacevic manage the BIO HOTEL Seehörnle together. Ferber-Thiel is responsible for the gastronomic area, Kopacevic for hotel operations and event management.
 
Both are happy for the fact that the Seehörnle has been an officially certified three-star establishment since 2017: "With the three stars, we take into account the demands of our guests and make our quality even more visible."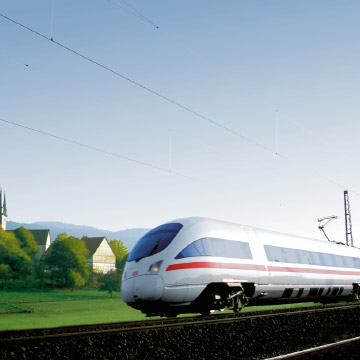 Arriving by train
© Deutsche Bahn AG / Gert Wagner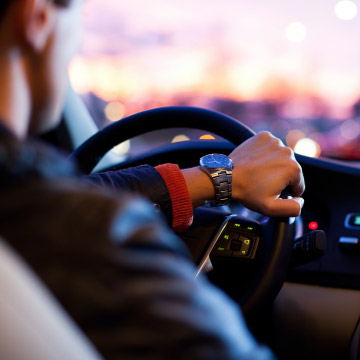 Get here by car