Highlights
Public Restaurant
Vegetarian menu
Vegan dishes
Allergy-free kitchen
Services around Organic cuisine
Vital kitchen
Whole food
Buffet meals
Hotel bar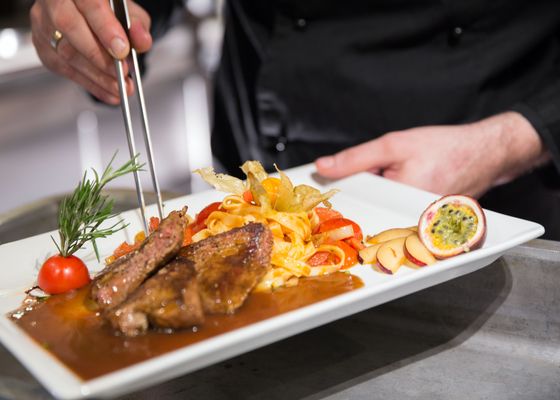 100% certified:

From the vital breakfast buffet to the evening live cooking buffet, only freshly prepared, organically grown are served, whenever possible from the region. Our partner company, a local Bioland gardener, ensures that herbs, salads and vegetables are available during harvest time through daily consultation with the team of chefs. Creativity and initiative as well as regular workshops with top organic chef Bernd Trum have an impact on the variety of buffet offers. From eggs to self-smoked fish from organic farms and regional dry age Galloway beef, there is a choice of high-quality meat and fish dishes, as well as vegetarian delicacies and vegan creations.
Services around Sustainability
Organically built building
12,13 kg CO2e/night
468,7 tons CO2e/year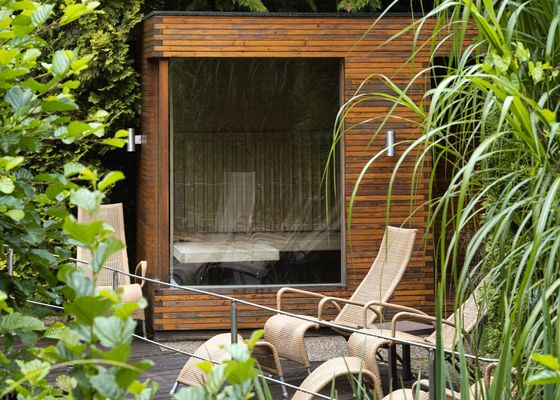 Our contribution to the future:

We are committed to sustainability in thinking and acting. In our mission and vision, resource conservation is a value that we implement in our daily activities. All areas that are visible, such as the building biological design of the rooms, through the extensive restaurant-offers and the original wellness- and conference offer, reflect the sustainability concept. It continues behind the scenes. From cleaning agents and detergents to green electricity, a holistic organic concept is present.
Highlights
Nature hotel
Vacation with your dog
Hotel for celebrations
Services around Vacation
Elevator
Free WIFI
Non smoking hotel
Free parking
Summer sports activities such as hiking, cycling, golfing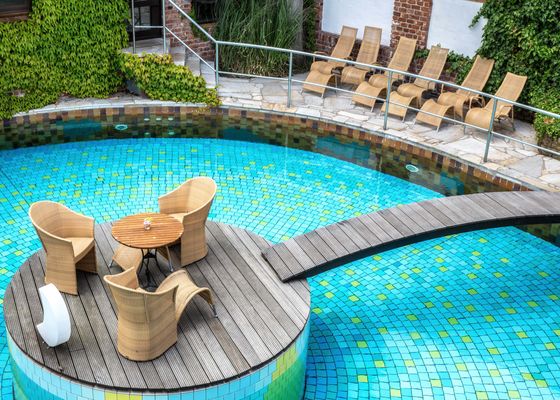 Sustainable hotel experiences:

Whether short or long, whether alone or with others: a vacation from everyday life begins with the sight of Land Gut Höhne. It feels like a small world of its own, far removed from the usual normality. The variety of room choices is as great as taste and needs allow. Stay by the outdoor pool, enjoy healthy culinary delights from morning to evening, find peace with the variety of mindfulness courses or enjoy our various sports offers. There is always something to find for the young and the young at heart in every season.
Highlights
Hotel with day spa
Hotel with swimming pool
Hotel with sauna
Hotel with gym
Hotel with yoga
Services around Wellness
Relaxation area
Outdoor pool
Energetic treatments
In-house thermal bath
Feel-good garden
Steam bath
Indoor swimming pool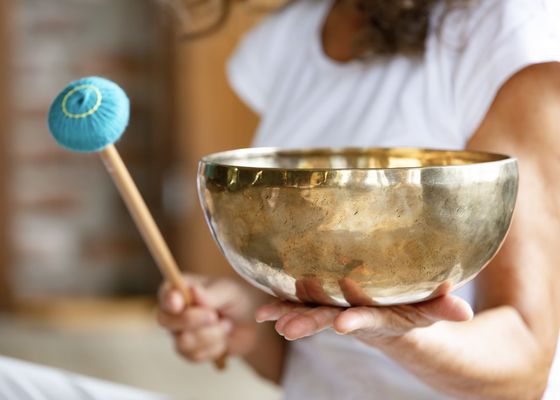 Sustainable wellness experiences:

Original wellness in the Neandertal Therme on Land Gut Höhne – the natural form of wellbeing. Enjoy activating courses, sport activities and mindfulness courses. Sustainable massage alternatives are, for example, yurashi and sound massages to get rid of permanent tension. In small groups, forest bathing, foot feeling, sound massages, meditation, dream trips to Qi Gong and mindfulness yoga are on offer, too. Surely everyone takes the good effect of our wellness offer back to their home!
Services around Green Meetings
Meeting room with daylight
Conference equipment
Modern conference technology
Sustainable & recyclable conference materials
Network technology
Break area
Catering / brain food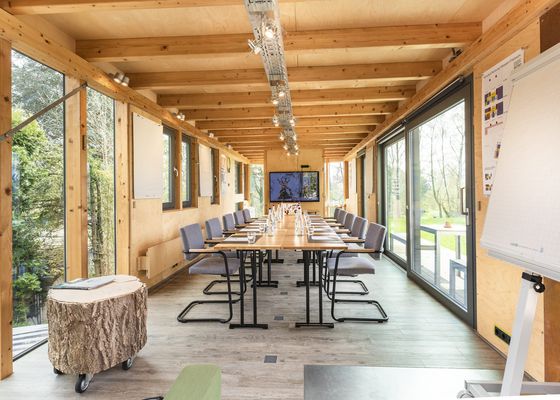 Make your events green:

At Land Gut Höhne you can take the term Green Meeting literally. All conference rooms are, if not located directly in the natural park, at least equipped with a terrace. Green is not only the view through the windows, also the outdoor area offers green open spaces for workshops or group works. It is not surprising that the range of measures to promote learning in the outdoor area is also creative. The latest technology powered by green electricity, such as Clevertouch, an 86-inch display with an integrated camera for digital meetings, also replaces paper, pens or index cards. If desired, these utensils are of course available – all of them in recycled quality.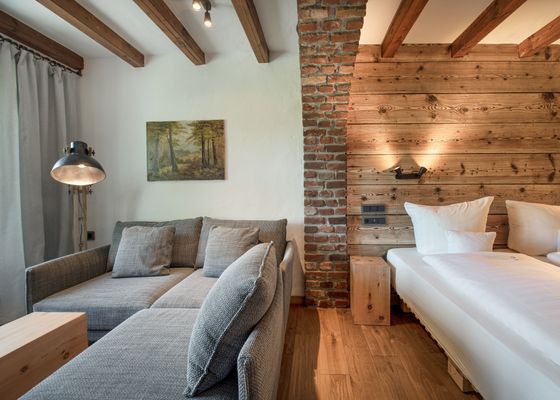 The hygiene concept in our hotel: 
Trained staff who is familiar with safety guidelines of local authorities
Staff wears masks and gloves where necessary
Disinfectants in rooms and public areas
Distance rules are observed
Self-service buffet (gloves available for guests)
Buffet with service
Visits to restaurants by prior arrangement only
Limited number of guests in the restaurant and in the wellness areas, etc.
Varying times for breakfast, lunch and dinner
Hygiene breaks during catering
Separate relaxation rooms
Special antiviral cleaning agents on an ecological basis
Comprehensive room cleaning by the staff
Guests can indicate that housekeeping is not desired
Flexible cancellation terms
Hygiene concept based on the current status of the applicable local CoronaSchVo.
The hygiene concept can be made fully accessible to guests.
Hygiene officers in the company: Miriam Trinkaus, Marc-Tilo Reucher.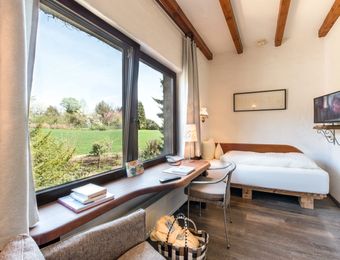 Single room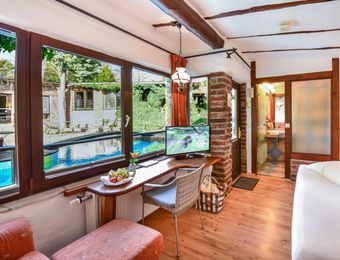 Pool-Feeling single room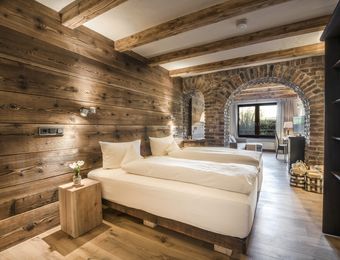 Gutshof double room
"Land Gut"-room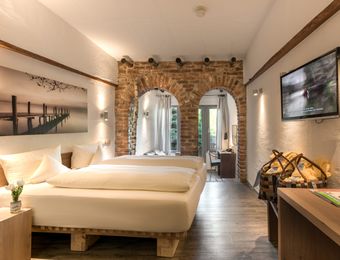 "Pool-Fühl"-room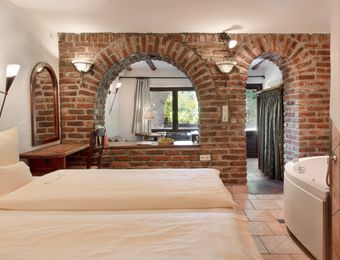 Comfort double room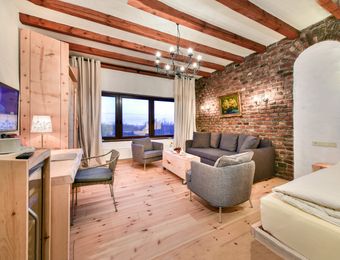 Wellness Appartement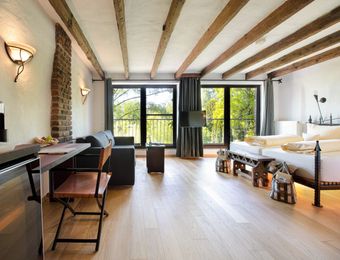 Yellow Wellness Suite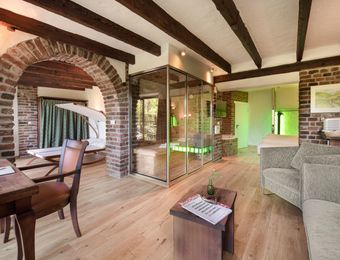 Green Wellness Suite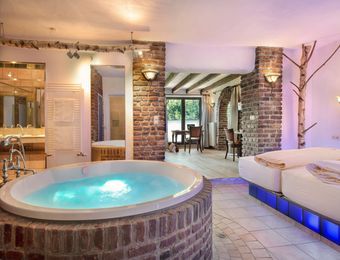 Blue Wellness Suite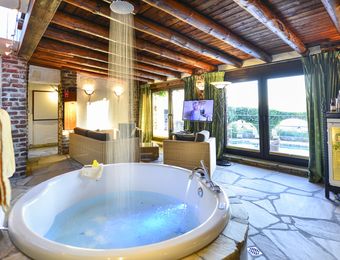 Pool Wellness Suite
Overall rating
3679 rating
Review date 25. June 2022
Sehr gutes, reichhaltiges Frühstücksbuffet; Kühlschrank im Zimmer
Review date 24. June 2022
Guten Tag.Es ist immer toll hier zu sein.Der Stress des Alltags ist sofort weg sobald ich hier bin.Sehr gutes,nettes Personal kümmert sich um die Gäste .Die Köche machen einen super Job und bedienen sich sehr guter Zutaten.Bio und aus der Region.Es gibt genug Platz um auszuruhen,in der Neandertal Therme und am Aussenpool.Gerne komme ich wieder ,so oft es mir möglich ist.Danke dem gesamten Team Höne.Bis bald.
Review date 22. June 2022
Perfektes ausspannen im erstklassigen Spabereich!<br />Leider gab es abends nur ein buffet, welches qualitativ zu wünschen übrig ließ…
Review date 20. June 2022
❤️❤️❤️❤️❤️<br /><br />❤️❤️❤️❤️❤️
Review date 20. June 2022
# Qualität und Auswahl des Essens TOP (Bio at it's best)<br /># das Gut ist sehr verwinkelt mit viel Charme und Historie<br /># Personal (Kellner) könnten etwas "interessierter" sein<br /># Zimmer sehr schön gemacht - mit viel Liebe zum Detail<br /># Pool-View Zimmer etwas wenig "Privatsphäre" auf der Terasse<br /># Deutschland Flagge hängt falsch ;-)
Review date 20. June 2022
Sehr schöne Anlage und Zimmer. Toller Thermenbereich. Der Qigong Kurs war leider nicht gut.<br /><br />Sehe viele verschiedene Terassen und Sitzmöglichkeiten draußen, sodass man Privatsphäre hat.
Review date 20. June 2022
Es war wie beim letzten Mal so schön! Wir hatten ein tolles Zimmer mit Terrasse -bei der Hitze und für den Hund toll ! Auch der Park ist soo schön
Review date 19. June 2022
Excellent, very nice hotel to stay!
Review date 18. June 2022
Liebes Land Gut Höhne Team,<br /><br />Vielen Dank für dem angenehmen Aufenthalt.<br /><br />Insgesamt finde ich ihr Bio Konzept super.<br /><br />Das Bio Frühstück und Abendbuffet sind sehr gut für Leute die gesund/Paleo essen wollen.<br /><br />Highlights: Roastbeef und glutenfreies Brot zum Frühstück.<br /><br />Verbesserungsvorschläge:<br /><br />1. Bio Restaurant: Wenn es eine Sorte glutenfreies Bier gebe würde, wäre das zum Abendessen perfekt.<br /><br />2. Geruch: In einigen Gängen des Landguts riecht es etwas muffig nach Keller. Könnte auch von Schimmel kommen. Vielleicht könnten sie das beheben.<br /><br />3. Insgesamt gibt es auch viele Stellen die etwas alt und abgenutzt aussehen und vom Design her sich nicht gut in das Gesamtbild einfügen.<br /><br />4. Gym: Hier gibt es viele Geräte aus den 80ern die viel Platz wegnehmen. Hier wäre ein Überarbeitung des Gyms Richtung CrossFit Box/Kettlebell Konzept wünschenswert. Generell konnte ich mit der einzigen 16 kg Kettlebell arbeiten, aber der Platz zum bewegen ist schon sehr gering, da alles mit Geräten vollgestellt ist.<br /><br />Insgesamt hat mich das Land Gut überzeugt und ich komme gerne wieder in das Bio Hotel.
Review date 18. June 2022
Thema Bio und Nachhaltigkeit sowie regionale Versorgung mit Nahrungsmitteln sehr gut nachgekommen; Das Personal ist ausgesprochen freundlich und zuvorkommend!!!
Review date 18. June 2022
Erholung pur und vom Feinsten in wunderschönem Ambiente. Schöner Park mit vielen lauschiegen Plätzen. Freundliches Personal und sehr gutes Essen.
Hosts
Land Gut Höhne is a living whole. Now, in third generation, the hotel family together with the next generation, a great team of employees and a lot of real manual work and passion is developing the company structurally and in terms of content through many a change phase into a successful future. The conviction that hospitality is part of a good life, that people respectfully exchange ideas in an inspiring place and want to eat and enjoy well together at a long table, gives work real meaning.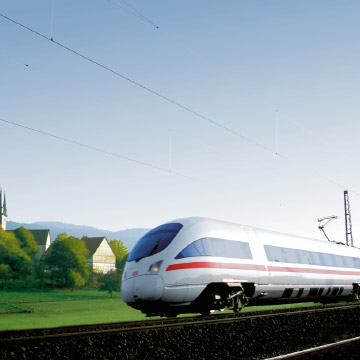 Arriving by train
© Deutsche Bahn AG / Gert Wagner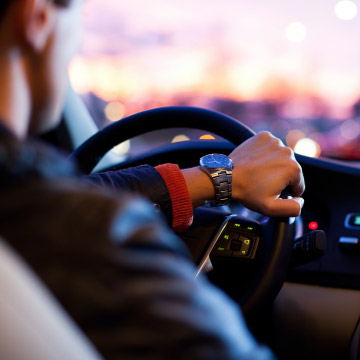 Get here by car