Highlights
Restaurant for hotel guests
Vegetarian menu
Vegan dishes
Allergy-free kitchen
Services around Organic cuisine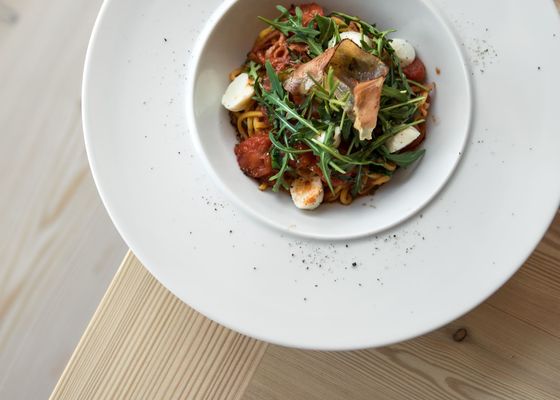 100% certified:

The beauty of South Tyrol can be found directly out front of the hotel – and also in our certified organic restaurant. Every day, chef de cuisine Michi Moser and his team serve true South Tyrolean quality meals with a delightful variety and a creative touch. Enjoy!  One menu is always vegetarian – upon request, we will be happy to provide you with vegan dishes as well. Friday is our meat-free day!
Highlights
Climate-neutral hotel
Services around Sustainability
Organically built building
2,54 kg Co2e/night
94,1 tons CO2e/year
Our contribution to the future:

Fruit and vegetables from the home garden, products from the farmer next door and materials directly from the surrounding area - regionality and short transport routes are of particular importance to us. In our business we use 100% green electricity. Our electrical energy is generated by the power of water in the Alperia hydroelectric power plants in South Tyrol in an environmentally conscious, renewable way and without CO2 emissions. Whether in the bathroom or during a wellness treatment - we offer you certified organic and natural cosmetics, which are subject to strict quality controls and whose manufacturers are committed to an environmentally friendly production and delivery process.
Highlights
Nature hotel
Accessible hotel
Services around Vacation
Elevator
Free WIFI
Non smoking hotel
Free parking
Summer sports activities such as hiking, cycling, golfing
Winter sports activities such as Skiing, tobogganing, snowshoeing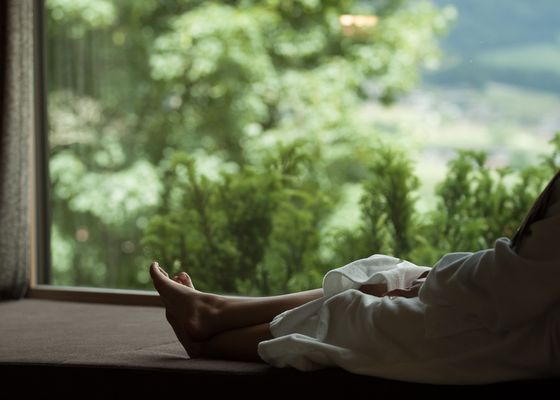 Sustainable hotel experiences:

A place to restore vitality, with a view of breathtaking mountains. In the Ahrn / Aurina Valley, the beauty of Mother Nature surrounds you. The landscape is primeval, untamed, and beautiful. The forces of nature are palpable here. Experience majesty and beauty. Recharge your spiritual batteries and find peace. Enjoy unspoilt beauty of the great outdoors. Mild exertion, fresh air, the sun and wind – the exhilarating, carefree feeling of freedom!
Highlights
Hotel with sauna
Hotel with yoga
Services around Wellness
Massage offers
Relaxation area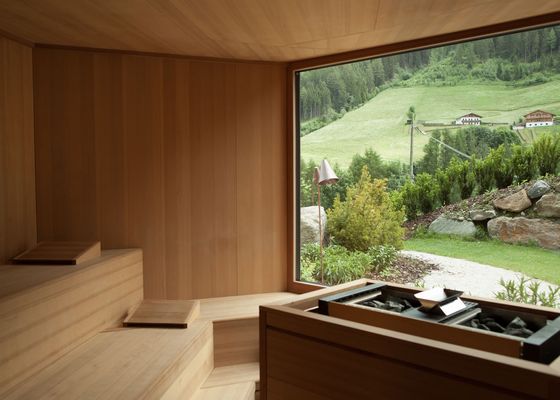 Sustainable wellness experiences:

Here at the Bühelwirt, wellness means: relaxing and unwinding. Enjoying an invigorating session in the sauna. Resting in the relaxation room while admiring the landscape. And experiencing the regenerative effects of a professional treatment in the massage room. It's all you could dream of ... and more!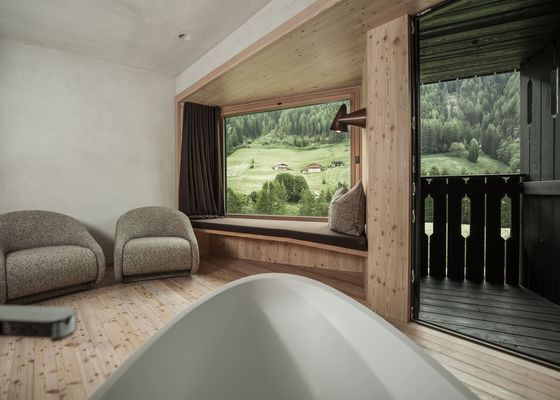 The hygiene concept in our hotel: 
Trained staff who is familiar with safety guidelines of local authorities
Staff wears masks and gloves where necessary
Disinfectants in rooms and public areas
Contactless (online) check-in possible
Distance rules are observed
Self-service buffet (gloves available for guests)
Buffet with service
Limited number of guests in the restaurant and in the wellness areas, etc.
Varying times for breakfast, lunch and dinner
Separate relaxation rooms
Special antiviral cleaning agents on an ecological basis
Comprehensive room cleaning by the staff
Guests can indicate that housekeeping is not desired
Flexible cancellation terms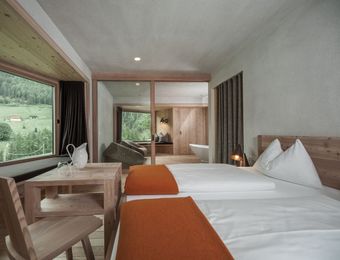 Panorama Suite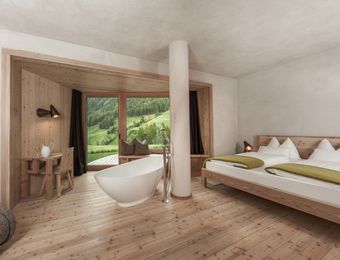 Garden Suite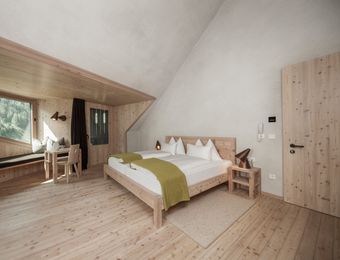 Loft
Junior Suite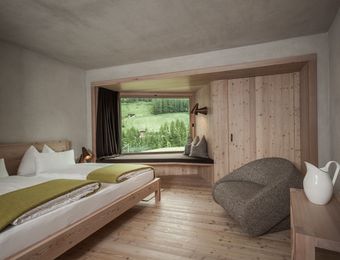 Panorama room L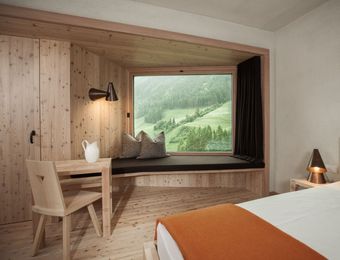 Panorama room M
Review date 24. June 2022
Sehr empfehlenswert. Tolles Ambiente, ausgezeichnetes Essen, gute Bioweine.
Review date 23. June 2022
Das Frühstück ist außergewöhnlich gut <br />und vielseitig,<br />mit den besten Produkten - alles Bio, entsprechend geschmackvoll!<br />Abends nehmen die Gäste das sehr leckere <br />4-Gänge Menü ab 19 Uhr, ohne Hektik und sehr entspannt ein, weil nicht alle Gäste zur selben Zeit <br />erscheinen.<br />Sympathischer, professioneller und herzlicher Service.<br />Insgesamt eine Wohlfühl-Atmosphäre in<br />exponierter Lage - direkt neben der Kirche mit Friedhof - auf dem Hügel.<br />Nicht das Gefühl einer Touristen-Hochburg, <br />sondern mitten unter den einheimischen Menschen, <br />die morgens auch schon mal ihren Espresso im <br />'Bühelwirt' trinken.<br />Dazu noch herrliche Wandermöglichkeiten <br />in unberührter Natur. Zumindest im Juni <br />ohne große Touristenströme im sehr schönen Ahrntal.<br /><br />Die tolle, innovative Architektur spricht für sich.<br /><br />Im Stammhaus sind die Zimmer im Retro-Stil<br />eingerichtet, was einen spannungsreichen <br />Kontrast zum Neubau bildet.
Review date 22. June 2022
Nel tempo, questa struttura alberghiera è diventata il nostro punto di riferimento per le vacanze nello splendido scenario alpino del Sudtirolo.<br />La consideriamo "una casa lontano da casa", con tutti i benefici di un trattamento di eccellenza, che va ben oltre ogni legittima aspettativa, tanto che: giudicando ciò che ci viene offerto quando soggiorniamo altrove, la pluriennale esperienza al Bühelwirt è il nostro termine di paragone.<br />Ciò che più ci sorprende, ogni volta che ritorniamo, è notare che il livello qualitativo si mantiene molto alto, e al contempo si arricchisce di "sfumature" legate a innovazioni sapientemente proposte da gestori che le vivono come diretto approccio e filosofia di vita.
Review date 19. June 2022
Il nostro soggiorno al Bühelwirt è stato perfetto. Camera spaziosa e dotata di ogni comfort, cibo delizioso (anche se nel menù mancano i piatti "tradizionali"), una sala giochi enorme per i bambini e servizi di alto livello.<br />A voler fare i pignoli, manca solo il servizio di baby sitting a ore, per permettere ai genitori di godere in pace della meravigliosa sauna.<br />Ci torneremo sicuramente!
Review date 13. June 2022
Wir waren das erste Mal beim Bühelwirt und wir haben uns sehr wohl gefühlt.<br />Das Essen war hervorragend und abwechslungsreich. Morgens gibt es ein reichhaltiges Buffet, welches keine Wünsche offen lässt. Wir hatten Halbpension und das Menü am Abend war wirklich jeden Tag ein Highlight.<br />Wir hatten ein Zimmer im Neubau (sehr empfehlenswert), mit toller Aussicht auf die umliegende Landschaft. Auch der Wellnessbereich war sehr gepflegt und mit Bergpanorama in der Sauna und im Ruheraum.<br />Die Mitarbeiter war alle sehr nett und wir haben tolle Tipps für Wanderungen in der Umgebung bekommen und konnten sogar kostenfrei Wanderstöcke ausleihen.<br />Für uns gab es nichts auszusetzen und wir würden sofort wieder hinfahren. Vielen Dank an das gesamte Team!
Review date 12. June 2022
Es hat einfach alles gepasst. Der Bühelwirt verbindet wunderbar Tradition und Moderne. Das Essen ist sehr lecker und reichhaltig. Schön, dass man sich morgens auch offiziell ein Vesper schmieren kann. Die Sauna mit Garten und Liegeraum ist ein Traum. Bei uns auch relativ leer. Wenn mehr Andrang ist, wird es vielleicht etwas eng. Das Zimmer erdet´in seiner Schlichtheit. Das Bett war hervorragend. Toll auch, dass im Mai und Juni die Bergbahnen kostenfrei sind. Viele Möglichkeiten zum Wandern und Fahrradfahren. Alles in allem: Total erholsam.
Review date 08. June 2022
Questo Hotel merita davvero la migliore recensione.... per la posizione straordinaria che domina la valle, per la struttura all'avanguardia, per la cucina degna di un ristorante stellato, ma soprattutto per la qualità dei servizi offerti!<br />Ho soggiornato nella parte vecchia dell'albergo (perfettamente integrata con la nuova struttura), senza dover rinunciare alla pulizia impeccabile, alla cura dei dettagli e dei prodotti offerti per la toilette.<br />Ottimo il servizio per il noleggio delle E-bike; biciclette di ultima generazione ad un prezzo davvero modico.<br />Una nota doverosa allo chef che propone piatti curati degni del miglior ristorante stellato.<br />Spero di tornare al più presto!
Review date 07. June 2022
Architektur und konsequente Bio Linie
Review date 01. June 2022
Wir sind angekommen und haben uns sofort wohl gefühlt,tolles Hotel mit sehr gutem Konzept ,freundliche Mitarbeiter,feines Essen und ein tolles Zimmer.
Review date 29. May 2022
Haben dort ein verlängertes Wochenende verbracht
Review date 26. April 2022
Wir waren letzte Woche im Bühelwirt und hatten eine fantastische Zeit! Wir wurden herzlich begrüßt und von einer Mitarbeiterin zum Zimmer begleitet. Auch die Mitarbeiter:innen im Service (Frühstück und Abendessen) waren herzlich, sehr freundlich und zuvorkommend. Das Essen war durchgängig sehr gut und köstlich. Fragen bezüglich Wanderungen wurden mit sehr vielen nützlichen Auskünften, Tipps und Informationen ausführlich beantwortet. Auch wurde später noch einmal nachgefragt, ob alles gut gelaufen ist und wir eine gute Zeit hatten. Der Bühelwirt ist die perfekte Auszeit. Wir kamen sehr zufrieden und entschleunigt im Alltag an. Das Konzept mit regionalen Produkten, Weinen sowie der Nachhaltigkeitsgedanke hat uns sehr zugesagt und vollkommen überzeugt! Wir werden gerne wiederkommen! Danke ☺️
Review date 26. April 2022
Semplicemente la migliore struttura della Valle Aurina.
Review date 25. April 2022
Sono stato ogni agosto in questo hotel da almeno 10 anni e ci sarò anche questa estate. Si è trasformato da albergo di montagna di ottima levatura e a conduzione familiare a hotel all'avanguardia architettonicamente e per le scelte gestionali volte alla salvaguardia dell'ambiente (chilometro zero, prodotti bio) con un panorama mozzafiato. La parte nuova dell'edificio, che esiste dal 2017, offre un yaccoglienza da cinque stelle ma anche la parte tradizionale della struttura è vivibilissima. Resta una condizione familiare (nel senso migliore del termine) attentissima alle esigenze del cliente e che lo rende particolarmente adatto alle famiglie.<br />(ma non solo)! Cucina tradizionale e gourmet ottima. Da preferire con la mezza pensione. Colazioni abbondanti e pranzi al sacco. Complimenti a Michaela e Matthias!
Review date 23. April 2022
Freundliches Personal, hervorragende Küche, ruhige Lage, sehr schönes Design, sehr sauber, toller Ausblick!<br />Sehr zu empfehlen, ein richtiger Geheimtipp!
Review date 21. April 2022
super Lage, tolles Personal, leckeres Essen - alles in allem sehr erholsam und schön!
Review date 18. April 2022
Sulla vetta di un piccolo promontorio nel mezzo dell'ampia valle Aurina, proprio davanti alla chiesa, questo hotel gode di una bellissima posizione panoramica, proprio a motivo della sua altezza. La parte vecchia e quella nuova coesistono in modo funzionale e nel rispetto della vecchia architettura di questo hotel. Insieme alla chiesa , con il suo curatissimo cimitero, questo hotel è il centro della vita di questo piccolo agglomerato di case chiamato San Giacomo. Ho apprezzato molto la misura dell'hotel, la gestione famigliare , non dispersivo e asettico ma caloroso e raccolto. Noi abbiamo soggiornato della camera sette, di nuova costruzione. Molto bella e ben arredata, letto ampio, comodo. Non ci sono armadi ma le mensole permettono di organizzare i panni e le cose in modo sufficiente. L' appendiabiti per le giacche è pure presente e ben attrezzato con molte graffe. Bella l'idea delle saponette biologiche per lavarsi e della crema idratante, che possono essere riportati a casa. Come in tutti gli hotel in cui sono stata, anche i più lussuosi, ho sofferto leggermente di congestione nasale a motivo della polvere che si accumula inevitabilmente nella tappezzeria di poltrone, poche e tende. La finestra offre una bellissima visuale. Il design della camera originale ma semplice è veramente piacevole . La cucina molto buona e curata. Prendere la pensione completa è una soluzione intelligente, nei paraggi i ristoranti sono pochi, e poi si mangia benissimo. I tagliolini con il pesto di cavolo cappuccio e le olive ci sono rimasti impressi! Menù bimbi presente, ma non ne abbiamo usufruito. Molto buono il buffet della colazione con alternative valide anche per vegani. Confetture di buona qualità, non "finte"! Abbiamo fatto anche i massaggi, molto ben svolti. Ci è piaciuto davvero tanto, probabilmente torneremo.
Review date 15. April 2022
Was will man mehr? Ein perfekter Aufenthalt, Ruhe und sehr aufmerksame Gastgeber. Alles sehr liebevoll hergerichtet, ein toller Ort um Kraft zu tanken und zu relaxen.
Review date 11. April 2022
Entschleunigend, kulinarisch einfach nur köstlich, pure Linien in der Architektur, natürliche Freundlichkeit des gesamten Teams! Mitten in der Landschaft gelegen, ohne sie zu stören, Ausgangspunkt wundervoller Entdeckungen. Vielen DANK! Gerne kommen wir wieder.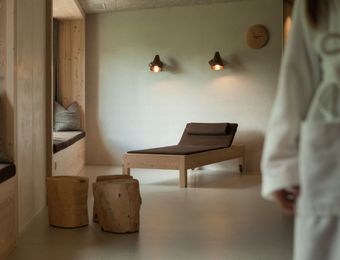 Enjoy an extra night 4 = 3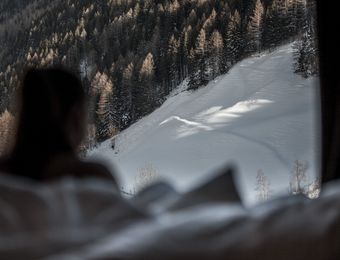 Enjoy an extra night
Hosts
Our philosophy is to establish harmony between the inside and the outside. A lot of different factors are involved here. The unique location, the coworkers with their commitment to the hotel philosophy and their efforts to ensure that our guests are enjoying themselves. The architecture that redefines the Bühelwirt as a sanctuary for people seeking strength and inspiration. For us, true luxury consists in choosing wisely. We place more importance on securing the essentials than amassing a surfeit of features. It's this quality that makes up our unique character!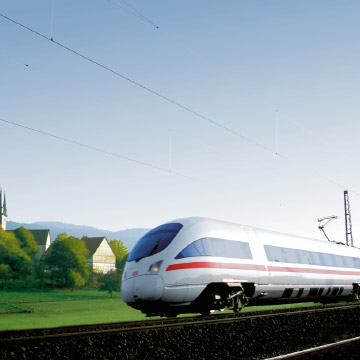 Arriving by train
© Deutsche Bahn AG / Gert Wagner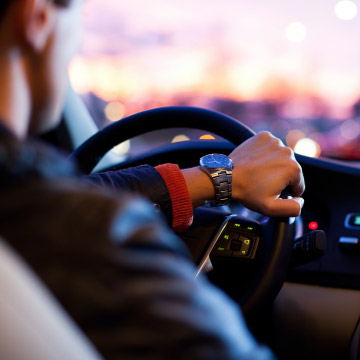 Get here by car